Constellation
From MasonicGenealogy
CONSTELLATION LODGE
Location: Dedham
Chartered By: Samuel Dunn
Chartered By: Sereno D. Nickerson
Charter Date: 12/14/1801 II-189
Charter Date: 03/13/1872 1872-42
Precedence Date: 02/09/1871
Current Status: Merged with Eliot-Hyde Park Lodge to form Celestial Lodge, 03/17/2010.
---
NOTES
original charter vacated in 1842; petition to restore it apparently granted (V-165) but the lodge was again dark for a period between 1850 and 1870; a new charter was granted in 1872.
---
PAST MASTERS
Nathaniel Ames, 1802
Abijah Draper, 1803, 1804, 1813
1805-1812, 1814, 1815?
Elisha Lyon, 1817-1819
Josiah Fisher, 1820
William Pierce, 1821
1822?
Ebenezer Fisher, 1825
James Downing, 1826, 1827, 1832?, 1833?
Jeremiah Myers, 1828, 1829
1830, 1831?
Simeon Smith, 1832, 1833
Timothy Phelps, 1834, 1835
1836-1838?
Charles Hunnewell, ?
Ebenezer Capen, 1839-1841
DARK 1842-1847
Elisha Thayer, 1848-1850
DARK 1851-1870
Frederick D. Ely, 1871-1874
Alonzo B. Wentworth, 1875, 1876
David L. Hodges, 1877, 1878
Charles N. Nichols, 1879, 1880
Henry A. Hutchinson, 1881, 1882
George F. Wright, 1883, 1884
Lyman D. Wilcutt, 1885, 1886
Edwin A. Brooks, 1887, 1888
J. Everett Smith, 1889, 1890; SN
Andrew J. Norris, 1891
Aaron W. Baker, 1892, 1893
Lewis D. Smith, 1894
John E. Fisher, 1895, 1896
George A. Phillips, 1897, 1898
James Y. Noyes, 1899, 1900
Charles A. Turner, 1901, 1902
Harry I. Wardle, 1903, 1904
Frederic C. Cobb, 1905, 1906; Mem
George F. Joyce, 1907, 1908
Frank W. Nichols, 1909, 1910
Frederick E. Smith, 1911
John P. Cutter, 1912, 1913
William F. Whitman, 1914, 1915
John W. Withington, 1916, 1917
John E. Easton, 1918, 1919
Charles A. Day, 1920, 1921
Edward A. Rolland, 1922, 1923
Ernest H. Chute, 1924
G. Sumner Wilson, 1925, 1926
Ralph D. Pettingell, 1927, 1928
Wilfred N. Day, 1929, 1930
E. Lester Swett, 1931; Mem
Francis Clough, 1932
Clifford A. Smith, 1933
Frederick W. Bailey, 1934
James R. Hopper, 1935
Charles E. Clapp, 1936
Wallace G. Fisher, 1937
George M. Ellis, 1938; N
Theodore A. Ward, 1939; SN
Allen G. Swain, 1940
Harold I. Johnson, 1941
Walter A. Jacobson, 1942
John D. Hodgdon, 1943
Harold E. Cowan, 1944
Frederick A. Clark, 1945
Ralph S. Lyons, 1946
Gordon D. Larcom, 1947
Alexander J. McKay, 1948
Clarence Wallank, 1949
John B. Marden, 1950
Robert L. Tibbitts, 1951
Austin W. Holmes, 1952
Arthur R. McKay, 1953
William G. Street, 1954
Edwin H. Currier, 1955
Albert R. Dean, 1956
Charles E. Goddard, 1957
Frank N. Daley, 1958
Eric F. Meissner, 1959; N
Ernest W. Hatcher, 1960
Benjamin F. Dow, 1961
Burton F. Miller, 1962
Carlton E. Orcutt, 1963
George E. Inglis, 1964
Franklin S. Higgins, 1965
Lawrence S. Armour, 1966
Wendell C. Segersten, 1967
Albert E. Wurlitzer, 1968
Thomas Robertson, 1969
Donald F. Craig, 1970
Hollis A. Hedderig, 1971
Scott B. MacInnes, 1972, 1998
Archibald A. Martin, Jr., 1973
G. Lennart Gustafson, 1974, 1975
Wallace F. MacElhinney, 1976
Kenneth L. Hedderig, 1977
Donald L. Tabor, 1978
George S. Fontana, 1979, 1992
Peter C. Pappas, 1980
Riccardo P. Ingemi, 1981
Lewellyn J. Maxwell, 1982, 2002
William G. Bacon, 1983
Ronald A. Brosseau, 1984, 1988
Thomas M. Connors, 1985, 1993
Graham A. Long, 1986
Peter A. Randall, 1987, 1989
Glenn L. Kubick, 1990, 2009
Bruce A. Rand, 1991
George N. Neilson, Jr., 1994
Charles R. Lambert, 1995
Eugene B. Nichols, 1996, 1997
James E. Goode, Jr., 1999, 2007
Erik J. Meyer, 2000
Steven J. Engdahl-Olmsted, 2001
Thomas P. Parshall, 2003
Robert P. Zahka, Jr., 2004-2006, 2008
---
REFERENCES IN GRAND LODGE PROCEEDINGS
ANNIVERSARIES
VISITS BY GRAND MASTER
BY-LAW CHANGES
1881 1890 1902 1905 1910 1912 1917 1920 1923 1927 1928 1932 1933 1937 1938 1939 1940 1949 1953 1957 1974 1975 1982 2001
HISTORY
1922 (50th Anniversary History, 1922-60; see below)
1971 (Centenary History, 1971-232; see below)
1996 (125th Anniversary History, 1996-219; see below)
50TH ANNIVERSARY HISTORY, MARCH 1922
From Proceedings, Page 1922-60:
by Wor. George F. Joyce.
The Right Worshipful told you why he mentioned the ladies last - "and the Ladies." I want here to tell you just one thing that is not historical, except that it came in my hearing frorn the Most Worshipful Grand Master, Arthur D. Prince, about three or four weeks ago, just before he sailed for Europe. It was not his parting message, but then the ladies will understand it. It seems that according to his story - and I suppose he was right - a good brother Mason was twirling a coin at the supper table and his wife said, "Why, James, what are you doing?" "Why," he said, "I was just twirling a coin, you know, my dear. I thought if it fell heads I would go to the Lodge tonight and if it fell tails I would go to the CIub, but if it stood on edge, why, I would stay at home with you, my dear."
I have just one more, and then we will begin. A little fellow about five years of age - some of you know just about his dimensions - was called from play late one afternoon by that familiar thimble finger tapping on the window, and he knew that he must come into the house. And so after various explanations on his part as to his delay in getting in, he had his supper and then was taken upstairs, and there his mother read to him. You known these little fellows five years old. are rrery fond of their mamas at about that hour in the day. And so she read to him "Old Black Sambo and the Five Little Rabbits, " and all those stories that he enjoyed hearing. And then he began to ask those peculiar questions that enter the mind of a child, until finally she got rather weary of answering his questions. And just as she put up her finger to turn the switch and put out the light he said, "Oh, mother, mother, where does the light go when it goes out?" "My dear," she said, "you ask such foolish questions! Why, I might just as well try to tell you where your father goes when he goes out."
Now, you see his father was not a member of any Lodge, I believe; he certainly was not a member of Constellation Lodge, for then she would have said, "Why, he has gone to the Club; you remember where it is - right over the bank there. Don't you remember when we put that five dollars in the bank for you, Tommy! He is there, or he is up in the Lodge-room, up over Memorial Hall. You remember Memorial Hall, don't you?" And he thinks he does. "That is where he is." And you know every Thursday afternoon all the ladies can go over to our Club rooms; they are all invited, I am sure; and you see what a comfort it was to the mother to be able to tell where the father had gone. That is the advantage of being a member of Constellation Lodge.
The Worshipful Master toltl me that I was due to begin at nine o'clock. I am a minute beforehand.
Some weeks ago, on a cold winter's morning, Brother Phillips accosted me and he said, "You know Constellation Lodge is going to have its fiftieth anniversary." "Yes," I said; "I can't realize that it is twenty-five years since Right Worshipful Brother EIy delivered the historical address. It can't be twenty-five years; has it all passed?" "Yes," he said, "and Constellation Lodge is preparing to observe its fiftieth anniversary, and they have appointed a committee and that committee has asked me to serve as chairman." "Yes," I said. And said he, "It would be fitting that we have a historical address." "Yes," I said. "And they have selected you to prepare that address."
Now somebody looking down over his program has probabiy said before now, "I don't see why they should have picked him out, do you? There is nothing historical about him." I have only been here thirty-three years. But none the less I am here tonight io do my best, and if you have any suggestions or criticisms to make I have told you where you can make them. I didn't appoint myself. you see Brother Phillips after this affair is over.
But there is just one thing I am going to promise you, and that is, I will not afflict you on either the seventy-fifth or the one hundredth.
When I was a boy about fourteen years old. I used to love to watch a new machine that the town of Brookline, where I spent my boyhood, had just purchased. It was a steam shovel, and we boys used to like to get up on Bradley's Hill and watch that great monster scoop up the immense shovels of gravel and dump them into long lines of cars, and where do you suppose they were going to take them? Into Boston, to put into the salt water between the Albany tracks and the Boston & Providence. You know where those railroads used to cross each other you could stand on the Dartmouth Street bridge and snap a peanut shell into the salt water of the Back Bay. And there they were going to build the largest music hall, I think, that Boston has ever seen and into that music hall they were going to invite royal and imperial bands from England, from France, from Austria, from Germany, from ltaly, and all of those countries, with our Marine Band from Washington and many bands of lesser note. The whole world was combed for musical artists to bring to that wonderful festival, and there they were going to unite in splendid harmony to sing the grand song of peace on earth, good will to men, and never again, was the promise, should there ever be a war in this world. And that was In 1872. Fix that date in your mind. The World's Peace Jubilee; no more wars - in 1872. In November - I remember it so well - that is the only proof I have of growing old, that I begin to reminisce a little - I remember going up Harvard Street in Brookline and on the church spires I could see the great waves of light moving up and down; and over the city of Boston there was a black pall of smoke hanging there with sinister omen, and how I wanted to go to the fire, too! But Father said, "No," so I had to satisfy myself by looking into the empty engine-houses of our town, because they had all gone to carry relief. And that was the time when Boston received its baptism of fire, and that was in 1872.
Now in history I have learned if you are going to be anything of a historical scholar you have got to learn to associate dates, and around some great event you have got to pin the others. It was just about that time, you see. Now, however different the character of these events may be, they all happened in 1872. First, March 13, 1872, just fifty years ago this very night, the Lodge received its Charter. Then came the World's Peace Jubilee as I have described to you; then came the Boston fire, when I believe all the hearts of Masons everywhere were literally warmed and there was a stronger fellowship than ever existed before, because every Brother could help share the other Brother's losses.
We met first, as Brother Brooks has told you, in Temperance HaII. Now you have a very good picture of that hall right on your programs. You have been looking at it, and the artist, I notice, has put several stars there. That, I suppose, stands for Constellation Lodge. The name Temperance Hall came from the Washingtonian movement which swept over the country in 1840 or so.
During the year of Dispensation, when I suppose the Lodge was on trial, they had not gone far when they found that the apartments in Temperance Hall were inconvenient and ill-provided for the use of the craft. You know the story - that the haII originally stood very near the home now occupied by the Baker family. It was the Norfolk County court house. When the main part of the present court house was built, then they moved the old court house diagonally across Court Street and it stood for a great many years just soutll of where Right Worshipful Brother Cobb's house is now. That was Temperance HaII. But it was inconvenient and you have heard Brother Brooks tell how they happened to fit up the attic of Memorial Hall, which at that time was about four years old, and it was such a strong building and so well built that our Brother Martin could say, "'We will put a lodge-room up there that will stand," and it has stood, as our Worshipful Master Brooks has told you.
Now, then, he differs a little from the figures that were given to me and which I took from the address of Right Worshipful Brother EIy who was also there at lhe time. From his address, given twenty-five years ago, I read that the thirty-five charter members spent $3,500 in fitting up those quarters and $98 more just for good measure.
It was just before the Dedication of our present quarters, and after the members had severely taxed themselves to raise the money necessary to give them a more suitable place to meet, that a little opposition to letting any of its town property to be used for any fraternal organization like the Masons appeared. But when the citizens of Dedham learned how their Masonic fellow-citizens had sacrificed to raise the money to furnish and equip their rooms, a spirit of fairness and justice among the citizens in town meeting assembled manifested itself so strongly that from that day to this there has not been the slightest indication of an anti-Masonic attitude.
Shortly after this town meeting came the dedicatory exercises. On this occasion, April 2, 1872, the officers of the Grand Lodge were present, when Most Worshipful Sereno Dwight Nickerson, Grand Master, constituted the charter members into a Lodge of Ancient Free and Accepted Masons by the name of Constellation Lodge, installed its officers and dedicated the hall above to Freemasonry, to Virtue, and to Universal Benevolence.
I quote at this time from the Historical Address of Right Worshipful Frederick D. Ely, the first Master of Constellation Lodge, delivered at our twenty-fifth anniversary.
"So far as these ceremonies were public, they were performed in the presence of such an audience as has rarely assembled in Dedham on any occasion; an audience representing the dignity, the wealth, the education, in a word, the sterling manhood and lovely womanhood of our people; an audience in point of numbers far exceeding the capacity of our hall, crowding the anterooms, and even the stairways; an audience who respected and honored our beloved Order, who witnessed our ceremonies and listened to the speeches of our learned Brethren of the Grand Lodge with profound attention, and who carried to their homes that night an elevated and enlarged idea of the worth and glory and usefulness of Freemasonry as an instrumentality in promoting the moral well-being of mankind."
At the close of installation of officers, the ladies presented to the Lodge a large and beautiful Masonic banner, on whose silken folds were represented many of the most cherished emblems of our Order, and inscribed the legend, Astra Castra, Numen Lumen. This banner was borne to the East by Brother Cornelius A. Taft, when Miss Lizzie Blanche Endicott, the daughter of our Brother Augustus B. Endicott, and now the wife of Reverend George H. Young, presented it to this Lodge in an exceedingly happy manner.
I want to emphasize again in your hearing the good words which were spoken in regard to the kind of work which was done by the officers of our Lodge in the very first year of its existence. The Right Worshipful District Deputy Grand Master Utley said: "The work exhibited was the best I have had the pleasure of witnessing the past year."
What pleasure these words of commendation must have given Right Worshipful Ivory H. Pope, of Joseph Warren Lodge, of Boston, who instructed the first officers of this young Lodge: "What an example for accuracy for all succeeding groups of Officers to follow!" I honestly believe that no Brother assumes an office in Constellation Lodge without a firm determination to make his individual work the equal of any work that has preceded. And yet with an earnest desire to be letter perfect, let no one fail to remember that back of the words should be the great truth that these words are intended to convey. On May 17, 1898, I find this record of the work done by the Officers of the Lodge at that time, twenty-six years later, under the direction of Worshipful George A. Phillips.
"There was a very large number present this evening owing to the reputation Constellation Lodge has earned for correct work and beautiful floor movements. Many said it was the best work they ever witnessed."
And this work is being maintained under the direction of the present Master and his officers. So much for the work of our Lodge.
In February, 1908, we recall that the subject of a Masonic Home was considered. This Home at Charlton, Mass., would be purchased at an attractive figure, and the Grand Lodge had in mind to exemplify in a practical form that truly Masonic virtue, Charity. The Home was to furnish a comfortable retreat for indigent Masons, wherever found throughout the Commonwealth, who through no fault of their own were in needy and destitute circumstances.
On presentation of the plan to the members present, they at once voted to support the plan and contribute annually. $1.00 for five years. Many Brethren preferred to send their subscription of $5.00 at once to the Treasurer and soon Constellation Lodge sent its check for $790 to the most worthy cause. What a snug harbor this makes for many an elderly Mason who must travel down the long decline alone!
As a historian I might tell you of the increase in our members from the thirty-five Charter Members of fifty years ago down to the present nuinber of three hundred and seventy-one. I might in dry statistics tell you of the seven hundred and two communications, of which five hundred and twelve have been regular and one hundred and eighty-nine special. It would be interesting to learn that although we have had few if any wealthy members, yet we have always been glad to respond to an appeal from the Grand Lodge, or from a Brother in distressed circumstances: that today we have a total of Lodge resources of $10,446.74, an increase of $455 over last year. But I pass over all these facts that I may spend the brief time allotted to me in mentioning that which better illustrates the real principles of Masonry.
When this country of ours entered the Worid War it was fitting that the emblem of our nation should be constantly before us to remind us, as Masons, of our pledge of allegiance to our country, and so on the 16th of May, 1917, Right Worshipful Brother Frederick G. Katzmann, our District Deputy Grand Master at that time, in behalf of the members of Constellation Lodge presented the Lodge with a beautiful silken national flag. The flag was brought into the Lodge by Brother Horace F. Fuller who appeared in khaki uniform and was received with great enthusiasm. Right Worshipful Brother Katzmann was at his best, full of American spirit and patriotism. Worshipful Master Withington accepted it on behalf of the Lodge, stating that it had been given by many members subscribing to its purchase. Of course the Star Spangled Banner was sung in a wonderful manner, with the Adelphi Quartette leading. Then the Worshipful Master introduced Honorable Brother Guy A. Ham, of Gate of the Temple Lodge, who spoke of the flag and the part Masonry had taken in the history of our country and the duty we owed in the World War.
Twenty-eight of our members responcled to our country's call, ten in the navy and eighteen in the army. Their names are enrolled in imperishable letters of bronze to be handed down to inspire the young men of coming generations not only to brave deeds in times of the nation's peril, but to sturdy acts of manly devotion in times of peace even though such acts may pass unnoticed and lack the excitement and pomp of war. The bronze tablet was placed upon the wall of.our Lodge, with appropriate services.
Constellation Lodge received large additions to its membership, as did other Lodges throughout the eountry, from the young men who had been recently in the service, showing that the quiet influence of Masonry as they saw it in the camps exerted a strong power for good among the boys both in this country and overseas. What interesting letters we read in the Lodge from members here and abroad. How we contributed to send Christmas boxes, cigarettes, tobacco, sweets, Gillette pocket razors, etc., etc., ad libitum, in fact whatever they called for. And yet that war may never again devastate the world is the prayer of all of us. But none more fervent than the cry of one who has been there.
Here I pause for a moment to turn the pages of our Lodge Records where I find the name of Oscar Chaplin Hadlock, a candidate to receive the degrees. He is favorably reported, received and initiated, passed to the degree of Fellow Craft, and there his Masonic history closes; killed by accident in the service of his country before he could take his third degree. Providentially his is the only name appearing on our books for whom we placed a gold star on our service flag.
In looking over our records from time to time during the past few weeks I have found myself interested in reading the memorials of members who are not with us tonight. During the past twenty-five years, eighty-five such memorials have been inscribed upon the sacred roll, showing that three of our members each year pass to the Celestial Lodge above. I cannot help mentioning a few who were best known to most of you. The first is Aaron Whiting Baker, a most enthusiastic Mason and Past Master of the Lodge. I want to paint a picture, if I may. The hour is midnight. There are six good Masons riding in a hack from St. James Lodge at Mansfield back to Dedham. When approaching home they discover flames, the driver urges his steeds and they arrive upon the scene among the first. Instantly their wraps are tossed aside, and dressed as they are, silk hat and dress suits, they are elbow to elbow on the brakes of the West Dedham hand engine because a neighbor's barn is in flames. For a moment we smile at the incongruity of it all, and then the cry, "Water gone!" Nothing to do now but watch it burn. Brother Baker contracts a cold, pneumonia follows, and our smiles give place to sadness because an earnest, generous-hearted Mason has gone. Never was a member of our Lodge more enthusiastically interested in the tenets of his profession, generous to the last degree with his time and strength. Certainly Worshipful Brother Baker emphasized the fact that he owed a great deal to Masonry and we cannot help feeling that Constellation Lodge of twenty-five years ago owed a great deal to him.
Right Worshipful District Deputy Grand Master Jarvis Everett Smith was a man whose name was often associated with that of Worshipful Brother Baker. He was a man interested in the welfare of Dedham as he was in the welfare of Constellation Lodge. In fact, in all matters civil or fraternal he gave a very generous share of his time and considered all questions, and gave all matters affecting his town or Constellation Lodge his careful and very wise consideration.
And then, too, came the word in the Lodge and about town that our Secretary for thirty years of untiring service was not well. Bravely he tried to be as responsive as ever, and yet we all felt that his strength was failing, until in June, 1920, he was obliged to relinquish his task and turn over his splendidly kept records of Constellation Lodge to the hands of another. Surely this historical address would be ineomplete if we did not stop to let our memory weave a wreath of immortelles to place upon the name of Henry Devereaux Humphrey.
Twenty-five years ago it was your pleasure to listen to the Historical Address of Right Worshipful Brother Ely. WelI do we remember the distinguished gathering from the Grand Lodge who were glad to join with Constellation Lodge in celebrating the anniversary of Judge Ely's fifty years in Masonry, May 10, 1916. How well do we remember how, in his earnest, fatheriy fashion, he urged especially the young men to become members of the Fraternity! His venerable appearance, his genial manner, his prompt response to whatever he considered his duty, either Masonic or as a citizen, in spite of advancing years, might well inspire us to try, at least, to take up his task when he was obliged to lay it down.
Fain would I speak of many another Brother who has left our Lodge for the Celestial Lodge above where the Supreme Architect of the Universe presides. As I think of them one by one I am reminded of the words of James Whitcomb Riley.
I cannot say, and I will not say that they are dead.
They are just away! With a cheery smile and a wave of the hand
They have wandered into an uuknown land and left us dreaming how very fair
It needs must be, since they linger there, and you, oh you, who the
Wildest yearn for the old-time step and the glad return,
Think of them faring on, as dear in the love of there, as the love of here.
Think of them still as the same, I say. They are not dead -
They are just away.
Having spent the years of my life at the desk of a school teacher, on their customary moderate stipend, it was a novel experience to see a thousand dollars raised in no time and right before my very eyes, too. That is why I bring it into this historical sketch. It was in this wise. Brother William F. McQuillen had served on a committee from our Lodge to brighten up our anterooms. And, as they were a little short of funds, they had voted to transfer a little money from one of the funds which seemed inactive at the time to the repair fund, in order to do a satisfactory job. Somehow this Brother's conscience got to working a littie overtime, for at the close of one of our annual meetings he rose and told his story, made his confession, and saial, "I will give my check for five hundred dollars, if you Brethren will give the same amount." Instantly Right Worshipful Brother Smith arose with a hat he had found somewhere and said, "put your piedges in here, Brethren," and in fifteen minutes, the time consumed in passing the hat and counting the result, we had one thousand and twenty-three dollars. "Now," said the Brother, "we'll put that in our Charity Fund to help someone if he comes to a rainy day." That kind of a spirit is what Masonry stands for in Constellation Lodge.
Quietly as the "dewfall from Heaven " did our late Brother Henry White on May 12, 1897, suggest that he would like to give $100 towards a building fund. For four successive years, until his death, did this good brother add $100 and now the Henry White Building Fund amounts to $1,359.38. Brother White was not a wealthy man. Many a man in this Lodge could have bought him out. But he showed a quiet interest in Constellation Lodge's welfare almost beyond compare. I cannot help feeling that he must have been a lineal descendant, in spirit at least, of Benjamin Franklin the great Ameriean Apostle of Thrift.
It had been my hope to get some clue to the facts connected with the name of our Lodge. So I went to our members most interested in matters historical. Not one could tell me a thing. Then I thought of past Master Brother Brooks, the sole remaining charter member, and he said, "Oh bless you! I don't know. We must have taken it from the earlier Lodge." WeII, that is a fair guess. Brother Arthur Thayer has recently presented to us these stewards' rods belonging to the old Lodge - and by the way, the chair you are sitting in, Right Worshipful Deputy Grand Master of the Most Worshipful Grand Lodge, is the Master's chair of the old Lodge; I was told to say that. It is just one hundred and twenty years old and we look for old furniture here in Dedham. As Brother Thayer had recently presented the rods belonging to the old Lodge to our Lodge and had told us at that time of some of the events in the anti-Masonic days, I questioned him. He shook his head. About that time I happened to take up this little manual and I looked it through. There are three hundred and seventy-one names in it. Now a constellation is a group of bright stars, and so I looked it through to find any, and I said, "I don't see them; there are one or two rather distinguished, but after all, they are all mighty good Brethren, right on the level, and what is finer than to think of Constellation Lodge as a group of earnest-purposed men ? And what is finer than for these men to move forward under a banner which has on its folds Constellation - a group of men not stars, none of them, but all ready to do teamwork."
It was a distinguished man who said one hundred and fifty years ago, "I form my judgment of the future from the experience of the past." That may not be letter perfect, either, but it gives you the idea, and that is why I am just going to say one word which is not historical, but is looking into the future.
At our last annual meeting we had scarcely room in that Lodge-room above to put all the members. The head has grown too big for the hat and we have got to do something about it and I can see a splendid prospect for us if we all take hold and work together. I am going to give you an example in simple proportion. If thirty-five charter members could. raise $3,500 with $98 for good measure, how much can three hundred and seventy-one members get together if they go at it with the same purpose as did our charter members?
Now, then, there will be a line of excuses - we all are human - as to why we can't do it. But Brother Brooks is here and he can remember the line of excuses that were given by those thirty-five men. If you have one, give us a fresh one, a new one. Now I was thinking, as I eame from the High School this morning down across the meadow, of a great pile of brush, the remains of that terrible ice storm of a few months ago. You remember how our trees were terribly mutilated and the good men of the town carried that great pile of brush from all the streets and piled it up there, waiting for it to dry. Will it burn? It won't burn until you crowd that piie of brush down with some heavy load. Men working together cannot do the work unless you lay on their backs a load that is heavy, so that they get elbow to elbow, and then they can kindle with enthusiasm and they will go forward and do almost anything.
And I prophesy that when the times are ripe and the prices are normal, three hundred and seventy-one men, you sitting there, and there, and there, all working together on the level, can do something that will surprise the town of Dedham. That is the future and I get it out of the history of the past. I get it from the thirty-five charter members who contributed their hundred dollars - not a hundred dollars at once, Brethren, but became responsible for a hundred dollars, so that as Brother Brooks said, After a while we got it."
Just a few nights ago Edgar Guest stood on this platform and recited many of those poems that you love to hear. The very afternoon of the evening that he was here he was over at the hospital on Parker Hill, and there you know he saw before him the wrecks of the World's War in human form. Oh, how those boys wanted to get weII and strong again! But sometimes they were awfully discouraged, and so he read to them this poem:
IT COULDN'T BE DONE.

"Somebody said that it couldn't be done,
But he with a chuckle replied
That 'maybe it couldn't,' but he would be one
Who couldn't say so till he tried.
So he buckled right in with the trace of a grin
On his face. If he worried he hid it.
He started to sing as he tackled the thing
That couldn't be done, and he did it.

Somebody scoffed: 'Oh, you'll never do that;
At least no one ever has done it;'
But he took off his coat and he took off his hat,
And the first thing he knew he'd begun it.
With a lift of his chin and a bit of a grin,
Without any doubting or quitting
He started. to sing as he tackled the thing
That couldn't be done, and he did it.

"There are thousands to tell you it cannot be done,
There are thousands to prophesy failure;
There are thousands to point out to you one by one,
The dangers that wait to assail you.
But just buckle in with a bit of a grin,
Just take off your coat and go to it;
Just start in to sing as you tackle the thing
That cannot be done, and you'll do it.
CENTENARY HISTORY, APRIL 1971
From Proceedings, Page 1971-232:
By Brother Warren G. Wheeler.
It was early in the year 1801 that thirteen Freemasons, "having the good of Masonry at heart", a quote from their petition, sought permission to establish a Lodge in Dedham. They first petitioned the three nearest Lodges: Washington Lodge, Roxbury; Union Lodge, Dorchester; and Meridian, then at Watertown, on November 2, 1801. The next month, December 15, a petition to the Grand Lodge was sent and permission was granted for a Lodge in Dedham.
The first meeting of organization was held March 18, 1802 in the school hall, which stood near the present Unitarian Vestry. Dr. Nathaniel Ames, who lived on High Street, the present site of the Christian Science Church, was the first Master. From May 1802 to September 1803, there were sixteen candidates. On October 19, 1803, the Lodge was instituted and Constellation Lodge was host to the Grand Lodge with all the pomp and ceremony of such an auspicious occasion. (1803 Mass. 224-225)
The cornerstone of the County Court House was dedicated by Constellation Lodge and the Grand Lodge of Massachusetts on July 4, 1825. (1825 Mass. 549-552)
On St. John's Day, June 24, 1829, the Lodge dedicated the Masonic Building on Church Street near Franklin Square. The Morgan episode and the growing Anti-Masonic feeling led to a diminishing membership and finally in 1842 or 1843, the charter was surrendered and a few years later the building was sold.
In 1848 an effort was made to start anew, but after only two years the Lodge again surrendered its charter and thus ended Masonry in Dedham until we come to the present Constellation Lodge in 1871.
It was early in 1871 that a group of Masons who had for some time felt the need of a Masonic Lodge in Dedham, gathered in the shoe store of Bro. Alfred Allwright. This was located on the southerly side of High Street in a two story wooden building, the third building from the corner of High and Washington Streets. In my youth I remember it as being the store of Mrs. Doherty, where I could buy penny candy. Today this site is where the Dedham Community Theater was built.
A petition was sent the Grand Lodge requesting a dispensation for a new Lodge. On February 9, 1871, a dispensation was granted and the petition of those sixty-two Masons was rewarded.
The Lodge first met in Temperance Hall, located on the westerly side of Court Street, nearly opposite the Court House. The first Master of the Lodge was Wor. Frederick D. Ely, who later became District Deputy Grand Master of the Dedham 13th Masonic District.
The first regular communication was held on March 15, 1871 and the first applicant was John W. Chase who lived on Church Street for many years. After a few meetings in Temperance Hall, it was felt that better quarters for the Lodge were needed. They now secured a lease of the third floor of Memorial Hall built four years before. This small group raised the necessary money needed to fit it up for the Lodge, namely $3,500 plus $98.17 for good measure. Being a well-built building, Brother Marden could say, "We will put a lodge room up there that will stand."
But a disparaging note arose. There was a feeling that the Selectmen should not have given the lease to a fraternal organization. Feeling ran high, but in the town meeting it was shown strongly that in fairness to the Masons for their efforts in raising the necessary funds, the opposition died down once and for all and the Anti-Masonic feelings are no longer heard. On April 2, 1872, M. W. Sereno D. Nickerson, Grand Master, constituted the members into a Lodge of Free and Accepted Masons, named Constellation Lodge. This meeting was attended by an overflow crowd of Masons and their wives.
We all remember the beautiful Masonic banner that graced our Lodge room. This was presented to the Lodge at the close of the installation of officers. The presentation was made by Miss Lizzie B. Endicott, daughter of our Bro. Augustus B. Endicott, from the ladies of the Lodge.
The Lodge room was adequate for those early years, not too large but well-furnished. The officers' chairs, later saved when the new building was erected, and buried in our basement for many years were recently re-upholstered and are now in our Past Masters room on the third floor of our Lodge building. The small organ sat at the left of the Senior Warden. There was a small preparation room outside the main Lodge room. In the ante-room was a small closet containing the needs of a collation, cups, saucers, plates, etc. It was here following the meetings, that the Tyler set up the long table and the members enjoyed the coffee, cheese and doughnuts. But the most important thing to remember about the Lodge was the very narrow flight of stairs leading from the second floor to our Lodge quarters. The story told to me years ago was that Bro. William B. Starrett very often carried Brother and Reverend Edward W. Virgin up these stairs on his back. Let us be thankful to the great architect of the universe that in all the years we spent there, no fire or other calamity struck the Lodge.
At the meeting of October 14, 1896, R.W. Frederick D. Ely suggested that a celebration should be held to commemorate the 25th Anniversary of the Lodge. After a discussion, it was decided to hold the meeting on March 16, 1897 and a committee began preparations. A book was prepared for the occasion containing the complete proceedings of this meeting including a picture of Temperance Hall, our first meeting place, and one showing the interior of the present Lodge room in Memorial Hall. The Grand Lodge officers present were seated in the East with M. W. Charles C. Hutchinson, Grand Master; M. W. Sereno D. Nickerson, Grand Secretary; R. W. Joseph H. Gleason, Junior Grand Warden; R. W. John Carr, Grand Treasurer as well as R. W. Frederick D. Ely, and Wor. George A. Phillips Past Masters of the Lodge and the officers for 1897. The opening prayer was given by the Chaplain, Brother and Reverend Edward W. Virgin, followed by the greetings of Wor. George A. Phillips. Selections by the Corinthian Quartet followed. Brother Henry D. Humphrey gave a brief history of old Constellation Lodge. Then came an innovation. Miss Alice E. Wight, daughter of second member, Brother George F. Wight, gave a reading. Incidentally, the son of our first member, Brother Chase, later married Miss Alice E. Wight, the daughter of our second member, Brother Wight. R. W. Frederick D. Ely gave the history of the Lodge from 1872 to 1897. Following another reading by Miss Wight and selections by the quartet, the meeting was closed. The Brethren then "marched" to Memorial Hall for a bountiful dinner. Speeches were brief because the Grand Lodge Officers had to get a train back to Boston. How different now.
The first Masonic Building Association was organized on October 6, 1908. The leaflet put out by the Association explained the purpose of the Association and asked for any suggestions. It also showed detailed plans of the building to be erected. The basement would contain bowling alleys, pool and billiard tables, storage space and boiler room. The street floor was for the auditorium, seating 400, with library, reception room and kitchen. The Lodge room above was 41 x 60 with the organ loft and other adjoining rooms necessary for Lodge purposes. In fact, compared to our present quarters there were many similarities. Both this and our present Temple were designed by Brother James G. Hutchison. The financial arrangements had been worked out. Shares were to be sold at $25. per share. I might mention right here that a few years ago I was asked if those shares were still worth $25. This property was known as the Pearl Street property, located on Pearl Street, being the large house opposite the Court House and is still standing. There were two groups in the Lodge, those favoring a Temple just for the Masons, and those who felt the location should be in the center of the town with stores for some revenue. Nothing was resolved and the money subscribed was returned to some purchasers and the remainder became the nucleus of a building fund.
In February, 1908, with plans for a Masonic Home in Charlton being discussed, the Grand Lodge asked that members contribute #5.00 or $1.00 per year toward the maintenance of the Home. This plan of $5.00 per new member is still in effect, the money being taken from the initiation fee. Constellation Lodge, shortly after accepting the plan, sent a check for $790.00 to the Grand Lodge. The Masonic Home is now a reality, located on a hill and surrounded by beautiful countryside. Over the years, the Lodge has had several guests at the Home. In recent years, aside from occasional visits by members, it has become the practice to visit the guests on their birthday and sometimes on Easter or Christmas. A group of officers and their families journey by car to the Home. If one has never visited this delightful spot, consider doing so. One hour from Dedham via the Mass. Turnpike or Route 20 is all the time necessary. Last year there were 119 guests at the Home. Another custom adopted by the various Masonic Districts has been to donate something useful to the maintenance of the Home. Thus the Lodges and members can feel they are sharing in carrying on the Masonic Home.
On May 16, 1917, with the United States engaged in World War I, Constellation Lodge held a Patriotic night, with an overflow gathering in the Lodge room. The beautiful silken National Flag was carried into the Lodge room by Bro. Horace F. Fuller, where R.W. Frederick G. Katzmann, D. D. G. M. of Hyde Park 25th Masonic District, presented it to the Lodge. Wor. John W. Withington, Master of the Lodge, accepted it stating that this was a gift made possible by donations of the members. The address was given by Bro. Guy A. Ham and I am sure that any one who heard will never forget his forceful address on Masonry and the flag. A bronze plaque was placed upon the wall of the Lodge showing the names of twenty-eight members in the service. One name, Oscar Chaplin Hadlock, shows a gold star. After only two degrees he lost his life in an accident at Philadelphia.
On May 10, 1916, Constellation Lodge paid tribute to one of its distinguished members, R. W. Frederick David Ely. Fifty years ago he had become a Mason in Orient Lodge, South Dedham, now Norwood. With R. W. John W. Withington presiding, the members of the Grand Lodge, M. W. Melvin M. Johnson, Grand Master, other distinguished Masons and many members of Constellation Lodge gathered in Memorial Hall for a banquet. The many speakers all voiced high praise and tributes to his contributions to Masonry and the well being of town and state.
In May, 1897, Brother Henry White offered to give $100 each year to a Building Fund and continued to do so until his death four years later. In 1922 this fund amounted to $1,359. Later it was absorbed by new building funds.
Over the years the Masonic Building Association was working toward a new building. In 1920 the Washington Street property was purchased and plans were made to erect our present Masonic Temple. The two houses on the property were sold and moved; one to the corner of Washington Street and the other next to it on Worthington Street.
The Pearl Street property was finally sold in 1923. To finance the new building a fund raising campaign was inaugurated. With a good committee and help from a professional fund raiser, the necessary amount was realized. The architect, Bro. James G. Hutchison, was selected and plans were drawn up. The decision was made that it be strictly a Temple with no stores or offices attached.
The Fiftieth Anniversary of Constellation Lodge was held on March 13, 1922 in Memorial Hall, Dedham. Following the invocation by the Chaplain, Brother and Reverend William T. Beale, the Adelphi Quartet sang a selection. The Master, Wor. Edward A. Rolland, then gave his address of welcome.
In the absence of the Grand Master, who was in Europe, R. W. Dudley H. Ferrell, Deputy Grand Master and his Suite of distinguished Masons were present, having been escorted into the Lodge at eight o'clock. (1922 Mass. 59-78)
Following the address by the Deputy Grand Master, the Master introduced Wor. Edwin A. Brooks, the last surviving Charter Member, for any remarks about the Lodge in those days.
The Master then introduced Wor. George F. Joyce who read the history of Constellation Lodge's first fifty years. R. W. Arthur W. Chase, D. D. G. M. for the Hyde Park 25th Masonic District spoke briefly.
Thus closed the second 25 years in the history of Constellation Lodge.
In August, 1923, a report was presented by a structural engineering company, which showed in great detail the condition of the Lodge room which had been occupied for so many years. In the conclusion of the report it was stated, and I quote: "In my opinion, the framing supporting the lodge room is not safe for holding of meetings of any nature therein. I strongly recommend that this room be immediately closed and no further meetings, large or small, be permitted therein".
On July 7, 1927, a special meeting was held for the purpose of laying the cornerstone of our new Temple. The Grand Lodge was represented by a large group of officers with M. W. Frank L. Simpson, Grand Master. (1927 Mass. 192-196) Escorted by Constellation Lodge, the march was made to the site of our Temple. Here, in accordance with ancient usages, the cornerstone was laid. The Grand Master was assisted by many officers and members of the Lodge. On the Grand Master's suite was Wor. G. Sumner Wilson, who was Junior Grand Deacon of the Grand Lodge, and Past Master of Constellation Lodge. To quote from Grand Lodge proceeding, "the Grand Master addressed the assemblage briefly but with eloquence and force".
A year and a half later, January 27, 1928, the formal dedication of our new Temple was held. (1928 Mass. 4-10) The Grand Lodge was represented by R. W. Otis C. White, Acting Grand Master and a large group of distinguished Masons, including R. W. John W. Withington, Senior Grand Warden and a Past Master of Constellation Lodge. The Lodge was dedicated in full form and ceremony. This is an impressive ceremony and well worth attending if one has the opportunity to do so. Following the dedication, the Acting Grand Master, R. W. Otis C. White, addressed the Brethren. In passing, let me say that anyone interested may find more information about these recent events in the Grand Lodge Proceedings, copies of which are in our Lodge.
The Sunday following our dedication, January 29, 1928, the Lodge held an open house for members, friends, and the general public. More than 200 attended, carefully observing every nook and corner in our beautiful new Temple.
It was on October 19, 1940 that the 225th Special Communication of Constellation Lodge was held in the Masonic Temple in Boston. The occasion was a visit by Continental Lodge No. 75, Waterbury, Connecticut. This was made possible by a special dispensation of the Grand Master, M.W. Joseph Earl Perry, Grand Master of Masons of Massachusetts and the special dispensation issued to Continental Lodge No. 75 by the Grand Lodge of Connecticut. Following a banquet at which 320 members and guests sat down to dinner, the Brethren adjourned to the Lodge room. The Deputy Grand Master, R. W. Samuel H. Wragg, and his suite of Officers were then escorted into the Lodge room by a committee of Past Masters with Wor. Bro. George M. Ellis as chairman. The officers of Continental Lodge No. 75 then marched into the Lodge room with the Scottish Degree Team.
The third degree was worked on one candidate, using the Connecticut ritual. Following the degree work, the officers of Constellation Lodge assumed their stations. After remarks by the Deputy Grand Master, R. W. Samuel H. Wragg, he retired from the Lodge, followed shortly by the Continental Lodge officers.
The records of the meeting report, "the degree as presented by the degree team was most colorful, well exemplified, and quite different from the Massachusetts ritual". The attendance at this meeting was 480, the largest meeting ever held by Constellation Lodge.
The 75th Anniversary of the Lodge was held on May 1, 1946. (1946 Mass. 134-135) The evening opened with a banquet at which over 250 members and guests sat down. After returning to the Lodge room, the Grand Master, M. W. Samuel H. Wragg, and his Suite of distinguished Masons, were escorted into the Lodge room by a committee of Past Masters with Wor. Bro. John E. Fisher as chairman. The Grand Master assumed a seat in the East and spoke briefly.
Following selections by the Weber Quartet, Brother and Reverend Lyman V. Rutledge, Chaplain, delivered the historical address. Unfortunately no copy of his address was kept, but no one who heard it will ever forget the splendid story of Constellation Lodge up to that period.
Remarks were made by M. W. Albert A. Schaefer, Past Grand Master; R. W. Roger Keith, Deputy Grand Master; R. W. Peter A. Day, Senior Grand Warden; R. W. Harry A. Starr, Junior Grand Warden; R. W. Walter E. Hawley, D. D. Grand Master, Hyde Park 25th Masonic District and Wor. Ralph S. Lyons, presiding Master of Constellation Lodge.
After another selection by the quartet, the meeting was closed at 9:55 o'clock. Of interest to me were the selections of the quartet — Thanksgiving Hymn, Finlandia, Bells of St. Mary's, Stout Hearted Men, Song of Songs, In a Monastery Garden and just before the close of the meeting, "Old Man River".
On May 9, 19S9, at a special meeting of the Lodge a long awaited event took place. (19S9 Mass. 92-93) For years the Lodge had struggled under the burden of a mortgage. This was the night when the mortgage would be burned. This was made possible now by a bequest from our late Bro. Andrew J. Keith, in which he specified was to finish paying off the mortgage. Following an excellent roast beef dinner in the banquet hall, enjoyed by 134 members and guests, the members assembled in the Lodge room. The Grand Master, M. W. Andrew G. Jenkins, was escorted into the Lodge room by a Committee of Past Masters, with R. W. Theodore A. Ward as Chairman.
The Grand Lodge Officers assumed their stations and in a most impressive and inspiring ceremony, proceeded to re-dedicate and re-consecrate our Lodge. They were assisted by R. W. George M. Ellis, Chairman of the mortgage burning committee; R. W. Theodore A. Ward, Chairman of the Board of Trustees; Wor. Bro. Wilfred N. Day, representing the Senior members of the Lodge and Bro. George J. Boone, who represented the youngest Master Masons.
Following the introductions of the many distinguished Masons present, the Grand Master directed the Grand Marshal to make the official proclamation. "That Constellation Lodge had been re-dedicated and the mortgage burned, having been consumed by flames, and the lodge was now free from debt".
The Grand Master and his Suite were then escorted from the Lodge under escort of the same committee. To quote from the records, "Thus ended an evening of joy to the Lodge and its members, as well as having observed a seldom conducted ceremony".
It was on September 16, 1964 that Rhode Island night was held in the Lodge. (1964 Mass. 229-233) Following a brief business meeting, the members and guests assembled in the banquet hall for dinner. A capacity crowd of 225 sat down, using our new tables and chairs for the first time.
Included among the guests were M. W. A. Neill Osgood, his Marshal, R. W. Robert P. Beach, of the Grand Lodge of Massachusetts and a distinguished Suite.
The Most Worshipful Charles R. Bonnemort, Grand Master of Masons in the State of Rhode Island and the Providence Plantations, was accompanied by more than forty distinguished Masons.
Present also were the Grand Masters of both Connecticut and Vermont, together with the Past Grand Master of Maine, and the Deputy Grand Master of New Hampshire. Returning to the Lodge room the Grand Master of Massachusetts was escorted into the Lodge with his Suite of distinguished Masons, and assumed the Oriental Chair.
M. W. Charles R. Bonnemort, Grand Master of Rhode Island and the Providence Plantations and his Suite of Grand Officers, were escorted into the Lodge where the Grand Master of Massachusetts, M. W. A. Neill Osgood, greeted them.
The degree team from Rhode Island assumed their stations for the work of the Master Mason degree. Due to the lateness of the hour, the first section was omitted. The work of the degree differs in many ways from the Massachusetts ritual. Presentations were made to distinguished guests and at 10:30 P.M. the Lodge was closed, followed by a collation in the banquet hall.
Over the past ten years, several Ladies Nights have been held. The first two or three were held in our own Temple. Then they were moved to outside places. The last one on October 23, 1970 was held at the Cornetta's Iron Horse in Norwood, with a good attendance in spite of very inclement weather. It has been the custom of the Lodge to hold one or more Church services, attending the several Churches in Dedham and Westwood each year.
For eight years now the Lodge has held Auctions, raising money to improve and beautify the Temple inside. These auctions have been very successful due to the efforts of energetic committees.
The Lodge has been honored by the Grand Lodge on many occasions. One Past Master was Senior Grand Warden; another Junior Grand Deacon; seven others have served as District Deputy Grand Masters; one was chosen as a Junior Grand Steward, and one now represents the Grand Lodge of Switzerland in the Grand Lodge of Massachusetts.
Veterans' medals for fifty years of membership have been granted to many of our members. At present there are 15 living medal holders.
Here endeth the first century of Constellation Lodge. May the next century continue to be fruitful and carry on the good work of our own Constellation Lodge.
125TH ANNIVERSARY HISTORY, OCTOBER 1996
From Proceedings, Page 1996-219:
Centennial through Quasquicentennial Years
from the Lodge records and archives
By Worshipful Thomas M. Connors.
Since the granting of a dispensation for a new Constellation Lodge on February 9, 1871,1607 men have signed our by-laws and become members of Constellation Lodge. On August 31, 1996, our membership totaled 262, twenty-two of whom have been awarded the Grand Lodge Fifty-year Veteran's Medal and certificate.
List of Brothers and total Masonic Years
Albert E. Mace, Jr., 73
George C. Shackleford, 71
Sherman M. Pollock, 62
Joseph F. LaFreniere, 60
Gordon A. Thomson, 57
Harold Hemming, 57
Alfred W. Strand, 52
Arthur H. Iverson, 52
Roderick E. Thomson, 52
S. Dean Lewis, 52
John A. Hanson, 52
Hans E, Swendsboe, 51
Felix A. Rudolph, 51
Albert A. Warner, 51
John McGuinness, Jr., 51
Albert R. Dean, 51
Frank G. Hobbs, Jr., 50
Thomas A. Keith, 50
Robert F. Clark, 50
Alfred R. Doig, 50
William H. Chambers, 50
Theodore A. Marzinzik, 50
For a complete history of Constellation Lodge, reference is made to the "History of Constellation Lodge" which was so ably prepared by our late Bro. Warren G. Wheeler for our 10011 anniversary observance on April 28, 1971 and printed in the Abstract of Proceedings of The Grand Lodge of Massachusetts, 1971, pp. 232-243. Also to the Proceedings of the Twenty-fifth Anniversary of Constellation Lodge A. F. and A. M. published by the Lodge in 1898.
Our one hundredth anniversary was held on Wednesday, April 28, 1971. Following an excellent dinner served to the brethren in the banquet hall of the Masonic Hall, Dedham, the Grand Officers were escorted into the Lodge room. Worshipful Hollis A. Hedderig welcomed M. W. Herbert H. Jaynes accompanied by:
R. W. William M. Babbitt, Deputy Grand Master
R. W. Henry D. Ramm, Senior Grand Warden
R. W. Oliver Rutherford, Junior Grand Warden
R. W. Robert P. Beach, Grand Secretary
R. W. James M. McBride, D. D. G. M., Hyde Park 25th
R. W. Stafford E. Davis, Grand Marshal
Wor. Rev. Egbert W. Jenkinson, Grand Chaplain
R. W. James A. Vytal, Grand Sword Bearer
Wor. Randall S. Everson, Grand Standard Bearer
R. W. W. Malcom Lunt, Grand Pursuivant
Wor. Elisha Robbins, Grand Pursuivant
Wor. C. Evan Johnson, Grand Tyler
M. W. Laurence E. Eaton, Past Grand Master
M. W. A. Neill Osgood, Past Grand Master
M. W. Thomas A. Booth, Past Grand Master
], Past Grand Master of RI Worshipful Wendell C. Segersten read a scholarly history of the Lodge prepared by Bro. Warren G. Wheeler, Historian, who was then serving in his fiftieth year as Secretary of Constellation Lodge. Remarks were also made by Brothers Babbitt, Ramm, Rutherford, Eaton, Osgood and Booth, and by Most Worshipful Charles R. Bonnemort, Past Grand Master of Masons in Rhode Island and an Honorary Member of the Lodge. R. W. James M. McBride, District Deputy of the Hyde Park 25l Masonic District and the Grand Master then presented the Lodge a Centenary Warrant. Bro. Keith C. Hatfield, soloist, rendered several pleasing vocal selections during the program accompanied by Bro. Harry E. Rodgers at the organ.
As a part of the one hundredth anniversary observance, a Centennial Church Service was held at the Allin Congregational Church, Dedham, on Sunday afternoon, April 25; and a Centennial Dinner Dance was held at the Dedham Country and Polo Club on Saturday evening, May 1.
The remainder of 1971 was notable for the Lodge to have witnessed the Kilwinning Club raised Brother Ian Inglis.
In 1972, B. Scott Maclnnes was installed as our Master. Following the installation of officers, the Marshal placed our Lodge Secretary, Bro. Warren G. Wheeler, in a chair located between the altar and the East; then, surrounded by the Masters of the Hyde Park 25* Masonic District (all nine of them), The District Deputy Grand Master, R. W. James M. McBride, addressed the Secretary, first with the recollections of their many years of acquaintance, and then reading a letter of commendation from the Grand Master, a letter of congratulation of the Masters of the District which read, "We respectfully request that it be spread upon the records of Constellation Lodge that all the brethren of the Hyde-Park 2511 Masonic District extend their congratulations and expressed a hope that example of unselfish devotion to his Lodge which has been set by Brother Wheeler be an inspiration to us all." Citations were also read from the Speaker of the Massachusetts House of Representatives and his friends at the Massachusetts Historical Society.
At our March 15, 1972 meeting, we received Most Worshipful Donald W. Vose for a fraternal visit, accompanied by Grand Marshal R. W. Arthur L. Rockwell. This was a surprise visit, as M. W. Vose wanted to attend just a regular lodge third degree. The Master was very pleased!
Also in 1972, Worshipful Hollis A. Hedderig dedicated the beautiful floor in the anteroom which was made possible by the proceeds from the previous year's auction. Our Annual Ladies Night was held at Cornetta's Iron Horse, in Norwood and Brother Robert J. Cann presented a check for $100 to be used toward the repainting of the Lodge ceiling. He received a walk about the Lodge and a round of applause which greeted his announcement.
Worshipful Archibald A. Martin, Jr. was installed in 1973. The Installation was held in spite of a very stormy night with freezing rain and hazardous driving conditions. Yet the Lodge room was completely filled for the Installation. This also led the Lodge later to change its installation to follow the September meeting.
1973 also saw the beginning of a strong relationship with the Knights of Columbus Council #234 of Dedham. Reciprocal church services were held at St. Mary's Roman Catholic Church and the Allin Congregational Church. A Table Lodge was held and the several wines were described before each toast by our newly raised Bro. Oscar A. Nietzel. Thus began a long tradition that continues today with Bro. Nietzel selecting appropriate spirits for our Table Lodges.
The years 1974 and 1975 were a transition year with the installation of Worshipful G. Lennart Gustafson, who served one and three-quarters years so the installation of officers could be moved to a warmer month. Also during this time, Worshipful Burton F. Miller died suddenly in a tragic automobile accident. He was our long-time auction chairman and a scholarship fund was subsequently established in his name by the Lodge.
In March 1974, the Lodge was honored to receive Right Worshipful James M. McBride, Deputy Grand Master, for a fraternal visitation. Also that year, the Lodge saw a variety of formal and informal degree teams, including the Arthur D. Little degree team, Mahded Grotto degree team, All in Church degree team, Aleppo Temple Shrine degree team, Kilted Craft degree team, Senior DeMolay degree team, and the Kilwinning degree team. Bro. Otto Engdahl was soloist at a number of Lodge degrees. The Lodge also began a yearly program of sponsoring two Dedham DeMolay boys to the DeMolay Leadership Camp at $95 per boy. These first boys are now Worshipful Tom Connors and Worshipful Peter Randall. Quite a return on our investment! Worshipful Wallace F. MacElhiney was installed in 1975. A Ladies Night was held at Rossie's Restaurant and in April, we held a Table Lodge with a total of sixty-three brothers enjoying a delicious German dinner with beer served for the traditional seven toasts.
The year 1976 brought us Worshipful Kenneth L. Hedderig, the son of Worshipful Hollis Hedderig. Worshipful Archibald Martin, Jr. was installed as Master of the 37l Lodge of Instruction. In April 1977, a Square Dance was held under the direction of Brother Riccardo P. Ingemi and a Golf Tournament, with the presentation of "gold trophies" to the winners.
Donald L. Tabor was installed in 1977 and much work was done to the Hall, including the repair of the lighting system and a new heating system at a cost of $5,000. Also, in September 1978, the Lodge voted that Past Master's jewels be recycled and also removed from their display cases to prevent any possibility of vandalism.
1978 brought us Worshipful George S. Fontana, who continued a Lodge tradition of "Blue Lodge Night" where brethren from the sidelines would assume the officer's stations and perform some of the work of the evening. Brother Vernon Gustafson is remembered for his excellent renditions of the Middle Chamber lecture. The Master also invited the Police Square Club degree team to work.
Peter C. Pappas was installed in 1979 and began an annual golf tournament. The 1980 installation of Worshipful Riccardo P. Ingemi was notable for Brother Albert E. Harling being installed for the 2511 time as Chaplain. The Lodge and Dedham DeMolay held a bowling match and we remembered Brother Robert Berringer for his many years as our auctioneer with his deep booming voice. A Valentine Ladies Night was held at the Chateau De Ville and a Shrine Degree team visited the Lodge. We began an annual cribbage tournament with Orient Lodge and also played a Softball game with Rising Star Lodge.
Lewellyn J. Maxwell was installed in 1981 and we remembered our long-time residents at the Masonic Home, whom we sponsored, Catherine White and Mini Anson. Also, the minutes recall "renowned chef Worshipful George Fontana for his culinary services."
Worshipful Hollis Hedderig was presented the Joseph Warren Medal in June of 1982. There was a New Year's Eve party in the banquet hall and Worshipful George Fontana began many years of presenting the candlelight charge to newly raised brothers. 1982 we welcomed Worshipful William G. Bacon to the East and a 250n anniversary dinner dance was held with the Lodges of the Hyde-Park 25* at the Red Snapper in Foxboro in May of 1983. The Lodge installed new drapes in the officers room and lobby. Worshipful Ronald A. Brousseau was installed in 1983 and the Lodge held a Christmas dinner social in December. It was voted to retire the Chaplain's apron and to purchase a new one in honor of Brother Albert E. Harling, our Chaplain of twenty-seven years. In January of 1984, the Kilted Craft degree team was snowed-out. A new fund raiser for the Lodge, a Spring Pops Concert, by the Parkway Concert Orchestra was started by the Master. We also saw the Kilwinning Club degree team again and in May, 1984, the Lodge voted to store our original Charter in the vault at Orient Lodge in Norwood, since the safety deposit box was no longer available.
Worshipful Thomas M. Connors was elected Master in 1984 and in December the Aleppo Shrine Yacht Club degree team was welcomed. Recognition of Masonic birthdays was started with publication in the Lodge notice and each member attending that month received a flower.
Worshipful Sumner C. Widell was remembered for his assistance to the officers with ritual (foo, pa, pa) and his many years as a candidate instructor along with Brother Jerry McCarthy. Right Worshipful Graham Long set high standards for his fabulous collations which were complete with linen tablecloths.
The Colonial Craftsman Club was again welcomed and the Lodge sponsored Brother A. C. Brauer at the Masonic Home. The Lodge donated $ 150 to sponsor a Rainbow girl for leadership training like we have done with DeMolay Leadership Conferences. Swedish Night was held during the cold months and later a Clam Bake, at Norfolk Country Club attended by fifty-eight guests. A Carpet Fund was started from the proceeds of the annual auction and was added to in the following years by Right Worshipful Graham Long and Worshipful Peter Randall, in the hope of someday replacing the Lodge room rug.
Graham A. Long was installed in 1985 and the Lodge was his guest for a sit-down dinner, complete with china and crystal. The Banquet hall was so full, tables were placed on the stage and in the hall outside the cloak room.
We remember dinners catered by Doris Engdahl, late wife of Brother Otto Engdahl. The Pops Concert income increased dramatically from $210 to $2214. Worshipful Thomas Connors received the Lodge's first Grand Master's Award, our first of three consecutive awards which also included Masters Right Worshipful Graham Long and Worshipful Peter Randall.
The highlight of the year was a visit to Seven Springs Lodge in Cheltenham, England, where the Lodge was royally welcomed and witnessed a Third Degree that was different than our own, but, whose ritual was superb. Also, our annual lobster and steak dinner was held in June and the Lodge participated in the town of Dedham's 350th anniversary parade.
In 1986, Worshipful Peter A. Randall was installed Master. Don Folsom sang "O Holy Night" at Christmas, and we remember Brother Bob Hill and Brother Oscar Nietzel, for their travel slide shows. In May 1989, we were entertained with a parody called "When Masons Meet" performed by the ladies of Palestine Chapter Order of the Eastern Star.
Worshipful Ronald A. Brousseau was installed in 1987 and it was a year of repairs to the Lodge building. $5600 went to repair the roof and $4400 for brick wall repair and sealing. Our long-time Tyler and building superintendent, Brother Robert Gould died and the Grand Master's Run included our running Masters, Worshipful George Fontana and Worshipful Peter Randall. The Lodge held a Harbor Cruise and a camping trip to Mystic, Connecticut.
For a second time in 1988, Worshipful Peter A. Randall assumed the East. Brother Doc. & Mrs. Huntress were visited at the Masonic Home at Thanksgiving and Right Worshipful Graham A. Long was appointed District Deputy Grand Master. The Grand Master's Run was again held with Worshipful George Fontana, Worshipful Peter Randall, and Worshipful Ron Brousseau participating. The Lodge also spent a day apple picking and touring a winery.
Worshipful Glenn L. Kubick was installed in 1989. Worshipful Peter Randall was appointed Grand Steward and Worshipful George Fontana was installed as Master of the 37th Lodge of Instruction. A donation was made to Pajaro Lodge #116 in the aftermath of the devastating California earthquake. In January, the records record a "Twinkee" collation and "our gallant team" won the Cribbage Cup and took Orient Lodge "to the cleaners by decisive margin." Later, the Lodge received, by a committee, Worshipful Aubrey Mowatt and the members of Orient Lodge to present the trophy won.
The 1990 installation was for Worshipful Bruce A. Rand. The Lodge attended a Masonic Sunday service at the Good Shepherd Episcopal Church in Oakdale. Worshipful Glenn Kubick received in Grand Lodge the Lodge's fourth Grand Master's Award. In November, 1990, we were pleased to have as a visitor, Worshipful Andrew H. Longhurst, Past Provincial Senior Grand Deacon of the Provincial Grand Lodge of Gloucestershire, England.
We also attended a Candlemas service at the All Saints Church in Dorchester, which was a high Episcopal service. In January, 1991, Worshipful G. Lennart Gustafson was the Lodge's guest of honor at a Table Lodge in recognition of his service for twelve years as Ritual Master. Once again, another cribbage victory was made over Orient Lodge.
Worshipful George S. Fontana once again served as our Master in 1991. At our January, 1992 meeting, word reached the Master that the war with Iraq had begun with bombing raids. The Lodge paused to offer a special prayer for the peace and safety of the troops. We held a Valentine's Day dinner for the ladies and in the spring, the Lodge supported Doc. Huntress' begonia garden at the Masonic Home which, by all accounts, was quite a floral display.
Worshipful Thomas M. Connors also served a second time as the Lodge's Master. At the 1992 installation, Mike Provost was the soloist. Worshipful Glenn Kubick was installed as Master of the 37th Lodge of Instruction. The Lodge started a presentation of Widow pins and recognition cards. In addition to our Swedish nights, a Middle Eastern collation was also held. The March, 1993 Pops Concert was snowed out by a severe snowstorm that paralyzed the town of Dedham. The Lodge and Worshipful Thomas Connors, were again honored with a presentation of the Grand Master's Award. A fifth time for the Lodge and his second as Master.
In 1993, Worshipful George N. Neilson, Jr. assumed the East and in February, 1994, G. Lennart Gustafson received the Joseph Warren Medal. We held a Widows night and dinner. The DeMolay State Officers performed the Ceremony of Light at one of our meetings and in December, Worshipful George Fontana once again coordinated our distribution of cookie tins and cards to our shut-ins and widows.
Worshipful Charles R. Lambert was installed Master for the first time in 1994. The year was marked by our support for the Dedham Food Pantry. We also were entertained by the Norfolk County Sheriff's Dog Team. Worshipful Thomas Connors was appointed Grand Steward. The Colonial Craftsmen of Colonial Massachusetts raised Bro. David Stoll, son of Worshipful Bill Stoll, a long time member of the Colonial Craftsmen. In September, 1995, Kilwinning Lodge of Lowell attended our meeting and presented a traveling gavel for our visit to their lodge, when they performed a courtesy First Degree for us, we having more Lodge members than they on the sidelines. This challenge gavel was first started by Manchester Lodge #73 in Connecticut.
Worshipful Eugene B. Nichols was installed as Master in 1995. Worshipful Thomas Connors was installed Master of the 37th Lodge of Instruction. The Lodge joined the state Adopt-A-Highway program and also purchased Masonic road signs. The Lodge sponsored a Christmas shopping trip to New York City and saw the Radio City Hall show. Our March, 1996 Table Lodge had Worshipful George S. Fontana as guest of honor for his many years of service to the Lodge. The Lodge, along with the Hyde Park 25th District, started serving a pancake breakfast to support the blood drives. The year ended with Worshipful Nichols' second installation as Master of Constellation Lodge, followed with a dinner dance held at the Norfolk Country Club.
Here endeth one hundred and twenty-five years of Constellation Lodge. May the coming years continue to be fruitful and carry on the good work of our own Constellation Lodge.
OTHER
EVENTS
OFFICER LIST, 1817
From New England Galaxy, Vol. I, No. 11, 12/26/1817, Page 3:
Officers for the ensuing year.
R. W. Elisha Lyon, Master.
W. Jason Messinger, S. W.
W. Jonathan Newell, J. W.
Lemuel Mills, Jr., Secretary.
Elisha Story, Treasurer.
Josiah Fisher, S. D.
William Peirce, Jr., J. D.
ST. JOHN'S DAY, JUNE 1824
From New England Freemason, Vol. I, No. 10, October 1874, Page 483:
The New England Galaxy contained each week, under the head of "Masonic Calendar", a list of the Masonic meetings to be held during the following week throughout the State. To this was added from time to time the names of officers elected in some of the Bodies. In the June 4, 1824 issue appears the following advertisement:
MASONIC CELEBRATION.
"Constellation Lodge, of Dedham, have made arrangements for celebrating the Nativity of St. John the Baptist, the 24th of June next. A Sermon will be delivered on the occasion by R. W. and Rev. Brother James Sabine, of Boston; and an Address by R. W. Brother Josiah J. Fisk, of Wrentham. The Brethren generally are respectfully invited to join with them in the intended celebration.
"Procession to form at precisely 10 o'clock A. M. Entertainment by Brother Francis Alden. Suitable accommodations for the ladies.
"Tickets for gentlemen $1, - for ladies, 75 cents.
"Dedham, May 23, A. L. 5824."
"John K. Briggs, Secretary."
OFFICER LIST, NOVEMBER 1825
From Masonic Mirror and Mechanics' Intelligencer, Vol. II, No. 7, February 1826, Page 50:
Officers of Consellation Lodge in Dedham, elected and installed Nov. 25, A. L. 5825:
Bro. James Downing, M.
Bro. John Williams, S. W.
Bro. Jabez Morse, J. W.
Bro. Martin Marsh, Treas.
Bro. Elisha Thayer, Sec.
Bro. Timothy Phelps, S. D.
Bro. Francis Alden, J. D.
Bro. Rev. Samuel Adlam, Chaplain.
Bro. Ebenezer Capen, S. S.
Bro. Charles Hynes, J. S.
Bro. Joseph W. Gay, Tyler.
OFFICER LIST, NOVEMBER 1826
From Masonic Mirror and Mechanics' Intelligencer, Vol. II, No. 51, December 1826, Page 402:
Officers of Consellation Lodge in Dedham, elected and installed Nov. 25, A. L. 5825:
Rt. Wor. James Downing, M.
Wor. Jabez Morse, S. W.
Wor. Timothy Phelps, J. W.
Bro. Martin Marsh, Treas.
Bro. Elisha Thayer, Sec.
Bro. George W. Low, S. D.
Bro. Simeon Smith, J. D.
Bro. Ebenezer Capen, S. S.
Bro. Benjamin Fisher, 2nd, J. S.
Bro. Rev. William Cogswell, Chaplain.
ST. JOHN THE BAPTIST, JUNE 1829
From Masonic Mirror, New Series, Vol. I, No. 1, July 1829, Page 6:
Agreeably to public notice, and in accordance with the usages of the Masonic Fraternity throughout the Christian world, the brotherhood assembled on the 24th ult. as Dedham, to commemorate the nativity of the patron saint of Freemasonry, John the Baptist.
At 9 o'clock A. M. a deputation from the M. W. G. Lodge of Massachusetts, assembled at the office of R. W. Br. J. H. Cobb, formed and proceeded, under the direction of R. W. Br. M. Roulstone, (accompanied by the Boston Band) to dedicate the new Hall recently erected by Constellation Lodge. The ceremonies of Dedication were as follows:
Prayer by R. W. Rev. Benjamin Huntoon
Services of dedication by R. W. D. D. G. Master, Thomas S. Mann, Esq.
Concluding prayer by M. E. Rev. Paul Dean
The ceremonies then closed with the following original Ode:
Tune: Old Hundred

To Him who made the earth and skies,
And caused the glorious Sun to rise;
To whom the Morning Stars did raise
Their voice in joyful songs of praise;
To Him, who called from Darkness, Light,
Dispelled the shadow of ancient Night;
And now, through all his works displays
A theme for Angel's highest praise;
To him who gave us life and breath,
And shields us from the shafts of death,
Supports and guides us all our days,
We'll join our voice in Hymns of praise;
And when our days on earth are past,
May we all meet in Heaven at last;
And all, as one, our voices raise
To Him, in songs of endless praise.
The procession was again formed and moved to the Hotel of Br. Alden, where they were joined by the Lodges from Randolph, Stoughton and Lexington; and by Representatives of most of the Lodges in the county of Norfolk; together with a large number of com. R. A. Masons and Knights Templars; and though last, not least, by about a hundred and fifty Ladies. The procession, consisting of about five hundred, then moved to the First Parish Meeting House, where the services were performed in the following order, viz.:
Voluntary on the organ.
Prayer, by the R. W. Rev. Br. Benjamin Huntoon.
Anthem by the Choir, O sing unto the Lord, &c.
Select portion of Scripture, by R. W. Rev. Br. Huntoon.
Hymn, Celestial worlds, &c.
Sermon, by M. E. Rev. Paul Dean, from Phil. 4 Whatsoever things are, &c.
Music, by the Band.
Address, by Comp. Nahum Capen.
Prayer, by R. W. D. D. Grand Master, Rev. Mr. Hamilton, of Taunton.
Hymn, Praise to the Lord, &c.
Music, by the Band.
Dismission, Lord dismiss us with thy blessing.
Benediction, by the M. E. Rev. Paul Dean.
After the conclusion of the above services, the brethren, (accompanied by the ladies), were again formed, and moved to the capacious pavilion, erected for their especial reception and comfort; where they partook plentifully of the "good things of life" - or if they did not, the blame does not lie at the door of our worthy brother, the provider. After dinner, voluntary sentiments were given by the following Brothers:
By D. D. G. Master, T. S. Mann.
By D. G. Master, Elijah Crane, Esq.
By P. D. D. G. Master, Thomas Tolman, Esq.
By D. G. S. W. Royal Turner, Esq.
By G. Chaplain, B. Huntoon.
By G. Chaplain, P. Dean.
By the Orator, N. Capen, Esq.
The procession was again formed and escorted the Ladies to the Hall, at Br. Alden's, and Constellation Lodge to the new Masonic Hall, where the following ode was sung, accompanied by the Band.
Masonry Universal.

Tune: Auld Lang Syne.

When shall our Emblems be forgot,
And never brought to mind?
Or Masonry in vain be sought
Among mankind?
Among mankind I say, Among mankind
When Virtue, from the earth is driven
By all mankind.

When shall the world be hushed to peace
And charity divine,
Be universal, never cease
Among mankind?
Among mankind &c.
When Masonry and truth extend
To all mankind.


Constellation Lodge was then called to order and passed the following vote.
Voted, to choose a Committee to present the thanks of this Lodge to the Rev. Paul Dean for his excellent Sermon, and to Nahum Capen, Esq. for his appropriate Address, and request copies of the same for the Press.
R. W. Br. Abijah Draper, Br. Isaac Whiting and R. W. Br. Jer. Myers were chosen.
The performances throughout were characterized by marked decorum, and were congenial with the strict rules of propriety; nothing occurred to mar the the pleasures or solemnities of the occasion. As the Sermon and Address will probably be published, we defer all comments for the present. The new Masonic Hall is new and peculiarly well adapted to the purposes of which, and to the fraternity generally, it is highly creditable.
EXTRACT FROM REV. BRO. DEAN'S SERMON
From Masonic Mirror, New Series, Vol. I, No. 8, August 1829, Page 59:
The following is the conclusion of Rev. Mr. Dean's Sermon, delivered at Dedham, on the 24th June.
But last, though not least, we are come to the duty of the friends of religion, towards charitable societies and establishments. Permit me now to inquire, if when Jesus first visited our world of sorrow, affliction and death, he had formed a society, like our persecuted fraternity, whose members were scattered through the cities, villages and countries of every kingdom, and stationed along the shores of the distant seas, for the laudable purpose of relieving the shipwrecked mariner and stranger, of aiding and supporting a poor brother, and of making the heart of the desolate widow and orphan cheerful and glad, by the timely offering of charity in kindness – if on their altars he had beheld the sacred writings, and learnt that in their meetings they never disputed on the subject of sectarian religion, or party politics of the day, but cultivated amongst themselves friendly and social feelings, and goodwill to all mankind. What suppose ye would have been his conduct towards them? Allow they were not Christians in the strict use of that term; that they had among them members whose errors they endeavored to correct, and whose crimes and false they deplored; but that on the whole they were equally as moral and upright men as other citizens. Would he have despised and hated them? Would he have pointed to them the finger of scorn and derision? Would he have marked them individually, and as a society, for the objects of prescription and infamy? Say ye that have felt most of the spirit and power of his grace. For myself I must be persuaded his conduct towards them, would have been very different.
Would he not rather, is in the case of the lovely young men in the gospel, have loved, that he could not pronounce them perfect? Would he not rather, as in the instance of the Roman centurion, has sent a vision of angels sing, your alms–deeds are held in Memorial before God, now therefore send for the messengers of the gospel, and to your virtue and arms, and the knowledge, hopes, and the joys of salvation?
The justice of Christianity solemnly prohibits all general and sweeping censures against any order or association of men; as in all societies there are some good men, and others not so good. The sobriety and benevolence of the gospel, both utter their voice, against all rash and heated excitements. They are the moral tempests that lay waste the fairest fruits of virtue and religion, and spread moral desolation and innocent sufferings around the dwellings of men, and the temples of God.
The simplicity of truth cries aloud against those dark and deadly insinuations, secretly and basically thrown out, by the cowardly and dastardly assassin of human character and human peace; who dare not other openly, what he would fain make them believe. And the venerable gravity of God's word utters its high and solemn protest against that shameless levity of sentiment and feeling, that hesitates not to ridicule whatever in religion or masonry it wishes to oppose and put down, and would not scruple, when interest or pleasure was at stake to satirize the coronation of an Emperor, the solemn service of the Lord's Supper, or the sacred rites of the burial of the dead. Of these remarks brethren you can easily make the application.
Before closing, one word on the present excitement. Though in its character, extend, and violence, it is entirely new and unprecedented in the history of human events, yet I have no fears as to its ultimate result. I repeat, I have no fears as to its result. But notwithstanding this, I do most devoutly deplore its existence. This I do, because its object is to keep disgrace our institution which I know to be good. Because it tends to break up the piece of many happy families – because it drives up the current of charity and relief, which has so long and happily flowed to the bosom of the widow, the orphan, and the poor. I grieve for those faithful and pious ministers of the cross, who have been driven from their homes, their friends, and their parishes, by its relentless fury. But most deeply do I mourn for the illustrious dead, whose memories, and whose fame, are blasted, by this night–wind of moral desolation and of death.
My brethren, these are days of trial, but let it be your consolation that if you suffer for righteousness' sake, happy are ye, for God shall reward your faithfulness. I trust you have a good conscience before God to this day, as the supporters and friends of masonry; and that his men, or masons, and as Christians, you are willing to be known and judged of all men, by your fruit. Then put ye on the whole armor of light, stand on the watchtower, and watch at the post of danger; and ye shall soon know that mighty is truth, and will prevail. Trusting in the Lord, meditate no revenge upon your persecutors, and seek not their evil, but pray for their future reformation; and as to their past sins, leave them to the wholesome chastening of an awakened conscience, and to the just retribution of God.
OFFICER LIST, DECEMBER 1831
From Masonic Mirror and Mechanics' Intelligencer, New Series, Vol. III, No. 25, December 1831, Page 203:''
Officers of Constellation Lodge, Dedham, Mass.
Simeon Smith, M.
Eliab Gilmore, S. W.
Timothy Phelps, J. W.
Martin Mash, Tr.
Jona. H. Cobb, Sec.
Jeremiah Myers, S. D.
Ebenezer Capen, J. D.
J. N. Bird, Mar.
CONSTITUTION OF LODGE, MARCH 1872
From Moore's Freemason's Monthly, Vol. XXXI, No. 7, May 1872, Page 196:
This is a new Lodge under an old name, with young, new, and promising material,.located in the neighboring pleasant and growing town of Dedham. The first Lodge of the name was chartered March 12th, 1802, and continued in existence, receiving the support and encouragement of the most intelligent and respectable citizens of the town and adjacent villages, and enjoying a desirable measure of prosperity, until about the year 1830, when, after a manly and persevering struggle, it fell beneath the heavy blows and unrighteous persecution of anti-masonry; and ceased to exist.
We throw the mantle of charity and oblivion over what followed, and pass on to about the year 1840, (we have not the dates before us, and they are of little consequence), when, through the personal sacrifices and stern integrity of a small few of its original members, it was revived under its old name; and we had the happiness on the joyous occasion to which we shall directly refer, to meet and take by the hand one of these true brethren (Bro. Timothy Phelps), now nearly eighty years of age, and to congratulate him that he had been spared to mingle with his brethren of a third generation, on a spot to him full of varied reminiscences, and in a cause to which he had faithfully devoted many of the younger years of his life. But the revival was measurably a failure.
Embarrassed by past troubles and still existing difficulties, it struggled on for about two years, and again surrendered its Charter to the Grand Lodge; and the brethren of Dedham, now more numerous than ever before, remained without a Lodge-room in which to assemble until a little more than a year ago, when they petitioned Grand Master Gardner and received a Dispensation for a new Lodge, still retaining the same old and cherished name.
The petitioners having worked for the constitutional term, under their Dispensation, and having provided themselves with suitable apartments, applied to the Grand Lodge at its communication in March last, and were granted a Charter by that body; under which they were duly constituted on Tuesday, April 2nd, by M. W. Sereno D. Nickerson, Grand Master, and other officers of the Grand Lodge as follows : —
Previous to the ceremonies of constitution, the new hall was Dedicated. It occupies the upper story of the large and handsome stone-building known as "Memorial Hall," and is undoubtedly the finest Masonic room in the county. It is sufficiently large for all purposes, present and prospective, and is finished and furnished in good taste and with commendable reference to the convenience and comfort of the members. Such a masonic hall, less than half a century ago, would have been looked upon as aristocratic, as well as rich and tasty. But, "tempora mvtanur, et nos mutantur in illis." Any Lodge must nevertheless be over-fastidious that would not now be satisfied with a hall so spacious, chaste and appropriate as that which we trust our brethren of Dedham are destined to enjoy, in uninterrupted harmony, for many, many years to come.
The Lodge was then Constituted with the usual ceremonies. After which Grand Master Nickerson addressed the brethren on their general duties, and the special obligations under which they were placed to the Grand Lodge and the fraternity at large, by their new relations. He deprecated all efforts to crowd the Lodge with too much work, remarking that its reputation and future usefulness and prosperity — its standing in the community, and the happiness of its members, depended more upon the character than the number of its initiates; that the Lodge was not a reformatory institution, and that men of doubtful fitness were not desirable; that positive rather than negative qualifications should be the rule of judgment in all such cases; that the great object of Masonry was to make good men better, not to make good men out bf bad and worthless material; that is a work which more properly belongs to the civil tribunals and reformatory institutions of the community at large. He also, as on a similar occasion, in another place, urged upon the brethren to keep their lodge-room sacred to the purposes to which it had been dedicated and solemnly set apart. It was the home of Masonry, and none but Masons should cross its threshold. If however it must occasionally be otherwise, then he sincerely hoped that such occasions would be rare and far between. We should fall back upon the honored practices of our fathers, and hold our institution to be, as it is, exclusive, and high above, in its antiquity and purposes, the ephemeral imitative secret societies which are daily springing up all around us, but with which we have nothing to do. They are not of us, nor are we of them. The world is wide enough and wicked enough and furnishes channels enough for all good works, without any mixing or jostling among the laborers.
Grand Master Nickerson spoke extemporaneously, and we took no notes. We have therefore not attempted to give his words, but rather to indicate the general drift and tenor of his remarks.
The Grand Lodge was then called off for a few minutes, preparatory to the Installation of the officers of the new Lodge, and the admission of visitors, among whom were the ladies and friends of the brethren, making a company of some five hundred, and filling the hall and its avenues to their utmost capacity. The Officers of the Grand Lodge resumed their places at about half past seven o'clock, and the ceremonies of installation were immediately entered upon by Grand Master Nickerson. These were undoubtedly new to most of the ladies, and perhaps to some of the brethren, and being interspersed with music, were favorably received by the large audience present. At the conclusion of them the Grand Master again addressed the company, setting forth the principles and purposes of the Institution, and congratulating the brethren of the new Lodge on the encouraging prospects before them.
A pleasing feature of the occasion was the presentation by Miss Lizzie Endicott of an elegant silk banner to the Lodge, which was accepted in a fitting response by the Master. This beautiful emblem, the gift of the lady friends of the members of the order, bore the name of the Lodge and the symbols typical of the objects of the institution. This most welcome testimonial was kept a secret from the members of the fraternity, and as it was borne into the hall, to say that they were' surprised, would but feebly express their astonishment. At the conclusion of the exercises the company was ushered into the large Memorial Hall, to the music of the Maverick Band, where a bountiful supper was served. In every respect the entertainment was brilliant and satisfactory and the new Lodge, which enters upon its noble work under the most promising auspices, will receive the aid and encouragement which the citizens of the town are ever ready to accord to any deserving institution.
The following are the officers installed:
Master, Frederick D. Ely.
Senior Warden, A. B. Wentworth.
Junior Warden, T. E. Trampleasure.
Treasurer, Alfred Allwright.
Secretary, E. A. Brooks.
Senior Deacon, David L. Hodges.
Junior Deacon, George Hewitt.
Senior Steward, George M. Farrington.
Junior Stewart, John B. Fisher.
Inside Sentinel, John N. Wright.
Marshal, William R. Rice.
Tyler, David S. Hill.
Chaplain, Charles C. Sanderson.
Organist, Dr. William G. Ware.
HALL DEDICATION, JANUARY 1928
From New England Craftsman, Vol. XXIII, No. 3, February 1928, Page 69:
Dedham's new Masonic Temple, located in Memorial Square by Constellation Lodge at a cost of $70,000, was dedicated Friday evening Jan. 27th, by officials of the Grand Lodge of Massachusetts. Exercises opened with a buffet supper from 6.30 to 7.45. At eight o'clock Otis C. White of Worcester, Acting Grand Master of the Grand of Massachusetts, all the other Lodge members and many past Grand Masters of the Grand Lodge were received by Worshipful Master Ralph D. Pettingell and his fellow officers and by the members of the lodge.
The dedicatory exercises were held in the lodge room, and were wholly ritualistic, with the possible exception of addresses by Acting Grand Master White and some of the past Grand Masters. The Constellation male quartet furnished music.
Keys of the new temple were turned over by John W. Withington. chairman of the building committee and received by Worshipful Master Pettingell.
The dedicatory ceremonies were conducted by Acting Grand Master White and the following Grand Lodge officers: Herbert P. Bagley, Worcester, acting Deputy Grand Master; Elton S. Wilde, New Bedford, Junior Grand Warden; John W. Withington, Dedham, Senior Grand Warden; Charles H. Ramsay, Boston, Grand Treasurer; Frederick W. Hamilton, Brookline, Grand Secretary; Rev. John Vannevar, D. D., Swampscott, Grand Chaplain.
The superstructure of the new building is of brick with stone trimming, and the temple comprises three stories. On the first floor are a ladies' room, a check room, and an assembly hall with a seating capacity of five hundred. At the rear of the hall is a stage, with men's and wornens' dressing room, and fitted with all the necessary auxiliaries. On this floor also is a modern kitchen, so that the assembly hall can be used as a banquet hall.
On the second floor is the lodge room, with a seating capacity of three hundred. Here later will be installed a $7500 organ. On the third floor are a billiard and pool room, a library, a card room and a lavatory. In the basement is a fireproof vault for the storage of records. The color scheme of the main corridors, stairways. library and billiard and pool room is colonial ivory. The lodge room is finished in soft gray.
During more than a century and a quarter of Free Masonry in Dedham the fraternity has owned three different locations and erected two buildings for Masonic purposes, including the present temple. In 1828. a committee appointed by the first Constellation Lodge, purchased the land and erected the building now numbered 23 Church Street. After occupying this building for many years, it was disposed of in 1817. The present lodge, formed in 1871. was from February, 1871, to April 1872. in Temperance Hall on Court street and since then has been in Memorial Hall.
DEPUTY GRAND MASTER RECEPTION, FEBRUARY 2001
From TROWEL, Summer 2001, Page 22:
Grand Master Honors Dr. and R.W. Eugene B. Nichols
On Saturday. February 10. 2001, Masonic leaders and friends from across the state gathered for a reception at the Masonic Building in Norwood to honor Dr. Nichols for his being chosen Deputy Grand Master of the Grand Lodge of Massachusetts. Dr. Nichols has been a very active member in the Dedham. Norwood and Foxborough area. He served two terms as Master of Constellation Lodge in Dedham where he has been the Secretary for the past four years. He is a line officer in Neponset Valley Chapter of Norwood and he and his wife Susan are currently the presiding officers of Easter Chapter. Order of the Eastern Star in Foxborough.
Dr. Nichols graduated from Boston University where he earned a Bachelor of Arts Degree in Biology and then attended and graduated magna cum laude from Tufts University, School of Dental Medicine, earning his Doctorate in Dental Medicine. He earned a Certificate in Advanced Restorative Dentistry from the University of Pennsylvania, where he spent a year in residency. He was appointed Assistant Clinical Professor of Restorative Dentistry at Tufts Dental School in 1989 and has maintained a family dental practice in Pawtucket. RI. since 1990.
At the conclusion of the reception, the Grand Master, M. W. Fred K. Bauer, was pleased to present Dr. Nichols with the Henry Price Medal, the highest honor that can be awarded a Mason for outstanding dedication to the fraternity. Dr. Nichols is only the second member of Constellation Lodge to be chosen Deputy Grand Master, the first being Congressman Frederick D. Ely. who served for the years 1884 and 1885.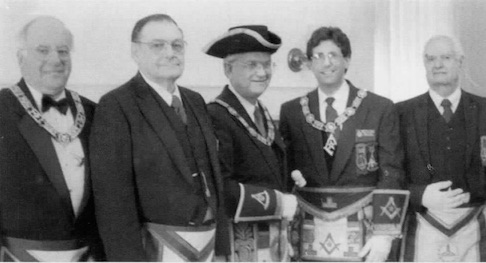 R. W. Richard B. Burgess, D. D. G. M. Hyde Park 25th; R. W. James McBride, P. D. G. M.; M. W. Fred K. Bauer, Grand Master; R. W. Eugene B. Nichols, D. G. M. and R. W. Roland K. Woodbury, P. S. G. W.
SENIOR GRAND WARDEN RECEPTION, FEBRUARY 2009
From TROWEL, Summer 2009, Page 3:
Norwood Reception Honors Senior Grand Warden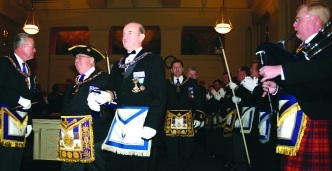 Wor. George S. Fontana, Reception Chairman, escorts Grand Master Pageau.

On Saturday, February 28th, Most Worshipful Roger William Pageau, Grand Master, officiated at the reception for Rt. Wor. Peter Alan Randall, our newly elected Senior Grand Warden for 2009. Bro. Randall's home lodge, Constellation Lodge in Westwood, hosted the reception held at the Norwood Masonic Building.
The sponsoring lodges included Orient Lodge, Norwood; J. Philip Berquist Lodge, Foxboro; and Neponset Valley Royal Arch Chapter. The Reception Committee responsible for organizing the day consisted of a number of long-time friends of Rt. Wor. Randall including Wor. George Fontana, Wor. Glenn Kubick, Wor. Thomas McClintock, Rt. Wor. Eugene Nichols, and Wor. Thomas Rorrie.
Over 150 Lodge brothers and members of the Grand Master's suite participated in a beautifully organized afternoon of music and speeches followed by dinner at the Norwood Masonic Building. After the bagpipes quieted and the Grand Master's suite settled in, Rt. Wor. Bro. Randall enjoyed the congratulations from his brothers. They told stories, some embarrassing, others inspiring. Bro. Randall remarked, "I expected a bit of a roast, but that's what we do here, we have fun. We do a lot of other things, but we have fun.
"In this room, there are new friends that I've known only six months and friends from 30 years ago," he said. Some of his older friends, like Wor. Glenn L. Kubick, Master of Constellation Lodge, were with him in DeMolay. "DeMolay goes on forever," he said of his older friends. Rt. Wor. Bro. Randall now serves on the Youth Commission and is spearheading a drive for DeMolay and Rainbow Girls. He spoke with pride of his daughter Amy's progress through Rainbow, and with joy of his wife Holly's loving support for his Masonic endeavors. "In the past, when I was disconnected from Freemasonry and the Church, my family and I noticed the difference," he said.
Bro. Randall is the first Mason in his family; he became interested by attending a DeMolay party, and joined the order in 1976. In 1980, he was raised to Master Mason in Constellation Lodge, which he served as Master in the late eighties. He is also active in Scottish and York Rites among other Masonic bodies. Whether in Allin Congregational in Dedham or in First Congregational in Norwood, Rt. Wor. Bro. Randall has been an active church member. He chaired the board of deacons in both churches and in Norwood was chairman of the trustees.
The speakers discussed many experiences of Bro. Randall's life in Masonry: from DeMolay adventures in Maine to good service in lodge. His enjoyment of Masonry was amplified by the Grand Master who said, "Freemasonry is the greatest gift you can give. One of the rare luxuries we have in Massachusetts Freemasonry is the freedom to ask," he said. And finally, "To ask neighbors, friends, and acquaintances to become Masons is to start their journey. In other jurisdictions, this is not allowed; so ask."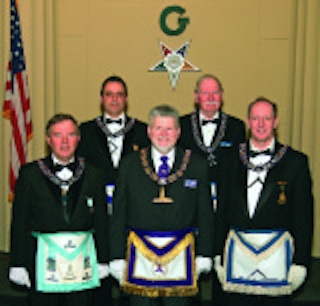 Hosts and sponsors for the reception with their guest. Front row: Wor. George N. Neilson, Master, J. Philip Berguist Lodge; Rt. Wor. Peter Alan Randall, Senior Grand Warden; Wor. Glenn L. Kubick, Master, Constellation Lodge (host lodge). Back row: Wor. Simon Berbara, High Priest, Neponset Valley Royal Arch Chapter; Wor, Homer E. Everhart, Master, Orient Lodge.
---
GRAND LODGE OFFICERS
OTHER BROTHERS
---
DISTRICTS
---
LINKS