MAGLEWilde
From MasonicGenealogy
ELTON SUMNER WILDE 1879-1948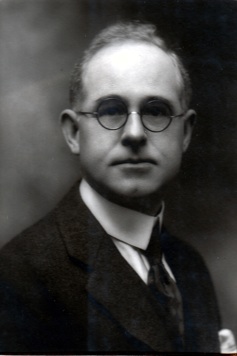 From the collection of the Grand Lodge of Masons in Massachusetts
Junior Grand Warden, 1928
MEMORIAL
From Proceedings, Page 1948-22:
President and General Manager of the Union Street Railway Company, died at his home in New Bedford, Massachusetts, February 7, 1948. By the passing of Right Worshipful Brother Wilde beyond the portals into the Eternal Lodge, we lose an ardent Mason, a respected citizen and a loyal and devoted friend.
He was born in Fairhaven March 5, 1879, son of Hiram F. and Adelaide (Waldren) Wilde. He was educated in the public schools in that town and worked a short time after graduation from high school in the office of Henry H. Crapo, then President of the Union Street Railway. Mr. Crapo recommended his transfer to the Street Railway office as clerk. Brother Wilde won steady promotions by his industry and attention to duty. These led to his appointment as Assistant Treasurer and then Treasurer of the Company. In 1907 he was named Acting Superintendent, and in 1908 General Manager of the Company' thereby becoming the youngest street railway superintendent in Massachusetts. In 1913 he was elected a Director and Vice-President, and also in 1913, he was elected President of the New England Street Railway Club of Boston. In 1926 he was elected President of the Union Street Railway Company. ln 1947 he celebrated the fiftieth anniversary of his affiliation with the Company.
He was a man of keen intelligence and deepest sympathy' being never too busy to lend an attentive ear to the many who sought his counsel and advice, and was ever ready with a helpful hand and kindly, cheerful word.
Long recognized as an able and aggressive executive in his role as head of the Street Railway Company, Brother Wilde also served the community in civic capacities. He was a past president of the Family Welfare Society; served as a member of the New Bedford Water Board; trustee of the New Bedford Textile School, by appointment of Governor Alvan T. Fuller; president of the Board of Commerce in 1914. He was a Unitarian, a member and former president of the Wamsutta Club, a Rotarian, and a member of the Country Club of New Bedford.
He was made a Master Mason in George H. Taber Lodge of Fairhaven in 1901. Later he became a charter member of Abraham H. Howland Jr. Lodge in New Bedford, and was its Master in 1918 and 1919. He was appointed by Most Worshipful Dudley H. Ferrell in 1923 and 1924 to serve the 30th Masonic District as District Deputy Grand Master. He was elected Junior Warden of the Grand Lodge in December, 1927, and served for the year 1928.
He received his Royal Arch Degree May 28, 1902, in Adoniram Royal Arch Chapter and was minor officer and scribe in 1909 and 1910. He received the Super Excellent Degree in New Bedford Council June 1, 1903, and served as Master of Ceremonies and Chaplain. He received the Order of the Temple in Sutton Commandery, New Bedford, September 18, 1902, and served as Commander in 1911 and 1912. He was a member of Fall River Lodge of Perfection, Samuel C. Lawrence Council Princes of Jerusalem, St. Andrew's Chapter Rose Croix, and Massachusetts Consistory.
He was one we knew and loved. In all our associations with him, in the counting room of busy commerce, in the fellowship of brotherhood, in the circle of the hearth, in the concern of common worship, his spirit and character taught nobility, friendliness, right living and responsibility to the community. His life was devoted to tasks that were difficult, rejoiced in work well done, and to these he gave fully of his mind and strength. What we can say will not long be remembered, but what he did, the way he lived, the work he accomplished and the good that was his, will live long afterwards in our memories and affections.
Those who were privileged through many years to enjoy his friendship, can never forget his quiet cordiality, courtesy and gracious good-will. He never failed to put into practice the lessons he had learned so well. No one could do more.
Respectfully and fraternally submitted
Austin M. Thresher
L. Theodore Woolfender
H. Adelbert Linfield
Committee
---