JPhilipBerquist
From MasonicGenealogy
J. PHILIP BERQUIST LODGE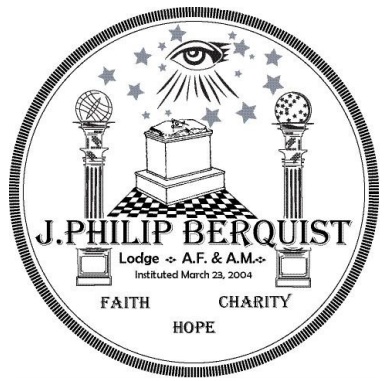 Location: Foxborough
Chartered By: Jeffrey B. Hodgdon
Charter Date: 03/09/2005 2005-51
Precedence Date: 01/27/2004
Current Status: Active
---
NOTES
FROM TROWEL, 2005
From TROWEL, Winter 2005, Page 20:
THE BIRTH OF J. PHILIP BERQUIST LODGE
New lodges are often named for the presiding or a past Grand Master, to honor his service to Freemasonry, the light he shed upon our teachings, the energy and ideas he brought to the Craft. Thus it was when a group of brethren petitioned the Grand Lodge to organize a new lodge, to be called J. Philip Berquist Lodge.
Most Wor. J. Philip Berquist, Grand Master; 1981-1983; Ill. J. Philip Berquist, 33°, Scottish Rite Deputy for Massachusetts, 1991-1996: Brother Berquist, the force behind a new Masonic magazine. Trowel, and a movement to build 32° Masonic Learning Centers for children with dyslexia. The accomplishments of this man and Mason were many and varied. J. Philip Berquist, a Mason well deserving a lodge bearing his name.
But why was J. Philip Berquist Lodge formed when some other lodges have been beset by hard times? How was it to be different?
In January 2002, over three years ago, several Master Masons traveled to DeMolay Lodge in Boston for its annual German Night. Following a great night of fellowship, the brethren repaired to a Randolph pub, the Piccadilly Pub, much like our Masonic forefathers who met in taverns. Brothers being brothers, enjoying a beverage together as conversation centered on their beloved craft, they concluded that something was missing from lodge meetings they had been attending. How about forming a new lodge, one centered on Masonry, on fellowship, on fun; one that would include their families?
More meetings followed. How can we help our own lodges, or form a new lodge that will practice what we believe are the tenets of our institution? The decision of these brethren was to form a new lodge, to be named for Grand Master Berquist: a lodge in which to share fellowship and good times, as brothers and gentlemen.
After a few months with dinner meetings in Foxborough, in December 2003, the brethren received a dispensation to meet as a lodge from Grand Master Donald G. Hicks, Jr. They met under that dispensation throughout 2004 and early 2005. working candidates for theirs and other lodges. Then at the March 9, 2005, Quarterly Communication, the Grand Lodge approved their bylaws and granted a charter to J. Philip Berquist Lodge.
On Saturday, June 4, 2005, Most Wor. Jeffrey B. Hodgdon and his Grand Lodge officers met in the Foxborough Masonic Building to constitute the lodge in ancient form, using corn, wine and oil. The Grand Master proclaimed: "In the name of the Most Worshipful Grand Lodge of Massachusetts, I now constitute and form you, my good Brethren, into a Lodge of Free and Accepted Masons, by the name of J. Philip Berquist Lodge. Henceforth. I empower you to act as a regular Lodge, constituted in conformity to the rites of Freemasonry and the charges of our ancient and honorable Fraternity. And may the Supreme Architect of the Universe direct and prosper you in all your doings." This was followed by the installation of officers, with Rt. Wor. Eugene B. Nichols becoming the first Master of the newly constituted lodge.
Several speakers alluded to their experiences with Most Wor. Brother Berquist. There were humorous stories. There were stories of how he could make you understand the importance of doing your work correctly, but most of all they spoke about his dedication to Masonry.
The Grand Master spoke about his plans for the
future of Masonry in Massachusetts and how J. Philip
 Berquist Lodge fits into those plans by carrying on in
the tradition of the lodge namesake. As the Grand
 Master said at the June 8, 2005, Quarterly Com
munication, "I was honored to be the Grand Master constituting a new Lodge. Then the members of the Lodge 
honored Most Wor. Donald G. Hicks, Jr.. and me by presenting us honorary membership, and by including our
names on the list of Charter Members. I wish Rt. Wor.
 Eugene Nichols and his entire line of officers and membership all the best for the future."


Most Wor. Jeffrey B. Hodgdon and Rt. Wor. Eugene B. Nichols were joined by the officers of Grand Lodge and J. Philip Berquist Lodge following the formal ceremonies.
---
PAST MASTERS
Eugene B. Nichols, 2004, 2005
Peter A. Randall, 2006, 2007
George N. Neilson, Jr., 2008, 2009
Wayne A. Burkholder, 2010, 2011
Steven G. Karlgren, 2012, 2013
---
REFERENCES IN GRAND LODGE PROCEEDINGS
ANNIVERSARIES
VISITS BY GRAND MASTER
BY-LAW CHANGES
---
GRAND LODGE OFFICERS
DISTRICTS
---
LINKS