MAGLJoGleason
From MasonicGenealogy
JOSEPH H. GLEASON 1847-1913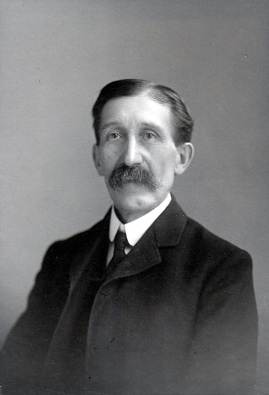 Junior Grand Warden, 1897
MEMORIAL
From Proceedings, Page 1913-297:
R.W. Bro. Joseph H. Gleason was born in Charlestown, Mass., April 9, 1847, the son of Nathaniel and Emeline White Gleason. Here he spent his boyhood days, and here he received his early education, graduating from the Bunker Hill Grammar School in the early 'sixties. Left fatherless when thirteen years of age, he was forced to abandon his ambition for a higher education and enter upon the active duties of life by obtaining employment in order to contribute toward the support of his widowed mother, who was left with a large family to maintain.
He was a willing worker, faithful, painstaking, and conscientious, and was, therefore, even at that early age, of great assistance to his mother, to whom he was very devoted. That devotion was repaid by wise motherly counsel which was reflected in his noble character as he grew to manhood. Upon leaving school, he obtained employment in one of the large retail dry goods houses of Boston, where he remained a few years and subsequently became a salesman in the wholesale line, which business he followed during the balance of his life, and in which he achieved success.
Although denied the advantages of further schooling after graduating from the grammar school, he did not give up the fight for a better education, but pursued his studies at home, after his day's work was ended, in order to be the better fitted to make his way in the world. Endowed by nature with great elocutionary power and with a voice richly suited to charm his hearers, he early became the leader of a group of young men who like himself commenced work early in life and whose chief recreation after business hours was the study of the drama. He was the prime mover in the formation of the Everett Literary Association, and later on, the Starr King Literary Association of Charleslown, both noted organizations in their day, and it was in these boyhood fraternities that his ability as a speaker was recognized and admired.
His only venture into politics was in 1886, when he was elected to the Legislature from Ward 4 in Charlestown. He declined a re-election as the duties of the office were not particularly agreeable to him and also interfered with his business.
R.W. Brother Gleason was a firm believer in "Fraternity" and especially in the principles of Masonry, and his cherished wish to become a Mason was realized h 1874 when he was initiated in Henry Price Lodge, February 25; crafted March 25, and raised to the Sublime Degree of Master Mason April 22, and received into membership October 15 of the same year. He served the Lodge as Senior Deacon 1877-1878, Junior Warden 1878-1880, Senior Warden 1880-1881, and Worshipful Master 1881-1883. He was appointed District Deputy Grand Master for the Third Masonic District in 1895 and served two years. He was elected Junior Grand Warden of the Most Worshipful Grand Lodge in 1897. In all these positions he served with exceptional ability. The prominence which R.W. Brother Gleason attained in the Masonic Fraternity was a tribute to his honest, genial, and friendly disposition, which endeared him to the entire Fraternity.
The loss to his Lodge will be inestimable, as he was always ready and willing to do any work or offer advice when called upon, and while modesty in accepting honors was one of his chief characteristics, yet any duty he undertook was accomplished in an able and conscientious manner. For nearly thirty years he installed the officers of Henry Price Lodge and the manner in which the duty was performed was always an inspiration and delight to his hearers.
In the death of R.W. Brother Gleason we mourn the loss of a Brother of sterling character whose every energy was devoted to the welfare of the Lodge and the Masonic Fraternity. His whole life was an exemplification of those beautiful lines of the poet Bryant:
"So live that when thy summons comes to join
The innumerable caravan which moves to that mysterious realm,
Where each shall take his chamber in the silent halls of death,
Thou go not like the quarry slave at night, scourged to his dungeon:
But sustained and soothed by an unfaltering trust,
Approach thy grave, like one who wraps the drapery
Of his couch about him, and lies down to pleasant dreams."
Tenderly and lovingly we pay this tribute to the high character of one who was God-fearing, clean-minded, honest, faithful, and true. No more wilt he take this seat in the East of our Grand Lodge. The world will say that he is dead. Rather would we think of him in the words of the poet Riley, in speaking of a friend who had passed away:
"I cannot say - I will not say
That he is dead. He is just away.
With a cheery smile and a wave of the hand,
He has wandered into an unknown land,
And left us dreaming how very fair
It needs must be, since he is there.

And you:- O you who the wildest yearn
For the old-time step and the glad return,
Think of him faring on, as dear
In the love of there as the love of here;
Think of him still as the same, I say,
He is not dead - He is just away."
Fraternally submitted,
Charles S. Robertson,
Harry E. Carter,
Lewis A. Wallon,
Committee.
---