MAGLJMcBride
From MasonicGenealogy
JAMES M. McBRIDE 1922-2016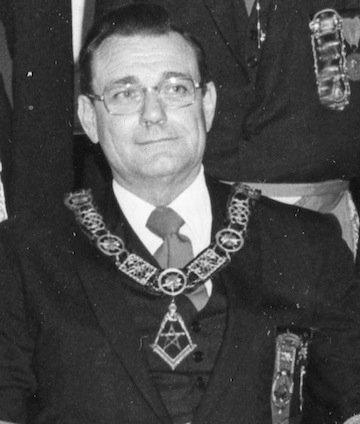 12/14/2016: 2016-xx
MM 1955, WM 1961, Orient
DDGM, Hyde Park 25, 1971-1972
Junior Grand Deacon 1973
Deputy Grand Master 1974
BIOGRAPHY
MEMORIAL
From Proceedings, Page 2017-249:
James M. McBride, a Past Deputy Grand Master of the Grand Lodge of Massachusetts, died in Falmouth, Massachusetts in November 2016. The following memorial is provided as a supplement to the 2017 Proceedings of the Grand Lodge.
When R. W. James McBride became Deputy Grand Master, he – like all Deputy Grand Masters in the current tradition – was obliged to make a speech before the Grand Lodge at the December Feast of St. John the Evangelist. In it he reminisced about the many events he had witnessed and the many distinguished Masons he had met during his career. He had first met M. W. Laurence Eaton, the then-presiding Grand Master, when he was Master of Orient Lodge during its 100th Anniversary. This event brought him first to the attention of Grand Lodge; it was a busy time in Massachusetts Freemasonry, with large candidate classes and waiting times to join officer lines. As with many such young officers – he was less than forty years of age at the time – he assumed that he was invisible (and made note of it in his speech at the Feast); but as so many before, then, and since, diligent labor in the vineyards led to greater things.
In 1971 and 1972, Most Wor. Herbert Jaynes and Most Wor. Donald Vose chose Brother McBride to serve as District Deputy Grand Master for the Hyde Park 25th Masonic District, a post that he filled with skill and care. After his two year term he was chosen as Junior Grand Deacon, and then as Deputy Grand Master. His primary area of effort was in support of the Masonic Home Expansion Program, then of particular interest to Grand Lodge. His work in this area was quite successful, and brought great benefit to one of our most important institutions.
James McBride was originally from Scotland, and came to the United States prior to the Second World War, in which he served as a naval aviator; for many years he was employed by the Hawes Electric Construction Company of Watertown, and he retired from that firm in 1974, when he and his wife Marjorie moved to Cape Cod. He was subsequently employed by the Dennis-Yarmouth and Mashpee public school systems.
Brother McBride passed to the Celestial Lodge in 2016, a year after his beloved wife, and was full of years, well loved and respected. At the time of his death he was the senior Past Deputy Grand Master of our Grand Lodge. Truly, his work and his character were well recognized, and his presence will be missed.
OBITUARY
From CapeNews.net, 12/02/2016:
James Mair McBride, 94, of West Yarmouth, who leaves family in Falmouth, died November 16.
He was born in Renfrew, Scotland.
Mr. McBride graduated from Somerville High School in 1940. During World War II, he served as a US Navy aviator.
He was the husband of Marjorie J. (Wright) McBride for 69 years. The couple lived in Somerville, Norwood, Westwood and West Yarmouth.
In 1974, he retired from Hawes Electric Construction Co. and the next year moved to the Cape, where he worked for Dennis-Yarmouth Public Schools and then for Mashpee Public Schools.
Mr. McBride was a life member of Orient Lodge A. F. & A. M. in Norwood.
He leaves two sons, David J. McBride and his wife, Carolyn McBride, of Punta Gorda, Florida, and Donald W. McBride and his wife, Karen McBride, of Centerville; and three grandsons, Donald R. McBride of Houston, Texas, James L. McBride of Navarre, Florida, and Michael E. McBride of East Falmouth.
He was predeceased by his wife, who died in 2015.
A graveside memorial will be Saturday, December 3, at 10 AM at Ancient Cemetery on Center Street near Ancient Way in Yarmouthport.
SPEECHES
FEAST OF ST. JOHN, DECEMBER 1973
From Proceedings, Page 1973-309:
Most Worshipful Grand Master, Distinguished Guests, and Brethren:
I rather expect that everyone thinks he knows what I am about to say because it has been rumored rather strongly that the pupil of my left eye is shaped like a dollar sign while the right is a perpetual pledge card.
The Masonic Home Expansion Program is a project about which I am deeply serious. However, to make an appeal to the people who are here this evening gives me the feeling, which I am sure our Reverend Brother Grand Chaplains have on Sunday morning, the people who are here are not the ones who need it the most. Everyone here, by virtue of the fact that you are here, is well aware of the needs of our Masonic Home. I therefore must ask you to spread the word to the Brothers not present and encourage their participation.
I am sure by the money that has been handed me during the day and pledge cards, as well as those going into the fund office, that the number which I have now is out of date, but as of ten o'clock this morning we had $165,139. Xow mind you this is before we have made any general solicitation.
In order to accomplish our purpose I would like to suggest the following to you. Every Lodge have representation at an area meeting. Every Lodge have a Chairman with a committee large enough to solicit every Brother. We would suggest a ratio of one to ten. Every Lodge hold a Masonic Home Expansion Program meeting. And whenever possible each Lodge make a Lodge commitment in addition to the individual Brothers' personal commitments.
We must look together after the needs of our senior citizens, who are our guests at Charlton and Shrewsbury.
Wor. Brother Otis Oakman is to my knowledge one of the most informative and entertaining speakers at our Lodge of Instruction. One of his topics is "Four Generations of Yankee Masonry". This is indeed a proud heritage. I cannot boast of four generations of Yankee Masonry, but I can boast of four generations of Masonry. The other three were in the jurisdiction of the Grand Lodge of Scotland, and regretfully none of these generations are alive today, although I am sure they are looking down together with great pride.
I would be something less than truthful if I were to say that I am not proud. It is indeed a great honor to have been appointed Deputy Grand Master of the Grand Lodge of Massachusetts, and when I think of the men who have held this position before me, I am overwhelmed.
Coupled with this pride is a deep sense of humility derived in part from the teachings of the level, for we must all surely meet someday before our Maker and surely one of the biggest pluses that can be said at that time is that he was a true Mason.
M. W. Whitfield Johnson has spoken on "Remembrances of a Past Grand Master". R. W. Stafford Davis has paraphrased this with a similar title about a Grand Marshal. I in turn as a District Deputy Grand Master for the Hyde Park 25th District used the title, "The Ramblings of a District Deputy". I would ramble with you for a few moments.
I think that next to service and fraternalism that which I get the most enjoyment out of Masonry is remembering things I would never have seen, places I would never have been, and most important, people I never would have met had I not started in the northeast corner of Orient Lodge in Norwood, Massachusetts in January of 1955. In September of that year I was appointed Inside Sentinel and with that I embarked on an experience which I am sure has no equal and for which I shall be eternally grateful.
Things I shall always remember. While working as an electrician in 1955 in the Waltham Hospital, I inadvertently answered a question about the location of a piece of equipment with, "Try looking in the northeast corner." An operative Mason near by retorted, "What do you know about the northeast corner:" This Mason, operative and speculative, was R. W. Frank Harris, District Deputy Grand Master for the Waltham Fifth District. After a short conversation I was asked by R. W. Brother Harris, "Would you like to meet the Grand Master?" My answer obviously being yes I returned home to Norwood, changed my clothing and back to Pequossette Lodge in Watertown where I was introduced to a man after whom all Masons might well pattern their lives, M.W. Whitfield Johnson. In most recent years he has said in jest, I hope, "I signed your Master Mason's diploma? My, my, Grand Masters should be more careful what they sign."
I attended my first Feast of Saint John when M. W. Andrew Gray Jenkins was Grand Master. This was the 225th anniversary of the Grand Lodge of Massachusetts and Junior Wardens were seated in a place which I have never been able to find again, and there was no closed circuit television.
As Senior Warden of Orient Lodge I attended unnoticed, I thought, many Lodge anniversaries, watching closely every move made by M. W. Laurence E. Eaton in order to prepare for the 100th anniversary of Orient Lodge. We, Wor. Roland Woodberry, then Junior Warden, and our present Grand Standard Bearer, each had a bright red vest and we thought that made us quite special. As it turned out, it did, because at the 100th anniversary of Orient Lodge when I met M.W. Brother Eaton at the entrance to Westwood High School, resplendent in my new tuxedo, he stepped from the car and said, "Where is your red vest?"
Memories like this are priceless to me I am sure, like home movies, they wear quickly on the audience.
After being a District Deputy Grand Master for M. W. Herbert Jaynes, another fast friendship formed, and then District Deputy Grand Master for M. W. Donald W. Vose followed a year of Junior Grand Deacon, coupled with liaison work for the Grand Lodge with the Knights of Columbus, and presently General Chairman for the Masonic Home Expansion Program, I stand here appointed Deputy Grand Master by M. W. Brother Vose. I am most grateful and certainly most hopeful that I may fulfill the duties of this office in a manner which will make all those responsible justly proud. Thank you.
---