MAGLTRorrie
From MasonicGenealogy
THOMAS ALAN RORRIE 1947-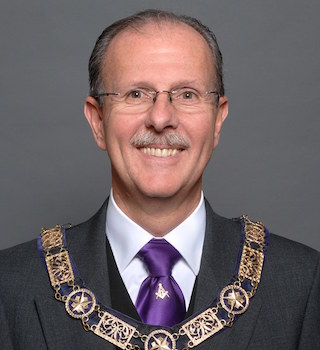 BIOGRAPHY
From Grand Lodge web site:
Thomas A. Rorrie was elected to serve as Senior Grand Warden in 2016 on Wednesday, December 9th. Bro. Rorrie is a native of Westwood, MA. He graduated from Westwood High School and Barrington College.
Bro. Rorrie is currently retired. He previously served as Treasurer for the town of Stoughton. He is a member of the Islington Community Church.
Bro. Rorrie's masonic career began in 1993 when he was raised in Eliot-Hyde Park Lodge (now Celestial Lodge) in Westwood. He served as Master of the lodge from September of 1999 until October of 2001. He first served the Grand Lodge as Grand Pursuivant in 2009. He also served as District Deputy Grand Master of the 7th Masonic District for 2010 and 2011.
Beyond the blue lodge, Bro. Rorrie is also involved with the Scottish and York Rite. He is a member of the Scottish Rite's Valley of Boston. He belongs to Neponset Chapter and Hyde Park Chapter of Royal & Select Master Masons.
---