MAGLJCarr
From MasonicGenealogy
JOHN CARR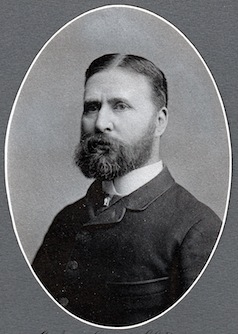 Grand Treasurer, 1888-1900
Senior Grand Warden, 1901
MEMORIAL
From Proceedings, Page 1913-288:
R.W. John Carr, like many whom we know and meet in these circles with pleasure and profit to ourselves, came from our neighboring State of New Hampshire. He was born in Antrim on Aug. 19, 1828, acquired his education in the district schools of his native town and at Hancock Academy, greatly added to and augmented in later life by a habit of systematic and comprehensive reading, and, after working for a short time in Nashua, he came to Boston in 1846. He did not have many of this world's goods, but he brought with him a sound mind, in a sound body and an unlimited amount of energy, industry and enthusiasm, which excellent and useful qualities, aided by a remarkable power of application, stood him in good stead during his long and active life. He served as a clerk in various positions (including a term of employment with the late Daniel S. Ford, publisher of The Watchman' and Reflector and, later, of. The Youth's Companion, the acquaintance and friendship with whom, based on the most harmonious congeniality of principles and aspirations, in business as well as in their religious activities, was fruitful, in many directions, of most excellent results and advantage to the community), and then embarked upon the career which was destined to become his life's work and which brought him distinction and a well-deserved competence, that of a banker. He entered the Blackstone Bank in 1851 and, suceessively as messenger and teller, served until 1856.
After a sojourn of a year or two in 1856 and 1857 in the West, with a banking concern in Cedar Rapids, Ia., he secured in 1859, the position of teller in the Safety Fund Bank of Boston and, after five years' service, became cashier of the First National Bank, its successor. With this great institution his life and fortunes have been inseparably connected ever since, until his death. He was elected its president in 1881, serving in that capacity until 1903 when he accepted the chairmanship of the Board of Directors, which most important position he filled during the rest of his life. A remarkable change from the New Hampshire youth of 1846 seeking his fortune, to the president of one of. the foremost banks in the country! It is hardly necessary to inquire how large a share John Carr had in its great success and marvelous growth. To his judgment, knowledge, experience, and far-sightedness in financial matters and their safe and conservative conduct must be credited a predominant part in the history of its development. And yet, Brother Carr did not confine his activities to this bank alone. He was a corporate member of the Eliot Five Cent Savings Bank from 1870, trustee of that institution from 1873 to 1880, and its president until his death; he was president of the Sturtevant Blower Works, president of the Roxbury Masonic Association, a director of the John Hancock Life Insurance Company, and, with his great reputation for financial sagacity and clearness of vision and understanding, was much in demand for places of trust and discretion in the many charitable and religious societies with which he was connected. For many years he was president of the Little Wanderers' Home, an institution dear to his heart in its care of the unfortunate and helpless little ones; treasurer of the Boston Baptist Social Union for a long period and Treasurer of the Board of Trustees till his death.
For the greater part of his life he was a deacon in the Dudley Street Baptist Church, than whom no man held a more exalted position among his brethren or excited greater admiration and is more sincerely mourned now that he is gone. Brother Carr was also treasurer of the old-established Roxbury Charitable Society, and for many years a director of the Massachusetts Baptist Missionary Society. He was of the utmost service as a member of the Executive Committee of the American Baptist Missionary Union, now the American Baptist Foreign Mission Society, and as a member of the Finance Committee of the Society. The members of the Boston Baptist Social Union accounted his aid and co-operation of inestimable value and gave expression in their official notice of his death to their high appreciation of the fine qualities he displayed in the discharge of his duties, his unerring judgment, his prudence, and his keen and quick discernment of the vital point of an intricate question. To quote their words: "Few men, outside of those in the office or on the field have done more effective or honorable work for our Baptist Foreign Missions than Mr. Carr."
It is with the greatest interest and admiration, however, that we approach Brother Carr's record as a Mason, because, with all his excellent qualities and attainments, were it not for his eminence in our beloved Order, he would not be so signally honored in death by the attention of this august assembly. Moreover, we contemplate with peculiar satisfaction the life of a Brother Mason who leaves such a record of usefulness, of honor and distinction as did Brother Carr, for we like to believe - we do believe that the teachings and practice of Masonry are largely instrumental in engendering and developing such habits of thought and conduct and instilling and confirming such principles of honesty, integrity, and justice to our fellowmen, as will enable men to reach the proud eminence in the community which Brother Carr occupied and from which death only could remove him.
Brother Carr became a Mason on Nov. 5, 1868, being raised in Washington Lodge, and was in due time elected Worshipful Master, serving in 1881 and 1882. He was exalted in Mount Vernon Royal Arch Chapter on Jan. 20, 1871, received in Roxbury Council Royal and Select Masters Jan. 23, 1872. Twelve years later he was appointed and served as District Deputy Grand Master of the Fourth Masonic District. He was created a Knight Templar in Joseph Warren Commandery May 16, 1870, and served as Eminent Commander in 1884, 1885 and 1886. He was elected a Trustee of the Grand Commandery of Massachusetts and Rhode Island in 1893 and served continuously to 1911. He was elected Grand Treasurer of the Grand Lodge in 1888, serving until 1900 inclusive. He served the Grand Lodge as Senior Grand Warden in 1901 and was elected a Director in 1902, serving in that capacity until his death.
A life rich in Masonic service and Masonic honor, a departed Brother whose attachment to Masonry was deep and genuine - as is our love and admiration for him and will endure forever.
Brother Carr's home was of the happiest, presided over for many years by his wife (who preceded him in death), a lady of refinement and intelligence and of the most engaging qualities, who bore her years, as he did his, with remarkable ease and made his homelife one of delight, contentment, and repose, shared, as it was in the earlier years, by his only son who survives him. It was a grateful and interesting experience to be permitted to call upon him at the residence he occupied on Elm HilI Avenue, Roxbury; the stately mansion standing alone amid leafy surroundings, its roomy and lofty apartments, the quiet elegance and comfort of their appointments, ornaments, and furnishings, - and in it the figure of a man whose make-up, bearing, appearance, and utterance fitted so perfectly in this frame as to complete the picture of a well-ordered household, where domestic virtue presided and domestic bliss had found its place. The figure of a man, the trim, well-poised figure of a courteous gentleman, employing the term 'courteous' in the more comprehensive sense in which its use is peculiar to one of our Masonic bodies, as indicating the qualities of politeness, of chivalry, of charity and gentleness of disposition which should be the attributes of one of that Order. A true and courteous gentleman! "Ay, every inch a king". A king among men. Alas! he is no more. But
"Let us weep in our darkness, but weep not for him!
Not for him who, departing, leaves many in tears!
Not for him who has died full of honor and years!
Not for him who ascended Life's ladder so high
From the round at the top he has stepped to the sky."
Brother Carr, in conversation was easy, graceful, and interesting; he could be eloquent at times as a speaker on formal occasions, but his distinguishing characteristics were found in the forceful, concise and luminous presentation of a subject, showing his thorough familiarity with and intellectual grasp of the same and carrying conviction to those who heard him. A man of such fine qualifications could not help attaining the highest prominence in the community, more particularly in Roxbury, for many years his home and the centre of his social, fraternal, business, and church activities. In all these the name of John Carr became a household word. Socially, he lent distinction to any gathering by his very appearance; he charmed by his tact, his urbanity and good breeding, he compelled respect and commanded attention and respectful demeanor by others in any society. As you have heard, the places of honor and trust and usefulness which he occupied and in which his name and influence was always the most potent, were without number and in many institutions and societies, which owed much to his initiative, his counsel, his help, and practical knowledge. As a deacon of a most prominent church in his district, whose ministrations, spiritual, charitable, and social have made it a very centre and anchor of Christian endeavor and accomplishment, it may well be believed that Brother Carr bore his full share in its beneficent work; that he was there, as elsewhere, a factor in its religious and humanitarian efforts for the uplift of mankind, the redemption of the fallen and the guidance of the young. Why, the contemplation of Brother Carr's upright and useful Christian life alone must have been an inspiration to many of the latter!
"When, on the broad pathway of life,
'Mid trouble and turmoil and strife,
Our souls cry with weariness, anguish and dreariness,
For a beacon of hope and of light;
Then a countenance bright, a grip firm and right
Of a friend, will bring us delight
And fill our sad hearts with cheeriness."
We can well imagine, nay, we may be certain, that John Carr's kindly hand-grasp, accompanied by his no less kindly help and advice, has steadied many a wavering mind and faltering step and shown him the true, if narrow, path to righteousness and salvation.
Brother Carr, with his unfailing interest in anything concerning the public welfare, exerted a most salutary influence in the politics of his district and willingly and effectively lent his name and active support for the promotion of a good cause. For years, no ticket or list of delegates or committees would be thought complete without his name to head it or endorse it and when, at a time in life when most ordinary men are desirous of laying down the burden of work and responsibility, he was persuaded to become a candidate for the House of Representatives, he was, of course, returned with the greatest ease and enthusiasm. It is needless to say that he made his mark at the State House as a man of culture and character and information and made his influence felt by his intellectual force and the strength of his convictions. It is true, he did not develop much activity in endorsing every new radical proposition of modern legislation, but there was compensation for that, if compensation were needed for a well-timed exercise of the admirable qualities of prudence, discretion, and moderation (and we, as Masons, are best qualified to esteem and appreciate a conduct based upon and governed by these truly Masonic principles), and his constituents had the satisfaction of knowing that they were represented by a man who could not be carried off his feet by popular clamor or caprice, but who, nevertheless, never condemned a thing or measure simply because it was new and untried, but was ever ready to place his judgment and practical experience in the service of advanced ideas and beneficial enactments.
. . . Such was John Carr, the man of a long, unblemished life, lived in the fear of God, devotion to his family, the service of his fellowmen! He is gone to his heavenly rest. We mourn his loss and miss his genial presence' Let us keep a place for him close in our hearts, let us endeavor, like him, "To live in deeds, not years; in thoughts, not breaths"; let us honor his memory by following his bright and shining example of a virtuous and unselfish life; let us think of him as one asleep whose influence for good remains alive and who, taking a well-earned rest, assigns to us the record of his life-work for emulation, imitation, and continuance.
"Weep not that his toils are over,
Weep not that his race is run;
God grant we may rest as calmly,
When our work, like his, is done!
Till then we would yield with gladness
Our treasures to Him to keep,
And rejoice in the sweet assurance,
He giveth His loved ones sleep."
Fraternally submitted,
Dana J. Flanders,
Charles A. Ramsay,
Frederick W. Klemm,
Committee.
---