GMKeith
From MasonicGenealogy
ROGER KEITH 1888-1968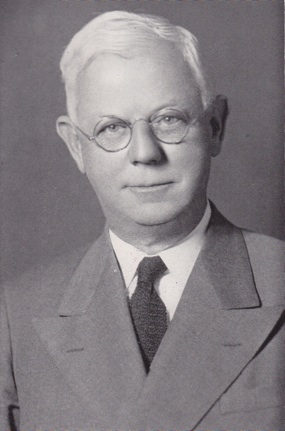 Deputy Grand Master, 1946
Grand Master, 1948-1950
---
TERM
NOTES
MEMORIAL
In the Proceedings, 06/12/1968, Page 1968-80ff.
Most Worshipful Brother Keith wis born May 8, 1988 in New York City and died suddenly in Brockton, Massachuserts, May 2, 1968 leaving a widow, Carolyn Hastings Keith, three sons, Roger, Jr., Hastings and Mark, one daughter, Mrs. Thalia May, twenty grandchildren and one great grandchhild. One son, Paul, predeceased him in 1961.
His funeral in the South Congregational Church, of which he had been a member and officer for more than half a century, constituted perhaps the widest spectrum of public respect and honor ever paid to, and deserved by, any citizen of Brockton. Delegations from the office of the Governor, the Massachusetts Senate and House of Representatives, the County, City and numerous civic and business organizations reflected the wide range of his public and Masonic service.
He graduated from Amherst College in 1911 and was a very loyal and active alumnus. After twelve years in the textile manufacturing world he entered the general insurance business in Brockton in 1923 where he had headed the firm of Roger Keith and Sons ever since.
He was Master of Saint George Lodge in 1934 and 1935, District Deputy of the 29th District in 1939 and 1940, Deputy Grand Master in 1946, and Grand Master of the Grand Lodge in 1948, 1949 and 1950. He had been a Director of the Grand Lodge since 1951, and a Trustee of the Masonic Education and Charity Trust since 1961. He was a member of all the York Rite Bodies and Commander of Bay State Commandery in 1924. In the Scottish Rite he belonged to all of rhe Boston Bodies and received the Honorary 33° in 1949. The George Washington Masonic National Memorial Association of Alexandria, Virginia, honored him by electing him a Director and member of the Executive Committee. He held Honorary Membership in, or received Honorary medals from, many other jurisdictions and took special pride in wearing the Medallion of the United Grand Lodge of England indicating that he was its representative at the Grand Lodge of Massachusetts.
For many years he was actively interested in politics. He had been a member of the City Council of Brockton four years, President of the Council in 1919 and 1920, and Mayor in 1921 and 1922, a Member of the Massachusetts Senate from 1929 to 1932, and a delegate to or had attended every Republican National Convention since 1924. His election as Grand Master made it necessary to abandon his plans to seek election to the Governor's Council.
His wide range of business interests included the Chairmanship of the Board of Trustees of the Peoples Savings Bank of Brockton, Directorships in the Abington Mutual Fire Insurance Company, the Brockton Edison Company, and many other business organizations.
He was also a Trustee of the Brockton Hospital which he served as President in 1944-1945 and he held membership in the Brockton Kiwanis Club which he had served as President, the Boston Athenaeum, Bostonian Society, Newcomen Society, New England Historical Genealogical Society, Union Club of Boston and many other clubs and social organizations. For a number of years prior to his death, he had been an eager traveler and found increasing joy and pleasure in his frequent visits to London.
The following resolution was adopted by the Board of Directors of Grand Lodge as a tribute to his Masonic service:
Resolved: That we express our sense of loss today in the absence of M.W. Roger Keith. For nineteen years he had been a member of this Board: for three years as Grand Master, and since then as a regularly elected member. He was present at our last meeting, and his sudden death has left us shocked and saddened. He brought a keen and responsible interest in all of the business of the Grand Lodge. His professional interest in insurance enabled him to make an invaluable contribution to much of the business of the Board. His friendliness and jovial manner won men to him instinctively, and we shall not look upon his like again. We extend our deepest sympathy to his wife, Carolyn, and to the members of his family.
This morning the Trustees of the Masonic Education and Charity Trust adopted the following resolution:
Resolved: That we record our deep sense of gratitude for the outstanding services of M.W. Roger Keith as President of the Board of Trustees during the three years he served as Grand Master and as a Trustee since 1961 when he was elected to the Board of Trustees upon the death of M.W. Claude L. Allen. Faithful in his attendance at Board meetings, conscientious in the performance of his duties, conservative in his investment policies and strict in his interpretation of his fiduciary responsibilities, his jovial presence and the stimulating influence of his counsel will be sorely missed. We share with his family the loss occasioned by his sudden departure from our midst and express to them our heartfelt sympathy.
Respectfully submitted,
Joseph Earl Perry
Thomas S. Roy
Whitfield W. Johnson
Committee
SPEECHES
FEAST OF ST. JOHN, DECEMBER 1945
From Proceedings, Page 1945-542:
Remarks by Grand Master Wragg:
The Secretary of State made statements about certain Brothers in the East today. Well, one of them is, of course, the President of the Senate, Past Grand Master Arthur W. Coolidge, and we are proud of him. Another is Right Worshipful Roger Keith. I am pleased that I did serve in the Senate with the new Deputy Grand Master, where I learned to know Roger Keith as a man, because in a political body such as that you do know your fellow Senators, and know them well. By the time I had served a few terms with him in the Senate, I found that he was just the type of fellow that we need to be leaders in Masonry, and I feel sure that he will make a most excellent Deputy Grand Master.
Brother Keith has been a member of Saint George Lodge in Brockton since 1909, when he was initiated, passed and raised. He was Worshipful Master in 1934 and 1935; District Deputy Grand Master for the Brockton 29th District in 1939 and 1940. He was a member of the Brockton City Council and Mayor of the City of Brockton. He was Senator in 1929 to 1932. From now on, he is going to try to lead a good, clean life.I take great pleasure in presenting to you the new Deputy Grand Master of Masons in Massachusetts, Roger Keith.
Most Worshipful Grand Master and Brethren:
I deeply appreciate this appointment on behalf of my Lodge and myself, and I hope that I properly value it.
Brethren, I do not want to open up anything personal at all, but I have been a friend of the Grand Master for a long while. He has never done anything to embarrass me particularly, but I have always been a little bit suspicious. When he told me a little while ago I was to have this post, I said, "Is there much ritual to it?" He said, "No, there is just a little ritual," and he pulled out a card with the obligation you heard me give this afternoon. Then he said rather gently, "You have to make a speech at the Feast of St. John, but all you have to do is to go to the proceedings, look up and see what some of your predecessors said when they were Deputy Grand Masters." I said, "I guess I will go back to 1904, when Right Worshipful William Emerson of Brockton was Deputy Grand Master, under Baalis Sanford." Miss Davis kindly got the records out, and we looked them over and found he had made no speech.
Right Worshipful Myron Keith, a member of my own Lodge, was Deputy Grand Master in 1918. He was the man who raised me as a Mason. Lo and behold! he made no speech. That recalls a phrase in the ritual where it is said, "This is truly alarming."
Right Worshipful Thomas S. Roy was the next man I thought of, for while he is now credited to Worcester, he lived for many years in Brockton and is well known to all of us there. I really dreaded looking for his speech because I knew it would be excellent. He is not only an able gentleman, but he has the gift of oratory. I knew when I found the speech it would be well nigh perfect. I looked and sure enough, there was a speech. Really, you could not ask for a better one. It made me think of the time when he used to preach Sunday evenings and everybody in the city, even the Congregationalists, would go and listen to him. I went myself two or three times. Of course I knew that he was a Baptist and that there was a baptismal font on the platform, and I always hoped he might fall in and get soused—I mean wet.His speech was one I could never hope to follow, so I kept on- I then realized that the present Grand Master must have made a speech when he was Deputy Grand Master a few years ago. I looked it over. It was pretty good, better than anything I had ever heard him give in the Senate, but there was nothing there that I could use, unless I wanted to plagiarize, which I didn't.
Then I remembered the late Wendell Prout, whom everybody knew and loved. There was a speech about six lines long—a little gem. He said he there stood as Exhibit A of the Grand Master's appointments. So I here stand before you as an exhibit of the present Grand Master's appointments. If I can radiate a little of the spirit of brotherly love and friendship which he has manifested during his year as Grand Master, and indeed through his whole life, I shall personally be satisfied, and I hope the Grand Master will be satisfied.
FEAST OF ST. JOHN, DECEMBER 1950
From Proceedings, Page 1950-289:
Most Worshipful Brother Tom and Brothers:
I was doing quite a bit of worrying when the introduction started out, but the little verse put me right at ease at once. The Grand Master spoke upstairs and down here on his usual high plane. Most Worshipful Melvin Johnson does a magnificent job of toning up the proceedings. I had begun to wonder if I fitted into this level. That advertisement was one that I would have given anything to have had when I started out. It is too late now that I am out of power.
The Grand Master had the Mayor of Worcester here as his guest today. I was going to comment on the fact that when I was Grand Master I had been my own mayor. I didn't need to bring in any outsiders.
I was very much interested in the appointments today. I knew of the Grand Master's religious background. My grandmother was a member of his church before he was there as Pastor, but the rest of the family had strength enough to stay in the Congregational faith where they had been for generations. The Grand Master, Deputy Grand Master and Senior Grand Warden are all members of the Baptist faith. The new Chaplain, Dr. Davidson, is a Baptist Minister from Brockton. This administration is going to be a great deal wetter than any we have had for some time.
Most Worshipful Sam Wragg and I talked the whole situation over a few months ago. We decided that the next Grand Master should be more intelligent than Sam and better looking than I am. We are going to try and keep him in the "straight and narrow." An able man is our leader and guide for the next three years. I think with his peaceful nature he will be re-elected for a second and third term.
I am glad to pay my respects to Most Worshipful Brother Tom. We have had lots of things in common in the past twenty-nine years. I am personally, Masonically and publicly very glad to be followed by such an excellent Mason. The Grand Lodge is most fortunate.
Introduction of Most Wor. Frank M. Totton, Past Grand Master of New York, follows.
CHARTERS GRANTED
RULINGS
---