GMSchaefer
From MasonicGenealogy
ALBERT A. SCHAEFER 1884-1947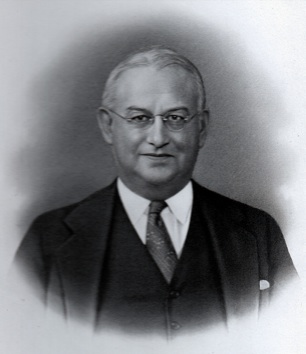 Senior Grand Deacon, 1931
Deputy Grand Master, 1934
Grand Master, 1941-1943
---
TERM
BIOGRAPHY
From New England Craftsman, Vol. XXXVI, No. 4, December 1940, Page 74:
Following regular procedure as is the custom in the Grand Lodge of Masons in Massachusetts, the December annual meeting of that body elected a new Grand Master in the person of Albert A. Schaefer.
Versed in jurisprudence, Masonic and state, Brother Schaefer conies to his high office with a sound knowledge of Freemasonry and a close familiarity with the situation in Massachusetts. As a professor in America's leading technological institution lie is able to gauge complicated situations objectively, with exactitude and high intelligence. He has played an active and devoted part in the life of the local fraternity for years and is a wise and distinguished Freemason. With increasingly involved problems confronting the Craft he will need the assistance and prayers of all to enable him to carry the burdens of his high office. The Craftsman bespeaks for him their good will that he may best assure safe guidance through rough waters.
MEMORIAL
From Proceedings, Page 1947-412:
Brother Albert Adam Schaefer was born February 25, 1884, in Middletown, Connecticut, the son of John J. and Margaret E. (Olt) Schaefer. He graduated from Phillips Exeter Academy in 1902, Harvard College in 1906, with the degree of A.B., and Harvard Law School in 1909, with the degree of LL.B. He was admitted to the bar in 1909 and practiced privately until 1913. From then until 1935, he was associated with the law firm of Ropes, Gray, Boyden & Perkins of Boston, specializing in trial cases. In 1930 he became associated with Massachusetts Institute of Technology as a lecturer on business law, Assistant Professor in 1931, Associate Professor of Law and Government in 1935 and Professor in 1940. He was Special Assistant District Attorney for the Northern District of Massachusetts 1910-1912; Director of Enforcement, New England Fuel Administration, 1917-1919; counsel for numerous railroads and steamship-line receiverships 1914-1935. He was also on the panel of Arbitrators of the American Arbitration Association and held membership in the American, Massachusetts and Boston Bar Associations.
He was of the Episcopal faith, and was a noted American boy soprano of his day. He even sang in the Metropolitan Opera in New York with Nordica.
On February 1, 1935, he married Ethel K. Potter, who survives him.
His Masonic record is as follows:
Symbolic: He was made a Master Mason in St. John's Lodge No. 2 of Middletown, Connecticut, September 22, 1905, which membership he retained until his death; became a Charter Member of The Harvard Lodge April 11, 1923, serving as Worshipful Master in 1929; became a member of Richard C. MacLaurin Lodge December 20, 1930; was an Honorary Member of the following Lodges: Moses Michael Hays, Euclid and Union of Nantucket. He was Master of the Seventh Lodge of Instruction in 1930. In Grand Lodge he became Senior Grand Deacon in 1931, District Deputy Grand Master (Boston Second District) in 1933, Deputy Grand Master in 1934 and Grand Master 1941-1943, inclusive. He received the Henry Price Medal in 1934. The Grand Lodge of Illinois made him an Honorary Past Grand Master of its Grand Lodge. He was Director of Education in the Grand Lodge of Massachusetts from March 1935 until May 1938.
Capitular: He was exalted in Cambridge Chapter, R.A.M., of Cambridge, June 13, 1930, and was Master of the Second Veil at the time of his death.
Cryptic: He was greeted in Cambridge Council, R. & S.M., May 3, 1933.
Chivalric: He was knighted in St. Bernard's Commandery, K.T., of Boston, February 14, 1934, and was Eminent Commander of that Commandery 1943-1944.
Scottish Rite: He received the degrees from the Fourth to the Fourteenth in October, 1910, and those from the Fifteenth to the Thirty-second, inclusive, in October, 1934, in the Valley of Boston. He was coronetted a Sovereign Grand Inspector General, Honorary Member of the Supreme Council, September 23, 1942.
He was First Ceremonial Master of Aleppo Temple, A.A.O.N.M.S. of Boston at the time of his death.
He was a past President of the Harvard Masonic Club (1908-1909) and of Harvard Chapter Acacia Fraternity (1907-1908).
Most Worshipful Brother Schaefer was eminent in his provession. His professorship in the Massachusetts Institute of Technology enabled him to be very helpful to a great many young men by whom he was much revered, and who will treasure his memory. He was gregarious by disposition, and in his human contacts always made life a little brighter. Our Brethren will remember how filled his addresses were with sound and wise Masonic discussions, and yet constantly interspersed with humor.
His passing was very sudden, but yet not unexpected either by him or his friend. Indeed, it was in accord with his own viewpoint toward life - he wanted to be active and of service so long as he lived, but never to be a burden or be deprived of the ability to serve others. He had just closed an interesting and valuable address, and then left us without suffering.
Funeral services were held at Trinity Church on Sunday, October 26, at three o'clock, the Reverend Samuel Tyler officiating; and interment was in Mt. Auburn Cemetery, Cambridge.
"Here was a friend whose heart was good;
He walked with men and understood.
His was a voice that spoke of cheer,
And fell like music on the ear.

His was a smile men loved to see;
His was a hand that asked no fee
For friendliness or kindness done.
And now that he has journeyed on,
His is a fame that never ends -
He leaves behind uncounted friends."

Fraternally submitted
Melvin M. Johnson
Arthur D. Prince
Frank L. Simpson
Claude L. Allen
Joseph Earl Perry
Arthur W. Coolidge
Committee
NOTES
CHARTERS GRANTED
None.
RULINGS
---