MAGLFEly
From MasonicGenealogy
FREDERICK DAVID ELY 1838-1921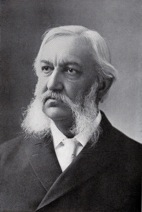 Deputy Grand Master, 1884-1885
MEMORIAL
From Proceedings, Page 1921-452:
R.W. FREDERICK DAVID ELY, son of Nathan and Amelia (Partridge) Ely, was born in Wrentham, Mass., September 24, 1838, and died at his home in Dedham, Mass., August 6, 1921. He was educated in the public schools and at Day's Academy of his native town, and at Brown University, from which he graduated in 1859.
He was married December 6, 1866, to Eliza Baldwin Whittier, of Boston, who died February 12, 1881. On August 10, 1885, he married. Anna Emerson, of Rochester, Vt., who died July 28, 1915. By his first marriage he had three children: Frederick David, Jr., who died February 13, 1890; Ida Baldwin, who died November 5, 1870; and Amelia M., wife of Dr. Walter C. Howe, who survives him.
Soon after graduation from college, he took up the study of law in the office of Waldo Colburn at Dedham. Ambitious to excel in his chosen profession and to enter into public service, he soon won a wide acquaintance of warm, friends and. their recognition of his ability. In 1862 he was admitted to the Massachusetts bar and soon afterward opened his office in Dedham. He at once entered into the public affairs of his adopted town and ever afterwards his voice was raised in support of every good cause for the welfare of the community, and he was never satisfied until right and justice prevailed.
Every worthy cause readily engaged his generous support, and his name is found among the members of many organizations, charitable, educational, historical, or those engaged in the relief of suffering humanity. His religious life was centered in St. Paul's Episcopal Church, as a communicant, and for many years as a vestryman. In 1882 he was elected a member of the Dedham School Committee and served many terms on that Board, a large part of the time being Chairman. He was a director of the Dedham Mutual Fire Insurance Company and a trustee and vice-president of the Dedham Institution for Savings.
In 1873 he was the Representative of the First Norfolk District to the General Court, and in l878 and 1879 he represented the same district in the Massachusetts Senate. In 1884 he was elected to the 49th Congress from the 9th Congressional District, and served one term.
Judge Ely was appointed Trial Justice of Norfolk County in 1867 and served until 1884. In 1888 he was appointed Associate Justice of the Municipal Court of Boston, and served until 1914, when he retired from all active duties.
His life was an industrious one, full of achievements and good deeds. He possessed an analytical, logical, and inductive mind, and correlated facts and evidence in their relative importance. His application of a legal principle was seldom, if ever, at fault, and his judgment was sound and always fair.
He was made a Mason in Orient Lodge of Norwood in 1866 and became a member of Hyde Park Lodge, of Hyde Park, February 27, 1867. He was elected Senior Warden of Hyde Park Lodge in 1867, but dimitted from Hyde Park Lodge February 15, 1872, to become a charter member of Constellation Lodge, of Dedham, which held its first Communication at Dedham, March 15; 1871. He was its first Master, serving in 1872, 18?3, and 1874. He was District Deputy Grand Master for the Thirteenth District in 1877, 1878, and 1879, and was Deputy Grand Master of this Grand Lodge in 1884 and 1885.
He was exalted a Royal Arch Mason in St. Paul's Chapter March 19, 1872. He was a charter member of Hebron Royal Arch Chapter, of Norwood, constituted in 1884, and was elected an honorary member of that Chapter June 26, 1885. He received the degrees in the Cryptic Rite in Hyde Park Council of Royal and Select Masters in 1885 and 1886, and the Orders of Knighthood in Cyprus Commandery No. 39, Knights Templars, of Hyde Park, in 1885. Ile was presented a Henry Price Medal on May 10, 1916, by M.W. Melvin M. Johnson, at which time a complimentary dinner was given by Constellation Lodge to commemorate the fiftieth anniversary of his admission to Masonry.
As a man, a citizen, and a Mason, he was beloved by all with whom he came in contact. His noble purpose in life, so fully exemplified in all his Masonic affiliations, he carried into every detail of his civil, professional and political career.
"How brief this drama of our life appears.
The good die not. This heritage they leave -
The record of a life in virtue spent;
For our own loss at parting we may grieve -
Lives such as his build their own monuments.
Respectfully submitted,
Dana J. Flanders,
Arthur W. Chase,
Charles A. Day,
Committee.
SPEECHES
AT A CORNERSTONE LAYING IN NORWOOD, SEPTEMBER 1885
From Proceedings, Page 1885-92, at First Universalist Church, as Deputy Grand Master:
In closing these ceremonies, Ladies and Gentlemen of this Religious Society, my first words must be those of regret that the unavoidable absence of the distinguished Grand Master of Masons in Massachusetts, the Hon. Abraham H. Howland, Jr., of New Bedford, has assigned the charge of these important ceremonies to his inexperienced and less competent Deputy Grand Master. I am, however, glad of the opportunity to express to you the hearty sympathy which I, in common with my fellow-townsmen, felt for this religious society on learning of the destruction, by fire, of the attractive and, commodious church edifice which formerly adorned this spot, — a structure justly distinguished for its architectural symmetry and beauty.
But we are not here to express regrets, or to recall days of disaster. Let this day, rather, be one of thankfulness, of hope, of aspiration, of congratulation. As, in the natural world day follows night and/the vivifying rays of the-morning sun awaken more cheering emotions in the human breast, by reason of the preceding darkness; as in the moral world:
"Men may rise on stepping-stones
Of their dead selves to higher things,"
- so on this spot, fragrant with affectionate and tender memories of the accustomed pen, and pulpit, and choir service, and all those associations which cluster around and pervade the New England meeting-house, hallowed by the.church festival and Sunday school and the rites of baptism and communion, consecrated by the prayers and praises which for so many years have here ascended to the Father of us all, shall arise from these ashes a grander, a more imposing, and, we trust, a more enduring structure, attracting all beholders to draw near and pay their vows.4o the Supreme Grand Architect of the Universe.
My friends, we are convened on an occasion of interesting significance, — interesting not alone to those who expect to worship in the building to be erected here, but to the whole vicinity, and indirectly to all the people of the land; interesting alike to the lowest standard of material selfishness and' to the grandest and loftiest aspirations of the human, soul. This young municipality, with its rapid growth and its plenitude of enterprise and public spirit, will share in the harvest to be gathered from this day's work. Who shall recount the varied and manifold benefits and blessings which Come from the churches of the land? Judge them by the frigid insensibility of the counting-room, and tell me what investment pays a better or surer rate of interest. What would property be worth in this town were its churches to be destroyed, and never rebuilt? Who would consent to reside where no spire pointed towards the stars? Who would dare to bring up his children where no temple of devotion opened its doors to young and old, inviting them to come and worship' the Great Father of light and truth?
If we extend our thoughts above and beyond the sordid calculations of the interest-table, what words can fitly portray those fresh and ceaseless streams which constantly flow from our churches, making our land bud and blossom more and more with the flowers of honesty, integrity, justice, purity, goodness, kindness, brotherly love, truth and holiness?
Truly the church is to the town and the State what the stone which has now been laid with appropriate ceremonies will be to this building. It is the grand head-stone of the corner, on which rests our prosperity, individually and as a nation. Completely separate from the State, self-supporting, seeking and having ho political control, it produces and maintains a thoughtful, virtuous, God-fearing and God-loving people, the only sure and strong foundation on which American Representative Government can safely and permanently rest.
It is peculiarly, fitting' that the Ancient and. Honorable Fraternity of Free, and Accepted Masons, at whose altars every Brother on bended knees expresses his belief in God, whose Great Light, is the Holy Scriptures, and whose teachings constantly and without variance point to the life beyond the grave, should, by its highest representatives, have an active part in laying the corner-stone of this house of prayer and praise. It has been the custom of the Grand Lodges of the several States from the earliest times to lay with ancient forms the cornerstones of buildings erected for purposes of religion, benevolence, government and literature, and of monuments designed to perpetuate the memory of patriotic and heroic deeds. But the Grand Lodge never seeks or solicits this work, or consents to do it, when requested with any purpose of display or ostentation.
The spirit which animates our Grand Lodge in consenting to accept public invitations like this was so admirably expressed, by a distinguished Grand Master on a similar occasion to the present, that I venture, to quote his words. Said he : "The Grand Lodge in Massachusetts has met this, as it has met every call of the same nature, from a sincere desire to lend its countenance and support to every work planned for the moral and material advancement ,of mankind. We have no wish to swell a pageant, or to take part in a ceremonial, so far as to subserve the purpose of mere display. But our Order, made up of men representing every class and interest of society, is alive to every movement affecting the general welfare, and from first to last it has been in the fullest sympathy with Christian effort and aspiration. From the very nature of its. organization it has held aloof from all sectarian entanglements, while it has never failed to give its hearty God-speed to the good men of every religious denomination who are doing honest work for their fellow-men."
Animated by the same spirit we have laid this corner-stone to-day. Taught by Our trestle-board those great fundamental truths which an all-wise and all-loving Father has planted in the human heart, or laid down in the great books of nature and revelation, that His all-seeing eye is ever over us, and that He will reward us according to our merits, we have humbly and reverently clone our work. May it be acceptable in His sight!
May His blessing attend the erection of this house; and, as stone shall rise above stone into one complete and harmonious whole, may it realize the fondest expectations of this Society. May it be the place of every good word and work! May peace prevail'.within, its walls ! May its people be united, harmonious, and happy; and may its influences and its teachings comfort and bless this neighborhood and this town from generation to generation!
---