MAGLJSabine
From MasonicGenealogy
JAMES SABINE 1774-1845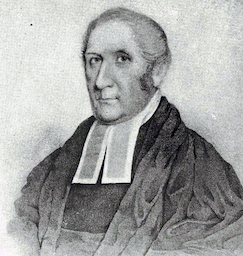 BIOGRAPHY
From Proceedings, Page 1873-265:
REV. JAMES SABINE, BOSTON, Episcopal. 1827-1830.
REV. BRO. JAMES SABINE was born in Fareham, Hants, Eng., May 26, 1774. He lost his mother at the early age of five years, and was subsequently in the charge of an aunt, whose severity induced him to leave her while yet a boy, and repair to London, where he found employment in the establishment of a bookbinder. The information which he here obtained came to be of much service to him in after life, when he sought exercise from the duties of study and composition by connecting his numerous pamphlets, gathered during many years, into a series of well-bound volumes, with which his library was stocked. His family are not advised at what period he became pious, as there is no record to show; but as early as his seventeenth year he must have entered the classical and theological schooj of Hoxton, near London, belonging to the dissenters, then under the presidency of Dr. Simpson; for he was in the ministry when he was at the age of twenty-one, i.e., 1795.
After officiating in England in different places, he left his native land with his family in 1816, and became the pastor of the Independent Chapel in St. John's, Newfoundland, until 1818, when, in consequence of the great conflagration that had consumed two-thirds of the city, he sailed with his family for Boston, where he arrived in the summer of that year. After serving as a Congregational clergyman, and being instrumental in building two churches in Boston, he was induced, in 1828, to join the Episcopal Church, and was ordained by Bishop Griswold in 1830. Soon after, he removed to Bethel, in Vermont, and became rector of Christ Church, over which he officiated fifteen years, until his death, which took place at his son-in-law's, Dr. John Smith's, at Randolph, on the second day of October, 1845. Ann Davenport, his wife, died in Bethel, October 2, 1837. Their remains lie in one grave in the churchyard belonging to Christ Church, Bethel, over which their sorrowing and affectionate children have placed a suitable headstone, as a memorial of departed worth.
In Masonry, Bro. Sabine took a deep interest, which in no degree abated during his life. He was initiated in Columbian Lodge, August 3, 1820; was admitted to honorary membership, April 4, 1822; and served as Chaplain in 1825, 1826, 1827, 1828, 1829 and 1830. He was made a member of St. Andrew's R.A. Chapter, March 19, 1823, of which body he was Scribe in 1823 and 1824, and King in 1825. He was a member of the British Charitable Society. In whatever sphere he acted, he was earnest and sincere; and there are many in this community who remember him as a true friend and faithful Christian teacher.
— History of Columbian Lodge, 1856.
---