MAGLJVytal
From MasonicGenealogy
JAMES A. VYTAL 1936-2007
BIOGRAPHY
TROWEL, 1988
From TROWEL, Spring 1988, Page 9:
R.W. James A. Vytal Keeps His Commitments
R. W. James A. Vytal, Past D. D. G. M. of the Marlboro 24th District and Past Master of St. Bernard's Lodge of Southboro, was recently elected Thrice Potent Master of Boston Lafayette Lodge of Perfection, Scottish Rite. He is a member of the Executive Board of TROWEL and was one of the workers in the Boston temple when the magazine was started.
A degree worker in the Valley of Boston for many years, he won the Meritorious Service Award while a junior officer of Boston Lafayette Lodge in 1973. When business shifted him to Chicago and next to New York, Jim remained active in Scottish Rite as a Consistory line officer in the Valley of Chicago and the Valley of Bridgeport, CT.
Residing in Windham, NH, with his wife, Barbara, and daughter, Karen, Bro. Vytal succeeds John G. Moy, designate for the Thirty-third Degree later this year. When professional responsibilities caused R. W. W. Bradford Chase, Jr. to refuse promotion from Deputy Master, the Lodge chose Bro. Vytal to assume the post he normally would have achieved several years ago.
A Grand Representative at the Grand Lodge of Massachusetts for the Grand Lodge of Ontario, Bro. Vytal was honored in 1986 at Cincinnati with the Thirty-third Degree. He is a sales representative with one of Boston's major printing and publishing houses.
TROWEL, 1992
From TROWEL, Spring 1992, Page 5: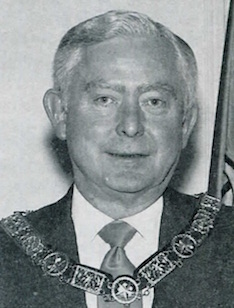 When Most Worshipful J. Philip Berquist conceived the idea of the TROWEL magazine, Jim Vytal was one of the first men he tapped for involvement. It was a logical choice because Bro. Vytal. son of a Boston newsman, has long and active career in the publishing/printing business. Now the Executive Director of the Grand Lodge publication. Jim is a graduate of the Boston University School of Management and is the owner of J and B Graphics of Windham. NH. His firm represents five different printing companies, each with divergent capabilities. Since 1966. he has represented seven different print businesses in sales. catalogs, books, directories and financial printing.
A Fraternal-minded man since the day he joined Watertown DeMolay Chapter, he was its Master Councilor in 1953. Conferred with the Chevalier Degree, he was invested with the Active Legion of Honor in Chicago in 1977. where he holds life membership in the Frank S. Land Court. He was the Dad Advisor for Excalibur Chapter. Highland Park. IL. 1976-78. His wife. Barbara A., is Past Worthy Advisor of Watertown Assembly. Rainbow for Girls. Daughter Karen is a Past Worthy Advisor of Lake Forest, IL Assembly and son Barry J. is expected to be Raised in Galilean Lodge, Saugus in March. Barry and his wife brought new love into the Vytal family last year in granddaughter. Brittany Ann.
Jim Vytal was Raised in Pequossette Lodge. Watertown. in 1957. He became affiliated with St. Bernard's Lodge. Southboro and served as the Master in its centennial year of 1967. A year later he was Master of the 38th Lodge of Instruction. He holds membership in The Masters Lodge, Newton. He holds the Meritorious Service Certificate and the Joseph Warren Medal. He is active in the work of the High Twelve Club and when a young man was an Eagle Scout.
His York Rite affiliations are with St. Andrews Royal Arch Chapter. Boston Council of Royal and Select Masters and St. Bernard Commandery No. 12. A life member of the Valley of Boston. Scottish Rite, he was the Thrice Potent Master of Boston Lafayette Lodge of Perfection 1987-90. Active in all advancement programs to enhance Scottish Rite Masonry. Jim had been a member of the Valley of Chicago and the Valley of Bridgeport. CT. In 1986. he was created a Sovereign Grand Inspector General. 33° when the Supreme Council. Northern Jurisdiction, met in Cincinnati.
MEMORIAL
FROM TROWEL, 2007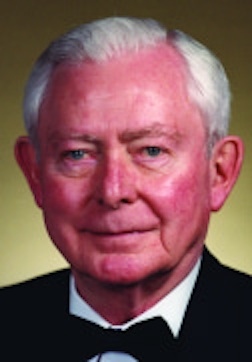 From TROWEL, Winter 2007, Page 27:
The inaugural issue of Trowel was published in April 1983, when the Grand Lodge of Masons in Massachusetts was celebrating its 250th anniversary. Most Wor. J. Philip Berquist, Grand Master, organized a small group of brethren to create a new magazine that would shed further light on Masonry.
Now as Massachusetts Freemasonry prepares for its 275th anniversary year, brethren mourn the passing of a Mason who has contributed mightily to Trowel since its inception nearly 25 years ago.
Rt. Wor. James A. Vytal first served as Advisor, then Manufacturing Director and Director of Trowel, the brother responsible for bringing the news and stories of our Craft to every Massachusetts Mason and to others around the world. Under his leadership and the efforts of others, Trowel grew from a 24-page magazine (printed in black and white, with advertisements comprising one-third of the issue) to a 32-page quarterly publication printed in full color, without ads and offering probing insights on Masonic teachings and activities.
Receiving his degrees in Pequossette Lodge, Watertown, 50 years ago, Jim was an active and esteemed Mason, as would be expected of a brother who beautifully filled the role of Bro. George Washington in the Scottish Rite 20th Degree, Master Ad Vitam, master — or leader — for life. He received the 33rd Degree in 1986.
The first recipient of the Stanley Fielding Maxwell Award, presented by the Massachusetts Council of Deliberation, Ill. Bro. Vytal was well known for his many contributions to Scottish Rite and Blue Lodge Masonry. Many brethren have benefited from his dozen years of service as a Grand Lecturer, helping lodge officers deliver ritual in the approved manner, interjecting corrections in a brotherly way, being helpful, not critical.
Brother Vytal passed away on October 22, 2007, after a long battle with cancer, during which he never lost his positive outlook and enthusiasm for Trowel. A Masonic service held in Salem, New Hampshire, was attended by well over 100 Massachusetts Masons.
DeMolay Legion of Honor recipient,Worshipful Master of St. Bernard and The Masters Lodges, Junior Grand Warden, Thrice Potent Master of Boston Lafayette Lodge of Perfection. Above all, a good friend and brother, who lived respected and died regretted.
---