MAGLPRandall
From MasonicGenealogy
PETER ALLAN RANDALL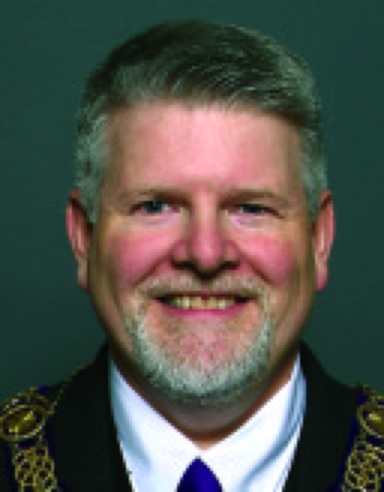 Senior Grand Warden, 2009
BIOGRAPHY
FROM TROWEL, SPRING 2009
From TROWEL, Spring 2009, Page 7:
Rt. Wor. Peter Alan Randall was elected Senior Grand Warden. Bro. Randall was raised in 1980 in Constellation Lodge, Dedham where he served as Master twice in 1986–87 and 1988–89. He was the recipient of the Grand Master's Award in 1988. He continues to serve Constellation Lodge as Treasurer.
Bro. Randall is a member as well at Orient Lodge, Norwood and Rabboni Lodge, Westwood. He is a charter member, was the charter Senior Warden and now is a Past Master of J. Philip Berquist Lodge, Foxboro.
This is Bro. Randall's third Grand Lodge office. He served as Grand Steward in 1990. He was also District Deputy Grand Master of the 6th Masonic District in 2005-2006, District Deputy Grand Secretary, 1999-2000 in the Hyde Park 25th Masonic District, and served as a member of Grand Lodge's Masonic DARE Program from 1988 to 1991.
Bro. Randall has been an active participant in other Masonic bodies as well. He has served as a State Officer of Massachusetts DeMolay and Master Councilor of the Dedham Chapter Order of DeMolay. He is a member of Mahded Grotto in Dedham; belongs to all four bodies of the Scottish Rite, Valley of Boston; Aleppo Shrine, Wilmington; and both Samoset Chapter O.E.S. and Angle Stone Chapter, O.E.S. He is active also in the York Rite as a member of Neponset Valley Royal Arch Chapter and the Hyde Park Council, Royal and Select Masters in Norwood.
While serving as Master of J. Philip Berquist Lodge, the lodge instituted a charity program to assist needy families in the Foxboro area either through direct gifts at Christmas or through donations to local churches to be distributed to those in need during the holidays. This charity is now called the Randall Fund. Also while serving as Master, Bro. Randall developed a relationship between the Special Olympics of Massachusetts and Masonry by raising money to host an annual barbeque lunch for the athletes at the Soccer Assessment Tournament held each year in October in North Attleboro. This barbeque provided the Special Olympians with a hot meal rather than cold sandwiches. In 2008, this event was extended to all the lodges in the 16th Masonic District as well as other Masonic bodies in the area.
Bro. Randall is a member of the First Congregational Church, Norwood where he has served as Chairman of both the Board of Deacons and the Board of Trustees. Rt. Wor. Randall and his wife Holly live in Foxboro with their two teenage children, Eric and Amy. He is a 24-year employee of NSTAR Electric and Gas (formerly Boston Edison Company) where he is the Manager of End User Services.
---