MAGLSDavis
From MasonicGenealogy
STAFFORD E. DAVIS 1918-2007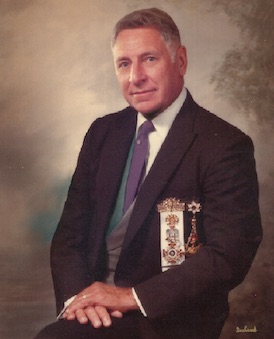 Grand Marshal, 1968
Senior Grand Warden, 1972
MEMORIAL
SCOTTISH RITE, 2007
From Scottish Rite Balustre, 2007:
STAFFORD EDMOND DAVIS, 33°
Born in Springfield, Massachusetts, on December 22, 1918
Died on May 18, 2007
Ill. Stafford Edmond Davis, 33° was the son of Clifford and Mabel (Chapman) Davis. He graduated from Springfield Technical High School and was employed as a Consulting Engineer and Chief Inspector at the U. S. Armory in Springfield. He served in the United States Air Force, retiring as Major.
On April 17, 1943, he was united in marriage to Mildred Derby.
Ill. Brother Davis was raised a Master Mason in Dalhousie Lodge, A.F.&A.M., Newtonville, in 1950 and served as Master in 1962. He served the Grand Lodge as Instructor of the 34th Lodge of Instruction in 1967; Grand Marshal in 1969-71; and Senior Grand Warden in 1972. He was the recipient of the Henry Price Medal in 1970. He was exalted in Newton Chapter R. A. M. and greeted in Boston Council R. & S. M., both in 1970. He completed the degrees of the Scottish Rite in the Valley of Boston on October 24, 1952, and served as Most Wise Master of Mt. Olivet Chapter of Rose Croix. On September 24, 1980, he was created a Sovereign Grand Inspector General, 33° Honorary Member of the Supreme Council at Cleveland, Ohio.
He was a member of Palestine Chapter No. 114, Order of the Eastern Star and Mahded Grotto, M. O. V. P. E. R. Civically, he served as Director of the Newton Cooperative Bank; President of the Newton Rotary; and President of the Newton Boys Club.
May our Heavenly Father have him in His Holy Keeping.
OBITUARY, 2007
From Legacy.com:
CHATHAM - Stafford Edmund Davis, 88, died Friday, May 18, 2007, in Liberty Commons Nursing Home. He was the husband of Mildred Betty" (Derby) Davis.
He was born on Dec. 22, 1918, in Springfield, Mass. He was a graduate of Northeastern University. He was a retired captain of the Air Force, serving during World War II, in North Africa, and Italy.
Mr. Davis resided in Newtonville for many years before retiring to Chatham in 1981. He retired as vice president of the E. C. Hilliard Corporation. He was a consulting engineer for Ark Les Switch Company and had seven US Patents. He was also the bank director for Newton Cooperative Bank for many years.
In Newton, he established boards and commissions at the request of Mayor Monte Basbas. He was past chairman of the Council on Aging; past president of the Rotary and Boy's Club; and also past chairman of the Chamber of Commerce. In Chatham, he was past chairman of Council on Aging; past chairman of the Zoning Board of Appeals; and a Shellfish Warden. He was a Notary Public of the Commonwealth of Massachusetts.
Mr. Davis had many dedicated years of service in the Masonic Fraternity. He was past master and organist at the St. Martin's Lodge A.F. & A.M in Chatham; past master of Dalhousie Lodge A.F. & A.M. in Newtonville; past master of 34th Lodge of Instruction; past Grand Marshal of Grand Lodge of Massachusetts; past Senior Grand Warden of Grand Lodge of Massachusetts; member of Records Committee of Grand Lodge of Massachusetts; and past Most Wise Master, Mt. Olivet Chapter of Rose Croix, Awarded 33 Degree. He was also past Patron of Palestine Chapter #114, Order of the Eastern Star in Newtonville; and past Monarch, Mahded Grotto, Adjutant, Alleppo Shrine.
Besides his loving wife, Mildred Betty" Davis, he leaves two nieces, Debra Boynton of Rochester, N.H., and Holly Hess of Westfield; one greatniece; and three greatnephews.
---