MAGLWBabbitt
From MasonicGenealogy
WILLIAM M. BABBITT 1925-2007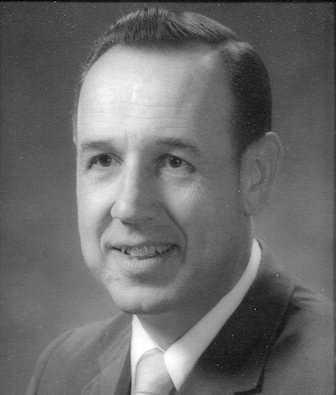 MEMORIAL
SPEECHES
FEAST OF ST. JOHN, DECEMBER 1970
From Proceedings, Page 1970-690:
Most Worshipful Grand Master, distinguished Masons and Brethren all:
I want to thank you very much, Most Worshipful, for this fine introduction you just gave me. Last night I was introduced as the Spiro Agnew of the Grand Lodge of Massachusetts, but I like this one better. Just before I got a chance to get up and speak the Grand Master leaned over and said: "The Brethren are enjoying themselves, aren't they?" I said, "They are." He then said: "Do you want to speak now or let them continue?" Here I am.
I stand before you tonight a very humble and very grateful young man and I am very appreciative of this high Masonic appointment that has been afforded me. When I was a young man I joined the Cape Cod Chapter Order of DeMolay. I was not a charter member. They had just started the Chapter about six or eight months before I had a chance by age to go in. I held various offices in the Cape Cod Chapter. I guess I got as high as a Preceptor or Chaplain or Marshal of some sort, but I enjoyed DeMolay very much and this got me started on my future road of Masonic life.
After I graduated from High School I went into the Service and when I returned I had just turned twenty-one and I joined Fraternal Lodge in Hyannis. Now all of us have secret ambitions and secret goals in life. These we often dream about.
These we tell nobody about and wonder and dream and hope they will come true. My secret dream or ambition was to become Master of my Lodge and sometime, if I was fortunate enough, to become District Deputy Grand Master.
Soon after joining the Lodge I was started in line and eventually became Master. Two years ago the Grand Master saw fit to appoint me as District Deputy Grand Master, thus fulfilling my lifetime ambition and dream. But this appointment, this appointment to Deputy Grand Master, is something I never in my wildest dreams thought would ever happen. So I say to you very sincerely today, I am a very humble young man and I would like you to know that this appointment I accept without any reservations.
I will have to check the records, but I believe I am the first former DeMolay boy ever to rise to this high appointment of Deputy Grand Master and for that I am extremely, extremely proud.
Now few people are successful unless a lot of other people want them to be. This I realize and am thankful for the confidence which other people have in me.
I think we need to improve our image as Masons. Perhaps we have been silent too long. Perhaps it is time for us to tell more of actually what Masonry stands for. I am also convinced that we need to become more active than ever before, and our young people, our young men, should be the object of our special attention for that is where the future strength of Masonry lies.
I believe we have not made our Lodges appealing enough to the youth. I would say that the majority of you here this evening probably joined Masonry in your early twenties just as I did. They are not coming in at that age today. Something is wrong and we have got to start soon to straighten it out.
Now I believe the problems of youth today are in their hearts, not in their heads, but in their hearts, and by bringing them into Masonry and opening their hearts to the teaching of Freemasonry is where we are going to succeed.
But what is more important, we need to consider where we as Masons are now and where we are going. Where are we going from here? Forward, forward I hope, and with the work of everybody together, we will go forward.
Now you know that everybody wants a shortcut today. There is no shortcut in Freemasonry, no shortcuts at all. We have got to be strong. We have got to go forward. We have got to get the youth of the country into our Lodges. We owe this to our country. We owe it to our people. We owe it to ourselves and more especially we owe it to our leaders of tomorrow who are the youth of today.
Pappy Boyington was a fighter pilot in the South Pacific. He was a World War II ace. He was a Marine fighter pilot, but we can forgive him for that. He shot down more enemy planes in the South Pacific than any other man. There was a Navy lieutenant who had also shot down a number of planes in the South Pacific but he had not received recognition for the number of hits he had. Something always went wrong. Either his automatic cameras didn't function or he ran out of film or he didn't mark on his plan where the debris hit. Witnesses didn't see him shoot the enemy planes down. He was really convinced he was a better fighter pilot than Boyington.
So he rigged his plane with automatic cameras so if one didn't function the other would, and when he fired his guns the automatic camera would come on in conjunction with his guns. He also put an automatic hand camera in the cockpit that he could use himself, and a still camera to take snapshots, and a big plot plan of the area he was going to fly this particular day. So he went up this particular day with all this paraphernalia and gear and he had a tremendous day. He shot down eight enemy planes, more planes than any other ace or any other fighter pilot had ever shot down, and he came back to the carrier wild with joy and blind with excitement. He spotted the carrier down through the clouds and came down. He landed on the aircraft deck and before the plane had come to a stop he was
out of the cockpit and up the flight deck and ran into the Admiral. He said, "Admiral, Admiral, I have done it today. I have shot down eight enemy planes and I have it all recorded. I have two automatic cameras and a still camera and a hand camera and everything is on the plot plan. What do you think about that?" The Admiral looked at him for a minute and finally said, "Ah so, Yankee boy, you made one big mistake." I am sure that none of us ever made a mistake in joining Masonry. I think we are all willing to pay the price to be a good Mason. I know I am. I am thankful for this opportunity to serve our Grand Lodge and I am looking forward with eager anticipation to this coming year and I promise you all that I will give myself totally to this appointment. Thank you very much.
---