MAGLPDay
From MasonicGenealogy
PETER A. DAY 1890-1979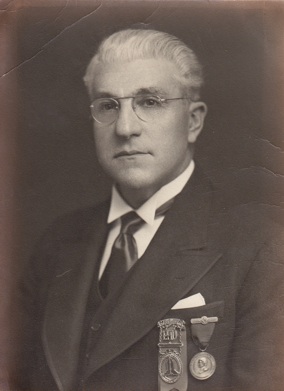 Senior Grand Deacon, 1943
Senior Grand Warden, 1946
MEMORIAL
From Proceedings, Page 1979-110:
Peter Archibald Day was born in Dartmouth, Nova Scotia on September 15, 1890. He was the son of Peter and Alice A. (Sawler) Day. Spending his early life in Dartmouth, he was educated in the elementary and Central High School in Dartmouth.
He was employed with John Starr & Son, Halifax, Nova Scotia, in 1910 to 1914 on electrical construction. He then moved to Dorchester, Massachusetts where he became employed with the Boston Edison Company until 1920 as a sub-power station operator. In 1910 he became general forman of sub-power stations for the Boston Elevated Railway, which later became Massachusetts Transit Authority and now Massachusetts Bay Transit Authority. He retired in 1955. He was a member of the International Brotherhood of Electrical Workers for over fifty years. On September 15, 1921, Brother Day married Ruth M. Ormoir of Milton, Massachusetts, who passed away in 1975. They were blessed with two children. Robert J. Day now of Centerville, Massachusetts and Bernice E. Latham of Hyannis, Massachusetts. Five grandchildren and three great-grandchildren are among the survivors.
Brother Day lived in Dorchester for a time and many years in Milton. He moved to Centerville, Cape Cod in 1968 where he spent the rest of his life in retirement. He had a summer home in Brewster, Massachusetts at which he and his family spent many summers. Brother Day was a member of the Church of the Holy Spirit in Mattapan and was a communicant of the Trinity Orthodox Church in Bridgewater, Massachusetts.
Right Worshipful Brother Day's Masonic career started when Frank Collier, an associate of the Boston Elevated Railway, sponsored him into St. Paul's Saint Paul's Lodge, then of South Boston, now of Quincy. He received his Entered Apprentice Degree on November 6, 1928; Fellow Craft on January 1, 1929 and his Master Mason Degree on March 5, 1929. He signed the By-Laws on April 2, 1929. He became Master of St. Paul's Saint Paul'sLodge in 1936 and in 1942 Most Worshipful Albert A. Schaefer appointed him Senior Grand Deacon of the Grand Lodge. In 1943, Most Worshipful Brother Schaefer appointed him District Deputy Grand Master of the South Boston Fourth Masonic District. He was re-appointed by Most Worshipful Arthur W. Coolidge in 1944. In 1946 he was elected Senior Grand Warden of the Grand Lodge of Masons in Massachusetts, and served in this capacity with honor and distinction. He was a member of the Education Committee of Grand Lodge from 1945 to 1952, and Grand Representative of the Grand Lodge Benito Juarez, Mexico, near the Grand Lodge of Massachusetts from 1946 through 1978.
Brother Day was Exalted in Cambridge Royal Arch Chapter on June 27, 1941 and affiliated with Dorchester Chapter. On October 26, 1970, he demitted and affiliated with Sylvester Baxter Royal Arch Chapter in Harwich on December 16, 1970. He was greeted in Hyde Park Council of Royal and Select Masters on June 1, 1949 and was its Illustrious Master in 1952 and 1953. He affiliated with Cape Cod Council of Royal and Select Masters, May 22, 1970 and was made an Honorary Member. He received a twenty-five year pin in 1974. Brother Day was a member of Saint Omer Commandery No. 21, Boston, and a member of all the Scottish Rite Bodies, Valley of Boston. He was a member of Aleppo Temple, A.A.O.N.M.S. and the Cape Cod Shrine Club of Hyannis.
Right Worshipful Brother Day's greatest time was spent in his association with symbolic Masonry. He was a Charter Member and the first Master of Zerubbabel Lodge, U.D. in 1950, then in Dorchester, now in Quincy. He was a member in good standing in Saint Paul's Lodge, Quincy; Zerubbabel Lodge, Quincy; Fraternal Lodge, Hyannis; Macedonian Lodge, Milton; Loyalty Lodge, Hyde Park; Adelphi Lodge, Quincy. He was an Honorary Member of Adelphi Lodge, Zerubbabel Lodge, Fraternal Lodge and Universal Lodge.
His vast Masonic affiliations can only indicate in a small way the tremendous affection this Brother has always been held by his Brethren. He was a Master of the ritual. His dramatic gestures, emphasis and facial expressions were captivating and stirred the soul of many new Masons who stood before him as he rendered the "Charge". His sincerity in his Lodge work was so inbred within his heart that his Masonic magnetism radiated wherever he was. Brother Day brought dignity and decisiveness to the police Square Club of Massachusetts, where he stood as Chaplain for many years and charged the candidates that came before him.
He was awarded the Christopher Champlin Medal for outstanding achievement by the Grand Lodge of Rhode Island and in 1946, Most Worshipful Samuel H. Wragg, Grand Master of Masons in Massachusetts, presented him with the coveted Henry Price Medal for distinguished service to the Craft. In 1979, he received the Veteran's Medal.
Right Worshipful Peter A. Day passed away December 7, l979 at Cape Cod Hospital, Hyannis. Masonic services were held at the Doane, Beal, and Ames Funeral Home in Hyannis on December 10, 1979 by Saint Paul's Lodge of Quincy. Christian services were held Monday December ll, l979 and Burial took place at Beechwood Cemetery, Centerville.
Right Worshipful Brother Day had a long and vivid Masonic life. A life of devotion and dedication. His knowledge of Masonic history and his ability to express his feelings in a manner that held his audience, will always be remembered by those who knew him. Poetry was a love of his. So his unshakeable desire to keep and maintain the old established customs which were built by time and effort was often expressed by these words.
I watched them tearing a building down
A gang of men, in a busy town
With a yo-heave-ho and a lusty yell
They swung a beam and the side wall fell.

I asked the foreman: "Are these men skilled,
The kind you would hire if you wanted to build?"
He laughed and said: "Why, no indeed,

Just common labor is all I need:
They can easily wreck in a day or two
What builders have taken years to do."

I asked myself, as I went my way,
Which of these roles have I tried today?
Am I a builder who works with care,
Measuring life by the rule and square,
Shaping my deeds by the well-made plan,
Patiently doing the best I can?
Or am I a wrecker who walks the town,
Content with the labor of tearing down?
Respectfully submitted,
Charles W. Huntley,
Harry E. Davis, Jr.,
Ronald O. Preble
Committee
---