JosephWarren
From MasonicGenealogy
JOSEPH WARREN LODGE
Location: Boston
Chartered By: John T. Heard
Charter Date: 09/10/1857 VI-123
Precedence Date: 09/23/1856
Current Status: merged with Soley Lodge to form Joseph Warren-Soley Lodge, 01/25/1983.
---
NOTES
DEPARTURE FROM BOSTON TEMPLE, 1983
From TROWEL, Fall 1983, Page 9: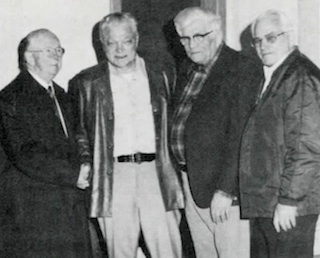 Joseph Warren Lodge recently merged with Soley Lodge of Lincoln, Mass., and are now domiciled in their quarters in the Masonic Temple on Lincoln Road, in Lincoln.
In the process of removing their belongings from the Masonic Temple in Boston, ye Ed. caught the "moving crew" as they were ready to depart from the side door of the Boston Temple with the last of their belongings safely piled on a light truck engaged for the day. The accompanying photo pictures a former neighbor, Bro. Stuart A. Currie, Treasurer of Columbian Lodge of Boston, as he bade "farewell" to Wor. Kenneth W. Wood, Master of former Joseph Warren Lodge; Wor. Roland S. Hall, Chaplain and Past Master; and Wor. George G. Dahl, Senior Warden and a Past Master.
The scene was more poignant and emotional than could be captured on film, because the lodge, constituted in 1856, had occupied quarters in the Grand Lodge building for some 127 years. Your former "neighbors" in the Boston Temple wish for you much Masonic success and many fruitful years in the Lincoln area, brethren.
---
PAST MASTERS
Caleb Rand, 1856, 1857, 1859, 1860
William E. Graves, 1858
Ivory H. Pope, 1861, 1862, 1863
J. Francis Lotts, 1864, 1865
Charles M. Avery, 1866, 1867
Zeph H. Thomas, 1868, 1869
Daniel W. Lawrence, 1870, 1871
Nathaniel Greene, 1872, 1873; SN
Asa Wellington, 1874, 1875
Albert Babbitt, 1876, 1877
James M. Gleason, 1878, 1879
Leonard B. Nichols, 1880, 1881
Leonard M. Averell, 1882, 1883; Mem
Eugene A. Holton, 1884, 1885
Eugene H. Richards, 1886, 1887; Mem
Freeman S. Atkins, 1888, 1889
Otis S. Neale, 1890, 1891
William F. Butler, 1892, 1893
William B. Robinson, 1894
Edward L. Baker, 1895, 1896
Charles Frank Day, 1897, 1898; Memorial
Frederick C. Graves, 1899, 1900
Albion B. Crocker, 1901, 1902
Joseph S. Parker, 1903, 1904
Arthur W. Burke, 1905, 1906
Charles G. Cutter, 1907, 1908
Myron Faunce, 1909, 1910
William F. Johnson, 1911, 1912
John F. Feehan, 1913, 1914
Francis M. Ryder, 1915
Rinaldo B. Richardson, 1916
Joseph P. Arnold, 1917, 1918
Arthur Watson, 1919, 1920
Charles J. Diman, 1921
Frank S. Jones, 1922, 1923; N
Frederick H. Briggs, 1924, 1925
L. Curtis Turner, 1926, 1927
Phillip B. Bradbury, 1928
Joseph R. Coolidge, 1929
Kenneth F. Antoine, 1930; N
George E. Finlay, 1931
Horace Guild, 1932; N
Horace T. Cahill, 1933; Wikipedia
Wolcott H. Fraser, 1934, 1935
Raymond A. Bowman, 1936
William H. Naylor, 1937, 1938
Harry G. Gilbert, 1939, 1940
Earl Scamman, 1941, 1942
Edward E. Bourget, 1943, 1944
Henry S. George, 1945, 1946
Erling A. Hanson, 1947
Ernest F. West, 1948
Ralph W. Horton, 1949, 1950
Thomas Atkinson, 1951, 1952
Philip W. Hudson, 1953, 1954
Harry S. Hart, 1955, 1956
John Jamieson, 1957
John T. S. Snow, 1958, 1959
Per Henry L. Persson, 1960
Stewart O. A. Perrin, 1961
Bradford A. Golden, 1962, 1963
Bushnell D. Merrill, 1964, 1965
Charls A. Palmer, 1966
Roger W. Hannemann, 1967, 1968, 1978; N
Kenneth W. Wood, 1969, 1970, 1983; N
Raymont A. Warren, Jr., 1971, 1972, 1979, 1982
Edward C. Donohue, 1973
William H. Kidd, 1974, 1975
George H. Dahl, 1976, 1977
Roland S. Hall, 1980, 1981
REFERENCES IN GRAND LODGE PROCEEDINGS
ANNIVERSARIES
VISITS BY GRAND MASTER
BY-LAW CHANGES
1871 1875 1877 1878 1886 1892 1896 1904 1908 1909 1920 1932 1935 1941 1946 1956 1964 1965 1976
HISTORY
CENTENARY HISTORY, SEPTEMBER 1956
From Proceedings, Page 1956-301:
By Worshipful Horace Guild and Worshipful Earl Scamman.
Joseph Warren Lodge was the outgrowth of the Friendly Aid Association, an organization formed in 1855 by a small group of Master Masons for the purpose of studying Masonry and exemplifying the work among themselves. They met at first in a hall on Hanover Street and later in Stacy Hall, which was on Washington Street,between Cornhill and Court Street in Boston.
At the time this Association was organized there was in existence the Boston Lodge of Instruction, which had formed in 1848 under the sponsorship of St. John's, Columbian and Mount Lebanon Lodges with the sanction of the Grand Lodge. It met in Masonic Temple at the corner of Tremont Street and Temple Place. It was presided over by William G. Martin, who besides being Senior Grand Lecturer, was Superintendent of the Temple and Tyler of the Lodges which met there. At least some of those who formed the Friendly Aid Association in 1855 had attended this Lodge of Instruction but found that their progress was slow. They felt they could get more individual instruction in an organization that was numerically smaller.
The Association which they formed had the blessings of R. W. Brother Martin, who frequently advised the members on doubtful matters but who was unable to undertake the position of Instructor of the Association because of his many other duties.
At that time, Caleb Rand was Master of King Solomon's Lodge in Charlestown. He was a thorough ritualist and correct worker who later became a special Grand Lecturer. His services as Instructor were secured by the Friendly Aid Association.
In August or September 1855 Doctor Winslow Lewis, Grand Master of Masons in Massachusetts, together with the Grand Secretary, Junior Grand Warden and District Deputy, visited the Association and witnessed an exemplification of all three degrees. The perfection with which the work, was done so impressed these visitors that the Grand Master suggested that an application be made to form a new Lodge. The suggestion was favorably received and a petition was prepared to form Joseph Warren Lodge. Of course we can only make an intelligent guess as to why that name was chosen.
The conspicious activities of Joseph Warren in the years preceding the American Revolution and ending with his death at the battle of Bunker Hill on June 17, 1775, were well known. He had been associated with such men as Paul Revere, John Hancock, Samuel Adams, Joseph Webb and other "rebels" in the contest with Great Britain over the right of its parliament to tax the people living in the Province of Massachusetts Bay.
The Masonic career of Joseph Warren is perhaps less well known today even among Masons than it was to members of the Friendly Aid Association. They doubtless learned about it from their Instructor, Caleb Rand, Master of King Solomon's Lodge in Charlestown, the Lodge which had erected a monument in 1794 to the memory of Joseph Warren at the site of his death and in 1845 had placed a marble replica of the original monument within the present Bunker Hill Monument. Warren had been raised in 1765 in the Lodge of St. Andrew and was its Master in 1769. In December of that year he had been installed as the first "Grand Master of Masons in Boston, New England, and within one hundred miles of the same," under a deputation issued by the Grand Master of Masons in Scotland. In December 1773 he had been installed as "Grand Master of Masons for the Continent of America" under a new commission issued by the same authority. This positition he held at the time of his death.
While Grand Master, he signed the Charters of The Tyrian Lodge in Gloucester and of The Massachusetts Lodge in Boston. These two Lodges are still operating under those Charters.
To choose a Master for the new Lodge was somewhat of a problem, which was finally solved by inducing Caleb Rand, who had been the Instructor of the Association, to accept the position. He became the first Master of Joseph Warren Lodge.
A recommendation of the District Deputy and of some Boston Lodge was a prerequisite to granting a petition to form a new Lodge. That of the former was given readily, and a recommendation by Baalbec Lodge of East Boston was obtained after The Massachusetts Lodge had refused one despite the fact that one of its own numbers was one of the petitioners.
These preliminary steps having been accomplished, a dispensation dated September 23, 1856, was issued to Caleb Rand and eighteen others to form and open a Lodge and to admit and make Freemasons, to be in force until September 1857.
Under date of September 10, 1857, the Charter under which Joseph Warren Lodge now operates was issued, declaring its precedence to begin September 23, 1856.
On September 23, 1856, Joseph Warren Lodge held its first regular meeting in the Temple at the corner of Tremont Street and Temple Place under the dispensation of that date. After the Charter was issued, a meeting for the consecration of the Lodge was held October 15, 1857, the ceremonies being performed by officers of the Grand Lodge. This Temple was sold in 1860 and meetings were held in various halls for a time. In 1864 the Lodge participated in ceremonies for the laying of a corner-stone for a new Temple at the corner of Tremont and Boylston Streets, which was completed and dedicated in 1867. The President of the United States attended and there was a procession in which 13,000 Masons marched. Next evening Joseph Warren Lodge was the first Lodge to meet in that new Temple. The Lodge continued to meet there until a destructive fire on September 7, 1895, made further meetings impossible. By good fortune, much of the property of the Lodge was saved. The Lodge had been tried by fire before 1895. In 1864, in the interval between the sale of the old Temple at the corner of Tremont Street and Temple Place and the completion in 1867 of a new one at the corner of Tremont and Boylston Streets, the Lodge was burned out of its quarters in the old Winthrop House. It sustained some losses then.
The corner-stone of the present Masonic Temple was laid in 1897 and the building was completed and dedicated in 1899, since which time the Lodge has met regularly there.
Over the hundred years of its existence, fifty-eight different men have served as its Masters, nineteen of whom are living. An account of events in each administration would be wearying. They have all been faithful and efficient in the discharge of their duties. The oldest living Past Master is Worshipful Frederick C. Graves, who served in 1899 and 1900. He has been a member since 1890.
Besides financial assistance for the relief of distressed members of the Lodge and their widows and orphans, amounting to a substantial total, the Lodge and its members have responded generously to other calls. The Chicago fire, the San Francisco earthquake are notable examples. In both World Wars the Lodge more than met the quotas requested by the Grand Lodge of Masonic Service among the armed forces.
The Lodge has been benefited by gifts of money from various sources, beginning with one of $25,000 from Worshipful Daniel W. Lawrence. These funds are held in three funds, having a combined value well above $50,000, and designated Permanent Fund, Reserve Fund and Relief Fund. The income of a fourth fund, given by Brother B. Waldo Hobart, is applied in accordance with the terms of his will to the cost of an annual dinner for members of the Lodge.
Besides gifts of money, the Lodge has acquired property of other sorts. The Masonic library of Worshipful James M. Gleason was bequeathed to it. A clock which belonged to Joseph Warren and his Bible are among its most treasured possessions.
The time has probably gone forever when certain formalities not expressly required were observed. Within the memory of many members all officers wore full formal attire at every communication. This meant "tails and white gloves" as would be said today. This may have added to the impressiveness of the work on those receiving the degrees, but not being expressly required, the custom is no longer followed. This does not mean, however, there has been any relaxation or innovation in the work and ritual which is prescribed. The invitation to form the Lodge came as a result of the perfection with which the Friendly Aid Association did the work, and in 1872 the officers of the Lodge were invited to exemplify the degrees before the Grand Lodge. The three men who served as Masters of the Lodge between 1861 and 1867 were all appointed Grand Lecturers at the expiration of their respective terms and were still serving as such at the time the Lodge observed its twenty-fifth anniversary. In the first quarter century of its existence the work done by Joseph Warren Lodge was held up to other Lodges as a model. The growth of Masonry and the increase in the number of Lodges has made necessary a different system of instruction and exemplification than that used in those days; but it is still the ambition of Joseph Warren Lodge to be as perfect in its work as it ever was. It is felt that those who aspire to perfection in that will also aim for it in other things; that such aspiration and aim in all things will make stronger characters and better men; and that the dignity, stability and honor of the Order will be enhanced thereby.
OTHER
---
EVENTS
CONSTITUTION OF LODGE, OCTOBER 1857
From Moore's Freemason's Monthly, Vol. XVII, No. 1, November 1857, Page 17:
This new Lodge in Boston was regularly constituted and its officers installed by the Grand Lodge of this Commonwealth, at the Masonic Temple, on Thursday evening, Oct. 15th. A Dispensation for this Lodge was granted about a year ago by the then Grand Master, Dr. Winslow Lewis, and W. Bro. Caleb Rand, of this city, (Charlestown,) has been its acting Master. The Lodge assembled in the room of the Grand Lodge, at half-past 5 o'clock. At 6 o'clock, after the usual forms, the Grand Lodge entered the hall and proceeded with the ceremonies of constitution.
The exercises were in order as follows:
The exercises and ceremonies were performed in a most admirable manner, according to the principles and ancient usages of the fraternity; and the address of the Grand Master was replete with good instruction and excellent counsel, especially addressed to the members of the new Lodge. There were quite a large number of visiting Brethren present, who were interested in the performances of the evening. At the conclusion of these, the officers and members of the Joseph Warren Lodge, with the officers of the Grand Lodge and other guests, partook of an elegant supper at Young's Coffee House. The Master of the new Lodge, Bro. Wm. E. Graves, presided at the tables, a service which he performed in a most happy and excellent manner. Sentiments were given and responded toby a large number of the gentlemen present, all of them abounding in wit and sentiment to a surpassing degree. Among the speakers we may mention the following : — Col. John T. Heard, Dr. Winslow Lewis, John H. Sheppard, and C. W. Moore, Esqs.; Caleb Rand, Esq., Hon. G. Washington Warren, Wm. S. Gardner, Esq., of Lowell, Judge Thomas Russell, Wm. D. Coolidge, Esq., and a number of others. The speaking was excellent, and the sentiments appropriate and felicitously expressed. An extremely pleasant evening was passed, and it was unanimously agreed that the new Lodge commenced its career of honor and usefulness under the most flattering prospects.
From the Bunker Hill Aurora.
SPECIAL MEETING, JUNE 1878
From Liberal Freemason, Vol. II, No. 5, August 1878, Page 157:
Joseph Warren Lodge held its last Communication prior to summer vacation on June 25th, commencing at 4 p. m., when the three degrees wne fully exemplified. Wor. Bro. J. M. Gleason, Master, is evidently disposed to maintain the high standard for which this Lodge has so long been celebrated. In the course of human events, it happens that periods of prosperity are succeeded by those of adversity or at least by comparative dullness, but this Lodge, from its organization until the present, and never more than now, has been uniformly noted for the excellence of its Work, the regularity of attendance, and the general air of Brotherhood which prevails in the administration of its affairs. A Collation was served in the banquet hall at the close, and some pleasant speeches by members and visitors were made. Is this in fulfillment of the declaration "that a good name is better than precious ointment?"
SOCIAL GATHERING, JANUARY 1879
From Liberal Freemason, Vol. II, No. 11, February 1879, Page 347:
A very pleasant social gathering was that held at Masonic Temple, on Friday evening, January 31st, in response to the invitation of W. M. James M. Gleason; in which the members of Joseph Warren Lodge, with their ladies and numerous invited guests, participated. At eight o'clock a very enjoyable entertainment was given, in Sutton Hall, comprising choice reading by Mrs. Florence E. Burgess; vocal selections by Miss Mary A. Thomas (daughter of W. P. M. Z. H. Thomas), Mrs. T. M. Carter, and the Temple Quartette; together with an Organ Solo by Bro. J. P. Weston and an Operatic selection by Carter's Band.

W. Bro. Gleason welcomed his guests to the pleasures of the evening in a few well chosen remarks. Following the Concert, the wants of the inner man were supplied by one of our best caterers; after which the younger portion of the company took possession of the upper hall, where Bro. Carter and his associates made music for the merry dance until low twelve or later. W. Bro. Gleason is
complimented upon the success of the evening — and we take this opportunity to congratulate him upon his unanimous reelection to the Oriental Chair in Joseph Warren Lodge, as well to thank him for the invitation extended to us, and the pleasure derived.
TWENTY-FIFTH ANNIVERSARY CELEBRATION, OCTOBER 1882
From Liberal Freemason, Vol. VI, No. 8, November 1882, Page 241:
The founding of a new Masonic organization in either branch of the York Rite is likely to excite lively interest in the minds of many more than those immediately concerned in it; the necessity for its creation will be questioned, its field of usefulness will be scanned, and numerous questions incidental to the enterprise will be discussed with varying opinions, affirmative or otherwise.
It was under such conditions that the proposal to erect Joseph Warren Lodge was first greeted, and the dispensation given by Grand Master Winslow Lewis, on September 23d, 1856, which led to a Charter being granted by the Grand Lodge on September 10th, 1857, whereby the Lodge was made secure in its position as a subordinate, holding under the Grand Lodge of Massachusetts.
The founders of the Lodge held their preliminary meetings in Stacy Hall, on the southerly side of Washington Street, about half way between State Street and Cornhill, and as then numbered, 46 Washington Street, Boston, Mass.
These meetings were continued for something like twelve months, during which the brethren became proficient in the Work and Lectures of Freemasonry, and demonstrated their ability to conduct the business of a Lodge in a skilful and creditable manner.
The high standard so early obtained, and which gave the most lively satisfaction to Grand Master Lewis, may not seem so surprising" to those who have since learned of the ritualistic and business qualifications of the brethren named in the dispensation, among whom were Caleb Rand, Samuel Mason, Jr., Addison W. Banfield, Ivory H. Pope, Charles M. Avery, and others; but at that time all except the brother first named were mere novices, without the reputation they have since so deservedly established, and of these Brother Rand was invited to be the first Master.
The Lodge moved from Stacy Hall to the Masonic Temple, now the United States Court House; with the other Lodges in Boston it has since occupied Nassau Hall, Masonic Hall in the Winthrop House, Thorndike Hall, and the present Masonic Temple, where it has grown to be the largest Lodge in the jurisdiction.
In this Temple it celebrated its completion of a quarter of a century of labor, on Tuesday evening, October 31st, 1882.
The order of exercises was admirably arranged, and was equally well executed. This consisted of a historical address, vocal and instrumental music, and of recitations, serious and humorous, all rendered by artists in their respective specialities.
Sutton Hall was entirely filled with the members, invited guests and ladies, and the well-dressed audience was gracefully welcomed by Wor. Brother Leonard M. Averell, Master, who introduced the orator of the occasion, Bro. J. Harvey Young, a member of the Lodge.
The address was happily conceived, and was in fact what it ought to have been, descriptive of the beginning and subsequent career of the Lodge. The effort was characteristic 0 the artist, being marked by strength of outline, admirable drawing, and depth and delicacy of coloring, so that this, like the portraits of the human face, proved to be the work of a master.
From the address we learned that the Lodge had participated in two public parades, first on October 14th, 1864, when the corner-stone of the present Masonic Temple was laid, on which occasion ninety members were in line, and next on June 24th, 1867, when the Lodge paraded with 161 members. On the latter occasion the President of the United States, Bro. Andrew Johnson, was an interested participator in what was one of the grandest Masonic demonstrations ever witnessed in this or any other country. The procession was headed by 2,620 Knights Templars representing twenty-eight subordinate Commanderies, and four Grand Commanderies, with twenty-three bands. The Lodges and Chapters followed, with twenty-nine other bands, and about ten thousand Masons. Each of the Commanderies bore with it one or more banners, or thirty-three in all; most of the Lodges had banners, or seventy-four in all; making a total in the procession, counting Grand Officers, of quite 13,000 persons, with one hundred and seven banners and fifty-two bands.
A distinguished citizen of the United States, a Templar also, from whom Claremont Commandery, of Rockland, Maine, received the gift of the elegant banner it carried that day, told the writer that he had never witnessed any such magnificent display, except on the occasion of the funeral of the Duke of Sussex, Grand Master of Masons in England, whose death occurred in 1843, and even that he did not consider so imposing as was the exhibition in Boston. This Lodge, therefore, may congratulate itself, that its second and last appearance in public procession was on an occasion without a superior, and very likely without a peer.
Chief among the guests on this occasion was the M. W. Grand Master, Samuel C. Lawrence, with other officers of the Grand Lodge, together with other representative Masons.
At the conclusion of the more intellectual services, the company was invited to inspect the various apartments, and to Partake ot a promenade banquet at pleasure, served in Gothic Hall. The banquet hall was arranged for dancing, which was indulged in quite generally for a couple of hours, thus bringing to a close the successful and happy celebration of twenty-fifth anniversary of Joseph Warren Lodge.
INSTALLATION, JANUARY 1887
From Liberal Freemason, Vol. X, No. 10, January 1887, Page 317:
The officers of this lodge were publicly installed on the evening of January 7th, and the ceremonies, were witnessed by a large and interested audience of ladies and brethren. After th# officers weie installed, Wor. Bro. E. A. Holton, in a good, common-sense speech, spoke for the lodge, and presented the Master, who enters upon his second year, with a Past Master's jewel, to which Wor. Brother Richards feelingly responded. A musical and literary entertainment followed of a most enjoyable character, in which male and female talent appeared to good advantage. A banquet, at which all were seated, was served, and the occasion closed with a brief Reason of speech making. The officers are: E. H. Richards, Master; Freeman S. Atkins, S. W.; Otis S. Neale, J. W.; J. M. Gleason, Treasurer; Albert Babbitt, Secretary; Rev. M. J. Savage, Chaplain; J. T. Dyer, Marshal; William F. Butler, S. D.; George A. Mead, J. D.; Edward L. Baker, S. S.; Elmer W. Smith, J. S.; M. L. P. Hurd, I. S.; Howard M. Dow, Organist.
---
GRAND LODGE OFFICERS
OTHER BROTHERS
---
DISTRICTS
---
LINKS