MAGLENichols
From MasonicGenealogy
EUGENE B. NICHOLS, JR. 1963-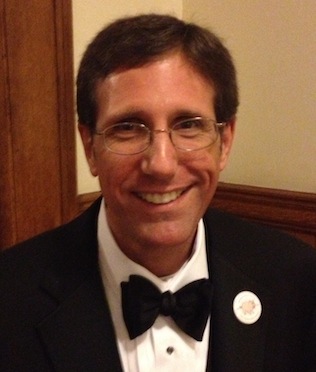 Deputy Grand Master, 2001
BIOGRAPHY
From TROWEL, Spring 2001, Page 4: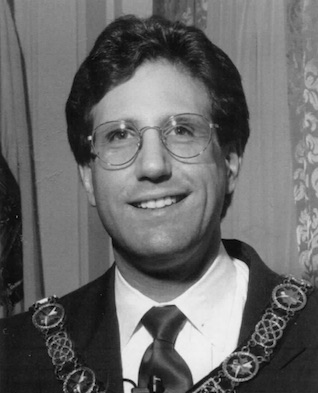 Right Worshipful Eugene Blake Nichols of Foxboro was appointed and installed as Deputy Grand Master by Grand Master Fred K. Bauer. A native of Boston, but educated in the public schools of Dedham, at age 38 he could possibly be the youngest man to hold that office.
Brother Nichols is a Doctor of Medical Dentistry in Pawtucket, RI. In 1984 he received his B. A. degree from Boston University where he majored in biology with religion as a minor. He graduated cum laude. In 1988 he graduated magna cum laude from Tufts University's School of Dental Medicine, earning his Doctorate in Dentistry. He earned a Certificate in Advanced Restorative Dentistry from the University of Pennsylvania where he spent a year in residency. He was appointed assistant clinical professor of Restorative Dentistry at Tufts Dental School in 1989, establishing his dental practice in Pawtucket in 1990. He is a member of the American Dental Association, Massachusetts Dental Society, the Rhode Island Dental Association and the Pawtucket District Dental Society where he has served as its president.
His fraternal life began in Dedham Chapter, Order of DeMolay where he served as Master Councilor and Scribe. He has been the State Chaplain and State Deputy Master Councilor. He has served on the Dedham Chapter Advisory Council and the Massachusetts DeMolay's executive officer's staff as ritual director. He has been on the staff of several International Supreme Council Leadership Training Conferences and has been awarded the Degree of Chevalier and is an Active Legion of Honor with membership in the Charles W. Hunter Court of Chevaliers and the Massachusetts Court, DeMolay Legion of Honor.
It was during the year he served as Deputy State Master Councilor when he met Susan Gayle Parker who was the Massachusetts Grand Worthy Advisor of tbe International Order of Rainbow for Girls. They were married in 1988 and with their daughter Emily. 7, and son Ethan, 4, they reside on Harnden Road. Foxboro. Susan is currently business manager for an environmental law firm in Boston. The family attends the Bethany Congregational Church in Foxboro.
Brother Nichols was raised a Master Mason in The DeMolay Lodge, Boston, March 26, 1984. He affiliated with Constellation Lodge, Dedham where he was Worshipful Master 1995-97. He is now the Secretary and has affiliated with Orient Lodge of Norwood and St. Alban's Lodge. Foxboro. He participated in the Pioneer Class of the Massachusetts Masonic Leadership Institute and was advisor to the Right Worshipful Robert C. Patey Class. Appointed a Grand Steward in 1998, he has just completed two years as the District Deputy Grand Master of the Hyde Park 25th Masonic District where he had previously been active in the Country Fair and blood programs. He is a member of the Past District Deputy Grand Masters Association.
He is now vice president of the Worshipful Masters Association of Southeastern Massachusetts. As a member of Scottish Rite, Valley of Boston, Brother Nichols serves on the Advancement Committee and is a Guard in Mount Olivet Chapter of Rose Croix. His York Rite membership is in Neponset Valley Royal Arch Chapter. Norwood, where he is King; Hyde Park Council. Royal and Select Masters, and he is a Guard in St. Bernard Commandery, No. 12. Knights Templar. Boston.
Our new Deputy Grand Master is a member of Aleppo Temple, Shrine; Mahded Grotto; the New England Grotto Association.and the Massachusetts College, M. S. R. I. C. F. He serves as Worthy Patron for his wife. Susan, who is the Worthy Matron of Easter Chapter No. 47, Order of the Eastern Star, Foxboro.
There is a footnote to this young man's lifestyle that says he — in his spare time — enjoys running, gardening and playing an occasional round of golf. For the next twelve months he may do some running — throughout the state — but the weeds will grow and the golf clubs will remain in the bag.
SPEECHES
CONSTELLATION LODGE ANNIVERSARY, 1996
Remarks at the 125th Anniversary of Constellation Lodge, 10/19/1996, Page 1996-217:
Most Worshipful Grand Master, distinguished guests, my brethren; it is a delight to be able to serve constellation Lodge during its Quasquicentennial Year. We can only hope to be endowed with the same enthusiasm and the same sense of anticipation for the future as our Masonic forefathers had when they formed this Lodge. Although Constellation Lodge is still in its infancy, when compared to the age of our Grand Lodge and the many "Paul Revere" Lodges which have celebrated anniversaries of their own recently, we do have a rich and extensive history as you have heard. How swiftly the sands run, however, the tiny particles contained within the hourglass remain virtually the same, even though, hour after hour, the sands pass away almost imperceptibly - they do not change. The environment surrounding it may change, but the sands within the glass are unaffected by these changes.
Similarly, one hundred twenty-five years have passed since Constellation Lodge was instituted. The world has changed greatly in that period of time, but Freemasonry remains essentially unaffected by the mutations in society. The Masonic teachings, which shaped the lives of the charter members of this lodge, continue to hold the same meaning and serve as the same examples today as in 1871. It is interesting to note that Charles Darwin published The Descent of Man in 1871 . He concluded that man evolved from ape-like or monkey-like ancestors 26-54 million years ago. Although this evolution occurred, it happened over such a long period of time that the changes that must have taken place were so gradual.
Just as in the hourglass, the particles erode each other every time a new hour is begun, but these changes are so minute that they are not visible to us. Society has evolved outside the hourglass, but Freemasonry has evolved within it. Time forces us to change, but if we cling to the ideals that we hold most dear, we will be better able to adapt and coexist with the broader changes that occur in society around us. Brother Richard Wagner employed a whole new concept of opera composition. In 1871, he began to attach equal importance to music, libretto, and drama in his "music dramas." Evolution occurs. The same endpoint is achieved by means of a different route. P.T. Barnum's Circus evolved. "The Greatest Show on Earth" which opened in Brooklyn, New York, became the first circus to travel the country by rail in 1871. Also, in 1871, the artist who unpretentiously titled his work Arrangement in Gray and Black remarked that no one would have an interest in the identity of the subject. Actually, millions since have identified Whistler's Mother with the feelings of their own mother. The thought process of the artist evolved over time.
Even in the town of Dedham in 1871 things were evolving. By that year, forty streets were lighted by gas lamps. The Dedham Public Library although it had been growing and evolving for some time, was formally established. Also, the Dedham Selectmen reported "it is with great pleasure that we can say that no one had laid waste the property of any citizen during the past year in this town" as the town fire department had evolved and purchased a steam fire engine.
Even in our Grand Lodge evolution occurred in 1871. The Most Worshipful William Sewall Gardner began the process of keeping membership records. During his administration the office of Recording Grand Secretary became a full time occupation. Additionally, one of his most notable contributions to the Grand Lodge was his story of the life of Henry Price, which brought out facts not before known and is the most authoritative source known of the life of the founder of duly constituted Freemasonry in the western world.
Most Worshipful Stanley Fielding Maxwell is quoted as having said: "The importance of improvement, setting an example, and shouldering responsibility for the future, are our Masonic goals. And where will it all end? In brotherhood. What we build today will endure. That is our hope and our faith." Therefore, as we race toward the 21st century in this troubled world, let us remain in the light of Freemasonry for all the world to see. And maybe, by our examples, the evolution of the world will synchronize with the evolution of Freemasonry ever bearing in remembrance the words of Abraham Lincoln, which were still fresh in the minds of our brethren in 1871 and should be heeded even today: "with malice toward none, with charity for all, with firmness in the right as God gives us to see the right, let us strive on to finish the work we are in, to bind up the nation's wounds, to care for him who shall have borne the battle and for his widow and orphans, to do all which may achieve and cherish a just and a lasting peace among ourselves and with all nations."
Thank you for your kind attention, brethren, and God Bless you. The Best Is Yet To Bel
FEAST OF ST. JOHN, DECEMBER 2000
From Proceedings, Page 2000-177:
Most Worshipful Grand Master, Past Grand Masters, distinguished guests and Brethren of the Grand Lodge of Massachusetts.
It is with great humility and pride that I thank you, Most Worshipful, for the opportunity to serve you and our Grand Lodge as Deputy Grand Master. I pledge to work faithfully, honestly, and enthusiastically with our Brethren in the many branches of our Fraternity.
When my grandfather arrived on Ellis Island as an Albanian immigrant, I am quite sure that he never imagined he would become a Mason, or that he would inspire his grandson to join the Fraternity and to become deeply involved in the important work of Freemasonry. By his example, I learned that all things are possible through forethought, hard work, dedication to principles, and reliance on tradition. A few years prior to my grandfather's birth, Rt. Wor. Frederick D. Ely became Deputy Grand Master in 1884. Since that time he has been the only Past Master of Constellation Lodge to achieve this honor. I consider myself fortunate to be able to follow in the footsteps of these two great men.
It has been said "If we do not learn from our failures in the past, then we are destined to repeat them in the future." On August 12th of this year, the Russian submarine Kursk sank in the Barents Sea. The United States and Britain made repeated offers to assist in the rescue. Finally, as the Russian rescue attempts failed, British and Norwegian assistance was allowed. Many Russian officials had said that some crew members could have remained alive after the disaster, as indicated by reports of tapping sounds detected from the submarine in the first days. It was later learned that 23 sailors had remained alive after explosions killed the rest of the crew, according to a letter found by divers.
Is it possible that Freemasonry can be compared with those 23 sailors aboard the Kursk? Is it possible that we can be compared with the Russian government by refusing to ask for help? My brethren, just as other countries had the resources that may have helped to save some of those Russian sailors, we, too, have the necessary resources, the working tools, which may help to save and rebuild our beloved Fraternity. Many of our Members, our Lodges, as well as our Grand Lodge have the ability and the resources to assist. There are finances available, programs being developed, and people with exceptional ideas and skills, but we must be willing to receive these resources with an open mind. We must break the "us" and "them" mentality. Remember, there is only an "us." If we do not learn from our failures in the past, then we are destined to repeat them in the future.
Many of you may be familiar with Shel Silverstein's book, The Giving Tree. As I read and re-read this story to my children, I cannot help but observe additional similarities to our Fraternity and our Brethren. From the leaves to the apples to the branches to the trunk, the tree gives its entire self to the boy whom he loves. The boy takes everything from the tree until he returns as an old man to rest upon the stump. This tree can represent Freemasonry, while the boy can represent each of us. We receive so much from our membership in our Fraternity, but do we also give back? For Masonry to remain strong, we must love it enough to give back much more than we get. We must follow in the footsteps of those who have the vision to lead us into the next millennium. We must remember from history the successes and the failures so that we can thrive well into the future. If we do not learn from our failures in the past, then we are destined to repeat them in the future.
Freemasonry in Massachusetts has survived for 267 years because we have had the benefit of so many great men who have loved our Fraternity. They have given us so much to be proud of. We read in the Book of Proverbs the wisdom of our ancient Grand Master, Solomon, King of Israel: "Happy is the man who findeth wisdom, and the man that getteth understanding." We should listen to the voices of the past, learn from history, as well as from our traditions, realizing that what succeeded yesterday, may, or may not, succeed tomorrow. In order for us to find happiness and success, we must strive for perfection. If we do not learn from our failures in the past, then we are destined to repeat them in the future. We must listen to those cries for help. We need to take action, and we are taking action, swiftly and decisively so that the world will understand that Masons care for each other and for humanity.
In A Psalm of Life, Henry Wadsworth Longfellow wrote these words in 1838, which continue to have significance today:
Lives of great men all remind us
We can make our lives sublime,
And, departing, leave behind us
Footprints on the sands of time.
Most Worshipful Grand Master, you are leading us with your vision for Masonry in Massachusetts and you are most assuredly making those footprints. On behalf of myself and all your officers, we are excited to pledge our support to you and the Grand Lodge as we journey with you into the true new millennium. Thank you very much.
---