Difference between revisions of "MAOtherBrothersR"
From MasonicGenealogy
(One intermediate revision by the same user not shown)
Line 361:
Line 361:
 

* Junior Grand Steward 1971

 

* Junior Grand Steward 1971

 

* ''DDGM, '''[http://masonicgenealogy.com/MediaWiki/index.php?title=Nantucket31 Nantucket 31]''', 1989-1990''

 

* ''DDGM, '''[http://masonicgenealogy.com/MediaWiki/index.php?title=Nantucket31 Nantucket 31]''', 1989-1990''

 
+
 
+
 
 
 

''From '''TROWEL''', Summer 1985, Page 24:''

 

''From '''TROWEL''', Summer 1985, Page 24:''

Line 612:
Line 614:
 

He was past master of the [http://masonicgenealogy.com/MediaWiki/index.php?title=Eleusis Lodge of Eleusis], which was founded by his influence. He was also one of the founders of the First Worshipful Masters Association and its first secretary, serving 18 years in that office. His funeral was conducted in accordance with the ritual of the Greek Church.

 

He was past master of the [http://masonicgenealogy.com/MediaWiki/index.php?title=Eleusis Lodge of Eleusis], which was founded by his influence. He was also one of the founders of the First Worshipful Masters Association and its first secretary, serving 18 years in that office. His funeral was conducted in accordance with the ritual of the Greek Church.

 
 
−

== ROGERS, HENRY HUTTLESTON 1840-1909

+

== ROGERS, HENRY HUTTLESTON 1840-1909

 
 
 

* MM 1868, [http://masonicgenealogy.com/MediaWiki/index.php?title=StarEast1 Star in the East]

 

* MM 1868, [http://masonicgenealogy.com/MediaWiki/index.php?title=StarEast1 Star in the East]
---
Revision as of 09:05, 10 June 2019
RANDALL, FREDERICK EVERALD 1864-1907
From New England Craftsman, Vol. II, No. 7, April 1907, Page 274:''
Brother Frederick E. Randall of Chelsea, Mass., a successful automobile agent, and one of the prominent men in that trade, died at a private hospital in Boston. Death followed an operation. He was well and favorably known in this city and had a host of friends who mourn his death.
Mr. Randall was born at Lewiston, Me. 45 years ago. He was a member of the Robert Lash Lodge, the Royal Arch Chapter of the Shekinah, the Napthali Council and the Palestine Commandery. He was also a member of the Alter Ego Club. Quiet and unassuming always, and ev courteous and kindly, he was held in high esteem by his friends and acquaintances.
The funeral was held March 18, at the First Universalist Church, Chelsea. It was under the direction of Palestine commandery, Knights Templar, of Chelsea, of which Mr. Randall was a member.
The Rev. R. Perry Bush, D. D., officiated, both as pastor of the church and commander of Palestine Commandery. In the ritualistic service he was assisted by William Martin, Prelate of the Commandery.
RAY, GEORGE WASHINGTON 1831-1886
From Liberal Freemason, Vol. X, No. 3, June 1886, Page 88:
Among the many active Freemasons of Springfield who have impressed themselves upon the manners and customs of the fraternity in the Valley of the Connecticut during the last quarter of a century, no one has been better known than George W. Ray, whose sudden death came like a shock to all who knew him.
The Springfield Daily Union of May 7th, 1886 has a long article concerning him, in which it says:
"George W. Ray, one of our prominent citizens and businessmen, and a man widely known, died at his home on Spring Street last night from an attack of apoplexy. The news of his death has had a startling effect upon the community to-day, as Mr. Ray has been a man of active habits and general good health, and was seen only yesterday by many people, in apparently his usual health."
Mr. Ray was fifty-five years of age, was born at Ludlow, and learned the trade of a machinist. He came to this city some thirty years ago and went to work as a clerk in D. H. Brigham's clothing store, which was then located in a wooden building where J. S. Marsh & Son's grocery store now stands. This building was afterwards burned, and Mr. Ray accompanied Mr. Brigham to the store at the corner of Harrison avenue and Main street, in Kibbe's Block. In 1862 he became interested in paper collar manufacture, making the first paper collar that was made in this locality. The manufacture of collars was at once begun in Kibbe's Block, Charles A. Brigham being interested with Mr. Ray in the work. Later Mr. Brigham withdrew, and January 11th, 1865, Varnum N. Taylor became a partner with Mr. Ray, and the business was moved to Hillman street. There it Continued to increase, and in April, 1870, it was moved to the large new factory which had been erected on Worthington Street. Mr. Taylor continued with Mr. Ray until June 16th, 1874, when he purchased Mr. Ray's interest in the business. Mr. Ray afterward went into the wholesale leather business at Boston, but remained in it but a short time.
He was afterward interested for a time in the Chapin paper and pulp company, and still later was president of the Hecla card and paper company. In 1872, he was a member of the Common Council, and in 1873, was a member of the Board of Aldermen.
Mr- Ray united with the North Congregational Church, on profession, under the late Rev. Mr. Drummond's ministry. He served several times on the parish committee of that church, and when the new church edifice was built, he was a member of the building committee. Recently Mr. Ray had been very active in the work of the North Church, and for some time past had taught a Sunday-school class of twelve or. fifteen young men, in whonvhe had become, very much interested, and who had become very much attached to him. Mr. Ray was an active sustaining member of the Young Men's Christian Association, and deeply interested in the special work in behalf of young men. In recent years Mr. Ray and his family had spent considerable time in the summers at Hlandford, and his coming there each successive season was very pleasantly anticipated by the people there. Mr. Ray was a man of very generous impulses and he will be greatly missed. Mrs. Ray, who survives her husband, was Miss Helen Alden, daughter of Dr. Alden of Ludlow. They have had no children, but four nieces of Mrs. Ray have been cared for and educated by Mr. Ray as though they were his own children. The eldest of the Misses Alden graduated at Smith-College and is now teaching in New York. Two of her younger sisters are in our city schools, one of them being in the High School.
Brother and Sir Knight Ray was a conspicuous figure in Masonic circles in Springfield. Personally, we knew him best in Springfield Commandery, of which fine body of Knights Templars he was Eminent Commander in 1871, 1872, and 1873. As long ago as 1868, he was returned as having the Fourteenth Degree in the A. and A. S. Rite, and from 1872 to 1880 was at the head of Massasoit Council of Princes of Jerusalem. At about the period last mentioned, he was Second Lieutenant Commander of Massachusetts Consistory. His patent as an Honorary Thirty-Third dates from August 19th, 1875.
The loss of a presence like his, so full of energy, and so determined to be active, must necessarily be felt in the varied business and Masonic relations he sustained among his fellows. It may be said of him, however, that he lived long because he lived well.
RAYMOND, ARTHUR MARSHALL 1856-1909
From New England Craftsman, Vol. IV, No. 9, June 1909, Page 341:
Brother Arthur M. Raymond, a well known Mason and prominent organist died at his home in East Weymouth. Mass. and was buried with Masonic service, March 26th. Brother Raymond has been organist and musical director in churches and Masonic lodges for 38 years. His funeral was largely attended and in spite of the worst storm of the season friends came from every direction to show the last tribute of affection and loving remembrance to one who was held in high esteem.
RAYMOND, JOHN M. 1852-1920
From Proceedings, Page 1920-85:
R. W. JOHN M. RAYMOND, of Salem, was born in that city June 16, 1852, and died at his residence in Salem, March 7, 1920. He received his early education in the public schools of Salem and later attended the Friends Boarding School in Providence, R. I. He then entered the Law School of Boston University and graduated in 1878, when he began the practice of law in Salem. In 1880 he served as a member of the Governor's Council and in 1881 and 1882 was president of the Common Council in Salem.
Brother Raymond was Mayor of the city of Salem four years, 1886, 1887, 1888, and 1889. His administratiou was marked by progress and harmony. In recent years he gradually relinquished his law practice to devote himself to the care of the estate of the late Isaac C. Wyman, the Marblehead millionaire, with holdings all over the country.
Brother Raymond received the degrees of Ancient Craft Masonry in Essex Lodge, Salem, in 1866, and became Master of that Lodge in 1893 and 1894. He was Distriet Deputy Grand Master for the Eighth Masonic District in 1901 and 1902. He was also a member of other Masonic bodies, Chapter, Council, and Commandery, and also of the Ancient Accepted Scottish Rite, in which he was crowned a Sovereign Grand Inspector_General of the thirty-third and last degree September 21, 1897.
Surviving, besides his widow, are three children: two daughters and a son - John M. Raymond, Jr., a Princeton graduate and overseas veteran, now studying law in Boston, who received the degrees in Essex Lodge, Salem, in 1916.
"It seemeth such a little way to me,
Across to that strange country, 'The Beyond',
And yet not strange, for it has grown to be
The home of those of whom I am so fond;
They make it seem familiar and most clear,
As journeying friends bring distant countries near.
RICE, GEORGE MURRAY, 2D 1843-1917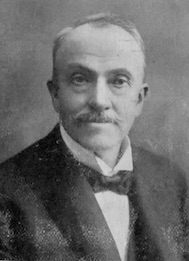 MM 1872, WM 1884-1885, Montacute
Grand Pursuivant 1895
Junior Grand Steward 1896
From New England Craftsman, Vol. XIII, No. 2, November 1917, Page 60:
George M. Rice, a prominent citizen of Worcester, and a well known Freemason, died at his home on November 8th after a brief illness. Brother Rice has been active in Masonic affairs for many years and on the occasion of the semi-centennial of Montacute Lodge in 1908, delivered the Historical Address. He was a member of the Scottish Rite bodies in Worcester with the exception of the Consistory, being a member of Massachusetts Consistory, located in Boston, which he joined April 28, 1878.
Mr. Rice made the Masonic bodies of Massachusetts bequests aggregating $40,000. The value of the estate is not given, but, after making several bequests to relatives and friends, Mr. Rice directs that specific bequests of $22,000 be made to the Masonic bodies with which he was affiliated and that half the residuary estate be given to the Master, Wardens and Members of the Grand Lodge of Masons in Massachusetts for the support of the Masonic honre in this State.
The specific Masonic bequests are $1000 to the Grand Lodge of Massachusetts, $8000 to Montacute Lodge of Worcester, $5000 to Worcester Royal Arch Chapter, $2500 to Hiram Council of Royal and Select Masters; $2000 to Goddard Council, Rose Croix, $500 to reduce debt on Worcester Masonic Temple, $1000 to the Grand Royal Arch Chanter of Massachusetts, $1000 to the Grand Council of Royal and Select Masters of Massachusetts and $1000 to the Massachusetts Council of Deliberation.
In his will Mr. Rice said: "As a large part of any success which has come to me in life has been through the help, inspiration, and teachings of the Masonic fraternity, I desire that they shall be largely my beneficiaries."
RICH, MATTHIAS, JR. 1820-1914
From New England Craftsman, Vol. X, No. 4, January 1915, Page 136:
Matthias Rich, a well known business man of Boston, died at his home in Somerville, December 13 of old age. He was born at Truro, Mass., June 8, 1820. He came to Boston in 1847 and opened the ship chandlery and grocery business which was continued until 1904. He was a member of the school committee and city government in Boston.
While connected with the City Government Mr. Rich was on the reception committees to the Prince of Wales (Edward VII), Duke Alexis and other prominent men. His wide acquaintance here and abroad resulted in the accumulation of antiques, relics and mementoes of priceless value. But in the Chelsea fire of 1908 his brick house was destroyed and he moved to Somerville. He was a long time a member of St. John's Lodge and St. Andrew's R. A. Chapter.
RICE, WILLIS 1923-1984
MEMORIAL
''From '''TROWEL''', Winter 1984, Page 26:''
Willis J. Rice of Brockton, Grand Master of the Grand Council, Royal and Select Masters of Massachusetts, died suddenly August 23. He was the husband of Madeline (Farrow) and was a native of Muskegon, MI.
A resident of Brockton for 15 years, he was a partner and president of Russrud Machine Co. of Rockland, MA. Serving with the Fourth Marine Division in World War II, Bro. Rice saw action in the Marshall Islands, Iwo Jima, and was wounded at Saipan. A recognized tool and die maker, he had received his education in New Jersey.
Raised in Meridian Lodge, Natick, he was a Past Master of North Star Lodge, Ashland, and the Major General Henry Knox Lodge of Boston. He was High Priest of Triad Chapter, Newtonville, and held membership with St. Andrew's Chapter of Boston. A Past Commander of Natick Commandery No. 33, he was a member of Aleppo Temple, A.A.O.N.M.S., the Tall Cedars of Lebanon, and the Scottish Rite Bodies, Valley of Fall River.
Bro. Rice is survived by his wife and sons, W. James Rice of Town-send, David C. of Redondo Beach, CA, and Donald K. of Eastport, ME; two sisters and three grandchildren. Grand Master David B. Richardson attended a Masonic service held at the funeral home in Braintree.
RICHARDS, CHAUNCEY SLEEPER 1841-1895
R. W. Chauncey Sleeper Richards was born at Chester, New Hampshire, Dec. 9, 1841, where he resided for the first twenty years of his life. He received his education in the public schools of his native town, graduating at the Chester Academy.
In 1861 he removed from Chester with his father's family, to Danvers, Mass., where he resided until his death. He was for many years associated with his father in the grocery business at Danversport, afterwards buying an interest in a large coal firm in the same town. Upon retiring from that business, he obtained a situation in the Boston Custom House, where he held the position of Inspector. He was a man who possessed the confidence of his townsmen, as shown by their electing him repeatedly to positions of honor, and trust. He has served as Selectman, Water Commissioner, Fire-ward, and was one of the Trustees of the Danvers Savings Bank. He was a valued member of the Universalist Society, and was one of its Trustees.
He was married to Alice G. Black, daughter of Moses Black, of Danvers, May 25, 1»65. He leaves a widow and five children, two sons and three daughters. The sons are members of Mosaic Lodge, and the names of both are found, on its roll as officers for the ensuing year.
He was first a member of Amity Lodge, where he was raised in August, 1864. He was demitted Sept. 23, 1871, at the formation of Mosaic Lodge, of which he was a Charter Member. He was elected Worshipful Master of Mosaic Lodge, and served in that position for the years 1885-6.
He was exalted in Holton Royal Arch Chapter, July 11, 1872, and was M.E.H. Priest in 1884-5. April 19, 1883, he was knighted in Winslow Lewis Commandery, and served as Captain of the Guard in 1886-'87-'88. He was appointed District Deputy Grand Master for the Eighth Masonic District for 1894, and re-appointed in 1895, holding the position at the time of his death. He was buried with Masonic honors on the twenty-ninth day of November, 1895, by Mosaic Lodge, Winslow Lewis Commandery and Amity Lodge acting as escort. The Most Worshipful Grand Lodge was represented by Most Worshipful Grand Master Edwin B. Holmes; R.W. J. Albert Blake, Past Junior Grand Warden; R.W. Charles H. Littlefield, D.D.G.M., Tenth District; and R.W. Samuel L. Sawyer, Special District Deputy for the Eighth District.
R.W. Brother Richards was a man beloved by all who knew him. Possessing a sunny disposition and a generous heart, he was always stretching forth the willing hand to help the weak, raise up the discouraged, and lighten the burdens of the afflicted. Many can testify to benefits received from his kind words and sympathy. He was a devoted and loving father and a good husband, and we extend our sympathy to his bereaved family.
Brother Richards in his last sickness was called upon to endure far more than the usual suffering of humanity. Confined to his room from the twenty-second day of July, he began an unequal fight against the progress of the disease which was to take his life; enduring the greatest agony through those weary days, and suffering almost beyond the control of reason; yet, it is said, that in the presence of his children he maintained such control of himself, for their sakes, that they frequently felt on leaving his bedside that he was on the road to restored health.
He passed away on the evening of November 26, entering into the reward prepared for him in that country from whose bourne no traveller returns. The last offices performed for the dead are useful for the consideration of the living, and if we, by remembering his many virtues, are taught to develop our own feelings of brotherly love and kindness for each other, then his life and death will not have been in vain.
Respectfully submitted,
SAMUEL L. SAWYER,
Committee.
RICHARDS, FRED HOYT 1873-1939
From Proceedings, Page 1939-199:
Right Worshipful Fred Hoyt Richards was born in Chelmsford November 8, 1873, and died in Foxboro April 7, 1939.
Brother Richards went to Foxboro as a boy, and in early manhood became chief accountant for a paper manufacturing company in Boston. The last twenty-five years of his life were passed as cashier of the Foxboro National Bank. He was very active in town affairs, serving as Assessor, as an election officer, and as Town Accountant.
He was raised in Saint Alban's Lodge in 1900 and was its Master in 1911. He served as District Deputy Grand Master for the Attleboro Twenty-eighth Masonic District in 1929 and 1930, by appointment by Most Worshipful Herbert W. Dean.
He was a member and for thirty-seven years Secretary of Kingston Royal Arch Chapter; Past Master of Attleboro Council, Royal and Select Mastersl and for thirty-five years Treasurer of Bristol Commandery, Knights Templar. The respect and esteem in which he was held by our Fraternity is abundantly shown by this impressive list of offices held by him. On the occasion of his funeral, the flags on the town buildings and on the bank were displayed at half staff and every business establishment in the center of the town was closed during the funeral ceremonies.
So passed a useful citizen and a good Mason, who exemplified in his life the principles of our Order.
RICHARDSON, ALBERT LEWIS 1846-1914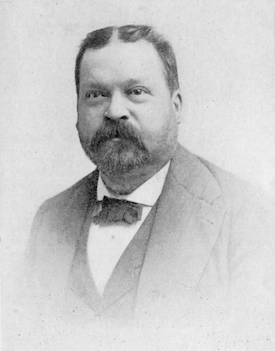 From Proceedings, Page 1914-144:
Albert Lewis Richardson was born in Boston, Mass., Nov. 20, 1846, and died at his residence in Boston, March 17, 1914. He was a son of Mr. and Mrs. Lewis G. Richardson and a grandson of R.W. John B. Hammatt who was Junior Grand Warden of the Grand Lodge in 1812, Senior Grand Warden in 1815, and on his return to the State after many years' absence was appointed Deputy Grand Master in 1843, and for whom Hammatt Lodge of East Boston was named.
Brother Richardson received the degrees in Mount Lebanon Lodge in 1871, and was its Worshipful Master in 1877 and 1878. He was District Deputy Grand Master of the First Masonic District in 1879 and 1880. He joined St. Andrew's Royal Arch Chapter in 1872, and was its High Priest in 1880 and 1881. He became a member of Boston Council, R. & S. M. in 1873, and was its Thrice Illustrious Master in 1876 and 1877. He also became a member of Boston Commandery, K. T., in 1872. His special Masonic work was done in the Scottish Rite. He became a member of Massachusetts Consistory in 1873, and was its Illustrious Commander for three years, 1890-1892. In 1890, September 16, he received the Thirty-third and last degree, honorary, at the session of the Supreme Council in Cleveland.
Brother Richardson married July 12, 1900, Miss Velilla Chase, who survives him.
Brother Richardson was an active Mason for nearly forty years. He was always ready and willing to discharge any duty which the Brethren desired. Of quiet demeanor, and of retiring disposition, he greeted his Brethren with a simple dignity of manner that won him many friends.
His loyalty to the various bodies of which he was a member was clearly shown in his presence, his activity and his zeal. His memory will be cherished by hosts of Brethren who loved him; and his example will be an inspiration in many lives.
From New England Craftsman, Vol. IX, No. 6, March 1914, Page 195:
ALBERT LEWIS RICHARDSON, I one of the best known and one of the most popular Masons of Boston, passed suddenly from this life to the great beyond Tuesday, March 17. Although not in vigorous physical condition, no one suspected the end was so near. He was in our office Saturday afternoon discussing business that would require his attention on Monday. On Sunday he was stricken with a fatal illness that on Tuesday closed his eyes in their final earthly sleep.
Brother Richardson had many close friends who prized his genial companionship and respected him for the honesty of his character. There was no deception in his dealings with men. He was conscientious and fair in his judgment, forming his opinions carefully and maintaining them modestly but firmly. His death creates a void in many fraternal groups that will be hard to fill. Brother Richardson was born in Boston November 20, 1846. He traced his ancestry through eight generations to Ezekiel Richardson, who settled in Charlestown in 1630. He graduated from the English High School in 1862. On leaving school he entered the employ of Francis M. Weld, an extensive importer of Chinese and India merchandise, where he remained until 1883, when he was compelled to relinquish active business life by reason of ill-health.
Mr. Richardson was identified with Craft, Capitular, Cryptic and Templar Masonry, as well as the Scottish Rite. He became enrolled in Mt. Lebanon Lodge, Boston, June 12, 1871, and presided over it in 1877-78. He joined St. Andrew's R. A. Chapter, February 27, 1872, and was its High Priest in 1880-81. He was elected years ago grand scribe in Grand Chapter.
September 25, 1873, he was admitted to Boston Council, R. & S. M., and was its Thrice Illustrious Master, 1876-77. Seven years later he was chosen to preside over the Grand Council, serving one year.
After passing through the first three bodies of the Scottish Rite he entered Massachusetts Consistory February 28, 1873, and was its Commander-in-Chief for three years following 1889. At the session of the Supreme Council in Cleveland September 16, 1890, the 33d and last degree was conferred upon him.
He was likewise affiliated with Boston Commandery, K. T., and Aleppo Temple of the Mystic Shrine.
July 12, 1900, he was married to Mrs. Velilla Chase, in the house on Waltham Street, where he lived 56 years. Mrs. Richardson is living, but there are no other near relatives.
RICHARDSON, ALBERT WEBSTER 1853-1908
From New England Craftsman, Vol. III, No. 6, March 1908, Page 235:
Bro. Albert W. Richardson, one of the most prominent men of Winthrop, Mass., died February 17. For several years he was selectman, and in 1890-92 represented the town in the lower branch of the Legislature. He was a musician of unusual ability and was the organizer and director of Richardson's Brass Band of Winthrop, where also he helped establish the fire department. Mr. Richardson was for several years a member of the board of health, and his appointment as superintendent of sewers was a popular one. He was a member of the Winthrop Lodge of Masons.
RICHARDSON, CHARLES H. 1848-1913
From Proceedings, Page 1913-35:
R.W. CHARLES HENRY RICHARDSON was born in Northfield, Mass., Jan. 21, 1848, and died in the City of Lowell, Feb. 24, 1913.
Brother Richardson was what is commonly termed "a self-made man." Compelled when a mere boy to earn his own living, he spent his early years on a farm, at the same time making good use of every educational advantage. In 1860 he entered the Lowell Machine Shops, at first receiving fifty-eight cents per day for his labor. Though greatly interested in his machine-shop work, at the first call of his country, he went with Luther Ladd to the counting room to be paid off. He was with Ladd, Whitney, and Taylor, who lost their lives in the passage of the Sixth Regiment through Baltimore. He returned to Lowell Aug. 25, 1861, and on September 7 he re-enlisted in the Twenty-Sixth Regiment of Massachusetts Volunteers and served through the entire Rebellion, being discharged in 1865, with the rank of Lieutenant. On his return to Lowell, he went back to the Lowell Machine Shops, remaining until June 3, 1869, when he entered the employ of the Lawrence Hosiery Machine Shop.
By repeated promotion he was made assistant superintendent of the plant in 1886. November 3, 1888, he became agent of the Appleton Mills in Lowell. In 1898 he became agent of the Lancaster Mills at Clinton. Retiring from active mill life in 1907, he was appointed to serve the unexpired term of Bro. Francis Bigelow as County Commissioner of Middlesex County. He was continued in this office until his death.
Brother Richardson received the Masonic Degrees in Pentucket Lodge of Lowell in 1867 and was its Worshipful Master in 1876, 1877, and 1878. He was District Deputy Grand Master of the Eleventh Masonic District in 1885 and 1886. He received the Capitular Degrees in Mount Horeb Royal Arch Chapter in 1877 and was its High Priest in 1883 and 1884. He received the Cryptic Degrees in Ahasuerus Council, of Lowell, and was its Master in 1884 and 1885. He received the Templar Orders in Pilgrim Commandery, of Lowell, in 1881, and was its Eminent Commander in 1886 and 1887.
Brother Richardson was eminently successful in dealing with labor. He never refused to arbitrate a matter which threatened trouble; of dignified bearing, and of positive character, he never invited controversy. As a Mason, he was zealous, painstaking, and faithful. He filled his various positions with honor to himself. reflecting great honor upon the Fraternity. Two sons and two daughters survive him, who may be assured of our sympathy in their great sorrow.
RICHARDSON, EVERETT B. 1864-1933
From Proceedings, Page 1933-316:
Brother Richardson was born in Cambridge, October 14, 1864, and died in Leominster, August 26, 1933. After graduation from the public schools and Comer's Commercial College, Brother Richardson began work as a piano maker in a factory in West Leominster. Later he and his brother bought the factory and established the Richardson piano case company, of which he was president at the time of his death. He was very successful in business and, was president of two other industrial concerns and also active in banking interests.
Brother Richardson took his degrees in Wilder Lodge in 1893 and 1894 and was its Master in 1898 and 1899. He served as District Deputy Grand Master for the Twelfth Masonic District in 1909 and 1910 by appointment of Most Worshipful Dana J. Flanders.
He was a member of Thomas Royal Arch Chapter, a Charter member of Leominster Chapter, and a member of Jerusalem Commandery, K. T.
A local newspaper thus sums up an obituary notice of him: Richardson's whole life was very honorable and upright, and he enjoyed the full confidence and high regard of his associates and acquaintances.
RICHARDSON, FRED BORDEN 1870-1936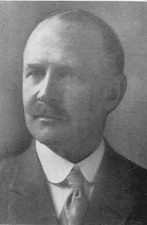 From Proceedings, Page 1936-142:
Right Worshipful Brother Richardson was born in Abington, September 1, 1870, and died in Brookline June 28,1936.
He was educated in the public schools of Abington and the Massachusetts Institute of Technology. Taking up his residence in Brookline, he entered the employ of an engineering firm and later became assistant superintendent of the Brookline highway department. He was elected Town Clerk in 1928 and remained in that position until his death. He was a past President of the Massachusetts Highway Association and its Treasurer at the time of his death.
Brother Richardson was an active member of the Harvard Congregational Church, having served it as head usher, deacon, and for many years Treasurer.
Brother Richardson took his Masonic degrees in Beth-Horon Lodge in 1895 and was its Master in 1915-16. He was a Charter member of Brookline Lodge in 1921, and was its first Secretary, serving until failing health compelled his retirement in 1934. He served as District Deputy Grand Master for the Brighton Fifth Masonic District in 1929 and 1930, by appointment of Most Worshipful Herbert W. Dean.
By his passing the town loses a useful citizen and our Fraternity a valuable, loved, and honored member.
RICHARDSON, GEORGE L. 1835-1906
From New England Craftsman, Vol. II, No. 2, November 1906, Page 76:''
Brother George L. Richardson, an old member of Mt. Lebanon Lodge of Boston, died in Duxbury, Mass., October 6, at the age of 71 years. Brother Richardson was a member of the Master Builders Association aud highly esteemed by all who knew him.
RICHARDSON, JAMES P. 1829-1907
From New England Craftsman, Vol. III, No. 3, December 1907, Page 113:
Brother James P. Richardson, a prominent citizen and ex-postmaster of West Bedford, Mass., died Nov. 2, at the age of 77 years. Brother Richardson was a charter member and honorary member of Medford Council R. and S. M., a charter member of Mystic R. A. Chapter, and a member of Boston commandery K. T. His funeral was under the charge of the latter body.
RICHARDSON, MARCUS 1780-1881
From Liberal Freemason, Vol. IV, No. 9, December 1880, Page 273:
In our last we referred to "A Notable Event," and recur to it again more fully, because to our knowledge it has no parallel. The one hundredth anniversary of the birthday of Marcus Richardson was celebrated in Milford, Mass., on the 30th day of October last, by Montgomery Lodge, in which he was made a Mason October 5th, 1803. For 58 years Brother Richardson has been a resident of Bangor, Maine, from which city he was accompanied by Bro. G. N. Hayward, who took upon himself the performance of that duty. In 1803, the Lodge was located in Medway, and to that town he was first taken. On the morning of the 30th, another member of the Lodge went to Medway, and the veteran was escorted to Milford, where an excellent photograph of him was taken, and a reception afterward held.
In the afternoon, a large number of Masons and their ladies, including representatives of Lodges in Hopkinton, Medway, Franklin, and other places assembled in Masonic Hall to pay their respects to one who had been initiated a member of the craft 77 years before. Wor. Master S. A. Eastman called the assemblage to order, and introduced as the master of ceremonies Mr. James R. Davis, who read the following letter:
Hopedale, Oct. 30th, 1880.

Rt. Worshipful Master, Wardens and Brethren: I was made duly aware of this day's special communication, and kindly urged to share personally in its festivities. It is not convenient for me to be present with you; and, as the next best thing, I send you a few written words of felicitation. Few Lodges of our ancient Order were ever privileged to celebrate so remarkable occasion. It will be memorable on your records and in your hearts. For you and myself, I tender to your distinguished centenarian guest the following sentences of congratulation:

Venerable patriarch and worthy elder brother of this Lodge: we welcome you with greetings of fraternal reverence and affection. We congratulate you on the attainment of your 100th birthday. The scythe of time has spared you to outlive three average generations of your contemporaries. You received astonishing "light from the East" in the hall of Montgomery Lodge in the days of your youth. The "South" at meridian, warmed with its genial rays your later manhood, and now the "West" beams serene benedictions on your remarkable old age. You have made a wonderful pilgrimage on the "level" of time, over the checquered "mosaic pavement" of prosperity and adversity, toward the celestial temple. You are almost ready to pass over Jordan, and your lips know how to pronounce the true shibboleth, The "guards" will pass you freely over, and bright squadrons of departed brethren on the immortal shore will soon hail you with their " grand honors."

Therefore we this day draw incense from one common pot, and send heavenward sweet odors of thanksgiving to the Grand .Master for all these blessings. With you, we hear and now praise him for the lessons He has taught us through the hallowed emblems of our institution; for those which have come'to us out of the sacred volume that lies open day and night on our altar— the sublime rules of righteousness; for the teachings of the "square," the "compasses" and the "plumb line," whereby we learn order, justice and moral rectitude amid the temptations of this untoward world; for those which denote to us purity and innocence in the "lambskin" and "white linen"; for the cardinal virtues of temperance, prudence, fortitude and justice; for the tenets of brotherly love, relief and truth; for the three-rounded "ladder" by which we climb the heights of "Faith in God, hope in immortality, and charity to all mankind." For all these we bless the name of the Supreme Paternal Architect of our destiny, and onh deplore our manifold shortcomings. Nevertheless, we throw ourselves into the bosom of His loving kindness, and trust in His redeeming grace. So now. venerable brother, accept these our cordial congratulations, and let us join in the spontaneous prayer ol grdteful hearts that when you, and each of us, shall hear the sound of the Grand Master's "gavel" summoning us to ascend into the "celestial lodge" above, we may be in readiness for our translation.

Then may the "cassia" be green on our mortal graves, and our souls be lifted by the resurrection "grip of the lion" of Juda's tribe to the mansion of eternal life — all to the glory of the Most High Father. "As it was in the beginning, is now, and ever shall be," amen. So must it be.

Fraternally yours,
Adin Ballou.
At the conclusion of the reading of the letter, Mr. Davis announced that there was an opportunity for all present to be introduced to the old gentleman, and a couple of hours were spent in social chat with him. The old records of the Lodge were produced, bearing date October 5th, 1803, and it was shown where Marcus Richardson took his initiatory degree. Mr. Richardson is remarkably well preserved, his eyesight and hearing being very good. He seemed to very much enjoy the entertainment gotten up for his benefit. Bro. James Hooper King, 79 years old, and a Mason since 1825, occupied a chair at the centenarian's left, and seemed to enjoy the occasion as much as the beneficiary.
At the close of the reception, a collation was served in the banquet hall. A special meeting was held in the evening, at which the third degree was exemplified.
Probably no similar event has ever been known in the history of any Masonic Lodge in this country. On bidding good-bye to Mr. Hayward and his wife at East Medway, the old gentleman was quite chivalrous, comporting himself almost like a man in the prime of life.
Brother Richardson reads and writes without the aid of glasses, his penmanship being not only free from any signs of trembling, but of a bold, free character. Many persons possessed themselves of his autograph.
He is a Republican in politics, and returned to Maine at the Presidential election in order to cast his ballot.
The following letter will be read with interest:
Bangor, Me., Nov. 8th, 1880.

Mrs. G. N. Hayward: After parting with Mr. Hayward and friends on the steamer in Boston, Nov. 1st, we had a pleasant time to Bangor, and deposited our vote at the fourth ward on the 2d.


Returned home, well-pleased with our journey, in good health and condition. Mrs. Hayward, please accept our thanks for the kindness we received from you and the ladies of Milford at the hall of Montgomery Lodge, and tender to them our thanks for their kind reception and generous donation on the 30th of October, 1880, at
the celebration of my one hundredth birthday at Montgomery Hall, Milford.

Marcus Richardson.
From Liberal Freemason, Vol. IV, No. 11, February 1881, Page 342:
Marcus Richardson, the aged Freemason of North Bangor, Me., who recently celebrated his centennial birthday with Montgomery Lodge of Milford, of which he was made a member October 5, 1803 at Franklin, died at his home on Thursday, January 13, aged 100 years, 2 months, 14 days. He had been a member of the Masonic fraternity for more than 77 years. He had resided in Maine 58 years, plways led a quiet, unostentatious life, and was universally respected. At the time of his death he was generally acknowledged one of, if not quite, the oldest Mason in the world.
When in Milford he was in apparently excellent health, and possessed all of his faculties unimpaired, lie wrote a firm, bold chirographs read line p,int without glasses, and his memory was excellent. Mr. G. N. Hayward of Montgomery Lodge was present at his funeral. It will be remembered that Mr. Hayward was prominently identified with the inception and carrying out of the plan far having the aged brother celebrate his centennial birthday in Milford, and with Montgomery Lodge.
The Bangor Commercial says: "Counted by human measurements of time, what a privilege it must have been to have lived a full century, and especially the last one, so fully characterized was it by a progress before unknown. Within its span was seen the growth of steamboating and railroading, the invention of telegraphy, the discovery of anaesthesia, of daguerreotyping, of photography, of the phonograph, telephone, electric light, and other wonders innumerable. When Marcus Richardson was born, American independence was but a struggling infant of four years, and he was one year old when Cornwallis surrendered. He lived under the administration of Washington, and that of every president of this republic. He watched from afar the rise and decline of Napoleon I, and was a man of 40 years when the Great Captain died. He has been a resident of this city fifty-seven years, and has lived on a small farm in what is now called North Bangor, occasionally working at his trade, which was that of a wheelwright. He witnessed the trial of Fulton's first steamboat on the Hudson, in 1807, and was a privateersman throughout the war of 1812, the vessel on which he shipped taking several prizes. He at one time lived in Boston, where he kept a hotel. Mr. Richardson was possessed of a splendid constitution, his eyesight remaining perfect to the last, and glasses to him were a thing unknown. He retained all of his faculties up to his last illness, which was short, and only last December attended a meeting of Rising Virtue Lodge in this city, anil was in perfect good health and spirits. The deceased was of English descent; he leaves two children, a son and a daughter. The immediate cause of his death was kidney complaint, but his demise was probably hastened by old age. Passing through the vicissitudes of life, the hates seem to have said to him : —
"But an old age serene and bright
And lovely as a Lapland night,
Shall lead thee to thy grave."
— Milford Journal.
RICHARDSON, RINALDO BUREN 1885-1921
From New England Craftsman, Vol. XVII, No. 3, December 1921, Page 88:
Rinaldo Buren Richardson, thirty-third degree Mason, has died at his home in Scituate Harbor, following a protracted illness. He was the son of Enos S. and Malinda (Atherton) Richardson, and was born at Pelham on June 17, 1885. His father was in the military service and the family moved from place to place as the exigency of his office required, finally settling in Maiden, where the son received his early education.
Bro. Richardson was for many years a dealer in real estate, following his graduation from Brown University, where he studied law. He never practised at the bar however. He had received honors in Masonry. He was a master of Joseph Warren lodge of Boston, in 1916 and was exalted in St. Andrew's Royal Arch Chapter, received the degree of Cryptic rite in Boston council, thrice illustrious master in September, 1899. From October, 1902 to 1904, Bro. Richardson served as eminent commander of Boston Commandery, Knights Templars. He received the degree of the Ancient and Accepted Scottish rite in 1890 and was commander-in-chief during the years from 1904 to 1906. He was crowned an honorary member, thirty-third degree, of the supreme council at Indianapolis in September, 1905.
RICHARDSON, WILLIAM HENRY 1852-1915
From New England Craftsman, Vol. XI, No. 3, December 1915, Page 98:
Brother William Henry Richardson, prominently known in the men's furnishing business for many years, and a faithful Mason died December 4, after a short illness. He had a wide circle of friends by whom he was greatly esteemed He was a member of the Lodge of Eleusis and St. Andrews R. A. Chapter of Boston.
RICHMOND, HARRIS M. 1876-1938
From Proceedings, Page 1938-232:
Right Worshipful Brother Richmond was born in Adams October 3, 1876, and died in Boston August 26, 1938.
Brother Richmond was graduated from Harvard University in 1901 and the Harvard Law School in 1904. His whole later life was spent in the practice of law, in which he gained eminence. At the time of his death he was President of the Middlesex County Bar Association. He had lived in Winchester since 1911, where he was at one time Chairman of the Republican town committee.
Brother Richmond took his Masonic degrees in John Abbot Lodge in 1906, dimitting therefrom in 1918. He affiliated with William Parkman Lodge in 1914 and was a Charter Member of Mystic Valley Lodge in 1921. He was Master of Mystic Valley Lodge in 1923-4 and was District Deputy Grand Master for the Somerville Sixth Masonic District in 1931 and 1932, by appointment by Most Worshipful Herbert W. Dean and Most Worshipful Curtis Chipman. Since 1935 he had been a member of the Committee on Charters and By-Laws.
He was a Past High Priest of Winchester Royal Arch Chapter, Past Illustrious Master of Medford Council of Royal and Select Masters, and a member of St. Bernard Commandery of Knights Templar.
Brother Richmond was very efficient in all he did, whether in business or in Masonry. Always courteous and. considerate. He made friends in all relations of life. His sudden and entirely unexpected death was a great shock to us all. He will be sorely missed in the councils of the Grand Lodge.
RICHMOND, JEREMIAH TINKHAM 1829-1906
From New England Craftsman, Vol. I, No. 6, March 1906, Page 219:
Mr. Jeremiah T. Richmond of Abington died February 22nd. He was born in Taunton in 1830 and came to Abington in 1864. In the First Congregational Church of Abington he was a deacon many years. He was Past Master of John Cutler Lodge, A. F. & A. M., of Abington, and was prominent in the Royal Arch Chapter and Knights Templars and was a member of Boston Lodge of Perfection. He was a trustee of Abington Savings Bank, and ten years ago was in the Legislature. He leaves a widow and four children.
Note: Bro. Richmond does not appear to have served as Master of John Cutler or any other lodge.
RICHTER, PETER GORDON 1935-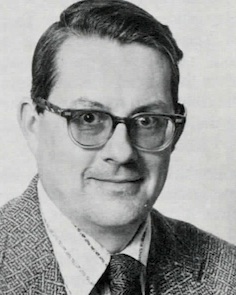 Brother Richter died in March 2019. N
From TROWEL, Summer 1985, Page 24:
Our man from TROWEL in this issue is typical of our many Representatives whose service to Freemasonry and their Lodges is so exemplary and deserving of recognition. Wor. Peter G. Richter is a Past Master of both Beth-horon Lodge and Social Harmony Lodge, the latter being the Lodge which he serves as TROWEL Representative in Wareham. A teacher by profession, Bro. Richter was educated in the Brookline Public Schools, holds a Bachelor's Degree in Geology from Boston University and a Master's Degree from Syracuse University. He is certified as a biology, geology, and general science teacher as well as a general supervisor and is the Science Department Chairman at Newton South High School.
His father was a member of Beth-horon Lodge, which prompted him to seek admission. He serves in many capacities in Social Harmony Lodge, including Ritualist, and is a member of Wareham Royal Arch Chapter. Bro. Riehter served for three years on active duty with the U.S. Army as a photogrammetrist with the Final Edit Branch of the Map Service in the Far East, spending two and a half years in Tokyo.
In addition to his Masonic service he is a member of the Advisory' Board of Wareham Assembly of Rainbow, past Skipper of the Bourne Tide Club, and past president of the Association of Science Department Heads of Eastern Massachusetts. His community involvement includes membership on the Bourne Conservation Commission, Bourne Board of Health, Solid Waste Study Commission, and Sewerage Study Committee. He is a dedicated Mason committed to TROWEL, its concept and future. In honoring him we pay tribute to all TROWEL Reps.
RICKER, EVERETT GILES 1898-1946
From Proceedings, Page 1946-80:
Right Worshipful Brother Ricker was born in Hudson, Massachusetts, May 13, 1898, and died suddenly at his home in that Town on January 13, 1946.
Brother Ricker attended the public schools of Hudson and soon after graduation at the High School, entered the employ of the National Shawmut Bank of Boston, where he remained until his death.
He was raised in Doric Lodge of Hudson on October 15, 1928, and served as Master in the year 1937. He served as District Deputy Grand Master for the (Marlboro) 24th District in 1941 and 1942, by appointment of Most Worshipful Albert A. Schaefer.
For many years he was active in the Order of the Eastern Star, and in the Odd Fellows Lodge in Hudson. He was a member of the Bank Officers' Association of Boston; a member of the Board of Governors of the Boston Chapter, also of the American Institute of Banking.
His sudden death was a great shock to his many friends, but their memory of him as a true and loyal friend will remain always with them.
Funeral services were held in the Hudson Methodist Church on Thursday, January l7th, and the large attendance testified the high esteem in which he was held.
RIDDELL, BENJAMIN F. 1804-1862
From Moore's Freemason's Monthly, Vol. XXII, No. 1, October 1862, Page 31:
At a meeting of Union Lodge of Free and Accepted Masons, held on Monday evening, 13th inst., the following preamble and resolutions, offered by Brothers A. B. Robinson and Geo. W. Macy, were unanimously adopted, and ordered to be entered upon the Records of the Lodge :—
To the Worshipful Matter, Wardens and Brethren of Union Lodge—
Death has been among us. That dread messenger to whose fatal summons we must all, sooner or later, yield submission each in their torn as the period arrives, against which the inexorable finger of destiny has written, "thou shall surely die!"
From among the little band of Brethren who have been accustomed to assemble around this altar, it has pleased the Grand Master of the Universe to remove two most worthy and esteemed members, Brothers Benjamin F. Riddell and Horace P. Coffin. Be it therefore
Resolved, That bowing in humble obedience to this afflictive dispensation of an All wise Providence, we none the leas deeply feel and appreciate the lots of these our Brethren, whose sterling integrity and probity as men; whose tried fidelity as friends; whose exemplary lives as citizens, and whose zeal and diligence as Masons, had won for them such universal respect and esteem.
Resolved, That we beg leave to tender to the widow and families of our deceased Brothers our warmest sympathies in this their sad hour of trial and bereavement ; and while mourning with them in their irreparable toss, we would earnestly commend them to the watchful care and protection of Him who alone is able to bind op their broken hearts — the orphan's Father, the widow's God.
Resolved, That the Lodge room be draped in mourning for the space of three months, in respect to the memory of our departed Brothers Riddell and Coffin.
Resolved, That a copy of these Resolutions be sent to the families of the deceased, and also to the Freemasons' Monthly Magazine, in Boston, for publication.
Charles P. Swain, Secretary Union Lodge, Nantucket, Mass.
RIDEOUT, EDGAR S. 1867-1936
From Proceedings, Page 1936-103:
Right Worshipful Brother Rideout was born in Lawrence October 1, 1867, and died in Beverly March 10, 1936. Brother Rideout was educated in the Lawrence public schools and took up bookkeeping as an occupation. For a time he was Assistant Postmaster at Lawrence. He removed to Beverly in 1911 and entered the service of the United Shoe Machinery Company, remaining with it until his death.
Brother Rideout was interested and active in community affairs, political and social. For many years he was Associate County Commissioner of Essex County, and a Director of the Beverly Chamber of Commerce and member of the Beverly Y.M.C.A. corporation. He was an active member of St. Peter's Episcopal Church-long a vestryman and Senior Deacon at the time of his death.
Brother Rideout took his Masonic degrees in Phoenician Lodge in 1890 and was its Master in 1896 and 1897. He took an active part in the formation of Budleigh Lodge in 1927, and was its Master under Dispensation and under Charter. He was District Deputy Grand Master for the Tenth Masonic District in 1904 and 1905, by appointment of Most Worshipful Baalis Sanford.
He was a Past High Priest of Mt. Sinai Chapter, Past Thrice Illustrious Master of Lawrence Council, Past Eminent Commander of St. George Commandery, and Past Sovereign Prince of Lowell Council, Princes of Jerusalem.
Brother Rideout was not one of those Masons who allow their interest to lapse with the attainment of Past rank. It remained keen to the end. In his passing the Fraternity loses a loved member who has served it well and the community loses a very useful citizen.
RITTER, MELVIN 1927-
From TROWEL, Spring 1991, Page 14: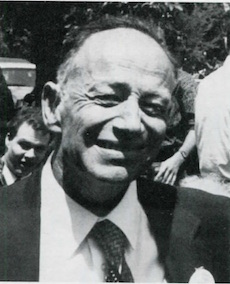 Today more than 37 million Americans are, to varying degrees, denied access to stores, offices (public and private), public transportation, restaurants and hotel rooms, and into too many Masonic temples-simply because they are "disabled." And, for too long a time, many have been denied employment for the same reason. Last summer at a White House gathering beneath a sunny sky that shined on a pleasant occasion. President George W. Bush signed the "Americans with Disabilities Act" which had finally been passed by Congress. That act has already been called the most comprehensive civil rights measure of the past quarter century. The legislation prohibits businesses with more than 25 employees from refusing to hire qualified applicants if the refusal is based on the applicant's physical disabilities. It will also prohibit dismissal on the basis of handicap. Nobody knows more about the act or the problems that confront folks with disabilities than Bro. Melvin Morton Ritter of Puritan and Paul Revere Lodges. Since September 1989, he has been the Disability Employment Coordinator for the federal government in Massachusetts, and he was in Washington when President Bush signed the historic bill. His office provides advice and consultation through the Office of Equal Employment Opportunity and the Agency's Disability Advisory Committee to resolve problems among persons with disabilities who are employed by the Agency, and assists with providing reasonable accommodations if necessary. His office coordinates a bi-annual Disability Awareness program for all Agency supervisors and assists in the hiring, placement, and advancement of individuals with disabilities within the Agency.
After graduating from Boston High School of Commerce in 1950, Bro. Ritter graduated from the Boston University School of Public Relations where he majored in motion pictures (visual education) and public relations and radio. He is a lecturer on the handicapped and retarded at Bridgewater State College and other colleges and universities. He is a member and the Chairman of public relations for Troop 13, Somerville Boy Scouts; member of the Brockton Area Association for Retarded Citizens, Inc.; Co-Chairman, Consumers Committee, Massachusetts Rehabilitation Commission for the Boston region; member Board of Directors, Association for Retarded Citizens of Massachusetts; member of the President's Committee on Employment of People with Disabilities; and Chairman of the Northeast Nominating Committee for the National Association of Retarded Citizens of the U. S.
In 1984, Bro. Ritter was named the Defense Logistics Agency's Outstanding Handicapped Federal Employee of the Year. As a member of the Steering Committee, Development of Massachusetts Initiative for Technology for People with Disabilities, he assists with preparing information for the lead agency's Massachusetts Commission for the Deaf and Hard of Hearing application for federal funding.
This multi-talented Mason truly understands what it means to understand another person's - not just a Mason's - welfare as his own, and he looks forward to the time when buses, trains, and subway cars properly provide modifications for handicapped access. The bill signed by President Bush also provides that employers have devices to help the hearing impaired, and that businesses provide wheelchair access to their facilities. Expensive? Suppose you are one of the handicapped and cannot gain easy access to your Lodge even though you pay the same required dues to support that Lodge. How far is your Awareness Program willing to extend itself to relieve the handicapped?
ROBBINS, SIR ALFRED 1856-1931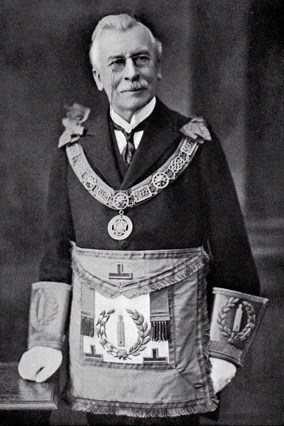 From Proceedings, Page 1931-25:
We were all shocked and grieved yesterday morning to learn that this very distinguished Freemason had died on March 9.
Sir Alfred Robbins had long enjoyed an international reputation as one of the leading members of our Fraternity in England. He had served as President of the Board of General Purposes of the Grand Lodge for more than a quarter of a century, a longer tenure of office in this most responsible position than any other holder of it had ever had. He had been further honored by appointment as Honorary Past Grand Warden. A few years ago on the constitution of a Lodge of journalists, by direct desire of M.W. H. R. H. the Duke of Connaught, Grand Master, the rule of Grand Lodge against giving the name of a living person to a Lodge was set aside and the Lodge was named Alfred Robbins Lodge. Brother Robbins was sent abroad by the Grand Lodge on important Masonic visits to both North and South America. On the first of these visits he eame to Boston, and many will remember his presence in this Grand Lodge at our March Communication in 1924, on which occasion he was presented a Henry Price medal. As a further incident of his visit he was made an honorary member of Fourth Estate, whose meeting he attended.
Brother Robbins was by profession a journalist and held a high place in the newspaper world, In recognition of his eminent service he received the honor of Knighthood. He was the author of several books, the rnost important of which, so far at least as Masonry is concerned, was his very admirable English Speaking Freemasonry, published in 1930.
Brother Robbins was a man of broad outlook, clear vision, and deep sympathy, not only a great Freemason but a very kindly and courteous gentleman. His death is an irreparable loss to the Fraternity.
ROBBINS, JAMES MUNROE 1832-1905
From New England Craftsman, Vol. I, No. 5, February 1906, Page 182:
Brother J. M. Robbins, a prominent Mason, and one of the largest real estate owners in Cambridge, died at his home on Lee Street Dec. 22, after an illness of three weeks. He was born in Nelson, N. H., and started in business in Lawrence when a young man. Forty years ago he removed to Cambridge and entered the hardware trade, in which he was prominent for twenty-three years. Mr. Robbins is survived by his wife and son. He was a member of the Cambridge Commandery, Amicable Lodge, Lodge of Perfection and Cambridge Royal Arch Chapter.
ROBERTS, DANIEL CRANE 1841-1907
From New England Craftsman, Vol. III, No. 3, December 1907, Page 113:
Rev. Brother Daniel Crane Roberts, vice rector of St. Paul's Church, Concord, N. H. died October 31, Dr. Roberts was one of the most prominent Episcopal clergymen in New England. He held many high pists in the state department, G. A. R., and his record in Masonic circles was a notable one.
Dr. Roberts' Masonic affiliation commenced with his being made a Mason in Kilwinning Lodge, Lowell, Mass., in 1870; received the Royal Arch degrees in Mt. Horeb Chapter, Lowell, Mass., 1872 ; the council degrees in Farnum Lodge, Brandon, Vt., in 1878, and the Knights Templar degrees in Mt. Calvary commandeiy. Middlebury, Vt. 1874.
In the Grand Lodge of Free and Accepted Masons in New Hampshire he held the position of Grand Chaplain from 1892 to 1907, and was grand commander of the Grand Commandery of New Hampshire in 1894-95. In the latter he also held the position of Grand Prelate for many years. On Dec. 25, 1902, he was honored by an appointment as grand prelate of the grand encampment, K. T., for the United Slates. He received the degrees of the Ancient and Accepted Scottish rite from the 4th to the 18th in Concord, and from the 19th to the 32d in Nashua, the latter in 1895. He was a charter member and president of the Veteran Free Masons of New Hampshire from 1895 to 1907.
From New England Craftsman, Vol. III, No. 5, February 1908, Page 193:
The Rev. Daniel Crane Roberts, D. D., vice rector of St. Paul's Episcopal Church and the dean of the Concord, N. H., clergy, in point of pastoral service, died October 31, after a protracted illness.
Dr. Roberts was born in Binghamton, N. Y.. Nov. S, 1841. He was educated at Kenyon College, Ohio. At the outbreak of the Civil War he enlisted in the Eighty-fourth Regiment of Ohio Volunteers and served with that organization through its term of duty. After leaving the army he engaged in mission work among the seamen in New York City and pursued his studies in theology. In ]866 he was ordained to the priesthood by Bishop John Williams of Connecticut. In 1878 he was called to Concord to be vice rector of St. Paul's Cathedral Church. This post Dr. Roberts held until his death. Dr. Roberts was one of the foremost figures in the church in New Hampshire. In 1885 he received from Norwich University tin- degree of doctor of divinity.
In .Masonry Dr. Roberts had a distinguished record. He was made a Mason in Kilwinning Lodge at Lowell, Mass., during his ministry there, and received the chapter degrees in Mount Horeb Chapter in that city. From Farmer Council at Brandon, Vermont, he received the obligation of that degree, and was knighted in Mount Calvary Comniandery. Knights Templar, at Middlebury. Vermont. He transferred his membership to the Masonic bodies in Concord on coming here he was chosen commander of the Commandery Knights Templar. In 1S94 and 1895 he was Grand Commander of the Grand Comniandery of New Hampshire, and in that capacity received the visiting knights who came to New Hampshire en route to the Triennial Conclave at Boston in 1895. For this purpose he established headquarters on the summit of Mount Washington, where with fitting speech and graceful hospitality he greeted several bodies of journeying knights who paused there to receive New Hampshire's welcome.
ROBERTS, JOHN LOVERING 1812-1880
From Liberal Freemason, Vol. IV, No. 9, December 1880, Page 272:
At 2.30 o'clock, Tuesday morning, November 29th, at his residence on Walnut Street, Newtonville, died John L. Roberts, one of Newton's most public-spirited and well-known citizens. He had been failing for several months, but his death was not expected so soon, although for the last ten days of his life he was confined to his room. Mr. Roberts was born in Boston, January 6th, 1812, and was consequently 68 years of age. In early life he was a mason by trade, but having done a large and successful business, he had been retired for a long period, although always actively interested in real estate, and engaged in the personal care of his own property.
He was one of the earliest settlers of Newtonville, coming there when but a few houses comprised the village, and has, until his last sickness, always been interested in philanthropic projects, and a persistent advocate of all movements looking to the welfare of the village and the whole city. The deceased was never a seeker of public office, and only served on the old Hoard of Selectmen, one year. He was often appointed on important town committee, however, and was a very prominent Freemason, having been a member of the Massachusetts Consistory, Gethsemane Commandery, Newton Royal Arch Chapter, and Dalhousie Lodge of Newton. In one or more of these he was a charter member. He was for many years one of the vestry of Grace Episcopal Church, Ward Seven. He leaves a wife and four grown-up children, the youngest of which, a daughter, is now travelling in Europe. The funeral was under Masonic auspices at the late residence, on Thursday afternoon. December 2d. In the death ol Mr. Roberts the city and village in which he lived for so long a period, has lost a valuable, philanthropic, public-spirited citizen, a man of high virtues, and a noble heart, and one who was universally respected. The sympathy of the entire wide circle of friends of the deceased, and liis eslimable and alike public-spirited wife, is heartily extended in this hour of sadness. Both were very active members of the society of the village, and prominent members of the Newton Horticultural Society.
ROBINSON, CHARLES F. 1807-1881
From Liberal Freemason, Vol. V, No. 1, April 1881, Page 26:
Dr. Charles F. Robinson, a well-known homoeopathic physician, recently deceased in East Boston, after a long and painful illness, which began in June, 1880, was born at Canandaigua, N. Y., Oct. 9th, 1807. Choosing the profession of a physician, he practised five years in South Abington, and five years in Nantucket, before settling in East Boston, where he practised about fourteen years.
He was a man of excellent character and generous disposition, frequently giving his services without charge when such beneficence was needed. He leaves a wife and two adult children. Dr. Robinson was an active Worker in the Masonic order, being a member of Union Lodge of Nantucket, and of St. John's Royal Arch Chapter, East Boston Council of R. and S. Masters, and William Parkman Commandery, K. T., of East Boston.
He was also a member of the Mass. Homoeopathic Medical Society for the last fourteen years. Previous to his illness he was Deputy Master of East Boston Council.
Brother Robinson took an active and intelligent interest in Masonic matters, and was always ready to work for the welfare of the several masonic organizations of which he was a member. And notwithstanding the demands of his profession, few men, if any, were more constant in attendance at their several meetings. His presence was always helpful, and more so, from the fact that he had a kind word to offer on all occasions.
ROBINSON, GAD 1880-1941
From Proceedings, Page 1941-263:
Right Worshipful Brother Robinson was born in Wareham, Massachusetts, September 20, 1880, and died at Quincy November 26, 1941.
After serving as an express messenger for a few years, he entered the automobile business in Taunton and continued in that line until about 1931. He then moved to Quincy and remained there for the rest of his life, being active in the cotton goods business.
He was raised in Charles H. Titus Lodge of Taunton on February 12, 1904, and served that Lodge as Master in 1910 and 1911. He served as District Deputy Grand Master for the Twenty-eighth Masonic District in 1923 and 1924, by appointment of Most Worshipful Dudley H. Ferrell.
He was a member of the Bodies of the Chapter, Council and Commandery and was a Past Commander of Bristol Commandery, K.T.
Brother Robinson served for many years as a Lodge Representative on the Board of Masonic Relief and was a faithful attendant at its meetings.
He is survived by his widow and one daughter.
His cheery nature and willingness to serve endeared him to a host of friends who deeply mourn his passing.
ROBINSON, GEORGE SUTHERLAND 1902-2007
BIOGRAPHY
From TROWEL, Spring/Summer 2004, Page 12: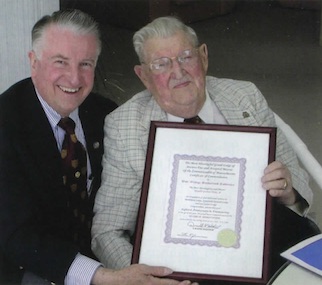 Wor. "Doc" Robinson, 101, Receives 80-Year Certificate from Grand Master Hicks
Much like today, America was at war. A 15-year-old young man and his classmates were eager to serve their country and fight overseas. However, most of them were too young to enlist. "Of course, you know, that was during the first World War," Wor. George S. ("Doc") Robinson said, with a little chuckle.
During Most Wor. Donald Gardner Hicks, Jr.'s visit to Florida in March to update Massachusetts Masons about the many exciting endeavors the Fraternity is undertaking, he met with Wor. Doc. Robinson and his wife Dorothy. Bro. Robinson was presented a special certificate commemorating his 80 years as a Mason. Accompanying Grand Master Hicks was Mrs. Elizabeth Turner, who is spearheading a Wives and Widows Committee for Massachusetts Masons, and Rt. Wor. David C. Turner, Chief Executive Officer for Masonic Health System of Massachusetts.
When Wor. Doc Robinson was 21 years old, then the minimum age to join the Fraternity, he joined Bethlehem Lodge in Lynn, where his father and brother were members. He held different offices over the years, and was Master in 1945.
After Robinson and his school friends were kept from enlisting, they entered the Federal Farm Boys Working Reserve, a six-month boot camp for boys too young to join the war effort. He later spent two years at the Massachusetts School of Agriculture, and then worked for several years as a dairy farmer.
After sustaining a serious back injury, Bro. Robinson sought the help of an osteopath. He became so interested in the field of medicine that he decided to pursue it in college. He earned his degree in osteopathy from the Philadelphia College of Osteopathy. He later practiced in Lynn, where he lived for many years. Dr. Robinson also practiced a great deal of general medicine. "I did a lot of obstetrics, so I went back to school again and got an M.D. degree in 1939." He has held many medical positions with local government in addition to his private practice.
Wor. Bro. Robinson, who now lives in Sarasota, Florida, will celebrate his 102nd birthday in July, and is looking forward to another wonderful year. Freemasonry, he says, has helped him stay grounded and active over the years. He was very grateful for the recent visit from Most Wor. Donald G. Hicks, Jr.
"It is really very flattering to be remembered," Bro. Robinson said. "I was very excited about the certificate. It was terrific to meet the Grand Master and so nice of him to come to Florida."
"Wor. Bro. Robinson was great to talk to," M. W. Hicks said. "He's led a fascinating and full life, and his
lifelong commitment to Freemasonry is an example to us all."
ROBINSON, WILLIAM CLARK 1834-1887
From Proceedings, Page 1887-71:
By the death of William Clark Robinson, the Masonic Fraternity of Northampton has lost one of its most useful members, and his family, consisting of a wife, son and two daughters, has been bereft of a kind husband and father.
He was born in the city of New York, June 28, 1834, and removed to Springfield, Mass., in 1838 or '39, where he received a common-school education. During his school-boy days he was a favorite of the late Hon. E. D. Beach, of Springfield, who kindly gave him full access to his excellent library. Bro. Robinson freely availed himself of this opportunity, and in his later years often referred to this kindness, speaking with pride of the fatherly advice of Mr. Beach.
His parents were of English descent. His father, Capt. William Robinson, commanded the good ship Scotland, plying between New York, and Liverpool, Eng. He was lost overboard during a fearful storm, leaving a wife and three sons, William C. being the oldest. At the age of sixteen years he accepted a situation in the Springfield Bank, in which position he won and retained the confidence of the officers of the Bank. After six years of service he resigned and accepted a clerkship in the Continental Bank of New York City. At the expiration of one year he accepted an election to the cashiership of the Conway Bank, Conway, Mass. After filling this office for two years, he resigned to accept a similar position in the Hampshire County National Bank, of Northampton, Mass. He was one of the founders of, and a valued officer in, that Bank. At the expiration of two years he resigned, to accept the office of Secretary and Treasurer of a gold and silver mining company in New York City. Subsequently he entered the service of the Mass. Mutual Life Insurance Co., of Springfield, Mass. For seventeen years, or until his decease, he labored earnestly and faithfully in its employ. He was repeatedly advanced, received new trusts and responsibility and was assured that his labors were appreciated and approved.
Bro. Robinson was for a quarter of a century a communicant in St. John's Episcopal Church, Northampton; for many years a vestryman, and for fifteen years its senior warden. His loss is deeply mourned by the church. His presence was sunshine, and his many labors, advice and genial manner are sadly missed, not only by the church, but by the entire community of Northampton.
In Freemasonry he was a tower of strength in the District in which he formerly lived. He was made a Mason in Mountain Lodge, Shelburne Falls, Mass., July 20, 1861. While living in Conway, though he had to travel eight miles over a mountainous road, his zeal prompted him to be present at all regular Lodge meetings. It is said that Rising Sun Lodge, of Conway, owes to a great extent its present existence to the earnest efforts of Bro. Robinson.
He received the Capitular degrees in Franklin R.A. Chapter, Greenfield, Mass., in 1862. This Chapter was located twelve miles from his residence, and was reached only by private conveyance. Yet Bro. Robinson's name appears upon the Chapter register oftener than the names of many Companions who lived in the near vicinity of the place of meeting. He became a member of Northampton R.A. Chapter in 1864; served as Scribe and as King; was elected Secretary Sept. 3, 1879, and was reelected, and served until his death. He also joined Jerusalem Lodge, by dimit, in 1864; and, after serving as Junior and Senior Warden, was elected Worshipful Master, October 31, 1876, also in 1877; filling each office most acceptably to the members of the Lodge. He was elected Secretary of the Lodge in 1885; was reelected in 1886, and held that office at the time of his decease. He was appointed District Deputy Grand Master of District No. 10 in 1879 and again in 1880. He had a very pleasant way of meeting the Brethren of his District, and was always a welcome visitor. In December, 1885, he was appointed Corresponding Grand Secretary of the Grand Lodge, and was reappointed in 1886.
Bro. Robinson was created a Knight Templar in June, 1880, in Northampton Commandery; served as Junior and Senior Warden, and was also Prelate for two years. Bro. Robinson was a kind and genial man; a true and sympathizing friend ; a respected citizen and a devoted Mason. He will be greatly missed in every circle in which he was wont to move; but we trust that our loss is his eternal gain.
From Proceedings, Page 1887-129:
William Clark Robinson was born in the city of New York, but, with the exception of five or six years, his life was spent in his adopted State of Massachusetts, and for the last seventeen years he lived in Northampton, holding honorable positions with the Massachusetts Mutual Life Insurance Company, of Springfield. He was one of the most respected and useful members of Saint John's Episcopal Church, of Northampton, where for fifteen years he had been Senior Warden, and his presence is greatly missed throughout that community. He was made a Mason in 1861, receiving his degrees in Mountain Lodge, of Shelburne Falls. He was constant in his attendance, even at the cost of much personal comfort; and his interest in the Lodges in that District contributed largely to their success. He held important offices in Jerusalem Lodge, and in Northampton R.A. Chapter and Northampton Commandery. In 1879 he was appointed District Deputy Grand Master of District No. 10, and in December, 1885, he was appointed Corresponding Grand Secretary of this Grand Lodge. To this office he was re-appointed only a few months before his death.
Sincere in his faith, true in his friendship, earnest in his Masonic duties, and upright as a man, Brother Robinson will be long remembered by his friends and associates.
From Liberal Freemason, Vol. X, No. 12, March 1887, Page 383:
On the afternoon of March 12th, this brother died suddenly in Springfield, Mass. Brother Robinson's home was in Northampton, where he has been known as an active worker in Lodge, Chapter, and Commandery for many years. He had been honored by the brethren, who gave him official station, and by the Grand Lodge, he being Corresponding Grand Secretary at the time of his death. Our acquaintanceship began about twenty years ago, and ripened into an unbroken friendship; hence we have had opportunity to observe him closely, and can truthfully say that a good and true brother has departed.
RODOCANACHI, JOHN MICHAEL 1830-1906
MM 1857, Columbian
Charter Member, WM 1871, 1872, 1879, Lodge of Eleusis
Grand Pursuivant 1872-1874, 1880
Junior Grand Steward 1878
Senior Grand Steward 1881
From New England Craftsman, Vol. I, No. 3, December 1905, Page 105:
Worshipful Bro. John M. Rodocanachi, a well known Mason of Boston and for many years Greek Consul, died September 26, of cerebral hemorrhage, age 76 years.
Mr. Rodocanachi was one of the most popular Greeks in Boston, and as a man of means and position he had long occupied a place among his countrymen here second only to that occupied by the late Dr. M. Anagnos, whose death occurred a short time ago. He was born in ancient Smyrna, Asia Minor, of comparatively well-to-do parents. He came to this country when a very young man.
In recognition of his good worksKing George granted him the Silver Cross and lshoine governmeutappointed him consul Boston "in recognition," the order read, "of the valuable services rendered by him to the cause of his country and of ardent devotion to the advancement of its interests and the increase of its prosperity.
He was consul to the satisfadtion of both countries for 35 years and under his management the trade between this and Grecian ports was much enhanced.
He was past master of the Lodge of Eleusis, which was founded by his influence. He was also one of the founders of the First Worshipful Masters Association and its first secretary, serving 18 years in that office. His funeral was conducted in accordance with the ritual of the Greek Church.
ROGERS, HENRY HUTTLESTON 1840-1909
BIOGRAPHY
From TROWEL, Spring 1989, Page 2:
Bro. Henry Huttleston Rogers
By Robert W. Williams III
On a granite monument standing on the southwest lawn of Fairhaven High School are the impressive Latin words, Si monumentum requiris circumspice, which translated into English means, "If you would see his works, look about you."
Strolling the elm-shaded streets in the center of the southeastern Massachusetts town of Fairhaven, across the Acushnet River from the city of New Bedford, you learn of the imprint of one man on his home town.
The Unitarian Memorial Church, Millicent Library, a town hall, grammar and high schools, water department, reconstruction of the main thoroughfares, and brick-paved sidewalks, a recreational park, an industry to support families, and a Masonic temple. Henry Huttleston Rogers did all of that—and at his own expense. True to the teachings of Freemasonry, he was a builder.
Until Earl J. Dias of Fairhaven, retired chairman of the Dept. of English at Southeastern Mass. University, published his 1974 book, Henry Huttleston Rogers, a Portrait of a Capitalist, there had never been a full-length biography of Rogers. There are many references to him and his industrial career in numerous publications, but because he was a hard-nosed businessman, his enemies undoubtedly outnumbered his friends. Dias, author of five books of plays for young people, Mark Twain's Letters to the Rogers Family (1970), and numerous articles published in professional journals, chose to conclude: "Rogers was a human being, more intelligent than most, and, like most of us, a flawed one. His sins were the sins of his age—and he shared them with his contemporaries . . . but he remains for his native town a prince of good fellows, the "Hen" who made his birthplace an architectural gem, the man whose influence still pervades the streets and public buildings of the place."
Henry Huttleston Rogers was born in Fairhaven on Jan. 29, 1840, the son of Rowland and Mary (Eldredge) Rogers. An older brother, Eliza, born in 1834, died in 1849. Another brother, Rufus Allen, was born in 1843. Henry would later rescue Rufus from his financial business dilemmas. The Rogers roots trace to Thomas Rogers who came to America on the ship Mayflower and his son, Joseph, who later settled in Eastham, Cape Cod. Fairhaven had been settled in 1652 by a band of colonists from Plymouth, under the leadership of Thomas Cooke.
The War of 1812 really put Fairhaven on the map. The Embargo Act on shipping was regarded in Fairhaven as a correct gesture of patriotic defiance, but in Tory New Bedford, the act was unpopular. Fairhavenites were branded as the "Corsicans" in New Bedford and the townspeople demanded, and obtained, incorporation as a town. The first big celebration was held July 4, 1812, and Postmaster James Hodges of Taunton was the orator following the reading of the Declaration of Independence. Hodges was the first candidate in August 1798, after King David Lodge of Taunton was chartered in June. James L. Hodges, a son, won a bitterly contested seat in Congress in 1830 from the anti-Masonic candidate Miccah Ruggles of Fall River. James was made a Mason in his father's Lodge in 1817.
Rogers wasn't the most promising or enthusiastic high school student but he graduated in 1856 and later in life was the instigator for his class reunions, paying all the expenses involved. Employment opportunities in Fairhaven were limited in 1856 and he worked as a grocery store clerk for five years, earning three dollars a week. In 1905 he said of that job, "I felt that I had not given enough service for the value received." He left to become baggageman and brakeman for the Fairhaven Branch Railroad (part of the Old Colony Line) for $1.16 a day. He was a born rebel, and had attempted to arouse the citizens of his town to build a better high school. "We don't need any suggestions from that lad," was the answer he got. He would later make some of the dissenters eat their words.
When petroleum began oozing from the ground in Pennsylvania, a friend, William M. Irish, was the first to "go west" to seek his fortune. Another friend, Charles H. Ellis, soon followed Irish and they influenced Rogers to join them. Henry took $600 he had saved in 1861 and headed for the oil fields that would eventually, through his wizardry and hard dealings, join him with men who would later develop Standard Oil Co. He returned two months later when his father died of apoplexy. But Irish and Ellis had already secured a site for a refinery in Rouseville, PA. When Yale chemistry professor Benjamin Silliman proved to George H. Bissell that oil could be refined and used as lighting fuel, towns like Rouseville and Titusville took on the atmosphere of the California Gold Rush. Saloons, brothels, sleazy hotels, and rooming houses reminded Rogers of the whaling port of New Bedford and the problems he had seen as a youngster. Oil replaced the need for killing whales, and ports like New Bedford, Nantucket, and others would suffer for the change. In 1862 Rogers returned home to marry his childhood sweetheart, Abbie Palmer Gifford, who proved to be a sensible, down-to-earth wife and mother and a modest hostess for the social life of New York. Their marriage resulted in the births of Anne Engle, Cara Leland, Millicent Gifford, Mary (called Mai), and Henry Huttleston Rogers, Jr., who was called Harry. Three years after his marriage to Abbie, he applied and was accepted to receive the degrees in Freemasonry in Star in the East Lodge, New Bedford. He was Entered June 19,1865, but three years elapsed before he could return to be Passed June 11,1868. Seven days later he was Raised and held his membership until his death in 1909.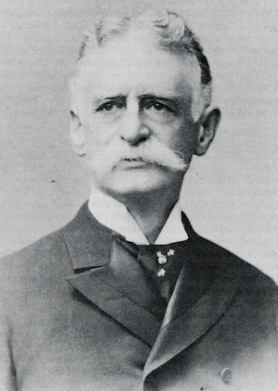 Bro. Henry Huttleston Rogers
Although his New Bedford Lodge had been chartered in 1823, Freemasonry did not establish itself in Fairhaven until 1872 when Concordia Lodge was chartered. When Gosnold landed on the shores of what was then Dartmouth (including New Bedford and Fairhaven) he came from Dartmouth, England, in a vessel named Concord. When Concordia grew and later was in need of larger quarters, the members approached Henry Rogers for a financial gift that would help them. Like the businessman that he was, Rogers offered them a deal; he would erect and pay for a new building if the Brethren would change the name of Concordia to George H. Taber Lodge. The members consented, Grand Lodge gave its approval (a first for them) and on June 8,1901, M. W. Charles T. Gallagher and Grand Lodge officers dedicated the three-floor granite building at the corner of Main and Center Sts. The charter had been signed in 1872 when Sereno Nickerson was Grand Master. As Grand Secretary, Bro. Nickerson had to change the name to George H. Taber, who was present at age 93. (A Lodge can no longer be named for a living person.)
The new building has a first floor rental and the Lodge room is paneled with wood. There is a framed attachment to the wall explaining the story of Rogers and Taber. When the building was finished, it was equipped with new furniture and a pump organ that has since been converted to electronic. The chairs of the Master and Wardens were kept and then given to Noquochoke Lodge of Westport when it was chartered in 1878.
The warm and human side of Rogers exposed his sentimentality. His lifelong affection for George H. Taber was proven when he spent $50,000 to build the new temple. "He was like a father to me and my mother. His heart was as big as an ox and he was the most precious thing on earth," author Earl Dias reports in his book. Taber had been Rogers' Sunday School teacher and a beloved spinner of yarns for all the children in the town. It was a trait of many old "salts" living by the sea. When the telephone was perfected as a means of communication, Rogers had one of the first in Fairhaven installed in his mother's home. He then called her daily from his New York office.
During his most successful and hectic days, Rogers lived with his family at 26 East 57th Street in New York City, and later at East 78th St. To relate all of his many business dealings in oil and diverse industries would be impossible. He and his cohorts appeared before the courts several times when the states attempted to prove that Standard Oil had created a monopoly. But Rogers was equal to the task, often confusing and irritating the opposing attorneys. He dealt with all the moguls of his time; John D. and William Rockefeller, E. P. Harriman, John D. Archibold, the Everests, Lockhart, Warden, McGregor, and many others. He was labeled "The Jekyll and Hyde of Wall Street," "Hell Hound Rogers," "an irascible and contemptuous witness," "a pirate," and because of his cunning as a witness, "The Jester of Wall Street." Yet, Rogers was the only one who was considerate enough to recognize Edwin L. Drake, a conductor on the New York, New Haven, and Hartford Railroad, with no business or technical experience, who believed and proved that oil could be brought to the surface by drilling. He had met with success and tragedy before his death in 1880. Rogers erected a monument to him in Titusville.
In 1907, it was Federal Judge Kenesaw Mountain Landis who finally decided to fine Standard Oil $29 million for the monopoly that had been created. Landis had been appointed by President Teddy Roosevelt and was reported to have exclaimed, "Bully, for him!" when he heard about the fine. But the Supreme Court ruled otherwise and the fine was wiped out. In 1911, Standard Oil had to divest itself of its subsidiaries and reorganize into 38 companies. When a cattleman sold diseased beef, Landis locked him in jail. President Woodrow Wilson commuted the sentence to a few months. When men were accused of stealing sugar from a Chicago freight car, Landis stated in his court, "Stealing sugar is no more deserving of a prison sentence than selling diseased cattle," and let them off.
Judge Landis, while sometimes unpredictable in his decisions, had caught the eye of organized baseball and earlier had settled the Federal League case. In 1920, he was hired by baseball to be its first commissioner, replacing the three-man commission. The 1919 World Series, won by the Cincinnati Reds, five games to three against the Chicago White Sox, had earned the unwelcome distinction as the "Black Sox Scandal." Several of the Chicago players were found guilty of "throwing the series" and selling out to gamblers. But Landis' ruling with a firm hand and Babe Ruth's home runs soon gave baseball the new look it needed.
From 1893 until Rogers' death in 1909, his famous friend was Samuel L. Clemens, better known as Mark Twain. A mass of correspondence between the two men and from Clemens to members of the Rogers family may be found in the Millicent Library, Fairhaven, built as a memorial to Rogers' daughter who died at age 17. Clemens had foolishly invested $200,000 in a typesetting machine in Hartford, CT, and Rogers convinced him it was a bad investment. A strong bond developed between the two men and Clemens was the main speaker at the dedication of the Fairhaven Town Hall building that Rogers had given as a gift for his wife, Abbie, in 1894. Built in the French Gothic style, it was constructed of ashlar granite from St. George in New Brunswick. Four months after the dedication Mrs. Rogers died.
In May 1984, Grand Master David B. Richardson visited George H. Taber Lodge for a Lodge affair at Memorial Church. Bro. Charles Lilley, 98, travelled from his Winchester home to be the honored guest. He had been Raised in the Fairhaven Lodge in June 1909, the year Rogers died. He recalled being present at the town hall dedication and was heard to exclaim, "Mark Twain never learned how to handle a nickel and he was lucky he met Henry Rogers." Lilley had been a compositor for the weekly Fairhaven Star until 1912. He was presented a 75-year pin by the Grand Master. He died in 1987 at the age of 101.
Samuel L. Clemens had been Raised a Master Mason in Polar Star Lodge No. 79, St. Louis, in 1861. He was once suspended and finally demitted in 1868. On a visit to Palestine, he sent a wooden gavel from the Cedars of Lebanon to his Lodge. But Clemens, like Rogers, lives on mainly through Huckleberry Finn, Tom Sawyer, The Prince and the Pauper, The Gilded Age, and other books. When Rogers remarried in 1896 to Emilie A. Hart, daughter of a New York diamond merchant and divorced, Clemens became fond of her and kept up a correspondence with her wherever he travelled. She proved to be an ideal hostess for Rogers, particularly the New York social whirl.
When the Rogers home in Fairhaven burned in 1894, he replaced it with an 85-room mansion that would house the family during the summer months. The mansion included 18 bedrooms, playrooms for the children, bowling lanes, wine cellars, and a kitchen large enough for a hotel. After Rogers' death, his son Harry sold the mansion to a man who planned to convert it into a summer hotel. The townspeople objected and the home was demolished in 1915. One buyer paid $1,000 for a Waterford Crystal chandelier, and James Michael Curley, several times mayor of Boston, purchased the marble fireplace and fixtures which were thought to be brass but proved to be gold-plated. Curley bought them for his new Jamaica Plain (Boston) home that has recently been taken over by the city as the site of a proposed museum.
Among the collection of Rogers letters in the Millicent Library is one from London on Nov. 25, 1896 written by Clemens to Emilie Rogers, in which Clemens suggests it is sometimes easier to approach a man through his wife. He felt she might be able to influence Henry concerning financial aid needed to continue the studies of Helen Keller, blind since birth. She had attained an average of 90 in her exams to enter Radcliffe College in Cambridge, when others taking the same test had averaged only 78. Rogers had met Miss Keller and her personal teacher, Miss Sullivan, the previous July. Emilie Rogers had used the right tact, and in her book, The World I Live In, Miss Keller pays tribute to Rogers and others who joined to finance her education. "... the best of the world I live in is the kindness of friends like you and Mrs. Rogers."
Sitting in pew no. 14 on the north side of the sanctuary of The Memorial Church of Fairhaven (Unitarian), TROWEL's editor paused to contemplate the glorious works of the 15th century English Gothic structure that Henry Rogers had built as a memorial to his mother following her death in 1899. Begun in 1901 and completed three years later, it was built to replace the old wooded church. The exterior is of native granite from a ledge on the Rogers former estate near Fort Phoenix in Fairhaven, the tower is of granite and carved limestone. Exterior and interior limestone sculpture—including more exquisitely-wrought Christian and secular (largely medieval) heads than anyone has ever counted—is the work of a team of artisians brought from Italy for the three years of work. Interior wood carvings, accomplished by a group of Bavarian and German artisians under the direction of the Bavarian master John Kirkmayer, are of rare English bog oak. The stained glass windows of Tiffany by American Impressionist Robert Reid, whose fame as a New York portrait painter was at its height in the early 1900s, are dominated by the Memorial Window, the Nativity at the pulpit, a 71-foot nave, and The Sermon on the Mount at the opposite end. Each window is 24 feet high. The Rev. Robert Collyer, D.D., Rogers' New York minister and close friend, a clean-shaven Samuel Clemens (Mark Twain) are depicted in the windows. Reid's work required two years to complete. Above the center aisle are ten winged wood sculptures covered with beaten gold; each is ten feet high and represents one of the ten intellectual attributes: philosophy, rhetoric, arithmetic, music, geometry, grammar, astrology, metaphysics, dialetic, and theology.
Of the five entrances to the church, perhaps the most renowned is the south porch, whose bronze doors consist of two leaves, each weighing two-and-a-quarter tons. On their exterior are 38 nine-inch figures of persons chosen from 19 centuries of Roman Catholic and Protestant thought. King Alfred the Great is the only "civic" leader among them. On the floor is an oval made up of the 12 signs of the Zodiac, in brass, and in the upper right corner, looking towards the outdoors is a little "church mouse" in the limestone—actually a squirrel. Of the hundreds of limestone and wooden faces—no two are alike. One depicts a cross-eyed worker. The cathedral-type church is supported by ten flying buttresses. In 1911, the Unitarian Society of Fairhaven placed a memorial to Henry H. Rogers in the church. A marble table with bronze panels on either side, signifying Motherhood and Chivalry, was placed on the east wall directly beneath the window, The Sermon on the Mount. At the same time, a small marker was placed on either end of pew no. 14, the one occupied by the Rogers family. Until that time the Rogers' name had not appeared on the groups of buildings he financed. Despite his often hard-core business ability, Henry H. Rogers was a modest man and had perpetuated the names of his friends but did not want his own to appear.
He also built Tabitha Inn, named for his maternal grandmother, Tabitha Crowell, as a place for visitors to stay. It is now owned by the Fall River Roman Catholic Diocese and used as a home for the aged, called Our Lady's Haven Home. He purchased the Atlas Tack Co. of Fairhaven and Taunton, closing the latter and con-struting a new building that would employ his townsmen. He built a grammar school in Mattapoisett in memory of his paternal grandparents, Abisha and Judith (Cushman) Rogers. He also purchased the old Bank of Commerce in New Bedford for the Old Dartmouth Historical Society. Bro. Rogers built the White Home for Nurses, a memorial to his friend, Dr. Charles Warren White, Jr., and donated it to St. Luke's Hospital in New Bedford. He had Cushman Pond filled in to serve as the town's recreational area and contributed to the Messiah Home for Little Children in New York City. He gave money to many institutions and endowed all the buildings for which he was responsible. The new high school, which he endowed and built, was dedicated in 1906, and at his death his estate endowed most of the other buildings. He was also benefactor to Booker T. Washington.
His children, grandchildren, great-grandchildren, and great-great-grandchildren, have been or still are contributing to the Millicent Library and the church, and some were library trustees for many years. A copy of the Rogers will may be seen in the library. Although no figures have ever been released, his estate at the time of his death was estimated at $65 million—all that from a modest country lad who began with a bankroll of $600! Many have acquired wealth but few have shared it with others as Rogers did. His charity surely has extended beyond the grave. A visit to see his good works will astound you.
(Acknowledgements: Prof. Earl J. Dias whose book, Portrait of a Capitalist, simplified this work and is a tribute to the author and the Rogers family; Reu Robert A. Thayer and Wor and Mrs. Jack Matsen of the Memorial Church; Wor. Harold C. Holmes and Wor. William Letton of George H Taber Lodge; the Millicent Library.)
(Suggested reading: Portrait of a Capitalist by Earl J. Dias; America's Cathedral Beautiful by Mildred C. Mosgrove of Memorial Church (third printing 1986); The Oil Barons by Richard O'Connor, Boston 1971; Mark Twain Returns to Hannibal by Harold Holzer, American History, May 1983.)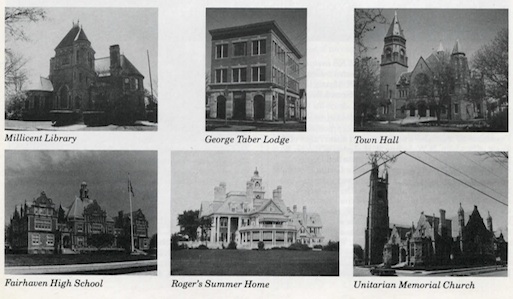 ROLFE, DANIEL PORTER 1840-1905
From New England Craftsman, Vol. I, No. 5, February 1906, Page 183:
The funeral of Bro. Daniel P. Rolfe was held at the home of the family on Chestnut Street, Wakefield, Mass., and was attended by H. M. Warren Post 12, G. A. R, in a body. There was also a large delegation from Golden Rule Lodge, A. F. and A. M. The services were conducted by Rev. Hugh Heath, pastor of the Baptist church.
The Masonic services were in charge of W. M. William P. Shepard, assisted by the chaplain, Charles H. Howe. Several selections were sung by the Bostonia male quartet. The pallbearers were Charles Evans, Dr. Azel Ames, W. C. Hunter and G. H. S. Driver of the G. A. R. and A. S. Atherton and William D. Deadman of Golden Rule Lodge.
ROOSEVELT, THEODORE 1858-1919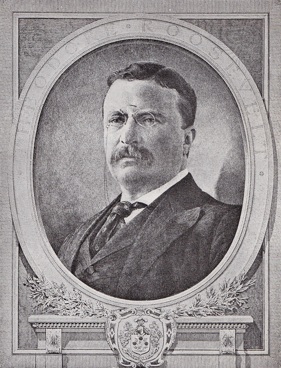 From Proceedings, Page 1919-53, Grand Master's Address:
Since our Iast Communication in Deeember our Country has lost by death one of its great men, Theodore Roosevelt,- a mgmber of the Masonic Fraternity. Brother Roosevelt passed away at his residence, Sagamore Hill, in the village of Oyster Bay, N. Y., on January 6, 1919. The whole world was shocked and saddened by .the news of his unexpected death.
It was while he was Governor of the State of New york and Vice-President-elect of the United States that recognizing the advantages and privileges of Masonic membership he applied for the degrees and membership in Matinecock Lodge, No. 806, at Oyster Bay. IIe was'elected and received the Entered Apprentice degree on January 2, 1901, was Passed to the Fellow Craft degree on March 27, 1901, and Raised to the sublime degree of Master Mason on April 24, 1901. It is a matter of pride to the members of this jurisdiction that one of our own Brethren, our late beloved Curtis Guild, took an important part in the conferring of the Master Mason degree upon Brother Roosevelt.
It is also to be reealled that Brother Roosevelt took part with this Grand Lodge in the laying of the corner-stone of the Pilgrim Monument at Provincetown. Since he became a member of the Craft he has repeatedly shown his interest and devotion to it. He has addressed various Masonie bodies, and but for his condition of health would have been present at a recent observance of the Feast of Saint John by our Grand Lodge.
He was one of the most conspicuous figures in our public life, of remarkable courage, vigor, and enthusiasm, and against whose honesty and sincerity of purpose there has never been the breath of suspicion. He was known throughout the world as a patriot, statesman, author, and explorer, but he will live most enduringly in the memory of his countrymen as a splendid representative of sturdy American manhood. He freely and unsparingly devoted his life and remarkable abilities to the service of mankind. In the last book which he wrote he said, "All who give service and stand ready for sacrifice are the torch bearers. We run with the torches until we fall, content if we can then pass them to the hands of other runners."
Soon after he passed away I sent a letter to each of the District Deputy Grand Masters asking them to suggest to each of the Lodges in their respective districts that they have a memorial observance or some fitting tribute to the life and service of our distinguished Brother at a regular meeting of the Lodges nearest to February 9th, which was the day set apart by presidential proclamation for a national day of memorial observance. It seemed to me highly desirable that each of our Lodges should have upon its records some reference to the passing away of one so prominent and beloved, and whose life so fully embodied and expressed the teachings and tenets of our institution. The world is happier and richer and better for his having lived.
Brother Rudyard Kipling dedicated a poem to the memory of our deceased Brother entitled Great-Heart from which the following verses are taken:
Concerning brave Captains
Our age hath made known
For all men to honour,
One standeth alone,
Of whom, o'er both oceans,
Both peoples may say:
"Our realm is diminished
With Great-Heart away."
ROOT, ALBERT B. 1858-1937
From Proceedings, Page 1937-219:
Right Worshipful Brother Root was born in Greenfield, Massachusetts, June 13, 1858, and died in Dixfield, Maine, October 2, 1937.
He was taken as a child to Dixfield, the old home of his family, and attended the public schools there. At the age of 17, armed only with some letters of introduction, he came to Boston alone to seek his fortune. His first employment was with a firm who manufactured horseshoes. A few years later he set up a horseshoeing business of his own. In this business he made an excellent reputation which led to his election as President of the Master Horseshoers Association of America.
The coming of the automobile caused him to abandon his business, and he made his hobby the reproduction of antique furniture and dealing in antiques, his vocation for the rest of his life. On the death of his mother in 1924, he returned to Dixfield and there remained.
He was elected to the Legislature in 1900, but served only one term as he found political life distasteful.
He was raised in St. John's Lodge in 1889 and was its Master in 1900-1901. He was District Deputy Grand Master for the First Masonic District in 1906 and 1907, by appointment of Most Worshipful John Albert Blake.
One of Right Worshipful Brother Root's most marked characteristics was his desire for perfection in whatever he did. On this characteristic his business success was founded, and his Masonic career was equally marked by it. Although so long absent from Boston, he occasionally visited his Lodge, keeping old friendships warm and making new ones. His passing is mourned by many.
ROWE, ANDREW J. 1831-1918
From New England Craftsman, Vol. XIII, No. 12, September 1918, Page 381:
Andrew J. Rowe, aged 87, died at his home at Magnolia September 1. He was one of the oldest Masons in the city, having joined Tyrian Lodge 58 years ago. He was also a member of William Ferson Chapter and Bethlehem Commandery, Knights Templars. For many years he conducted a livery stable at Middle Street and Western Avenue and also in Magnolia, retiring with the advent of the automobile. He was a native of Gloucester, and is survived by a daughter and one son.
ROWE, HOWARD FRANKLIN 1844-1883
From Liberal Freemason, Vol. VII, No. 1, April 1883, Page 27:
The sudden death of this loveable brother, near midnight of April 6th, gave a shock to his family and friends which they must long feel as a great affliction. It was known to many of his more intimate friends that he had suffered more or less from heart disease for several years, at times very severely, and from expressions made by him at different times, as well as from the advice of physicians, he no doubt expected just such a result; but his constant flow of good spirits, and his ready will to do any work possible for him to do, in his business or in Masonry, served to disarm suspicion and make those whp knew him best, hope even against hope, for his long life. At the time of his death he was Grand King of the Grand Chapter of Massachusetts. We shall speak of him again.
From Liberal Freemason, Vol. VII, No. 2, May 1883, Page 55:
The death of Brother Rowe has made a large gap in the masonic circles wherein he was wont to move, and these will sensibly feel the shock and the loss caused by his departure. His temperament was highly sanguine, and he lived on the sunny side of life, to the pleasure of which he contributed his full share, never hesitating because of any personal discomfort. His nature was full of smiles, quick to perceive, strong and affectionate, and because of this he had friendships warm and enduring. He was in no sense fickle or sudden of change, but was true to his convictions, and sure to follow where a sense of right led the way.
To have one such man in a masonic organization was worth a whole colony of drones, for he would wring success from others' indecision ; to give him opportunity, was to see some action done, not carelessly or indifferently, but so well done that others found an example in his work, which was never patched or disordered. His capacity to get the brethren together, to interest them, and to infuse them with zeal for the business of the Fraternity, was exceptional, and the meetings of the Chapter of the Signet, and of Coeur de Lion Commandery, while he presided over them were striking illustrations of these qualities.
As District Deputy Grand High Priest, he was obliged to perform his duties under physical disabilities, but he refused to falter, and his District was one of the most social and prosperous; seeing this, the Grand Chapter of Massachusetts elected him Grand King in December, 1882, and four months later he was summoned to the presence of the King of Kings.
Howard F. Rowe was born in Portland, Me., on September 13th, 1844, came to Massachusetts with his parents when he was five years old, and ever after lived in Charlestown.
In his earlier manhood he was interested in hotel trade, but during the last ten years of his life he was an occupant in the old Faneuil Hall Market, where he dealt largely in butter. His business here was successful, though at one time necessarily impeded, during a period of poor health.
He received the degrees in Freemasonry in King Solomon's Lodge, in Charlestown, in the early part of 1867, was exalted to the Royal Arch Degree in the Chapter of the Shekinah, in Chelsea, March nth, 1868, and was created a Knight Templar in Palestine Commandery, also in Chelsea, in January, 1869.
In June, 1868, he helped to establish the Chapter of the Signet in Charlestown, and in October, 1871, he rendered similar service in bdhalf of Coeur de Lion Commandery of Knights Templars; over each of these two bodies he presided with marked ability, and to the great acceptance of all the brethren. He lived to see his work prosper, under the approbation of his brethren.
His death occurred on April 6th, and in consideration of the complete prostration of his widow, the funeral services were held at the house on Tuesday following, without any special Masonic ceremonies. The several bodies in Masonry, and others to which he belonged sent touching tributes in rare flowers, and the large assemblage was hushed into silence, broken only by the sighs of the mourners, and the low murmurs of sorrow, for the loss of a husband and brother, who was, but is not.
ROWE, WILLIAM T. 1849-1910
MM 1872, WM 1883, 1884, Faith
From New England Craftsman, Vol. V, No. 5, February 1910, Page 174:
Brother William T. Rowe, a well known Mason, died at his home in Somerville, Mass., Saturday, January 22nd. He was horn July 23, 1849, and has been identified with the crockery trade.
He was a Past Master of Faith Lodge, Past High Priest of the Royal Arch Chapter of the Signet and past commander of Coeur de Lion Commandery all of Charlestown, Mass. He was also a member of Napthali Council R. and S. Masters, Chelsea.
ROWELL, BENJAMIN WINSLOW 1846-1927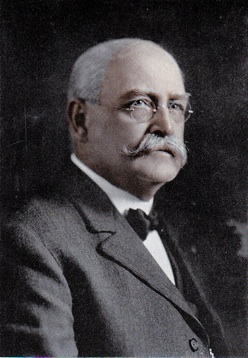 BIOGRAPHY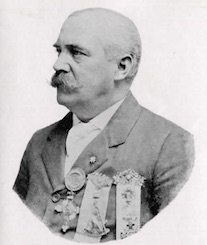 From New England Craftsman, Vol. XX, No. 4, January 1925, Page 116:
Grand Recorder, Grand Commandery of Knights Templars, Massachusetts and Rhode Island, 1890
Benjamin Winslow Rowell is of the ninth generation of Thomas Rowell, who came from England in 1636 and settled at Salisbury. Mass., and whose descendants have been identified with the history of Lynn and the neighboring country to the present time.
Brother Rowell was born in Chichester, N. H., August 18, 1846, during a temporary sojourn there of bis parents, John Winslow Rowell iind Martha (Stevens) Rowell. They returned to Lynn the same year, and there Brother Rowell has ever since had his home.
He received his education in the public schools and on leaving school entered upon a business life from which he retired in 1890 to devote his whole time to the duties of the office of Secretary of various Masonic organizations, besides which he occupies the positions of Comptroller of the Hoston Mutu l Life Insurance Company, Boston. Mass., and President of the Union Hospital Association of Lynn, Mass., and holds other positions of trust in business life.
He was raised in St. Paul's Lodge, South Boston, in 1877, exalted in Sutton Royal Arch Chapter in Lynn in 1878, and accepted a member of Boston Council Royal and Select Masters in 1886. The same year he was Knighted in Olivet Commandery Knight Templars, of Lynn, and was its Eminent
Commander in 1892-93.
The degrees of the Ancient and Accepted Scottish Rite wen conferred upon him in 1877, 1888, and he was elected Thrice Potent Grand Master of Lafayette Lodge of Perfection in 1888 and 1889, and the 33rd degree was conferred upon him, September 17, 1889.
Brother Rowell has been Secretary of the four bodies of the Scottish Kite meeting in Boston since 1886, his services in the Council of Princes of Jerusalem and Chapter of Rose Croix dating hack to 1884, He has been Secretary of Massachusetts Council of Deliberation since 1894.
He was elected Grand Recorder of the Grand Commandery of Massachusetts and Rhode Island in 1890, which position he still holds, and is also Correspondent of the Grand Commandery. He is the Grand Representative of the Grand Commandery of South Carolina, also Representative of the Grand Commandery of Mississippi.
Among his manifold duties he is also an active member of the High Council Societas Rosicruciana of the United States and Secretary of Massachusetts College Societas Rosicruciana; Secretary of the Grand Council of Knight of the Red Cross of Constantine, Knight of the Holy Sepulchre and Knight of St. John the Evangelist of Massachusetts and Rhode Island, and Grand Treasurer of the Grand Cross of Constantine of the United States of America.
He is Imperial Recorder of the Imperial Council, Ancient Arabic Order, Nobles of the Myitic Shrine for North America, and Recorder of Aleppo Temple, A. A. O. N. M. S. Since 1894, he has been continuously elected Representative of the Imperial Council from Aleppo Temple, thirty-one consecutive years. As acknowledgmenl of this service, the Imperial Council in 1908 conferred upon him the honor of active membership for life.
MEMORIAL
From New England Craftsman, Vol. XXII, No. 10, August 1927, Page 530:
Benjamin W. Rowell, long closely identified with Masonry, and during his more active life one of the outstanding figures in the fraternity, died on Monday, August 22d, at his home, 8 Linwood Street, Lynn, after a long illness. He was 82 years of age.
Bro. Rowell. among his many distinguished connections with the Masonic order, was the imperial recorder of the Imperial Council of the Mystic Shrine of the United States, and for many years was grand recorder of the Grand Commandery of Massachusetts and Rhode Island. He was a member of the Royal Order of Scotland, the Massachusetts College of Rosicrusians, Knights of the Red Cross of Rome and Constantine; and he also was recording officer of the Ancient and accepted Scottish Rite of Boston. He was secretary of the Massachusetts Council of Deliberation, grand representative of the Grand Commandery of South Carolina, and grand representative of the Grand Commandery of Mississippi. In his home city of Lynn he was a member of the Cobbet School Boys' Association in which he was instrumental in founding. His wife, who was Susan A. Newhall. whom he married in 1871, died eight years ago. Rro. Etowell is survived only by a sister. Mrs. Mary E. Skinner, with whom he made his home.
Benjamin W. Rowell was born in Lynn in 1845, the son of John Winslow Rowell and Martha Stevens Rowell. He was made a master Mason in St. Paul's Lodge of South Boston, April 3, 1877. He received the Royal Arch degree in Sutton Royal Arch Chapter of Lynn, May 18, 1886; Super Excellent degree, Boston Council, May 27, 1886; made a Knight Templar in Olivet Commandery, Lynn, Dec. 1, 1886; member of Lafayette Lodge of Perfection, Boston, Oct. 5, 1877; Giles F. Yates Council, Princes of Jerusalem, Boston, Oct. 12, 1877; Mt. Olivet Chapter of Rose Croix, Boston, Oct. 19, 1877; Massachusetts Consistory, S. P. R. S., 32nd degree, Boston, Feb. 22, 1878; created a sovereign grand inspector general (thirty-third degree) at the session of the Supreme Council at New York. Sept. 17, 1889.
Bro. Rowell was Eminent Commander of Olivet Commandery in 1892. and Thrice Potent Master of Lafayette Lodge of Perfection. Giles F. Yates Council. P. of J., Mt. Olivet Chapter of Rose Croix and Massachusetts Consistory.
Funeral services attended by high dignitaries of the Masonic Order, including many from distant parts of the United States, joined in paying final tribute to this prominent Mason on Friday afternoon, August 26, at the Boston Street Methodist Episcopal Church, in Lynn.
The services were conducted by Rev. Dudley Hays Ferrell, Past Grand Master of the Grand Lodge of Masons of Massachusetts, and now head of the Masonic Home, at Charlton. Preceding the services, members of Commandery of Lynn, led by the Aleppo Band, marched from the Masonic Temple to the church, and following the services, escorted the body to Pine Grove Cemetery in Lynn, where burial took place.
Honorary bearers included James Watt, commander of Aleppo Shrine, Portland, Me.; E. W. Jacocks of Boston; John H. Nelson, past Eminent Commander of Olivet Commandery, Lynn; Frank C. Elliott of Lynn, Commander of Massachusetts Consistory; Thomas J. Hunter of Chicago, high priest of the Shrine, and Charles Spellman, of Boston, secretary general of the Supreme Council, 33rd degree Masons.
Active bearers, in charge of Elbert Fuller, Eminent Commander of Olivet Commandery, were William E. Salmons, Lester P. Marsh, Ralph W. Calton, W. Charles Sellick, Dr. Charles A. Oak and William E. Eckhart.
The Shrine and Scottish Rite ritual were also included in the services at the church and at the cemetery.
ROWELL, ROLAND 1849-1906
From New England Craftsman, Vol. II, No. 3, December 1906, Page 116:''
Brother Roland Rowell, a well known citizen and Mason, died at his home in Manchester, N. H., November 1906 at the age of 57 years and 9 months. He was a native of Manchester and always took a deep interest in his city's welfare. He was a lawyer by profession and was admitted to the bar at Plymouth in May 1876, but in recent years had not practiced much, devoting his time to the care of his properties.
Mr. Rowell was identified with many fraternal orders. He was a member of Edward A. Raymond Consistory of Nashua; Kilwinning Lodge, A. F. and A. M., Lowell; Mount Horeb Royal Arch Chapter, No. 11 of Manchester; Adoniram Council, R. and S. M.; Trinity Commandery: Ale'po temple, A. O. M. S., of Boston; and the Old Residents' Association. He was librarian of the Manchester Historic Association; Past Chancellor of Merrimack Lodge, K. of P.; and past Noble Grand of Highland Lodge I. O, O. F. of Lowell. He also held membership in the Sons of the Revolution and the New Hampshire Bar Association, and was vestryman of Grace Episcopal Church. He was appointed the first police clerk in Manchester in 1874.
He was clerk of the common council in 1875. For nine years he was with the Lowell Times, and on concluding his labors with that paper returned to Manchester where he had since resided.
RUBIN, GEORGE DANIEL 1920-2002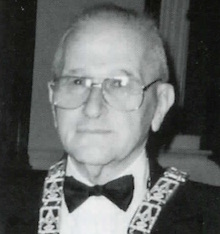 MM 1946, WM 1984, 1985, 1987-1989, 1996, 1997, Henry Price
Member 1972, Evening Star (demitted 1979)
Member 1976, WM 1978, 1993, Occidental (demitted 2000)
Member 1988, Crescent-Pittsfield
Member 1991, WM 1993, 1994, Upton
Member 1997, Unity
Grand Steward 1991
BIOGRAPHY
From TROWEL, Spring 1996, Page 11:
On October 25, 1995, Henry Price Lodge paid tribute to one of its outstanding members. Right Worshipful George Daniel Rubin. At the conclusion of Regular Communication, which included the final fiual Visitation to the Lodge of the District Deputy Grand Master. Right Worshipful James R. Goodwin, and Suite, the Lodge room was opened to family and Its of the honoree and members. Wor. Barry J. Weiner, chairman of the committee which planned the evening, announced that this night would be known in lodge records as "Right Worshipful George Daniel In Night".
Most Worshipful J. Philip Berquist presented to the Lodge, through Bro. Rubin as chairman of its Blood Committee, a certificate for the Lodge having acquired 270 pints of blood in the year 1994, making this the 21st consecutive year that Henry Price Lodge has been credited with more than 100 pints. Bro. Berquist then presented to Bro. Rubin, in behalf of Grand Lodge, his 50-year Medal. Bro. Berquist said that for Masons and others to better understand why Bro. Rubin was being honored, and why he was so pleased to have been asked to take part in this, he would give a brief biography of Bro. Rubin's Masonic, charitable and civic accomplishments as a Mason.
Bro. Rubin was five times Master of Henry Price Lodge, traveling more than 125 miles each way from his home in Lee to Boston to attend all the requirements of a Master. He was Master of Occidental Lodge three times and of Upton Lodge twice; Past Senior Grand Steward of the Grand Lodge of Massachusetts; Past Master of the Twentieth Lodge of Instruction; Grand Representative of the Grand Lodge of Bolivia to the Grand Lodge of Massachusetts; District Representative to the Masonic Home; Recipient of the Joseph Warren Medal; Recipient of a Certificate of Appreciation from Grand Lodge; Past Committeeman of the 15th and 16th Masonic Districts; Past President of the Berkshire Engineers' Square and Compass Club and of the Engineers' Blue Room; Member of the Scottish Rite, Valleys of Pittsfield and Springfield. and member of the Membership Committee of both Valleys; Recipient of the Scottish Rite Achievement Medal; Thrice Potent Master of Onota Lodge of Perfection, Pittsfield; Created a Sovereign Inspector General, 33°, Honorary Member of the Supreme Council; Member of Melha Temple, A. A. N. O. M. S. Shrine Ambassador and Member of the Hership Committee; Recipient of the Certificate of Rtciation from Melha Temple.
Bro. Rubin has set a remarkable record for obtaining blood for the Grand Lodge Blood Bank and for others. Bro. Berquist spoke of his three years as Grand Master when, in his first year, he had told Bro. Rubin that he is making the Blood Bank one of his major goals and he asked Bro. Rubin's assistance in this. The response was that in the three years, Bro. Rubin obtained almost three thousand pints of blood. He not only gave more than sixty gallons himself, which will not be matched by many, but in his Masonic career he has procured more than ten thousand pints of blood.
For his efforts in this field, he has received a Certificate of Appreciation from Red Cross Blood Services, an Official Citation from the Commonwealth of Mass. and was designated the Outstanding Volunteer, Northeast Region. American Red Cross Blood Services. He heads the Red Cross Blood Program for the Town of Lee.and his latest effort is the Scottish Rite Learning Center for children.
The people assembled were visibly moved by this recitation and Bro. Rubin was loudly applauded. Bro. Berquist had Right Worshipful Paul A. Moore, District Deputy Grand Master of the Pittsfield 16th District, conducted to the East, where he presented Bro. Rubin with a plaque of appreciation, and a 60 gallon pin. Wor. Barry J. Weiner than announced that in honor of Bro. Rubin, Henry Price Lodge was making a substantial donation to the Scottish Rite Learning Center.
Bro. Rubin, with tears in his eyes, thanked all in attendance for coming to this occasion. He thanked his wife, Phyllis, for all the help she had given over the years in his endeavors, and he presented her with flowers, a suitable conclusion to the evening.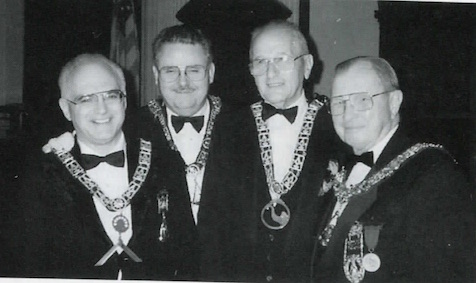 Wor. Sam Weiner, R. W. James R, Goodwin, R. W. George D. Rubin, M. W. J. Philip Berquist.
RUSSELL, DANIEL 1824-1907
From New England Craftsman, Vol. II, No. 5, February 1907, Page 197:''
The Hon. Daniel Russell, one of the best known citizens of Melrose, Mass., and formerly state senator, died at his home Jan. 23d after a week's illness. Mr. Russell was in his 82d year. Pneumonia was the cause of death.
He became a resident of Melrose in 1852 and had ever since taken an active interest in its welfare. He served on the board of selectmen, was a member of the commission on water loan sinking fund president of the Melrose savings bank and a director of the Malden & Melrose gas company. He was in the state senate in 1879-80 and was a delegate to the national Republican convention in 1880.
He was popular, and there were few persons in the city whom he did not know personally. He was a member of the Hugh de Payens commandery, K. T., and of Wyoming Lodge of Masons, and was prominently identified in the affairs of the Universalist Church.
Mr. Russell was organist of Wyoming Lodge of Masons 35 years. He had one of the finest residences in Melrose and took great delight in entertaining his friends with selections on his organ and piano, both being played at the same time by means of electricity.
RUSSELL, HEZEKIAH S. 1835-1914
From Proceedings, Page 1914-145:
HEZEKIAH S. RUSSELL was born in Pittsfield, Mass., Dec. 7, 1835, and died at his residence in that city, May 12, 1914. His initial schooling was obtained in Pittsfield, but he subsequently entered Mount Pleasant Academy at Amherst.
In 1854 he went west and was employed on railroads in Illinois and Wisconsin. In 1857 he went to Australia where he was employed in constructing telegraph lines. On his return to Pittsfield in 1860 he entered the woolen manufacturing business, and later entered the company of Clary and Sedgwick. After a few years he purchased his partner's interest and for thirty-seven years conducted the foundry business, now the E. D. Jones plant. In 1874 he sold the machine shop to E. D. Jones, retaining the boiler making plant until 1902, when he disposed of that to the same firm and retired from business.
Brother Russell was a Selectman in Pittsfield in 1887 and 1888, Councilman in 1897 and 1898, was elected Mayor in 1900 and was re-elected in 1901. He was a representative to the General Court in 1906-1907.
Brother Russell was made a Mason, Oct. 29, 1857, in Amicitia Lodge, No. 25, Shullsburgh, Wis. In 1907 he went to Shullsburgh on the Fiftieth Anniversary of his being made a Mason. He presented the Lodge with a silver mounted gavel and was tendered a reception.
Brother Russell was Master of Mystic Lodge in 1865 and Oct. 19, 1874, became a member of Crescent Lodge of Pittsfield. He was District Deputy Grand Master of the Ninth Masonic District in 1876-1877 and 1878. He was also a member of Berkshire Royal Arch Chapter, and Past Commander of Berkshire Commandery, K.T.
He made plans to take part in the parade at the dedication of the Masonic Temple in Pittsfield, May 4, 1914, and it was one of the greatest disappointments of his life that he could not attend.
A writer in speaking of Brother Russell says:
"The mental and physical vigor, the spirit of progressiveness and the industry and integrity which were the characteristics of so many of the Russells . . . . find still another exponent in the gentlemen whose name introduces these memoirs."
For fifty-seven years Brother Russell was a zealous and active Mason. Full of vigor, power and love, he leaves a precious memory and an example worthy of imitation.
RUSSELL, WATERMAN SPAULDING CHAPMAN 1871-1918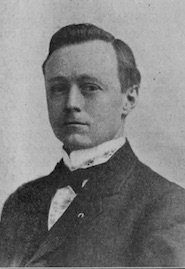 From New England Craftsman, Vol. XIV, No. 1, October 1918, Page 30:
Waterman S. C. Russell, Past Deputy Grand High Priest of the Grand Royal Arch Chapter of Massachusetts, died at his summer home, North Woodstock, New Hampshire, September 29. Brother Russell was a well-known Mason, resident of Springfield, Massachusetts, where he has been active in the Masonic bodies of that city.
He was a science teacher in the high school, standing very high in that branch of education. He had also distinguished himself by his explorations in Iceland and was well known by his lectures on that country.
Within a few years he resigned as a school teacher and was founder and proprietor of the Cambridge Botanical Supply Co. at Waverly.
Brother Russell was a popular man, well liked in his Masonic offices and would undoubtedly have reached further prominence if he had lived. He will be greatly missed by a large circle of friends.
RYDER, VICTOR STANLEY 1896-1986
MEMORIAL, 1987
From TROWEL, Spring 1987, Page 18:
Bro. Victor S. Ryder, 90, known as "The Cape Cod Auctioneer," died at Cape Cod Hospital, Hyannis, in October. A native of North Harwich, he was a 60-year member of Pilgrim Lodge of Harwich. Masonic services were conducted by the Lodge.
A licensed electrician, he had served with the Merchant Marine in World War I and had served with the Harwich police for many years. He built his own auction gallery in North Harwich and was also a real estate broker. He was sealer of weights for 16 years and served for ten years as a member of the town's finance committee and truant officer.
A member of North Harwich Methodist Church, he was the husband of the late Edith A. (Glover) Ryder, who died in 1980. He is survived by a daughter, Ruth A. Pierce of Cotuit, two grandsons, one nephew, two nieces, and a cousin. The family has requested that memorials be sent to the Harwich Police Association or to the Shriners Burns Institute, 51 Blossom St., Boston, MA 02114.
---