GMSanford
From MasonicGenealogy
BAALIS SANFORD 1833-1909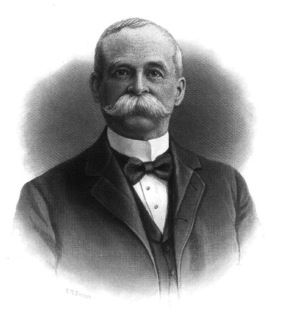 Senior Grand Warden, 1887
Grand Master, 1903-1905
---
TERM
BIOGRAPHY
From New England Craftsman, Vol. I, No. 1, October 1905, Page 1: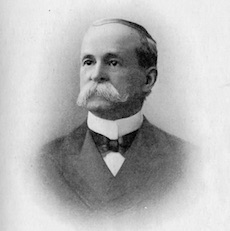 Most Worshipful Brother Sanford was born in East Bridgewater, Mass., but has for many years been a resident of Brockton and actively identified with its interests. He is at the head of the firm of H. W. Robinson ' Co., dry goods merchants. He is President of the Brockton Savings Bank, and a director in the Wales Home for Old Ladies. He served the city fourteen years as Auditor and was also for several years the Treasurer of the Union Cemetery. In every position he has enjoyed the confidence and respect of his associates.
Brother Sanford is a Mason of long experience and has held office in nearly every branch of our Rite, in all of which he has been faithful to the best interests of Freemasonry. The earnestness and intelligence of Bro. Sanford's work, the honesty of his purpose and the dignity of his character united with a modest and most kindly disposition has brought honor to our institution and won for him a host of friends.
The Masonic record of M. W. Brother Sanford is as follows:
Initiated in Paul Revere Lodge A. F. & A. M. of Brockton, March 29, 1864 and admitted to membership May 24, 1864. Elected to the office of Senior Warden Dec. 26, 1866, serving one year, and elected to the Worshipful Master's chair December 10, 1867, serving in that office for 1868 and 1869.
He was a charter member of Satucket Chapter of Royal Arch Masons, and was chosen the first High Priest from 1869 to 1872, three years, also acted as Secretary of the Chapter for ten years.
Was a Charter member of Brockton Council Royal and Select Masters, which was organized March 29, 1884, having received the Degrees in Abington Council in 1866. Served Brockton Council as Recorder three years, and was elected Thrice Illustrious Master for the years 1895 and 1896.
Received the Orders in Old Colony Commandery Xo. 15 of Abington in 1867, and dimitted to become a charter member of Bay State in 1874.
Was a charter member of Bay State Commandery Knights Templar, No. 38 and its Eminent Commander from October 1875 to October 1878 inclusive. Also served as Recorder of the Commandery for a period of fifteen years.
He has held the following offices in the Grand Bodies:
Grand Sword Bearer of the Grand Lodge in 1877, Grand Pursuivant in 1878, appointed District Deputy Grand Master for the years 1882, 1883 and 1884, the first two years under the administration of R. W. Samuel C. Lawrence, and one year under R. W. Abraham H. Howland. Was elected Senior Grand Warden in 1886. serving during the year 1887. Was elected Grand Scribe of the Grand Royal Arch Chapter of Massachusetts in 1876, and in the following year, was appointed Representative of the Grand Chapter of Quebec, near the Grand Chapter of Massachusetts, a position still occupied. Was District Dep. Grand High Priest for the years 1872-3-4.
In December 1897 the Grand Council of Royal and Select Masters of Massachusetts elected him to the office of Grand Principle Conductor of the Work ; He was Most Illustrious Grand Master for the years 1900-1901-1902.
On December 10, 1902, was elected Grand Master of Masons in Massachusetts and re-elected in 1903 and 1904.
He is a Life Member in Massachusetts Consistory of Sublime Princess of the Royal Secret 32nd Degree, and on September 15, 1903 received the 33rd. degree, and was enrolled an Honorary Member of the Supreme Council of the Ancient Accepted Scottish Rite, for the Northern Masonic Jurisdiction.
From New England Craftsman, Vol. III, No. 4, January 1908, Page 115:
Most Excellent Companion Baalis Sanford. the new grand high priest of the Grand Royal Arch Chapter of Massachusetts, is a Mason of large experience. He has served as grand master of the grand council of royal and select masters, as grand master of the grand lodge of masons and has filled many offices in several subordinate bodies.
His wide experience eminently fits him for the performance of his new duties. His love for Freemasonry and his ability to serve its best interests has been long recognized, while his genial disposition and upright character have won for him a host of friends in every branch of Masonry in the state.
MEMORIAL
FROM NEW ENGLAND CRAFTSMAN, DECEMBER 1909
From New England Craftsman, Vol. V, No. 3, December 1909, Page 79:
The bells had scarcely ceased tolling for the death for one Grand Master of Masons in Massachusetts before we were shocked by the announcement of the sudden death of another, Baalis Sanford, most excellent Grand High Priest of the Grand Royal Arch Chapter, past most illustrious grand master of the Grand Council of Royal and Select Masters, and Past Most Worshipful Grand Master of the Grand Lodge A. F. & A. M. of Massachusetts passed quietly to the other life as though lying down to sleep a few minutes past midnight on the morning of Wednesday, November 11, 1909. He was apparently in good health when he retired and had attended to business on the day before. He was in the office of the Grand Chapter in Masonic Temple on Monday and was never brighter and happier as he recounted the incidents connected with the triennial convocation of the General Grand Chapter and Council at Savannah, Ga., from which he returned only the day before.
About a year ago he was ill with inflammation of the lining of the heart, and since then has been slightly ailing, but was able to attend to his business affairs, and to his duties as the head of the capitular rite in Massachusetts.
Baalis Sanford was born in East Bridgewater, Mass., October 4, 1833. He descended from good old revolutionary stock, his paternal grandfather, Capt. Joseph Sanford, having been an officer in the war of the revolution, and stationed at Fort Warren, Boston Harbor.
He was married Aug. 19, 1856, to Miss Lucy Cotton Hapgood of Brockton, who has passed away. He leaves a daughter.
He attended the common schools of his native town, supplemented by a year at the Bridgewater Academy.
He has always been interested in the welfare of the city of Brockton in which he has resided during most of his life. lie has been honored by election and service in the Massachusetts House of Representatives in 1879, when he was active as one of the committee on mercantile affairs. He was a member of the Brockton school board from 1875 to 1885, serving as its secretary during the entire period. From 1882 to 1896, both inclusive, he was city auditor. Of the Brockton savings bank he was, in 1892, elected and until his death held the position of president. As secretary and treasurer he served the Brockton commercial club from 1883 to 1896. He was the senior member of the firm of H. W. Robinson & Co. of Brockton, a large dry goods house, having worked up step by step from the position of bookkeeper and cashier for Robinson & Barry, the parent firm, whose employ he entered when he first went to North Bridgewater, now Brockton, in 1851.
His Masonic record began when he joined Paul Revere Lodge of Brockton in 1864, of which he was Worshipful Master in 1868 and '69. He was High Priest of Satucket R. A. Chapter of Brockton in 1870, '71 and '72, Illustrious Master of Brockton Council R. and S. Masters in 1895 and '96, and Eminent Commander of Bay State Commandery of Knights Templars of Brockton in 1876, '77 and '78. Of the commandery he was recorder 15 years In each of the other bodies he filled many of the subordinate offices.
lie was appointed District Deputy Grand Master of the Grand Lodge of Masons in Massachusetts for what was then the 24th Masonic District in 1882, '83 and '84, and was elected Senior Grand Warden, and became a permanent member of the grand lodge in 1887.
Of the Grand R. A. Chapter of Massachusetts he was District Deputy Grand H. P. in 1876, '77 and '78, and was elected Grand Scribe and became a permanent member of the Grand Chapter in 1878.
Brother Sanford had what is in Massachusetts the rare honor of presiding over the craft, cryptic and capitular rites in each of which he was respected and loved.
Baalis Sanford was a Christian gentleman. His life was above reproach. He was a genial friend and a true Mason. The influence of his kindly disposition rests like Heaven's benediction on all who were privileged to enjoy his companionship.
Mis funeral was held in Brockton on Friday, November 15th. Business was suspended and the whole community appeared to feel his death as a personal loss. Rev. Brother F. A. Warfield, a former pastor, delivered a touching eulogy which by courtesy of the Brockton Times we are able to give to our readers.
DR. WARFIELD'S EULOGY
"We sit in a hush today. The messenger of death comes to our community in strange ways,—now, after a long and tedious illness; cutting short a life that had years of promise before it; now, so suddenly ending a life that had seen long years of usefulness and service — today at work — tomorrow at home — who can explain it. But the messenger always comes at the end of a life, for him we are never quite prepared. The summons seems sudden — the call unexpected. It may mark the ending of a life filled with cares and anxieties, or it may be the ending of a life that has had its measure of blessings and rewards. Whichever it is. we are unprepared. But the messenger comes and we can only say: 'Not my will, but thine be done.'
"When you think of this life spent here in this community, only a little removed from its birthplace—lived among those whom he had always known—then passes before you the outline of a life peculiarly even and composed. His was a semi-public career, ministering to the wants of the people, studying their tastes and desires. But there was nothing startling or sensational in it. It was lived from year to year in a simple, faithful way, doing the duties of the hour. But he thus wove himself into the life of the town and city in a singularly close and vital way. For sixty years he has been doing this and the result was a deep and firm hold upon the whole life of the place.
"He always stood for that which was highest and best in civic life, and to the realization of these things he devoted his best endeavors. He was never a partisan, but always a puritan in his aims and spirit. He recognized the other man's point of view, hut he saw with clearer vision that which made for righteousness and strength, and to this he gave himself. He cared little for popularity, but set a high value upon that which was true. He could never go contrary to his conscience. Many are content to keep abreast of the times. He took a far look ahead. Tomorrow was to him a reality and he carefully laid the foundations upon which it could be safely built. While he saw the controversies, he did not enter into them except to defend something he saw was right. As a citizen he had lofty ideals, from the pursuit of which nothing could turn him.
"He was trustworthy in business, he knew only the law of right. He saw the house, of which he was finally the head, pass through many changes—expand from the smaller to the larger, but it was his purpose to have it always reliable and honorable. Those wdio have been associated with him in business know full well his integrity. As gentle as a woman, but as firm as the most stalwart man, were his characteristics. He could bend to anything that was right. He could make any concession to honor, but to nothing else. It is this which explains his long business career in the community. The trimmer passes, but the adherent to righteousness continues. He lived a long and successful life as a business man, and that because he was trustworthy.
"He was devoted to his fraternities. Few have been more signally honored than he by promotions and by elections to positions of prominence and trust, and none has ever wore these more meekly. More than 40 years ago he was master of Paul Revere Lodge, and a few years ago was Grand Master of Massachusetts, he was a member and past Eminent Commander of Bay State Commandery, and at the time of his death was Grand High Priest of the Royal Arch Chapter of Massachusetts. Thus was he honored by the fraternities to which he gave himself, and they never honored a better man. He will be greatly missed in these circles, where he has been so highly esteemed, and his example will always point to that which is highest and best.
"Mr. Sanford gave a large place to the church. Though he never identified himself with it by joining its membership, yet he appreciated its worth to the community, and ever gave to it his most earnest support. He was brought up in a Christian home, and from these early teachings he never cut loose. To the church he gave of his time and interest, and from the church he received inspiration and cheer.
"Bui he was supreme in the home. It was at the fireside that he was at his best. Here he could lay aside the cares of business, could shut out the world with its disappointments and allurements, and be himself. It was a rare privilege. He would turn homeward when weary and find rest. He knew the meaning of that word — home. Many a time during the years it had been his shelter. 1 would not if I could invade that home circle to portray it. It was sacred to him and we will observe its sanctity.
"He has left us. Can it be that this is all we have now? Ah, we have the memory and the uplift of these precious years; we have the example of a Godly life—we have the inspiration of his precepts and teachings:
God calls our loved ones.
We lose not wholly what He has given;
They live on earth in thought and deed
As truly as in His heaven.
"We have the comfort of a memory which will not let go the really valuable in his life — of an affection that is kept aglow with the cheer which he imparted and which enshrines him in our hearts from whence he shall never be removed. What he gave to others lives now that he is gone. What he really was continues now that life's course is run.
"I seem to hear other voices today from the beyond, the voices of Lincoln, of Jones, of Robinson, men that have entered into rest. They were men this community loved, who built themselves into this church, who bore the burdens of the community as well as their own. They were great men, all of them. And now another has passed over.
"It is left for us to continue the work they began, to live such a life as they showed us, and to foster the institutions they cherished. Life at the longest is short, but it is long enough for everyone to be true to his convictions and loyal to the best impulses of his heart. Ry-and-by we shall sleep as he sleeps, and may there be left behind the same record of a well-spent life that he leaves."
FROM PROCEEDINGS, MARCH 1910
From Proceedings, 1910-24:
Baalis Sanford was born in East Bridgewater Oct. 4, 1833. He died in Boston, at the Hotel Brunswick, Nov. 12, 1909.
He will be long remembered as one of whom it may well be said:
"He wore the marks of many years well spent,
Of virtue, truth well tried, and wise experience."
In the various positions of honor and responsibility which he so ably filled, his unfailing courtesy and his gentleness won all hearts, and it is a must precious heritage to his friends to know that not one honored with his friendship has aught but the kindest words of hie career among them.
He was the son of Baalis and Lucy (Burt) Sanford. He descended from good old revolutionary stock, his paternal grandfather, Captain Joseph Sanford, having been an officer in the war of the revolution.
He was married Aug. 19, 1856, to Miss Lucy Cotton Hapgood, of Brockton, who died Nov. 25, 1908. Three children blessed this union, two of whom died in infancy; the survivor, a daughter, Miss Irene G. Sanford.
Most Worshipful Brother Sanford received his education in the common schools of his native town, and in the East Bridgewater and Bridgewater Academies.
He began his business life as bookkeeper April 21, 1851, with Robinson & Barry of Brockton. Feb. 1, 1858, he was admitted a member of the firm of H. W. Robinson & Co., and, upon the retirement, of Mr. Robinson March 1, 1890, he became the head of the firm and its financial manager until his death.
He was prominent in all that concerned the interests of Brockton, as is shown by the many positions of trust to which he was called.
He was a member and secretary of the Brockton School Board from 1875 to 1885 inclusive.
He was a member of the Massachusetts House of Representatives in 1878, his committee being that on Mercantile Affairs, where he gave good service.
He was city auditor of Brockton 1882 to 1894 inclusive.
He was appointed Justice of the Peace in 1881, reappointed in 1888, again in 1895 and 1902.
He was the first president of the Security Cooperative Loan Fund Association in 1878.
He was treasurer of the Brockton Gas Light Company in 1886 and 1887.
He had a lively and active interest in the Brockton Agricultural Society. and was elected a director in 1888 and its secretary in November, 1897, which position he held at the time of his death.
He was elected a director in the Wales Home for Old Ladies in 1898.
He served the Brockton Commercial Club as secretary and treasurer from 1883 to 1896.
He was elected president of the Brockton Savings Bank in 1892, which position he held at the time of his death.
He began his Masonic life and career in Paul Revere Lodge, receiving the Entered Apprentice degree March 29, 1864; Fellow Craft, April 26; and was raised to the Sublime Degree of Master Mason May 24, 1864. He was Senior Warden Dec. 26, 1865, to Dec. 24, 1867, and Worshipful Master from December, 1867, to Dec. 7, 1869.
He was Grand Sword-Bearer of this Grand Lodge in 1877, Grand Pursuivant in 1878 and District Deputy Grand Master in 1882, 1883 and 1884 Nineteenth and Twenty-fourth Masonic District). He was elected Senior Grand Warden of this Grand Lodge Dec. 8, 1886, and Most Worshipful Grand Master Dec. 10, 1902; and reelected in 1903 and 1904. He was elected a trustee of the Masonic Education and Charity Trust in 1905 and held this office at the time of his decease.
He received the Capitular Degrees in Pilgrim Royal Arch Chapter of Abington in 1865. He held the positions of Principal Sojourner' Captain of the Host and Scribe in this Chapter. In 1869 he demitted to become s charter member of Satucket Royal Arch Chapter of Brockton and served as its High Priest from Dec. 3, 1869, until December, 1872, when be was elected Treasurer, which position he held until December, 1881. In the Grand Royal Arch Chapter of Massachusetts he served as District Deputy Grand High Priest in 1876, 1877 and 1878, and in December, 1878 he was elected Grand Scribe and became a permanent member.
Dec. 10, 1907, Companion and Brother Sanford was elected Most Excellent Grand High Priest of the Grand Royal Arch Chapter of Massachusetts, was reelected in 1908 aud held the position at the time of his death.
He received the Cryptic Degrees in Abington Council in 1869 and membership in 1870. He demitted in 1873. He became charter member of Brockton Council in 1884 and was the first Recorder. Later he held the positions of Conductor, Captain of the Guard, Principal Conductor of the Work, Deputy Master, and was elected Thrice Illustrious Master in 1895 and reelected in 1896. He was elected Grand Principal Conductor of the Work of the Most Illustrious Grand Council in 1897, Most Illustrious Grand Master in 1899 and' reelected in 1900 and 190l, and became a permanent member of the General Grand Council of the United States.
He received the Orders of Knighthood in Old Colony Commandery No. 15 in 1866 and served this Commandery as Junior Warden, Captain General and Generalissimo. June 12, 1874, he demitted to become a charter member of Bay State Commandery No. 38. He was its first Generalissimo; and its Eminent Commander from October, 18?5, to October, l878, and Recorder from October, 1878, to October, 1892, inclusive. He was Grand Captain of the Guard of the Grand Commandery of Massachusetts and Rhode Island in 1884. He was elected President of the Massachusetts and Rhode Island Association of Knights Templars Comrnanders in 1906.
He received the Thirty-second Degree Ancient Accepted Scottish Rite in Massachusetts Consistory March 27, l970, and became a life member. He was created a Sovereign Grand Inspector-General and Honorary Member of the Supreme Council, Thirty-third Degree, Sept. 15, 1903.
Thus, briefly, we have portrayed the service given by our Most Worshipful Brother, Baalis Sanford, as taken from a record prepared by his own hand.
His funeral was held in the Congregational Church in Brockton on Friday, November 19. Business was almost wholly suspended, for his death was indeed a personal loss to the whole community. The Masonic services were conducted by the officers of Paul Revere Lodge in a most impressive manner. The Rev. Bro. F. A. Warfield, a former pastor, delivered a touching eulogy, from which in closing we quote:
We have the comfort of a memory which will not let go the really valuable in his life, of an affection that is kept aglow with the cheer which he imparted and which enshrines him in our hearts, from which he shall never be removed. What he gave to others lives now that he is gone. What he really was continues now that life's course is run.
Fraternally submitted,
M.W. John Albert Blake,
M.W. Edwin B. Holmes,
Wor. Merton S. Gurney,
Committee.
NOTES
SPEECHES
CENTENNIAL AT ST. MARK'S LODGE, SEPTEMBER 1903
From Proceedings, Page 1903-96:
WORSHIPFUL MASTER: The very pleasant duty is assigned to me of acknowledging, in behalf of the Grand Lodge of Masons in Massachusetts, and this large assembly of ladies, Brethren, and friends, your cordial welcome, which has been extended in so felicitous a manner, and I thank you for this expression of kindly sentiment, loyalty and good will.
A few weeks ago was celebrated with eloquence and song, in many a country town throughout this old Commonwealth, the home-coming of a multitude of loving sons and daughters who had gone forth from the scenes of childhood to participate in the activities of other localities in the State and nation. The sentiment which prompted these gatherings is a beautiful and expressive one—the renewing of family ties, the recalling of old affections and reminiscences, and the cordial hand-clasp with time-honored friends.
In like manner, it is fitting and proper that Saint Mark's Lodge, which to-day closes a century of active and beneficent life, should assemble its scattered members and friends around the old familiar hearthstone, and, under the same roof which sheltered the original founders of this ancient Lodge at its constitution one hundred years ago, to rejoice together over the rich inheritance which has come down to you, in the sacred memories of the past, and to remind the present generation of the high character and noble purposes which inspired a little band of good men and true, far back in the early morning of our country's existence, to establish this beacon light of Masonry in this community, and from which has gone out a strain of energetic and conquering manhood that has had much to do in developing tbe industries, thrift and progress of this good old city.
With reverence and veneration I receive this precious document, the original warrant authorizing the organization of a Masonic Lodge in the town of Newburyport. It bears upon its roll the honored names of noble men, who, in their day and generation, represented the best element in the community in which they lived; men of intelligence and influence, whose interests were closely identified with the welfare of our then newly formed Republic. Since then a century has ripened into existence, a hundred years have dropped from the tree of time, and we are met here to-day to honor the memory of these illustrious founders of our Order in this ancient city, and to draw from their lives and experiences a little of the fervor and inspiration that prompted them to noble deeds, while old "Father Time," on his ceaseless journey, pauses for a brief space to erect a milestone in our pathway.
This Charter has come down to you in most excellent condition, and I am confident that your regard and love for this precious heirloom will prompt you to guard it with vigilant tenderness, to shield it from the destroying hand of time, — from the elements that consume and waste away, — that it may be transmitted by you to the generations who are to succeed you,and who will then be bearing the burdens and performing the duties which now devolve upon you, in the same excellent condition in which it is presented to me to-day.
The career of Saint Mark's Lodge has been an honorable one. It has sailed over the silent waters of the Masonic stream, moving along in the even tenor of its way,, carrying aloft the banners of equality, liberty, progress and religion, bearing its burdens with courage and fortitude; and to-day, stronger and more vigorous than ever, it can look back with pride and satisfaction to the noble record of a century gone, and recall with genuine affection the name of many a Brother who has occupied honorable and responsible positions in the town, State and nation.
It needs the pen of the historian to recount adequately the helpful service which Saint Mark's Lodge has rendered to this community, aud the relation it has held to the progress and prosperity of this enterprising city, and from which has proceeded a silent but powerful influence in moulding human thought in accordance with the loftiest ideas of truth and right. The men who have been identified with its membership during the past hundred years have been instrumental in shaping the character and directing the affairs of this community; have been foremost in every good work, in promoting education, good government, and in Christian service; whose influence for good has been seen and felt among the circles of humanity in which they moved, and in the hour of our country's need they rallied to her defence and were not recreant to her calls of duty.
As I read the history of the Craft here, it has been not only the history of civilization, but it has been the history of the onward march of humanity towards the highest and noblest type of manhood. And while we do not claim that Masonry is a substitute for religion, nor does it take the place of that wonderful organization, the Church, it is emphatically religion's handmaid, which, when blended together, combine all the qualities which make true manhood and good citizenship. It has led the progress of civilization throughout the worldl has stood in the forefront of all that is best and truest in the earth, and, as the centuries come and go, it will take on more of power, and, under the guiding hand of our Heavenly Father, will continue in the grand work of redeeming man from lower thought, lower purpose, and lower impulse, building him up after the pattern of the Divine, to be dedicated to all that is right, and pure, and noble. And thus shall we speed forward, in the progress of our Institution, the right hand of the Lord in the establishment of his Kingdom upon the earth.
"Side by side with the church and the schoolhouse stands the Masonic Lodge-room. Religion, education, and Masonry go hand in hand, a glorious trinity, leading men upward and onward to the goal of truth and righteousness."
Among the things which are fleeting and transitory, how interesting is the thought of the permanence of the Church; that here on this sacred spot for more than a century has been maintained Christian worship; that all the sweet relations of the home and of charity have gone on with continued prosperity. Among the changes and disappointments of life, how comforting is the thought that human sympathy, human fellowship, and human brotherhood — grand characteristics of our Institution — are the same throughout the ages, growing more sacred and lasting as time speeds on.
Have you ever stood on the banks of your beautiful river, and watched the quiet and steady flow of the current as it moved slowly and majestically towards the sea? It has been flowing on for centuries, distributing in its progress, life and verdure and beauty all along its course. Have you ever thought, as the great luminary of nature arose in the east to beautify and adorn the day, that for thousands of years it has melted the snow and frost of Winter, stimulated the growth of Spring, painted the flowers of Summer, and ripened the harvests of Autumn, that its genial warmth and cheerful rays are just as beneficent to-day as though shining for the first time, fresh from the Creator's hand.
So with the Institution of Freemasonry, whose birth is hidden in the mists and shadows of the ages; whose history reaches back to an almost chaotic past, every page of which is gilded by noble and generous deeds, and, like the river and the sun, has been sending out its streams of blessing and sunshine all over the world to cheer and gladden the sorrowful, to bear, relief to poverty, and carrying joy and gladness to the hearts of the widow and orphan; and in God's hand has been a potent factor in forming and moulding its moral condition. It has been a part of the life and growth of men in the past, and so it will be for all coming time.
A century of prosperous and beneficent life: this to our finite minds seems a long period of time, but in the life of Freemasonry it is but a day, a drop in the great ocean of eternity.
"One hundred years: what they enfold in their enormous clasp;
The honored dead who've passed away, the living hands we grasp;
The multitude of bitter griefs, the joys and withering fears;
The noble deeds of charity, the lakes of scalding tears;
The monuments of worthy deeds that tower into the light;
The struggles with evil passions, and the triumphs of the right;
In the great capacious bosom of a century are borne,
Since the Lodge of old Saint Mark's beheld its natal morn."
Brethren, as you to-day step over the threshold which marks the dividing line between the old century and the new, turning with grateful affection to the noble men and noble deeds of the generations past, may you win from them new inspiration to act bravely in the life of to-day, and to press hopefully and courageously onward to all that lies before, so that when another.century shall have passed and other Brethren shall occupy the places which you now fill, may they look back upon a century as honorable and prosperous as the one which closes to-day.
" Remember that duty calls you, as it ever did of yore,
And the century behind you points to centuries before."
HALL DEDICATION IN BROOKFIELD, MAY 1904
From Proceedings, Page 1904-39, at the dedication of the hall of Hayden Lodge, May 10, 1904:
In accordance with the invitation extended to the Officers of the Grand Lodge of Massachusetts, we have solemnly dedicated these Halls agreeably to Masonic usage, and to the practice of Masonry, of Virtue and of Universal Benevolence: and in behalf of the Grand Lodge, I desire to express to you their interest and pleasure, and to congratulate you on the completion, utility and convenient arrangement of these apartments. They cannot fail to forcibly and favorably affect the future life of your Lodge and to enlarge the influence for good, which will radiate from this new Masonic home.
This Hall with all its beautiful adornments and furniture, is dedicated to serve great and noble ends. Around this consecrated altar, the grand truths of Freemasonry will be inculcated, and the beautiful lessons taught in our ritual portrayed and explained to the minds of men: and advancing step by step, the earnest seekers after more and further light, will be admonished to practice the moral law, the beatitudes, the Golden Rule, and those divine precepts which ennoble humanity: and to aim towards that state of perfection, at which we may all arrive by a faithful and prudent use of the opportunities which surround us.
The symbolic degrees of Masonry are a beautiful and glowing picture of human life. As an Entered Apprentice, man sets forth in the morning of life, taking his place among his fellows, and weaving the pattern of his own character: he goes on, until as a Fellow-craft, he reaches the period of manhood, where he is beset by temptations, trials, and difficulties, and is taught, that clothed in the armor of virtue he may resist the temptations, cast aside the misfortunes, and rise triumphantly above them all. As a Master-Mason, he beholds man in the sere and yellow leaf, when he looks upon the sunset of life, and patiently and calmly -waits the approaching night.
The best and most lasting results to be obtained from the rendering of our ritual, are produced by the quiet, impressive, intelligent and dignified translation of the great principles therein contained. It is this which leaves its impress upon the minds of candidates, which gives birth to new resolves and aspirations: elevates the moral aim, and encourages and develops men, mentally, and religiously, as they struggle with temptations and allurements of vice in the great conflict of life and prepares them to reap the harvest which life has in store for them in the future which awaits them.
Freemasonry stands for the love and service of God. It stands for peace, for obedience to civil authority. It stands for loyalty, for a larger and broader patriotism—and we should, as an Institution, stand firmly for upright conduct and character, for all that is pure and clean, and true to the best interests of. humanity; We may felicitate ourselves upon this important event: creating a new epoch in the life of Hayden Lodge: and every true lover of Masonry, will hail with delight this additional evidence of growth and vitality of this branch of our Institution in the beautiful town of Brookfield.
Let me exhort you, Brethren, in this eventful period of your Masonic life to cherish a high ideal of the Masonic character, and to render faithful service to all the duties required of you. May the precepts of our Order, which will often be impressed upon your minds by frequent repetitions, bear blessed fruit in your lives.
Remember, that through the centuries they have won the love and reverence of the great and good men whose honored names are written upon our rolls of fame, and which have strengthened and animated and encouraged-them to noble and patriotic deeds. So may it be with you, Brethren: and may this beautiful Masonic home, which you have erected here with so much taste and liberality, ever be the abiding place of pure morality, large hearted charity and genuine brotherhood. The Grand Lodge heartily commends the zeal and energy and harmony with which you have accomplished these noble results, and they sincerely hope that the same earnest and laudable spirit which has prompted you in making these efforts, will be perpetuated in the years which lie before you, and that this active, energetic and prosperous community may receive the moral and social benefits to be derived from a flourishing Masonic Lodge, and that the grand principles of our Institution, as exemplified in the lives of all true Brethren, may exalt and purify the entire life of this town. And the thought comes to me in connection with this interesting occasion, that every one of us is building a structure each for himself. It is called character: and every act of our lives is a stone.
If day by day we are careful to add to the building pure, noble, and upright deeds, at the end will stand a fair temple honored of God and man. These several deeds unite to form a day, and one by one, the days grow into noble years; the years as they slowly and silently move into the shadows of the past, will raise for us a beautiful and enduring edifice to our praise.
Characters are made up of countless acts and efforts. Every single day these myriad forces are building, building: it is an edifice that must stand and the inspired word warns us to take heed how we build it: to see that we have a foundation that will endure, to make sure that we are building on it, not for the hour in which we live, but for that hour when we shall be seen just as we are.
God gives the mind, man makes the character. The mind is the garden, character is the fruit: the mind is the white page, character is the writing we put upon it. The Institution of Freemasonry furnishes the natural soil, where the seeds of all the graces, which make noble character if properly tended and cultivated, will spring up to beautify and gladden humanity. It has the keys to unlock those hidden sources from which all our noblest impulses have their life.
As you meet around this consecrated altar from month to month, may you catch from the inspiration of these sacred hours, something that you can carry with you into the every-day duties of life, which will make the world better. A sweet singer in Israel has beautifully written: "Let there be many windows to your soul: that all the glory of the universe may beautify it. Not the narrow pane of one poor creed can catch the radiant rays that shine from countless sources. Tear away the blinds of superstition: let the light pour through fair windows, broad as truth itself, and high as God. Tune your ear to all the wordless music of the stars, and the voice of nature: and your heart shall turn to truth and goodness as the plant turns to the sun."
Brethren, may your Lodge continue to flourish, your union to strengthen and your happiness to abound: and when we have completed our service here in this earthly temple, may we all be admitted within the Celestial Lodge above where happiness will be endless as it is perfect, to go no more out forever.
CORNER-STONE LAYING IN NAHANT, JULY 1904
From Proceedings, Page 1904-77, Corner-stone laying of a high school in Nahant, July 28, 1904:
BRETHREN AND FRIENDS: With much pleasure do I welcome you to the ceremony of this time honored and universal custom, which dates back to the earliest times of the world's history, and is made venerable with age.
Centuries ago, in the far away East, with similar rites, the Corner-stones of monuments, of Temples and public buildings were laid; and the Grand Cathedrals of the middle ages were begun and consecrated with practically the .same forms and observances, and in our time, this custom and this ceremony prevails in every civilized country throughout the globe. The antiquity and universality of this long established practice increase its interest and make us fee! that human hearts are allied by nature the wide world over.
In accordance with this custom, the Grand Lodge of Masons in Massachusetts, represented by its officers, is very glad to accept your invitation and by its presence on this occasion to express its interest and its hearty endorsement of every enterprise which tends to promote the public good. Whatever helps to make, better men, better citizens and more intelligent communities is in heartiest accord with Masonic principles and, teachings. We are glad to perform the important and interesting service of laying the Corner-stone of this building, which in the years to come is destined to be the centre of educational activity in this beautiful town of culture and wealth, fanned by the pure ozone of ocean breezes, and which marks a new epoch in the life of this community.
At the completion of this structure, will be gathered within its walls from year to year, the hopes and pledges of happy homes and good government for your town and state, and whose hands, as time speeds on, will wield the sceptre of power and influence and responsibility in the years to come; therefore it behooves its citizens, as patriots, as well as parents, to fit them for the high sovereignty to which they are born. And this spacious building is to help you in that direction; for education and good government go hand in hand and are intimately associated together. Free public schools and free public libraries are the bulwarks of free government.
We love our homes, we love our state, we love our country; and this three-fold love consecrates every school-house in our land to the service of patriotism, invests every faithful teacher with the dignity and nobility of statesmanship) and seeks to make of every school-boy and every school-girl a worthy American citizen. Truly the school-house is to the town and the state what the stone which has now been laid with appropriate ceremonies will be to this building. It is the grand head-stone of the corner upon which rests our prosperity, individually and. as a nation; and in conjunction with the church forms the only sure and strong foundation on which American Representative Government can safely and permanently rest.
And so we trust that from this seminary of learning, will go forth from year to year, not only such as will be imbued with loyalty to country, strong in the great principles of freedom and equality, but such as will be imbued with loyalty to truth, such as will be strong in those permanent and hopeful principles which are embodied in noble manhood and noble womanhood. May this motto be inscribed in letters of gold, on the banner which shall float from this edifice, "Workers are Winners." To such high and holy purposes do we consecrate this Cornerstone, and this projected building.
May the blessing of an all wise and all loving Father, attend the erection of this school building, and as stone shall rise above stone, into one complete and symmetrical whole, may the fondest anticipations of the citizens of this little town be fully realized. While the restless waves of old ocean shall beat and dash against this rock-ribbed shore, may this building remain, a beacon light, with foundations firmly grounded in this solid rock, whose bright and cheering rays, radiating from this centre, shall enter and gladden every home; and may its sweet influences and teachings bless this community from generation to generation.
CORNER-STONE LAYING IN BROCKTON, SEPTEMBER 1904
From Proceedings, Page 1904-116, at a corner-stone laying for a high school in Brockton, September 19, 1904:
MR. MAYOR, BRETHREN AND FRIENDS: We are assembled here on this beautiful autumn day, beneath the broad expanse of the blue arch of heaven, to perform with appropriate ceremonies a time-honored and universal custom, which is as old as history itself; for we read in the book of sacred writ that far back in the golden morning hour of the world's existence, as Job gazed with admiration upon the wondrous beauty and symmetry of creation pondered the question put to him, "Who laid the Corner-stone thereof?" and which is substantially the same ceremony that consecrated the Cornerstone of those grand old cathedrals which are the pride and glory of Europe, and which they inherited from the middle ages. A custom that has endured for nearly four thousand years must strike its roots deep down into the universal soul of human nature. The very antiquity of the custom endears it to us.
And it is well for us to pause for a little while from the busy cares of a strenuous life to join in the formal ceremony of laying the Corner-stone of this building, which in the years to come will be the spot around which will centre the educational activity of this city, and which marks another important and progressive change in the history of the Brockton High School during the past fifty years, and records a new era in the life of this community. The occasion which has brought us together is one of interesting significance; interesting not only to those who expect to be the recipients of the bountiful beneficence which will emanate from this building, but to the whole community, and indirectly to all the people of the land. This city of Brockton, of which we are justly proud, with its rapid growth and its plentitude of enterprise and public spirit, will share largely in the rich harvest to be gathered from the labors of this day. Your presence here in such goodly numbers is proof and witness of your faith, that popular government must rest on popular intelligence, and that educated and cultivated homes alone can ensure the liberty of the citizen, and the perpetuity of the State.
Who shall recount the varied and manifold benefits and blessings which come from the school houses scattered all over our land? Judge them by the cold, indifferent standard of the counting room, and tell me what investment pays a better or surer rate of interest; what would property be worth in this city, were its school houses to be destroyed and never rebuilt? Who would consent to reside in a community where no school opened its doors to the rising generation; and if we extend our thoughts above and beyond the sordid calculations of the interest table, what language can fitly portray the benefits of those life-giving and ceaseless streams which constantly and imperceptibly flow from our public schools and seminaries of learning, making our land to bud and blossom with the flowers of honesty and integrity, of character and all the graces which help to make noble manhood and noble womanhood.
The school house is our national fortress, and the pupils and their teachers, our standing army; of such fortifications there never can be too many, and that army can never be too large. The destiny of our great republic is in their keeping; the reputation and fame of our beloved city, they, and they alone, can protect and defend. In them are the hopes and pledges of happy homes and good government for our city and the State. Brockton has ever maintained a high standard and noble reputation, for its zeal and wisdom in the conduct and development of its public school system, and its municipal government has never withheld any appropriation, however large, if it is manifest that the school children of Brockton need it. It has always been ready to build school houses whenever and wherever they are needed, only asking to have the need demonstrated. Every additional school house and every additional teacher is only a proof that our standing army of school children is increasing, and that only shows that the wealth and the welfare of the city are increasing, for children are the best and most valuable assets of families or States.
We dream of that republic "where from sea to sea the people shall be wise, and good and true," and as we enter upon the dawn of this new century, which I believe is to be the grandest and best of all the centuries which have preceded, it, we shall be inspired and stimulated with renewed courage-and determination, to work more, earnestly towards the realization of that high ideal, and this building is to help us in that direction. What a perpetual fountain of noble influences and inspirations this edifice will prove, if all the young men and young women whose names shall be enrolled upon its record, join hands in setting in motion those currents of personal individual influence, which each one may augment, and in which all will be purified and ennobled.
One human heart beating against our own, may belittle to us, but when it. is the echo of a thousand hearts, who can resist it. "Who cares for a single snow-flake, but a whole day of snowflakes, obliterating the landmarks, drifting over the doors, gathering upon the mountains to crash in avalanches, who does not care for that?" Private opinion is weak, but public opinion is almost omnipotent. The rich memories of the past, the life of the present, and the brightest hopes for the future, alb cluster around, this building, and within these walls, we trust will find a full and true expression.
Of our enterprising city, we may indulge the most pleasant and glowing anticipations. Who shall dare plant bounds to her future greatness. It were perhaps idle to predict to what rank, importance or power, she may attain in the years to. come, as the intelligently applied energies of her citizens become more and more aroused in keeping the city of Brockton in the foremost line of progress, not only in business enterprises, but in all that pertains to its educational advantages, providing all possible facilities and conveniences, calculated to justify the claim which we make for her future advancement.
There is something pleasing to the eye on this beautiful autumn day, in an orderly procession, in glittering regalias and manly forms, but these are not Freemasonry—they are' but the outer covering, the shell. Its true worth is not in its numbers, its processions, its forms or in its' ancient ritual, but in the permanence and glory of the great truths and principles which it earnestly maintains and cherishes, and which are founded upon the great truths contained in the Holy Bible, the great Light in Freemasonry. Freemasonry stands for the love and service of God—it stands for peace,—for obedience to civil authority—for loyalty and a larger and broader patriotism.
And so the Grand Lodge of Masons in Massachusetts has come here to-day, by request, to perform the interesting and important ceremony of laying this Corner-stone, from a sincere desire to lend its countenance and support to every enterprise calculated to promote the moral and material advancement of mankind. May the richest blessings of the Supreme Architect of the Universe rest upon and abide with this laudable undertaking, and crown it with completeness, and through its influences and its teachings may every home in this community be blessed with increased happiness and prosperity for generations yet to come.
HALL DEDICATION IN QUINCY, NOVEMBER 1904
From Proceedings, Page 1904-122, at the dedication of the hall of Rural Lodge, Quincy, November 16, 1904:
In continuing the service of dedication, allow me to express to you the interest which the Grand Lodge takes in your prosperity, and its gratification that Rural Lodge has entered upon a new era of success, and a larger development. I congratulate you, Brethren, in their behalf, upon the beauty and convenience of your new and elegant apartments, which betoken an increased Masonic interest; and it gives me great pleasure to note these improved and satisfactory surroundings, which add so much to their utility.
In ancient times, Lodges were dedicated to King Solomon, the founder and Father of Ancient Craft Masonrv. In these modern days they are dedicated to those two Christian patrons of Freemasonry, St. John the Baptist, and St. John the Evangelist; and the place where the Lodge meets, or the Masonic Hall, is dedicated to Masonry, to Virtue, and to Universal Benevolence.
There are many pleasing associations which attend this, happy interview. In other parts of the world, cruel wars and political animosities prevail, interrupting the progress of humanity, and obstructing the cause of benevolence, while it is our distinguished privilege, in this happy region of liberty and peace, to engage in plans calculated to perfect the designs of individual and social happiness. In other nations our Order is viewed by politicians with suspicion, and by the ignorant with apprehension, but in this favored, land of the free, its members are too much respected, and its principles too well-known, to make it the object of jealousy or mistrust. We are permitted to hold our private assemblies in peace, without any to molest or make us afraid, and our public celebrations attract a more general approbation of the Fraternity. Never before in the history of our Institution, has its importance, credit and usefulness reached so high a. standard in the estimation of the public as at the present time; this occasion gives fresh evidence of the ever increasing affection of its friends, and these apartments, fitted up in a style of elegance and convenience, do honor to Masonry, as well as the highest credit to Rural Lodge, for whose accommodation, and at whose expense they have been erected.
This hall has been set apart to the study of Speculative Masonry, which consists in the erection of a spiritual temple, by the instruction of our symbols and allegories, from which are drawn wise and salutary lessons of being, of doing and of living the best. It is the quarry where rough ashlars are selected, which, under the beautiful lessons and disciplinary forms of our ritual, become smooth and perfect ashlars, living stones, fitted and prepared for a place in the temple not made with hands, eternal in the Heavens!
In this sacred retreat, surrounded by the hallowed influences which find an abiding place around this consecrated altar, the outward turmoil of the busy world, reaches not, and the clamor of worldly strife is never heard. This spot is consecrated to peace, to charity, to brotherly love, and all those graces which exalt and ennoble manhood. The heart is impressed with solemn truths, which should give birth to noble resolves, stimulating the mind to reach out after those golden precepts, and practical lessons of morality, disclosing to the soul a higher life, when the goal of this earthly life is reached. May these walls re-echo only words of helpfulness, fraternity and love; which, resounding in the outer world, may prove the means of blessing and helping this entire community, and from your examples and upright conduct, may there flow a Sweetness and a light that will stimulate new life and hope in the hearts of others, and cause to bloom those flowers, which shall be worthy to be transplanted to the garden of God. May these high and holy purposes be fully realized in all their beauty. May the Angel of Peace ever find an abiding place within these walls, and prosperity and happiness ever attend your future.
The seasons have come and gone—the passing years have made decades, and decades have grown into a century and more, since the foundation stones were laid upon which the Masonic structure of this ancient Lodge was erected; but they were laid deep and strong, and have remained firm and- solid to this day. As you have recently entered upon the second century of your Masonic life, may the same faith and devotion, and the same fixed purpose which inspired the founders of this venerable Lodge, to faithfulness and fidelity, stimulate you to follow their examples, and to make the future of this grand old Lodge even more bright and glorious, as present opportunities shall be wisely grasped and improved.
Upon you, Brethren, a great responsibility rests: With these beautiful surroundings, continue to carry on the glorious work which awaits you, and grand results will be your achievements. The Grand Lodge of Massachusetts offers its best congratulations to the Worshipful Master, Wardens, Officers and members of Rural Lodge, We commend your zeal and enterprise, and hope they will meet with the most ample recompense. May your Lodge continue to flourish, your Union to strengthen, and your happiness to abound; and when Masonic labors shall be completed here on earth, may we all receive an abundant entrance into the Celestial Grand Lodge above, and be admitted to the brotherhood of the perfect.
HALL DEDICATION IN SOUTHBRIDGE, MARCH 1905
From Proceedings, Page 1905-34, at the dedication of the hall of Quinebaug Lodge, Southbridge, March 14, 1905:
BRETHREN: The purpose for which we assembled has been accomplished. These apartments, so beautiful in proportion, so elegant in design, so convenient and useful, have been formally dedicated to Masonic use and Masonic principles. They have been set apart and solemnly consecrated as the Masonic Home of Quinebaug Lodge. Here its members will gather from time to time; here the beautiful ritual of our Order will be often repeated, friendships renewed and strengthened. Men of diverse temperaments will be brought.into social and intimate relations. The barriers of church and creed and political parties will be thrown down, and every Brother will stand upon a common level.
Man is created a social being; he craves society and. companionship. His greatest need on earth is friendship, constant, true and helpful — and Masonry multiplies friendships. Its quality, like that of mercy, is not strained, it blesses him who gives and him who takes.
Masonic friendship is builded on principle; it is lasting as life; it is stronger than death; it rejoices with us amid the sunshine, but it clings more closely still when the storm comes, and when darkness and sorrow encompass us it forgets self to shelter and protect the crushed and troubled one. A Masonic Lodge-room is a school, where wise and serious truths are inculcated, and which has as many departments as a university. The mind and its growth, the heart and its aspirations, are all subjects of Masonic care and teaching — leading the thoughtful candidate into nearly every avenue of human knowledge, inspiring him to press forward in his desires to drink from the deeper fountains of knowledge and wisdom, and encouraging him to view with reverence and admiration the glorious works of creation and inspiring him with the most exalted ideas of the perfections of his Divine Creator.
The Lodge-room is a place unlike any found elsewhere for heart rest and freedom from the wearisome toils of life; a place where all the Fraternity may come and find social union and needed strength, leaving behind the vexatious cares and perplexities of the outside world with which, in our active lives, we are obliged to maintain a continual warfare, and can come to this haven of rest and peace and give our minds up to the contemplation of fundamental truths, and appreciate the full significance of that first Masonic lesson from God's Holy Word —: "Behold how good and how pleasant it is for brethren to dwell together in unity " — and, by witnessing the oft repeated portrayal of the tenets of our profession, our souls become wedded to brotherly love, relief and truth, and as we listen to the recital of the Cardinal Virtues we long to possess them, and to weave them into our daily lives and conduct.
And this, Brethren, is the aim and object of all Masonic teaching. Masonry is not confined within the four walls of a Lodge-room; it is not rich and costly furnishings, it is not our forms and ceremonies, nor the repeating of our ritual, that give to a Lodge its vitality, and usefulness, but it is putting into practice in our lives, in the circles in which we move, the great principles and the lofty ideals which Masonry inculcates by its teachings; to be true and faithful to all the duties which come to us in civic life, to every virtue in moral life, and to the highest and noblest aspirations in the religious life — to be true to one another, to be true to ourselves.
Remember that beautiful and fitting as is your Temple it is a means to an end. As you assemble in these rooms month after month, may our impressive ritual never fall on careless or inattentive ears, but may it animate your hearts with a firmer determination to illustrate in your lives the great truths which it is our aim to perpetuate.
The Grand Lodge of Massachusetts rejoices with you as you enter upon a new era in your Masonic life, and commends the zeal and devotion and harmony which have made possible your occupancy of this beautiful Masonic home. It is gratifying evidence of growth, and progress and prosperity and enthusiasm. Strive, Brethren, to put forth your best efforts in continuing to strengthen and perpetuate your Lodge. Be steadfast in upholding and encouraging its officers by your presence, your means and your work.
It is upon the personal character of individual members that the success and position of your Lodge depends; and personal character is the sum of your daily lives; little by little it is builded up until it stands out before the world like a beautiful statue to be admired for the beauty and harmony of its lines or condemned for its rough and unsightly presence. Quinebaug Lodge has a sure and brilliant future before it. Let us hope that in the coming years it may pursue the same conservative course that has marked the past and that only good men and true may gain admission through its doors to our ancient and honorable Fraternity.
CENTENNIAL OF AMICABLE LODGE, JUNE 1905
From Proceedings, Page 1905-45, at the Centennial of Amicable Lodge, June 6, 1905:
WORSHIPFUL MASTER AND BRETHREN OF AMICABLE LODGE: The officers of the Grand Lodge here assembled fraternally acknowledge your cordial and brotherly welcome to a place and a seat within the golden circle of mystic brotherhood, and to the interesting pleasures and delights which this occasion affords. We reciprocate the kindly sentiments conveyed by your greetings, and congratulate you all upon the arrival of this Centennial Anniversary birthday of Amicable Lodge.
We have come here to-day at your request to participate with you in the services and festivities commemorative of this happy event, the culmination of many hopes and bright anticipations. We bring to you the good will of the Grand Lodge, and fraternal sympathy in this glad hour of hope and confidence, and whatever of word or act we can contribute towards making the occasion a never-to-be-forgotten one will be cheerfully given.
Centuries are but man-made milestones, at which humanity stands, reviewing the past, contemplating the present, and endeavoring, if possible, to catch some glimpse of that brighter and better future to which we all look hopefully forward. Happy, indeed, are they who find themselves justly proud of their progress and success, and feel that unspeakable satisfaction which is derived only from duty well done, merit justly achieved and honor bravely won.
To the members of Amicable Lodge its past history is full of pleasant and sacred memories, the present holds happiness abundant, while the future beckons you onward towards a horizon tinged with the most roseate colors. As the official representative of the Grand Lodge of Massachusetts, I take pleasure in receiving from your hands this venerable charter for my inspection. It bears unmistakable evidence of age, and the finger of time has been busy with indelible results. It is indeed a priceless document. It has been the legal authority by virtue of which the business of Amicable Lodge has been transacted during a period of a hundred years. It has passed through many and varied vicissitudes. It has been in danger of loss and destruction, and almost defeat, but it has been happily preserved from all these misfortunes, and to-day is carefully and sacredly guarded and highly prized as a valuable memento of the past.
The Grand Master who affixed his signature to this parchment a hundred years ago was Isaiah Thomas, a man of unusual attainments and noble character, whose name adds lustre to the history of our Fraternity in America, and who took an active and prominent part in the struggles of the Revolution, and as an author and journalist did much to incite the people to resistance against the oppressive laws of England.
He was born in Boston Jan. 19, 1749. He came from a long line of reputable English ancestry, and was early thrown upon his own resources, owing to reverses in his father's family, being apprenticed to a printer in Boston when six years of age. Deprived of the benefit of school education, he taught himself, and by close and severe application and improving the few opportunities which presented themselves, he became in a few years a fluent speaker and a lucid writer, overcoming obstacles where others would have faltered. He was crowned in his years of manhood with a success of which any man might well be proud, and in the hour of our country's need, when brave and stalwart men were called for her defence, he shrank not from duty, but took his place in the ranks on the streets of Lexington and performed heroic deeds of valor.
He was for many years a very useful and valuable member of the Grand Lodge of Masons in Massachusetts, and for four years, 1805, 1806, 1807, and 1809, served as its Grand Master. He died April 4, 1831, full, of years and honors, leaving to posterity a name and character which will ever be remembered and cherished.
Simon Eliot was Deputy Grand Master, Joseph Laughton was Senior Grand Warden, John Soley was Junior Grand Warden and John Proctor was Grand Secretary. These men were foremost in their day and generation, who were deeply interested and active in our Order, and identified with noble and unselfish achievements for the benefit of their fellow-men. The nineteen names of Brethren which grace and adorn the charter of Amicable Lodge are synonymous with honor, bravery, benevolence and patriotism — names which will never die, but will shine resplendent down through the ages for their lives grandly lived.
Time in its ceaseless course has rounded out a full century since this little company of good men and true, (some of whom had participated in the struggles and stirring events of the Revolutionary War), received from the Grand Lodge of Massachusetts this charter authorizing and empowering them to convene as a Masonic Lodge in the town of Cambridge. Little did they realize how well they were building and that upon the foundations, so deeply and firmly laid, would arise an institution around which would cluster the remembrance of deeds of benevolence, charity and love, whose life of one hundred years we, their successors, should meet to celebrate.
They reared a Temple in this community which withstood the malice and hatred of ignorance and persecution during the dark days of anti-Masonry. Its enemies did their best to tear it from its foundation. The poisoned arrows of prejudice and hate were hurled against its shield of truth. But does not the fact that Masonry passed through these most trying ordeals and came forth unscathed and victorious prove that it is not of the earth, but rather that it is founded on principles as immovable as the everlasting hills — upon grand truths which lead men ever onward and upward even to the throne of the Infinite? One hundred years of seed time and harvest, of sunshine and storm have passed.
What wonderful changes have been wrought in this vicinity and among its inhabitants — these honored Brethren who labored so valiantly and well have long since gone to their reward, but the results of their labors, influence and examples in forming and moulding the characters and lives of those men who, in the early history of this fair city, were active and foremost in promoting education, good government and every good work still remain, and we to-day are enjoying the blessed fruits thereof, and generations of Masons yet unborn will rise up and call them blessed.
Worshipful Master, as its lawful custodian, I gladly return to you this charter, with the confident belief that what was at the first intrusted to worthy hands, still reposes in hands as worthy, and is cherished by hearts as true and trustworthy as at any previous time.
Brethren, the sands in the hour glass of the century are nearly run — the record of Amicable Lodge for a hundred years is finished and about to be closed. As on the morrow you turn a fair, clean page on which to record the deeds of another, century, may the historian at its end write of us, and the coming generations, what we can say in truth of those whom we succeed : "Well done, good and faithful Brothers, they builded well, yea,, better than they knew."
CENTENNIAL OF MOUNT CARMEL LODGE, JUNE 1905
From Proceedings, Page 1905-77, Centennial of Mount Carmel Lodge, June 10, 1905:
WORSHIPFUL MASTER AND BRETHREN : The Grand Lodge of Massachusetts esteems it a privilege to be permitted to share with you the celebration of this joyful occasion, and I bring you my prayer in their behalf, that it may redound to the glory of Freemasonry, and the furtherance of those exalted principles for which we stand.
To exist for a hundred years is an attainment of great importance. There are but few individuals who reach that honorable distinction, nor in our country are organized associations numerous that have endured the conflicting exactions of so long a period. The first natural impulse of the heart is to know something of the men to whom you are indebted for the great Masonic privileges which you to-day enjoy.
The men who founded Mount Carmel Lodge one hundred years ago were very modest and retiring, and had but little to say of themselves. What a pleasure it would be to us if we could lift the veil of the past just for to-day and look upon the Brethren who organized this Lodge. Every incident in their lives and every event of their labors is clothed with an interest that will grow in importance as long as the Lodge shall last. The able historian of the day, our revered Past Grand Master, Right Worshipful Sereno D. Nickerson, will undoubtedly enlighten us as to the characters of these noble men, their purposes, their pleasures and trials. It is your blessed privilege, which I know you appreciate, as their successors, to witness and enjoy the fulfilment of their hopes, and to rejoice with grateful hearts that Mount Carmel Lodge stands at the close of a completed century an honor to its founders and a rich testimonial to the value and service, of the great principles and truths upon which the Order of Freemasonry is founded; and on this grand occasion to gather inspiration and revive tender memories of the past—to see in visions the faces of those honored Brethren who in the long-ago were the burden bearers, and performing the duties and obligations which now devolve upon you, and by these reflections to gain some stimulating thought for the future.
Worshipful Master, it is indeed a privilege and a pleasure to receive from you this ancient charter. It bears the date of June 10, 1805. With reverence do I unfold this precious parchment and scan the list of honored names borne upon this sacred scroll. Noble men, who in their day and generation were prominent factors in this community. Faithfully and well did they accomplish the work assigned to them. They have passed on over the Silent River to the Home beyond, where the designs upon the trestle-board are seen completed, and where the wise purposes of the Supreme Architect are displayed to them in all their beauty and splendor.
What an interesting history it could disclose were it gifted with the power of speech, and what a flood of thought almost overwhelms the mind at the mention of a hundred years of Masonic life. Born of a faith that builded better than it knew, and founding an organization greater than its founders dared to dream of. As the years roll by into the shadows, its Masonic value, which cannot be estimated, will continue to increase. As I return it to your care and keeping, I do so with confidence that it will receive the same attention as from your predecessors in office, that it will be carefully protected, guarded with vigilant tenderness, and shielded from the elements that consume and destroy.
Mount Carmel Lodge was organized by men whose characters had been established and tested by the fire and the sweat and the losses sustained by the Revolution — some of whom had but recently passed through that terrible ordeal and came out victorious. And if you will trace the history of Lynn, down through all these hundred years of business and civic life, and follow the important incidents and events which have taken place during this period, you will find that these men, and others who succeeded them as members of Mount Carmel Lodge, were the leaders and promoters of progress and reform. Who can estimate the power and influence which this venerable Lodge has exerted in this community? It has been a beacon light whose radiance has been seen and felt in all this region round about; and although the dark clouds of adversity, anxiety and discouragement hung over its early history like a black pall, and obscured its rays for a time, it has continued to shine with a brilliancy that dispelled those clouds of ignorance and superstition, and the full sunshine of truth and peace have exerted their powerful sway.
We are assembled here to-day to scatter the dust and mists of a century, that the bright light of history may stream in, and, like the morning sun which dispels the vapor, presenting all nature to our view in her most beautiful garb, so would we today disclose and display the excellence and beauty of Masonry, as illustrated in the history of Mount Carmel Lodge, and the lives and characters of its members.
This is a world of changes and decay. Man's life on earth is very brief, and the fashion of this world soon passeth away. It is therefore a most notable event when a human institution has reached the one-hundredth year of prosperous existence. Calmly, majestically, and unchanged through changes, Masonry has pursued its way. It has seen the infancy of many religions. It has observed the rise of many dynasties and survived the fall of many empires — and if we ask ourselves the reason Why? the answer is, it lies in its inner character, that in all ages it has stood in the forefront as the exponent of Fraternity, Truth and Justice.
Manhood and manly attributes are the virtues upon which it is founded. It has no creed. It is non-partisan, non-sectional and non-sectarian. It believes in a Supreme Being as the Father of us all. Its Great Light is the Holy Bible, which it recognizes as its firm foundation. It believes in law and justice and rests upon the great principles of Right, Charity and Truth. These are the qualities which have given it life and these are the qualities which will preserve it for all ages. Noble thoughts and elevated purposes are never lost. If we drop a pebble into the sea we are told that the concentric curves will widen until they leave their impression upon some distant shore. If we drop a living thought into the great ocean of Eternity its influence will widen and stretch away towards the shoreless forever; and Masonry is the characters of its members, as exemplified in their daily walks of life. This the world sees, quietly measures and understands as its true worth. That which is not seen by man is that to which Masonry owes its. present and future existence.
We cannot rest upon the achievements of the past. Masonry must keep pace with the aggressive march of busy humanity. In the progress of our growth, and the advancement of the world's civilization, the order of our procedure has been — the dedication of the Church, the establishment of the school, and the consecration of the Masonic Lodge. Faith, Hope and Charity — Faith in God, Hope for the future and Charity for all mankind.
We are sure that such an Institution — so pure in spirit, so lofty in intent, with principles so noble and grand, will continue in the centuries to come to contribute largely to the better conditions of the world, to a great hope and aspiration for unity, social order, public virtue and constitutional liberty. Our lives are laid in the loom of time to a pattern which we do not see, but God sees; and our heart is a shuttle. On one side of the loom is sorrow, on the other is joy, and the shuttle, struck alternately by each, flies back and forth, carrying the thread which is white or black as the pattern needs; and in the end when God shall lift up the finished garment, and all its changing hues shall be seen, it will then appear that its deep and dark colors were as needful to beauty and perfection as the brighter colors. Freemasonry dyes and colors the fabric of our daily actions, and gives the sheen and beauty of that which is delicate and altogether heavenly.
Life may be a burden, but it is imposed by God. What we make of it, it will be to us, whether a millstone about our necks or a diadem upon our brows. "Let us take it up bravely, bear it on joyfully, and at the end lay it down triumphantly."
DEDICATION OF HALL IN ATTLEBORO, OCTOBER 1905
From Proceedings, Page 1905-148, dedication of the Masonic Hall of Ezekiel Bates Lodge, October 11, 1905:
I congratulate you, Worshipful Master and Brethren, upon the possession of these beautiful and elegant apartments, so well adapted to the purposes of Masonry. It is evidence of growth and progress, of prosperity and enthusiasm. The officers of the Grand Lodge of Massachusetts esteem it a privilege to be with you to-clay, and to join in these interesting and important ceremonies, and commend the zeal, devotion and good taste exhibited in the acquisition of these convenient halls which your generous liberality has provided for the accommodation of the Fraternity in this community; and I trust that you will realize as much enjoyment and satisfaction in these new quarters as you have found in the old; but, in order to attain such enjoyment, there are duties, as you well know, to be performed.
We are all human and therefore imperfect; and we often fail to realize in our lives that which we most desire to attain. Liable as we are to the force of evil influences, the Lodge offers us a favorable opportunity for improvement, not only through the lessons and moral teachings of Masonry, but by the examples of those Brethren whose daily walk and conversation in the world are most deserving of imitation. Masonry should make us better men, better citizens, better husbands aud fathers. It is not confined within the four walls of a Lodge-room, it is not its forms and ceremonies, it is not alone our beautiful ritual, that give to Masonry its power and influence. Our duties and obligations as Masons do not end with the Order — they extend beyond it, and are intimately associated in their relations to the family and the State, as good citizens, law abiding aud observant of all the duties which our Masonic relations impose upon us.
The spirit which dwells in religion is the spirit that gives its light and power to Masonry, like the pulse beating through all the human system, and sending out life to move and quicken others into action.
The pulsations of its moral force are ever strong, like the pulsations of the sea which fill every rivulet and bay with the tide of waters. It bears the torch of truth across the world. It is the pillar of cloud by day, the pillar of fire by night, giving to men the light to direct their steps, amid the temptations to turn aside from the duties which ennoble and enlarge their powers and influence. Let us then examine our hearts and see that the Temple which they inhabit is freed from all impurity and unholiness; and, in addition to our own strenuous endeavors, we need to rely upon Divine Providence for aid and support in the grand work of improving our lives.
I trust that this occasion will mark an epoch in the history of Ezekiel Bates Lodge from which to date a still greater earnestness and love for our honored Institution. May the honorable career of the Craft in Attleboro' receive a new and uplifting impulse from the service of this evening, and, through the educating influences of these new and commodious apartments, may this place be none other than the home of brotherly love, relief and truth. Bear in mind that the more of heart and study you give our beautiful ritual the more beneficial and satisfactory will be the results of your labors. You know how it is with' this wonderfully fashioned body of ours, that the blood which courses through our veins is the lifegiver of health, and comfort, and joy, and when the atmosphere is pure and sweet and full of ozone we breathe it in with every inspiration which fills us with new life and vigor; but if the atmosphere be polluted and lifeless, how soon does the body feel the depression; and if long continued we sicken and die. So is it with a Masonic Body: if the Masonic atmosphere in a Lodge-room is permeated with life and activity, and interest and, enthusiasm, the Masonic pulse in that Lodge-will never beat intermittingly, but will always be healthy and strong.
As we have this evening solemnly dedicated these apartments to high and holy purposes, to Virtue, to Benevolence, to Freemasonry, let us dedicate ourselves anew to the great principles for which we stand: to all that is right and pure, and noble, remembering that each one of us has a personal responsibility resting upon him to add something to the productive resources and to the abiding forces of the world, by the development of exalted characters, sturdiness of manhood, and in the fine metal of honor and nobleness.
Let me urge upon you, Brethren, to cultivate the social relations in and out of the Lodge — stand by each other; foster the fraternal spirit — remember that you are bound to each other by the strongest ties, and are under special obligations to render mutual comfort and assistance; and remember, also, in your personal intercourse, the sweetness of courtesy and kindly manners. Avoid the asperity of speech which is a common fault in these strenuous days, and let your words always interpret the best feelings of your hearts; and above all things, Brethren, cultivate harmony.
It is my earnest prayer that Ezekiel Bates Lodge may ever illustrate in the lives of its members the noblest Masonic Virtues, and that you may enjoy in this beautiful Masonic home a future of unexampled prosperity, usefulness and happiness. I bring to you the cordial greetings and congratulations of the Grand Lodge of Massachusetts, and their best wishes that the richest blessings of an all-wise and all-loving Father may rest upon and abide with you for all coming time.
VALEDICTORY ADDRESS, DECEMBER 1905
From Proceedings, Page 1905-203, Grand Master's Address, December 13, 1905:
In surrendering the trust which for three years you have confided to my hands, I can but hope that it has received no detriment thereby. I have looked to you for encouragement and aid, and have never been disappointed. Your cordial cooperation and sympathy have lightened my labors and been my support and strength under every confusing perplexity.
I extend my grateful thanks to the Deputy Grand Master, and other Grand Officers who have accompanied me so faithfully in my visitations and official duties and who have rendered invaluable service to myself and our Noble Order. And to you, Brethren, and through you to the great army of Masons you represent, I would offer my most cordial thanks. These years during which, by your favor and courtesy, I have been your Grand Master will ever be remembered by me with emotions of pleasure and gratitude. During this period not a cloud has arisen to mar the harmony of our associations, and as I lay down the badge of office and sever my official relations with you, my heart goes out in deep gratitude to the Great Giver of all Good for the manifold blessings and privileges he has showered upon this dear old Grand Lodge.
The remembrance of the numerous visits made to various Lodges, and often in distant parts of the Commonwealth, will always abide with me as delightful reminiscences. They have brightened and blest the pilgrim way of earth; they have brought many golden hours of gladness; they have awakened blessed inspirations, as they opened the way and furnished the opportunity for delightful communion with friends, which I shall always hold dear ih memory; they have been occasions of cordial welcoming, brotherly good-will, and genial hospitality; and I cannot find words warm enough to express my grateful sense of the courtesy and kindness shown to me as your representative, by their officers and members.
We have witnessed during these visits, not only much work of exceptionally high character from the ritual point of view, but what is far better, a thoroughly Masonic spirit, aiming at continued progress, and making manifest that mutual deference, toleration, and brotherly feeling inculcated by the teachings of Freemasonry. Our relations to one another are various and infinite. No one knows the limit of his powers for good or evil; no one can measure the force of his example; no one can weigh the happiness or sorrow which he can cause. All of us must share this great responsibility in all we do, even in the common acts of life. Every one has his place somewhere in the social economy. No man can excuse himself because of his condition in life.
If we cannot be a majestic river, bearing upon its bosom great vessels of blessing to mankind, we can be a little spring by the wayside of life, singing merrily all the day and all the night, and giving a cup of cold water to a weary, thirsty passer-by.
In severing my official connection with the Grand Lodge I invoke the richest blessings of our Heavenly Father upon its labors for the promotion of morality, social kindness and brotherly love, and my best wishes will ever go forth for the prosperity of our honored and beloved Institution, and for the welfare of the Fraternity wherever dispersed. May the good ship continue to sail on placid and quiet seas, free from storms without or troubles within, safe from shipwreck or lightning stroke, so long as time shall last.
REMARKS AT THE FEAST OF ST. JOHN, DECEMBER 1905
From Proceedings, Page 1905-247, following the election of the new Grand Master, December 27, 1905:
MOST WORSHIPFUL GRAND MASTER AND BRETHREN: If any season of the year should be observed as a time for festive greeting in our social circles, this is the one of all the cycles in the year which seems to be the most; fitting and proper, coming, as it does, immediately after that greater festival of the Nativity, which has been celebrated all over the world with joyful song and happy greetings, when the musical chimes of Christmas bells are still sounding in our ears, and the very air has been full of benedictions, quickening our impulses, warming our hearts, and whispering to us the sweet refrain: Peace on earth, good will toward men; — this festival of the beloved disciple, which repeats and emphasizes the beautiful song.
Brethren, I wish I had the words at my command in which to properly and satisfactorily express to you my great appreciation for the many courtesies and kindnesses which have been extended to me by the Fraternity throughout the Commonwealth during my occupancy of the office of Grand Master, and my still greater gratitude for the honor bestowed upon me in placing me at the head of all the Masons in Massachusetts, the oldest Grand Lodge in America and one of the most important and influential branches of the oldest human institution in the world. (Applause.)
The time has now arrived when, like the Grand Masters who have preceded me, I am called to step aside and take my seat among the dignitaries in the northeast corner of the Grand Lodge, an honor which I shall greatly appreciate, and which I am sure will be a sweet remembrance to me as long as I live. Although I feel a sense of relief at the retirement from responsible duties, yet there is associated with it a tinge of regret, from the fact that hereafter our relations will be less intimate and our paths will diverge. I shall miss the opportunities which have been permitted me to visit in the Lodge-room and to meet so many of the Brethren, to feel the warm clasp of the hand, and to form the acquaintance of so many true and noble Brethren of the Order. I shall miss the very pleasant gatherings with the chosen few who represent the Grand Lodge throughout the State;— the District Deputies; the friendships formed and the good feeling which has been established at the quarterly meetings of these representatives of the Grand Master will always be pleasant reminiscences for me to recall. I shall miss the pleasant associations I have had with the officers of the Grand Lodge who have participated with me in so many of the rites and ceremonies of the Lodges, in centennials, dedications and consecrations, all happy occasions, and which are the means, in my opinion, of the prosperity of the Institution iu the particular locality where the service was rendered. I have discharged the duties of the office of Grand Master to the best of my abilities, and if my efforts have in any small degree met with your approval I have been well repaid.
I wish to express my opinion in regard to the present Most Worshipful Grand Master, to express my gratification and satisfaction that the duties and responsibilities of Grand Master are intrusted to one whose long and useful and successful services to the Craft have rendered him especially competent to discharge the varied and arduous duties of this very responsible office. As I lay aside my official regalia I shall hope to take my place in the ranks with the Brethren and to do what I can to promote the prosperity, the harmony and the usefulness of this Grand Lodge.
A few years ago, while traveling in Southern California, I stood upon the summit of Mount Lowe, at an elevation of several thousand feet, and my eyes gazed upon one of the most impressive, one of the grandest and most beautiful landscapes I had ever seen. For over fifty miles and more, up and down that beautiful valley, were sequestered orange groves and fields of roses and graceful trees and beautiful homes; and it left the remembrance indelibly stamped upon memory's tablet; and so, to-night, I feel that I have been lifted up out of the common routine of life, on to a higher elevation, where the atmosphere is clearer and brighter, the vision more penetrating.
As I look back over the landscape of the past three years, with its sequestered groves of pleasant intercourse, and bordered along its paths with roses, of friendship, all these things will be reminiscences which I shall never forget and which I shall recall with a great deal of pleasure. I thank you, Brethren, for your kind attention. (Applause.)
---
CHARTERS GRANTED
---
RULINGS
---