HenryPrice
From MasonicGenealogy
HENRY PRICE LODGE
Location: Charlestown
Chartered By: John T. Heard
Charter Date: 06/08/1859 VI-250
Precedence Date: 05/19/1858
Current Status: in Grand Lodge Vault; merged with Everett C. Benton Lodge to form Price-Benton Lodge, 11/21/2002. Now part of The Consolidated Lodge.
NOTES
Correspondence with Army Lodge #10, 1864, regarding the donation of regalia
---
PAST MASTERS
Charles B. Rogers, 1858; SN
G. Washington Warren, 1859
William N. Lane, 1860; Mem
Francis W. Hund, 1861
G A. Lounsberry, 1862, 1863
Thomas B. Harris, 1864
Sam M. Nesmith, 1865
E. T. Woodward, 1866
Gideon P. Haynes, 1867, 1868; SN
Francis Childs, 1869, 1870; Mem
Daniel E. Chase, 1871, 1872
Edward F. Everett, 1873
George E. McKay, 1874, 1875
George T. Littlefield, 1876, 1877
Ira A. Worth, 1878, 1879
Edgar A. Moore, 1880
Joseph H. Gleason, 1881, 1882
Charles S. Robertson, 1883
J. W. Hoffman, 1884
George F. Mullett, 1886, 1887
Josiah G. Bridge, 1888
J. H. Studley, Jr., 1889, 1890
Isaac N. Pierce, 1891, 1892
Walter S. Brewer, 1893, 1894
William Otis Wiley, 1895, 1896
Fred R. Pease, 1897, 1898
Frank T. Barron, 1899, 1900; Mem
Charles L. Loring, 1901
Willis W. Stover, 1902, 1903; Mem
J. F. Briry, 1904
Fred A. Horter, 1905
Robert B. Loring, 1907, 1908
William B. Bigelow, 1909
Harry F. Crosby, 1910
Harry E. Carter, 1911, 1912
John E. Heath, 1913, 1914
Walter H. Cox, 1915, 1916
H. Stan Urquhart, 1917, 1918
Fred A. Ray, 1919, 1920
Gay Gleason, 1921
L. W. Marston, 1922, 1923
LeRoy H. Gregory, 1924, 1925
F. E. Chickering, 1926, 1927
Chester Gardner, 1928, 1944
William M. B. Lawson, 1929
W. S. Howard, 1930
Elerson P. Hardy, 1931
Mel A. Patterson, 1932
Edward P. Gilmartin, 1933
L. E. Patterson, 1934
A. G. Helmund, 1935
John L. Davis, 1936; SN
William F. Bowsher, 1937
William M. Meikle 1938
Walter W. Corwin, 1939
Perley S. Vance, 1940
Albert Hardy, 1941
Max J. Harris, 1942
Francis Corwin, 1943
Abraham Shwom, 1945
Daniel Kuperstein, 1946
Max M. Podolsky, 1947
Joseph L. Speyer, 1948
Maxwell Wilson, 1949
Russell A. Pitnof, 1950
Mosier B. Goldberg, 1951; N
Sidney G. Holmes, 1952, 1953; N
S. J. Bloomberg, 1953
Walter Lewis, 1954
David H. Wilson, 1955
Simon Silverstein, 1956
James F. Orpin, 1957
Leo Daniels, 1958
Louis Weiner, 1959
William Tick, 1960
Arnold B. Wilson, 1961, 1983
Samuel Silverman, 1962
Milton L. Meltzer, 1963
Harvey M. Levine, 1964
Marvin J. Fox, 1965, 1990
Abraham Burgin, 1966
Samuel Lieberson, 1967; SN
Irving M. Taub, 1968
Benjamin Schiffman, 1969
Sidney D. Gantman, 1970
Edward H. Kushner, 1971
Melvin A. Cohen, 1972
Daniel Weiner, 1973, 1991, 1994, 1999-2002
Gordon E. Lesser, 1974, 1995, 1997
Burt Jagolinzer, 1975
Irving Jacobsen, 1976
Theodore Langer, 1977
Robert Shoreman, 1978
Morris A. Zirlin, 1979
Gerard R. Buscemi, 1980
Larry A. Dunn, 1981
Gary H. Saffer, 1982
George D. Rubin, 1984, 1985, 1987-1989, 1996; Bio
Morris A. Zirlin, 1986
Michael Weiner, 1992
Barry J. Weiner, 1993
---
REFERENCES IN GRAND LODGE PROCEEDINGS
ANNIVERSARIES
VISITS BY GRAND MASTER
BY-LAW CHANGES
1874 1882 1886 1901 1905 1907 1909 1911 1912 1917 1919 1921 1923 1941 1946 1947 1949 1950 1952 1953 1954 1956 1959 1962 1964 1965 1971 1974 1976
HISTORY
75TH ANNIVERSARY HISTORY, MAY 1933
From Proceedings, Page 1933-50:
by Rt. Wor. Charles S. Robertson
On April 28, 1857, a few enthusiastic Masons of Charlestown met in the office of Bro. George Washington Warren in City Square and conceived the idea of forming a new Masonic Lodge in Charlestown.
King Solomon's Lodge had been in existence for seventy-four years and as the propaganda incident to the publication of the false and scurrilous story of the "Morgan" episode, which had been given wide publicity throughout the country, had acted as a boomerang to its authors and supporters and Masonry was again on a substantial basis, the time seemed propitious for the project.
After the deliberation twenty-three Brethren prepared and presented a petition to the M. W. Grand Master praying for a Dispensation to form said new Lodge and the following were chosen as officers whose names were inserted in the petition.
Master: Charles B. Rogers
Senior Warden: George Washington Warren
Junior Warden: William N. Lane
Treasurer: Thomas B. Harris
Secretary: William W. Peirce
Together with the following petitioners: James A. D. Worcester, Francis W. Hurd, Charles L. Stevenson, Thomas B, Harris, Abram B. Cutter, Oliver Ayers, George A. Lounsbury, Horatio G. Waldron, Elijah S. Wait, Horatio Wellington, Lester Halcomb, Edward T. Woodward, Charles H. Blanchard, Isaac Cook, William B. Stearns, Isaac Locke, Thomas R. Lambert, Thomas B. Preston, William B. Morris.
The selection of a name for the new Lodge was considered and John Soley, Prescott, Josiah Bartlett, Dr. Kane, Good-Fellowship, Mishawum, and Henry Price were suggested and the latter was unanimously adopted. The Wor. Master appointed several committees to perfect the organization of the new Lodge and to establish the nights of the regular and quarterly communications.
On May 19,1858, a Dispensation for one year was granted by the Grand Master at the end of which time a Charter would be granted if the Lodge was found worthy.
On May 28th the first regular meeting was held at the office of Bro. Warren and the committee on hall was instructed to lease Mishawum Hall for one year at a rental of $90.00 per year. King Solomon's Lodge assisted very materially by granting the use of such furniture as was required.
The committee appointed to procure furniture, etc., reported with pleasure that many articles had been donated by the Brethren, among them the officers' jewels which are still in use by the Lodge and were given by the following members:
Master's Jewel, by Wor. Bro. Charles B. Rogers
Senior Warden's Jewel, by Wor. Bro. George Washington Warren
Junior Warden's Jewel, by Wor. Bro. William N. Lane
Treasurer's Jewel, by Wor. Bro. Thomas B. Harris
Secretary's Jewel, by Wor. Bro. William W. Peirce
Chaplain's Jewel , by Rev. Bro. Thomas R. Lambert
Marshal's Jewel, by Bro. Oliver Ayers
Senior Deacon's Jewel, by Bro. Francis W. Hurd
Junior Deacon's Jewel, by Bro. George A. Lounsbury
Senior Steward's Jewel, by Bro. Elijah S. Wait
Junior Steward's Jewel, by Bro. Charles L. Stevenson
Inside Sentinel's Jewel, by Bro. Horatio G. Waldron
Tyler's Jewel, by Bro. Horatio Wellington
The following year was spent in conferring degrees and the regular business of the Lodge, and on June 22, 1859, the most notable occasion in the history of Henry Price Lodge took place when M.W. John T. Heard and Officers of the Grand Lodge were received and Henry Price Lodge was Constituted and Consecrated in due and ancient form.
A committee had been appointed to procure a portrait of Henry Price and they reported that Bro. George G. Small, an artist of some note, would be happy to prepare and present a copy of the portrait belonging to the Grand Lodge, which offer was accepted and the valuable picture now adorns the wall of our Lodge-room.
The first Honorary Member of Henry Price Lodge was Rt. Wor. Charles B. Rogers, elected Oct. 12, 1859.
The first death among the members was on March 22, 1862, when Wor. Bro. William N. Lane passed to the Celestial Lodge above and the Standing Committee authorized a suitable monument to his memory to be erected over his grave.
On Nov. 24, 1862, the Committee reported that the Lane Memorial had been completed and on Dec. 2 about sixty members of the Lodge accompanied by the Boston Brigade Band proceeded to Pepperell, Mass., to dedicate the monument. The ceremony was performed by Rt. Wor. George Washington Warren assisted by. Wor. Bro. Lounsbury and Wor. Bro. Hurd. This monument depicts a broken column of Italian marble set on a base of Quincy granite, and is about nine feet high above the base and bears an oak leaf wrought in marble on the top. On the base is the Square and Compasses and the following inscription: "Erected by the members of Henry Price Lodge, A. F. & A. M., of Charlestown, Mass., to their P. M. William N. Lane, M. D., born July 16, 1820; died March 22, 1862." Just before leaving Pepperell the Lodge was presented with a very interesting document dated April, 1775, in the handwriting of Henry Price agreeable to laws in force at that time. The Worshipful Master took charge of this instrument and it is now framed and hangs in the anteroom of the Masonic Apartments in Charlestown.
During the Civil War a number of the members served in the Army and Navv and Henry Price Lodge made a liberal contribution to assist in procuring Jewels, etc., for Warren Armv Lodge which was afterwards formed.
By invitation from the Grand Lodge, Henry Price Lodge together with members of over one hundred other Lodges participated in the laying of the Corner Stone of the new Masonic Temple, on Oct. 14, 1864. The records bear a quotation from the press of that day: "New England Citizenship was well represented. Intelligence and Character were stamped upon the countenances of those who participated and a finer body of men morally and intellectually never paraded our streets."
On June 21, 1866, about forty members proceeded to Townsend to visit the grave of Henry Price. They were joined by delegations from Corinthian Lodge, of Concord, St. Paul's and Caleb Butler Lodges, of Ayer, and marched to the little cemetery preceded by a band where interesting and reverent exercises were held. The line of march was then resumed and the Brethren proceeded to Central Hall where a bountiful collation was enjoyed after which the intellectual feast opened with Wor. Bro. Haynes, Master of Ceremonies.
During the year following the Lodge was very busy with the regular routine work.
On May 22, 1868, a petition was received from Bro. William H. Kent and others to form a new Masonic Lodge to be called Faith Lodge. The petition was granted and the use of the regalia and working-tools granted them with the best wishes of Henry Price Lodge.
At the Quarterly Communication on Jan. 14, 1874, the Standing Committee reported "That if the Commutation Tax, which had been assessed by the Grand Lodge in 1867, was paid in full, several prominent Brothers of the Grand Lodge would present a portrait of Henry Price in the name of Henry Price Lodge to be hung with other portraits of Grand Past Masters in the Masonic Temple."
On May 23, 1874, a communication was received from the trustees of the Charlestown Five Cents Savings Bank relative to a new bank building to contain quarters for the Masonic Fraternity and a committee was appointed to consider the matter. On May 24, 1876, the first meeting was held in the new Apartments with 130 members and 240 visitors present. The Apartments were open for inspection and great satisfaction was expressed. A Board of Trustees of Masonic Apartments was appointed consisting of three members from each Lodge for the care and management of the Apartments.
The first Past Master to die after the Constitution of the Lodge was Rt. Wor. George Washington Warren who passed to the Celestial Lodge above on May 23, 1883.
The first bequest to the Lodge was from Bro. Thomas B. Harris amounting to $500.00, the principal to remain intact and the interest to be used for charity.
A presentation was made by Bro. Lt. William A. Barry of a Perfect Ashler formed from a stone procured by him in the Holy Land and a Gavel made from olive wood grown on the Mount of Olives.
For a number of years the Lodge had called the attention of the Grand Lodge to the dilapidated condition of the gravestone on the grave of Henry Price, and on Oct. 7, 1885, a communication from the Grand Secretary stated that the Grand Lodge had appropriated $500.00 for a Monument to Henry Price. In the meantime Henry Price Lodge had the old stone repaired at its own expense. On June 21, 1888, the dedication of the Henry Price Monument by the Grand Lodge was held at Townsend. Of the seventy-five Brethren of the Lodge who participated in the exercises only one, Rt. Wor. Charles S. Robertson, is living today.
Attention was called to the fact that the desk of Henry Price, now the property of the Lodge, needed some slight repairs and a committee was appointed to ascertain the probable cost of the same. This committee reported on Jan. 4, 1888, that the desk had been found in good state of preservation and at an outlay of $30.00 it had been put in first class condition.
On April 2, 1890, a communication was received from the Grand Lodge relative to the Washington Memorial and the Standing Committee was given full power to co-operate with the Grand Lodge in this undertaking. This great achievement has since been accomplished and the beautiful Memorial was dedicated last year with elaborate ceremonies.
The first mention of a Ladies' Night Entertainment given by the Lodge appears in the records of March 6, 1895. These affairs have since become a regular feature of the social life of the Lodge and have been occasions of great enjoyment.
On May 24, 1899, the first Past Masters' Night was held and these have been observed each year.
An event worthy of notice occurred on Oct. 2, 1901, when Rt. Wor. Charles S. Robertson was presented with a beautiful Loving Cup in commemoration of his twenty-five years continuous service as Secretary of Henry Price Lodge.
On May 3, 1908, the Lodge attended church service at the invitation of Rev. Bro. E. C. Herrick, Chaplain, in connection with the fiftieth Anniversary of Henry Price Lodge. On May 6 the formal exercises were held in the Apartments when M. W. John Albert Blake and twenty-five invited guests including Officers of the Grand Lodge were present. Among these distinguished Masons was M. W. Melvin M. Johnson, then Grand Marshal, who is with us tonight. The Most Worshipful Grand Master paid a glowing tribute to the memory of Henry Price and the early founders of the Lodge. M. W. Bro. Blake's memory will always be held in loving regard as the Brother most responsible for the Masonic Home at Charlton which is a source of pride to every Mason in the state. A beautiful plate bearing the picture of Henry Price and suitably inscribed was presented to the members of the Lodge and the guests present as a souvenir of the occasion.
The Annual Communication of Oct. 2, and the regular Communication of Oct. 23, 1918, were omitted at the request of the Grand Master owing to the prevailing epidemic of influenza and a Dispensation was issued allowing the transaction of business scheduled for these dates on Nov. 6.
During the World War a large number of the members of Henry Price Lodge served with distinction in the Army and Navy, some receiving citations and medals for bravery, and on Oct. 8, 1919, a bronze memorial containing the names of members of the Masonic Fraternity who had served from Charlestown was unveiled at Masonic Hall with appropriate ceremonies.
On May 28, 1924, a banquet and reception was tendered to Bro. James W. Poor, a member of Faith Lodge, who had completed sixty years as a Mason and had been Janitor of the Masonic Apartments for many years.
A platter which was once the property of Henry Price was bequeathed to this Lodge by a former member, Bro. Charles P. Woodcock, recently deceased in California, and sent to the Lodge on Sept. 23, 1925, by his son William Price Woodcock who was a direct descendant of Henry Price.
During the years from the formation of the Lodge to the present time it has been successful in its work and social activities, having increased in membership until within the last few years of the financial depression when there has been a slight loss of members. For many years the Lodge has made annual pilgrimages to the grave of Henry Price where memorial exercises have been held. Past Masters' Nights are annual occasions, at the Quarterly Communications interesting speakers and enjoyable entertainments have been provided, social dances have been held, and special nights including Police Night on March 22, 1933, when 300 members and visitors were present, have all contributed to the fraternal spirit and good fellowship of the Lodge. On this occasion of the seventy-fifth Anniversary, the Lodge is looking forward with hope and courage to many more years of usefulness.
CENTENARY HISTORY, MAY 1958
From Proceedings, Page 1958-83:
By Wor. Elerson P. Hardy.
There is a legend in the Babylonian Talmud which tells of a rabbi passing through a field when he saw a very old man planting an oak tree. The rabbi asked, "Why are you planting that oak tree? Surely you do not expect to live long enough to see it grow up." To which the old man replied, "Ah, if my ancestors had not planted trees, we should not now enjoy their shade or their fruit. What my fathers did for me, I will do for the future generations."
An examination of the records and miscellaneous papers of our Lodge for the past one hundred years proved beyond doubt how well its founders planted the tree, and how many Brethren since their time have enjoyed the spiritual fellowship of its shade and how many lives have been enriched and adorned with the fruits of its tenets and its charity, both of the heart and hand.
When Henry Price Lodge was organized in 1858, Charlestown was a thriving, self-governing community of about 23,000. Its business area was centered in City Square and the nearby streets. Wharves and shipyards reached around the waterfront to the Mystic River, warehouses and factories lined the river to the west, and pleasant streets of homes extended from both sides of Main Street and stretched up the hill so famous in early American history, and of which the citizenry was justifiably proud. Contact with Boston was by horse-drawn vehicles over a single narrow wooden bridge. There was then no evidence that the larger city across the Charles River would soon cast its influence over its smaller neighbor, smother its activities, and cause its annexation to Boston in 1874.
There were many Masons among the city's population, and one Lodge, King Solomon's had been established in 1783. It had been twelve to fourteen years since the anti-Masonic period, which started in 1826 and extended throughout the country, had slowly exhausted itself. People began to realize that a cruel injustice had been heaped upon the Fraternity, and changed the former bitter hatred to respect and high esteem. An era of Masonic prosperity began and men were anxious to join the order.
Believing that Charlestown was a fertile field for further Masonic endeavor, twenty-three prominent citizens, members of various Lodges, held a meeting on April 28, 1858, in the office of Brother George Washington Warren, in City Square, for the purpose of preparing a petition to Grand Lodge for a charter for a new Lodge. Brother Warren had been inaugurated the first mayor of Charlestown in the spring of 1847. At this first meeting also, officers were elected with Worshipful Charles B. Rogers as Master. Worshipful Brother Rogers and Brother James A. D. Worcester, although signers of the petition, retained their membership in King Solomon's Lodge and did not become charter members of the new Lodge. On May 19, 1858, another meeting was held at Brother Warren's office to select a name for the Lodge. The names of John Soley, Prescott, Josiah Bartlett, Dr. Kane, Good Fellowship, Mishawum and Henry Price were suggested. It was unanimously voted to adopt the latter, to perpetuate the name of our first Grand Master. In 1723, Henry Price came to Boston, a young man of twenty-six, a member of some Lodge not now known but probably in London. In the next decade he prospered with a dry goods and tailoring establishment. With a deep interest in Masonry, he visited London in 1733 and obtained a commission from Viscount Montague, Grand Master of the Grand Lodge of England, appointing him Provincial Grand Master of New England. A year later his warrant was extended to cover "His Majesty's dominions in North America." He founded what has since become the Grand Lodge of Masons in Massachusetts, the first Grand Lodge in America and the parent of other Grand Lodges in this country. Later, he moved to Townsend, Massachusetts, where he died in 1780 and is buried in the cemetery in that Town.
At this same meeting, it was voted to hold regular communications on the fourth Wednesday of each month, as they are to this day, and quarterly communications on the second Wednesday of March, June, September and December. In 1874, the by-laws were amended to hold the quarterly communications on the first Wednesday of January, April, June and October, with October the annual meeting.
The first regular communication was held on May 26, 1858, again in Brother Warren's office. The Worshipful Master announced that Grand Lodge had approved very promptly the request for a dispensation and if the Lodge was found worthy at the expiration of one year a charter would be granted. The committee which had been searching for suitable quarters was instructed to lease Mishawum Hall at 9 City Square at an annual rental of $90.00.
The next few months were spent in furnishing the quarters. Furniture was purchased and other necessary furnishings, such as the Great Lights, gavel, trowel, ballot box and trunchions were presented by various charter members. The first officers presented the Lodge with the jewels of their offices. These jewels and other furnishings are still in regular use by the Lodge.
A couple of years later, not being thoroughly satisfied with the quarters at Mishawum Hall, the Lodge joined King Solomon's Lodge in a plan to lease and furnish Washington Hall at 16 Main Street. However, the owners of Mishawum Hall made alterations to the building and induced the Lodge to remain, which it did until it moved to its present quarters, in spite of substantial increases in the original rental.
In 1859, Brother George G. Small, who became a member in March of that year, procured and gave to the Lodge a copy of a portrait of Henry Price belonging to Grand Lodge. This valuable gift now adorns the wall of our apartments.
The Lodge later came into possession of a desk once the property of Henry Price. It stood for many years under the mantel in our smoking room and, at our Seventy-fifth Anniversary in 1933, was presented to Grand Lodge to be placed in the Grand Lodge Museum as a safer place for this valuable piece.
Also in May 1858, the first application for the degrees was received, followed by other applications in June and July. The officers met each Tuesday night during August for "the practice of work," and at the regular communication in September 1858, the first class of candidates, five in number, were initiated Entered Apprentices.
When the year of dispensation was terminated, elaborate plans were made for the constitution of the Lodge. With the members of King Solomon's Lodge and other Lodges present, as well as the officers of the Lodges in the district, the Grand Master, Most Worshipful John T. Heard, and Grand Lodge officers were received, and Henry Price Lodge was constituted in due and ancient form.
With its history extending through the period of the greatest development of our country, the Lodge has weathered five wars and several depressions. It has seen the transition from hand to machine labor, from lumbering wheels on dirt roads to pneumatic tires on super-highways, from wood-burning locomotives to jet-propelled aircraft, from pot-bellied stoves to air conditioning.
For the first decade and a half, the Lodge prospered both in number of members and financially beyond the expectations of its founders. In 1866, the Lodge conducted its first of many subsequent pilgrimages to the grave of Henry Price at Townsend, Massachusetts, where appropriate memorial services were held. Several years later, the Lodge reported to Grand Lodge that the gravestone was in a badly dilapidated condition. The Grand Lodge appropriated funds for a monument to our first Grand Master, and in June 1888 the Grand Lodge dedicated the new monument with one hundred and seventy-five Brethren present, including forty-one members of our Lodge.
By 1874, three more Masonic bodies had been established in Charlestown: Faith Lodge, the Royal Arch Chapter of the Signet, and Coeur de Lion Commandery, Knights Templar. In that year the Charlestown Savings Bank communicated with all the Masonic bodies in the city relative to building a new bank building in Thompson Square with the most modern of Masonic apartments on the upper floors. With the assurance that all the bodies would move there, the building was constructed and Henry Price Lodge held its first meeting in May 1876 in the new apartments which have been its home ever since. Care of the apartments is vested in a Board of Trustees composed of two members from each of the bodies which have met there since 1876.
In one hundred years the Lodge has held one thousand and three of its regular communications on the fourth Wednesday of each month, in addition to the quarterly business meetings, and innumerable special communications devoted to the reception of candidates. Only one regular communication has been omitted, that of October 1918 which was cancelled at the request of health authorities during the devastating influenza epidemic.
There has never been a year in which the Lodge has failed to add new members to its rolls. Sometimes, during depression years, only three or four candidates were initiated. On the other hand, there have been years of great growth. This was especially true at the close of the wars when returning service men applied for membership in large numbers. The largest number admitted to membership in one year appears to be fifty-seven.
We have been honored many times by visits of presiding Grand Masters and other prominent Masons from our own and other Grand Jurisdictions. Nearly every year we have been proud hosts to our wives and lady friends at formal or informal ladies' nights, and have enjoyed the happy laughter of children at our Children's parties.
Seventy-one Brethren have been honored by election to the office of Worshipful Master, and they have responded zealously in service to the Lodge. Several of our Masters have been further honored by Grand Lodge election or appointment:
R. W. Charles B. Rogers, who was Master under dispensation, served as District Deputy Grand Master in 1860.
R. W. G. Washington Warren was Deputy Grand Master in 1862, and made a considerable study of the life of Henry Price.
R. W. Gideon Haynes was District Deputy Grand Master in 1871. At the time he was Master of the Lodge, he was Warden of the State Prison and said that he had five hundred and sixteen unfortunate men in his care under conviction, but the only Masons in his care were the members of the Lodge.
R. W. Francis Childs appears to have been District Deputy Grand Master for three years.
R. W. Joseph H. Gleason was District Deputy Grand Master. He was Master of the Lodge in 1881-83 and his son, our late Worshipful Gay Gleason, was Master in 1921-22.
R. W. Charles S. Robertson was District Deputy Grand Master in 1886-87. He subsequently held five other offices in Grand Lodge: Grand Lecturer, Grand Sword Bearer, Senior Grand Steward, Junior Grand Deacon, and Junior Grand Warden.
R. W. Frank T. Barron, District Deputy Grand Master.
R. W. Willis W. Stover, District Deputy Grand Master.
R. W. John L. Davis, District Deputy Grand Master.
R. W. Mosier B. Goldberg, District Deputy Grand Master.
Our several books of records bear evidences each year of the many instances of service and assistance the Lodge has rendered to Brethren in need of some kind of help, of advice and assistance to a deceased member's family. In addition to unsolicited aid, or prompt response to calls for help, our generosity has extended beyond our Masonic family. Among the interesting incidents recorded are:
Aid to Brethren who suffered losses in the great Chicago fire of 1871.
A donation to the fund for the erection of the Pilgrim Monument at Plymouth.
Gift of a set of jewels during the Civil War to Warren Army Lodge of the 32nd Massachusetts Regiment in the Fifth Army Corps.
Contribution to sufferers of the Galveston, Texas, flood in 1900.
The Lodge has supported cheerfully the enterprises of Grand Lodge: the Masonic Home at Charlton, our Hospital at Shrewsbury, the George Washington National Masonic Memorial at Alexandria, Virginia. Due to the untiring efforts of the Blood Donor Committee, Henry Price Lodge stands high among the Lodges of the Commonwealth in its participation in the Blood Bank program.
We have been recipients, too, of the generosity of our members. Several times the treasury has been low and the members have given promptly of their private funds to relieve that condition. This, however, has not been necessary for many years.
In 1883, our first Treasurer, Worshipful Thomas B. Harris, died and left the Lodge five hundred dollars, a generous gift in those days. This is now known as the Harris Fund.
In 1927, the Lodge received a legacy of five thousand dollars from the estate of Brother Joseph Hooker Neal, former police officer and real estate operator. The income of the Joseph H. Neal Relief Fund is used for charitable purposes.
During the several wars that have beset our nation since the institution of our Lodge, many of our younger members left their homes and their Lodge for the service of the country. Among our records are several very interesting letters from members in the Civil War descriptive of their life in the services and of the campaigns in which they were taking part.
The Lodge mourned when several of our fine young members made the supreme sacrifice, never to be greeted by their Brethren again unless it be in some celestial Lodge above. In 1946, the Lodge established the K-C-L Gold Star Fund in memory of Brothers Edwin S. Kahn, George D. Cline and Clarence Levin, who gave their lives in the service of the country during World War II. Monies from this fund are available for the relief of distressed members and for widows and orphans.
It is, of course, impossible to list all those members of the Lodge who have rendered conspicuous service throughout its history. Nor is it proper to do so, for any service, large or small, has been, and always will be, valuable and rewarding. However, for interest a few may be mentioned: We are greatly indebted to R.W. Charles B. Rogers, Master under dispensation, and to R. W. G. Washington Warren, our first Master after constitution, for their devoted and capable leadership.
Bro. William W. Pierce, a charter member, gave generously of his time and ability as secretary during the first difficult years of the new Lodge. Bro. Elijah S. Wait, also a charter member, followed as Secretary for many years.
R.W. Charles S. Robertson (or just "Charlie Rob" as he was affectionately known and preferred to be called by his contemporaries and those of us who still remember him) was sixty-two years a member, fifty-three years a Past Master, Secretary from 1884 to 1902, and for many years ably installed the officers.
Bro. R. Wolcott Chapman served many years in the office of Treasurer.
Wor. Albert Hardy spent many years as instructor of candidates, a job which is often unappreciated and requiring both knowledge and patience.
Wor. Harry E. Carter, a member for fifty-two years, Master in 1911-13, was Secretary of the Lodge for thirty-three years from 1922 to 1955. He endeared himself to all of us and his kind and friendly manner will long be remembered. The Lodge relied with confidence on his vast knowledge and experience, and twenty-nine Masters received his advice and assistance.
At no time in the history of the Lodge have more Brethren been engaged on its various committees and multiplicity of endeavors than at present. Is it any wonder that the Lodge faces the future with a spirit, an organization, and a competence to meet whatever problems time will bring, and with pride that the course thus far has been a happy and worthy one?
We end our first one hundred years, then, with thanks to the Great Architect for the heritage that is ours, and with a prayer that we may pass it on to those who will follow us to be continued by other Brethren who, as Wor. G. Washington Warren said in 1866, "can show themselves capable of appreciating the virtues of Masonry."
"The surging sea of human life forever onward rolls,
And bears to the eternal shore its daily freight of souls,
Our Father, to whose sleepless eye the past and future stand
An open page, like babes we cling to Thy protecting hand.

"O mighty human brotherhood' who toil that right and truth
Alone may rule the universe, for you is endless youth,
The starry wilderness of worlds that gem night's radiant brow
Will light the skies for other eyes a hundred years from now."
(Ford)
---
EVENTS
CONSECRATION OF LODGE, JUNE 1859
From Moore's Freemason's Monthly, Vol. XVIII, No. 9, July 1859, Page 288:
The Consecration of Henry Price Lodge, at Charlestown, took place on the 22d ult., when the R. W. Bro. G. Washington Warren was installed Master; W. N. Lane, S. W.; J. W. Hurd, J. W. ; Thos. B. Harris, Treas.; and E. S. Waitt, Secretary. The ceremonies were performed by the M. W. Grand Master, assisted by his officers; at the conclusion of which the Grand Lodge and visitors present, partook of an enteraintment, furnished by the new Lodge We have not room this month for such a notice of the occasion as it deserves.
GRAND MASTER VISIT, APRIL 1860
From Moore's Freemason's Monthly, Vol. XIX, No. 7, May 1860, Page 224; Vol. XIX, No. 8, June 1860, Page 256:
The M. W. Grand Master, accompanied by his officers, paid an unofficial visit to this new and thriving Lodge at Charlestown, on the evening of the 23d ultimo by invitation. The occasion was the initiation of the son of the Master, Bro. G. Washington Warren, and it was of course one of more than usual interest, and of rare occurrence. The first degree was given by the father in a very impressive and gratifying manner, and it cannot be doubted thai the impression on the mind of the son will remain while life lasts. At the conclusion of the ceremonies the officers of the Grand Lodge and visiting Brethren were invited to an entertainment which had been prepared for the occasion, at which brief speeches were made by the Grand Master and others.
RECEPTION, FEBRUARY 1864
From Moore's Freemason's Monthly Magazine, Vol. XXIII, No. 5, March, 1864, Page 143:
On Monday evening, 9th ult., the members of Henry Price Lodge, in Charlestown, called upon their Brother Lieut. Lucius H. Warren, commanding Co. I, 32d Regt., now on a furlough for re-enlisting as veterans. Rooms were prepared at the Prescot House for their reception. Soon the Charlestown band appeared and discoursed most excellent music. After an hour spent in agreeable conversation, the company were invited into the dining room, where Col. Bigelow had provided a substantial and most inviting supper. Thos. B. Harris, Senior Warden of the Lodge, in a neat speech, gave a hearty welcome to their Brother who had come home from the war, after eighteen months' hard service, and who was soon to return with his regiment to the field. To this Lieut. Warren replied gracefully, thanking the Brethren for the cordial demonstration with whiuh they had surprised them. Speeches were also made by Judge Warren, Hon. Gideon Haynes, Hon. Francis Childs, Horatio Wellington, Esq. Lieut. Walther Everett, of the City Guard, and others. At a seasonable hour this pleasant interview terminated, and on retiring, the band again serenaded and the company cheered. It wae an occasion which will be pleasantly remembered by those who were present.
On Thursday evening following, our young patriotic Brother was honored with a public ball, and made the recipient of a handsome compliment in the presentation of an elegant a word and equipments, by the company under his command. Sergeant Timothy McCarthy, appeared in the ball-room suddenly during the evening with these in his hand, and addressed his commander as follows:
Lieut. Warren :—It has fallen to my lot this evening to perform the pleasant duly, on behalf of the men of your command, of presenting to you a memorial, fitting, as it seems to them and myself, of our association together, and of our general esteem for you as a soldier and man. During the period we have been under your command, and in fact through all the perils of the field, the march, and the bivouac, through which the Stone Light Guard have passed since the corps first left Charlestown, you have proved yourself worthy of our confidence and esteem, and we therefore improve the occasion to present you with this badge of honorable service in the cause of your country—which is the cause of all mankind. In presenting the sword at this time, we have a double purpose. We desire to express through such an emblem our appreciation of the past, and our confidence in your future. Take it and wear it worthily as we know you will, remembering always the motto of the East: " Draw me not without cause—Sheath me not with dishonor:" and let it ever stand as a memorial between us of our confidence in each other. Whither you bear it, we pledge here to follow ; and may our future be a common one, and may each and all of us contribute something to the fame of our native city and State, which shall give Massachusetts a commanding position when the rise, progress and crushing of this wicked rebellion and of its blind leaders, come to be written.

It remains only for me to-express the wish, that in life you may attain honorable success, and attendant happiness.
Lieut. Warren replied as follows :—
I am deeply sensible, Sergeant, of this unexpected mark of your esteem, and am grateful for this most beautiful sword and accompaniments, which you have been pleased to present to me on behalf of my command. I shall cherish these, not for their intrinsic value alone, but for your approbation of the manner in which I have performed the duties that have devolved upon me. I have endeavored to pursue a straightforward course—knowing no partiality, but treating all alike, regardless of consequences :—always acting, as I thought would be for the best interest of my company and the service. I entered into military life, as most of you did, but little acquainted with military matters. I enlisted with you as a private —because I considered it the duty of every young citizen, that he should learn to be a citizen soldier. The sooner one learns to be a good soldier, the better citizen he will make.

Fellow Soldiers : your conduct has well merited all the praise, which has been bestowed upon you. Nothing could surpass your bravery at Fredicksburg, at Chancellorsville, and at Gettysburg. 1 feel proud to command such a company as this ; I have become attached to you as strongly as to my family ; I have endured with you all the hardships and sufferings, which you have passed through, whether on the battlefield, on the march, or in Uie camp. I consider it my hap. py lot to be with you. I rejoice that we were the first from Massachusetts to re-enlist for three years more, and when our term of service is completed, we shall be proud to say, " we belonged to the Army of the Potomac."

Fellow soldiers: I shall preserve this sword in remembrance of the scenes through which we have passed. I shall preserve it untarnished and revere it as "the sword of Bunker Hill."
At the supper, a letter was read from Hon. P. J. Stone, Mayor of the city, enclosing fifty dollars, to be expended as the veterans of this company should think best.
Note: Lt. Lucius Warren, initiated in this lodge in 1860, survived the Civil War and dimitted from it in 1869.
ST. JOHN'S DAY, DECEMBER 1865
From Moore's Freemason's Monthly Magazine, Vol. XXV, No. 4, February 1866, p. 118:
The anniversary of St. John the Evangelist, was celebrated by Henry Price Lodge, in Charlestown, on Wednesday evening, 27th Dec.; The Lodge assembled at 6 o'clock, and after transacting the business of the evening, with their friends and invited guests repaired to the supper room. At the conclusion of the supper, a handsome silver tea service was presented to Hon. Br. Gideon Haynes, in compliment for kindness and services to Br. Lounsbury, formerly Master of this Lodge. The presentation address was made by Br. W. W. Peirce, and responded to in a feeling manner by Br. Haynes. A silver pitcher and goblet were then presented to Br. Waitt, the retiring Secretary of the Lodge, for past services. This presentation was made by Br. Charles Hurd. A Past Master's Jewel was then presented to Br. T. B. Harris, by Hon. Br. G. Washington Warren. Subsequently speeches were made by Br. Warren, Br. Thomas Hooper (the oldest Mason in Charlestown), Br. George P. Kettell and W. Br. William H. Kent, the latter in reply to a complimentary toast to St. John's Lodge, Boston, of which he is Master. It was a very interesting and pleasant occasion.
GRAVE VISIT, JUNE 1866
From Moore's Freemason's Monthly Magazine, Vol. XXV, No. 11, September 1866, p. 319:
THE GRAVE OF HENRY PRICE.
Henry Price Lodge of Charlestown paid a memorial visit to the grave of the first Grand Master in America, at Townsend, on Thursday, the 21st of June last. The occasion was one of great interest to all present, fraught, as it must have been, with many pleasant memories and historical suggestions. The officers of the Grand Lodge were politely invited to be present and unite in the ceremonies and festivities of the occasion; but official duties in another part of the State prevented their attendance. Appropriate addresses were made at the grave, and subsequently at the table, by Brothers S. M. Nesmith, Master of the Lodge; L. S. Bancroft of Pepperell; G. W. Warren; W. W. Wheildon; Rev. O. F. Spofford; Gideon Haynes and J. A. D. Worcester of Charlestown; Hon. Charles R. Train of Framingham; E. D. Bancroft of Groton, and others. A full account of the proceedings appeared in the "Bunker Hill Aurora " of the 23d, but did not reach us until after the matter for our present issue was made up. We hope to be able to find room for it in our next.
From Moore's Freemason's Monthly Magazine, Vol. XXV, No. 12, October 1866, p. 343:
HENRY PRICE LODGE — MASONIC EXCURSION AND FESTIVAL.
Henry Price Lodge of Chariestown made an excursion to Townsend, on Thursday, June 21, accompanied by the Brigade Band of Boston. They took the cars at half-past seven o'clock at the foot of Austin Street, and arrived at Townsend Centre at 9.20. Several of the brethren from Corinthian Lodge of Concord, and St. Paul's and Caleb Butler Lodges of Groton, joined the party at these stations,—so that the company included about one hundred brethren. The day was pleasant and warm, with a fine breeze, and nothing occurred to mar the pleasure of the trip or the full enjoyment of the occasion.
Henry Price Lodge was organized as follows:
S. M. Nesmith, W. M.
Eben W. Keyes, S. IV.
Francis Childs, J. W.
Rev. O. F. Safford, C.
J. P. Loring, Secretary
Ashbel Waitt, Treasurer
Gideon Haynes, M.
Benjamin Hinckley, S. D.
G. E. McKay, J. D.
J. Swords and C. P. Fairbanks, Stewards
S. W. Lewis, O. S.
R. Hill, T.
Soon after ten o'clock, the brethren in regalia were formed in procession by the Marshal, Br. Gideon Haynes, and proceeded to the grave of the first Grand Master of Masons in New England, Henry Price, in memory of whom the Lodge in that city was named. The grave is in the old burying-ground of the town, about one mile from the centre, and less than half a mile from the house beyond in.which the worthy father of Masonry in this country lived and ended bis days. A large square slate grave-stone marks the spot, and bears the following inscription: —
In memory of
HENRY PRICE, ESQ.
Was born in London about the year of our Lord 1697. He removed to Boston about the year 1728. Received a deputation, appointing him Grand Master of Masons in New England; and, in the year 1788, was appointed a Cornet in the Governor's troop of Guards with the rank of Major. By his diligence and industry in business, he acquired the means of a comfortable living, with which he removed to Townsend, in the latter part of Ms life. He quitted mortality the 20th of May, A.D. 1780, leaving a widow with two young daughters, with a numerous company of friends and acquaintances, to mourn his departure, who have that ground of hope concerning his present lot which results from his undissembled regard to his Maker and his extensive benevolence to his fellow-creatures, manifested in life by a behavior consistent with his character as a Mason and his nature as a man.

An Honest Man, the noblest work of God.
While the members of this ancient fraternity stood in form around this humble but honored grave, prayer was offered by Rev. Br. O. F. Safford, followed by singing and a dirge by the band. Marshal Haynes then introduced W. Br. S. M. Nesmith, Master of Henry Price Lodge, who addressed the brethren as follows: —
Brethren,—We now stand around the grave of Henry Price,—the first Grand Master of Freemasons in North America. We have selected this day to pay homage and respect to the memory of our departed brother, as it commemorates the anniversary of St. John the Baptist. We have made our pilgrimage hither to gaze for the first time upon the sacred spot, dear to the heart of every true Mason, to look upon the quiet grave where in silent repose rests all that is mortal of him whose honored name we bear. Brethren, I need only to remind you of the sacredness of this place and occasion, — of this beautiful town,—chosen as the last dwelling-place of our Ancient Grand Master,—and of the inhabitants of the town, who hold in great venera¬ tion the memory of Henry Price. But the theme is not mine to dwell upon, nor the time to occupy. We have with us to-day several distinguished Masons,—officers, present and past, of the Most Worshipful Grand Lodge,— those who have by pen and word recounted the virtues of him whose memory we gratefully cherish, and who will address you on this interesting occasion.
The Marshal then introduced W. Br. Luther S. Bancroft of Pepperell, who delivered an eloquent and patriotic address to the brethren; and he was followed by R. W. Brothers G. W. Warren, W. W. Wheildon, and C. R. Train, in brief and pertinent and reverent speeches, which, with whatever prepara¬ tion (where there had been none), could not have been better adapted to the occasion and the place. The concluding speech was made by Rev. Br. B. Judd of Townsend, and was excellent both in spirit and tone. A hymn was then sung by the choir and brethren to the tune of Old Hundred, and a benediction pronounced by the Chaplain. During the exercises, the audience, including a large number of citizens and ladies of the place, remained standing under a burning sun, and for much of the time uncovered. All were deeply interested in the purpose and exercises of the occasion, and gave a respectful attention to the several speakers. The band performed some choice pieces of music between the speeches; and, while the brethren lingered around the grave, and the Lodge having to this extent fulfilled the purpose of its coming in a reverential and Christian manner, the procession was again formed, and returned to the centre of the town to dine.
At half-past one o'clock, the company marched into the dinner-hall to the music of the band, the W. M. presiding. Prayer was offered by the Rev. Chaplain, and, without further ceremony, the brethren were invited to partake of the food for the inner man placed before them. The Marshal of the day, Br. Haynes, was appointed toast-master, and in a few introductory words introduced the first toast: —
The memory of our first Grand Master, Henry Price.
He called upon R. W. Br. Warren to respond. Br. Warren gave a brief account of Grand Master Henry Price, of his character and services to the institution; spoke of his removal from West Cambridge to Townsend, of his family and his claims to consideration and honor by the fraternity. He alluded to the working tools of Henry Price Lodge, made from a pear-tree planted by the Grand Master, and presented to the Lodge by Past Grand Master John T. Heard. He concluded with a sentiment: The Masonic family, — May none be admitted to it who cannot show that they are capable of appreciating the virtues of Masonry.
The next sentiment was announced as follows: —
The Most Worshipful Grand Lodge, — It is not under petticoat government, although presided over by an excellent "Dame."
R. W. Br. Train was called upon to respond to this toast. He spoke very beautifully and truthfully of the purpose of this visit of Henry Price Lodge, and eloquently enforced the sentiment of brotherly-love which it inculcated. He eulogized the institution for its religious influence and teachings over its members, and spoke very feelingly of the duty which was due from members to society and to each other. He thought this occasion, like much that is presented to us in Masonry, was symbolical, and was the enforcement of the great lesson which was the central idea of Masonry. He wore a Past Master's jewel, which was given to his father in 1796. He concluded with a sentiment from the Scriptures, "Nevertheless in a contrite heart and an humble spirit let us be accepted."
The next sentiment was as follows: —
Freemasonry! — In its fraternal relations, it knows no East, no West, no North, no South.
The toast-master called upon R. W. Br. Wheildon to respond to this sentiment. Admitting the universality of Masonry, Br. Wheildon said he had been thrilled to-day with the sentiments which this visit to the grave of the first Grand Master had inspired, and he thanked the gentleman who had preceded him for the earnest, impressive,'and kindly manner in which he had illustrated and enforced them. It seemed to him as if the occasion was hardly appreciated as an event sure to become historical in the annals of Freemason¬ ry. He said it was a great thing for an association, a community, or a nation, to be able to trace its origin to a respectable source. Our own country among nations stood alone in its ability to point to an ancestry of respectable gentlemen and a Christian people, —the pilgrims of Plymouth. Our Masonic institution, as we have seen to-day, is able to trace its beginning here in New England, and for aught he knew the American continent, to a worthy and upright Mason, who bears upon his grave-stone the highest eulogy which man can bestow upon his fellow-man. He spoke further on this subject, and thought it might, perhaps, be the duty of this Lodge to initiate measures for the erection of a suitable monument over the grave of the first Grand Master whose name it perpetuates.
The next toast, For the beauty and purity of our masonic work in this State, we are largely indebted to the Senior Grand Lecturer, — was responded to by R. W. Br. E. Dana Bancroft, Senior Grand Lecturer, in a very neat and appropriate speech of considerable length, in the course of which he read in a very touching manner the following masonic poem, to be found in the volumes of Moore's Magazine: —
THE SIGN OF DISTRESS.
'Twas a wild, dreary night in cheerless December,
'Twas a night only lit by a meteor's gleam;
'Twas the night, of that night I distinctly remember,
That my soul journeyed forth on the wings of a dream.

That dream found me happy, by tried friends surrounded,
Enjoying with rapture the comforts of wealth;
My cup overflowing with blessings unbounded,
My heart fully charged from the fountains of health.

That dream left me wretched, by friendship forsaken,
Dejected, despairing, and wrapt in dismay;
By poverty, sickness, and ruin o'ertaken,
To every temptation and passion a prey.

Devoid of an end or an aim, I then wandered
O'er highway, and byway, and lone wilderness;
On the past aad the present and future I pondered,
But pride bade me tender no sign of distress.

In frenzy the wine-cup I instantly quaffed at,
And habit and time made me quaff to excess;
But heated by wine, like a madman I laughed at
The thought of e'er giving a sign of distress.

But wine sank me lower by lying pretences;
It battered my raiment and furrowed my face;
It palsied my sinews and pilfered my senses,
And forced me to proffer a sign of distress.

I reeled to a chapel whose churchmen were kneeling,
And asking their Saviour poor sinners to bless;
My claims I presented, — the door of that chapel
Was slammed in my face at the sign of distress.

I strolled to the Priest, —that servant of Heaven,
And sued for relief with a wild eagerness ;
He prayed that my sins might at last be forgiven,
And thought he had answered my sign of distress.

I staggered at last to the home of my mother,
Believing my prayers would meet with success;
But father and mother and sister and brother
Disowned me and taunted my sign of distress.

I lay down to die as a stranger drew nigh me,
A spotless white lambskin adorning his dress;
My eye caught the emblem, and, ere he passed by me,
I gave, as before, the sad sign of distress.

With God-like emotion, that messenger hastens
To grasp and whisper, — "My brother, I bless
The hour of my life when I learned of the Masons
To give and to answer your sign of distress."

Let a sign of distress by a Craftsman be given,
And, though priceless to me is eternity's bliss,
May my name never enter the records of Heaven,
Should I fail to acknowledge that sign of distress.
The next sentiment, given in honor of the clergy attached to the fraternity, was very beautifully responded to by Rev. Br. Safford, in a speech of great purity of thought and expression, and full of interest in the association and its members.
The W. Master, at the suggestion of Br. Warren, called upon toast-master Haynes to say something. Br. Haynes responded in a prompt and spirited manner in an excellent speech. He said he had five hundred and sixteen men under his care and discipline, but never a Mason among them.
The next toast was complimentary to the Groton Lodges, and was eloquently responded to by Br. Luther S. Bancroft.
Toast-master Haynes next gave a toast to King Solomon's Lodge, Charlestown, which was responded to by W. Br. James A. D. Worcester, in a very pleasant and fraternal manner.
The brethren now united in singing Old Lang Syne, accompanied by the band, and thus concluded the festive exercises of the day.
The company took the cars for home at half-past four o'clock, well pleased with the lessons and enjoyments of the day. — Bunker Hill Aurora.
INSTALLATION, OCTOBER 1866
From Moore's Freemason's Monthly, Vol. XXVI, No. 1, November 1866, Page 7:
The officers of Henry Price Lodge, at Charlestown, were installed by M. W. Grand Master Dame, assisted by the Grand Officers, on Wednesday evening, Oct. 24, in the presence of a crowded hall of members and visitors. Previous to the installation, the second degree was worked in an admirable manner, and received the unqualified approbation of the Grand Lodge. At the conclusion of the ceremonies in the hall, the company were invited to an elegant banquet, at which brief speeches were made by the new Master of the Lodge, the Grand Master, Brs. Moore, Marshall, Stearns, Wheildon, Warren, Kesmith, Haynes, and others.
The new officers are as follows:
Edward T. Woodward, Master.
Gideon Haynes, Senior Warden.
George F. Hurd, Junior Warden.
Abel E. Bridge, Treasurer.
Charles A. Winslow, Secretary.
James Adams, Jr., Marshal.
Rev. Oscar F. Safford, Chaplain.
Frederick Zuchtmann, Organist.
Albert D. S. Bell, Senior Deacon.
Charles H. Bigelow, Junior Deacon.
M. Allen Parsons, Senior Steward.
William J. Seaver, Jr., Junior Steward.
Nahum H. Chapin, Sentinel.
Rowland Hill, Tyler.
50TH ANNIVERSARY CELEBRATION, MAY 1908
From New England Craftsman, Vol. III, No. 9, June 1908, Page 355:
Henry Price Lodge of Charlestown, Massachusetts, celebrated its fiftieth anniversary, Wednesday, May 6th, with elaborate ceremony. The event had been long anticipated and much work done to make the occasion one of pleasure to all who should participate in the exercises. Henry Price Lodge has about 350 members, a large proportion of whom were present. There were also many prominent members of the craft who were invited to assist in the celebration.
The Grand Lodge was represented by Most Worshipful John Albert Blake, Grand Master; Right Worshipful William H. L. Odell, Deputy Grand Master; Right Worshipful George W. Storer, as Senior Grand Warden; Right Worshipful Oliver A. Roberts, Junior Grand Warden; Past Grand Master Sereno D. Nickerson, Recording Grand Secretary; Right Worshipful Charles H. Ramsey, Grand Treasurer; Right Worshipful James Gould, District Deputy Grand Master of the Third District; Right Worshipful H. P. Ballard, District Deputy Grand Master of the Seventh District; Rev. Edward A. Horton and Rev. William H. Rider, Grand Chaplains; Worshipful Melvin M, Johnson, Grand Marshal; R. Walter Hilliard, Senior Grand Deacon; Charles T. C. Whitcomb, Junior Grand Deacon; William L. Walker, Senior Grand Steward; Nesbit G. Gleason, Junior Grand Steward; G. H. Graves, Grand Sword Bearer; E. Ernest Murray, Grand Standard Bearer; George W. Chester, Grand Tyler. Many other distinguished Masons representing sister lodges and other branches of the order holding meetings in the vicinity were also present.
Worshipful Robert B. Loring, master of Henry Price Lodge extended a cordial welcome to all. The programme included speeches, an anniversary ode, an historical address by Right Worshipful Charles S. Robertson, and an elaborate banquet. The grand master and Rev. R. Perry Bush, who was one of the speakers, received from Worshipful Master Loring handsome bouquets and as a souvenir of the notable occasion in the life of the lodge each guest received an elegant plate bearing on the face a likeness of Henry Price encircled by a wreath, with the name of the lodge and the designation of the event.
PILGRIMAGE TO PRICE GRAVE, MAY 1923
From New England Craftsman, Vol. XVIII, No. 8, May 1923, Page 246:
Thirty members of Henry Price Lodge, A. F. & A. M. of Charlestown, left the Lodge rooms in Thompson Square Saturday, May 19, for a pilgrimage by automobile to Townsend Harbor, where they laid a wreath mi the grave of Henry Price, first Grand Master of Freemasons in America. Leonard W. Marston, master of the lodge, was in charge of the party, and among his guests were Rev. Dudley H. Ferrell, Grand Master of Masons in Massachusetts, and District Deputy Grand Master Edward C. R. Bagley of the Third Masonic District. Grand Master Ferrell delivered an address at the grave.
So far as is known, the pilgrimage is the first that has been made to the grave since the monument to Henry Price was dedicated by the Grand Lodge of Massachusetts in 1888. The time of the pilgrimage was appropriate, in that it comes within one day of the anniversary of the death of the first Grand Master, which occurred on May 20, 1780.
Henry Price was born in London in 1697 and came to Boston in 1723, where he soon became successfully established in business. He made his home in Boston and had a summer house in West Cambridge, which was then called Menotomy. In 1733 he received a commission from Lord Viscount Montacute, Grand Master of England, making him Grand Master of New England. In the same year he organized the first grand lodge in North America, the ceremonies taking place at the Bunch of Grapes Tavern in King Street (now State Street). Subsequently this lodge became St. John's Lodge. In 1734 he was made provincial Grand Master lor the continent of North America, and as such he granted his first warrant for the establishment of a lodge in Philadelphia to Benjamin Franklin.
SPECIAL MEETING, SEPTEMBER 1989
From TROWEL, Spring 1990, Page 25:
Henry Price Lodge Hosts Israeli Dignitary
The Sept. 27 communication of Henry Price Lodge, Boston, in the Boston 3rd District, was unique in its concept because of the three important items of business on the agenda.
First, because it was the last Official Visit by R. W. Ralph Kaplan, D.D.G.M. of the Boston Third District, who was accompanied by a large suite of distinguished Masons, notably among whom was R. W. Daniel Goshen, Past Master of Rubin Lodge No. 1, of Haifa, Israel, and Past Junior Grand Warden of the Grand Lodge of Israel. R. W. Kaplan completed his visit and then gave time to R. W. Goshen to speak about the Grand Lodge of his country. Bro. Goshen brought the greetings of his Grand Master and spoke at length about the 76 lodges with a membership of 2300 in Israel. He stated that the lodges are conducted in varied languages.
At the conclusion of the visit, the brethren joined the ladies at dinner in the banquet hall, where Bro. Goshen was again asked to speak.
It was stated that, "He spoke with eloquence and descriptive terms of the brotherhood that exists between our Grand Lodges". He extended an invitation to all present to visit Israel, his Blue Lodge in Haifa, and the Grand Lodge in Tel Aviv. In commemoration of the visit, R. W. George Rubin, Master of the lodge, presented a beautiful gift to R. W. Bro. Goshen and his lady, Syndenstricker glass that is made in Brewster on Cape Cod.
After the dining hall festivities, the assemblage repaired to Corinthian Hall where the Installation of Officers was performed by R.W. Samuel Lieberson as Installing Master, Wor. Joseph L. Speyer as Chaplain, and Wor. Irving M. Taub as Marshal.
R. W. Bro. George Rubin, of Lee, MA in the Berkshires, was installed again as Master. After a beautiful rendition of the charge to the Master, Wardens and members of the Lodge by the District Deputy Grand Master, the Master presented gifts of Syndenstricker glass to the installing team and to the District Deputy and his Marshal and Secretary, in the persons respectively of Wor. Morris Zirlin and Wor. Bernard Kaplan. The Master had flowers presented to the ladies to complete a most auspicious event.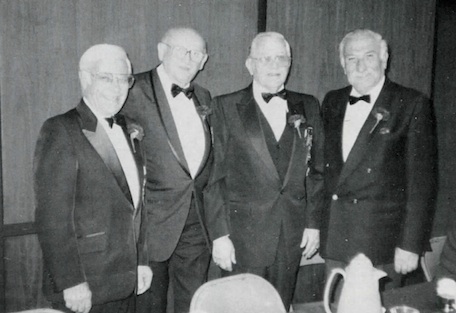 R. W. Ralph Kaplan, D. D. G. M., Boston 3rd District; Wor. Benjamin Schiffman, Chairman of the event; R. W. George D. Rubin, Master; and R. W. Daniel Goshen, Grand Representative of the Grand Lodge of Israel near the Grand Lodge of Massachusetts.
---
GRAND LODGE OFFICERS
OTHER BROTHERS
---
DISTRICTS
1867: District 2 (Charlestown)
1883: District 3 (East Boston)
---
LINKS