Winthrop
From MasonicGenealogy
WINTHROP LODGE
Location: Winthrop
Chartered By: Henry Endicott
Charter Date: 03/14/1888 1888-41
Precedence Date: 03/22/1887
Current Status: merged into Star of Bethlehem Lodge, 06/26/1995.
---
PAST MASTERS
Peter S. MacGowan, 1887
Edmund S. Reed, 1888
Charles G. Bird, 1889, 1890; SN
Lewis A. Wallon, 1891, 1892; Mem
Sydney H. Griffin, 1893, 1894
George F. Payne, 1895, 1896
Albert B. Dunham, 1897, 1898
Edward F. Cutler, 1899, 1900
Charles G. Craib, 1901
Horace A. Magee, 1902, 1903
Walter P. Simonds, 1904, 1905
Harry W. Aiken, 1906
William W. Thompson, 1907, 1908
George E. Safford, 1909, 1910
William H. Vincent, 1911
Walter B. Thayer, 1912
David Belcher, 1913, 1914
George L. H. Stevenson, 1915, 1916
Frank F. Cook, 1917, 1918
Albert S. Smith, 1919, 1920
Gorham L. Walker, 1921, 1922; Mem
Allen E. Newton, 1923, 1924
Clyde D. Moulton, 1925
Winfred C. Mills, 1926
Benjamin H. Littlefield, 1927
Ernest R. Walker, 1928; N'
Francis F. Homer, 1929
Albert E. Whitney, 1930; N
Orin E. Fisher, 1931
Russell A. Lang, 1932
Albert W. Lythgoe, 1933
Benjamin A. Healey, 1934
Amos W. Crooks, 1935
Edgar F. Baker, 1936, 1937
Carl L. Root, 1938
Ralph E. Hamilton, 1939
N. Elliot Willis, 1940
W. Truman Hue, 1941
George A. Luke, 1942, 1943
James M. Letson, 1944
Leslie M. Walker, 1945
Edward G. Kalkert, 1946
William E. Brumby, 1947
Clarence A. Poole, 1948
John G. Markley, 1949
Thomas Knudson, Jr., 1950; N
Howard S. Reynolds, 1951
Douglas Fullerton, 1952
John H. Fenton, 1953
John M. Ballou, 1954
Frederick H. Cheeseman, 1955
Richard B. Learnard, 1956
Joseph F. March, 1957
Norman F. Siefert, 1958
Richard A. Marsh, 1959
Robert L. Siefert, 1960
Harold A. Ham, Jr., 1961
James William Dunnell, 1962
Lawrence J. Roberts, 1963; died in office
Henry J. Petzke, 1963, 1964
William West, Jr., 1965
Charles R. Smith, 1966
Ralph E. Blazo, Jr., 1967
Richard Dell Orfano, 1968
William A. Farquhar, 1969
James C. Dell Orfano, 1970
Frederick W. Hagman, 1971
George E. Durfee, Jr., 1972, 1976
Robert L. Sterling, 1973
James H. Carangelo, 1974
Frederick H. Cheeseman, 1975
Joe B. Collins, 1977, 1986, 1987, 1990
Hazen W. Lipsett, 1978
Orin F. Edgar, 1979
Odell Robinson, 1980
Joseph S. Agri, 1981
Ole R. Knudson, 1982, 1992
Ronald R. Wright, 1983
Donald F. Tabbut, 1984, 1985, 1988, 1989, 1991; N
Robert E. Stephenson, 1993
Gerald R. Izzett, 1994, 1995
---
REFERENCES IN GRAND LODGE PROCEEDINGS
ANNIVERSARIES
VISITS BY GRAND MASTER
BY-LAW CHANGES
1888 1892 1905 1906 1907 1913 1918 1919 1932 1940 1946 1948 1950 1951 1957 1958 1960 1961 1963 1968 1979 1982 1984
HISTORY
1962 (75th Anniversary History, 1962-68; see below)
75TH ANNIVERSARY HISTORY, MARCH 1962
by R.W. Thomas Knudson
As it is exceedingly desirable that the members of any organization should be fully acquainted with its origin and history so far as possible, and inasmuch as the membership is frequently changing, it was considered that the present occasion afforded a favorable opportunity to inform the younger members of the goodly heritage they have acquired through their association with this Ancient and Honorable Institution. This sketch is brief, embracing only the salient points in the history of the Lodge. A really complete history would require a volume of very large dimensions.
In compiling Masonic data relative to Winthrop Lodge, which had its beginning in 1887, our task is rather difficult. Lodges are but men, and their histories are nothing more than the record of the men who left the influence of their personality upon their successors and on the Lodge whose history they made. My task is to turn back the pages of history for three quarters of a century and give the story of our Lodge as briefly as possible, reciting only some of the high spots.
On March 22, 1887, Most Worshipful Henry Endicott, Grand Master of Masons in Massachusetts, granted a dispensation to nineteen Brethren, authorizing them to convene in the Town of Winthrop, under the name of Winthrop Lodge, the petition being recommended by Mount Tabor, Baalbec, Hammatt, and Temple Lodges, all of East Boston, and countersigned by R.W. Charles S. Robertson, District Deputy Grand Master for the Third Masonic District.
The Lodge first met in a room on the third floor of "Read's Block", located on the corner of Pauline and Hermon Streets, on the side toward Hermon. The,"Lodge Room" was the only part of that floor that was finished and plastered for the kitchen and dining-room were in the "loft" or unfinished portion. However, the baked bean, clam chowder, and frankfort spreads were well enjoyed and relished regardless of the surroundings. The lodge-room was about fifteen by thirty feet with low ceilings sloping on three sides, with three or four windows on the Pauline Street side, which were kept closed. In the summer all stewed and sizzled alike, but in the winter the stove in the Northwest corner furnished the Senior Warden, Organist, Tyler, and the Brethren in that area with heat, while the Master and those in the East nearly froze. Members dressed for comfort, and a half a dozen pairs of feet in rubber boots were no novelty.
It is interesting to note that the building was the property of the first Senior Warden, Bro. Edmund S. Read, and that the first year's rental was $100.00, with the option of renewing for a period of five years at an annual rental of $125.00. A vote was taken which stated that the hall could only be used for Masonic purposes.
At the second communication, fifteen applications for the degrees were read. It was voted that the applicants be acted on alphabetically.
At the third communication, the fifteen applicants were elected to receive the degrees, and five more applications were read. The first class of candidates were then received, Orlando Fuller Belcher, Marcellus Austin Belcher, Charles Harris Brown, and Job Samuel Durant. To these Brethren go the honor and distinction of being the first Entered Apprentices of Winthrop Lodge. While "under dispensation", a total of thirty-six Brethren signed the By-Laws.
On March 14, 1888, the Grand Lodge saw fit to reward the new Lodge with a Charter, which bore seventeen names, and gave precedence from March 22, 1887.
At a Special Communication of the Grand Lodge held in Corinthian Hall, Masonic Temple, Boston, on Monday, April 30, 1888, at 7:30 p.m., Most Worshipful Henry Endicott, the Grand Master, proceeded to constitute Winthrop Lodge in accordance with the forms and ceremonies prescribed in our ritual. Temple Quartette supplied appropriate music. At the conclusion of this ceremony, the Grand Marshal, Wor. George H. Rhodes, proclaimed Winthrop Lodge duly constituted. The Grand Master then installed Peter Stainforth Masgowan as Worshipful Master, the Senior Grand Warden installed Edmund Sewell Read as Senior Warden, the Junior Grand Warden installed Frank Emerson Bennett as Junior Warden, the Grand Secretary installed Warren Belcher as Secretary, the Grand Chaplain installed Edwin Faxon Dunham as Chaplain, the Deputy Grand Master installed Osman Baker Ingalls as Marshal, Charles Grandison Bird as Senior Deacon, Thomas Henry Cross as Junior Deacon, Sidney Haskell Griffin as Senior Steward, Henry Frederic Shaneck as Junior Steward, and Joseph Bowman as Tyler. After the customary proclamation by the Grand Marshal, the Grand Master delivered a most inspiring and appropriate Charge to the newly-installed officers and to the Brethren of Winthrop Lodge.
Among the gifts to the new Lodge were a set of officers' collars from Washington Lodge of Roxbury, a ballot-box from Mount Tabor Lodge of East Boston, a gavel from the Grand Master, the Holy Bible, Square and Compasses and a Past Master's chair from Bro. John H. Collamore. Ten summer residents, not members of Winthrop Lodge, gave the Master's chair, Bro. Fred Seavey gave a safe, and other gifts came in to enable the new Lodge to work properly.
Exclusive of officers, the other Charter members were Sylvanus Payne, Edward Francis Cutter, Richard Shackford, Charles Albert Grant, Benjamin Whippey Clisby, and Hermon Douglas Tewksbury. While under dispensation, a total of thirty-six Brothers signed the By-laws, making a total membership of fifty-five at this time.
In 1889 the membership was sixty-one, and in 1890, sixty-six. The new Lodge was outgrowing its quarters. Bro. Edward B. Newton, at the annual communication held on October 14, 1890, moved that a committee be appointed to consider the matter of new and larger quarters for the Lodge. The committee was appointed, and on April 15, 1892, these Brothers formed the Winthrop Masonic Building Association, duly chartered under the laws of the Commonwealth of Massachusetts, and they proceeded to sell fifteen hundred shares of stock at ten dollars a share. At a stockholders' meeting held on July 19, 1892, the Board of Directors purchased the land of Edwin F. Cutter, located on Winthrop Street opposite Madison Avenue, and awarded the mason work to Marcellus A. Belcher, and the carpenter work to James Bacon. Ground was broken on July 29, 1892, and the building was completed in December. The last communication in Read's Block was on January 10, 1893, at which time the second degree was conferred on Brothers Harry W. Aiken, Hamilton R. Douglass, Albert B. Dorman, and Horace A. Magee.
A Bazaar and Fair was held on January 17, 18, 19, and 20, 1893, which netted a profit of $1935.01 to assist in the celebration now about ready to be held. February 7, 1893, the building completed, stock delivered, all bills paid, the climax was reached with the dedication. At 4:00 p.m. Wor. Lewis A. Wallon, the Master, opened the Lodge, and sent a committee with Wor. Charles G. Bird as Chairman, to escort the Grand Lodge Officers into the new apartments. Bro. Bird introduced R.W. Harvey N. Shepard, Deputy Grand Master, who in turn introduced the remaining Grand Lodge Officers. The Master resigned the East to the Deputy Grand Master, and the remaining Grand Officers assumed their respective stations. Prayer was offered by the Grand Chaplain, and Bro. Frank W. Tucker, representing the Architect, surrendered the working tools, and the usual examination of the new apartments was made by the Grand Officers. The report being satisfactory, R.W. Bro. Shepard then proceeded to solemnly dedicate the Hall to Freemasonry, to Virtue, and to Universal Benevolence, in accordance with ancient form and usage, and the ritual of this Grand Lodge; after which and several Past Masters. Historical reminiscences of the Lodge were read by the Secretary. A roll call of the Charters Members was made, and a banquet enjoyed at the close of the evening.
The 25th anniversary was celebrated in the Masonic Temple, Boston, on Friday, March 29, 1912. A reception to M.W. Everett C. Benton, the Grand Master, by about 350 Brethren and their ladies was followed by a sumptuous banquet, after which all proceeded to Ionic Hall for the program, which included a welcome by Wor. William H. Vincent, the Master, an address by the Grand Master, historical addresses by Brothers David Floyd and Frank W. Tucker, and a principal speech by R.W. Leon W. Abbott, who became Grand Master in 1917. The addresses were interspersed by musical numbers rendered by the Webber Male Quartette. At the conclusion of the speeches America was sung by all, led by the Quartette, and all repaired to another room where dancing was enjoyed until midnight. All declared it a truly successful celebration.
During the summer of 1913, the hall was modified to accommodate another row of seats by Wor. George E. Safford, who labored early and late to accomplish the task. New carpets and hangings were provided for the officers' stations, and new electrical fixtures were installed.
The first Past Masters' Night was held on Tuesday, January 22, 1914, the 404th communication, at which time a reception was held for R.W. Charles G. Bird, whom M. W. Melvin M. Johnson, Grand Master, had appointed District Deputy Grand Master of the Third Masonic District. M. W. Everett C. Benton, Past Grand Master, was present and spoke of his recent return from Chile, where he had visited Lodges working under the jurisdiction of our Grand Lodge. There were about 300 present, and the third degree was conferred on five candidates, with R. W. Bro. Bird in the East.
On April 13, 1915, M.W. Melvin M. Johnson, Grand Master, visited Winthrop Lodge to present a Henry Price Medal to Bro. Daniel Hollinger, who was born in Bavaria on September 13, 1815, and was raised in Harmony Lodge No. 11 of Brookville, Indiana. At the regular quarterly communication of Grand Lodge on December 8, 1915, at the age of one hundred, and seventy-eight years a Mason, Brother Hollinger was elected an Honorary Member of the Grand Lodge of Massachusetts with the rank of Past Senior Grand Deacon. Wor. Bro. Hollinger departed on December 27, 1915.
The only regular communication omitted during these seventy-five years was the one scheduled for October 1918, when the Grand Master ordered all Masonic meetings cancelled because of the influenza epidemic.
M.W. Leon M. Abbott, Grand Master, visited the Lodge on Wednesday, November 19, 1919, to present the Henry Price Medal to R.W. Lewis A. Wallon.
The 606th communication, held on Wednesday, May 25, 1921, marked the first time a group appeared as a team to perform degree work. The Past Masters' Association of the Third Masonic District raised five candidates, with our own Wor. George E. Safford in the East. There were 147 visitors, and 197 members, totaling 344, the largest number ever present on record in Winthrop Lodge.
M.W. Arthur D. Prince, Grand Master, visited on June 21, 1922, to confer the Henry Price Medal on R.W. Charles G. Bird.
On January 8, 1924, a reception was tendered R.W. Gorham W. Walker, who had been appointed District Deputy Grand Master of the Third Masonic District by M.W. Dudley H. Ferrell, Grand Master.
At the annual meeting held on Tuesday, October 13, 1931, Bro. James Christian Nelson, who had served as Secretary for thirty-five years, declined further nomination, and the Junior Past Master, Wor. Albert E. Whitney, was elected Secretary, which position he was to fill for twenty-five years. Brother Nelson was designated "Secretary Emeritus", the designation now held by R.W. Bro. Whitney. On November 27,. 1933, at the age of eighty-eight, Brother Nelson was called to the "Celestial Lodge Above".
M. W. Curtis Chipman, Grand Master, saw fit to appoint as District Deputy Grand Master of the Chelsea Third Masonic District, R.W. Ernest R. Walker, and on Tuesday, January 9, 1934, a reception was held for him.
During the term of Wor. Benjamin A. Healey, there were several fraternal visits withJordan Lodge of Peabody, as the Master of Jordan Lodge, Wor. Carleton A. Healey, was the blood brother of our Master.
The fiftieth anniversary of the Lodge was held with various celebrations: on Sunday, March 21, 1937, a service was held in the First Church of Winthrop, Methodist, at which time the sermon was delivered by M.W. and Dr. Frederick W. Hamilton, Honorary Past Grand Master and Grand Secretary; and on March 23rd an anniversary and Ladies' Night was held at the Elks Home. The Grand Master, M.W. Claude L. Allen, was in attendance, as well as many other prominent Masons and their ladies. A delicious banquet, fine program, and good entertainment, followed by dancing, rounded out a well-spent evening for all who attended. A Past Masters' Night was held on April 13th, at which time the first degree was worked on two candidates. The Master's work was done by Wor. Albert W. Lythgoe, assisted by R.W. Ernest R. Walker and Wor. Albert E. Whitney.
Wor. Harry Wallace Aiken, first candidate raised in the present hall, and our Treasurer since 1915, was called from our midst on January 25, 1942.
On January 8, 1946, at the 946th communication, a reception was held for R.W. Albert E. Whitney, whom M.W. Samuel H. Wragg, Grand Master, had appointed District Deputy Grand Master of the Chelsea Third Masonic District.
The regular communication of June 11, 1946, marked the inception of "Past and Presiding District Deputies Night", at which time all the stations were filled by past or presiding District Deputy Grand Masters. The third degree was worked on four candidates with R.W. George H. Mclntire, an Honorary Member of Winthrop Lodge, in the East.
This type of evening was repeated on January 14, 1947, when our R.W. Albert E. Whitney raised his son, assisted by a group of past and presiding District Deputy Grand Masters from the Third Masonic Districts.
The 1000th communication was celebrated on Wednesday, February 18, 1948, with a reception to R.W. Eugene B. Hamilton, Deputy Grand Master, who brought the greetings of the Grand Master, who was out of the State. This was also the occasion of a Past Masters' Night, with Wor. George E. Safford conducting the work in the East.
On Tuesday, May 9, 1950, Winthrop Lodge held a "State-of-Maine Night", at which time the officers and members of Ancient Landmark Lodge No. 17 of Portland, Maine, conducted the work on one of their candidates. Winthrop Lodge returned the visit on Wednesday, May 24, 1950, when about fifty officers and members of Winthrop Lodge journeyed to Portland and worked the third degree on one of our candidates. This was accomplished by dispensation granted by the Grand Masters of both Maine and Massachusetts.
As the oldest fraternal organization in Winthrop, and by special dispensation granted by M.W. Thomas S. Roy, Grand Master, on Saturday, August 2, 1952, Winthrop Lodge participated in the Centennial Celebration of the Town of Winthrop, by parading in white aprons and gloves. The band and uniformed units of Aleppo Temple, plus other collateral bodies brought the total number of Masons to about one thousand. Following the parade, all enjoyed a collation under a tent which had been erected on our parking lot at the corner of Winthrop and Jefferson Streets, next to the Masonic Hall.
Inter-Lodge visitations with Star of Bethlehem Lodge of Chelsea, and Baalbec Lodge of East Boston, presently also of Chelsea, have been held at various times throughout the years.
During these seventy-five years, Winthrop Lodge has never failed to celebrate the Feast of Saint John the Baptist by attending Divine Worship. Of late it has been preceded by a breakfast, and the several collateral bodies have been invited to accompany us.
Winthrop Lodge has had fifty-seven Masters, including the present one, of whom twenty-nine are living. The senior, Wor. Walter P. Simonds, was Master in 1904-1906.
We now share our lodge-room and building, for on Monday, March 23, 1959, M.W. Andrew G. Jenkins, Grand Master, constituted 125 Brethren into Ocean Lodge, with three of our Past Masters as its first three officers: Wor. John M. Ballou, Master; Wor. Frederick H. Cheeseman, Senior Warden; Wor. Howard S. Reynolds, Junior Warden.
The year is now 1962, seventy-five years have come and gone, from the "horse and buggy" days to the "atomic and outer space" age. I have tried to narrate some of the important events in the history of Winthrop Lodge. We look back in pride to these years. Therefore, we would do well to rededicate our lives to upholding the splendid traditions of Winthrop Lodge, and to promoting and perpetuating all that our time-honored institution stands for.
---
EVENTS
CONSTITUTION OF LODGE, APRIL 1888
From Liberal Freemason, Vol. XII, No. 2, May 1888, Page 61:
Winthrop Lodge F. and A. M. was duly constituted in Masonic Temple, Boston, on the evening of April 30th by M. W. Henry Endicott, Grand Master, and officers of Grand Lodge.
This Lodge will work in Winthrop, Mass., but for convenience's sake the ceremonies incident to the occasion were performed as stated. The officers of the Lodge installed by the Grand Master are P. S. MacGowan, Worshipful Master; Edmund S. Read, Senior Warden; Frank E. Bennett, Junior Warden; Sylvanus Payne, Treasurer; Warren Belcher, Secretary; Edwin F. Dunham, Chaplain; Osman B. Ingalls, Marshal; Charles G. Bird, Senior Deacon; Thomas H. Cross, Junior Deacon; Sydney H. Griffin, Senior Steward; Henry F. Shaneck, Junior Steward; Joseph Bowman, Tyler.
Proclamation was made by the Grand Marshal, after which an impressive charge to the lodge was delivered by the Grand Master. Addresses were made by Most Worshipful Grand Master Henry Endicott, Past Grand Master William Parkman, Grand Secretary Sereno D. Nickerson, and Rev. Fielder Israel. The Grand Lodge then retired, and Winthrop Lodge was closed.
25TH ANNIVERSARY CELEBRATION, MARCH 1912
From New England Craftsman, Vol. VII, No. 8, May 1912, Page 254: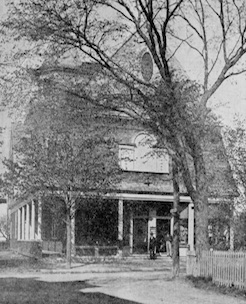 Winthrop Masonic Temple
Twenty-fifth Anniversary of Winthrop Lodge, A. F. & A. M., Winthrop, Mass.
The historian of Winthrop lodge, Winthrop, Mass., says there are are more Masons to the square mile in Winthrop than in any other town in Massachusetts where a lodge is located. This statement seems to be corroborated by the lodge going out of town to find sufficiently spacious accommodation for the celebration of its twenty-fifth birthday. This important event occurred Friday, March 29th, in Masonic Temple, Boston. There may be a psychological reason for the lodge coming to Boston to celebrate its birthday. The lodge enjoys the unique distinction of having been constituted in Boston although its field of service lay elsewhere. It is known that a man long absent from the place of his birth will yearn to return to the spot where his career was begun, this desire may have had a subconscious influence in the determination of the lodge to observe its festal day on the spot of its birth. Whether or not this be true there was a brilliant and happy assembly of brethren and ladies in Masonic Temple when the hour arrived for the opening ceremony of the celebration. Before entering on the regular program there was a reception in Corinthian Hall at 6.30 o'clock. Those in the receiving line were: Worshipful Master William H. Vincent; the Grand Master and Mrs. Benton; Right Worshipful Charles A. Estey, DDGM, 3d Masonic District; Charles G. Bird, PM, and Mrs. Bird; Sidney H. Griffin, PM; David Belcher, JW, and Mrs. Belcher; Charles A. Grant and Mrs. Grant.
After the company had been presented a procession was formed and proceeded to the banquet hall where a sumptuous banquet was served by Brother Andrew Schlehuber, during the banquet a fine musical program was furnished by an orchestra. At the end of the banquet the company, which numbered about 275, repaired to Ionic Hall where the regular program was carried out beginning with a welcome from Worshipful Master William H. Vincent, who, in a dignified and courteous speech, referred to the prosperity of the lodge, its steady and happy growth and expressed the hope that all would carry to their homes a firmer impression of the greatness and nobility of the fraternity. To the women guests he declared himself as especially grateful for encouragement by their presence. He introduced Grand Master Everett C. Benton who was cordially received.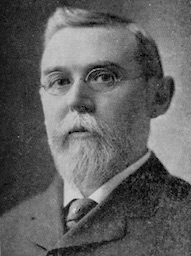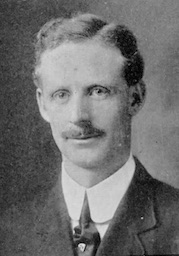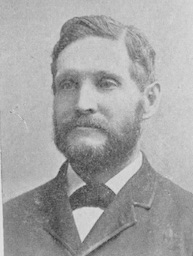 P. S. Macgowan; W. H. Vincent; E. S. Read
First Master; Present Master; Charter Member
The Grand Master showed a particular happy vein as he responded to his introduction and contributed largely to the cheerfulness of the occasion by his humorous remarks. He said that he noticed that some numbers were to be contributed by a quartet, but in order that they might be sure of good music he would sing a selection himself. He sang The Little Old Red Shawl, the quartet assisting. The outburst of applause at the end proved that the company were delighted with the Grand Master's vocal accomplishments although he remarked that he had not rehearsed an encore and the company must wait 25 years for another verse of the song. The Grand Master spoke of the duties and the pleasure of his position and of the uplifting influence of Freemasonry on men and communities. After extending the congratulations of the Grand Lodge he presented to the worshipful master a gavel made from wood obtained in the forest of Mt. Lebanon and told how it was brought to this country under the exclusive care of members of the fraternity and he trusted it would be kept in the lodge for the next 25 years. Worshipful Master Vincent accepted the gift with assurance of his appreciation. An able historic paper was read by David Floyd from which we learn, not only the history of Winthrop Lodge, but a good deal about John Rowe, one of the early Grand Masters of the St. John's Grand Lodge, who was one of the proprietors of Pulling Point, a section of what is now known as Winthrop and whose name is perpetuated in Boston by its use to designate one of the principal wharfs of the city.
Winthrop Lodge began its career under a dispensation granted by Grand Master Henry Endicott, March 23, 1887. An attempt had been made to secure a dispensation in the previous year but Grand Master Howland, who was then in office, refused it on the ground that there was no necessity for a lodge at Winthrop. The founders of the lodge were mostly members of lodges in East Boston. Seventeen names are on the charter which bears date of March 14, 1888. with precedence from March 22, 1887. The lodge was constituted in Masonic Temple, Boston. The first meeting under the charter was held at Winthrop, May 8, 1888. The first Master was P. S. Macgowan, the first Secretary, Warren Belcher. The new lodge started off with the good wishes of sister lodges with whom she has always maintained pleasant relations; several of them contributed to the success of the lodge by contributions of paraphernalia. The first collars worn by the officers were presented by Washington lodge, these were later replaced by others presented by the officers themselves, Mt. Tabor lodge gave a ballot box and her officers assisted in the work at many of the meetings held under dispensation.
The Bible and Great Lights and the Past Master's chair were presented by John H. Collamore, and under his will the lodge received $670, being a legacy of $500 and interest. Ten summer residents not members of Winthrop Lodge gave the Master's chair. A safe for keeping the records was given by Brother Fred N. Seavy and later a hospital bed for the use of members of the lodge. Other valuable gifts have come from Brother William A. England, and P. B. Newton, Brothers Simonds and Craib. A banner was presented to the lodge at a "Ladies' Night" in 1896 by Miss Julia E. Marshall, and a gavel by Brother George J. Baker in 1901.
The lodge has shown its interest in the "Arts and Architecture" of the town by placing marble walls and a mosaic floor and ceiling in the vestibule of Frost Public Library Building, named for a former member of Winthrop lodge, and by a generous donation towards the purchase of works of art for the Winthrop High School Building.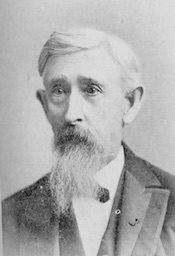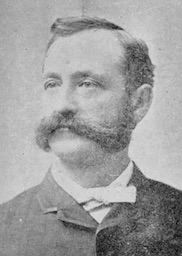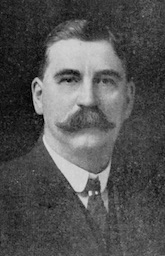 Warren Belcher; E. F. Cutter; E. B. Newton
First Secretary; Chartere Member; Generous Donor
Fifteen brothers including Wor. Bro. W. H. Vincent, have served the lodge as Masters. Five Secretaries have kept the records, the last, Brother James C. Nelson has been Secretary for the past nineteen years. The funds have been in the care of three Treasurers, Sylvanus Payne, Thomas H. Cross and N. W. Thompson. Eight Tylers have guarded the door and 5,136 names have been recorded in the visitors' book, the smallest number being 51 in 1890 and the largest 360 in 1911. The membership record of the lodge is as follows: Charter Members 17, Initiations 384, affiliations 88, of these 35 have demitted, 51 have died and 18 suspended having a present membership of 385.
In May, 1891, members of Winthrop lodge organized the Winthrop Masonic Benefit Association for the purpose of paying a benefit to the family of a deceased brother. Brother Warren Belcher was its treasurer as long as he lived. The organization has since been changed to the Warren Belcher Benefit Association in appreciation of the valuable services of Bro. Belcher to Masonry. Thirty assessments have been made and thirty-five payments have been made. The total amount paid in 21 years has been $4,023.
Of the Charter Members, seven are now living; Past Master P. S. Macgowan, now of St. Louis; Past Master E. S. Read, now of Highland Springs, Va.; Past Masters S. H. Griffin and Charles G. Bird and Brothers Charles A. Grant, Benjamin W. Clisby and Thomas H. Cross, the last a resident of Lockport, N. Y.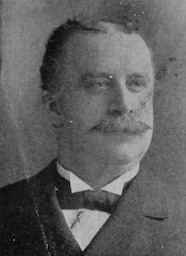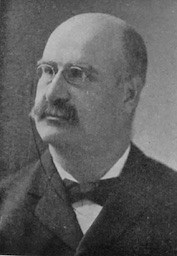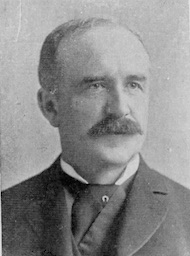 L. A. Wallon; Fred H. Seavey; G. F. Payne

When the lodge was constituted Winthrop had a population of 2,000, it now has 11,000. During the quarter century past 76 members of Winthrop Lodge have been chosen to fill important positions in the town's offices, five have been representatives to the General Court, one has been sheriff of Suffolk County for eleven years and two have been postmasters. Of its number none have been more highly regarded than Warren Belcher, a Charter Member and the first Secretary of the lodge and who was equally esteemed by every citizen. There have been other members of the lodge who have endeared themselves to their brethren by their unselfish devotion to Masonry and to their fellow-men—among such the name of Brother E. B. Newton stands prominent. His generosity was always evident in word and action whenever assistance was needed. To this brother, Royal Arch Masonry was in a great degree indebted for the establishment of Winthrop Royal Arch Chapter. The services of Brother Newton were recognized by the lodge, Nov. 10, 1903, when he was presented a Junior Warden's apron on his declination to accept further promotion in office. Again on a later date he was presented with a handsome clock by the lodge and chapter in appreciation of his untiring activity for the prosperity of the Masonic bodies.
Other brethren have endeared themselves to the lodge by valuable service, none more so than Worshipful Brother Louis A. Wallon, who was the first brother ever appointed from the lodge to the office of district deputy grand master. In recognition of the honor and as an expression of the love of the brethren he was presented with a gold ring; one year later the masters of the lodges of the district made a memorable event in Winthrop lodge by presenting a loving cup to Brother Wallon.
Brother Floyd's able historic address closed with the final words spoken by Most Worshipful Brother Henry Endicott in his charge to the brethren at the constitution of the lodge which in part were: "Let my word to you be this: Live in harmony, cultivate the unselfish spirit of brotherhood, and that spirit will teach you then the wide duties which, though beginning here, may extend far beyond any limits you can now understand."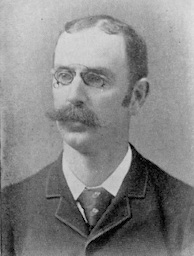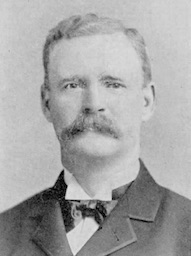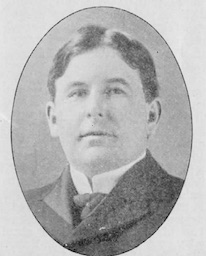 A. B. Dunham; C. G. Craib; H. A. Magee

Another historical address was read by Brother Frank W. Tucker which is so full of wit and humor that we print it in full.
When it was first suggested that I prepare something that would not cost anything to help fill out the 25th Anniversary program, I readily complied believing that it would be a home-made affair, before fellow brethren only, but from the size and appearance of this audience, I realize that I made the same mistake as did the party, who when refused admission aboard the Ark by Noah, became abusive and in language not polite enough to be repeated here, accepted the situation, remarking that he did not believe that it would be much of a shower. At any rate I was asked to read a paper which out of politeness either to the audience or to myself is styled on the program as Historical.

Being somewhat embarrassed I cast about for an excuse to offer for such an untimely interruption of what otherwise might be a good list of events and can only give a hint based upon a story that recently appeared in the Transcript. At a public gathering, a well known vocalist was asked to sing a certain song. Not having his notes or accompaniment, he made sorry work of it and sat clown very much embarrassed.

A near by stranger seeing his discomfiture, reached over and patted him upon the back, saying: — "Don't mind it, sir, you did the best you could but the fellow that invited you to sing ought to be shot." I cannot understand why my name should be coupled with Brother Floyd's in this historical business. Imagine how I would feel tomorrow when reading the papers, to find the account of this celebration written up as follows:— "The historical facts were supplied by Floyd & Tucker." When I came to collect my historical data I found that Floyd had hogged most of it so that any real history that I might attempt to repeat will necessarily have an interrogation mark after it. This is nothing new for it was the same in my old relation to him. Floyd was in the Real Estate business and could not tell a lie, so the firm of Floyd & Tucker was formed.

But setting aside all humor I believe that I was asked to present a few reminiscences, especially in regard to our lodge quarters and things that happened, because I was the baby member and still retain my faculties better than the others. All of the other early members but myself with the possible exception of Brother Winthrop Magee, have their heads pretty well sprinkled with grey hairs. (The speaker's mention of hair occasioned laughter, no doubt because the top of his own head bore a strong resemblance to a billiard ball.) Speaking of lodge quarters. The lodge room is one of the most important features of a Masonic lodge taking rank only behind the lodge dues and the white aprons.

Without it no lodge could convene nor could the married men work, up proper excuses to get out of nights. I sometimes think that the room is more important than the lodge and the banquet hall more important than either.

The establishment of a Masonic lodge in Winthrop was an event marking an epoch of social importance. Many attempts to establish a high standard in the social relations of the male residents of the town, had been made from time to time, principally in the evening gatherings at the Senate, in Charley Burrill's Store, in Bobb Richardson's Plumbery and Berry Mitchell's Shaving Emporium, but all had been failures. The means of transportation to and from Boston was limited to hourly coaches and very few men could afford the luxury of loosing his regular coach and wait a whole hour for the next. Thus his list of intimate acquaintances was limited to his daily coach mates unless perchance he attended either the Methodist or Baptist Churches, when his circle was broader.

It was no wonder then that the opportunity to join a lodge was heartily welcomed and many warm friendships were formed that have extended beyond the portals of the lodge. This bringing together of so many men having a common interest must have had great bearing upon the progress of the town and its influence for good felt along every line of its activity.

The first lodge room was not much to be proud of but like Lincoln's birthplace, it answered the purpose at the time. The lodge first met in a room on the third floor of Read's Block on the side, towards Hermon Street. At the time it was the only portion of the story that was finished and plastered so that the kitchen and banquet room were located amid the dust and cobwebs of the attic or loft, but like the doughnuts that Mother used to make, never have the fine collations of later days been enjoyed and relished as the baked bean, clam chowder and hot dog spreads, held in those early days. The lodge room was about 15 x 30 with a low ceiling sloping on three sides. It had three or four windows that were generally kept closed and as there were no arrangements for ventilation, we probably went without it.

In winter, the stove at the supposed north-west corner furnished ample heat for the Senior Warden, Tyler, Organist and members while the Master and those clustered about him nearly froze.

In the summer time there was no favor shown. We all stewed and sizzled alike. Members came prepared for comfort irrespective of the conventionalities of dress and a half dozen pairs of rubber booted feet stretched across the floor were no novelty.

Under these conditions, the early work was performed, the first officers often meeting three times per week and as the working talent was limited, it all fell upon about a dozen men, the records testifying to the faithfulness with which they did their tasks. From time to time brethren from East Boston came down to help out and their assistance was surely appreciated.

There was no time for rehearsals and oft times the new member had but a vague idea of what he had been through.

The attendance naturally was small at first, never more than forty the first year, many times not more than three besides the officers, the average attendance being less than twenty. It was just as well for we had no place to put them.

As marshal at the first Visitation, I counted 29 members and 39 visitors. The master, in giving orders to form a procession, requested all members to kindly leave the room, asked the visitors to keep their seats and none but officers join in the march.

As marshal I went ahead to push the altar from side to side of the room to allow the rest of the procession to pass without treading upon the corns of our guests.

We went home that night feeling very proud for the District Deputy praised our work, saying that it was the best that he had seen in his district. Being new in the business we did not know the dates of the other Visitations but I have noticed ever since then, that Winthrop Lodge is the first each year to be visited, so that in all probability, the Deputy was safe in his remarks.

Our greatest trouble was to find members willing to hold office. At one time when in great need of a senior deacon, Brother McNeil agreed to take it, on condition that at the end of the year he would not be pushed into the Master's Chair.

We had been getting along in fine shape, feeling like seasoned members, having got over the period described of one of Howell's characters, as "running around wanting to tell something that no one cared to know." Being Master Masons we commenced to travel in lands foreign to us, visiting other lodges on nights when we were sure to get something to eat, but we became unhappy, filled with envy at the beautiful surround, ings and prosperous conditions of other lodges.

Our East Boston brethren had built a new building with a mortgage as large as their hall and we were possessed of the same kind of feeling that one man has when his neighbor buys an auto on nothing and he is willing to commit the same foolishness. Besides we were becoming ashamed of the roof that gave us shelter. The germ started to work when a committee was appointed to consider the question of more palatial quarters. This committee reported progress from time to time and it was noticeable that every time the questioi came before the lodge for consideration, the owner of our building, Past Wor. Brother Read appeared upon the ground from Richmond, Virginia, in remonstrance.

The committee made some progress, got options on land and prepared rough plans for a building to cost about $8,000. The lodge in the meantime placed itself on record as being willing to lease a hall from private parties for a term of years.

In 1892 the Winthrop Masonic Building Association was formed by Brothers Lewis A. Wallon, David Floyd, Sylvanus Payne, Fred H. Seavey, Edward B. Newton, George F. Payne, Frank E. Bennett, and Prank W. Tucker. Of this group but three of us are left.

Having duly organized under the laws of Massachusetts, active work along many lines was started. Stock at the popular price of ten dollars per share was offered and Brother Newton pushed the sale with a vigor an<l aggressiveness, equalled only by Wor. Brother Wallon in securing donations for the Masonic Ho– … I stop, as that is a forbidden subject this evening. At any rate, Brother Newton made himself as much of a nuisance to some people in those days as Brother Wallon has in the past two years.

After sufficient stock had been sold to give us a little courage, we bought a lot of land and had the plans prepared.

Considerable time was spent in trying to make the plans and stock receipts fit and the directors were in a state of constant executive session. The shares went slowly and when one brother said he would take fifty and finally made the solicitor understand that he meant fifty shares and not fifty dollars' worth we took on a new lease of life. That night we put the cupelo back on the plans, added the fancy work on the front wall, prepared some lies about the danger of over subscription and went on plugging, or at least Brother Newton did. A building committee was appointed consisting of Brothers Warren Belcher, Edward B. Newton and Frank W. Tucker and the building was started. Brother Newton still gave ttiost of his time to unloading stock, Uncle Warren Belcher supervised the construction while the remaining member with the assistance of the worshipful master tried to keep the architect straight and get the committee out of the difficulties that he Repeatedly got them into.

As winter approached the building was nearly completed and preparations were made for a grand fair to be held under the auspices of the Ladies' Masonic Aid Society. God bless the ladies, we did at that time. Its officers were Mrs. Horace Waite, president; Mrs. E. B. Newton, vice-president; Mrs. E. E. Crosby, secretary, and Mrs. A. B. Dunham, treasurer. It was the biggest thing of the kind ever held in town. Talk about getting blood out of stone.

Money was extracted from people who considered themselves fair proof and after we had secured all that we could by the usual unfair fair means we turned around and took it out of each other. It was a great success. I had my name in the program ten times, three more than Ed. Newton, Charley Bird or Lew Wallon. Incidentally they raised $1,935.01 which the ladies very dutifully turned over to the lodge which spent it for the fittings now furnishing the lodge rooms.

Plush furniture, Brussels carpets and such were long steps for us to take and our first thought was how to best fit ourselves for our new station so as not to appear out of place. Other lodges were visited and special attention was given to dress and deportment and a great truth dawned upon us. We were lacking in the matter of raiment. Not that we did not have enough but not the kind to parade before canopies and grand pianos. A canvass was made among the fourteen officers and it was found that the entire stock of available swallow tails was two. A serious dilemma, the tension of which was somewhat relieved by Brother A. B. Dunham who offered to equip us with something very natty at $25 per. The next night we gathered for our first tryon. They dumped about twenty-five complete suits on the lodge floor and for the rest of the evening a dozen men in various stages of dishabille were busy trying to get something to fit. It was a great day for Winthrop as the best up to that time was procured down in Howard Street at $2 per evening. The getting accustomed to evening dress by the wholesale was a serious matter and it was not surprising that some of the members forgot to take the tags off, wore four-in-hand ties or low cut russet shoes. There were none in the crowd competent to criticise. Winthrop Lodge had got there.

The building completed, the stock delivered and paid for, and the bills all paid, the climax was reached in the dedication.

It happened on the evening of the 100th communication by Acting Grand Master Harvey N. Shepard in place of the Most Worshipful Grand Master, Richard Briggs, who was ill at the time.

Limited time prevents me from going into details but I think it only proper to read a communication received at the time from the Past Most Wor. Grand Master, Henry Endicott, the God father so to speak of Winthrop lodge, and for whom one of the smaller halls of the building was named. (Then followed reading of letter which had better be omitted).

In 1894 Endicott and Social Halls were enlarged at a cost of $1,600, making the whole cost of the building $15,000, all of which is represented by 1,500 shares of stock sold at par, on which dividends have been paid every year.

History is a record of past events. To old veterans like us, all history stopped when we moved away from the old quarters and like the old soldiers we are living upon the memories of the past. With this view in mind and hardly knowing the parting line between history and current events I bring my paper to a necessary finish.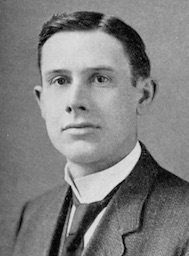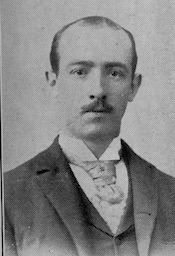 W. P. Simonds; H. W. Aiken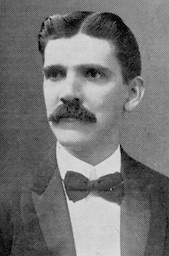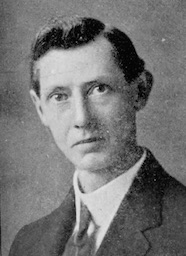 W. W. Thompson; G. E. Safford

The concluding address was by Wor. Brother Leon M. Abbott who complimented the lodge on the prosperity that has attended its career and brought it to the 25th birthday under the happiest condition. He made a pleasant allusion to the vocal accomplishment of the grand master. Continuing in more serious manner he delivered an admirable and eloquent address on Masonry full ol noble and uplifting sentiment commending it as a force that makes men better and happier. Freemasonry, said he, gives courage to do right; it is the best expression of human love and sympathy. A pleasant feature of the occasion was the presentation to the lodge of a portrait of Warren Belcher who died about three years ago. He was one of the charter members and was known in the craft as the father of Masonry in Winthrop. He was the first man born in the town and became the first secretary of the lodge. He held the postmastership in Winthrop 32 years, was town clerk and held many official positions for half a century.
The program of the evening was neatly arranged and well printed. It contained a copy of the charter, the order of exercises, a list of officers for 1887-1888, the present officers, the past masters and names of the brethren serving on committees.
Excellent music was presented by Weber Male Quartet. Dancing which concluded the program was under the direction of Wor. Brother Charles G. Bird, who, although a charter member of the lodge, displayed an enthusiasm and activity that tallies with the beginning, rather than with the end, of a quarter century of Masonic experience. The officers of the lodge are: W. H. Vincent, Worshipful Master; W. B. Thayer, Senior Warden; David Belcher, Junior Warden; W. W. Thompson, Treasurer; J. C. Nelson, Secretary; Rev. A. S. McLean, Chaplain; Wor. C. G. Bird, Marshal; G. L. H. Stevenson and F. F. Cook, Deacons; A. S. Smith and G. W. Walker, Stewards; A. E. Newton, Sentinel; W. S. Hill, Organist, and Winthrop Magee, Tyler.
---
GRAND LODGE OFFICERS
OTHER BROTHERS
---
DISTRICTS
1887: District 3 (East Boston)
1911: District 3 (East Boston)
---
LINKS