GMHicks
From MasonicGenealogy
DONALD GARDNER HICKS, JR. 1940-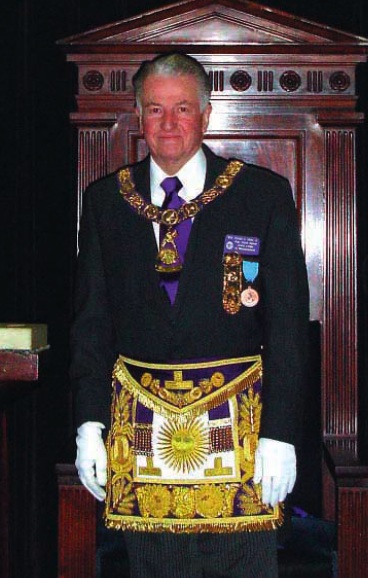 Deputy Grand Master, 1987
Grand Master, 2002-2004
---
TERM
NOTES
BIOGRAPHY
FROM TROWEL, 1987
From TROWEL, Summer 1987, Page 10:
Meet Our Deputy Grand Master
There is a reason for the slim, trim appearance of our mild-mannered Deputy Grand Master. R.W. Donald Gardner Hicks, Jr., now a resident of Leominster but a native of Lowell, is an outdoor fellow who is a golfer (Oak Hill C. C., Fitchburg), a hiker, a tennis player, and one who loves to glide down the mountain slopes in winter. He is a member of the National Ski Patrol, currently serving as section chief and treasurer of the Eastern Mass. and R.I. Region.
Master Councilor of Lowell Chapter, Order of DeMolay, in 1960, he was President of the Guy of Auvergne Court of Chevaliers of Lowell and is an Active DeMolay Legion of Honor. Born in Lowell 46 years ago and married to Nancy P. (Sargent) Hicks, they are the parents of Karen Lee Hicks and Andrew Gordon Hicks.
Graduated from Lowell High School in 1958, he furthered his education at Lowell Commercial College (1961), Lowell State College, and Univ. of Massachusetts (1975). He is Vice President of the Fitchburg Savings Bank and Past President of the State Savings Bank Forum, former Director of Fitchburg Area Economic Development Corp., Past President of the Leominster Center Corp., a member of the Education Committee of the Massachusetts Bankers Association, and a Director of the Fay Club of Fitchburg.
Bro. Hicks has made many contributions to communities, serving as President of the North Central Mental Health Association, Fitchburg-Leominster Area Board of Mental Health and Retardation, the United Way, and as Trustee of the Fitchburg Art Museum. A member of Pilgrim Congregational Church (United Church of Christ), Leominster, he is Assistant Treasurer. He has served as Treasurer, Deacon, and Trustee of the parish.
Raised in Wamesit Lodge, Tewksbury, in 1962, he presided as Worshipful Master, 1969-71, and was Master of the 32nd Lodge of Instruction, 1972-73. He is a Trustee of his Lodge and of the Lowell Masonic Association, and Treasurer of the Wamesit Association of Tewksbury.
A Thirty-third Degree Mason, he is Treasurer of the Valley of Lowell; Treasurer of Massachusetts College, S. R. I. C. F.; Treasurer of Massachusetts Council of Deliberation; Engineer and Seneschal of Massachusetts Consistory, and Grand Seneschal of Supreme Council 33°. In York Rite Masonry he holds membership in Thomas Royal Arch Chapter of Fitchburg, Harris Council, Gardner, and Jerusalem Commandery No. 19, K. T., of Fitchburg. Bro. Hicks holds membership in Aleppo Temple, A.A.O.N.M.S., Massachusetts College, S. R. I. C. F., Royal Order of Scotland, and the Fitchburg-Leominster Shrine Club. In 1976 he was presented the Meritorious Service Citation and received the Henry Price Medal from the Grand Master this year.
FROM TROWEL, 2002
From TROWEL, Spring 2002, Page 2:
M. W. DONALD G. HICKS, Jr.
Continues A Family Tradition of Service to the Craft
The seventy-fifth Grand Master of the Grand Lodge of Masons in Massachusetts was born in Lowell on December 12.,1940. the son of Bro. Donald G. and Mary S. (Gillespie) Hicks. He married former Rainbow girl Nancy P. Sargent of the same city, and they have made their home in Leominster for the past 30 years. M.W. Bro. Hicks and Nancy are the parents of Bro. Andrew G. Hicks, and daughter Karen L. Thorne, wife of Wor. Grant L. Thorne. They have two grandchildren, Brandon L. and Emily L. Thorne. The Grand Master's brother. Wor. David H. Hicks, was installed as Grand Sword Bearer.
Educated in the Lowell public school system, Bro. Hicks attended Lowell State College and Lowell Commercial College, receiving a certificate in accounting. While still in college he began his banking career in 1959, at the First Federal Savings and Loan Association of Lowell, where he met Past Grand Master Andrew Gray Jenkins. Chairman of the bank's board of directors.
He continued his education, attending the American Savings and Loan Institute where he earned a Graduate Diploma. In 1969 he became Controller at the Worcester North Savings Bank of Fitchburg, where he progressed to Executive Vice President and Director. Following the merger of Worcester North Savings and Leominster Savings, forming First Service Bank of Leominster, in 1986 he joined the Fitchburg Savings Bank as Executive Vice President. In 1993 he was elected to his current position as President. Chief Executive Officer and Director of Reading Co-operative Bank of Reading, Massachusetts.
Active in professional organizations, the new Grand Master has been president of the Saving Bank Forum of Massachusetts, and director of the Community Bank League of New England. He is currently a member of the Marketing Committee of Independent Community Bankers of America, director of the Cooperative Central Bank, and chairman of the Cooperative Banks Employees Retirement Association.
As a member of Pilgrim Congregational Church of Leominster. Bro. Hicks has served as deacon, member of the pastoral search committee, trustee, and treasurer. Other community activities have included serving as president of North Central Massachusetts Mental Health Association, board member of the Fitchburg Art Museum, and chairman of the Fitchburg United Way Campaign.
An active skier, M. W. Bro. Hicks is an Alumni Member of the National Ski Patrol, having served as Patrol Director. Section Chief, and Regional Director. He recently completed nine years as Treasurer of the Eastern Division. He was appointed a National Patroller of the National Ski Patrol System for "Demonstrated Qualifications of Ability and Leadership" in 1988. and received the Distinguished Service Award in 1999.
Bro. Hicks took the vows of the International Order of DeMolay in Lowell Chapter in 1955, and served as Master Councilor in 1960. He received the Degree of Chevalier in 1964, was invested with the Active Legion of Honor in 1982, and is now the treasurer of Massachusetts Court. DeMolay Legion of Honor.
Raised in Wamesit Lodge, A.F. and A.M., Tewksbury, in May 1962, he served as Worshipful Master in 1969-71. and 1999-2000. He is a trustee of his Lodge, and since 1969 has been treasurer of the Wamesit Lodge Building Association. His efforts in developing the financial plan for the Masonic building in Tewksbury were recognized in 1976 with the Meritorious Service Award from the Grand Lodge. A Past Master of the 32nd Lodge of Instruction in the Lowell 12th Masonic District, he has also been a speaker on financial matters at Masonic Forums. He is a member of The DeMolay Lodge of Boston, and an honorary member of Thomas Talbot Lodge of Billerica.
In 1987, M. W. Albert T. Ames appointed Bro. Hicks Deputy Grand Master, presented him with the Henry Price Medal, and appointed him Grand Representative to Oklahoma. He is now a trustee of the Masonic Education and Charity Trust, and a member of the Foreign Relations Committee and the Long Range Planning Committee.
Grand Master Hicks is a member of the Scottish Rite in the Valley of Lowell, and of Massachusetts Consistory in the Valley of Boston. He is a past Sovereign Prince of Lowell Council. Princes of Jerusalem, and served the Valley of Lowell as treasurer for ten years. He received the 33rd Degree in Cleveland in 1980, and served the Supreme Council as Grand Senechal in 1987-1990.
In York Rite. Bro. Hicks belongs to Thomas Royal Arch Chapter in Fitchburg; Harris Council of Royal and Select Masters in Gardner; Jerusalem Commandery No. 9 in Fitchburg; and St. Bernard Commandery No. 12 in Boston. He is also a member of the Royal Order of Scotland: Aleppo Temple. A. A. O. N. M. S. in Wilmington; and treasurer of Massachusetts College. S. R. I. C. F. . Our new Grand Master's family has had a commitment to the Fraternity for nearly three-quarters of a century, beginning with his father, who was raised in Wamesit Lodge in 1930. and became treasurer in 1969. serving for 20 years, including both his sons' terms in the East. With two sons and a grandson in the Craft, Wor. Donald G. Hicks, Senior has been an inspiration to his family. Now Most Worshipful Donald Gardner Hicks, Junior, is adding to that rich heritage as he begins his administration as the Grand Master of Masons in Massachusetts.
SPEECHES
FEAST OF ST. JOHN, DECEMBER 1986
From Proceedings, Page 1986-174:
Remarks of Grand Master Ames:
It is a pleasure to introduce to you the one whom I have chosen to serve Grand Lodge as Deputy Grand Master. He is a young man of forty-six years of age. born in Lowell, Massachusetts, December 12, 1940. married to the former Nancy Sargent. And I must say, with a wife named Nancy, I couldn't go wrong. He has two children, a daughter, Karen Lee, and a son, Andrew Gordon. He was educated in the Lowell Public School System, then attended Lowell Commercial College, the University of Massachusetts and the Savings Bank Supervisory School.
In business he is currently the Executive Vice President of the Fitchburg Savings Bank in Fitchburg, a Past President of the State Savings Bank Forum of Massachusetts, a former Director of the Fitchburg Area Economic Development Corporation, a Director of the Fay Club in Fitchburg and a former President of the Leominster Center Corporation.
In civic life he is a past President of the North Central Massachusetts Health Association, former Board Member of the Fitchburg/Leominster Board of Mental Health and Retardation. 1979 Chairman of the Fitchburg United Way Campaign, 1984 Vice-Chairman of the United Way of North Central Massachusetts and a former Trustee of the Fitchburg Art Museum.In Masonry the list is almost endless, so I'll only state a few of his accomplishments here. He was raised in Wamesit Lodge in Tewksbury, belongs to both the York and Scottish Rites, is an honorary member of the Supreme Council. Ancient Accepted Scottish Rite for the Northern Masonic Jurisdiction of the United Stated of America, 33rd Degree. He is a treasurer of many organizations, a former DeMolay, which gave him a good start, I must say. The list goes on and on. I am so proud of this young man, and I have met him on so many occasions, each of which were a time at which he was working, and I do not mean in his civic life, but working in masonry, doing some job that wasn't being noticed, but he was always there.
My Brethren, it is a great pleasure to introduce to you R.W. Donald Gardner Hicks, Jr.
Most Worshipful Grand Master, Distinguished Guests. Brethren all:
The events of today have certainly been exciting for me. and I do admit to a modest degree of pride; however, my pride is that of a Masonic son. who is proud to have his father present this evening to share this moment. My Dad. who continues to serve our lodge as Treasurer, has been a Mason for nearly 55 years. It was lie who opened the door of Freemasonry. And for that. Dad. I'll always be grateful.Illustrious Brother John H. van Gordon in his book "Modern Historical Characters in Freemasonry" observed that Most Worshipful Paul Revere engaged in a wide variety of enterprises and occupations during his lifetime using the sum total of all his skill to accomplish his goals.
As we begin a new Masonic year, we will be assigned tasks and be challenged to meet goals for the advancement of Masonry, not only here in Massachusetts, but throughout the world. It will take a variety of talents that each member possesses to accomplish the assigned task. I feel sure that most, if not all. the goals set forth will be accomplished. However, the larger goal we all must work to accomplish is the growth of membership in our constituent lodges. I believe this can be done by your actions and by example in the life we lead outside the circle of our Masonic brethren.
When a man is asked why he became a Mason, the answer most often involves an interpersonal relationship that one man has had with another. The relationship may be with a neighbor helping a neighbor or in the workplace, at home, at church, or even at play, or working together in a community project.But in the final analysis, it is the fact that a man, who is a Mason, was exemplifying our principles in his daily life that attracted another man to our Fraternity.
My Brethren, it is up to you and it's up to me to live Masonry every minute of our lives in order that good men will ask to join with us in our quest for further light. The honor to serve Grand Lodge as an appointed officer is one that is accepted with humility and with a firm conviction to do one's best in the discharge of the required duties.
Most Worshipful Sir, on behalf of all your appointed officers, we thank you for the opportunity to serve you and with you our great Grand Lodge. Thank you.
AT 75TH ANNIVERSARY OF NEHOIDEN LODGE, APRIL 2002
From Proceedings, Page 2002-42:
Worshipful Master, Ladies and Brethren:
It is always a pleasant occasion when we have the opportunity to visit for an anniversary celebration and even more so when we have the pleasure of having our ladies with us.
Tonight we celebrate the 75th Anniversary of Nehoiden Lodge. I knew that Brother Lovering was the Senior Past Master of this Lodge, but, knowing his age, I do not think that I can accept Bro. Ames' comment that he was also a Charter Member. I also know that he has been a strong force in the life and accomplishments of Nehoiden Lodge.
Since the inception of this Lodge we have seen many changes in our world, with all of our electronic devices, Man on the Moon, men in space, the great depression, wars, conflicts and just about anything you can imagine. Nehoiden Lodge has survived and been a presence here in the Town of Needham. My hope would be that there will be many happy and productive years ahead and that I can join with you at the 100th Anniversary.
I challenge the members of Nehoiden Lodge to strive daily to live the tenets of our profession as Masons. The tenets of Brotherly Love, Relief and Truth, and diligent work will enable you to pass on to future generations the proud heritage you have been privileged to enjoy. But this can only be accomplished by sharing Masonry with your sons, nephews, grandsons and other good men. The Light of Masonry will continue to shine, if we all share the Light with our family and friends.
AT 200TH ANNIVERSARY OF MERRIMACK LODGE, JUNE 2002
From Proceedings, Page 2002-57:
Worshipful Master, Ladies and Brethren:
There is much history recorded in the proceedings of Grand Lodge and among the records are the various notations regarding Merrimack Lodge. I do not intend to review in detail the record of Merrimack Lodge as recorded in the archives of Grand Lodge, but would like to share parts of the record that I found particularly interesting.
The lodge was granted its charter at the Quarterly meeting of Grand Lodge on the 14th of June 1802. The charter was prepared on June 15, 1802 and signed by M. W. Samuel Dunn.
The records show that M. W. Isaiah Thomas installed the officers of Merrimack Lodge on June 9, 1803. However, the record of the celebration of the 100th anniversary held June 18, 1902 provides some interesting comments by M. W. Charles T. Gallagher.
I quote:
"You, in Merrimack Lodge, have done better than your four associates chartered in 1802, three of which were in Massachusetts, and one in the State of Maine, for none of them remain. Your Lodge was formed at a period when men's minds were quickened by the memories of the war of the Revolution. They were in the throes of establishing a government, a generation after peace had been declared." M. W. Gallagher went on to note that many of the men who had taken part in the formation of our country were Master Masons.

The most famous Master Mason was the Father of our Country and our First President Brother George Washington, who passed to the Celestial Lodge on December 14, 1799. I continue to quote in part, "Immediately thereafter the Grand Lodge of Massachusetts received from the hands of Martha Washington, his widow, a lock of his hair. The man who received this priceless relic was Samuel Dunn, whose name appears on the charter of your lodge as Grand Master."

A special golden urn was fashioned by the hand of Paul Revere, a Past Grand Master, to contain the hair of George Washington. It is unusual for this relic to be taken from the vault at Grand Lodge; however, it is appropriate on the occasion of the 200th anniversary of Merrimack Lodge that it has accompanied the Grand Officers to this celebration, as it did 100 years ago, for all present to view.

During the last 100 years, history has recorded the first flight at Kitty Hawk, the development of television, two world wars, numerous conflicts when our sons have been called upon to defend our freedom. We have achieved advances in medicine, developed the computer, instant communication and numerous scientific advances. Masons contributed to many of these accomplishments. As we meet here tonight humans are circling the globe in a space station, but men are still fighting to preserve our freedom.

We in Massachusetts can be proud of our Founding Fathers and their role in the formation of our country. We can be proud of the fact that many of the past leaders of our country were Masons and there are still present leaders who are Masons. We must now rededicate ourselves to the task of preserving our nation and practicing the tenets of Freemasonry so that future generations may continue to enjoy the freedom we hold dear.

Today is the first day of the next 100 years for Merrimack Lodge. I challenge the members of the lodge to live the tenets of our profession as Masons - Brotherly Love, Relief and Truth - work diligently and pass on to future generations the proud heritage you have been privileged to enjoy. But this can only be accomplished by sharing Masonry with your sons, nephews, grandsons and other good men. The Light of Masonry will continue to shine, if we all share the Light with our family and friends.

AT CONSOLIDATION OF SPRINGFIELD and NEWTON LODGES, JUNE 2002

From Proceedings, Page 2002-89:

Brethren and Ladies, I am pleased to see so many here on this special occasion. Having spent my professional career in the banking industry, I am very familiar with mergers. It has been my experience that for the most part the end results have been stronger and better banks. As two great lodges, who have for a combined total of 240 years, brought the light of Masonry to this area, are now joined as one with all of the history and traditions of both, so may they long continue.

It is the nature of the human being to reflect on the past and to draw upon those lessons and ideals which have brought us to this point. We now must unite these 240 years of experience and work together to make Newton Lodge strong, vibrant and a recognizable and important force for good in the community.

The words of our ritual, "of who best can work and best agree" - ring clear as we move forward with the united Lodge. My challenge to you is together you make this Lodge the best by enjoying each other's company and rejoicing in each other's prosperity. May God bless each of you and Newton Lodge.

AT CONSOLIDATION OF LYNNFIELD and ZETLAND LODGES, JUNE 2002

From Proceedings, Page 2002-95:

Brethren, I am pleased to see so many here on this special occasion. As two great lodges, who for a combined total of almost 200 years, have brought the light of Masonry to craft, are now joined as one with all of the history and traditions of both, so may they long continue to be a positive influence on the craft.

Our predecessors have worked diligently in the past to pass these Lodges and tradition on to us. It is now up to us to make use of them today and to preserve them for the future. We now must unite this experience of 191 years and work together to make Lynnfield-Zetland Lodge the best there is.

The words of our ritual - "of who best can work and best agree" - ring clear as we move forward with the united Lodge. My challenge to you is together you make this Lodge the best by enjoying each other's company and rejoicing in each other's prosperity. May God bless each of you and Lynnfield-Zetland Lodge.

ST. JOHN'S DAY, LEOMINSTER, JUNE 2004

From Proceedings, Page 2004-94:

"'Masonry: Faith, Hope and Charity"'

Good Morning: It is a great pleasure and honor to be present this morning in my home church to present the message at this morning's worship service. It is also somewhat terrifying, as I contemplate the responsibility to present a message of interest to all members of the congregation here assembled. As I prepared today's message I gained a greater respect and appreciation for all clergy who must prepare a message each and every week.

As I began to contemplate what I might bring as a message this morning I stopped by the Samuel Crocker Lawrence Library, located in the Grand Lodge Building in Boston. Cynthia Alcorn, our librarian, is always helpful when looking for reference material regarding all aspects of Masonic research. I informed her of my need for material to review to prepare a message to be given on St. John's Sunday at my church. She smiled and said, "I'm just now reviewing a book of St. John's Day Addresses, given between 1784 and 1870." I, of course, asked to take the book as a source of material for my message. I will be quoting occasionally from this and other Masonic texts that will be familiar to the Masons present.

Let me begin by explaining why Freemasons often worship together on a Sunday in June.

The brethren present today know the familiar words that "lodges in ancient times were dedicated to King Solomon" and "in modern times to Saint John the Baptist and Saint John the Evangelist". A more detailed explanation of the reason for the reference to King Solomon and the Holy Saints John in our ceremonies may be found in a message delivered June 24, 1836 by Charles W. Moore, Grand Secretary of the Grand Lodge of Massachusetts on the occasion of the Centennial Anniversary of St. John's Lodge Number One of Portsmouth, N.H. I quote Brother Moore in part, that "in ancient times regular meetings of Masonic Lodges were dedicated to the renowned Jewish monarch Solomon and after the beginning of the Christian Church it is conjectured the Christian Masons sought a Patron from among those of their own faith, to whom they might dedicate their lodges. They found one in St. John the Baptist, who to them was a burning and shining Light. Lodges were also dedicated to St. John the Evangelist: and it has been usual for Masons to assemble on the 27th of December, or June 24th in honor of the nativity of one or the other of these exemplars of religion, virtue and truth."

In Massachusetts Masonry we install our Grand Lodge Officers on December 27th in honor of Saint John the Evangelist and while not required, lodges are encouraged to worship together on the Sunday nearest June 24th each year to honor Saint John the Baptist. Brother John H. VanGorden, in his book "Biblical Characters in Freemasonry" provides a brief biography of St. John the Baptist. He reminds us about John the Baptist, his work and the remarkable events surrounding his birth and his life. An angel appeared before Zachariah in the Temple and informed him that his elderly and barren wife, Elizabeth, would have a son who would "… be great in the sight of the Lord." Zachariah questioned the prediction of the angel, pointing out that he and his wife were old. The angel told Zachariah that, because he did not believe, he would be a mute until all the predicted events had transpired. When Zachariah left the Temple he could not speak and remained mute until after the birth of John. As predicted by the angel, Elizabeth conceived and in the sixth month of her pregnancy, the angel appeared to the Virgin Mary, Elizabeth's cousin, and informed Mary that Jesus would be born to her. Mary went to Elizabeth and when Elizabeth heard Mary's greeting, the child leaped in Elizabeth's womb for joy. Despite the relationship between Elizabeth and Mary, John appears not to have met Jesus or to have realized that Jesus was the One whose coming he was foretelling, until Jesus came to him to be baptized.

For a number of centuries, prior to the birth of John the Baptist, there was a religious barrenness in Israel and John, instead of becoming a priest like his father, went into the wilderness to prepare for his ministry. When John emerged from the wilderness as quoted in Psalm 100 "he made a joyful noise unto the Lord" and began proclaiming the coming of the Messiah. He preached that this would be preceded by a judgment of Israel and issued a call for repentance. Baptism became the symbol of repentance; hence John became known as the Baptist. A religious revival resulted from John's efforts and when Jesus came to the Jordan to be baptized, John recognized him as the Son of God. Following the baptism of Jesus many of John's followers became disciples of Jesus. John continued baptizing and preaching repentance. John's ministry symbolizes holiness and righteousness, with the vision to determine what constitutes these virtues in God's design.

Now having given the reason for this particular day for Masons to worship together, I will change direction to provide a brief explanation of some of the teachings of the Masonic Fraternity. The references to the Holy Saints John, John the Baptist and John the Evangelist, might lead one to conclude that Masonry is Christian. That assumption would be entirely false. The prerequisites for membership in the Masonic Fraternity is that a man must be an adult, which in Massachusetts is at least eighteen years of age, and believe in a Supreme Being. Therefore, monotheism is the sole dogma of Freemasonry. It is true that many American Masons are Christian and it might even be safe to say that the majority of American Masons are Christian; however Masonry is a worldwide fraternity of men, most of whom are not Christian. Men who practice the major monotheist religions — Judaism, Islam and Christianity, together with other monotheist men are welcomed in a Masonic Lodge. It is important to note that while we often pray in our ceremonies, no specific theology is promoted. In fact no discussion of religious or political beliefs are permitted during the lodge meetings. Within the Lodge we refer to God as the "Supreme Architect of the Universe" and as prayers are offered, each member thinks of God in the custom of his religious belief. In most lodges in Massachusetts the "Volume of the Sacred Law" which is placed on the altar in the center of the lodge is the Bible. However, I hasten to point out that every man who becomes a Mason is given the opportunity to take his Masonic obligations on the "Volume of the Sacred Law" that is representative of his religious belief.

Okay, you might be now asking, what is Freemasonry? Freemasonry is dedicated to the Brotherhood of Man and our singular purpose is to make good men better, not better than someone else, but better within themselves. Every Mason is taught that the tenets of Masonry are Brotherly Love, Relief and Truth. They are more easily understood if we explain them as: Masonry teaches that each person has an obligation to make a difference for good. It teaches kindness in the home, honesty in business, courtesy in society, fairness in work, concern for the unfortunate and respect for one another.

We know from a study of history that operative stonemasons built the public buildings, temples and cathedrals of the European renaissance during the fourteenth, fifteenth and sixteenth centuries. It is from these operative stonemason guilds and societies that Modern Freemasonry has evolved. The study of this evolution is a subject much too involved to discuss at this time. Permit me the latitude to simply say, we have borrowed symbolism of the operative art of the stonemason to teach lessons to improve the moral character of our members.

Our degrees in Masonry are Entered Apprentice, Fellow Craft and Master Mason, names taken from the operative stonemasons. Once a man becomes a Master Mason he has achieved the highest degree in Masonry. There are other segments of Masonry such as the Scottish Rite that add lessons using numbers for the degrees, such as 32nd and 33rd Degree Mason and Knight Templar of the York Rite Masons, but these so called "higher degrees" only add further explanation to the basic teachings of Masonry.

Allow me to share one of the lessons we teach a candidate during the ceremony of the Entered Apprentice or first degree. The next time you have an opportunity to visit a Masonic Lodge building, find the Lodge Room and look for two stones. They may be square or oblong. One stone will have rough sides and edges; the other stone will be smooth with square edges. We call these stones the Rough Ashler and the Perfect Ashler. We explain to the candidate that the Rough Ashler is a stone taken from the quarry, in its rude and natural state. The Perfect Ashler is a stone made ready by the hands of the workmen according to the plan laid down by the Master on the Trestle-Board. The stone is then ready to become a part of a building: square, level and plumb.

The lesson we teach is that the Rough Ashler represents ourselves rude and imperfect by nature, but that the Perfect Ashler is that state of perfection at which we hope to obtain, by a virtuous education, our own endeavors and the blessing of God, by following the plan laid down by the Supreme Architect of the Universe by studying the "Volume of the Sacred Law", which is our spiritual, moral and Masonic Trestle-Board. So that when our time comes to be welcomed into the Celestial Lodge above, we may become the living stone in that spiritual building, that house not made with hands, eternal in the heavens.

This lesson is only two brief paragraphs in our ceremonies, yet it symbolizes the goal of Masonry to make a good man better, erecting his spiritual building within his heart, preparing for the life eternal. The tenets of Masonry are Brotherly Love, Relief, and Truth. By Brotherly Love we are taught to be tolerant and respect our brother's religious and political belief, to regard all people as one family created by one Almighty Parent, who share this tiny planet and that we should aid, support and protect each other. By Brotherly Love Masonry unites men of every country, sect, and opinion and true friendship results among men who might otherwise have remained at a perpetual distance.

As a personal aside, I will share with you that because of Masonry, I now have a friend and brother whom I had the pleasure to install as Master of his lodge. This brother is a Muslim and he took his obligation on his "Volume of the Sacred Law", the Koran, borrowed from the Grand Lodge of Iran (in exile). My brother has helped me to better understand Islam and that the teachings of both our faiths are not in conflict with the teachings of Masonry. Masons are taught to offer relief to those less fortunate, (caring for our brothers in our Masonic Home, aiding children with dyslexia, our Shrine Orthopedic and Burns Hospitals, Eye research and many Masonic Charities), sympathize with their misfortunes and support them during times of trouble. We are also taught that Truth is a divine attribute and to be good and true is the first lesson we teach. We attempt to live our lives by the principle of truth, be sincere, and rejoice in promoting each other's welfare and prosperity.

In sum the lessons that Masonry teaches is Faith in God, (in whatever manner we choose to worship our God), Hope in the immortality of the Soul, (life beyond the grave), and Charity toward all Mankind (expressed as love toward our fellowmen). We believe these lessons support in every way the basic beliefs of all monotheistic religions and only enhance a brother's understanding of "The Supreme Architect of the Universe". AMEN.

AT CONSOLIDATION OF WOLLASTON AND RURAL LODGES, JANUARY 2004

From Proceedings, Page 2004-6:

Brethren and Ladies, I am pleased to see so many here on this special occasion. Having spent my professional career in the banking industry, I am very familiar with mergers. For the most part, the results create a stronger and better bank. With these two great Lodges combining their more than 300 years of Freemasonry into one great Lodge, they has an established history and traditions on which they can draw.

Surely human nature being what it is, they will reflect on the past and draw upon lessons and ideas that have brought them to this point. The members of this Lodge will use those 300 years of experiences to work together to make Rural Lodge strong, vibrant and a recognizable force for good in the community.

The words of our ritual, "of who best can work and best agree", ring clear as we move forward with the united Lodge. My challenge to you is: make this the best Lodge by enjoying each other's company and rejoicing in each other's prosperity. May God bless each of you and Rural Lodge.

CHARTERS GRANTED

None.

RULINGS

---

Previous (Bauer)
Next (Hodgdon)

Grand Masters