MajorGeneralHenryKnox
From MasonicGenealogy
MAJOR GENERAL HENRY KNOX LODGE
Location: Boston
Chartered By: Frank L. Simpson
Charter Date: 12/08/1926 1926-506
Precedence Date: 03/04/1926
Current Status: Active
---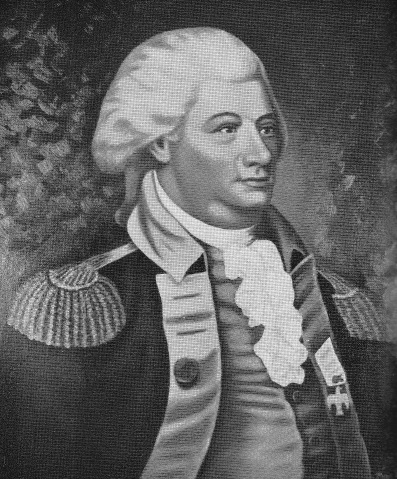 NOTES
PAST MASTERS
Frederick Gilbert Bauer, 1927
George Davis Moore, 1928
Melville Fredrick Cate 1929
Charles Sameul Clifford, 1930
Roland Everard Falls, 1931
Max Harold Summerfield, 1932, 1972
Frank Spencer Elliott, 1933
William Purcell, 1934
Sydney Kenneth Skolfield, 1935; N
Charles Everest Robinson, 1936
Melvin Bertram Summerfield, 1937
Charles Henry Sargent, Jr., 1938
Harry Lawrence Wiggin, 1939
Charles Tracy Cahill, 1940
David Dangel Freedman, 1941
Charles Joseph Perry, 1942
Henry Bamett Robinson, 1943
Edward Bancroft Pratt, 1944
David Harold Hickey, 1945
William Walter Wade, 1946
Chauncey D. Merrill, 1947
Irwin Buchsbaum, 1948
Merwyn Ernest Clark, 1949
Henry Malcolm MacLeod, 1950
Carlton Walton Crocker, Jr., 1951
Samuel Herman Slesinger, 1952
Summer Wilson Eiton, 1953
Alden Arthur Osgood, 1954, 1955, 1974, 1988, 1989; SN
Philip Arnold Rubin, 1956, 1957
Arnold Glasser, 1958
David Goodwin Maraspin, 1959
Donald Angus MacLeod, 1960
Alvin Morris Steinberg, 1961; deceased?
Roger Alfred Vint, 1962; N
Thomas Knudson, 1963; N
Aaron Glasser, 1964
Samuel Shedlow, 1965
William Wilson Storey, 1966
Albert Livingston Bilier, 1967
Meyer Weker, 1968, 1976
Alan Herbert Klein, 1969
William Fredrick Greene, 1970
George Ober Richardson, 1971
Ira Smith, 1973
Robert Gerling, 1975
Vincent Taft Estabrook 1977
George Edward Durfee, Jr., 1978, 1979
John Martin Kandres, 1980, 1981, 1990, 1991; SN
Willis Junior Rice, 1982, 1983
Franklin Newell Cunningham, 1984, 1985; N
David Paul Kopech, 1986
Clifford Franklin Howe, 1987; N
David Albert D'Agostino, 1992, 1993
Donald Francis Tabbut, 1994, 1995, 1998; PDDGM
Donald Robinson, 1996, 1997
Arthur Edmond Gagnon, 1999, 2000
Michael Joseph Reardon, 2001, 2002
Bruce Morton Newman, 2003-2005
Charles A. Austin, 2006, 2007
Wayne H. Livermore, 2008, 2009
Khalil G. Laham, 2010-2012
---
REFERENCES IN GRAND LODGE PROCEEDINGS
ANNIVERSARIES
VISITS BY GRAND MASTER
BY-LAW CHANGES
1928 1931 1932 1943 1947 1950 1964 1966 1991 1993 2000 2006 2012
HISTORY
75TH ANNIVERSARY HISTORY, MARCH 2001
From Proceedings, Page 2001-29:
Third Twenty-Five Years of Major General Henry Knox Lodge
by R. W. Alvin M. Steinberg
It is indeed with a justifiable sense of pride that Massachusetts' only military Masonic Lodge celebrates its seventy-fifth anniversary early in the millennium. During these past twenty-five years of the Lodge's existence, the world has seen conflicts which affected the lives of so many. Since the Lodge's inception by veterans of World War I, our Brethren have served honorably in World War II, the Korean Conflict, the Vietnam War, and peacekeeping efforts throughout the world. We can only reiterate our motto: "Deo Et Patriae" - "For God and Country".
The preceding "Second Twenty-Five Years of Major General Henry Knox Lodge" included the background of our Charter Master and author of the "First Twenty-Five Years", Wor. Frederic Gilbert Bauer. The author of the "Second Twenty-Five Years", R. W. Meyer Weker, was a leading light in the Lodge for many years. He was a graduate of Boston University, a Lieutenant Colonel of the Army Judge Advocate Corps, an attorney for the Veterans Administration, a Past Grand Master of the Grand Council of Royal and Select Masters, a Grand Representative, and truly an authority on Masonry. It was through R.W. Meyer Weker's efforts that our By-Laws were amended, making it mandatory that a Table Lodge be held every year. It was also through his efforts that the fraternal relationship was established with Orient Lodge of Thomaston, Maine, and that this Lodge became a sustaining member of the Knox Memorial Association, also in Thomaston. R. W. Brother Weker also established, with Mrs. Nettie Archer, the charitable fund named for her late husband, and our Brother, Kermit C. Archer.
R.W. Brother Weker certainly deserved the many Masonic honors bestowed on him, and he served this Lodge with distinction and with honor. It is interesting to note that R.W. Brother Weker was the chairman of the 60th Anniversary meeting held aboard "Old Ironsides" on March 17, 1986. However, after he had made all the plans for the event, he was stricken ill and passed away just prior to the meeting. R.W. Brother Alvin Morris Steinberg was then appointed Chairman of the event and continued carrying out R.W. Brother Weker's plans. In attendance at that meeting were the Grand Master, M.W. David B. Richardson; Past Grand Master, M. W. J. Philip Berquist; Brigadier General Ronald Markarian, the National President-elect of the National Sojourners; Cdr. Gilbert Brown, the Commander of the Constitution; together with Brethren from many lodges who practically filled the gun deck of "Old Ironsides". It was, indeed, a memorable and most auspicious event.
The following served as Masters of Major General Henry Knox Lodge in
the last quarter-century (with branch of service shown):

Vincent Taft Estabrook (Army) 1977 †
George Edward Durfee, Jr. (Army) 1978-1979
John Martin Kandres (Army) 1980-1981
Willis Junior Rice (Marines) 1982-1983 †
Franklin Newell Cunningham (Navy) 1984-1985 †
David Paul Kopech (Army) 1986
Clifford Franklin Howe (Navy) 1987 †
Alden Arthur Osgood (Army) 1988-1989
John Martin Kandres (Army) 1990-1991
David Albert D'Agostino (Army) 1992-1993
Donald Francis Tabbut (Navy) 1994-1995
Donald Sumner Robinson (Army) 1996-1997
Donald Francis Tabbut (Navy) 1998
Arthur Edmond Gagnon (Army) 1999-2000
Michael Joseph Reardon (Army) 2001
Note: † Deceased
Also, in this last quarter-century, the Lodge was honored to have R.W. John Martin Kandres, who served twice as Master, appointed District Deputy Grand Master of the Chelsea Third Masonic District. His was an exemplary term of office and reflected honor to both the Lodge and the District. R.W. Donald Francis Tabbut, who also served two terms as Master, was also appointed District Deputy Grand Master, serving as the Deputy for the Chelsea Third Masonic District during this our 75th Anniversary year. They both reflect the best in Masonry - true fraternalism!
The Joseph Warren Medal for Distinguished Service was presented in the Lodge in this quarter-century to the following Brethren:
R. W. Charles Henry Sargent, Jr., April, 1981 †
R. W. Alden Arthur Osgood, October, 1991 †
R. W. Alvin Morris Steinberg, January, 1993
Wor. William Frederick Greene, October, 1993 †
In addition, Veteran's Medals, given to those who have completed 50 years of Masonic membership, were presented in the Lodge to the following Brethren:
Wor. Donald Angus MacLeod
Bro. William MacLeod †
R. W. Alvin Morris Steinberg
Veterans Medals were also mailed or otherwise presented to all 50-year Brethren as they became eligible.
Although the Lodge has been fortunate to have had many outstanding Masters in this past quarter-century, some stand out in particular:
R. W. Vincent Taft Estabrook who, as Chairman of the Trustees for many years, insured the integrity and well-being of our trust funds.
Wor. David Paul Kopech and Wor. David Albert D'Agostino, both of whom affiliated with this Lodge after serving as Masters of Overseas Lodge of Cranston, the Military Lodge of Rhode Island, thus continuing the close relationship which has existed between our two Lodges these many years. Wor. Kopech also served as Grand Master of the Grand Council of Royal and Select Masters of Rhode Island.
Wor. Clifford Franklin Howe passed away during his term of office. His term as Master was completed by Wor. Frank Chandler Merrill, the Senior Warden. In appreciation for all of the special efforts and considerations contributed by Wor. Merrill, the Lodge elected him Honorary Past Master and presented him with a Past Master's jewel. This was a first for the Lodge.
R. W. Alden Arthur Osgood, who served as Master in 1954, returned to the Oriental Chair in 1974 and again in 1988.
R. W. John Martin Kandres, who served as Master in 1980, was again elected Master in 1990, and currently serves the Lodge as Secretary, doing his usual outstanding work.
Wor. David Albert D'Agostino, mentioned above as a Past Master of Overseas Lodge, is currently the Secretary of that Lodge, as well as being a member of our Board of Trustees.
R. W. Donald Francis Tabbut, our Lodge's right hand, and the only Pearl Harbor survivor in the Lodge, continues to serve the Lodge in all capacities, truly exemplifying all the tenets of our Order.
As always, the high points of each year have been public gatherings, such as the "Family Night", Installation of Officers, and the Payne Dinner, where our families and friends could join us in the festivities. In addition, our annual pilgrimage to Montpelier, the home of General Knox, including the wreath-laying ceremony at his grave, has attracted many of our Brethren, who make a weekend celebration of the event in conjunction with the brethren of Orient Lodge of Thomaston. Our R. W. John Martin Kandres and their Wor. Raymond Robinson have cooperated and coordinated the weekends in an outstanding manner these many years. As a result of the warm relationship which exists between the two lodges, we were honored to have three Past Grand Masters of Maine, M.W. John Efstrathois Anagnostis, M. W. Robert Vernley Damon, and M. W. Wayne Thomas Adams, join us, as well as our own Past Grand Master, M. W. David Borden Richardson, all unanimously elected affiliate members.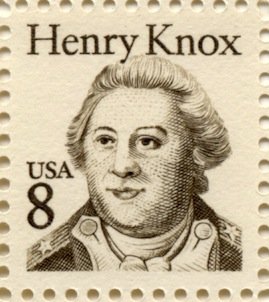 The Lodge was further honored on July 25, 1985, when the "First Day of Issue Ceremony" was held at the High School in Thomaston. This ceremony marked the issuance of an 8-cent U.S. postage stamp featuring Henry Knox. Among the honored guests on the podium was our presiding Master, R. W. Franklin Newell Cunningham. Many of our brethren were also in attendance. Among the First Day Covers presented that day was one honoring Major General Henry Knox Lodge, the only military lodge in Massachusetts. In 1999, upon the occasion of his being presented with his 50-year Veteran's Medal, R. W. Alvin M. Steinberg presented the Lodge with a framed enlargement of the stamp, which now hangs in Room 905 of the Masonic Temple in Boston.
We are entering the millennium in financially good health, attributable to a sound investment strategy originated by R. W. Vincent Taft Estabrook and continued in recent years by our Treasurer, R. W. Clark Baldwin Loth, who affiliated with our Lodge after serving as District Deputy Grand Master of the Boston First Masonic District. Our current financial status enables us to continue to make charitable contributions to Masonic charities and other worthy programs, thus fulfilling our fraternal and moral obligations.
The Table Lodge, which first originated in Major General Henry Knox Lodge, and held each April, continues to attract a large number of Brethren, with attendance between 80 and 100. Since it is held with strict adherence to the ritual, as laid out by the late Wor. Frank Byron Crandall, who translated the ritual from the French "Loge de Table", we are honored to have as our guests at each Table Lodge members of the Grand Lodge, with the presiding Grand Master attending at least once in his three-year term. This 75th Anniversary year we also celebrate the 50th Anniversary of our first Table Lodge, and our guest of honor will be our presiding Grand Master, Most Worshipful Fred Kirby Bauer.
Despite various "Police Actions" and "Peacekeeping Efforts", and the subsequent decline in personnel in the Armed Forces, we saw a decline of membership in our Lodge, from 440 in 1976 to 227 in 1999, and additional losses due to deaths and demits in the year 2000. With the realization that taking in candidates for the degrees was extremely difficult, in that these candidates could be only men on Active Duty, in the Reserves, or Veterans, an effort was made in early 2000 to bolster membership by Affiliates, members of other lodges who could meet our Lodge's criteria. This was accomplished by a letter sent by our Secretary to the Secretaries of all the constituent Lodges in Massachusetts, which letter and procedure was approved by our Grand Master. This letter, literally a "Call to Arms", offered a waiver of the affiliation fee until September, 2000.
The results were most heartening. More than 70 Master Masons of Massachusetts' Lodges answered our call to affiliate, boosting our membership, in this, our 75th Anniversary Year, to 273. We hope that our programs will continue to attract new affiliates and that Major General Henry Knox Lodge will continue to set new standards and add to the meanings of "Fratemalism" and the "Military-Masonic Bond", ever remembering that our heritage as Americans and as Freemasons is a Sacred Trust.
---
EVENTS
UNVEILING OF KNOX PORTRAIT, JUNE 1963
From Proceedings, Page 1963-179:
On the evening of June 26, 1963, the members and guests of Major General Henry Knox Lodge, which had already been opened for its Regular Communication, proceeded to the Adams Room in the nearby Hotel Touraine, where a fine dinner was enjoyed in a pleasant atmosphere.
Upon reconvening in Tuscan Hall at 7:45 P.M., Most Worshipful A. Neill Osgood, Grand Master of Masons in Massachusetts, was formally received. He was accompanied by the Grand Secretary, Rt. Wor. Earl W. Taylor, and by two of his District Deputies, Rt. Wor. Alden A. Osgood and Rt. Wor. Edgar M. Mills, of the Chelsea Third and Boston Third Masonic Districts, respectively, as well as by his Grand Marshal, Rt. Wor. Robert P. Beach. The Grand Master assumed the East and momentarily presided over the Lodge.
Several of the Charter Members and a number of the Past Masters were among those in attendance. It might be noted that each of the lodge officers and participants in the program was attired in his particular service uniform, as might be expected in the only military lodge in this jurisdiction.
The occasion was the unveiling of a large and colorful portrait of Major General Henry Knox, the distinguished patriot-soldier and Mason, for whom this Lodge was named. Rt. Wor. Thomas Knudson, presiding Master, explained that the idea of the portrait originated with our Charter Master, Wor. Frederic Gilbert Bauer, who had selected a picture now hanging in the Pentagon at Washington as a model. Unfortunately, his very serious illness prevented him from being with us, and Rt. Wor. Chauncey D. Merrill, a Past Master of the Lodge and Past Junior Grand Warden, would be in charge of the program.
Bro. Morris A. Zirlin, Senior Warden-elect of Ocean Lodge, was introduced as the artist, and was accorded a great round of applause. An inspiring prayer of dedication of the picture was delivered by Bro. Dr. Thomas E. West of the First Baptist Church in Winthrop. Wor. Meyer Weker, Secretary of the Lodge, presented a brief outline of the life of Henry Knox, which is appended hereto. Then followed messages of greeting from Charter Members and Past Masters who, because of time, distance, and circumstances, were unable to come to Boston and participate in the evening's ceremonies. R. W. Bro. Merrill pointed out that it was only proper that a good likeness of Brother Knox should be in view in Room 90S, the Lodge's Quarters, as an inspiration to all. Surrounded by Charter Members and Past Masters of Major General Henry Knox Lodge, he formally unveiled the large and striking oil portrait, attractively framed. Expressions of admiration were heard on all sides.
The Grand Master expressed his keen pleasure at the opportunity to be present on such an auspicious occasion, despite the excessive heat of the day. He congratulated the artist on his excellent production, remarking that it would constitute a worthy and welcome addition to the many fine paintings that graced the walls of the Masonic Temple. He complimented all who arranged and took part in this event of both historic and Masonic significance. Exercising the prerogatives of his office, Most Worshipful Brother Osgood closed Major General Henry Knox Lodge in Ample Form at 8:50 P.M.
Biography at Unveiling of Portrait, June 1963
GRAND LODGE OFFICERS
DISTRICTS
1926: District 4 (South Boston)
---
LINKS