Crescent
From MasonicGenealogy
CRESCENT LODGE
Location: Pittsfield
Chartered By: Sereno D. Nickerson
Charter Date: 09/09/1874 1874-91
Precedence Date: 09/12/1873
Current Status: merged with Pittsfield Lodge to form Crescent-Pittsfield Lodge, 09/28/1990.
---
PAST MASTERS
Need list of living Past Masters
Henry Chickering, 1873, 1874
George C. Dunham, 1875-1877
William E. Vermilye, 1878-1881
William F. Gale, 1882
George H. Tucker, 1883-1885; SN
William P. Wood, 1886, 1887; Mem
John F. Noxon, 1888
Charles W. French, 1889; SN
Charles E. Bennett, 1890; SN
Walter Cutting, 1891
Harlan H. Ballard, 1892, 1893
Almon H. Harrison, 1894
Sears Chester Lyon, 1895, 1896; SN
George C. Fish, 1897
G. Albert Kenyon, 1898
Charles W. Wright, 1899
William H. Barrows, 1900; Mem
Herbert A. Humphrey, 1901
Charles I. King, 1902
William R. Thomas, 1903
George W. Gardner, 1904
Charles A. Byram, 1905
William E. Rainey, 1906
Herbert J. Bradley, 1907
Levi D. Case, 1908
Frank M. White, 1909
William F. McKenzie, 1910
Robert A. Barbour, 1911
Wilfred H. Castle, 1912
Charles A. Acly, 1913
Oliver L. Bartlett, 1914
Howard P. Brown, 1915
Charles S. Shaw, 1916
Frank P. Simpson, 1917
Oliver Root, 1918
Herbert W. Andrews, 1919
Robert A. Walker, 1920
Russell O. Skinner, 1921
Arthur F. Jones, 1922; SN
George M. Emmerich, 1923
J. Howard Fryer, 1924
Charles H. Martin, 1925
Harry C. Darling, 1926
Albert E. Wing, 1927
John Glass, 1928
George D. McKay, 1929
Emil Bolza, 1930
William G. Dominick, 1931
Irving H. Farrar, 1932
Frank F. Wilkins, 1933
David B. King, 1934
Wendell G. Ahem, 1935
Harold N. Currier, 1936
J(ohn). Everett Mason, 1937; N
Wallace R. Dee, 1938
Harold S. Clark, 1939
Ralph D. Jones, 1940
George S. Murphy, 1941
William F. Bolza, 1942, 1943
Ernest H. Thomas, 1944
Harry E. Adams, 1945
Robert H. Bolza, 1946
Harry T. Bardwell, 1947
Lloyd A. Stokes, Jr., 1948
Louis J. Heidel, 1949
Karl O. Lepisto, 1950
James D. Fryer, 1951
Thaddeus F. Robinson, 1952
Donald G. Butler, 1953
Harrison M. Douglas, Jr., 1954
Leavitt L. Wood, 1955
William E. Skinner, 1956
Edward Armstrong, 1957
Carl E. Mesnig, 1958
Walter W. Syrett, 1959
Bertram B. Robinson, Jr., 1960
Richard K. Cooper, 1961
Frank J. Trato, 1962
Victor R. Carmon, 1963
Jules E. Gillette, 1964
John J. Dooley, 1965
George S. Torrey, 1966
James W. Wagstaff, Sr., 1967
Arthur W. Clark, 1968
Irving I. Siegel, 1969
Alfred J. Campagna, 1970
Carl E. Mesnig, 1971
Benjamin G. Robinson, 1972, 1973; PDDGM
Irving I. Siegel, 1974
Stephen J. Twining, Sr., 1975, 1981
Frederick E. Fiske, 1976, 1984, 1987; N
James F. Anderson, 1977
John R. Sutton, 1978
Richard C. Johnson, 1979, 1983; N
Edgar F. Sewell, 1980
Richard G. Lunt, 1982
Howard C. Fiske, 1985, 1986
Michael H. Westphal, 1988
Harold M. Melle, 1989
---
REFERENCES IN GRAND LODGE PROCEEDINGS
Petition for Dispensation: 1873
Petition for Charter: 1874
Consolidation Petition (with Pittsfield Lodge): 1990
ANNIVERSARIES
VISITS BY GRAND MASTER
BY-LAW CHANGES
1878 1880 1883 1889 1901 1916 1924 1931 1934 1935 1952 1960 1968 1975 1980 1984 1986
HISTORY
1923 (50th Anniversary History, 1923-336; see below)
1948 (75th Anniversary History, 1948-161; see below)
1973 (Centenary History, 1973-93; see below)
50TH ANNIVERSARY HISTORY, SEPTEMBER 1923
From Proceedings, Page 1923-336:
By Worshipful Harlan H. Ballard.
I always hate to see an old man start to read a history.
On Thursday evening, September 18, 1873, Henry Chickering and eleven others met in the ante-room of Masonic Hall, in the upper story of the Berkshire Life Insurance Building, corner of North and West Streets, Pittsfield, and a Dispensation from the Grand Lodge of Massachusetts was read, which ended as follows:
"Therefore reposing full confidence in the integrity and ability of the petitioners, and by virtue of the authority of my office, I do hereby grant this Dispensation authorizing our trusty and well-beloved Brethren aforesaid to form and open a Lodge of Ancient Free and Accepted Masons, according to the ancient custom and not otherwise, and I appoint Bro. Henry Chickering to be the first Master, George C. Dunham to be the first Senior Warden, Hezekiah S. Russell to be the first Junior Warden of said Lodge.

"SERENO D. NICKERSON,
"Grand Master."
Henry Chickering, the first Master, was born September 3, 1819, in Woburn, Mass., and was the. son of Rev. Joseph Chickering, pastor of the Woburn Congregational Church. Educated in the common schools, at the age of fourteen he began to learn the printer's trade at Andover and finished his apprenticeship as journeyman in the office of the Greenfield Gazette. In 1884 he became one of the founders and soon afterward sole owner of the North Adams Transcript. He removed to Pittsfield in 1856, and in 1859 became the owner of the Eagle.
In 1853 and 1854 he was a member of the Executive Council of the Commonwealth, and after the inauguration of President Lincoln was appointed Postmaster of Pittsfield, and so continued to the satisfaction of all until his death. His political influence was shown by securing the nomination and election of Henry L. Dawes to Congress in 1857. Past Master of Lafayette Lodge of North Adams, of Mystic, and of Crescent Lodges, Pittsfield; he became also High Priest of the Berkshire R. A. Chapter, Thrice Illustrious Master of the Berkshire Council, and was Eminent Commander of Berkshire Commandery for eight years. He was Senior Grand Warden of the Grand Lodge of Massachusetts, Grand High Priest of the Grand Chapter, Grand Master of the Grand Council, and Grand Captain General of the Grand Commandery. He was crowned with the 33° in September, 1880, and died March 5, 1881.
No one of the Charter members of this Lodge is now living. They were all good men, useful citizens, and upright Masons. Each is worthy of special and honorable record, which only lack of time now forbids.
The first death in the Lodge, that of Henry Eastman, occurred at sea in May, 1876. In a beautiful memorial prepared by Bro. John M. Taylor, we read that Henry Eastman was born in Tolland, Mass., in 1839, of New England Christian ancestry. Educated in the University of Michigan, he began the Medical Course in 1861, and in April of that year, responding to Lincoln's first call, he enlisted for three years in the Second Michigan Infantry and was in the battles of Bull Run, Yorktown, Williamsburg, and Malvern Hill. Discharged in 1864, he entered the Berkshire Medical College, received his diploma in 1865, and immediately accepted a position as Lieutenant in the Medical Corps under Sheridan. Honorably discharged at the close of the war, he served on the plains under General Custer, until discharged in 1866. He then returned to practice his profession in Pittsfield.
His associate physicians voted: that We deeply mourn the loss of one who by pureness of life, earnestness and sincerity of heart, devotion to duty, and by his upright Christian life has been an honor to the profession of which he was a member." As a citizen he had the confidence of all men by the force of honest merit and sturdy common sense. He was the Chief Health Officer of the town, and the United States Examiner of Pensions.
As a Mason he was always loyal to its principles, and faithful to every trust. We repeat with reverence the loving message for his wife and children that last trembled on his lips, "God bless them," and reverently add, "God bless him and them."
The Masonic work of Crescent Lodge has always been of the highest character. One reason for this may be found in a sentence from the report of the Standing Committee for 1876 — Every Candidate has been required to pass an examination in the Lecture of each degree [including the Third], which in every case has been very creditable."
In 1877 Crescent Lodge united with Mystic in the purchase of a double lot in the cemetery. "We hope at some time," says the Committee, "to erect a monument upon it." For this monument we are still hoping.
Of George C. Dunham, who served as Master from 1875 to 1878, we must be content to say that his repeated election proves the love and confidence which he won from his Brethren, and his annual reports demonstrate his marked ability and untiring fidelity.
In 1878 William E. Vermilye, M.D., was elected Master, and served until 1882, an unusual record of four years. On November 28, 1881, a communication from the Grand Lodge was read by him, officially announcing the death of our beloved Brother, James A. Garfield, and it was ordered that the Lodge be draped in mourning.
In 1882 William F. Gale was elected Master, and Dr. Vermilye accepted the office of Chaplain, in which position, and in many other subordinate positions to which he was from time to time invited in the absence of regular officers, he manifested a continued attachment to his Lodge and to the principles of the Order until his death in February, 1888.
It was then voted: That Crescent Lodge mourns the loss of a faithful and devoted member whose sincere and untiring services as Master for four years, and whose life and devotion to the Lodge for fourteen years, and whose Christian example and whose noble, honest, and unselfish character have endeared him to every member of our Lodge. His memory shall be forever cherished.
The following note was received from Mrs. Vermilye:
March 19, 1888.

Please accept thanks from my son and myself for your beautiful tribute to the memory of Dr. Vermilye. It is pleasant to know that those to whom he was so sincerely attached hold him in loving remembrance.
More than twenty years later, upon the completion of our Temple, Mrs. Vermilye presented to us in memory of her husband the three beautiful chairs that adorn the East, and today her interest in Crescent Lodge and in Masonry is as keen and her memories as tender as in the days of Auld Lang Syne. She is present with us today, and I have the great honor and pleasure of introducing Mrs. Edward Vermilye. [Mrs. Vermilye arose, and the Lodge spontaneously sprang to their feet in loving greeting.]
William F. Gale, who succeeded Dr. Vermilye in 1882, is the earliest Past Master personally known to me. My first impressions of his calm dignity and serene and benignant character were confirmed during a long and intimate friendship; and when he died in 1899 it was my melancholy honor and pleasure to assist in the funeral services at his home, and with other Past Masters to follow him to the grave in West Stockbridge. Let me drop this little sprig of acacia in his loving memory.
In 1883 the Lodge chose for its Master Brother George H. Tucker, who served with marked ability until 1886. During his administration the debts of the Lodge, which had been a burden from the date of its organization, were fully paid.
Brother Tucker is still with us as Senior Past Master. He is one of the strong pillars of our Masonic Temple, and also of our community. His life will always constitute an important chapter in the history of Crescent Lodge, but we are grateful that that chapter is not to be written now, nor, in God's good Providence, for many years to come.
He was succeeded by Brother William P. Wood, 1886 to 1888, who upon retiring received the unusual compliment of an engrossed vote of thanks from the Lodge. Incidentally at the same meeting a beautiful carving set was presented to Brother Charles H. Hubbard, in token of his faithful services as Tyler, since 1875.
Remembering well Brother Hubbard's genial face and fraternal greetings forty years ago, I paused at this point to search the records of the Lodge for his later Masonic history. There was no further record; his name had completely vanished from the books. It was a year or two since I had seen him. I called by telephone every family of Hubbards on the line, but none of them were related to, or had any knowledge of Charles H. Hubbard. The Past Master under whom he had served as Tyler was equally ignorant of his whereabouts.
Finally a man with whom our friend used to work gave me a street and number at which I might inquire. I walked a mile or two to the house indicated and found Brother Charles H. Hubbard at home and well. "We exchanged hearty greetings, and I invited him to be present at this our fiftieth anniversary meeting. I hope he is here. It turned out that he had never been a member of Crescent Lodge, but had consented while Tyler of Mystic Lodge to act as doorkeeper for us also. This explained the silence of our later records. ' I think this incident worth recording if only to illustrate the swiftness with which even our best friends fade from our present knowledge once they are for any reason removed from our sight; and it should teach us the duty and privilege of keeping in closer touch with our Masonic Brethren, especially in the days "when the doors are shut in the streets, and when those that look out of the windows are darkened."
My own relations with Brother William P. Wood were peculiarly close. I joined the Lodge under his administration, was associated with him in various Masonic Bodies including the Supreme Council of the 33°, and as Acting Master of Crescent Lodge conducted his Masonic funeral on October 2, 1917. It was Resolved by the Lodge; that — "As a Mason, Brother Wood was ever just and upright, as an officer diligent, efficient, and courteous."
Reverting for a moment to the office of Tyler, an office often undervalued though of the greatest importance. The first Tyler of Crescent Lodge was Brother John C. Parker. After a long illness he died on the day that would have marked his silver wedding, December 8, 1881. He was then a Selectman of Pittsfield; and the Pittsfield Sun for December 14 contains a long account of his life and character. From the Resolutions written into our Records by Brother Theodore Allen I quote: "He was specially attached to the principles of our Order, with a rare appreciation of their full meaning and rendering them in such a manner as to make a lasting impression upon all."
Our second Tyler was Clark F. Hall, 1874 and 1875; who later served most faithfully as Secretary from 1879 until 1888, and thereafter as Treasurer until his death, November 18, 1891.
Brother William A. Butler followed Brother Hubbard as Tyler in 1888, and was followed in 1890 by Brother John Skinkle, a veteran of the Civil War of proven courage and loyalty, and who worthily guarded the outer doors until 1919. He died February 13, 1920, after thirty years' faithful service. I recall that after twenty years as Tyler Brother Skinkle was called into the Lodge from his outer station to receive a token of appreciation in the form of a Tyler's jewel of gold, an event for which the Records have been searched in vain, possibly owing to the fact that this jewel was procured by private subscription and not by special vote of the Lodge. It has been particularly impressed upon my memory because the incident afforded the slender foundation for a Masonic Story recently published, and entitled "The Tyler's Jewel."
Following Brother Hall as Secretary came Brother David L. Evans, 1888 to 1908; and although he is still actively with us, must nevertheless be mentioned with praise on account of his twenty years of fidelity in that arduous office. He introduced the loose-leaf system of recording and his typewritten sheets are most artistic. The sheets, however, ought now to be numbered and bound in convenient volumes, and if possible indexed.
In 1889, desirous of recognizing the long and unselfish devotion of a Charter member and the first Secretary, who from the beginning had chosen service above honor, having repeatedly served as Junior and Senior Warden, declining the office of Master, having later accepted the duties of Treasurer, the Lodge obtained upon the resignation of Worshipful Brother John F. Noxon, a Dispensation for a special election, and unanimously chose Theodore L. Allen for its Worshipful Master. After a year of distinguished service Brother Allen in spite of his refusal to be a candidate was unanimously reelected, but firmly declined in favor of Brother Charles W. French, who as Senior Deacon had cheerfully stepped aside the year before in order to give Brother Allen the honor of the chair. Theodore Lathrop Allen, the last surviving Charter member of Crescent Lodge, died March 4, 1918.
He was horn in New York City, November 12, 1846, the son of Moses Odingsell Allen and Catherine (Burns) Allen. Register of Deeds 1877 to 1881, he then entered the service of the Berkshire Life Insurance Co., and was its Secretary from 1903 to 1912. At the time of his death he was President of the Sun Printing Company. He held prominent offices in many Masonic bodies, and throughout his life was generous in contributions of service and substance.
For the story of the lives of other officers of the Lodge, present and past, and of the lives and achievements of unofficial members, all interested are referred to the secretarial records. I suggest to all members that they will find it to their interest and helpful to their Masonic education to read attentively the records of their Lodge from the beginning. They will learn what things have been done, how they have been done, and who have done them. They will discover that our membership has uniformly been of a high character, and that it has included the most prominent men of our city and county, and not a few of state-wide influence. Professional men, lawyers, doctors, and clergymen have been largely represented and to these the rank and file have proved themselves fully equal in integrity, efficiency, and devotion.
Like every other organization Crescent Lodge must sorrowfully admit that it has also had some members who have disregarded the silent admonition of the white apron and the perfect ashlar, but their number has been astonishingly few. And how they have suffered in their souls none of us may know. They that violate their vows and prove traitors to their Brethren endure pangs of conscience greater far than the physical punishment which our ignorant enemies falsely allege to be inflicted by our hands. Remorse is no less a penalty than death.
And yet who knows the circumstances, the temptations, or the mental ailments of those who have fallen ? Who of us dare say that under the same conditions of heredity, of stress, of opportunity, he would have remained steadfast? It is not for us to judge them. "We leave them with loving sorrow in the hands of a Judge more wise and more merciful than we — in the hands of Him who knoweth our frame, who remembereth all our infirmities, who healeth all our diseases, and redeemeth us from all evil."
I shall add as an appendix prepared by our Worshipful Past Master Robert Walker but which, as Marc Antony said, "pardon me, I do not intend to read," a list of all our Masters, of those who have attained the highest Masonic stations, and of those who have offered their lives and fortunes in the service of their country, with other statistical tables. I cannot, however, pass without particular mention of one other Past Master, althoiigh he is still in the full tide of his strength and usefulness. William H. Barrows was Master from 1921 to 1922. He has served the Fraternity well in nearly every station known to all the bodies of both the American and the Scottish Rite, and has received the honor of the 33°. No man in Crescent Lodge is more highly respected or more sincerely loved. Nor must I omit mention of Brother William T. Petherbridge, also a 33° Mason, who has recently been elected an Honorary Member and an Honorary Past Master of Crescent Lodge, and I should acknowledge the honor accorded to our Lodge by the bestowal of the 33° upon two other Past Masters, namely, the present writer, and Worshipful Brother Colonel Walter Cutting, who died July 23, 1907, after a long and highly distinguished Masonic career, including his election to the position of Grand Commander of the Knights Templar and Appendant Orders of Massachusetts and Rhode Island. The beautiful altar which is the center of our service is a gift from his widow.
Crescent Lodge was originally organized by members of Mystic Lodge, and met for a time in the Lodge-rooms of the parent Lodge, paying a small rental for the use of the rooms, the furniture, and the regalia.
As it grew in numbers and prosperity it gradually acquired its own regalia and shared in the regular rental of the rooms. Slight and natural difficulties with regard to the management of the various properties of the different Masonic Bodies as they increased in number were obviated by the formation in 1894 of an incorporated Masonic Association to which was legally intrusted all Masonic property and the management of all Masonic business.
Brother H. H. Ballard, then Master of Crescent Lodge, was elected President of the Masonic Association, and was reelected yearly for twenty years ending in 1914, when after the new Temple had been built upon its present site by a unanimous vote of all Masonic Bodies interested, and by the voluntary subscriptions of generous Brethren supplemented by a substantial mortgage, and after it had been furnished and dedicated in due form, he resigned the office. He did this for three reasons; first he felt that after twenty years under a leader from Crescent Lodge, it was only fair that the honor and responsibility should be given to our elder and stronger sister Mystic; second, because he believed that it was fitting that younger men should have the chance of advancement; and third, because the purposes for which he had first been elected had now been accomplished. He therefore declined renomination, but ventured to suggest for his successor Brother Frank Peirson, of Mystic Lodge, who was duly elected, and who brought new life and vigor into the Association.
Next to, or perhaps even before the debt which Crescent Lodge owes to its long line of devoted and efficient officers, is her indebtedness for prosperity and reputation to the famous Crescent Quartette. A quartette with this name was organized in 1874, and consisted at first of Brothers William M. Prince, Edward Francis, Joseph B. Masden, and William Howland — but what is now known as Crescent Quartette came into being about 1894, and was organized by Brothers L. K. Willis, Thomas L. Jones, Fred Francis, and J. P. Fryer. They sing for us today.
Of the meeting of the Lodge to receive its Charter and be constituted by the Officers of the Grand Lodge on October 19, 1874, the New England Free Mason remarked: "An important feature of the impressive ceremonies was the fine music of the Crescent Quartette, which the Grand Officers agreed was worth the journey from Boston to hear."
At our twenty-fifth anniversary, twenty-five years ago today, the Historian said: The music of the Lodge has been one of its attractive features since its organization." The quartette consisting of Brothers T. L. Jones, J. P. Fryer, L. K. Willis, and Fred T. Francis then sang "Remember now thy Creator," and were heartily applauded.
Worshipful Master Wood then asked the quartette, as named above, together with Brother William M. Prince, a Charter member and first organizer of the quartette, and William R. Butler, its youngest associate member, to step forward, and in the name of the Anniversary Committee presented to each of them a beautiful and appropriate jewel. The same quartette with occasional substitutes has delighted the Lodge and many a larger audience with unvarying melody and charm during all the twenty-five years since the anniversary day, and as you listen today you can judge for yourselves whether they have been unduly praised. Incidentally Brother Fred T. Francis, besides singing for us, acted most faithfully as Treasurer for twenty years. I would gladly speak also of the younger singers who have emulated the excellence of their predecessors, particularly Brother James Morton of the silver voice, but history must be content with the far gone days and the turn of the present generation to be remembered with equal praise will come in due time. Then the fine service of the present officers of Crescent Lodge, led by W.M. Jones, in arranging for this anniversary meeting will be duly appreciated and recorded.
I must pass over the numerous activities of the Lodge as such. They will bear comparison with those of any of our sister Lodges, and are of the same well-known general character. Socials, dances, banquets, the frequent enjoyment or endurance of after-dinner oratory and music, fraternal visits in mass or by representatives to and from near and distant Lodges, not forgetting all our Berkshire Lodges, and those of Springfield, Hartford, Bridgeport, Albany, Boston, and New York; visitations from Grand Lodge Officers, Exemplifications before District Deputies, lectures from Grand Lecturers, and the celebration of anniversaries particularly our twenty-fifth.
All these together with our regular work in the three degrees are fully recorded in the books, but the real story of the Lodge consists in the lives and characters of its members, and this story is being written still from year to year by the shining pen of the Recording Angel, and when his book shall be closed it is our earnest prayer and hope that upon due examination it may meet the approval of the Grand Architect of the Universe.
The altar fires of Crescent Lodge were kindled fifty years ago from the undying flame that the Grand Lodge more than fifty years before had kindled upon the altar of our elder sister Mystic; and their brightness is still undimmed. About two years ago Crescent and Mystic united to pass the torch of Masonry to a wider circle of influence by helping to organize the new Pittsfield Lodge, under its first Worshipful Master, Frank Peirson. Sixteen of the Past Masters of Crescent Lodge became Charter members of Pittsfield, and Pittsfield has shown her appreciation of this assistance by electing two of the Brethren of Crescent Lodge to the Chair, namely Worshipful Brothers Harry D. Sisson and Charles R. Blakesley.
Crescent Lodge has always been taught by her officers and by Grand Officers of Massachusetts to take Masonry seriously, and she has practiced what she has been taught. She has kept alive in this valley a firm faith in God our Father, and in men our brothers. To faith and hope she has added the greater virtue Charity, which is, being translated, Love; and I believe that her Charity includes both forms under which that grace appears. Crescent Lodge has generously assisted such of her own members as have been in need, and given her proportional support to our home at Charlton; and she has also learned the higher Charity of the Spirit which covers with its mantle the errors and failures of others, and in the face of differences of opinion, character, and belief, seeks that true harmony which is the strength of all Institutions. Her Masonry is free, free from envy, free from bigotry, free from fear.
May she remain true to her name, and continue forever growing in strength, in wisdom, and in beauty.
75TH ANNIVERSARY HISTORY, NOVEMBER 1948
From the Crescent-Pittsfield Lodge web site, and Proceedings, Page 1948-161:
The Charter of Crescent Lodge is dated September 9, 1874. This is signed by Most Worshipful Sereno D. Nickerson, Grand Master and Charles H. Titus, Grand Secretary. Following are the names of the charter members: Henry Chickering, George C. Dunham, Hezekiah S. Russell, John C. Parker, Truman E. Cole, Dewitt C. Munyan, George Van Valkenburg, Theodore L. Allen, Henry Eastman, Charles Van De Mark, Clark F. Hall, William M. Prince, Jarvis N. Dunham, Charles D. Mills.
These Brothers demitted from Mystic Lodge, and we are told that the feeling between the two lodges was not very friendly. This condition lasted for some time. You will see later how this gap was closed by the diplomatic action and Masonic friendliness of two distinguished Masters, with the result that each lodge now regards the other in the highest degree, Brothers all. However, it was on September 18, 1873 that a dispensation was issued by the Grand Lodge to the above Brethren, to organize Crescent Lodge. The Grand Master appointed Brother Henry Chickering to be the first Master, Brother George C. Dunham to be the first Senior Warden, Brother Hezekiah S. Russell to be the first Junior Warden.
It was at this meeting also that the Officers necessary to function as a lodge were selected and appointed, as follows: Brother Charles W. Van DeMark, Treasurer; Brother Theodore L. Allen, Secretary; Brother Henry Eastman, Senior Deacon; Brother Dewitt C. Munyan, Junior Deacon; Brother Clark F. Hall, Senior Steward; Brother Charles W. Van Valkenburg, Junior Steward; Brother Truman E. Cole, Marshal; Brother Charles D. Mills, Inside Sentinel; Brother John C. Parker, Tyler. Committees were appointed to make the necessary arrangements for lodge regalia, books, stationery, etc. The regular communications were held on the third Monday of each month.
The meetings were held in the Masonic Hall which was located on the upper floor of the Berkshire Life Building, corner of North and West Streets in Pittsfield.
Worshipful Brother George C. Dunham served as Master from 1875 to 1878. William E. Vermilye, M.D. was elected Master in 1878 and served until 1882. In 1882 William F. Gale was elected Master and served one term. Worshipful George H. Tucker served as Master from 1883 to 1886. He was the first Past Master of Crescent Lodge to be appointed District Deputy Grand Master for this district. Worshipful Brother Tucker was succeeded as Master by William P. Wood, 1886 to 1888, who was also later appointed District Deputy Grand Master.
Some very interesting meetings took place during the early eighteen-nineties between Ancient City Lodge, No. 452 of Albany, New York and Crescent. It was on St. John's Day, June 25, 1894 that Ancient City presented Crescent with an ivory gavel suitably inscribed and which we treasure very highly today. Quoting from "The Graphic" Berkshire Gossip, dated June 28, 1894, "The Albany Free Masons and the Pittsfield Free Masons are just now swimming in a deep sea of brotherly regard, and have presented Crescent with a costly gavel with which its Master can call his audience from labor to refreshment. How can Crescent return this marked compliment from the fraternity in the Capital City of New York, is bothering the brains of the Worshipful down to the guard at the outer door. Wouldn't it be a brilliant hit if a piece of the old Elm could be found large enough to make a handsome "rapper" to wake up the Albany brotherhood with a regular Mohegan thud on a hot night."
It was in 1892 when Right Worshipful Frank E. Peirson, Past Junior Grand Warden, was Master of Mystic Lodge, and Right Worshipful Harlan H. Ballard was Master of Crescent Lodge that each invited the other to occupy the East of their respective lodges on a regular meeting night. This was the start of the annual visits between the two lodges which have continued ever since. Right Worshipful Brother Peirson was made an Honorary Member of Crescent Lodge in 1947, in token of the many things he has done which have benefited our Lodge.
The membership in 1893 was 102. This number steadily increased due to some extent to the affiliation of Masons who were raised in nearby Lodges and locating in growing Pittsfield, demitted from their home lodge.
The Twenty-fifth Anniversary was held September 26, 1898, in Masonic Hall, Berkshire Life Building. Present and taking part in the ceremonies were the members of the original Crescent Quartet: Brothers James P. Fryer, Fred T. Francis, Louis K. Willis and Thomas L. Jones.
The membership at the turn of the century was 195. Worshipful Brother Charles H. Wright was Master in 1900. There is a note appended to the report of the year. Quote, "everything was peaceful and harmonious throughout the year".
At the annual meeting held September 25, 1900, an amendment was made to the bylaws making the annual dues three dollars.
The 355th Stated and 27th Annual Communication was held September 23, 1901, William H. Barrows Master. At this meeting a resolution was made and spread upon the records, on the death of William McKinley, late President of the United States.
Worshipful Herbert A. Humphrey was Master in 1901. It was during his term as Master that inter-lodge visits between Masters Lodge of Albany and Crescent commenced. During this era Crescent's Fellowcraft Team was the drawing attraction at many meetings.
Worshipful Charles I. King was Master in 1902 and 1903. During his term, and on April 27th twenty-one members were recognized for their twenty-one years of service.
In 1904, Worshipful William R. Thomas was Master. At the annual meeting that year he was elected the second time to this office but declined the honor, on the second ballot Brother George W. Gardner was elected. During his year thirty-three were admitted, and the membership August 31, 1905 was 302. Worshipful Charles A. Byram was elected Master at the annual meeting. On January 22, 1906 an invitation was extended to Masters Lodge of Albany, New York, to visit Crescent. These inter-lodge visits were evidently taking place at about five year intervals. During this year the San Francisco earthquake happened. It is recorded in the minutes of the meeting September 25, 1906 that Crescent Lodge voted to contribute one hundred dollars to a fund being subscribed among the lodges of the country, to relieve the distressed Brethren in the stricken area.
Worshipful Brother Byram was succeeded as Master by William F. Rainey, 1906-1907. Worshipful William H. Barrows was elected Secretary, and held this office until 1915. Brother Levi D. Case was Master in 1908-1909. Worshipful Brother Frank M. White was installed Master on October 18, 1919, served one term and was succeeded by Worshipful William F. McKenzie.
A Special Communication was held on April 27, 1914 in the Small Lodge Room, to confer the Master Mason Degree on Brother Joseph McArthur Vance, the architect of the new Masonic Temple. Worshipful Charles A. Acly was Master at the time. The corner stone was laid on October 10, 1912 by Most Worshipful Everett C. Benton, Grand Master, The Temple was dedicated Monday, May 4, 1914.
Dr. Oliver L. Bartlett, Master in 1914-1915 was succeeded by Howard P. Brown. Worshipful William H. Barrows retired as Secretary. Brother Leopold M. Cone was elected to fill this office at the annual meeting September 25, 1916. Also at this meeting a change in the by-laws was made raising the annual dues from three to five dollars. The membership was then 434.
Worshipful Charles S. Shaw was elected Master in 1916. On October 30, 1916, Brother Fred T. Francis was presented with a gold watch in recognition of faithful service as treasurer over a period of twenty-five years. He was succeeded in office by Worshipful David B. King.
It was as you recall that in this period World War I was taking place. Many new names were added to the roster of Crescent Lodge. Those who rendered faithful service to their country and honor to the fraternity will never be forgotten, for their names appear on the bronze plaque hung upon the north panel.
Dr. Frank P. Simpson was elected Master on October 16, 1917. It is noted in the minutes of the meeting held November 16, 1917, that a committee was appointed at the request of Right Worshipful Harry T. Brague, District Deputy Grand Master, to see if the formation of a third lodge in this city is advisable at this time. The committee appointed, together with a committee from Mystic Lodge, reported that due to the unsettled conditions brought on by the was it would not be the thing to tackle at this time.
On June 17, 1918, Crescent was again host to Masters Lodge of Albany. The banquet was held at the Maplewood Hotel, corner of North and Maplewood Avenue. It was mentioned that these fraternal visits have now extended over a period of thirty years.
Worshipful Oliver Root was Master in 1918. He is the last member from Crescent Lodge to maintain membership in Pittsfield Lodge. Pittsfield Lodge recognized this fact a few years ago and bestowed upon him an Honorary Membership. He is also considered Chaplain Emeritus of Crescent, his home lodge.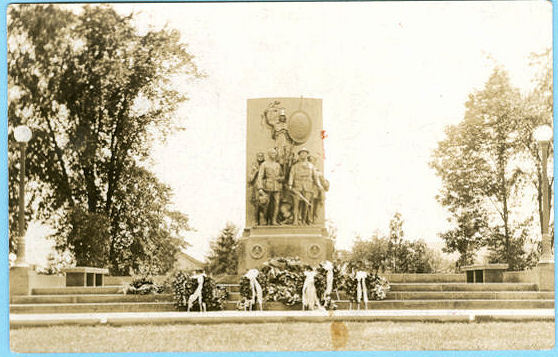 Pittsfield Soldiers' and Sailors' Monument
Worshipful Herbert W. Andrews was elected Master September 22, 1919. During his term the Memorial to those who served in the Armed Forces was dedicated, January 23, 1920. At the ceremonies that evening twenty-eight out of the fifty-five were present, and eventually every one of that number returned safely. Please note that during the year just passed eighty-four candidates were raised, and the membership September 27, 1920 was 546.
Worshipful Brother Andrews was succeeded in the East by Worshipful Robert A. Walker. During this year the lodge reverted to a more normal course of activities.
At the Annual Communication held September 26, 1921 plans were made to observe the fiftieth anniversary of the Lodge. Worshipful William T. Thomas was appointed general chairman. Worshipful Russell O. Skinner, Master in 1922 had a very busy and successful term. Another visit was made to Masters Lodge. Also during his term a mass meeting was held. Attending were all the lodges from both the fifteenth and sixteenth districts, to honor a visit from Most Worshipful Arthur D. Price, Grand Master. The Grand Masters address was on the newly formed Masonic Service Association.
Worshipful Arthur F. Jones was elected Master for the 1922-1923 term and was also appointed in 1933 to be the District Deputy Grand Master for the sixteenth district. Brother Leopold M. Cone retired as Secretary and was succeeded by Worshipful Herbert W. Andrews. It was on January 31, 1923 that the first Joint Communication of Mystic, Crescent and Pittsfield Lodges was held.
The 466th Special Communication, September 26, 1923 was held to observe the Fiftieth Anniversary. Most Worshipful Dudley H. Ferrell, Grand Master, made a very interesting address, and the historical address was given by Worshipful Harlan H. Ballard. It was noted that one of the pleasing incident was the presenting of a beautiful basked of flowers to the lodge and fifty American Beauty Roses from Mystic Lodge. The records from this meeting along with the other papers of record were sealed in a copper box, and are to be kept intact until our One Hundredth Anniversary. The membership at this date was 601.
It is well that we observe these figures from time to time, as they will show the trend of the times whereby the number is affected.
The first Masonic funeral from the Temple was held July 24, 1924, that of Worshipful Brother William T. Petherbridge, Honorary Past Master of Crescent Lodge. Worshipful George M. Emmerich was Master at the time. During his year a series of dances was held, the proceeds being donated to furnish a room in the Williams addition at the Masonic Home.
Worshipful J. Howard Fryer was installed Master of Crescent on September 24, 1924. During his year many interesting meetings took place. Notably American Legion Night, held Monday Evening, November 17, 1924. Particular effort was made at this meeting to introduce as many patriotic innovations as possible without interfering with the ritual. The Crafts Club of the Boston and Albany Railroad was very active at the time, and took part in two meetings that year.
And so, Brethren, down through the remaining years to the present Crescent Lodge has had the good fortune to have had twenty-two other Past Masters who have occupied her Oriental Chair with but one aim—to carry Masonry in their hearts and the fulfillment of her Masonic teachings. Nor could this have been accomplished without the wholehearted effort of every last member, which has been most graciously given.
Service beyond call—those who gave of their time and effort to our Country's call will never be forgotten—fifty-five in World War I and twenty-five in World War II. Certainly the Grand Artificer of the Universe must have known their aims in life, for they all returned to carry on.
For the honors that have been bestowed upon our Lodge and individual members, we are grateful. Those who have gone before us have set an enviable record, and as leave is taken of this, our seventy-fifth anniversary, may we ever strive to better the ideals of brotherly love and affection of that which is Masonry and Crescent Lodge.
CENTENARY HISTORY, MAY 1973
Since the celebration of our 75th anniversary in 1948, Crescent Lodge has been fortunate to have been able to have as its Master the highest caliber of men and Mason to continue the work of the Lodge.
In the past 25 years we have seen many example of the fine spirit of Fraternalism that is so deeply seated in the Masonic Fraternity. We have had the pleasure of many degree teams exemplifying the degrees to the enjoyment of all present. It is quite impressive to the candidates to find fellow co-workers and friend participating in the work especially when the candidate had no previous knowledge of their Masonic affiliations.
Some of the more recent occasions were General Electric night, May 18, 1959 when the Third Degree was conferred on two candidates by a large team of officers who were all employees of the General Electric Company as were the two candidates. November 23, 1959 brought Bankers Night when the stations were filled by bankers representing 15 banks, 12 Lodges and 5 Masonic districts. The third degree was conferred on two candidates. On February 18, 1961 the stations were assumed by eight Past District Deputy Grand Masters and conferred the Third Degree on one candidate; on September 28, 1970 the Nordic Trowel Club of Springfield journeyed to Pittsfield to confer the Third Degree on the son-in-law of one of their members along with four others. The excellence of these degree teams is unsurpassed and is an inspiration to all regular officers to do their level best in introducing candidates to the mysteries of Freemasonry.
In the minutes of the last 25 years one unusual instance of Brotherly Love stands out. On May 26, 1958, after the D.D.G.M., Karl D. Henry was introduced, he introduced Brother Carl E. Strattman, who he said had a very unusual presentation to make, he having traveled from San Diego, California specifically to be present in Crescent Lodge for the occasion.
Brother Strattman then briefly related how he had been responsible for Brother Russell G. Wilson's moving to the West Coast in the early 1940's to become a salesman for Brother Stattman's new fruit juice company as a door-to-door salesman, and how it became necessary for Brother Wilson to return to the East, and because of financial reasons Brother Wilson was suspended from Crescent Lodge for non-payment of dues. Brother Strattman was responsible for the recent re-instatement of Brother Wilson into Crescent Lodge membership.
At this point Brother Strattman walked up to Brother Wilson, and pronounced, that as Deputy Sheriff of Cochise County, Tombstone, Arizona, he was placing him under arrest for the heinous crime of non-payment of dues. He then conducted him to the East before Worshipful "Judge" Karl D. Henry who "sentenced" him to "Life" membership in Crescent Lodge. Brother Strattman then presented Brother Wilson with a certificate of life membership in Crescent Lodge, mounted in a frame which Brother Strattman had made from wood obtained from the timber of the house built and lived in by Brother Paul Revere.
At this same meeting the Brethren of Columbia Lodge #98 Of Chatham, New York exemplified the Third Degree. As mentioned above, them membership was 601 in 1923 and now in 1973 the membership is at about 350. It seems that in this day and age there seems much more to do outside of the Lodge than there was fifty years ago when there was no television or outdoor movies and such. The Lodge is still held in great respect but it does not seem to be the center of community life that it once was. Today most of our members are over forty years of age and candidates have not been too plentiful in the last couple of years for Crescent Lodge. This situation seems t run in cycles and we hope for the best.
In our Centennial year there has been a great deal of renewed interest by many members and many events have been planned and committees formed; the most notably is that which is headed by Brother Louis Esterman and his wife Ella to see that the Masonic Widows are kept track of, and that they are remembered on special days like Mother's Day and that they are invited to all the functions that the ladies may attend. This year also Brother Herman Garbowit was named Chaplain Emeritus and was presented with his own special jewel of his office.
A special Commemorative Medal has been struck for the 100th Anniversary. It was designed by Brother Stephen Twining and the artwork was done by Brother Robert DiOrio. Each member will receive on of the medals attached to a blue ribbon that may be worn at any symbolic lodge meeting. Medals with no ribbons were made available for all those who wanted them for a nominal fee.
This year at the stated communication of April 23, 1973 Most Worshipful Donald W. Vose was elected to honorary membership in Crescent Lodge ad was presented with a silver commemorative medal to wear.
At the Centennial Meeting On May 12, 1973 the box that was sealed at the 50th Anniversary in 1923 was opened. The Worshipful Master said that a similar box would be prepared to house the original box and appropriate additional items and that it would be sealed to be opened in the year 2023.
And so, brethren, at the close of the first century of Crescent Lodge let us thank the Grand Architect of the universe for a glorious past and pray that with his help Crescent Lodge will enjoy another century under his all seeing eye and that all our members, present and future, will always remember the more noble and glorious uses of the working tools of the Master Mason.
So Mote It Be!
OTHER
---
EVENTS
VISIT, JUNE 1889
From Liberal Freemason, Vol. XIII, No. 5, August 1889, Page 159:
Although it may seem somewhat late, we nevertheless are pleased to notice the fraternal manner in which Crescent Lodge F. and A. M. of Pittsfield, Mass., received and entertained Ancient City Lodge, No. 452, of Albany, N. Y., on the evening of June 25th last.
The visitors arrived by the 6.20 P. M. express, and were met by a committee from Crescent Lodge, who accompanied them in a delightful drive about the village, after which they were received with the usual courtesies at the Masonic rooms.
At the conclusion of the work on the degree of Master Mason, the brethren present were invited to the banquet hall, where a fine collation was in readiness. Speeches were indulged in, and the Crescent Club tendered a line programme of vocal selections at the close of the banquet.
About two hundred and fifty members of the fraternity were present, and the occasion will long be remembered as the most successful of the many delightful entertainments for which Crescent Lodge has so fair a reputation.
Many prominent Masons were present, among whom were: W. Bro. Charles H. Turner, Master of Ancient City Lodge; R. W. Bros. W. E. Fitch, Henry Proseus, and J. L. Godley, of Albany; R. W. Bros. G. H. Tucker, C. C. Wright, and H. S. Russell, of Pittsfield; Rev. Bro. J. Newton Phelps, of Albany; Rev. Bro. J. E. C. Sawyer, of Pittsfield; W. Bros. C. H. Hubbard and J. E. Merrill, of Mystic Lodge, Pittsfield; W. Bro. W. T. Petherbridge, of Rockville, Ct.; and W. Bro. W. E. Wilcox, King David Lodge, Taunton.
The visitors were escorted to the midnight train by the members of Crescent Lodge, and Auld Lang Syne was sung as the train for Albany rolled out of the depot having on board the visitors, who pcre profuse in expressions of satisfaction and of compliment with their reception.
A pleasing incident was the presentation of a huge and beautiful floral greeting to the Master of the local lodge, Mr. T. L. Allen, by the Albanians. It consisted of a great basket of roses, the asket being fully three feet long, arranged in a mound or bank of roses with the crescent, square and compass as a crowning piece.
ST. JOHN THE BAPTIST DAY, JUNE 1890
From Liberal Freemason, Vol. XIV, No. 3, June 1890, Page 94:
This Lodge, in Pittsfield, Mass., has established the reputation of being fully alive to the duties which rest upon it, and this includes, for it, the practice of the social virtues. The Lodge was established when R. W. Sereno D. Nickerson was Grand Master, and St. John's Day has been observed, as a custom, since. It is designed that the day shall be made one of special interest this year, not only by the work and presence of the members of the Lodge, but by the presence and co-operation of Past Grand Masters Nickerson and William Parkman, and of M. W. Samuel Wells, Grand Master. Personal duties require that we have to forego the pleasure of participating, but we are just as grateful for the invitation.
PAST MASTERS' NIGHT, MARCH 1909
From New England Craftsman, Vol. IV, No. 6, March 1909, Page 222:
Crescent Lodge, Pittsfield, Mass., called on its past masters to fill the officers' chairs at their meeting held March 1st. It was the fourteenth annual observance of Past Masters' night by the lodge and was a notable occasion. The number of brethren present makes it evident that their rooms are no longer adequate lor the lodge whenever it offers special inducements for the brethren to be present. On this occasion delegates were present from Unity Lodge of Dalton and Occidental Lodge of Stockbridge as well as representatives from nearly every lodge in the county and many lodges in other jurisdictions. The lodge room, which has a capacity of close to 300, was packed until there was scarcely room enough for carrying on the work of the evening, and in the ante-rooms there was an assemblage of the Craft numbering nearly as many as found accommodations within the lodge room.
Simple but effective decorations of palms and other potted plants, added to the attractiveness of the lodge room. The lodge opened soon after 7.30 o'clock with the following past masters occupying tin chairs: William H. Barrows, Worshipful Master; H. H. Ballard, Senior Warden; T. L. Allen, Junior Warden; G. Albert Kenyon, Senior Deacon; Herbert J. Bradley, Junior Deacon; George H. Tucker, Senior Steward; John F. Noxon, Junior Steward; H. S. Russell, Treasurer; Charles A. Byram, Secretary; C. C. Wright, Chaplain: William R. Thomas, Marshal, and Charles I. King, Inside Sentinel. Other Past Masters of the lodge who were present and assisted in the work were Charles E. Bennett, George W. Gardner, George C Fish, Charles H. Wright and S. Chester Lyon.
Of the 20 living Past Masters of the Lodge 18 were present, the largest proportionate representation that has ever attended one of these observances.
A feature of the meeting' was the unusually large attendance of Past Masters not only of Crescent Lodge, but of other lodges in the county and other places. It was estimated that not less than 50 past Masters attended the meeting.
The work was done with that accuracy and impressivencss which always characterizes the work of these men who have in past years presided over the lodge and helped to establish its reputation for good work.
The lodge closed in time lo permit of the serving of the banquet at 10 o'clock, giving ample time for an interesting postprandial program. Upwards of 250 plates were laid in the banquet hall by the ladies of Collina chapter, O. E. S" who, after an opening song by Crescent Quartet. served a fine lunch in their usual effective and satisfactory manner. Levi D. Case, Worshipful Master of the lodge, presided at the after dinner exercises and these were of an unusually interesting character. H. H. Ballard delivered his address in the form of a bright and clever poem in which the many apropos references to the fraternity and to many of the well known members of Crescent Lodge caused much merriment. Brief addresses were made by R. W. Frank H. Cande, District Deputy Grand Master for the 15th Masonic District. Frank H. Peirson, past Junior Grand Warden of the Grand Lodge, Past Master Hill and Worshipful Master. L. B. Coit, of Southbridge. Charles P. Bennett, William H. Barrows, John F. Noxon, Charles M. Wright, S. Chester Lyon and others.
VOICES FROM THE PAST, DECEMBER 1919
From New England Craftsman, Vol. XV, No. 4, January 1920, Page 123:
Five hundred and fifty Masons, from 50 lodges in western Massachusetts, listened to voices from the dead at a big get-together meeting at Masonic Temple at Pittsfield, December 19th, when the tones of past masters of Crescent Lodge who have been dead some years, were heard speaking from behind a screen on the stage, their tones rolling out vigorous and strong in a five-minute speech, each, on the principles of Masonry. The voice of the late William P. Wood and of the late former Mayor H. S. Russell of this city were heard.
Harlan H. Ballard, a past master, custodian of the Berkshire Atheneum, invoked the spirits of the departed by the simple means of a batch of records made 20 years ago. on one of the first phonographs seen in this section. The taking of the records was an experiment conducted by W. Bro. Ballard himself.
50TH ANNIVERSARY CELEBRATION, SEPTEMBER 1923
From New England Craftsman, Vol. XIX, No. 1, October 1923, Page 21:
Crescent Lodge of Pittsfield, Mass., observed its golden jubilee Sept. 26th, with a dignified and interesting program at the temple on South Street. The lodge was honored with the visit of Grand Master Dudley H. Ferrell of Lynn and a number of other Grand Lodge officers and Berkshire men prominent in the fraternity.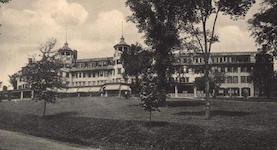 Heaton Hall, Stockbridge
Grand Master Ferrell and his suite arrived at the temple at 4.30 from Stockbridge, where the night of Sept. 25 they were guests of Congressman Allen T. Treadway at Heaton Hall. In the party besides the grand master were Deputy Grand Master Charles B. Burleigh. Senior Grand Warden Charles S. Proctor, Junior Grand Warden John A. Sullivan of Northampton, Grand Treasurer Charles H. Ramsay of Cambridge, Grand Secretary Frederick W. Hamilton of Cambridge. Grand Chaplain Rev. John C. Breaker of Adams, Grand Marshal Frank H. Hilton of Belmont, also Herbert W. Dean of Cheshire, Frank E. Peirson of Pittsfield and Congressman Treadway, permanent members of the Grand Lodge.
The program started at 5 with a reception in the lodge room, which was decorated with large bouquets of white chrysanthemums and palms and a vase of varicolored autumn flowers from Pittsfield Lodge of Masons.
Wor. Arthur F. Jones, Master of Crescent Lodge, opened the exercises with an address of welcome. This was followed by a selection by Crescent quartet, composed of Louis K. Willis, James P. Fryer, Fred T. Francis and Thomas L. Jones, who have an unbroken record of 29 years of singing for the lodge. At the annual meeting of the lodge they were elected honorary members.
The historical address was delivered by Harlan H. Ballard, librarian of the Berkshire Athenaeum. Then came an address by the Grand Master. After this the records of the lodge and other interesting data were deposited in a copiwr box, which is to be sealed and placed in the temple vault with instructions on the cover that it is not to be opened until September 26, 1973. The box will contain the full roster of the lodge at the present time, a copy of the charter, the full list of Masters, Treasurers and Secretaries from the beginning, the full program of the evening's proceedings, a letter from the present officers of the lodge to the officers of the lodge 50 years hence and a letter from the present Past Masters to the Past Masters of 1973, together with copies of The Springfield Republican and the Berkshire Eagle. The letter from the present to the lodge. The records were deposited by Past Master S. Chester Lyon. Solos wore given during the afternoon and early evening exercises by James C. Morton, tenor.
400 Attend Ball
At 7.30 a banquet was served by the Wendell Hotel in the assembly hall, followed by a reception to grand officers and guests in the lodge room. In the mean time the assembly hall had been cleared for the golden jubilee ball, at which about 400 persons, including wives of many members of the lodge were present.
In his historical address, Bro. Ballard said that Henry Chickering, who at one lime was postmaster of Pittsfield, and 11 other residents of the town met in Masonic hall, which was then located on the top floor of the Berkshire Life building, to form a new lodge of Masons. A special dispensation was received from Sereno D. Nickerson, who was Grand Master at that time.
The charter members of the lodge were Henry Chiekcring. George C. Dunham, Hezekiah S. Russell, John O. Parker, Truman E. Cole. DeWitt C. Munyan, Theodore L. Allen, George Van Valkenburg, Henry Eastman, Charles W. Van De Mark, Clark F. Hall, William M. Prince, Jarvis N. Dunham and Charles D. Mills. All of them have since died. Mr. Chickering was elected the first master. Mr. Dunham the first senior warden and Mr. Russell, who later was mayor of Pittsfield, the first, Junior Warden. The first death in the lodge was that of Dr. Henry Eastman, who served in the Civil War and who died at sea in May 1876. Mr. Dunham was the second master.
Widow of Third Master Living
Dr. William Edward Vermilye, whose widow is now living at White Tree Inn was the third Master of Crescent lodge, serving four years, which is an unusually long record. The earliest master now living is George H. Tucker, president of the Pittsfield National bank and the Berkshire Life Insurance company, who served from 1888 to 1886. The first tyler was John C. Parker, who for many years was one of the selectmen of the town. Clark F. Hall was the second tyler. and then Charles H. Hubbard served for 13 years. He also was tyler of the older Mystic lodge, holding both offices at the same time. In 1800 John H. Skinkle was elected tyler, serving for 30 years until his death in 1020.
Bro. Ballard referred in his paper to the long Masonic career of William T. Petherbridge, a 33d degree Mason, and the Crescent quartet, which was originally started by William M. Prince in 1874. to the present Crescent quartet, organized in 1894. and to the Crescent. Charles R. Wakeioy have served as masters, and also to the records Of Crescent members in the Civil, Spanish-American and World wars. The present membership of Crescent Lodge is 601.
Present Officers
The 1928 officers of the lodge follow: Master, Arthur F. Jones; Senior Warden, George M. Emmerich; Junior Warden, J. Howard Fryer; Treasurer, David B. King; acting Secretary, Herbert W. Andrews; Chaplain, Hubert A. Walker; Marshal, James A. Milne; Senior Deacon, Charles H. Martin; Junior Deacon, Harry C. Darling; Senior Steward, Albert K. Wing; Junior Steward, John Glass; Inside Sentinel, Charles M. Lockwood; Organist, Irwin J. Farrar; Tyler, Ralph D. Jones.
The 1873 officers were elected from the charter members as follows: Master, Henry Chickering; Senior Warden, George O. Dunham; Junior Warden. Hezekiah S. Russell; Treasurer, Charles W. Van De Mark; Secretary, Theodore L. Allen; Senior Deacon, Dr. Henry Eastman; Junior Deacon, De Witt C. Munyan; Marshal, Truman E. Cole; Senior Steward, Clark F. Hall; Junior Steward, George Van Valkenburg; Inside Sentinel, Charles D, Mills; Tyler, John C. Parker,
An attractive souvenir program printed on light blue paper with the lodge monogram in gold on the cover was distributed to guests.
SPECIAL COMMUNICATION, FEBRUARY 1935
From New England Craftsman, Vol. XXX, No. 6, February 1935, Page 125:
A most unusual Masonic meeting was held at the Masonic Temple in Pittsfield, Mass., when Masters Lodge No. 5 of Albany. N. Y., Wor. Clifton A. Hoag, Master, accompanied by a full corps of officers and 50 members; Mount Anthony Lodge No. 13 of Bennington, Vt., Wor. Norton Barber, Master, with all officers and 30 members; Wyllys Lodge No. 99 of West Hartford, Conn., Wor. Edwin C. Shultz, Master, with a degree team of 33 and 80 members; Crescent Lodge of Pittsfield, Mass., David B. King, Master, officers and 193 members as well as about 100 visitors from 18 lodges, met at the invitation of Crescent Lodge to exemplify the ritual of the four Grand Jurisdictions.
After a dinner at 6.15 to 250 visitors, the visiting delegations were received by the Master of Crescent Lodge, each master with the members of his lodge being received in the East and afterwards taking seats reserved for them.
R. W. Oscar S. Read, District Deputy for the 16th (Mass.) District was then received with his suite, on which were Past Grand Masters from two Grand Lodges, seven officers and past grand officers from three states, eight district deputies from four Grand Jurisdictions and other distinguished guests.
The officers of Mount Anthony Lodge No. 13 exemplified a part of the first degree according to the Vermont ritual, after which Masters Lodge No. 5 gave the same part of the first degree using the New York ritual. Crescent Lodge then showed the Massachusetts ritual in a part of the third degree, and Wyllys Lodge No. 99 closed the ritualistic work by exhibiting the second section of the third degree with a full Fellowcraft team in costume.
All of the work was given efficiently and in a very impressive manner; much credit is due all officers for their careful preparation.
At the close of the work M. W. Herbert W. Dean, P. G. M. of Massachusetts gave a short talk on "Why These Differences in Ritual," tracing briefly the development of the ritual from 1717 to the present day and pointing cut the different influences which had a hearing on the formation of the rituals in the four states represented on this occasion. He closed by pointing out how small was the relative value of the differences in ritual as witnessed when compared with the benefits derived from a meeting which could bring together Masons from four Grand Jurisdictions in the spirit of friendship, tolerance and trust SO much needed in a world of confusion and uncertainty.
All agreed that it was a meeting which would always remain a bright spot in their memories, not only because of the delightful spirit of true fellowship which prevailed but also because of the broader vision of Masonry and its possibilities which was impressed upon them.
---
GRAND LODGE OFFICERS
OTHER BROTHERS
---
DISTRICTS
1883: District 15 (Pittsfield)
1911: District 16 (Pittsfield)
1927: District 16 (Pittsfield)
---
LINKS