Aberdour
From MasonicGenealogy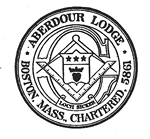 ABERDOUR LODGE
Location: Boston
Chartered By: William D. Coolidge
Charter Date: 12/11/1861 VI-391
Precedence Date: 12/14/1860
Current Status: in Grand Lodge Vault; merged into United Lodge, 03/17/1980; now a part of The Consolidated Lodge.
---
PAST MASTERS
Charles J. Danforth, 1860-1863
John Stetson, 1864
Henry Frost Spencer, 1865, 1866
William R. Norcross, 1867, 1868
Walter R. Gardner, 1869, 1870
Wooster B. Mayhew, 1871, 1872
Henry F. Ames, 1873, 1874
Charles H. Johnson, 1875, 1876
James C. Tucker, 1877, 1878
Charles Harris, 1879-1881
Frederick H. Spring, 1882-1884
Samuel Hosea, Jr., 1885, 1886
George F. Stebbins, 1887-1889; SN
Frederick J. Ham, 1890, 1891
Samuel H. Spring, 1892, 1893
Chester M. Perry, 1894
William P. Willard, 1895, 1896
Henry M. Nourse, 1897-1899; Mem
Louis H. Parkhurst, 1900
John S. Fowler, 1901, 1902
Samuel E. Newell, 1903, 1904
J. Porter Palmer, 1905, 1906
Harry H. Hartung, 1907, 1908
Victor E. Trace, 1909
Charles J. Elliott, 1910
Frank E. Sherry, 1911
Benjamin E. Wood, 1912, 1913
Henry S. Dunn, 1914
James A. Stewart, 1915
Robert A. Lewis, 1916
William Sears, 1917
William H. Hodgkin, 1918
Wilman M. Macomber, 1919
Horace B. Mann, 1920
Frank A. Baker, 1921
Ronald B. Clarke, 1922
Arthur E. Fisk, 1923; Mem
William E. Soule, 1924
William Shuttleworth, 1925
Linwood H. Young, 1926, 1927
Charles A. Temple, 1928
Robert J. Bottomly, 1929
James H. Wallace, 1930
Plinn D. Dempsey, 1931
A. Neill Osgood, 1932
John E. Tucker, 1933
Willis R. Weber, 1934
John D. Marks, 1935
Thomas A. Rockett, 1936
William Wilson, 1937, 1938
Herbert M. Smith, 1939
T. Legere Fenn, 1940
William Robinson, 1941
John F. Hubbard, 1942
William E. Eaton, 1943, 1944
Bernard H. Perlmuter, 1945
George Franklin, 1946; N
Eli B. Goldberg, 1947
Richard Weiler, 1948
Irving N. Borenstein, 1949; N
William R. Theodore, 1950
Harry Heyman, 1951
Harry Alpert, 1952
Henry A. Selib, 1953
Nathan J. Pransky, 1954
Ronald Rosenberg, 1955; PDDGM
Maxwell Kream, 1956
Myrton Swartz, 1967
Nathan Morris, 1958, 1959
Aaron S. Bell, 1960
Frederick Krupp, 1961
Irving H. Rattet, 1962
Robert Brenner, 1963
Joseph Pessen, 1964
Hyman E. Hoffenberg, 1965
Jason S. Orlov, 1966
Mark D. Titlebaum, 1967
Edward Feldberg, 1968
Stanley Orlov, 1969
Joseph Brenner, 1970
Robert Michaels, 1971
Arthur Katz, 1972
Steven Goldberg, 1973
Alan Waldfoger, 1974, 1976
Michael Lanner, 1975
Kenneth A. Stein, 1977, 1978
Bernard H. Perlmuter, 1979, 1980
---
CHRONOLOGY
REFERENCES IN GRAND LODGE PROCEEDINGS
VISITS BY GRAND MASTER
BY-LAW CHANGES
1870 (Full Code)
1872 1873 1874 1882 1888 1894 1911 1916 1926 1929 1931 1940 1943 1948 1954 1956 1957 1960 1963 1965 1967 1979
HISTORY
CENTENARY HISTORY, APRIL 1961
From Proceedings, Page 1961-48: By Brother Edward H. Finch.
Speculative Masonry, or Freemasonry in the modern sense, originated concurrently in England and Scotland sometime early in the seventeenth century. Until then the Masonic Lodges, whose origins are still somewhat unclarified, were mainly professional organizations of tradesmen. Its members were craftsmen in one way or another in the craft of building stone. At the end of the sixteenth century, not without the influence of the reformation and the growing political conscience, men of learning and influence, who had nothing to do with the craft of Masonry, but who were attracted by its morals and principles, were gradually admitted to these Lodges as non-operative members. One of the very first was John Boswell, who attended the Edinburgh Lodge in June 1600. During the seventeenth century the number of these speculative members increased considerably, and at the turn of the century there were some Lodges in England and Scotland composed entirely of non-operative Masons.
In 1717, four Masonic Lodges constituted the first Grand Lodge. Within fifty years, Freemasonry in its new form spread all over the European continent, bridged the seas to America and even took root in Asia. In many countries the Masonic Lodges became active political forces striving for liberalization and freedom.
In America, Speculative Masonry was introduced in the first three decades of the eighteenth century. The oldest existing document is a Minute Book of a Masonic Lodge in Philadelphia containing entries made in 1730. Benjamin Franklin would later become a member of this Lodge.
It was in 1733 that Henry Price, a merchant of Boston, was commissioned during his trip to England to constitute a provincial Grand Lodge in New England. This was executed, as well as the formation of the First Lodge of Boston, now known as St. John's Lodge. Since then the movement grew rapidly in New England and in other parts of the country as the nation expanded away from the eastern shore and into the wilds of the continent.
In the United States, the winter of 1860-61 was marked by increasing internal tension that had built up for over a decade, culminating in the Civil War. On the twentieth day of December, 1860, South Carolina adopted the ordinance of secession as a protest against the election of Abraham Lincoln to the presidency. Other states were to follow in the coming months, as futile efforts were made to save the Union. But as the shadow of war loomed over a nation torn by internal strife, life went on and the ever increasing activities of Freemasonry in New England resulted in the initiation of Aberdour Lodge. It was named for Sholto Charles Douglas, Lord Aberdour, the seventeenth Earl of Morton, who was elected on December 1, 1755, as the twentieth Grand Master of Scotland. During his tenure, in 1756, a patent granted to Colonel Young as Provincial Grand Master for America and the West Indies resulted in the creation of two Masonic Lodges, one of them being the Lodge of St. Andrew in Boston.
Because of his inspiring personality and services, Lord Aberdour was re-elected on November 30, 1756, for an unprecedented second term. On May 18, 1757, when he was still Grand Master of Scotland, Lord Aberdour was elected as Grand Master of England and thus was the first man to hold these two high posts simultaneously.
ABERDOUR LODGE FORMED
By reason of his service to the Craft and the part which he played in the history of early American Masonry, John T. Heard, Past Grand Master of Masons in Massachusetts, suggested the name of Lord Aberdour to a group of Brothers of Columbian Lodge meeting to constitute a new Lodge. The name was accepted and the first regular meeting of Aberdour Lodge was held at Free Mason's Hall (Old Winthrop House) on Tuesday, January 8, 1861. The following Brethren were appointed officers for the year:
Bro. P. Adams Ames, Wor. Master
Bro. John Statson, Sr. Warden
Bro. Thomas J. Lee, Jr. Warden
Bro. Charles J. Danforth, Sr. Deacon
Bro. Charles H. Allen, Jr. Deacon
Bro. Henry F. Spencer, Sr. Steward
Bro. David M. Hodgdon, Jr. Steward
Bro. Joseph J. Whiting, Treasurer
Bro. Benjamin F. Stevens, Secretary
Bro. Josiah A. Stearns, Chaplain
Bro. H. Weld Fuller, Marshal
Bro. Albert T. Whiting, Inside Sentinel
Bro. William C. Martin, Tyler
CHARTER
To all the Fraternity to whom these presents shall come:

The Grand Lodge of the most ancient and honorahle society of Free and Accepted Masons For the Commonwealth of Massachusetts, send greeting:

Whereas, a Petition has been presented to us by Preston Adams Ames, John Statson, Thomas Joseph Lee, Benjamin Franklin Stevens, Joseph Jacob Whiting, Charles Jarvis Danforth, Charles Hastings Allen, Henry Frost Spencer, David Miller Hodgdon, Henry Weld Fuller, Joseph Ebenezer Billings, Joseph McKean Gibbens, George Wisner Hunkins, John Kent, Edward Jesse Minot, Charles Edward Buckingham, Albert Turner Whiting, William Taylor Kennedy, Charles William Galloupe, Alfred Thomas Turner, James Wheaton Bliss, Charles Edward Wheelwright Dimmock, Paul Foster Folsom, Lyman Beecher Jewell, Francis Augustus Hirsch, Shadrach Houghton Pearce, John Henry Bradbury, Solomon James Gordon, all Ancient Free and Accepted Masons, praying that they, with such others as shall hereafter join them, may be erected and constituted a Regular Lodge of Free and Accepted Masons, which Petition appearing to us as tending to the advancement of Masonry, and the good of the Craft:

Know Ye, Therefore, that we, the Grand Lodge aforesaid, reposing special trust and confidence in the Prudence and Fidelity of our beloved brethren, above named, have constituted and appointed, and by these presents do constitute and appoint them, the said brethren, a regular Lodge of Free and Accepted Masons, under the title and designation of

Aberdour Lodge,

hereby giving and granting unto them and their successors full power and authority to convene as Masons, within the City of Boston, in the County of Suffolk, and Commonwealth aforesaid; to receive and enter Apprentices, pass Fellow Crafts, and raise Master Masons, upon the payment of such compensations for the same as may be determined by the Grand Lodge; also to make choice of a Master, Wardens, and other Office Bearers annually; to receive and collect Funds for the relief of poor and distressed brethren, their widows or children, and in general to transact all matters relating to Masonry, which to them may appear to be for the good of the Craft, according to the ancient usages and customs of Masons.

And we do hereby require the said constituted brethren to attend the Grand Lodge, at their Quarterly Communications and other meetings, by their Master and Wardens, or by proxies regularly appointed ; also to keep a fair and regular record of all their proceedings, and to lay them before the Grand Lodge when required.

And we do enjoin upon our brethren of the said Lodge that they be punctual in the quarterly payment of such sums as may be assessed for the support of the Grand Lodge; that they behave themselves respectfully and obedient to their superiors in office, and in all other respects conduct themselves as good Masons.

And we do hereby declare the precedence of the said Lodge, in the Grand Lodge and elsewhere, to commence from the seventeenth day of December, A.L. 5860.

In Testimony Whereof, We the Grand Master and Wardens, by virtue of the power and authority to us committed, have hereunto set our hands, and caused the Seal of the Grand Lodge to be fixed at Boston, this Eleventh day of December, Anno Domini one thousand eight hundred and sixty-one, and of Masonry five thousand eight hundred and sixty-one.



By Order of the Grand Lodge.

The second meeting of Aberdour Lodge was held on Tuesday evening, February 12, A.L. 5861 (1861), when Bros. Kreissman and Cutter received their first light in Masonry. At the meeting the following interesting letter was read by the Secretary:
St. Andrew's Lodge, February 12, 1861.

Worshipful Master, Wardens, and Brethren of Aberdour Lodge.

St. Andrew's Lodge asks your acceptance of the accompanying case of jewels, as a slight token of our appreciation on their part of the compliment you have paid them in selecting the honored name of Aberdour from our ancient and much-loved Charter, as a designation by which you will be known throughout the fraternity; also, as something of a mineral or metallic substance to be kept with your records in the archives of your Lodge, as a memorial of that brotherly and fraternal feeling which now binds us to you, and which we hope will last until time shall be no more.

Fraternally yours,



Charles J. F. Sherman, Master.

Hales W. Suter, Senior Warden.

Sam'l H. Gregory, Junior Warden.
A committee was appointed to acknowledge same in a suitable manner, and to assure St. Andrew's Lodge that their jewels would be "zealously guarded and carefully preserved as pleasant memorials of the brotherly feeling which now heartily unites the names of St. Andrew's and Aberdour."
LODGE CHRONOLOGY
June 11, 1861: Bro. Turner, in behalf of Bro. Joseph L. Ross of Columbian Lodge, presented a beautiful Ballot Box as a token of his regard for the members of this Lodge.
November 12, 1861: A new code of By-Laws was adopted. The new features are the increase of the fee for membership to twenty dollars, if made in Aberdour, and to fifty dollars, if made elsewhere.
January 14, 1862: Bro. Warren F. Gilbert was made a Mason, being the first candidate to become such under the Charter.
April 8, 1862: The Lodge received a communication from the officers of Columbian Lodge, which accompanied a very beautiful and valuable set of working tools, a present from said Lodge to Aberdour Lodge.
May 13, 1862: Wor. Bro. Josiah A. Stearns of Columbian Lodge was appointed Chaplain.
September 9, 1862: A committee was appointed to procure some suitable testimonials for the Brethren of Aberdour Lodge who are about to leave for the war.
December 9, 1862: Installation of officers by R. W. William W. Baker, D.D. Grand Master 12th Masonic District. Bro. E. J. Minot, Captain Company "C", 45th Massachusetts Regiment, was presented a valuable and beautiful sword by the Lodge. Following is the acknowledgment received from Bro. Minot:
Camp Amory of the Trent, North Carolina,
Nov. 27, 1862

To the Wor. Master, Wardens and Brethren of Aberdour Lodge

Dear Brothers:

I have to acknowledge the receipt of a sword presented to me by you, through Brothers Lee, Danforth and Allen.

From the bottom of my heart I thank you for this kind of remembrance of me, and, Brothers, when that blade is drawn upon my country's foes, the thought of the donors and that they are watching the records I make, will serve my arm with new strength, will increase the coverage of my heart to strike with all my power for my country and the honour of Massachusetts. I trust the gift may never be disgraced.

Hoping I may again have the pleasure of meeting with you in the enjoyment of the beautiful ritual of our order, I am Fraternally yours,

E. J. Minot,
Ca'pt. Co. "C", 45th Mass. Regt.
February 10, 1863: A Past Master's Jewel was presented to Wor. P. Adams Ames, Past Master, from an original design by Bro. Joseph J. Whiting.
June 2, 1863: Death of Brother Joseph J. Whiting, Treasurer. This was the first death of a Charter Member.
November 30, 1863: St. Andrew's Eve was celebrated by a public installation of the officers by R.W. John T. Heard.
April 12, 1864: The regular communication was held this evening at Nassau Hall, corner Washington and Common Streets. During the night of April 5th, the Winthrop House, corner of Tremont and Boylston Streets, in which was situated Free Masons' Hall, was consumed by fire. "Aberdour Lodge will have as relicts for our Brothers who may succeed us, our jewels, which have been recovered by Albert T. Whiting, somewhat injured by fire, and constitute, as our brother fitly says, the working tools and jewels of a Mason, indiscriminately." A vote of thanks was extended to the Trustees of Nassau Hall for the kind and prompt tender of their rooms for our use; also to Mount Vernon Lodge, Maiden, for the use of their regalia.
May 10, 1864: The Lodge met in Free Masons' Hall, No. 10 Summer Street, engaged by the Grand Lodge, and better known as Thorndike Hall.
September 29, 1864: At a special communication it was voted to accept the invitation of the M.W. Grand Lodge to take part in the laying of the cornerstone of the new Masonic Temple to be built on the corner of Tremont and Boylston Streets, on the site of the edifice destroyed by fire April 5, 1864; the ceremonies to take place on the 14th of October next, and to conclude with a dinner in Faneuil Hall.
April 9, 1867: A petition signed by Bro. J. W. Dadmun and others for a new Lodge to be called Zetland received the unanimous consent of this Lodge.
October 10, 1867: By-Laws amended. Annual dues made ten dollars.
November 12, 1867: Annual meeting and election of officers. By-Laws amended. "Aberdour Lodge shall consist of not more than one hundred members."
May 14, 1872: Wor. Bro. Josiah A. Stearns of Columbian Lodge, our worthy and exemplary Chaplain since our organization, unanimously elected to receive the first honorary membership in Aberdour Lodge.
November 12, 1872: Annual meeting. In consequence of the recent great fire (November 9 and 10), the very stormy evening, and the gas being shut off all over the city, the Lodge closed without transacting any business.
February 11, 1873: By-Laws amended, leaving the number of members unlimited, and reducing the fee for membership.
November 20, 1875: Death of Bro. Charles D. Cleaveland, Junior Warden-elect.
February 8, 1876: The petition of Bro. J. Eliot Bond, W. E. Wallace, and others for a new Lodge in Boston, to be called Joseph Webb Lodge, was sanctioned by Aberdour Lodge.
October 8, 1878: Wor. Bro. David Howe presents to the Lodge a very handsome "twenty-four inch gauge."
March 14, 1879: Death, in Germany, of Bro. August Kreissman, the first candidate in this Lodge while under dispensation, and its organist for thirteen years.
January 10, 1882: Full code of By-Laws adopted; new features are provisions for Life Membership and a reduction of quarterages from ten to eight dollars a year.
September 8, 1883: Our friend and only Honorary Member, Wor. Josiah A. Stearns, who has been Chaplain of this Lodge since its organization, departed this life.
February 9, 1886: A new regalia, with the new chain collar, was worn this evening for the first time.
November 9, 1886: Annual meeting. Election of officers. The Treasurer was the recipient of an elegant walking cane, capped with gold, bearing the following inscription:
Presented by his Brothers of Aberdour Lodge,
to
Brother Henry Noah Clark,
Treasurer for Eleven Years.
May 10, 1887: The petition of Bro. George E. Hicks and seven others, for a new Lodge for colored men, to be called Nathaniel B. Shurtleff Lodge, was sanctioned by this Lodge.
March 13, 1888: By-Laws amended; a new feature is Life Membership to all who pay quarterages regularly for twenty-five years.
February 11, 1890: The consent of this Lodge was asked by Bro. Henry M. Bowen and seventeen others for a Lodge in Roslindale, to be called Prospect Lodge and was sanctioned.
November 14, 1893: Annual Meeting. Election of officers. Bro. John Hoffman Collamore unanimously elected an Honorary Member, he, with our late Wor. Bro. Josiah A. Stearns, both members of our "Mother Columbian" being the only Brother Masons outside our own Lodge who have been accorded this honorable distinction.
December 13, 1893: Death of Bro. Thaddeus C. Dunn, Inside Sentinel for nine years.
June 12, 1894: By-Laws amended to establish a Charity Fund.
June 17, 1895: The Lodge united with King Solomon's Lodge of Charlestown, and other Masonic bodies, in the celebration of the erection of the monument raised by King Solomon's Lodge, in memory of Grand Master General Joseph Warren, and those who fell with him in the battle of Bunker Hill, June 17, 1775.
September 7, 1895: At 9:30 o'clock in the morning the Masonic Temple, corner Tremont and Boylston Streets, was found to be on fire. At 11:30 the fire was extinguished, the two upper floors and roof being consumed, the lower floors being thoroughly drenched with water.
September 10, 1895: By the courtesy of Wor. Master John W. McKim and the members of Eliot Lodge, Jamaica Plain, the regular communication for September was held in the Masonic Hall of Eliot Hall, Jamaica Plain, where a vote of thanks was tendered the Masonic Brethren of Jamaica Plain, Brighton, Charlestown, South Boston and East Boston for their kindly tender of their apartments, paraphernalia, etc., for our free use until we were again provided with a home.
January 26, 1896: Death of Junior Warden, Bro. George Henry Johnson, age 42 years and 9 months.
November 3, 1896: Death of Honorary Member Bro. John Hoffman Collamore at the age of 80.
April 12, 1897: Donation made by Aberdour Lodge to build a Masonic edifice in Washington, D. C.
April 13, 1897: A communication was received from R. W. Bro. Charles F. Gallagher, Counsel for the Lodge, reporting progress on the settlement of the estate of our late Honorary Bro. John H. Collamore. A communication was received from Carmella De Fillippo notifying the Lodge that she had elected to avail herself of the right to purchase the estate heretofore leased to her by John H. Collamore. On motion of the Secretary, the matter was referred to R. W. Bro. Gallagher, Counsel for the Lodge, with full powers to act for the Lodge.
April 11, 1899: It was brought to the attention of the members that the Lodge was unable to meet its financial obligations of $1,100 and by next November, the obligation would amount to $1,600. A recommendation that each member be assessed $10 was rejected.
May 9, 1899: A request for subscriptions to help the financial condition of the Lodge was made by the Worshipful Master. From the 42 members present, $520 was pledged. A committee was appointed to solicit and collect subscriptions from members not present at the communication.
June 13, 1899: Worshipful Master reported that the subscription committee had received pledges amounting to $1,105.
September 12, 1899: First meeting in the new Masonic Temple.
June 10, 1904: Wor. Henry H. Hortung addressed the Lodge in regard to the desire of the M. W. Grand Master to obtain the sentiments of the members as to the advisability of establishing a Masonic Home in Massachusetts. By vote of 28 to 2, it was the sentiment of the members to pledge, voluntarily, the sum of $1 a year for a period of 5 years for the above home.
February 17, 1909: Wor. Preston Adams Ames, first Master of Aberdour Lodge (1861 -62), went to his eternal rest.
January 11, 1910: A communication was read by the Worshipful Master announcing that under the terms of the will of late Bro. John Hoffman Collamore, the bequest of $500, with accrued interest amounting to $670, is now ready for delivery. It was unanimously voted that the Lodge accept from Bro. Francis W. Learned, Executor under said will, the sum of $670 in full settlement, and that the same shall be applied to the Charity Fund. It was also voted that the Lodge assents to the allowance of the account of said Executor in the Probate Court, and also assents to the execution of a mortgage on real estate of late Bro. Collamore for purposes of paying this and other legacies and expenses of settling the estate.
January 10, 1911:

Observation of the Semi-Centennial Exercises of Aberdour Lodge
Held in Gothic and Ionic Halls, Masonic Temple
Wor. Charles J. Elliott, Master
Greetings of the Commonwealth by Lieutenant Governor Bro. Louis A. Frothingham
Communication read from the sole surviving Charter Member, Wor. Henry Frost Spencer. His letter reminisced about the incidents regarding the founding of the Lodge. He called himself "the last leaf upon the tree."
Most Worshipful Dana Judson Flanders, Grand Master of Masons in Massachusetts, paid a fraternal visit accompanied by his suite, in observance of this fiftieth anniversary celebration.
Dancing and moving pictures wound up the evening's festivities.
November 12, 1912: A petition for a new Lodge to be located in Dorchester and to be called Daniel Webster Lodge was granted.
April 11, 1916: Wor. Charles Hubbard Johnson, the oldest living Past Master of Aberdour Lodge, was elected an Honorary Member.
June 13, 1916: Bro. Frank A. Baker, Jr. Deacon, presents the first appearance in Aberdour Lodge of a Fellow Craft Team.
June 12,1917: A motion was made and adopted that at every meeting the National Colors, escorted by a color-guard, shall be borne into the lodge-room and placed in the East. Each Brother shall rise, stand at attention and salute the colors. It was also voted that Bro. R. Porter, having volunteered his services to his country, shall be exempt from all dues of the Lodge during his term of enlistment. The same is to apply to any member of Aberdour Lodge who serves in any arm of the service.
February 12, 1918: Bro. John G. Morse, for 50 years a member of Aberdour, was presented the much valued Henry Price Medal.
April 9, 1918: Honorary membership was conferred upon the following: Most Worshipful Leon Martin Abbott; Most Worshipful Melvin Maynard Johnson and Bro. John Gove Morse. Patriotic Masonic Night was held on this date. Many distinguished Masons, including officers and enlisted personnel of the Armed Forces, enjoyed one of the finest affairs in Aberdour history. Trooping of Colors and Pledge of Allegiance was a most inspiring and impressive ceremony, in which the Flag was guarded by members of the Armed Forces.
October 5, 1918: The regular communication for October was omitted, owing to the prevalence of the nation's worst influenza epidemic, and the danger of contagion in public gatherings.
November 9, 1920: The nominating committee, in view of the 17 years of loyal and devoted service of R. W. Henry Mason Nourse as Secretary, expressed their regret at his retirement and recommended that he be elected Secretary Emeritus, which was so voted unanimously.
June 13, 1922: A communication from the Most Worshipful Grand Master was read, warning the Brethren in regard to the Ku Klux Klan. Members of the Masonic Fraternity were cautioned not to become involved in KKK undertakings. Upon request of the Acting Worshipful Master that-members express themselves, there was a unanimous vote of sympathy with the view of the Most Worshipful Grand Master.
1924: Bro. Mitchell Selib was appointed vocal soloist for Aberdour Lodge.
October 14, 1924: A sum of $250 was voted to furnish a room in the Masonic Home at Charlton. It will be known as the Aberdour Lodge Room.
November 11, 1924: Wor. William Soule reports that membership in Aberdour Lodge is at an all time high, with a total of 349, and is of the opinion that we could reach a membership of 400.
January 12, 1926: Wor. Malcolm E. Nichols was escorted to the East before a large gathering of Brethren who had assembled to do him honor. Wor. Bro. Nichols, while presiding in the East of Aberdour Lodge, was Mayor of the City of Boston, it being the first time in the history of the Craft that a Brother has been at the head of a Lodge and the City at the same time.
April 13, 1926: The petition for a new Lodge to be known as Brotherhood Lodge was read and by vote of the Lodge, approved.
March 13, 1928: Our most active and highly respected Mason in the Craft, A. Neill Osgood, now Right Worshipful, was elected to take the degrees in Aberdour Lodge.
March 19, 1930: Death of R. W. Henry Mason Nourse, District Deputy Grand Master, 1908-1909, and Secretary, 1903-1921.
November 8, 1932: Bro. A. Neill Osgood installed as Worshipful Master of Aberdour Lodge.
December 13, 1932: An invitation was read from Rabbi Samuel J. Abrams requesting the attendance of members of Aberdour Lodge at a Masonic Night at Temple Ohabei Shalom in Brookline on Friday, January 20, 1933. Most Worshipful Melvin M. Johnson gave the address of the evening.
February 14, 1933: Brethren were invited by Governor Joseph B. Ely to attend the usual Washington's Birthday Reception.
March 14, 1933: Wor. Brother Dempsey appointed District Deputy Grand Marshal for the Boston Second District.
MORE RECENT IMPORTANT EVENTS
1935: R. W. A. Neill Osgood elected Master of 7th Lodge of Instruction.
1938: Wor. Willis R. Webber elected Master of 7th Lodge of Instruction.
1943: Wor. T. Legare Fenn appointed Junior Grand Deacon.
1949 R. W. George Franklin appointed District Deputy Grand Marshal.
December 12, 1950: R.W. A. Neill Osgood was awarded the Joseph Warren Medal for distinguished service to Masonry. In making the presentation, the District Deputy Grand Master praised the work of R.W. Brother Osgood and quoted Rudyard Kipling's poem, Fellow Craftsman.
1951: Wor. John F. Hubbard passed away when in the office of Secretary and was succeeded by Bro. Edward H. Finch.
1953: R. W. George Franklin elected Master of the 7th Lodge of Instruction.
1954: R. W. A. Neill Osgood appointed Deputy Grand Master. Wor. Irving A. Bornstein appointed Grand Standard Bearer.
1955: R. W. A. Neill Osgood awarded Henry Price Medal. R. W. George Franklin appointed Junior Grand Deacon. Wor. Harry Heyman appointed District Deputy Grand Secretary.
1958: R. W. George Franklin appointed District Deputy Grand Master. Wor. Irving A. Bornstein appointed District Deputy Grand Marshal.
December 2, 1959: Our Senior Warden, Bro. Harry A. Marcus, went to his eternal rest. Aberdour Lodge has suffered a great loss that will leave its mark for time everlasting.
March 14, 1960: Wor. Harry Heyman honored at Past Masters' Night on the occasion of the 1001st regular meeting of Aberdour Lodge. One of the Lodge's distinguished Masons, he was presented a Paul Revere bowl as a token of esteem by the Brethren.
March 17, 1961: Wor. Henry A. Selib was elected Master of the 7th Lodge of Instruction.
In this brief review it has been possible to note only a few of the highlights of the first hundred years of Aberdour Lodge. It has been a century of harmonious and useful work, of which the Brethren should be justly proud. Our achievements and reputation are a great inheritance, but our history does not end here. A great responsibility is ours; we must go forward with even greater determination to increase our standing in the eyes of all our Brethren so that the first one hundred years may be but a shining prelude of what is yet to come. So mote it be.
EVENTS
PRESENTATION, DECEMBER 1860
From Moore's Freemason's Monthly Magazine, Vol. XX, No. 5, March 1861, Page 142:
Aberdour Lodge. This is the name of a new Lodge just organized in this city under a Dispensation from the Grand Master of the Grand Lodge of this Commonwealth. It takes i!s name from Lord Aberdour, who was Grand Master of Masons in Scotland in 1756, in which year he granted a Charter for a Lodge in Boston, under the name of the Lodge of St. Andrew. This will indicate lo some extent the reasons which prompted the proceedings given below. The new Lodge is an offshoot of Columbian Lodge, and is composed of Brethren whose Masonic intelligence and social positions afford a safe guarantee that it will hereafter take rank among the most respectable and best Lodges in 1he jurisdiction. St. Andrew's Lodge has extended to her young sister a hearty and generous welcome, and we trust laid the foundations of a friendship which will "strengthen with its growth."
In St. Andrew's Lodge, Boston, Dec. 13, 1860.
R. W. Bro. Moore presented the petition of sundry Brethren to the Grand Lodge for a Dispensation for a new Lodge to be called the Aberdour Lodge, and asked the recommendation of this Lodge to the petition.
Voted unanimously, That St. Andrew's Lodge give to this petition their cordial approval.
On motion of Bro. Moore,
Voted, That this Lodge present to the Aberdour Lodge, about to be organized, a set of Jewels.
On motion of Bro. Parkman,
Voted, That the W. Master and Wardens be a committee to procure and present the Jewels.
Attest, A. A. Wellington, Secretary.
St. Andrew's Lodge, Feb. 12, 1861.
Worshipful Master, Wardens and Brethren of Aberdour Lodge—
St. Andrew's Lodge asks your acceptance of the accompanying case of Jewels, as a slight token of appreciation on their part of the compliment you have paid them in selecting the honored name of Aberdour, from our ancient and much loved Charter, as a designation by which you will be known throughout the fraternity.
Also as something of a mineral or metalic substance to be kept with your records in the archives of your Lodge, as a memorial of that Brotherly and fraternal feeling which now binds us to you, and which, we hope, will last till time shall be no more.
Chas. J. F. Sherman, Master.
H. W. Suter, S. Warden.
S. H. Gregory, J. Warden.
Aberdour Lodge, Feb. 12, 1861.
Worshipful Master, Wardens and Brethren of St. Andrew's Lodge—
Your fraternal communication, accompanied with a case of Jewels of exquisite workmanship and design,—each appropriately marked " Aberdour, from St. Andrew's," — was presented to the Aberdour Lodge at its regular convention this evening. Whereupon, it was unanimously
Resolved, That the thanks of this Lodge be conveyed to our Brethren of St. Andrew's Lodge for their very valuable and acceptable gift, — for the cordial interest manifested by them in the Welfare and honor of our Lodge, — and for their readiness to entrust to us a name endeared to them by so many associations.
Resolved further, That Brothers Fuller, Kennedy and Kent be a committee to acknowledge the same in a suitable manner, and to assure them that their Jewels shall be zealously guarded and carefully preserved as pleasant memorials of the Brotherly leeling which now heartily unites the names of St. Andrew's and Aberdour."
The transmission of these votes, and the acknowledgment of our obligations to our Brethren of St. Andrew's Lodge, is a most agreeable duty; and the undersigned, as such committee, take pleasure in assuring you that Aberdour Lodge accepts these jewels in the ardent hope that they may keep them ever bright, and that the worthy names they bear may not be tarnished in their keeping. Hereafter these names will be inseparable! Together they will remain in our archives, and aid us in our work. May our hearts be ever'thus united! Reciprocating fully the kind expressions in your greeting, We are, very truly and fraternally, yours,
H. W. Fuller,
Win. T. Kennedy,
John Kent,
Committee.
CONSTITUTION AND INSTALLATION, OCTOBER 1861
From Moore's Freemason's Monthly Magazine, Vol. XXI, No. 3, November 1863, Page 96:
This new and promising Lodge, which has been working the past year in this city under Dispensation, was duly constituted, and its officers were installed on the 30th ult. under a Charter granted at the late meeting of the Grand Lodge. The ceremonies were performed by the Grand Master, assisted by his officers, in the presence of the members of the new Lodge and their initiates. At the conclusion of these the Brethren in attendance were invited to the banqueting ball, where a pleasant hour was passed.
The officers installed are as follows:—
P. Adams Ames, Master
John Stetson, S. W
Thomas J. Lee, J. W
Joseph J. Whiting, Tres.
Benj. F. Stevens, Sec.
H. Weld Fuller, M.
Charles J. Danforth, S. D.
Chas. H. Allen, J. D.
Henry F. Spencer, S. S.
David M. Hodgdon, J. S.
Albert J. Whiting, I. S.
The Lodge is composed of young men of high intelligence and good social position, and it can hardly fail to take a prominent place among the best Lodges in the jurisdiction.
ST. ANDREW'S DAY, NOVEMBER 1863
From Moore's Freemason's Monthly Magazine, Vol. XXIII, No. 3, January 1864, Page 83 (errata from No. 4, Page 128):
This Lodge celebrated St. Andrew's Day by a public Installation of the Officers for the ensuing year, and a Festival. It being the last day of the month, none of the Masonic Institutions held regular Meetings, consequently all the rooms in the building were thrown open for promenade. As this meeting was intended to be a social gathering of the members, to pro. mote acquaintance, the invitations were confined, as far as possible, to them and their ladies. The Lodge was opened in the large Hall, at half-past 7 o'clock. After the opening the ladies were escorted into the hall, and provided with seats, when R. W. Brother John T. Heard installed the following officers:—
C. J. Danforth, W. M.
John Stetson, S. W, Bro. B. F. Stevens acting as proxy
H. F. Spencer, J. W.
A. T. Whitney, Treasurer.
D. W. Hodgdon, Secretary.
C. H. Allen, S. D.
C. F. Russell, Jr., J. D.
C. O. Foster, S. S.
Frederick Allen, J. S.
J. A. Stearns, Chaplain.
L. L. Tarbell, Tyler.
The ceremonies were interspersed with excellent Music, under the direction of Bro. A. Knissman, a member of the Lodge, whose music at the regular meetings has been highly praised.
At the conclusion of the installation ceremonies, Bro. Heard delivered the following Address, which was listened to with marked attention:—
GRAND MASTER'S ADDRESS
"Brethren :— It is usual in inaugurating officers of state, of the church and of societies of almost every name, to mark such occasions, with ceremonials designed to impress the mind not only of the actors but of the witnesses. The President of the United States solemnly tikes upon himself under imposing circumstances his oath of office; the king is crowned amidst the dignitaries of his kingdom and the display royalty ever has so abundantly at its command; ministers of religion receive their sacred charge with differences of form vary in between the imposing rites of the Catholic and the plain ordination of the Puritan Church; and, 1 repeat, there is scarcely a society, however humble in iitt extent ami objects, which does not in some sinking manner induct into office those chosen to preside over it. In like manner, Masonry celebrates according to its peculiar ritual, the entiance of its officials upon Iheir duties. The election of our officers being annual in every Lodge, Grand and subordinate, and our laws requiring them to be formally installed as a prerequisite to ihe assumption of duties, the services witnessed here this evening become necessarily of frequent occurrence. Ordinaiily they are performed in the presence of Masons only, but occasionally a public installation is permitted for the gratification of the families and friends of Brethren. And I trust that they who are now present with us, who are not Masons, .have not observed or listened lo any thing that has been done orsat-l which has mel with Iheir disapprobation.
"Our officers when installed cannot resign. When thus formally invested, it is their duty to serve the full term of office. It is not in the power of a Master or Lodge, or both conjoined, to absolve the obligations that installation imposes. By the authority of the Grand Master only, can tendered resignations be accepted, and never would that authority he granted, except under circumstances wherein the welfare of a Lodge or of the general society of Masons urgently required it.
"I desire to lake this opportunity — the first I have had since your organization as a Lodge, — to express to you my thanks for taking the name of Abcrdour for that of this Lodge, you having done so in conformity to a suggestion offered by me whilst I was Grand Master. And it may be interesting to some of you and not inappropriate to this occasion, for me lo state for what reason the suggestion was made.
"As the student of Masonic history well knows, Masonry was first established in an organized form — in the form theii as now universally practiced, namely, by charter or letters from existing Masonic authority — by a dispensation from the Grand Master of England, Anthony Brown Viscount Montacute, to Henry Price, Esq., to form a Provincial Grand Lodge in America. This was in 1733. Henry Price, — whose intelligent and beaming countenance the artist has so successfully delineated in yonder portrait and who was then in the prime of manhood,— became and continued lo be for several years Grand Master under the dispensation. The American body was called " Saint John's Grand Lodge," Ihe first communication of which was held at the "Bunch of Grapes Tavern," in Boston.
"The next European authority given to establish a Lodge in the American colonies, at least in the more Northern of them, came, in 1756, from Sholto Charles Douglas, Lord Aberdour, Grand Master of Scotland. It was for the lortnation of a woiking Lodge — the "Saint Andrew's Lodge" of this city — our respectable and influential sister, who, though now one hundred and seven years old, is still youthful and vigorous.
"In 1769, George, Earl of Dalhousie, then Grand Master of Scotland, granted letters of deputation to Joseph Warren — the hero of Bunker Hill — to form a Grand Lodge "in Boston, New England, and within one hundred miles of the same," which became known as the " Massachusetts-Grand Lodge."
"After the revolutionary war, those Grand Lodges were united, and became the present Grand Lodge of Massachusetts; Saint Andrew's Lodge acknowledging iis allegiance to it, though it has continued to this time to work under its original charter.
"This brief sketch of the introduction of chartered Masonic powers and privileges into this country, will serve to show the propriety of naming Lodges after the leading actors, on both sidea of the ocean, engaged in this work, as a means of perpetuating and honoring their memories, and commenoratins; important historical transactions. The event, first named, has been in this manner celebrated by the founding of "Montacute Lodge" at Worcester, and "Henry Price Lodge" at Charlestown. The establishment of the second Grand Lodge is signalized by the erection of "Dalhousie Lodge" at Newton and "Joseph Warren Lodge" at Boston; and the instituting of "Aberdour Lodge" distinguishes the act which gave existence to "Saint Andrew's Lodge."
"These graceful testimonials of our respect and veneration for the past, might be succeeded by that of adding to our collection of portraits, those of Montacute, Dalhousie and Aberdour. Undoubtedly portraits of these distinguished men are extant, from which copies might be obtained. They would surely be an acquisition of importance and one which we would highly prize.
"And now, my Brethren, permit me to congratulate "Aberdour Lodge" on the eminent success which has thus far attended its career. Formed under dispensation granted in Dec., 1860, it has been a working Lodge for nearly three years, and two years have elapsed since it was "empowered to act as a regular Lodge, constituted in conformity to the rites of our Order." The number of original members — those whose names are in the charter —was twenty eight. By their names I recognize many who had been fellow members with me of Columbian Lodge; and I believe I am not in error in saying that Aberdour Lodge is regarded as an offset from that old and influential Lodge. Your piesent membership reckons fortyfour, which is an increase sufficiently rapid for solid growth and for the exer cise of that scrutiny and care enjoined by our Constitutions in relation to new members. One member has deceased — has gone "where the wicked cease from troubling and the weary are at rest." With Brother Whiting, the departed, I had the happiness of being well acquainted. He was initiated into Masonry in Columbian Lodge, of which he was a useful and cherished member. I do but reiterate the general sentiment expressed at the time of his death in saying that he was an exemplary citizen and Christian gentleman, and we know he was an upright Mason.
"Two of your number have served their country in the field during the term of their enlistment. We honor them for (hat patriotism which led them to peril their lives, and risk everything dear in life for a nation's preservation. The dangers, privations, and sufferings which our brave ynung men encounter and endure as soldiers in the terrific struggle now desolating many fair portions of our land and canying sorrow and mourning to thousands of households, exceed the power of language adequately to portray. We know enough of their sad and trying experiences, however, to feel that all honor belongs to them and that a people's gratitude is their due.
"May the year upon which you are entering, my Brethren, continue your Lodge in the prosperous course it has thus far run. I doubt not it is your earnest purpose to render it pre-eminently great in all that ennobles and elevates character and conduces to the welfare of man. In your laudable undertaking, I wish you God speed.
"Worshipful Master :— For the second time, the superintendence and government of lliis Lodge are confided to you, a fact most significant that you have hitherto well governed. So cordial a re-election may be regarded as good evidence that as Master you have won the esteem and confidence of your Brethren.
"Great powers are conferred on the Master of a Lodge, which devolve upon him corresponding responsibilities. From his decision, however wrong and arbitrary it may be, there can be no appeal to the Lodge. The remedy for abuse of his power lies only with the Grand Master or Grand Lodge. How important it is, then, that the Master should be qualified to rule intelligently and be actuated by kindness and justice, in order to promote the happiness and prosperity of his Lodge—to maintain harmony and fraternal concord among its members!
"It is not my intention to charge you particularly as to your duty; I feel assured that that is unnecessary. Still to one subject I desire to allude, namely, the growing practice in Lodges of discussing questions in a partisan spirit. It tends to create ill-feeling between members and prevent that harmony and co-operation so necessary to the right discharge of Masonic duties. Our greatest care should be exercised to prevent our Lodges from dwindling into debating clubs and keep them free from those disputations which rankle and produce discord and enmity.
"I conclude in the language of our ritual: The honor, reputation and usefulness of your Lodge, will materially depend on the skill and assiduity with which you manage its concerns ; whilst the happiness of its members will be generally promoted, in proportion to the zeal and ability with which you propagate the genuine principles of our Institution."
At nine o'clock the Brethren with their ladies and invited guests proceeded to the Banquet Hall, where an excellent repast was furnished by Mr. J. B. Smith, and which occupied the attention of all present, with occasional singing by Br. Kreissman and friends, until about 11 o'clock, when the company retired, highly pleased with their evening's entertainment.
GRAND MASTER VISIT, MAY 1879
From Liberal Freemason, Vol. III, No. 2, May 1879, Page 24:
Aberdour Lodge was visited by the M. W. Grand Master on Tuesday evening May 12th, on which occasion the work was exemplified on the degree of M. M. The Worshipful Master's Association visited in a Body, and were courteously welcomed by the master of the Lodge, Bro. J. C. Tucker, who is also a member of the association. The attendance was very large, the brethren were well pleased with what they saw and heard, and instructed by the remarks of the Grand Master.
MILITARY NIGHT, MAY 1907
From New England Craftsman, Vol. II, No. 9, June 1907, Page 334: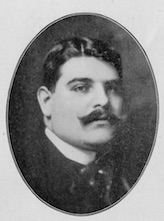 H. H. Hartung, Worshipful Master
Among the notable events that have transpired in connection with the Masonic order in Massachusetts we know of mine more unique in character than the special meeting of Aberdour Lodge, A. F. & A. M. which was held in Ionic Hall, Masonic Temple. Boston, Friday, May _'_). It was military night, so called in honor of four men who became members of Aberdour Lodge on that date, each of whom is an officer in military or naval service of State or National Government.
All of the arrangements for the interesting occasion had been carefully planned by Lieut. H. H. Hartung, Worshipful Master of the Lodge, with the hearty co-operation of his officers. Neither time nor expense were spared to make the meeting a success; while the presence of a large number of brethren in military dress gave the occasion a brilliancy of effect that was as agreeable as it was unusual. More than 300 guests were present, and these with the regular members filled both hall and balcony to near their limit.
The guests represented 65 lodges throughout the world. Louis Lyser was among those present and represented St. John's E. C. Lodge 1, Beechworth, Australia; Joseph H. Blackburn represented Cavite Lodge 350, of Cavite, Philippine Islands; George M. Barnes, Shettleshore-St. John, and Hugh Coyle Shamroc and Thistle Lodge of Edinbur. Scot., and E. R. Smith. Elsie Lodge 238, of Elsie, Mich. Other places represented were Philadelphia, New York, Long Island City, Cortland. Ind.; Rockland. Sidney. Northport Lewiston and Fryeburg, Me.; Manchester, Penacook and Ossipee, N. H.; Fort Monroe, Va.; St. John, N. B.; Fayetteville, N. Y.; New Haven and Hartford, Conn.: Abington, Amesbury, Hudson, Taunton, Samoset, Winthrop, Everett, Hingham, Medford, New Bedford, Norwood, Cambridge, Sandwich, Brookline, Watertown, Malden, Roslindale, Hyde Park, Jamaica Plain, Chelsea, Brighton, South Boston, Worcester, Fall River, East Boston and Dorchester.
The special communication was termed "military night" in honor of the four candidates, who were Lieut. Philip P. Bruce, Co. H, 5th Regt., M. V. M.; Lieut. Whipple F. Smith, staff, C. C. A., M. V. M.; Capt. Frederick Spenceley, staff, C. C. A., M. V. M. and Lieut. Commander Roger Welles, U. S. N.
As soon as the lodge was opened, Most Worshipful Grand Master J. Albert Blake and suite were announced, and received with full ceremonials. They were followed by Medical Director Winslow of the U. S. Navy and many other distinguished guests, including the Worshipful Masters and District Deputy Grand Masters of the 1st and 2d Masonic Districts of Massachusetts.
A pleasing feature of the exercises was the announcement by Worshipful Master H. H. Hartung of the election to honorary membership in Aberdour Lodge of Mayor Walter C. Wardwell of Cambridge. The mayor's response showed a grateful appreciation of the honor.
Most Worshipful Grand Master Blake received tremendous applause at the conclusion of his speech, which was devoted entirely to Masonry, especially the strength of the Order in Massachusetts.
Because of two other important engagements it was 10 o'clock before Gov. Guild arrived. He delivered a short address, devoted in most part to the state militia.
All of the offices, except that of the Worshipful Master, were filled by invited guests - officers in other lodges. Each wore full dress military or naval uniform and the whole made a brilliant picture. They were:
Worshipful master, Lieut. Harry H. Hartung. master of Aberdour Lodge: Senior Warden, Willis W. Stover, Past Master, Henry Price Lodge, Charlestown; Junior Warden, Alonzo K. Crowell, Senior Warden Charles H. Titus Lodge, Taunton; Secretary, William O. Webber, Past Master, Joseph Webb Lodge; Treasurer, Henry G. Jordan, Past Master, Lodge of St. Andrew; Senior Deacon, Olin D. Dickerman, Senior Warden, John Cutler Lodge, Abingdon; Junior Deacon, James E. Totten, Junior Warden, Ionic Lodge, Taunton; Senior Steward, John H. Marks, Prospect Lodge, Roslindale; Junior Steward, James H. Dillaway. Jr., Aberdour Lodge: Inside Sentinel, William A. Shattuck, Lafayette Lodge; Marshal, Doris A. Young, Aberdour Lodge; Assistant Marshal, Conrad M. Cerlach, Joseph Webb Lodge: Chaplains, Rev. George W. Sargent, Meridian Lodge, Natick, Rev. Peter MacQueen, Charity Lodge, Cambridge; the east, west and south guarded by Ralph B. Eastman, Pequossette Lodge, Watertown, George Wilson Andrews, Joseph Webb Lodge, Arthur Roscoe Miles, Liberty Lodge, Beverly; buglers, A. A. Ashman, Joseph Webb Lodge, A. R. MacKusick, Mt. Hermon Lodge, Medford.
The musical part of the exercises was especially arranged by organist William H. Gerrish and was rendered by the Harvard Quartet. A banquet followed the regular lodge work.
50TH ANNIVERSARY CELEBRATION, JANUARY 1911
From New England Craftsman, Vol. VI, No. 5, February 1911, Page 152: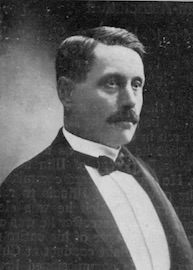 Frank E. Sherry, Worshipful Master-elect
Aberdour Lodge, Boston
Semi-Centennial Observance
Aberdour Lodge, Boston, celebrated its semi-centennial in Masonic Temple, Tuesday, Jan. 10th. It was the five hundredth regular communication of the lodge. The program included a reception, historical address, banquet, installation of officers, entertainment and dancing.
The exercise began with a reception. Worshipful Master Charles J. Elliot and Mrs. Elliot, Worshipful Master-elect Frank E. Sherry and Mrs. Sherry received the guests in Corinthian Hall, which was handsomely decorated with flags. An address of welcome was given by the Worshipful Master; this was followed by an historical ad ress by Rev. Bro. Henry H. Saunderson and singing by the Harvard Quartet with Wor. Bro. William H. Gerrish at the organ. A sumptuous banquetnext served in the banquet hall. At the conclusion of the banquet Wor. Bro. Samuel H. Spring announced the toasts which brought responses from Most Worshipful Dana J. Flanders, Grand Master; Bro. Louis A. Frothingham. Lieutenant Governor of Massachusetts; Wor. Charles H. Johnson, Rt. Wor. W. T. R. Marvin, Rt. Wor. Charles M. Green, Wor. Master Elliot and Wor. Walter C. Wardwell. The toastmaster's introductions were bright and witty._ The speeches were able and appropriate, but the deficient acoustic qualities of the hall prevented many from a full enjoyment of what was said.
The Grand Master said that it was only a few days ago when Grand Lodge had observed its 178th anniversary, and rejoiced in the fact there were nearly 60,000 of the fraternity in the jurisdiction. Among the lodges was Aberdour, a lusty member. He extended the congratulations of the grand body.
Lieut.-Governor Frothingham, who is on the roll of Aberdour, spoke for the Commonwealth, Past Master Charles H. Johnson for the founders, Right Worshipful W. T. R. Marvin for Columbian, of which Aberdour is one of the daughters: Fast Deputy Grand Master Green for the Lodge of St. Andrew, Worshipful Master Elliot for his own lodge and Fast Master Walter C. Wardwell of Mt. Olivet for the ladies.
The formal reception of Grand Master Flanders and his suite was the first feature of the exercises in Corinthian Mall after the banquet, A pretty incident was the graceful presentation of a national flag by Lieut.-Gov. Frothingham in behalf of the Past Masters. It was accepted by the Master, who said it would be treasured by the lodge.
The officers of the lodge were installed by Past Grand Warden Melvin M. Johnson with Fast Master William M. Farrington of Bethesda Lodge as marshal. The installing officer abbreviated the installation ceremony to some extent but increased its interest by brilliant interpolations and wise counsel.
VISITATION, MAY 1913
From New England Craftsman, Vol. VIII, No. 9, June 1913, Page 308:
One of the notable events in the history of Aberdour Lodge, Boston, Mass., took place Saturday, May 24th, in the reception and entertainment of a large delegation of the members of Hope Lodge of East Orange, N. J. Aberdour Lodge generously offered the pleasures of the evening to the representatives of numerous other lodges and there was a company of about 500 present to enjoy the exercises.
Among those invited was the First Worshipful Masters' Association which was represented by a large number of its members headed by President Rt. Wor. Samuel Hauser. The association was conducted to the lodge room by a committee of which Wor. Henry M. Nourse, a past president of the Masters' Association, was chairman. The association was cordially welcomed by Worshipful Master Benjamin E. Wood, who is also a member of the Masters' Association. President Hauser responded for the Association.
The members of Hope Lodge were introduced by Past Master Hartung who had been instrumental in bringing about the fraternal visit. Worshipful Master Wood gave the brethren a cordial greeting and assigned them special seats.
Past Grand Master Alton H. Sherman of New Jersey was accorded a fraternal welcome.
Grand Master Everett C. Benton and suite were conducted to the East by a committee of which Past Master Samuel H. Spring was chairman. Worshipful Master Wood said the arrival of the grand master was a fitting climax to the events of the previous half hour.
The officers of Hope Lodge in attendance were John A. Gilbert, WM; Wilson H. Toll, SW; Berton E. Emory, JW; John J. Shaylor, S; John W. Noble, SD; Robert M. Silber, JD; Clifford H. Terry, SMC; George P. Enke, JMC; Robert M. Crater, SS; Grant A. C. Behee, JS; George W. Gilbert (PM), M; Otto Zaremba, Jr., O; J. Woods McWilliams, Tyler.
Following the reception of the guests the officers of Hope Lodge, on invitation of Worshipful Master Wood, assumed the statioi and conducted the work. Its variation from Massachusetts work was sufficiently pronounced to attract the deepest interest. The music was by its own quartet.
The brethren of Hope Lodge brought to Aberdour as a gift significant of their name, a mammoth anchor, made of wood, six feet in height. It was received with great applause and humorous interest.
Worshipful Master Wood presented to Hope Lodge a large American flag as a memento of its sojourn in Boston, and it was gratefully accepted by Worshipful Master Gilbert. In connection with the event Past Master Roscoe Pound of Lancaster Lodge, Lincoln, Neb. (now of Harvard) delivered an address in which he explained the difference in Masonic rituals in this country, giving the reasons therefor.
Hope Lodge will carry home a gift that its Master considers invaluable. Before the proceedings closed Grand Master Benton presented to it a gavel made of wood from cedar obtained in the forests of Lebanon.
Among brethren present were many of the leading Masons of Boston and vicinity. It was an occasion that cannot be forgotten by the members of Hope or Aberdour Lodge and will establish a chain of fraternal love that will never be broken.
PRESENTATION, DECEMBER 1920
From New England Craftsman, Vol. XVI, No. 3, December 1920, Page 84:
One of the most interesting events of recent Masonic meetings was the gathering of the members of Aberdour Lodge on Tuesday evening, December 14 to pay tribute to Right Worshipful Henry Mason Nourse for his 17 years of devoted service as secretary in that well-known and aggressive organization. Right Worshipful Walter C. Wardwell, an old time friend of Right Worshipful Nourse, and an honorary member of Aberdour Lodge, presented to Right Worshipful Brother Nourse $500 in gold, the gift of the members of the lodge.
Worshipful Master Frank A. Baker also presented Right Worshipful Brother Nourse with an engrossed set of resolutions, also from the members of Aberdour Lodge, upon which the latter's former appointment as District Deputy Grand Master of the Second Masonic District and as Grand Lecturer as well as his long term as secretary was delineated. A banquet preceded the presentation, which was attended by all the living past masters of Aberdour Lodge, with one exception, and some 125 members.
PRESENTATION, JANUARY 1924
From New England Craftsman, Vol. XIX, No. 5, February 1924, Page 166:
One of the most brilliant of recent gatherings of Masons was that on Tuesday, January 8th, in Corinthian Hall, Masonic Temple, Boston, when a state flag was presented to Aberdour Lodge by the Past Masters of the organization.
Wor. Harry H. Hartung, chairman, made the presentation speech on behalf of the Committee and then introduced His Excellency Channing H. Cox to Worshipful Master William E. Soule. Gov. Cox, who was most graciously received by the Worshipful Master, made a very forceful dedicatory address.
Among the many Masonic notables present at the gathering aside from His Excellency Governor Cox, were Past Deputy Grand Master Claude L. Allen, P. D. D. G. M. George B. Colesworthy. D. D. G. M. Guy H. Holliday, D. D. G. M. Edward C. R. Bagley, P. D. D. G. M. Walter C. Wardwell, and the newly elected District Deputy of the 2nd Masonic District, Arthur E. Fisk.
Aberdour Lodge, under the direction of Worshipful Master William E. Soule, is certainly making splendid progress. The hospitality which is shown by this organization has become a by-word as well as the brilliancy of their social functions.
SPECIAL MEETING, DECEMBER 1924
From New England Craftsman, Vol. XX, No. 3, December 1924, Page 103:
Aberdour Lodge A. F. & A. M. followed their custom of putting on a unique program at the Masonic Temple in this city, on Tuesday. December ninth by presenting to about 200 members of the fraternity. C. O. E. Hartung of Hiram Lodge No. 1 of New Haven, Connecticut, the second oldest lodge in this country; his son, Worshipful Harry H. Hartung, Past Master of Aberdour; and his grandson, Robert R. Hartung. The latter was given his third degree by Right Wor. Walter C. Wardwell, Past District Deputy Grand Master of the Second Masonic District.
At the dinner and during the ceremonies Worshipful Master William E. Soule presided and very graciously introduced the speakers. Lee M. Friedman of Aberdour gave a talk on his recent European trip, making interesting references to the procedure in English courts. While Rt. Wor. Arthur E. Fisk. D. D. G. M. of the Second District and Rt. Wor. Gorham D. Walker, D. D. G. M. of the Third Masonic District made stirring addresses.
Another interesting feature was the delivery of the charge to the candidates by the Rev. Henry Hallam Saunderson, one of the chaplains of Aberdour Lodge, recently honored with the degree of Doctor of Divinity by Hamline University of St. Paul, Minn., for his notable literary successes.
---
GRAND LODGE OFFICERS
OTHER BROTHERS
---
DISTRICTS
---
LINKS
The Consolidated Lodge web site