MAGLHJordan
From MasonicGenealogy
HENRY GREGORY JORDAN 1849-1918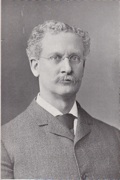 MEMORIAL
From Proceedings, Page 1918-34:
Henry Gregory Jordan, the son of Dr. Henry Jordan, a dentist of Boston, was born July 22, 1849, in Boston and died in Somerville October 16, 1917. The funeral services were in the Chapel of the Forest Hills Cemetery October 18th, at 3 p.m. In 1873 he married Annie K. Adams of Boston who died in 1905. He is survived by two daughters, Mrs. John W. Edson and Ruth Adams Jordan.
He was educated in the Brimmer School of Boston and in Leicester Academy. He started in the iron business; and later became associated with the Wellington Coal Company, which he left in 1884 for the same line of business under the name of H. G. Jordan & Co. In 1898 his firm joined with several others in forming the Metropolitan Coal Company, of which he became a director and general manager. He left the Metropolitan Coal Company in 1899 and thereafter, at different times, was connected with the Marston Coal Company, the Staples Company, and. the Jordan-Burnham Coal Company. In 1894 he bought a farm in Hingham which by the addition of adjoining land comprised at the time of his death over three hundred acres and was known as the Jordan Farm.
He was a member of Battery A for a few years and for many years of the Fifth Regiment, retiring with the rank of Major. At different times he was a member of the Brookline Country Club, the Eastern yacht Club, the AIgonquin, Exchange, and Boston Art Clubs, the Boston Athletic Association, and the Sons of the American Revolution. At the time of his death he was a member of the Coal Exchange, the Chamber of Commerce, the Horticultural Society, A Republican Institution in the Town of Brother Jordan was devoted to Freemasonry and gave freely of his time to the many positions of honor and trust he held at various times in the Fraternity. He worked faithfully and assiduously on the Board of Masonic Relief and gave much attention to the charities of his own Lodge. He kept up his knowledge of the ritual of the symbolic degrees and was always ready and willing to assume the chair of an absent officer. Brother Jordan was of impetuous temperament and did what he did with a will. He had a generous and kindly heart, and he will long be remembered by those who had the good fortune to know him well.
Harvey N. Shepard
Charles M. Green
Herbert Austin
Committee.
---