MAGLODickerman
From MasonicGenealogy
OLIN DRAKE DICKERMAN 1876-1933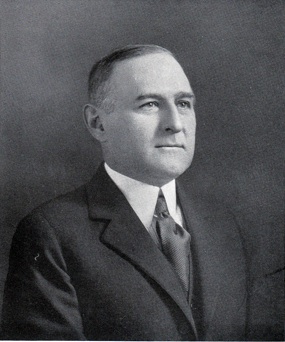 Junior Grand Warden, 1922
MEMORIAL
From Proceedings, Page 1933-435:
Right Worshipful Brother Dickerman was born in Abington, October 28, 1876, and died at his home in Newton Center, September 18, 1933.
Brother Dickerman was educated in the Abington schools and Reckers' and Bradford's Private Commercial School. His whole business life was spent in the coffee and tea business. At the time of his death he was Vice President and Purchasing Agent for Dwinell, Wright and Company.
He served for twenty-five years in the Massachusetts Militia and National Guard, rising from the rank of private to that of Major.
He took his Masonic degrees in John Cutler Lodge in 1900 and was its Master in 1908 and 1909. He served as District Deputy Grand Master for the Twenty-ninth Masonic District in 1913 and 1914, by appointment of M. W. Everett C. Benton and M.W. Melvin M. Johnson. He was Junior Grand Warden in 1922.
In Capitular Masonry, he was a member and Past High Priest of Pilgrim Chapter, and was Deputy Grand High Priest in 1918. In Cryptic Masonry, he was a member and Past Thrice Illustrious Master of Abington Council, and Grand Master of the Grand Council in 1927, 1928, and 1929. In Templar Masonry, he was a member and Past Commander of Old Colony Commandery and a Division Commander in the Grand Commandery in 1917. In Scottish Rite Masonry, he was a member of the Boston bodies and Commander-in-Chief of Massachusetts Consistory from April, 1928, to April, 1931, and was coronetted an Honorary Member of the Supreme Council, Thirty-third degree, in 1930.
Of an even and kindly disposition, he made friends wherever he went. Each office which he held represented a new group who honored and loved him. His useful and beneficent life ended all too soon. The sweet remembrance of it is on record in our hearts.
From Proceedings, Page 1933-516:
Born in Abington, Massachusetts, October 28, 1876.
Raised in John Cutler Lodge, A.F. & A.M., Abington, August 16, 1900. Worshipful Master, 1908.
Charter Member Norumbega Lodge, Newtonville, May 2, 1921.
District Deputy Grand Master for the 29th Masonic District, Grand Lodge of Masons in Massachusetts, 1913-1914.
Junior Grand Warden of the Grand Lodge of Masons in Massachusetts, 1922.
Exalted in Pilgrim Royal Arch Chapter, Abington, January 24, 1902. High Priest 1911-1912.
Grand R.'., A.'. Captain of the Grand R.'. A.'. Chapter- Massachusetts, 1913. District Deputy Grand High Priest, 1915. Grand Captain of the Host, 1916-1917. Deputy Grand High Priest, 1918.
Massachusetts Convention, Order of High Priesthood, March 7, 1911.
Abington Council Royal and Select Masters, Abington. Received Super-Excellent Degree, May 16, 1904. Illustrious Master, 1913-1914.
Deputy Grand Master, Grand Council Royal and Select of Massachusetts, 1918. M.'. I.'. Grand Master, 1927-1928-1929.
Knighted in Old Colony Commandery No. 15, K.T., Abington, April 19, 1902. Eminent Commander, 1910-1911.
Division Commander, Grand Commandery K.T., of Massachusetts and Rhode Island, 1917.
Received the Scottish Rite Degrees.

Boston Lafayette Lodge of Perfection, October 1, 1919.
Giles F. Yates Council, Princes of Jerusalem, October 8, 1909.
Mount Olivet Chapter of Rose Croix, October 15, 1909.
Massachusetts Consistory, December 24, 1909.

Commander-in-Chief of Massachusetts Consistory, 1926-1931. Received Honorary Thirty-third Degree in Boston, September 16, 1930.
Died September 18, 1933.
Right Worshipful Bro. Dickerman came from an old New England family which through ten generations has kept the faith and contributed materially to the welfare of town, city, and State. Olin Dickerman was by no means the least of this sturdy succession of New England manhood, for he did his full duty as a man and citizen. He did not follow the profession of his father, who was a physician, but entered the business world where his success is indicated by the position he held in the Company with which he was associated all his business life, being Vice-President at the time of his death.
He was early attracted by military life and served in the State Military forces for twenty-five years, retiring with the rank of Major. During the Spanish War he served in Battery A, First Massachusetts Heavy Artillery. His devotion to and activities in our Fraternity are well known and of imperishable record. In the thirty-three years in which he has been a member of the Craft, he has never failed in the manifold duties he assumed.
The multitude of his friends who gathered to pay a last token of love to him, gives testimony stronger than words of the esteem in which he was held.
"Another good friend has gone into the night,
As we try to reach out for his hand,
But a tender remembrance is all that we have.
It is strange, but we can't understand.
In sorrow, we gaze at the home he has left,
Realizing as well as we can,
But this thing we know, as good qualities go
The old friend we have lost was A Man."
Although not unexpected, the last call came to Olin Dickerman all too soon for us who are left behind to miss and mourn him.
In unusual measure he possessed the quality of making and keeping friends. In this association where we knew him best, he found means of expressing those characteristics inherent in his nature and which grew and broadened with the measure service he gave to the Fraternity. Loyal and devoted, full of energy and enthusiasm, earnest in his convictions, his contribution to the Fraternity in all its branches, was valuable and constructive. He had a deep sense of responsibility to the Bodies of Freemasonry of which he was a member and was ever responsive to the call of duty toward them. He held definite ideas of right and defended them with a. courage that came only from sound and well considered judgment.
That in his business, military, and fraternal activities he rose from humble positions to those requiring ability and capacity, testified to his worth as a man, soldier, and Brother.
"Titles of Honor add not to his worth
Who is himself an honor to his Title."
Our sympathy goes out to the charming companion of his Iife, who in all his vocations and avocations was his helpmate in every sense of the word. To us, his close companions in fraternal life, the world will not seem quite the same without his ever present and cheery smile, his willing and valiant service, and his dependable, loyal friendship.
It is the way of life and we must from time to time bid au revoir to those who have lived and worked with us. It would be a sad world indeed if we were not buoyed up with the faith that is within us, that our friend is not far away, even if we cannot hear his voice and touch his hand; that in some hour not far distant we shall meet and know him again. His memory is sweet to us and will linger in the lives he has touched.
"They never quite leave us,
the Brethren who have passed
Through the shadow of death
to the sunlight above:
A thousand sweet memories are
holding them fast
To the Places they blessed with,
their Presence and love."
Arthur D. Prince
Herbert W. Dean
Herbert K. Pratt
FROM NEW ENGLAND CRAFTSMAN, 1933
From New England Craftsman, Vol. XXIX, No. 2, October 1933, Page 51:
Olin D. Dickerman, well-known Boston coffee merchant, and prominent Mason, died recently at his home, 85 Parker Street, Newton Centre, Mass. He was in his 57th year.
He was a native of Abington, and was educated in the public schools there. He was connected with the firm of Dwinnell, Wright & Co., of 311 Summer Street, wholesale coffee dealers, for 35 years. He was vice-president of that company.
He was a past master of John Cutler Lodge of Abington. a charter member of Norumbega Lodge of Newtonville, past district deputy grand master for the 29th Masonic District, Junior Grand Warden of the Grand Lodge of Massachusetts in 1922, member of Pilgrim Royal Arch Chapter of Abington, and past high priest, grand Royal Arch Captain of the grand chapter of Massachusetts in 1913, past district deputy grand high priest of the seventh district, past illustrious master of Abington Council of Royal and Select Masters, past illustrious grand master of the Grand Council of Massachusetts,
past commander of Old Glory Commandery Knights Templars, member of the Scottish bodies located in the Boston Masonic Temple on Boylston Street, and past commander-in-chief of Massachusetts Consistory, Ancient Accepted Scottish Rite 1928-1931, a member of Massachusetts College Societas Rosicruciana 1922, and the recipient of
the 33d degree. September 16. 1930. He was one of the veteran members
of Aleppo Temple of the Mystic Shrine.
---