MAGLSHauser
From MasonicGenealogy
SAMUEL HAUSER 1850-1935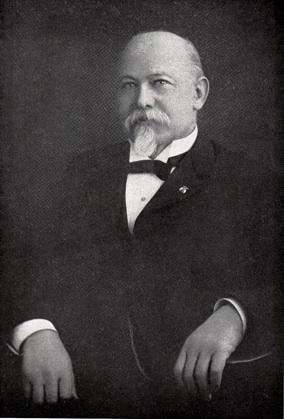 Senior Grand Warden, 1911
MEMORIAL
From Proceedings, Page 1935-76:
Right Worshipful Brother Hauser was born in the city of New York May 10, 1850, and died in Brookline, Mass., May 16, 1935.
He was educated in the New York public schools and New York Free Academy. He took up the study of law and practiced in New York until 1892, when his health required a change of occupation and he came to Boston as an agent for the Souther Brewing Company, an affiliate of the Burton Breweries. He remained with that concern until it went out of business in 1912. Since that time he had lived in retirement.
He took his Masonic degrees in Germania Lodge in 1896 and was its Master in 1901 and 1902. He served the Lodge as Secretary from 1917 until his death. He was District Deputy Grand Master for the First Masonic District in 1904 and 1905, by appointment of Most Worshipful Baalis Sanford. He was Senior Grand Warden in 1911. He served on the Committee on Charters and By-Laws, much of the time as Chairman, from 1908 to 1932, inclusive.
He was a member of Signet Royal Arch Chapter, Boston Council, Royal and Select Masters, and Coeur de Lion Commandery.
Right Worshipful Brother Hauser dearly loved the Craft, and, though burdened for many years by increasingly poor health, was diligent and faithful to his Masonic duties so long as any strength remained to him.
From Proceedings, Page 1935-95:
Right Worshipful Samuel Hauser was born in New York City on May 10, 1850. He came to Boston some fifty years ago and has been a resident of Brookline for the past twenty-five years. He has been a long sufferer and could only go about with the aid of a cane. He passed to the Great Beyond on May 16, 1935, in his eighty-fifth year.
His father was Bernard Hauser and his mother Katherine Hauser. He was a graduate of the Brown Street Grammar School in New York City, of the New York Free Academy, and the College of New York. He was admitted to the practice of law in New York and practiced his profession until compelled by his health to seek other occupation. He married Anna Lally in 1899, who died December 16, 1934. His home life was ideal and gave him leisure for historical research and literary pleasures. His refined helpmate lent her womanly aid, and in his enfeebled condition catered to his every want, making Brother Hauser's domestic relations enviable. No children were born of this marriage.
He was initiated in Germania Lodge on April 27, 1896, Passed May 25, 1896, and Raised to the Sublime Degree of Master Mason June 22, 1896. In 1897 he was appointed Senior Deacon, elected Junior Warden in 1898, Senior Warden in 1899 and 1900, and was Master of Germania Lodge in 1901 and 1902. He was Exalted a Royal Arch Mason in 1900 in Signet Chapter, and the same year received the degrees in the Cryptic Rite in Boston Council Royal and Select Masters, and a few months later received the Orders of Knighthood in Coeur De Lion Commandery. He was District Deputy Grand Master for the First Masonic District in the years 1904 and 1905 by appointment of M. W. Baalis Sanford, and he served as Senior Grand Warden in 1911. Subsequently, he became a Charter member of Shawmut Lodge and also of Moses Michael Hays Lodges. He served in a most efficient manner as Secretary of Germania Lodge since 1917, and he was an honorary member of Germania and Shawmut Lodges.
Some twenty years ago, when the Grand Lodge inaugurated a Masonic Employment Bureau, R. W. Brother Hauser was placed in charge of the same, and he rendered valuable services for many years in procuring positions for members of the Craft who were out of employment, until he was obliged to resign on account of his health. He was Chairman and a member of the Committee on Charters and By-Laws of the Grand Lodge for a number of years, and so long as his health permitted he was a constant attendant at all the Communications of the Grand Lodge. During the last twenty-five years he was not engaged in business, and devoted his entire time exclusively in the interests of Masonry.
He was a man of keen intelligence, well versed in Masonic jurisprudence and history: ever ready to lend an attentive ear to the many who sought his counsel and advice, which was always given with a helpful hand and a kindly cheerful word.
His funeral was held on Sunday, May 19, 1935, at which several representatives of the Grand Lodge and a large number of members of the Craft attended. The Masonic burial service was conducted by the officers of Germania Lodge, in conjunction with the officers of Shawmut and Moses Michael Hays Lodges. Burial was in Mount Hope Cemetery.
"They never quite leave us, the Brethren who've passed
Through the shadow of death to the sunlight above,
A thousand sweet memories are holding them fast
To the places they blessed with their presence and love."
Respectfully and fraternally submitted
Arthur A. Sondheim
Otto Albrecht
Ian M. Daniels
Committee
---