MAGLCDanforth
From MasonicGenealogy
CHARLES JAMES DANFORTH 1825-1877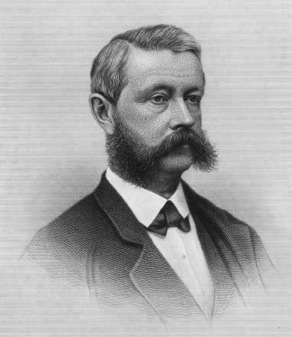 NOTES
DANFORTH MEMORIAL, IN 125TH ANNIVERSARY CELEBRATION OF LAFAYETTE-DOVER LODGE
From TROWEL, Summer 1991, Page 18: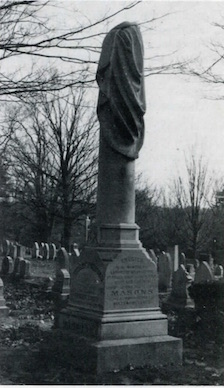 Monument to Charles Danforth in Forest Hills Cemetery
"The first Master of the Lodge was R. W. Charles J. Danforth, who later served the Grand Lodge as Junior Warden. He died while in that office. The Lodges of the 3rd District erected a monument, a broken column, in his memory at his grave in Forest Hills Cemetery."
MEMORIAL
From Proceedings, Page 1877-183:
"Charles Jarvis Danforth was born in Taunton, this State, August 11, 1825. He died at his residence in this city, No. 58 Thornton street, on Thursday, the 17th day of May last, at three o'clock P.M., aged 51 years, 9 months, and 6 days. He was buried at Forest Hills Cemetery on Monday, May 21, by the Grand Lodge, accompanied by Lafayette Lodge, of which he was a member, and delegations from Columbian, Aberdour, Washington, and Joseph Webb Lodges, and from Bodies in other departments of Masonry, with which he was or had been officially connected.
'Brother Danforth was made a Mason in Columbian Lodge, Boston, January 6, 1859; received the second degree February 3, and was made a Master Mason, April 7, of the same year. On the 5th of May following he became a member of this Lodge. He was honorably discharged from membership January 2, 1862, and became a Charter member of Aberdour Lodge, Boston. Of this Lodge he was Senior Deacon from its organization until November 11, 1862, when he was elected Master; and was re-elected November 10, 1863. This Lodge voted, December 13, 1864, to present him a Past Master's jewel. The Secretary of Aberdour Lodge, Bro. Charles I. Eaton, in a communication to one of your committee, after giving certain facts which had been asked for, says, 'While a member he was constantly called upon to serve upon important committees, and upon different occasions, which, I am informed, he was always ready and anxious to do.'
"In 1865 he joined with others in the organization of Lafayette Lodge, Boston Highlands, and served as Master under Dispensation granted by Grand Master Parkman, June 12, 1865; and was elected Master, after the Lodge was chartered, for the three following years, presiding over the Lodge four years.
"The Secretary of this Lodge, Bro. John D. Willard, in a communication to your committee, speaks highly of "the esteem and respect in which he was held by the members of Lafayette Lodge, to whom he was ever their faithful friend and mentor. In December, 1871, he was appointed District Deputy Grand Master of the Third Masonic District by Grand Master Nickerson, which office he continued to fill for four successive years, the last year by appointment bf our present Grand Master Everett. This District comprises the twelve Lodges located in East Boston, South Boston, Boston Highlands, Dorchester District, and West Roxbury District, — all within the present limits of this city.
"In other departments of Masonry he was equally zealous and efficient, having held the first office in Chapter and Council, and at the time of his death was the presiding officer of the Grand Council of the State. He had but recently received the orders of Masonic Knighthood, and held no official position in that branch of Masonry.
"At our last Annual Communication he was elected Junior Grand Warden, receiving all but three votes of the three hundred and fifty-three cast, and died while holding this honorable position in the Craft.
"In all his Masonic work he was earnest, efficient, prompt, and thorough. He was well skilled in Masonic usages, and possessed a very general and correct knowledge of Masonic ceremonies and rituals. He did so well whatever work was assigned to him that he was never without some work to do. As an illustration of his willingness to do, and his perseverance and thoroughness in execution, your committee would refer to the General Index he prepared of the full set of R.W. Charles W. Moore's magazine, for the use of our library. This set contains thirty-two octavo volumes of fine print, and embraces every subject pertaining to Masonry. No one who has never engaged in such work can realize the time, patience, and labor required for its fulfilment. For about eighteen months he gave to this labor all his spare hours from business and other Masonic work. The task was well and thoroughly done, and will be to us a monument of his good-will and faithful, patient work for the benefit of the Craft.
"It is manifest that such a man must gain the esteem and love of his Brethren. This was sometimes shown in valuable presents bestowed, such as a very valuable clock from Lafayette Lodge, and a set of Appleton's Cyclopaedia, in elegant library binding, from the Lodges of the Third Masonic District.
"Your committee submit the following resolutions : —
Resolved, That in the death of our Junior Grand Warden, R.W. Charles Jarvis Danforth, we mourn the loss of one who had become endeared to us by his fidelity to the great principles of our Order; his readiness to accept and perform whatever Masonic work was assigned to him ; by the conscientious and thorough manner in which he executed whatever his hands found to do for the welfare of the Craft, and by the heartiness he manifested in social intercourse, making him always a pleasant companion and a Brother beloved.
Resolved, That, while we mourn our loss, we will cherish with grateful recollection the influence of his manly life, his devotion to duty, his fidelity to truth, his friendship which made a Brother's welfare his own, and of a life, in all its varied relations, well-spent.
Resolved, That the Recording Grand Secretary be instructed to forward to the widow of our deceased Brother an attested copy of these resolutions.
CHARLES H. TITUS,
HENRY G. FAY,
J. ELLIOT BOND,
Committee.
---