MosesMichaelHays
From MasonicGenealogy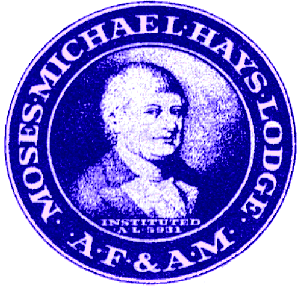 MOSES MICHAEL HAYS LODGE
Location: Boston; Needham (1974)
Chartered By: Curtis Chipman
Charter Date: 09/14/1932 1932-165
Precedence Date: 12/07/1931
Current Status: Active
NOTES
---
PAST MASTERS
T. Rutherford Edwards, 1931, 1932
Joseph Brettler, 1933, 1934
Harry Smith, 1935, 1936
Joseph S. Rosen, 1937, 1938
Milton Garb, 1939, 1940
Howard S. Gulton, 1941, 1942
Ralph J. Cohen, 1943, 1944; N
Leo Stiglitz, 1945, 1946
Albert M. Krensky, 1947, 1948
Clarence Yanofsky, 1949, 1950
Samuel Winetsky, 1951
Mitchell M. Rosser, 1952
Maurice Levin, 1953
Charles Copeland, 1954
Jack A. Winetsky, 1955
Maurice Verdun, 1956
Philip Tasker, 1957
Robert Jaffe, 1958
Edward Cohen, 1959
Nathan Sepinuck, 1960
Bencion M. Moskow, 1961
Ralph Levine, 1962
Sidney M. Liner, 1963
Harold J. Kaswell, 1964; N
Jay I. W. Moskow, 1965
Mitchell E. Phillips, 1966
Theodore Jaffe, 1967
Frederick H. Goldstein, 1968
Joseph Ganz, 1969
Charles W. Weinfeld, 1970
James Epstein, 1971, 1979
Robert D. Kaplan, 1972
Donald L. Hoffman, 1973
David H. Jacobs, 1974
Marshall I. Karp, 1975
Norman J. Kaswell, 1976, 1978
Harry L. Ginesky, 1977
Jason S. Orlov, 1980
Ronald A. Koven, 1981
Robert D. Levinson, 1982, 1983, 1987
Stephen M. Baker, 1984
Stanley G. Winer, 1985, 1986; SN
Joseph J. Levitan, 1988
Peter E. Cornwell, 1989
Abner S. Salant, 1990, 1995
Haskell C. Williams, 1991, 1992
Neil D. Silverman, 1993, 1994
Harold J. Salant, 1996, 1997, 2006
Stanley S. Marshall, 1998, 1999
Michael K. Sack, 2000-2005
Allan St. Germain, 2007
Herbert Elsner, 2008, 2009
James E. Stallions, 2010
Robert J. Cotton. 2011
Kevin B. McNeely, 2012
---
REFERENCES IN GRAND LODGE PROCEEDINGS
ANNIVERSARIES
VISITS BY GRAND MASTER
BY-LAW CHANGES
1933 1934 1935 1936 1942 1944 1950 1956 1975 1976 1988 1995 1998 2006 2007 2009 2010 2011
HISTORY
50TH ANNIVERSARY HISTORY, MAY 1982
1957 - 1982; by R.W. Harold J. Kaswell
For a comprehensive history of Moses Michael Hays Lodge covering the earlier period, please refer to 1957 Mass. 3-17.
"When men of good will, possessed of a true Masonic spirit, join their hearts and minds in one common purpose, their labors reflect the true image of our Creator."
These powerful and meaningful words were written by Worshipful E. Louis Greenblatt, of Blessed Memory, and began the opening paragraph of the History of Moses Michael Hays todge on the occasion of its twenty-fifth anniversary year. We think it fitting and proper, therefore, on the occasion of this, our Fiftieth Anniversary, to dedicate this episode in our lodge's young Masonic career to Worshipful Brother Lou's Memory.
Elsewhere in this the Fiftieth Anniversary brochure, at the kind suggestion of our Grand Secretary, Right Worshipful Robert P. Beach, we are including Worshipful Greenblatt's complete and unabridged history of this new fledgling Lodge, then twenty-five years young. It is interesting to note that in our Grand Lodge proceedings of [1957, the histories of six lodges, ours included, are published. Of the other five, Pentucket Lodge of Lowell celebrated its one hundred fiftieth anniversary, John Abbot Lodge of Somerville, Berkshire Lodge of Adams, Mount Vernon Lodge of Malden and Pequossette Lodge of Watertown, all celebrated their one-hundredth anniversary. Our entrance into the realm of anniversary celebrations is just beginning.
The history of our second twenty-five years becomes all the more interesting, especially to this writer, because my own Masonic career began during the administration of our fourteenth Master, Worshipful Charles Copeland. Both Worshipful Jack A. Winetsky and Worshipful Maurice Verdun, the fifteenth and sixteenth Masters respectively, completed that twenty five year period so eloquently portrayed in words by Worshipful E. Louis Greenblatt.
The English poet and philosopher, Lord Bryce, stated many years ago: Every thing which as power to win the obedience and respect of men must have its roots in the past, and that the more slowly every institution has grown, so much the more enduring it is likely to prove. And yet, on the other hand, one of our public personalities once made the statement that: Nothing is more permanent than change. A compromise or balance between these two ideas can, we believe, be found not only in the history of Moses Michael Hays Lodge but in the history of all our Lodges, and of all of Freemasonry as well.
While our first twenty-five years saw the installation of only sixteen Worshipful Masters, in 1951 Worshipful Samuel Winetsky began a one year term, where previously each officer served in each station for two years. The practice of only one year in each station has continued to the present day, and our second twenty-five year period includes the installation of twenty-three Masters (two having returned for a second separate term), their Wardens and other officers, elected and appointed.
Worshipful Philip Tasker was elected and installed our 17th Master in 1957 for our 1958 year, and extended an invitation to this writer to become his Inside Sentinel, launching a career that brought about this invitation to present the history of our second twenty-five years.
We think it fitting and proper at this point, to once again mention an event in the life of Moses Michael Hays Lodge which was included in our first twenty-five years, but which will ever be appropriate in any of this illustrious Masonic Lodge's recorded history.
ln 1937, a book on the life of Moses Michael Hays was written and published. It was co-authored by Worshipful J. Hugo Tatsch, then acting Librarian and Curator of our Grand Lodge and Worshipful Harry Smith, then presiding Master of Moses Michael Hays Lodge. This book, Moses Michael Hays; Merchant, Citizen, Freemason is recommended reading for every member of the Craft, but particularly for members of our Lodge.
Perhaps the closing paragraph of Worshipful Smith's forword best states, with great pride, our Masonic heritage and our dedication to those Masonic principles. Worshipful Smith stated:
"It is earnestly hoped that this book will inspire the members of Moses Michael Hays Lodge to make our fellowship a loving expression of the worthy citizen, patriot and Freemason whose name it bears, and thus do their part in preserving unsullied the reputation which he attained through to practical application of Masonic tenents in every day life. Quiet, unassuming, tolerant and charitable, Moses Michael Hays left his mark on the communities in which he lived. His name is blessed among those who know of his gentle worth and his sterling character."
A recounting of some of the events of each year beginning with Worshipful Philip Tasker's administration will trace in some manner the growth of our lodge and which we hope will be interesting and enlightening to all.
From the 490 members on our rolls at the end of our 25th year, our roster now shows a membership of 508. It is interesting to trace the growth and development, the rise and fall of our membership, but our success cannot only be measured in numbers. It was Ralph Waldo Emerson who wrote: "The true test of civilization is not the census, nor the size of the cities, nor the crops - but the kind of men it turns out." And so it is with Moses Michael Hays Lodge and all of Freemasonry.
During this second twenty-five year period we initiated, crafted, raised and admitted 205 members, and also, 215 of our brethren have been admitted and duly installed in the celestial Lodge above. Our twentieth Master, Worshipful Nathan Sepinuck presided in the East in 1961 when twenty-five new brethren signed our by-laws. Worshipful Jack Winetsky in 1956, Worshipful Maurice Verdun in 1957, and Worshipful Philip Tasker in 1958 were close behind in numbers of new members and in Lodge activity in their respective years.
During the years just mentioned, and in fact in all of our years, all officers' chairs were filled by sincere and dedicated Masons, each of us learning our lessons well and presenting to our brethren well prepared programs. We "set the craft at work and gave them necessary instruction." But it was not all work and no play. Our ladies'nights, our other social events and programs of good fellowship, our acts of charity, were always and in all ways presented to the satisfaction and the enjoyment of our membership.
Wor. Robert Jaffe assumed the East in 1959 in what proved to be a most interesting and active year both in numbers of candidates and in happy social events followed by Worshipful Edward Cohen in 1960, perhaps one of our best and most eloquent ritualists and teacher for our candidates and for our young officers.
Our twenty-first Master, Worshipful Bencion Moskow provided the leadership of our Lodge in 1962 followed by Worshipful Ralph Levine in 1963 and Worshipful Sidney M. Liner in 1964. We note with regret, that Brother Liner did not live to be here with us for our 50th. He passed away on June 25, 1974. But we do record the fact that in this twenty-five year period, only Worshipful Jack Winetsky, Worshipful Sidney M. Liner and Worshipful Peter Amershadian, do not answer to our roll calls today. All other past Masters are with us and so many of them are still able to be of service to our lodge programs and to our young line ol officers.
With an eloquent and moving installation of officers ceremony, performed by Worshipful Maurice B. lrvin, this writer was duly installed as the twenty-fourth Master in 1965. He was followed by worshipful J. I. W. Moskow in 1966 and Worshipful Mitchell E. Phillips in 1967. Worshipful Kaswell served as District Deputy Grand Secretary in 1966 and 1967 under R. W. Irving Bornstein, District Deputy Grand Master for the Boston Second Masonic District. Worshipful Phillips served as District Deputy Grand Secretary in 1970 and 1971. Our 27th Master, Worshipful Theodore Jaffe, brother of Worshipful Robert Jaffe (1959) served in the East in 1968. It is worthy of note that these two Jaffe brothers are the sons of our late Brother Charles J. Jaffe who was our first Chaplain and a Charter Member of Moses Michael Hays lodge in 1931.
On the evening of Tuesday, May 7, 1968, a most unusual Masonic program took place under the capable direction of worshipful Theodore Jaffe. It included a visit from one of our illustrious past Grand Master, Most Worshipful Whitfield W. Johnson, who was for that evening officially representing the then Presiding Grand Master, Most Worshipful Thomas A. Booth. The occasion of this visit was to fraternally greet and spend a truly Masonic evening with a large and most distinguished group of Masonic personalities who travelled great distances to be with us.
In 1969 we installed worshipful Frederick H. Goldstein who was then followed by Worshipful Joseph Ganz in 1970 as our 29th Master. "Freemasonry unites men of every country, sect and opinion." In this case, it also happily provided opportunities for family fellowship as well.
In 1970, Most Worshipful Herbert H. Jaynes, then Grand Master of Masons in Massachusetts saw fit to appoint and to install this writer as District Deputy Grand Master for the Boston Second Masonic District. This appointment represents an important event in the history of our lodge, an event which we look back upon with great pride and pleasure. During this two year_term, both Worshipful Joseph Ganz and his worthy successor, Worshipful Charles W. Weinfeld served as our 29th and 30th Masters. Worshipful Weinfeld is today our Treasurer, a dedicated and competent Past Master, another pillar of strength along with our Secretary, Worshipful Robert O. Rittenberg, about whom more will be mentioned later.
Worshipful James Epstein became our 31st Master and later on was to become our 39th Master in 1980. Worshipful Jim also served as Treasurer in 1978 and has been and is one of our dedicated and devoted Past Masters.
1973 saw the beginning of plans which eventually led to the relocation of Moses Michael Hays Lodge in our present home in Needham, Massachusetts. It was in 1974, during the Masonic year of Worshipful Donald L. Hoffman that the move to Needham was finally completed. For many of us, the parting with our Grand Lodge Temple home, with its antiquity and its pleasant memories, was not a happy occasion. But looking forward, our junior officers and our younger members find much in Needham to inspire new Masonic programs and new Masonic activities.
In Worshipful Kaplan's administration, a "Night of Tiibute" was held for our own Worshipful Charles W. Weinfeld who contributed so much to the Twenty-fifth anniversary Celebration of the founding of the State of Israel. This gala affair was held at the Statler Hilton Hotel in Boston on the night of October 13, 1973, at which time a most distinguished group of his friends, both Masonic and non-Masonic were present to do him honor. 1973 also included a member of other incidents which are worthy of note as we tell the story of Moses Michael Hays Lodge in its second twenty-five years. ln July, our beloved Tieasurer, Worshipful E. Louis Greenblatt, Past Master of Germania Lodge and Charter Member of Moses Michael Hays Lodge, one of our founding fathers, was called to our celestial Lodge above. His passing was a tragic event in the lives of so many of us who knew him well. A special memorial service was held at our regular meeting on Tuesday, March 11, 1975 during which time a portrait of Worshipful Brother Lou was unvelied in our Masonic apartments. The inscription beneath this portrait reads: Worshipful E Louis Greenblatt, 1901-1973. The simplicity of his life, the depth of his philosophy and the strength of his fellowship, made this a gentler wiser and kinder world. His memory lives as a perpetual light to all his Brethren. Moses Michael Hays Lodge, March 1975.
It was during this year that Right Worshipful Aaron R. Davison, Past Master of Mount Scopus Lodge, was elected as an affiliated Past Master, bringing to our Lodge a set of Masonic values seldom equalled in Masonic tradition. Right Worshipful Brother Aaron, Past District Deputy Grand Master for the Malden 7th Masonic District, extremely active in Scottish Rite Masonry, recipient of the Joseph Warren Medal for Distinguished Service and recently elected to that coveted position of 33rd Degree Mason, is now our close friend and brother.
Worshipful David H. Jacobs and Worshipful Marshall I. Karp, our auditor, carried on our traditions in our new home in 1975 and 1976 as our 34th and 35th Worshipful Masters, respectively.
At this point, we are proud to set down for the record that our son, Norman J. Kaswell was duly installed as our 36th Worshipful Master in 1977. One cannot easily describe the thrill and the honor of performing the rites of installation of Brother Norman and all the other officers on that memorable occasion.
Worshipful Harry L. Ginesky, our present director of our Masonic Blood Donor Program, became our 37th Master in 1978 and was responsible along with his dedicated slate of officers, for a busy and interesting year. One of his interesting and happy activities which extended over a number of years was his annual program for our children and grandchildren to celebrate our season holidays. Worshipful Harry is and has been everyone's favorite friend and brother.
A memorable and highly significant event in the life of our lodge took place on June 27, 1978. Most Worshipful Arthur H. Melanson, then presiding Grand Master of Masons in Massachusetts, together with a most distinguished group of Grand Lodge Officers, visited Moses Michael Hays Lodge in Needham. This was a special communication for the purpose of uniting Moses Michael Hays Lodge and Putnam Lodge of Cambridge. Through the combined efforts of Worshipful Frank Rudzinsky, then Presiding Master of Putnam Lodge together with Worshipful Gilbert A. Kaplan, then Secretary and Past Master of Putnam Lodge and a committee of presiding officers and Past Masters of Moses Michael Hays Lodge plans were made for the development of this merger of both our lodges.
As we continue to record the events in our Lodge's colorful history, once again Worshipful Norman J. Kaswell (Master in 1977) assumed the East in 1979, the first time a Master presided in two separate non-successive years. He was then followed by Worshipful James Epstein in 1980 who had also served as Master in 1972. Both of these now fully experienced Masters carried out their duties and responsibilities in keeping with the high tradition of our Lodge for service to our brethren and full dedication to the Craft.
Our presiding Master in 1981, the year that completed our fiftieth year, was Worshipful Jason Orlov, a Past Master of Aberdour Lodge and one of our most active and energetic affiliated Past Masters. His efforts in bringing this memorable period to a close and preparing the way for his successor, Worshipful Ronald A. Koven are greatly appreciated and admired by those of us who had the opportunity to work closely with him.
Worshipful Ronald Koven was installed our 41st Master on December 12, 1981 successfully beginning our next twenty-five years. His sincere and dedicated efforts in the planning and the completion of our fiftieth anniversary celebration deserve the commendation of all our brethren.
An attempt is hereby made to include in the records a number of changes in the two important elected positions, those of our Secretary and our Treasurer during these years when we unhappily lost both our Secretary and our Treasurer. Brother Sidney R. Jackson, our Secretary, passed away in March of 1969 at which time Worshipful Harold J. Kaswell became our acting Secretary, and in 1970 was duly elected to continue in that important position. In 1971, as our Junior Past Master, Worshipful Joseph Ganz became our Secretary and served well until our present Secretary, Worshipful Robert O. Rittenberg, assumed that desk in 1974. Worshipful Rittenberg, an affiliated Past Master from Hyde Park Lodge, has just completed a two year term as District Deputy Grand Secretary under Right Worshipful Robert L. Pann, District Deputy Grand Master of our Boston Second Masonic District. No more devoted or efficient or knowledgeable Masonic Secretary could ever be found in our ranks or in the ranks of all Masonry in this jurisdiction.
Upon the passing of our Tieasurer, Worshipful E. Louis Greenblatt, Right Worshipful Harold J. Kaswell assumed the position of Treasurer until Worshipful Marshall Karp, our auditor, was elected Treasurer in 1977. Worshipful James Epstein was eiected Treasurer in 1978, after which Worshipful Charles Weinfeld was elected and is today our present dedicated, efficient and hard working keeper of "Stock and other Properties of the Lodge."
It is important that we note here and now that joining with Right Worshipful Aaron R. Davison as an affiliated Past District Deputy, we proudly welcomed Right Worshipful Raynard Braverman, Past Master of Hyde Park Lodge, and District Deputy Grand Master of Hyde Park 25th Masonic District as an affiliate. Past District Deputy. We also include in our ranks: Worshipful Arthur Katz of Aberdour Lodge, Worshipful Robert Bloomenthal of Isaac Parker Lodge and of course, Worshipful Jason S. Orlov recently mentioned.
While it is true that many of the events and incidents in the life of Moses Michael Hays todge during our second twenty-five years are mentioned around and in conjunction with our Worshipful Masters, we cannot let this opportunity pass without including in these presents some of the important, active and dedicated Master Masons who coniributed so much to the strength and to the activities of our Lodge, activities which continue from year to year.
As Worshipful Masters come and go, the work of members such as Brother Simon Koopman, who with Brother Milton Berger and Brother David Sherter contributed so much and still contribute so much to what was initially called our "Happy Day Fund." This warm and friendly activity which started early in our Lodge's history, is now known as the E. Louis Greenblatt Happy Day Fund, and Brother Koopman has for all these years, dedicated his efforts in so many ways to help keep this important activity vibrant and meaningful.
For many years, Brother Maurice "Clancy" Silverstein has devoted his energies and his talents to the growth and strength of our Masonic Blood Donor Program. It is not possibli to set down here sufficient tribute to him for his years of effort in this important Lodge function. Upon his retirement from this program, his work was taken over by Worshipful Harry Ginesky, another of our active and dedicated Past Masters. We must also mention devoted members such as Brother Tlerman Aborn' our electrician (for many years with the able assistance of Brother Isadore Beresen), Brother Gilbert S. Burr, our Marshal and legal advisor, Brother Leonard Epstein, who like so many other dedicated Masons, is always there when the Master needs him.
At the beginning of our second twenty-five year period, our Tyler was Brother Samuel D. Basch, our very first Tyler and Charter Member. Brother Basch is no longer with us. He was succeeded by Brother Maurice Koopman and them followed by Brother Lewis Park, three most necessary and dedicated members of our Lodge, who each in his own way, contributed so much to our "history".
Dedicated families are always so important and we must mention at least two of them at this point. We proudly name Brother Cyrus Jacobs and family, and how could we not include Brother Max Epstein and family? These are but two of the many family groups that add so much to the strength and the colorful history of our fraternity.
No history, either in our first 25 years or in our second, could be complete without a warm and fond word for Worshipful Maurice B. Leven, Past Master. His dedication and devotion to our Iodge and to our Craft can never be adequately set down in these few words.
It is also extremely important that we record the names of the following brethren who were singularly honored by being awarded perhaps one of the most coveted honors in Massachusetts Masonry, the Joseph warren Medal for Distinguished service. These Masons are Right worshipful Brothers Aaron R. Davison and Harold J. Kaswell and Worshipful Gilbert A. Kaplan. We must add to this list Worshipful E. Louis Greenblatt who received this award in 1965.
The continuity of our Lodge is assured! We record here that our present Inside Sentinel, Brother Gerald Burg is a third generation member of our Lodge. His father is Harold A. Burg, and his Grandfather was Morris Burg, a Charter Member. Our present Senior Steward, Brother Robert A. Coval is also a third generation member. His father, Brother Donald S. Coval, and his grandfather, Br. Julius W. Cohen, were members of long standing in the history of this branch of our fraternity.
No words, no time or space can ever properly record the many deeds of dedication and service performed by our officers, both elected and appointed, and by our members. Their acts of kindness and brotherhood will always be a part of the memories of all of us who were and are fortunate enough to be in the mainstream of Masonic thought and activity.
We close this document with the full knowledge that twenty-five years hence, and fifty years and more other chapters will be added. The Spirit of Freemasonry continues, acknowledging the universal Fatherhood of God and the Brotherhood of Man. This honored fraternity of ours perpetually erects a Temple of Humanity. As stated in the Grand Lodge of Bulletin of the State of Iowa issued in March, 1926, "within its protecting walls, all mankind may find shelter, warmth and spiritual sustenance. For such is the work of the craft; always will they be found building ... building ... building."
OTHER
---
GRAND LODGE OFFICERS
---
DISTRICTS
---
LINKS