Sharon
From MasonicGenealogy
SHARON LODGE
Location: Sharon
Chartered By: Andrew G. Jenkins
Charter Date: 12/09/1959 1959-354
Precedence Date: 03/09/1959
Current Status: merged into Moses Michael Hays Lodge, 07/11/1989.
---
PAST MASTERS
Walter E. Carlton, 1959
John H. Dalton, 1960
Henry W. Billiant, 1961
Norman I. Ruby, 1962
Harold Simon, 1963
William Glovsky, 1964
Stanley Goldstone, 1965
Melvin A. Shore, 1966
Lawrence Kogos, 1967
Joseph M. Ashes, 1968
Paul P. Shuster, 1969
Morris H. Rosenthal, 1970
Gerald P. Michael, 1971, 1974, 1978
Lester M. Oshry, 1972; N
Jacob L. Gooltz, 1973
Edward I. Waldman, 1975
Irwin L. Gilbert, 1976
Jack M. Arvedon, 1977, 1983, 1985
Sheldon E. Small, 1979, 1982
Morris H. Rosenthal, 1980
Donald M. Chambers, 1981; N
Irving Kopel, 1984
Stanley S. Marshall, 1986, 1987
Robert J. DeSavage, 1988
---
REFERENCES IN GRAND LODGE PROCEEDINGS
ANNIVERSARIES
VISITS BY GRAND MASTER
BY-LAW CHANGES
HISTORY
1970 (10th Anniversary History, 1970-14)
10TH ANNIVERSARY HISTORY, MARCH 1970
From Proceedings, Page 1970-14:
By Wor. Norman I. Ruby and Wor. Paul P. Shuster.
The history of Sharon Lodge at present is primarily how and why it came into existence.
With the rapid growth in population in Sharon, reaching its peak in the mid 1950's, it became apparent to a number of members of the Massapoag Square and Compass Club that the creation and organization of a Masonic Lodge was badly needed in Sharon.
In December, 1958, Dr. Norman I. Ruby, the coordinator of this idea solicited the advice and assistance of Rt. Wor. Earl W. Taylor, Rt. Wor. Roger Vint, and Rt. Wor. Myles Standish, and with their help obtained an audience with Most Worshipful Andrew G. Jenkins.
As a result of the untiring efforts and cooperation of Rt. Wor. Myles Standish, and after numerous conferences and consultations, the Most Worshipful Grand Master being favorably impressed with the ideals and purposes of the contemplated new Lodge, agreed to entertain a petition for its organization.
On March 2nd, 1959, a petition containing the names of 114 Master Masons was presented to the Most Worshipful Grand Master who was pleased to grant a letter of dispensation to Sharon Lodge one week later on March 9, 1959.
Most Worshipful Andrew G. Jenkins appointed Wor. Walter E, Carlton to be the first Worshipful Master; Wor. John Dalton. first Senior Warden and Wor. Henry Brilliant as first Junior Warden of the new Lodge. The Ceremony of institution and installation was held in the Sharon High School, Pond Street, Sharon, on April 21, 1959 with 350 Master Masons in attendance.
The Constitution Ceremony and Installation of Officers took place on December 14, 1959 in the Sharon High School just 17 days before Most Worshipful Andrew G. Jenkins' term of office ended.
The following officers were installed: Wor. Walter E. Carlton, Master; Wor. John H. Dalton, Senior Warden; Wor. Henry W. Brilliant, Junior Warden; Bro. Samuel B. Michelman, Treasurer; Wor. Abraham Shwom, Secretary; Bros. Harold Stone and Hyman R. Sokoloff, Chaplains; Wor. Philip A. Rubin, Marshal; Bro. Norman I. Ruby, Senior Deacon; Bro. William Glovsky, Senior Steward; Bro. Stanley Goldstone, Junior Steward; Bro. Milton M. Bengis, Inside Sentinel; Bro. Donald A. Kogos, Electrician; Bro. Philip Berger, Tyler; Bro. Carl G. Moberger, Organist.
There were present on the roll one hundred and fourteen charter members.
On March 3, 1965 at the Blue Hills Lodge, Canton, Sharon Lodge celebrated its Fifth Anniversary Night with the presiding Most Worshipful A. Neill Osgood, Grand Master of Masons in Massachusetts, as the guest of honor. Five years later! Is it really five years? Five years since a small group of Masons gathered together to form Sharon Lodge. It was not easy in the beginning. It never is easy to get things started. Everyone says he wants to help, but when it comes to doing the work . . . everyone conveniently fades out of the picture. We do not seek to pat any backs or bolster any egos, but today's Sharon Lodge membership owes a large vote of thanks to that first committee without whose inspired efforts there would be no Sharon Lodge today.
And what of those who worked so hard along the way? Those who were appointed by the Grand Master to guide the fledgling Lodge during the formative years . . . the drawing up of the By-Laws, the establishing of the Lodge funds, the preparation of the principles embodied in the Charter . . . these things did not come easy, but without them, there would be no Sharon Lodge today.
And what of the first group of Lodge Officers? They stepped into their stations without the advantages enjoyed by officers in established Lodges . . . no previous instructions, no chance to practice ... no time to get used to the intricacies of floor work . . . simply stepped into a tuxedo and stepped out on to the floor. It was a little rough at first, but in the bleak atmosphere of Odd Fellows Hall, many things went by unnoticed. But without the first group of Officers, there would be no Sharon Lodge today.
And what of the Charter Members? Approximately 114 who joined together fraternally and financially to prove to the Most Worshipful Grand Lodge that this was no mere attempt to start a new Lodge. This was a definite desired drive to establish Sharon Lodge. These men all belonged to other Lodges. They did not need a new Lodge in order to attend meetings, but motivated by their desire to make Masonry a part of their local lives, they quickly responded to the call of the new Lodge. They formed the base of committees on which Sharon Lodge was built . . . and without them, there would be no Sharon Lodge today.
And what of the Candidates? It was due to the abundance of eager, enthusiastic new Masons that Sharon Lodge made such remarkable progress. The candidates' support of the Blood Bank, their support of the many Lodge functions, their loyalty to the Lodge Officers and District Officials, their quick and complete acceptance of their new responsibilities as Masons . .. is a record of which Sharon Lodge can be justly proud. For without these candidates, there would be no Sharon Lodge today.
As one reflects on the past ten years, it is quickly realized that no one man is responsible for the success and growth of Sharon Lodge. Every member, every Officer, every Master played his part . . . and those parts will be played by other members, officers and Masters in future years. Anyone who thinks otherwise, should simply visit an old established Lodge and view the roster of past members and Masters. Few can recall the names of these men or their deeds, but the Lodge lives on.
During the past ten years the Lodge has grown from 114 charter members to a membership of 300.
We have completed our first ten years of existence and stand on the threshold of another ten years.
Many times the success of the future must be prefaced by the things that have come out of the past. Foundations have to be placed deep; life does not come to full fruition in a day, or a month, or even ten years. We believe that we have enjoyed a past of the right sort and that it has given us that foundation worthwhile, to instill in us an incentive to be worthy of the part in our actions of today.
Life is moving ahead of us, and with us, and we must walk ahead. We must keep step; the man who lags behind will be covered with the dust of those who are forging ahead.
Traditions are hard to forget. We do not want to forget them so far as they have built things worthwhile, but there are things ahead, if we have the vision, that will surpass those things behind us, and we are only in swaddling clothes today. It is to the future of Sharon Lodge that we as Master Masons have set our forces, and we shall carry on till the end of time if need be, and go forward to bigger and better things.
---
EVENTS
CONSOLIDATION, JULY 1989
From TROWEL, Spring 1990, Page 21:
The merger of Sharon Lodge of Canton with Moses Michael Hays Lodge of Needham reduces the Hyde Park 25th District from eight to seven lodges. The merger took place in the Needham Masonic Temple last July. There are six lodges in the Boston 2nd in which Moses Michael Hays Lodge is included. Sharon Lodge had been chartered in 1959.
The Grand Master and Grand Lodge officers officiated at the merger, at which time M. W. J. Philip Berquist and R. W. Ernest A. Pearlstein were among the dignitaries who spoke. Grand Master Ames presented 50-year medals to Bros. George Ferngold and Nathan Pearlman. The occasion attracted 126 members of the Craft.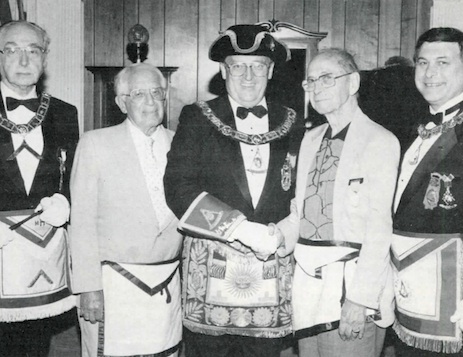 Wor. Joseph J. Levitan, Master of Moses Michael Hays Lodge; Bro. Nathan Pearlman, Grand Master Albert T. Ames, Bro. Ferngold and R.W. Ernest A. Pearlstein. (Photo by David H. Jacobs).
---
GRAND LODGE OFFICERS
DISTRICTS
---
LINKS