AdelphiNoddlesIsland
From MasonicGenealogy
ADELPHI-NODDLES ISLAND LODGE
Location: Quincy
Chartered By: J. Philip Berquist
Charter Date: 06/12/1982 1982-32
Precedence Date: 09/07/1865
Current Status: Formed by the merger of Adelphi and Noddle's Island Lodges on 06/12/1982 (1982-32). In Grand Lodge Vault; merged into Moses Michael Hays Lodge, 08/14/2003 (2003-93).
---
PAST MASTERS
Jack L. Zimmerman, 1983; N
Myron C. Margolin, 1984
Murray A. Kane, 1985, 1986, 1996-1998, 2002
Paul E. Reade, 1987
M. Mark Klein, 1988; N
Robert E. Grunin, 1989
Leon Halperin, 1990
Joseph I. Stone, 1991, 1992, 1993; PDDGM
Stephen C. Cohn, 1994; PDDGM
Henry A. Woolf, 1995, 1996, 2001
Stanley S. Marshall, 1999, 2000
Arthur J. Fink, 2003
---
CHRONOLOGY
REFERENCES IN GRAND LODGE PROCEEDINGS
VISITS BY GRAND MASTER
BY-LAW CHANGES
---
EVENTS
GRAND MASTER VISIT, JUNE 1984
From TROWEL, Winter 1984, Page 18:
A most enjoyable evening was held in the Watertown Masonic Temple on June 28 when Adelphi-Noddle's Island Lodge received M. W. David B. Richardson, Grand Master, and a distinguished suite. The occasion marked the presentation of citations for special services. Brothers Jean Sisson and Sumner Sturman were recognized for their willingness to fill the vacant chairs whenever called upon; Wor. Harold Schwartz, Wor. Bernard Wein-rebe, and Bro. Joseph Weinrebe for long services as "Repast Caterers" (kitchen crew).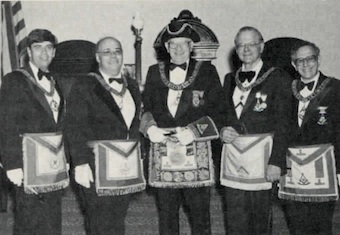 R. W. Robert Godbout, Jr., Grand Marshal; R. W. M. Mark Klein, D. D. G. M., Chelsea 3rd District;
M. W. David B. Richardson, Grand Master; Wor. Myron C. Margolin, Master of the Lodge, and Wor. Jack L. Zimmerman.
SPECIAL COMMUNICATION, JUNE 1986
From TROWEL, Winter 1986, Page 21:
One Picture Is Worth a Thousand Words
The smiling faces of the assembled Masons last June 26 go far in telling the story of the exceptional "triple-header" which was shared by the officers, members, and guests who attended the Testimonial Night and Past Masters' Night in Adelphi-Noddle's Island Lodge of Watertown.
First was the Testimonial honoring Illustrious Potentate Ralph S. Cohen of Aleppo Temple culminating with the presentation of a check to be donated to the Shriners Burns Institute of Boston. Three speakers extolled the virtues of R. W. Bro. Cohen whose meteoric climb to the top rank in Aleppo placed him in charge of some 13,000 Shrine Masons for the year. The speakers in the persons of R. W. James C. Sirios, M. W. Donald W Vose, and M. W. David B. Richardson, Grand Master, were a highlight of a well-attended evening.
The second event was the Honorary Membership bestowed on the Grand Master and on M.W. Bro. J. Philip Berquist, junior Past Grand Master, at which time the Grand Master honored the Lodge Master with a Certificate of Meritorious Service, and presented a 25-year medal to Wor. Ira Smith, a Past Master of three Masonic Lodges.
The third event was the Past Masters' Night at which Bro. Henry Abrams Woolf was Raised to the Sublime Degree of Master Mason. Wor. Myron C. Margolin served as chairman of the program.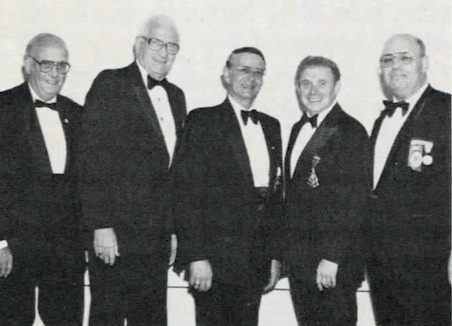 R. W. John D. Manning, D. D. G. M. for the Chelsea 3rd Masonic District; M. W. David B. Richardson, Grand Master; Illustrious Potentate Ralph S. Cohen; Wor. Murray Kane; and R. W. M. Mark Klein, Toast-master of the Testimonial. (Picture credit: Harvard Studio.)
---
GRAND LODGE OFFICERS
---
DISTRICTS
---
LINKS