GMRowe
From MasonicGenealogy
JOHN ROWE 1715-1787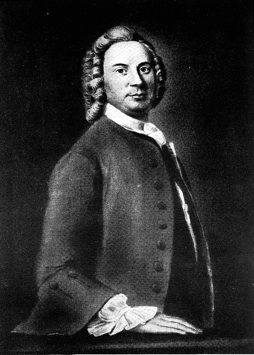 MM 1740, WM 1750, St. John's (Boston) or The Masters
Grand Treasurer, St. John's Grand Lodge, 1750-1755, 1766-1768
Junior Grand Warden, St. John's Grand Lodge, 1756
Senior Grand Warden, St. John's Grand Lodge, 1763-1768
Grand Master, St. John's Grand Lodge, 1768-1787.
BIOGRAPHY
FROM TROWEL, 1995
From TROWEL, Summer 1995, Page 27:
Born in Exeter. England. November 27, 1715, John Rowe came to America in 1736 and purchased a warehouse on Long Wharf. In his own ships he imported merchandise and was very successful in business. Later, he was to buy an estate on Pond Lane, razing the old house and building a new one, which he occupied until his death. Rowe also owned other property in Boston and in 13 towns in MA and CT. which he gained perhaps in the repayment of debts.
Initiated in First Lodge in July 1740. and Raised in Masters' Lodge. Rowe was chosen Master of First Lodge in 1748 and of Masters" Lodge in 1751. and served as Grand Treasurer in 1750 while still Master. After serving as Junior and Senior Grand Warden, he was first installed as Deputy Grand Master in 1763. and served for many of the years following.
After the death of R. W. Jeremy Gridiey, Henry Price nominated Rowe as Provincial Grand Master. English Grand Master. Henry Somerset. Duke of Beaufort, approved the nomination on May 12. 1768. and Rowe was installed on November 23. In this ceremony R. W. Henry Price, for the first time, gave a "Charge" (see Grand Lodge Proceedings. 1733-1792). which became the basis of today's Installation Ceremony.
At a meeting on January 26. 1770, Grand Master Rowe being absent. R. W. Henry Price, Past Grand Master, appointed R.W. Richard Gridley to continue as Deputy Grand Master for the coming year. Gridley then appointed the Senior Grand Warden. Junior Grand Warden. Treasurer and Secretary to continue for another year. This procedure was used again in January, 1771, and 1772.
Rowe authorized the establishment of Lodges at Falmouth. ME and Wallingsford. CT in 1769. A Lodge at Sherburne County. Nantucket, with Bro. Capt. William Brook as first Master, later was registered as Union Lodge #5 and is reported to have the original gavel block with "5"" engraved upon it.
In 1771, a Lodge began at Guilford. CT, while on August 10. 1772. authority was given to form Rising Sun Lodge with Bro. Benjamin Church, Jr. as first Master. The first Military Traveling Lodge in the Continental Army. American Union Lodge #1 was constituted in Dorchester. February 15. 1776. These examples show how actively Masonry developed. 30 Lodges being registered in St. John's Grand Lodge in 1784.
Rowe proposed, in January. 1773. an elaborate plan for raising charitable funds for Brethren, their widows and orphans in need. Regulated by 12 Articles, it required voluntary donations recorded at every quarterly meeting of Regular Lodges and Grand Lodge. Monies were forwarded to the Grand Treasurer with grants coming from the interest. When the Winthrop House, purchased in 1859 as a Grand Lodge, totally burned in 1864. all remaining funds of Grand Lodge, including the Charity Fund of $50,000. were used to rebuild. (Our present Masonic Education and Charity Fund has safeguards against a re-occurrence of this mishap.)
In the controversy with Great Britain. Rowe held moderate views. Known as a conservative Whig, he was opposed to restriction on trade. He served on committees taking the side of the colonists on grievances and public matters, but did not favor active resistance and independence from England and did not leave Boston with the patriots when the siege began. Choosing to remain to protect his business interests, he lost favor with many of the citizens.
Although invited to march in the funeral procession for the re-interment of Joseph Warren, Rowe withdrew after being greatly insulted by some hotheads who questioned his loyalty. Rowe had been instrumental as Deputy Grand Master of St. John's (Provincial) Grand Lodge in granting permission to Lodge of St. Andrew's members to march as Masons in the funeral procession of R. W. Jeremy Gridley (see "Trowel" Spring 1995). These two incidents indicate that those in authority were leaning toward closer relationships for the future. Excerpts from Rowe's Masonic diary for October 26, 1764. to December 28. 1778. are published in the Grand Lodge Proceedings. 1733-1792, pp. 417-432. They give insight into his opinions of events in Boston Colony, including the famous tea incident.
After the British left Boston in 1776. Bro. Brown, Grand Secretary of St. John's Grand Lodge, sought refuge in Halifax. Nova Scotia, taking with him the records, seal and other property of Grand Lodge. When in 1784. Rowe requested return of the property. Brown replied that he would do so when money owed him was repaid. The money was appropriated in 1787 and the property returned promptly.
Thus are 12 years missing from the Grand Lodge Proceedings. 1733-1792. On p. 219 appears a letter read at the last Quarterly Communication. January 27. 1775, and on p. 220. the notice of John Rowe's death, February 17. 1787. M. W. Melvin M. Johnson at the Quarterly Communication. September 9. 1931, explained the 12-year absence of records and listed events occurring in those years which prove that St. John"s Grand Lodge was active during that period (see Grand Lodge Proceedings of 1933, pp. 193-206).
R. W. Bro. Rowe was buried in Trinity Church with Masonic honors. Grand Lodge and Lodges in Boston and Charlestown attending.
MEMORIAL
From Proceedings, Page I-220:
FUNERAL PROCESSION, FEBRUARY 1787
At a meeting of Members of the Grand Lodge, at Brother Sam Dunn's house Feby 17. 1787.
Present.
Whereas it hath pleased Almighty GOD to take hence, our dear & well beloved Grand Master John Rowe Esqr, the G. Lodge desirous of Manifesting their Respect & Affection for him agree to Attend his funeral in due form, and that the several Lodges in this Town & Charlestown be Invited to Attend on the same sorrowful Occasion, and Voted That Wp. Brother Cutler, Gardner & Patten be a Committee to wait on Mrs. Rowe to know if tis Agreeable to her, that The free Masons walk in Procession at the funeral, and
Voted, That they, together with Brother Prince, Mackay & Dunn be a Committee to Arrange & Superintend the funeral Procession.
Voted, That the Committee furnish Two doz Aprons & Two dozen Pair Gloves, which the Treasurer is directed to pay for.
---