MAGLFIsrael
From MasonicGenealogy
FIELDER ISRAEL 1825-1889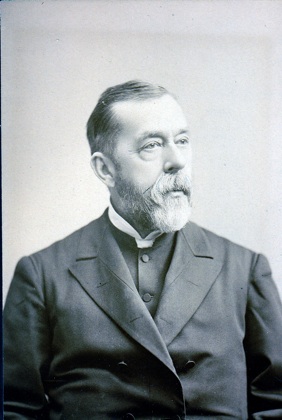 MM 1851, Green Brier #49, Lewisburg, VA (now West Virginia)
Affiliated 1870, Ionic (Taunton) demitted 1872
Affiliated 1878, Starr King
MEMORIAL
FROM PROCEEDINGS, 1889
From Proceedings, Page 1889-10, Grand Master's Address:
BRETHREN, The loss which our Grand Lodge has sustained, since we last met, is vividly in our thoughts to-day, as we see the empty place of one who has been our Chaplain and spiritual leader.
Death, always strange in the hints it gives us of problems which we cannot solve, becomes at times invested with more than ordinary mystery, and tempts us to ask with profounder longing the eternally unanswered question of "Why must this have been so?"
The circumstances attending our Brother's death are too fresh in your minds for me to repeat them here. We recall with brotherly pity the effort which he made to speak to us at our recent Feast of St. John, at the very time when his nerves were overwrought and his physical and mental strength overtaxed by the strain he was passing through. Others will speak later of his life and the services which he rendered to humanity. His sympathy was always ready; his earnestness was always sincere; as a minister over his people -he was beloved and honored. There is evidence that some of his last thoughts were with Brethren and friends of this Grand Lodge, where he was held close in bonds of brotherly affection. Let me quote the words which he himself used at our Memorial Service in June, 1887: "Let us trustingly leave these matters — where, indeed, whether trustingly or not, we must leave them — with the Infinite Love which embraces all our loves, and the Infinite Wisdom which comprehends all our needs."
FROM LIBERAL FREEMASON, 1889
From Liberal Freemason, Vol. XII, No. 11, February 1889, Page 374:
It has been in our mind to speak of Brother Israel from personal knowledge of him, but as this was more closely allied to his Masonic life during the last ten years, this being about the term that we have known him, we have concluded to use an article that appeared in the Boston Journal on January 5, 1889, which takes a wider range, and speaks of him in the more varied relations of his life. The Grand Lodge had a memorial report on him at its recent quarterly session, and to that we refer for greater detail in his Masonic relations:
The people of Salem were startled and grieved last evening at the announcement that Rev. Fielder Israel, pastor of the First Unitarian Church, had been found dead in his study in the church. For some time Mr. Israel Tiad been a great sufferer from heart disease. He was recently called to the sick bed of his brother at Baltimore, and was greatly affected by the condition in which he found him. He had been far from well himself before making the journey, and on his return was a passenger on the steamer "Maryland" on the night of its destruction by fire. Mr. Israel barely escaped with his life, and his nervous temperament was shaken by the excitement. Since his return his family and friends have felt anxious for him, and it was noticed that the pastor was changed. It had been his custom since his connection with the pastorate of the First Church to pass several hours each day alone in his study at the western end of the building. Yesterday afternoon he went to the church as usual. Not returning at tea time and his absence being unusually prolonged, search was made for him, resulting in the finding of his dead body in the church. The body was still warm, but life was extinct, and it was plain that the wounds which caused death had been inflicted by himself. The discovery was peculiarly sad, Mrs. Israel herself going to the church and finding her husband sitting dead in his chair.

The poor had no kinder or more thoughtful friend than Mr. Israel. He was known in every circle, and was especially a welcome visitor among the workingmen. Mr. Israel was born in Baltimore, Md., June 29, 1825, and was early bred in the Methodist faith, becoming prominent as a circuit preacher. He later on embraced Unitarianism and was ordained in its pulpit, being settled as pastor of the Unitarian Church, at Wilmington, Delaware, and afterward in charge of the church at Taunton, Mass. He was installed as pastor of the First Church at Salem, March 8, 1877, succeeding the late Rev. James T. Hewes, and worthily following in the footsteps of the early pastors and teachers of the ancient church, formed July 20, 1629 — Higginson, Skelton, Peters and the able men who came after them. Mr. Israel was also a member of the Masonic fraternity of high degree, and held the office of Grand Chaplain of the Grand Lodge of Massachusetts. He was also Chaplain of Starr King Lodge at Salem. He was also a member of Washington R. A. Chapter. He was a terse and vigorous preacher, a firm upholder of the early covenant of his church and an ardent Unitarian.

Mr. Israel was a patriotic citizen. He voted for Stephen A. Douglas, but when the hour of trial came he stood manfully out for the Union and suffered the proscription placed upon all Union men in Baltimore, in the reign of treason to the flag preceding the 19th of April. He wore upon his person the Stars and Stripes, which he did not hesitate to display whenever his sentiments were called for, and he bravely faced the foes of the Union when threatened with violence. The men of the Old Sixth Massachusetts will long remember him for his kindness to them and to their wounded on the memorable passage through the city.

Since coming to Salem, Mr. Israel had manifested a strong and liberal public spirit. He took an interest in everything pertaining to the public welfare. He was eminently a man of the people, philanthropic, with a broad generosity which embraced the humblest Urchin in the street. His love for mankind took him everywhere, into every pulpit of every faith. He took a prominent part in the exercises commemorating the 250th anniversary of the landing of Endicott, and was deeply interested in the work of the Essex Institute, of which he was an active and energetic member. His reverence and love for the old church of which he was pastor was most profound, and his views upon the religious life and teachings of the fathers were frequently expressed in his sermons and always commanded interest and attention.

Mr. Israel had left a letter for his wife, and on the paper were the words " It is finished," and the letter went on to say bow much he had suffered mentally since the burning of the steamer Maryland, on which he was a passenger on his return trip from Baltimore.
---