MAGLMKeith
From MasonicGenealogy
MYRON L. KEITH 1859-1946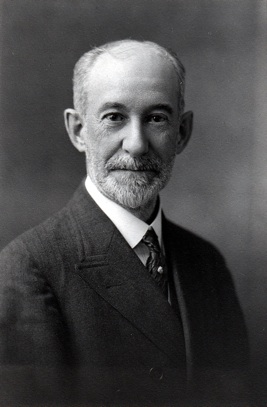 From the collection of the Grand Lodge of Masons in Massachusetts
Deputy Grand Master, 1918
MEMORIAL
From Proceedings, Page 1946-344:
Myron Lee Keith was born on March 26, 1859, in North Bridgewater, now Brockton, the son of Franklin Keith and Betsey Bailey, being a direct descendant of the Reverend James Keith. On June 6, 1886, he married L. Ada Cummings of Boston, and from this union was born one daughter, Edith Lee, who died in early childhood. He passed away on October 26, 1946.
He had a public school education up to the time of leaving to take a position as a bookkeeper for his brother, Flavel Keith. His entire business life was spent in the shoe business, and in 1883 he joined with another brother, the late George E. Keith, in the concern which has been so successful under the name of The George E. Keith Company. At the time of his death, Mr. Keith was Vice-President. He had been for many years a Director of the Home National Bank, and an incorporator of the People's Savings Bank. He had been Trustee of the Brockton Hospital, and for thirty years was Parish Clerk of the South Congregational Church. He had also been President of the Satucket Athletic Association, the Brockton Country Club and the Brockton Masonic Temple Association. At the time of his death, in his 87th year, he was the oldest permanent member of the Grand Lodge. His Masonic record was as follows:
Worshipful Master, 1898-1899, Saint George Lodge, Brockton
District Deputy Grand Master for the 29th Masonic District, 1915-1916
Deputy Grand Master, 1918; member of the Board of Directors, 1924-34
Received Royal Arch Degree April 15, 1887, in Satucket Chapter of Brockton
Received Super Excellent Degree March 16, 1892, in Brockton Council of Brockton

Thrice Illustrious Master, 1910-11

Received Order of the Temple May 26, 1889, in Bay State Commandery No. 38 of Brocton

Eminent Commander, 1901-02

Boston Lafayette Lodge of Perfection Feb. 4, 1910; Giles F. Yates Council Princes of Jerusalem Feb. 11, 1910; Mount Olivet Chapter of Rose Croix Feb. 18, 1910; Massachusetts Consistory Sublime Princes of the Royal Secret April 22, 1910
Supreme Council of the Ancient Accepted Scottish Rite of Freemasonry of the Northern Masonic Jurisdiction, 33rd Degree, September 19, 1922, at Cleveland, Ohio
Holder of the Henry Price Medal.
An editorial at the time of his death said: "A gentle voice is hushed." This phrase gives a rather clear insight into the life of our departed Brother. In all his activities in fraternal, business and social life he was gentle in his decisions, but at the same time firmly and clearly covered the issue in a few pleasant, gentle words. He had the gift of not only being respected in the community in which he played such a large part, but of also being loved and venerated by all who knew him.
Fraternally submitted
Roger Keith
Edward H. Turner
Wilbur C. Child
---