MAGLAMiller
From MasonicGenealogy
ALTON L. MILLER 1890-1984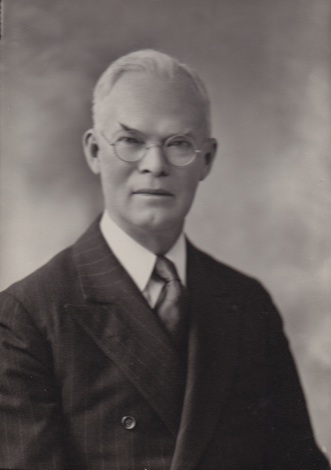 Deputy Grand Master, 1951
MEMORIAL
From Proceedings, Page 1984-57:
On March 20, 1984, at Gilford, New Hampshire, a distinguished and highly respected member of our Grand Lodge was called to the Celestial Lodge above. His quiet, dignified presence during his long life had a great influence on a large circle of friends who came to know him.
Right Worshipful Alton Lombard Miller was born at Somerville, Massachusetts on April 10, 1890, the son of Charles Nahum Miller and Lula E. (Lombard) Miller. Upon his graduation from Somerville High School he enrolled at Harvard University where he received three degrees: a B.A. in 1911, an M.A. in 1913 and a Ph.D. in 1916. He pursued post-graduate studies at the University of Turin, Italy, and at the University of Michigan, serving also as an instructor in Mathematics at both Harvard and the University of Michigan, and later at Gordon College of Theology and Missions, as well as a teacher of Chemistry at Browne and Nichols School. In 1917 he became active in the family business and affiliated companies of Charles N. Miller Company, confectioners, serving as Treasurer, General Manager, and later as President. He also served as a Director of the Pilgrim Trust until his retirement in 1964.
Right Worshipful Brother Miller was raised in Beth-Horon Lodge A.F & A.M. at Brookline, Massachusetts on June 6, 1923. He served as Master of Beth-Horon Lodge in 1937. He was launched on a distinguished career in our Grand Lodge when he was appointed by Most Worshipful Arthur W. Coolidge in 1944 to be District Deputy Grand Master of the Waltham Fifth Masonic District, serving in 1944 and 1945. ln 1945 he was appointed Grand Representative of the Grand lodge of Louisiana near the Grand Lodge of Massachusetts and served Masonry in that capacity until his death. He affiliated with Nehoiden Lodge of Needham in 1947.
In 1951 Most Worshipful Thomas Sherrard Roy appointed Right Worshipful Brother Miller to be his Deputy Grand Master. He was awarded the coveted Henry Price Medal, the highest award of our Grand Lodge, on February 6, 1951. He received the Veteran's Medal in 1973.
He also found time during his very busy life to devote to service in collateral bodies. In 1923 he received the Royal Arch degree in St. Paul's Chapter at Boston and was for many years, beginnlng in 1942, Treasurer of that body. He received the Order of the Temple in Boston Commandery in 1924, but later transferred his Commandery affiliation to DeMolay Commandery No. 7 in 1928, serving as Captain-General 1945-46, and as Eminent Commander in 1948. He received his Scottish Rite degrees in the Valley of Boston in 1936. In the affiliated and related bodies he became a member of Aleppo Temple, A.A.O.N.M.S. in 1949.
llcryite his extensive Masonic activities and active business career, he somehow found ample time to devote to his church, and to public service. . LMg his lifetime he served ably as President of the New England Confectioners Association, the Confectioners Club of Boston, the University Club, the Boston Baptist Social Union, and the Northern Baptist Convention. He was chairman of the Board of Managers for the American Baptist Foreign Missions Society, and Vice President of the Massachusetts Bible Society, the Laymans Missionary Movement, and as a Director of the Chinese Mission of New England.
He was a Trustee of the Home Savings Bank of Boston, Wheelock College, the General Theological Library and the Andover Newton Theological Seminary. His club memberships included The Harvard Club of Boston, the Harvard Faculty Club, the University Club, the Harvard Musical Association, the American Association for the Advancement of Science, the American Mathematical Society, the American Association of Mathematicians' and the American Philatelic Society.
He leaves his wife, Ruth E. Morgan, two daughters, Ruth Gates of Needham and Dr. Mary M. Dietrich of Harborside, Maine, six grandchildren, and four great-grandchildren. Funeral services were conducted at 1:00 P.M. on Saturday, March 24, 1984, in the First Baptist Church at Needham. Interment was at Forest Hills Cemetery, Boston.
Right Worshipful Brother Miller's life was one of service to mankind as well as Masonry. It was one that we should all be inspired to emulate. The members of this committee appointed by the Grand Master to prepare and present this memorial are honored to have the privilege of affixing their signatures to this tribute to a Mason and a fine man.
Respectfully submitted,
W. Bradford Chase, Jr.,
Kevin D. Bittner,
F. Crockett Brown
Committee
SPEECHES
FEAST OF ST. JOHN, DECEMBER 1950
From Proceedings, Page 1950-282:
Worshipful Grand Master and Distinguished Masons all:
That introduction makes me feel like the June bug that was caught on the windshield of a car. As he made the splash he said, "Ugh! I didn't know I had it in me."
Most Worshipful, your invitation to work with you this year came to me as a tremendous surprise. In my own mind I had given up all forms of public work and had retired to the farm where, I assure you, I belong. I like to work the ground. In my reply to you I said that it is an invitation that one cannot but accept. I am very grateful to you for this invitation to serve the Masons in Massachusetts this year. I shall do my best.
You will notice that the Grand Master pledged the four toasts in water. I wonder if it was because he is a Baptist or because he had learned a certain Sunday School lesson. The teacher was trying to explain the evils of alcohol and why young boys should not imbibe. She had one glass containing water and another containing alcohol. She dropped a worm into the water and he wriggled all around. Then she dropped him into the alcohol and he dropped dead.
"You see the lesson," she said.
"We see the lesson," replied the class.
"What is the lesson?"
One of the little boys said, "It's this way. If you drink enough alcohol you will not have worms."
In a day like this Masonry has many serious lessons for us to learn and I can never face a group of leaders, a group of important men in the state such as I see before me tonight, without calling attention to one or more of these lessons. In this long fight for freedom Masonry has had an important part.
Going back to the old Guilds in England, a man worked as an apprentice for many years to become a free man. In the early years when the American Revolution was being hatched here in Boston, such Masonic names as Washington, Hancock, Revere and Warren stand out. Masons have had an important part in the leadership in the fight for freedom.
We are now in the midst of a most serious part of that long fight for human liberty. The brotherhood is at the very heart of that contest. If this fight is not won, Masonry is going to be the first to suffer. Go to China to see what will happen there, as it did in Germany, France, Italy and Russia in times past. This is a fight that is very, very close to your hearts and mine.
Mr. Hitler put it this way: "To the Christian doctrine of the infinite significance of the individual, I oppose with icy clarity the saving doctrine of the nothingness of the individual". And then Mussolini said: "Let's have done with this talk of brotherhood. The relations of states are the relations of force. One cry has come down upon the waves of the centuries and the series of generations, 'Woe to the weak.'"
My Brethren, that is the philosophy of the nineteen men in the Kremlin at the present time. It is the philosophy they are attempting to spread. If we are to meet it, we must meet it with strength and not weakness. No one can believe in the Brotherhood of Man and today be comfortable.
Masonry has an important lesson. We are taught that the beehive represents industry to all created beings. We should never be sitting down while others are in want. We should never be a drone in the hive of nature and unworthy of the protection of Masonry. For 1951 the word for Masonry should be "Work."
Now there are various ways to work. Many are going to work preparing the materials of war. Some of us are going to be doing other kinds of work and paying taxes with which to pay for war materials. It means work, and work with a heart.
There are other kinds of work. We must be constantly alert to protect our freedom against attack from without and from within. Just as they discussed these matters in the Lodges of St. John and St. Andrew, so must we discuss our problems in order that we may be intelligent in the things we are attempting to do. Our weakness is that we do not know what we are up against. Imparting information is proper work for Masons today as it was two hundred years ago.
One other thing we have to do is to comfort those in distress. Our boys already are going. The mothers at home are in distress now. The fathers are in distress. Some Brothers are in distress. We must begin to comfort these people.
Brethren, let us go home tonight with a firm resolution to work and make Masonry and our country strong in the times ahead. What doth the Lord require of thee but to do justly, and to love mercy, and to walk humbly with thy God?
---