Warren
From MasonicGenealogy
WARREN LODGE
Location: Amesbury
Chartered By: John Dixwell
Charter Date: 12/11/1822 III-416
Precedence Date: 12/11/1822
Current Status: in Grand Lodge vault; merged with Charles C. Dame Lodge, 07/09/2016.
---
PAST MASTERS
Edward Dorr, 1822-1825, 1827-1835
George W. Bagley, 1826
1835-1845 DARK
Lowell Bagley, 1846
David Currier, 1847, 1848
William Tuxbury, 1849-1851
Philip Osgood, 1852-1859
Hiram Walker, 1860, 1861
William J. Pillsbury, 1862-1864
George F. Bailey, 1865
Joseph T. Clarkson, 1866
Philip Curtis, 1867, 1868
Enoch Hott, 1869
David L. Davoll, 1870, 1871
Benjamin S. Blake, 1872, 1873
Charles P. Walker, 1874
Moses M. Dennett, 1875, 1876
William Smeath, 1877-1880
Henry F. Carey, 1881
Oliver A. Roberts, 1882
Phineas C. Whittier, 1883, 1884
Horace G. Hudson, 1885, 1886; Mem
Charles F. Jones, 1887, 1888
George G. Osgood, 1889, 1890
Francis E. Walton, 1891, 1892
Emmons H. Babb, 1893, 1894
Elmer E. Sanborn, 1895
Otto Kranz, 1896, 1897
Porter M. Sargent, 1898
Woodbury B. Frisbee, 1899, 1900
George E. Collins, 1901, 1902
Guy L. Bean, 1903, 1904
Frank S. Collins, 1905
Silas D. Flanders, 1906, 1907
Charles N. Currier, 1908
Harrison C. Austin, 1909-1911; Mem
Fred England, 1912
James A. Gibson, 1913, 1914
James W. Clark, 1915-1917
M. Perry Sargent, 1918
Charles I. Pettingill, 1919-1921; N
John A. Wilson, Jr., 1922, 1923; N
Arthur A. H. Whelpley, 1924, 1925
Nelson M. Orcutt, 1926
Clair G. Yeaton, 1927
Guy E. Nickerson, 1928
Howard L. Johnson, 1929, 1930
Samuel R. Bailey, 1931, 1932
Ralph T. Frisbee, 1933
Ralph O. Spofford, 1934
Raymond O. Davis, 1935, 1936
Edwin R. Creasey, 1937, 1938
David C. Bailey, 1939, 1940
Hawley Patten, 1941
Robert B. Fraser, 1942
William J. Mallery, 1943, 1944
Wilmot A. Whelpley, 1945
Samuel T. Adams, Jr., 1948, 1949; Mem
Leonard T. Grant, 1950
Harold B. Crossman, 1951
William E. Bean, 1952
Arthur H. Lamontagne, 1953
Merle R. Wilbur, Jr., 1954, 1956
Benjamin F. Hart, 1955
Lawrence C. Hoyt, 1957
Norman L. Allison, 1958
Thomas T. Hodge, 1959
Clifton J. Toothaker, Sr., 1960; N
Walter D. Shaw, 1961
Clifton J. Toothaker, Jr., 1962
Warren A. Wilbur, 1963
Frederick W. Lowell, 1964
Albert W. Stromquist, 1965, 1996, 1997
Winthrop L. Hart, 1966
Donald N. Ackermon, 1967
Leslie H. Carter, 1968
Wilfred W. Stromquist, 1969
John Rizzo, 1970, 1985
Forrest E. Hunt, Jr., 1971
Fred S. Bishop, 1972
Robert R. Moghabghab, 1973, 1994, 1995
G. Russell Dow, 1974
John Fields, Jr., 1975
Theodore E. Burnham, Jr., 1976, 1986, 1999
Norman F. Snow, Jr., 1977
Harold L. Perry, 1978
Lester R. F. Sinton, 1979; PDDGM
Robert F. Millette, 1980, 1981
Gordon D. Motley, 1982, 1983
Herbert Eaton, 1984; N
Charles R. Bacon, 1987, 1992, 2005, 2006
Emile G. Bolduc, 1988
Andre W. Marion, 1989
Peter V. Rizzo, 1990, 1991
James V. Lewis, Jr., 1993
Hollis Grant, Jr., 1998
Hollis D. Grant, III, 2000
Jeffrey R. Mason, 2001-2003, 2008 ,2009
Charles R. Bacon, 2004, 2005
Paul D. Wright, Sr., 2006, 2007
Ronald J. McKinnon, 2010, 2014-2016
Scott E. Dixon, 2011, 2012
Michael T. Wall, Jr., 2013
---
REFERENCES IN GRAND LODGE PROCEEDINGS
Petition for Charter: 1822
ANNIVERSARIES
VISITS BY GRAND MASTER
BY-LAW CHANGES
1870 1876 1879 1881 1883 1884 1886 1890 1891 1896 1900 1902 1912 1913 1921 1923 1927 1950 1955 1957 1958 1967 1977 1979 1991 2003 2008 2010
HISTORY
CENTENARY HISTORY, JUNE 1923
From Proceedings, Page 1923-176; pictures from the Warren Lodge Centenary Book, published 1923:
By R.W. Charles I. Pettingell.
Most Worshipful Grand Master, Worshipful Master, and Brethren:
Some two and a half years ago I began the preparation of the history of Warren Lodge for this occasion. In the months since then, I have given much time and thought to the work, and yet today I feel that the result is far from what it ought to be. I realize now that it would take several years of research and labor to deal properly with such a subject, and that I have only barely scratched the surface. I have, however, been able to bring to light some things which apparently are unknown to this generation and to throw new light on some of the old accepted facts. It may be that some of my theories and conclusions are wrong, in which case I shall gladly welcome any information which will set me right. Perhaps the presentation of this address will stimulate discussion and research and will bring forth from attic or family record some new light which will help to settle some of our doubtful points.
In preparing this address I have utilized the following records and collections:
The record books of Warren Lodge from 1822;
The Secretary's cash books;
The By-Laws and the signatures to the same;
The Grand Lodge Proceedings, both in print and in manuscript;
Lowell Bagley's diaries;
The local newspaper files in the Public Library;
The files of the Newburyport Herald in the Newburyport Public Library;
Bro. Timothy H. Bagley's ten volumes of newspaper clippings;
Joseph Merrill's History of Amesbury;
Historical articles prepared and published by Rt. Wor. Oliver A. Roberts;
The records of the Proprietors of the Amesbury and Salisbury Academy;
Various manuscript collections in the Public Library relating to the Bagley family and to the other old families of Amesbury and Salisbury. Notable among these are various compilations of Bro. John F. Johnson, Edward A. Brown, and Henry G. Carey.
The files of the local papers contain many interesting and valuable historical articles written by William D. Lowell, Alfred Bailey, Joseph Merrill, W. H. B. Currier, Frederick W. Merrill, and Emily B. Smith. In these I have found much helpful material. I have also used data furnished by Wor. Bros. F. H. Merrill and Moses M. Dennett, and Bros. H. T. Ames and Augustus N. Parry.
Not all of the sources have been thoroughly searched. To cover this field thoroughly would take all of one man's time for many months.
I am particularly indebted to Wor. Bro. F. H. Merrill for data, assistance, and suggestions; to Mrs. Mary B. Longyear for the use of the Lowell Bagley diaries; and to Bro. Daniel W. Eobinson for painstaking work in running down the Grand Lodge reports and the newspaper files at the Public Library. This last contribution saved me hours of time which I was able to devote to other searches. I am also indebted to Wor. Bro. Moses M. Dennett for information regarding the Civil War records of the members of the Lodge, and to Bro. Frank M. Swett for similar information regarding the Spanish-American and World Wars. I have also had valuable assistance from Edward A. Brown, of the Public Library, whose knowledge of local historical matters is unsurpassed in this day and generation.
ORIGIN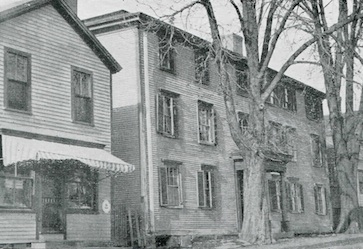 In the large three-story building Long had a Hall often used for public gatherings.
The first meeting of the Lodge was held there.
Until the recent discovery of the diaries of Lowell Bagley no record had been known of any meeting of the Lodge or its Charter members prior to the one referred to on the first page of the original record book as held "on regular night at Bro. Nathan Long's Hall, December 25, 1822." Nathan Long's Hall was in the large building on the right hand side of the street near the corner of Merrimac Street at the Perry, which -was afterwards occupied by Captain Nathaniel Webster.
As the Charter of the Lodge was voted at the communication of the Grand Lodge, held December 11, 1822, it is evident that considerable work must have been done before that date to prepare the matter for presentation to the Grand Lodge. There are a few stray records which bear this out; one made by Lowell Bagley in his Diary under date of Friday, August 30, 1822.
I was chosen Senior Warden of Warren Lodge this evening if we get a Charter for it. Edward Dorr was chosen Master."
Another record is a vote of St. Mark's Lodge of Newburyport at a meeting September 24, 1822, when the Lodge voted, that "it does cordially approve of a Lodge of Free and Accepted Masons being constituted in the Town of Amesbury agreeably to the petition of Rev. Bro. Benj. Sawyer and others to the Most Worshipful Grand Lodge of Massachusetts.
The next night, Sept. 25, 1822, St. John's Lodge of Newburyport passed a similar vote.
The next reference to the Lodge is found in the proceedings of the Grand Lodge for the meeting of December 11, 1822.
"A petition was presented by Charles Porter and others for a Charter for a new Lodge in Boston by the name of Warren. The Grand Master decided that the petition could not be sustained, having the consent of but two Lodges in Boston. An appeal was taken from this ruling, but the Grand Lodge sustained the Grand Master.

"The petition of Benjamin Sanger and others praying for a Charter for a new Lodge to be called Warren, and to be located in Amesbury was read and referred to R.W. Samuel L. Knapp, R. W. Samuel Thaxter and R. W. Samuel Smith. The Committee report that the prayer of the petition of Benjamin Sanger, Edward Dorr and others be granted.
Read and accepted."
The Grand Lodge is evidently in error here, the signature Sawyer being read Sanger.
Of the three Lodges in Newburyport, St. Mark's was the only one represented at this meeting.
Apparently a Charter was issued by the Grand Lodge almost immediately, for the new Lodge was ready to hold its first meeting two weeks later, December 25, 1822. From the Charter we learn who the others interested were besides Sawyer, Dorr, and Lowell Bagley. They were John Colby, Nathaniel Fifield, Valentine Bagley, George W. Bagley, William H. Bagley, Benjamin R. Downes, James Horton, Daniel Long, David Nayson, Samuel Walton, and Captain William O. Mills.
Of these men some are more or less well known to us, while others are much more vague and indistinct.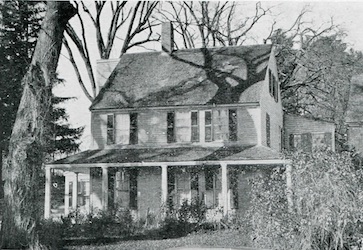 Residence of Edward Dorr
EDWARD DORR 1757-1844
MM between 1803 and 1806, WM 1807, 1816, St. Peter's
Charter Member; WM 1822-1825, 1827-1835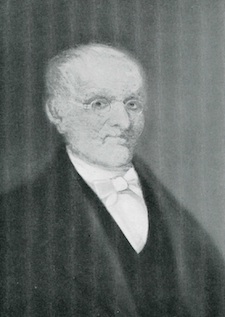 Edward Dorr was born at Roxbury October 4, 1757, and died at Salisbury, March 27, 1844. He married July 14, 1782, Ruth Dalton of Salisbury. He was a shipwright by trade, but his "justice business" became his principal vocation in later life. He was an active member of the Congregational Church of Salisbury, for many years, having been admitted a communicant December 2, 1791, and chosen Deacon July 27, 1797. This was the Rocky Hill Church of which Rev. Bro. Benjamin Sawyer was afterwards pastor. A few years before his death he joined the Protestant Episcopal Church. His son, Rev. Benjamin Dorr, was a well-known Episcopal clergyman and was Rector of Christ Church, Philadelphia.
At the commencement of the Revolutionary War Deacon Dorr lived at Marblehead, an apprentice to Mr. John Merritt learning the trade of shipbuilding. After the battle of Lexington, Mr. Merritt took a captain's commission and raised a company of soldiers. Dorr enlisted in his company as a private, and directly after Bunker Hill battle marched with the company to Cambridge, where he remained and served the first term of eight months, the time enlisted for. He then re-enlisted and served for twenty-eight months longer, or three years altogether. His pension certificate as a Revolutionary soldier still hangs in his house at Salisbury Point. Having settled at Salisbury, then famous and flourishing as a shipbuilding town, he early identified himself with its interest. In 1806 he was appointed Inspector, Weigher, and Measurer for Newburyport at Salisbury. In 1811 he was appointed Notary Public and Justice of Peace for Essex County. In 1814 he was appointed Assistant Assessor for the Salisbury and Amesbury district, and in 1818 he was made one of the Quorum and Coroner. All of these offices he retained till his death, being accounted "one of the most respectable and efficient magistrates in the County of Essex." He was one of the incorporators of the Provident Institution for Savings in Salisbury and Amesbury, which was started in 1828. He was also Town Clerk of Salisbury for several years.
There is a story, preserved among the papers of the American Philosophical Society, of a chance meeting Mr. Dorr had with Nathaniel Bowditch, the mathematician. The latter was then a clerk in a carpentry store at Salem, and might have been about fifteen years old; the former was his senior by six or eight years. Dorr inquired for a scale. "We have none," was the answer. Dorr, however, saw what he wanted on a shelf nearby, and pointed out the package. The boy handed it down with the remark: "We do not call these scales, but rules." " They are not common carpenters' rules," replied Dorr, "but things of much greater convenience and utility. I can do sums in arithmetic on this scale. I can multiply and divide numbers and solve questions in the rule of three. And, what is more, I can measure sides and angles of land and cast up a ship's reckoning at sea." He then took the scales and dividers and showed the wondering boy how all this was done, spending half an hour in explaining the use of the scale and the method of application. The boy was interested and pleased, and it may well be that this half-hour's lesson had an important influence in directing the lad's mind to those studies which afterwards made him famous.
Brother Dorr lived at Salisbury Point in the house at the end of Dorr's Lane. Here he made a beautiful place for himself. His son set out a fine pine grove behind the house and laid out informal but attractive grounds. Today the house stands untenanted but full of fine old furniture and personal mementoes of Deacon Dorr and the scholarly Benjamin, like an eddy in our life of today in which has collected the drift of the past. No one goes there but the caretaker and an occasional member of the family.
Deacon Dorr received his Masonic degrees in St. Peter's Lodge sometime between 1795 and 1807. He was a member of that Lodge and was its Worshipful Master in 1807 and 1810. He seems to have been one of the most active of those interested in the new Lodge, and apparently his was the second name on the petition. He was the first Master and, barring one year, the only Master from 1822 until the records stop in 1835.
Undoubtedly it is to him that we owe the name of the Lodge. His family had long been settled in Roxbury, several generations of his ancestors having lived there. Warren was undoubtedly a familiar figure to him in his youth, and what is more reasonable than that Dorr, who had known Warren, had served in the Revolutionary Army around Boston, and had been-fired by the tragic death of his townsman, should propose the name of that great patriot when the new Lodge was formed. In 1820 Maine was set off from Massachusetts, and with the new State came a new Grand Lodge to which all the Maine Lodges owed allegiance. Until this separation there was a Warren Lodge under the jurisdiction of the Grand Lodge of Massachusetts, for there was a Lodge with that name at Machias, Maine. In 1820, because of the separation and the removal of the Maine Lodge, the name Warren became available, and undoubtedly it was Dorr who proposed it for the Lodge at Amesbury. There seems to be no other explanation possible, as it is not known that any of the other Charter members ever had any interest or activity which brought them into contact with the Provincial Grand Master.
Dorr seems to have been a forceful, capable man, well liked and respected. The tradition remaining of him in his neighborhood is one of strength and ability. Like Rev. Bro. Sawyer he lived to a ripe old age, and like Sawyer he apparently retained his strength and vigor to the end. I have seen some of his handwriting done when he was about eighty which is as firm and legible as that of twenty years earlier.
To Edward Dorr Warren Lodge owes an immeasurable debt of gratitude.
BENJAMIN SAWYER 1782-1871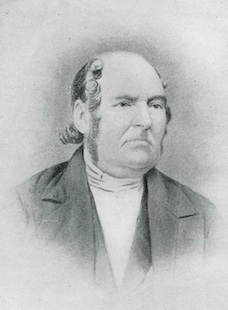 Benjamin Sawyer was born in Boothbay, Maine, September 22, 1782, and studied for the ministry with Rev. Abijah Wines either at Newport, N. H., or Andover, N. H. In 1804 he entered Dartmouth College, from which he was graduated in 1808. During his student days he undoubtedly taught school in the vacation periods, as there is in existence a certificate signed by John Hubbard, Professor of Mathematics and Natural Philosophy at Dartmouth College, to the effect that "Benjamin Sawyer is a member of the Sophomore Class and sustains a good moral character and is well qualified for instructing a school. He is hereby recommended to the attention of all gentlemen who shall think proper to employ him."
In May, 1809, he was approbated by the Orange Association of New Hampshire and was ordained at Cape Elizabeth, Maine, November 22 of the same year. The ordination sermon was preached by the Rev. Abijah Wines, under whom he had studied. The War of 1812 and its disturbance of American shipping and coast industries broke up this church, and Brother Sawyer's pastorate ended there September 15, 1813.
In March, 1814, he came to Amesbury in answer to a call of the First Church, locally known as the Sandy Hill Meeting House, which was located near the corner of Highland Street and Haverhill Road and not far from Bartlett 's Corner. His installation as pastor of this church occurred June 19, 1816. In time this Society fell away owing to the change of the center of population and the development of other parts of the town, and it became unable to support a pastor. In November, 1835, Rev. Bro. Sawyer was called to the West Parish Church of Salisbury, more familiarly known as the Rocky Hill Church, with which his name and personality are so closely associated in our local thought and tradition.

This was the parsonage of the Rocky Hill Church
and is now the home of Wor. Bro. George E. Collins.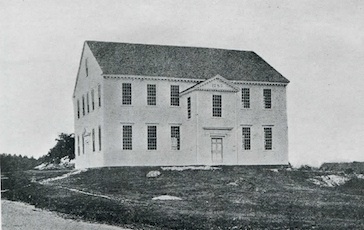 According to an old photograph.
This church building was erected in 1785, but the Society was of much longer standing, dating back at least as far as 1714. The original Meeting House stood about one-half a mile north of the present building on the training field or triangular plot of land where the Rocky Hill Road now meets Monroe Street. When the present building was erected in 1785 there was much dissension over the choice of the present location, and many of the families of the parish, particularly those to the northward, were very much displeased with the new location. The present structure was built largely of material taken from the older building.
Brother Sawyer's salary when he began at Rocky Hill was $400 and the use of the parsonage building, which is now the home of Wor. Bro. George E. Collins. For a few years after going to Rocky Hill he continued to minister to the Sandy Hill congregation, but after 1841 his entire time was given to the Rocky Hill Church. May 15, 1859, he preached a sermon on the fiftieth anniversary of his entrance into the ministry, and January 12, 1869, he celebrated his golden wedding. His last sermon was preached in the Rocky Hill Church, October 30, 1870, when he was past eighty-eight years of age. His mind on that occasion was clear and he read his hymns and Scripture without the aid of glasses. At the time of his death, which came a few months later, March 27, 1871, he had scarcely a gray hair.
It is impossible to set forth all the activities and interests of his busy life. He served on the School Committee of the Town of Salisbury for twenty-one years, and was in the Legislature in 1844 and 1845. During his long ministry he is said to have performed more than fourteen hundred marriages and to have attended more than eleven hundred funerals. He was known far and wide as "Father Sawyer," which in itself indicates something of his character and personality.
He was married twice, first in 1810 to Mina Wines, daughter of his friend and tutor, Rev. Abijah Wines. She died in 1815, leaving three children. In 1819 he married Charlotte (Long) Wilde; six children were born of this marriage.
Brother Sawyer received his Masonic degrees in St. Mark's Lodge at Newburyport, receiving all three degrees January 4, 1820, and being elected to membership February 1 1820. He was one of the Charter members of Warren Lodge, and his name seems to have headed the petition to the Grand Lodge, as the record of that body for December 11, 1822, refers to the "petition of Benjamin Sanger and others for a Charter for a new Lodge to be called Warren ... in the Town of Amesbury." The original petition is not now in existence, but there can be no doubt that the scribe who recorded the Grand Lodge proceedings made "Sawyer" into "Sanger" as he read the petition. Brother Sawyer seems to have been very active in the formation of the new Lodge. The first pages of the original record book and parts of the original by-laws are in his handwriting. He was the first Secretary of the Lodge, and although he was never Master, he frequently served as Secretary pro tern, and in other offices. His interest did not continue, however, and after 1830 his name is seldom recorded. March 29, 1871, the Lodge attended his funeral, and July 5 of that year a set of resolutions was adopted.
He also belonged to King Cyrus Royal Arch Chapter of Newburyport. His diploma, dated in 1823, is in the possession of Wor. Bro. George E. Collins.
In our present membership Rev. Bro. Sawyer is represented by several descendants, Brother Augustus N. Parry and Worshipful Brothers Frank S. Collins and George E. Collins, who are grandsons, and Brothers Augustus N. Parry, Jr., and Robert G. Patten, great-grandsons.
VALENTINE BAGLEY 1773-1839
MM 1820, St. Mark's
Charter Member; first Treasurer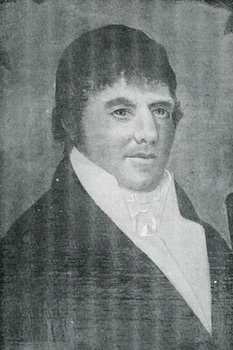 Valentine Bagley, best known of the Charter members of Warren Lodge, was born at Newbury, Mass., January 17, 1773, the son of Valentine and Sarah (Currier) Bagley. His father belonged to the Amesbury line of Bagleys which had settled here about 1642. Prior to Valentine's birth the father had moved across the river to the locality opposite Pleasant Valley known as Annis Rocks, where he had a corn mill. This mill was later moved to the Amesbury shore, and the family seems to have had no further connection with Newbury.
Note from the Centenary book: "Valentine Bagley's birth and death dates are more or less in confusion. His gravestone gives his death date as Jan. 1, 1839, 'age 66'. The Amesbury town records give his death date as January 19, 1839, which agrees with Lowell Bagley's entry of Jan. 20, 1839, 'Capt. Val. Bagley died last night.' The Newbury Vital records give his birth date as Jan. 1, 1773, which is probably correct. In Lowell Bagley's diary for Jan. 27, 1839, is, "I went to meeting on the hill to hear Mr. Sawyer preach a sermon on the death of Capt. Val Bagley."
Throughout the course of his life Valentine Bagley was a sturdy and forceful character. He is best known, however, as the hero of Whittier 's poem, The Captain's Well. In this poem Whittier with poetic license refers to him as "the old captain." He was, however, a young man at the time of his experience tipon which the poem is based. The poem is a recital of fact, for Bagley was shipwrecked on the coast of Arabia, had a terrible experience before his return to safety, and after coming home dug the well with the explanation which Whittier puts in his mouth.
He had early taken to the sea, for before the voyage in question he had commanded the brig Mechanic, which apparently was a coastwise vessel. May 4, 1791, when he was barely eighteen years of age, he sailed from Salem as second mate of the snow Grand Sachem on an Indian voyage. The Cape of Good Hope was made in one hundred and sixteen days, and the Isle of France was reached November 11. On Christmas Day Bagley left this vessel and about a month later he shipped as carpenter's mate on the ship Commerce, of Boston, John Leach, Master. Madras was reached March 25, 1792, where Captain Samuel Johnson took command of the ship. April 28 they sailed for Bombay, and as a result of the unfamiliarity of the captain with the coast the ship was wrecked July 10, 1792, and became a total loss.
There were thirty-four persons on board the ship, consisting of seventeen white members of the crew, two of the owners, the young son of one of the owners, one black member of the crew, and thirteen Lascars. An exploration of the shore showed that the natives were hostile, and this caused a decision to attempt to reach Muscat by water. All those on board embarked in three boats, but two days later, the weather being bad and the sea high, all the boats were forced ashore. One of them, the one containing Bagley, was capsized and three of those in it were drowned.
They now found themselves on a barren, waterless shore, destitute of everything except the clothing they wore and ignorant of their real location. They wandered for days, occasionally meeting natives who sometimes shared with them their own scanty supply of water. "Where this generosity was manifested, however, the natives usually exacted payment by helping themselves to such clothing or other articles as remained to the hungry and thirsty wanderers. In a few days they were actually naked and barefoot. At one time they were five days without water.
One by one the men gave up and were left behind to die. Those who could travel kept on over burning sands and rough mountains, occasionally finding or begging water, eating crabs and mussels, with now and then a few dates, until after a month of incredible suffering and hardship eight of the white men straggled in to Muscat. One of those who was left behind to die was Charles Lapham, and the local tradition is that he asked Bagley, if he should live and have a son, to give him his name. Bagley so named his eldest son. The one black man of the party was held by the natives and supposedly was sold into slavery.
On arriving at Muscat the destitute men fell into good hands and were clothed and cared for in a hospitable manner. Most of them, as soon as they were able to do so, shipped for home, but Bagley was in such a destitute condition that he was not willing to do this. An Arabian ship at Muscat was in need of a carpenter, and he made several voyages in her before he came back to Amesbury. In the meantime one of his shipmates had published an account of their experience, and Valentine Bagley's mother at home had read it before her son came back. A copy of this book, "A Journal of the Travels and Sufferings of Daniel Saunders, Jr., a Mariner on Board the Ship Commerce of Boston, Captain Samuel Johnson, Commander, which was cast away near Cape Morebet on the Coast of Arabia, July 10, 1792," is in the Amesbury Public Library. It is of the third edition, published in Salem, Mass., by Joshua and John D. Cushing in 1824, showing that it must have had some considerable sale. Whittier used this publication as the basis for his poem, and according to local tradition the book was well known in Amesbury in the early part of the last century. Dr. Horace G. Leslie, in presenting the portrait of Bagley to the Lodge in 1891, refers to his acquaintance with the book while a boy.
When Bagley came back to Amesbury he dug the well by the roadside and close to his mother's house. This was in 1796. It remains there today in the corner of the High School lot, although it no longer furnishes water. When the deep sewer was put through the street some ten years ago the watercourse beneath was cut off and the well dried up.
Whittier 's poem is as follows:
THE CAPTAIN'S WELL.

From pain and peril, by land and main,
The shipwrecked sailor came back again;

And like one from the dead, the threshold cross'd
Of his wondering home, that had mourned him lost,

Where he sat once more with his kith and kin,
And welcomed his neighbors thronging in.

But when morning came he called for his spade.
"I must pay my debt to the Lord," he said.

"Why dig you here?" asked the passer-by;
"Is there gold or silver the road so nigh?"

"No, friend," he answered; "but under this sod
Is the blessed water, the wine of God."

"Water! the Powow is at your back,
And right before you the Merrimac,

"And look you up, or look you down,
There's a well-sweep at every door in town."
"True," he said, "we have wells of our own;
But this I dig for the Lord alone."
Said the other: "This soil is dry, you know.
I doubt if a spring can be found below;
You had better consult, before you dig,
Some water-witch, with a hazel twig."

"No, wet or dry, I will dig it here,
Shallow or deep, if it takes a year.

In the Arab desert, where shade is none,
The waterless land of sand and sun,

Under the pitiless, brazen sky
My burning throat as the sand was dry;

"My crazed brain listened in fever dreams
For plash of buckets and ripple of streams;

And opening my eyes to the blinding glare,
And my lips to the breath of tho blistering air,

Tortured alike by the heavens and earth,
I cursed, like Job, the day of my birth.

Then something tender, and sad, and mild
As a mother's voice to her wandering child,
Rebuked my frenzy; and bowing my head,
I prayed as I never before had prayed:

"'Pity me, God! for I die of thirst;
Take me out of this land accurst;

And if ever I reach my home again,
Where earth has springs, and the sky has rain,

"I will dig a well for the passers-by,
And none shall surfer from thirst as I.'

I saw, as I prayed, my home once more,
The house, the barn, the elms by the door,

The grass-lined road, that riverward wound,
The tall slate stones of the burying-ground,

The belfry and steeple on meeting-house hill,
The brook with its dam, and gray grist mill,

And I knew, in that vision beyond the sea,
The very place where my well must be.

God heard my prayer in that evil day;
He led my feet in their homeward way,

From false mirage and dried-up well,
And the hot sand storms of a land of hell,

Till I saw at last through the coast-hill's gap,
A city held in its stony lap.

The mosques and the domes of scorched Muscat,
And my heart leaped up with joy thereat;

For there was a ship at anchor lying,
A Christian flag at its mast-head flying,

And sweetest of sounds to my homesick ear
Was my native tongue in the sailor's cheer.

Now the Lord be thanked, I am back again,
Where earth has springs, and the skies have rain,

And the well I promised by Oman's Sea,
I am digging for Him in Amesbury."

His kindred wept, and his neighbors said:
"The poor old captain is out of his head."

But from morn to noon, and from noon to night,
He toiled at his task with main and might;

And when at last, from the loosened earth,
Under his spade the stream gushed forth,

And fast as he climbed to his deep well's brim,
The water he dug for followed him,

He shouted for joy: "I have kept my word,
And here is the well I promised the Lord!"

The long years came and the long years went,
And he sat by his roadside well content;

He watched the travellers, heat-oppressed,
Pause by the way to drink and rest,

And the sweltering horses dip, as they drank,
Their nostrils deep in the cool, sweet tank;

And grateful at heart, his memory went
Back to that waterless Orient,

And the blessed answer of prayer, which came
To the earth of iron and sky of flame.

And when a wayfarer, weary and hot,
Kept to the mid road, pausing not

For the well's refreshing, he shook his head;
"He don't know the value of water," he said;

"Had he prayed for a drop, as I have done,
In the desert circle of sand and sun,

"He would drink and rest, and go home to tell
That God's best gift is the wayside well!"
Whittier is not the only one who has made use of Bagley's experience, for Mrs. Harriet Prescott Spofford, of Deer Island, Amesbury, has also written a poem on the same theme.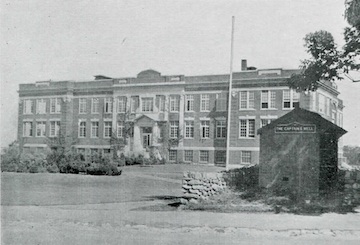 The Amesbury High School and the Captain's Well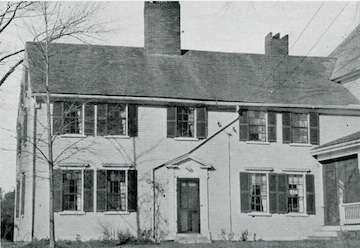 Residence of Valentine Bagley; now the Huntington Home
Bro. Hiram Foote, who was born June 24, 1816, and lived to be nearly ninety years of age, remembered Valentine Bagley and used to tell of a characteristic incident which showed the old sailor's kind-heartedness. When Bro. Foote was a small boy he and others were following an old man who was ragged and lame, and boylike were making sport of him. In time they came to the vicinity of Valentine Bagiey's house, whereupon the captain, sizing up the situation, drove the boys away, took the old man into the house, gave him a good dinner, and when rested sent him along on his journey.
Bagley's residence was the big house formerly owned by his mother now occupied by the Huntington Home just beyond the Well. Across the street was the Academy where the Lodge met for many years. Bagley was a Proprietor of that institution. Around the corner on the Haverhill Boad was the Sandy Hill Church where the Lodge sometimes held its celebrations. There had been at least one other church in that vicinity, a Presbyterian Church, which did not survive. It stood near where the residence of Mrs. B. A. Childs now is. Before the Academy was built, an attempt was made to move this church building across the street to be fitted up for the Academy, but this proved impracticable and the building ultimately became Valentine Bagley's barn and continued in use as a barn until a few years ago. Bartlett's Corner, as the neighborhood is called, was a busy place then and Capt. Bagley was its dominating citizen.
In 1818 he opened a public house in the old homestead, hanging out a diamond shaped swinging sign bearing the inscription "V. Bagley 1818." I have heard that the house was called "The Diamond" but have not been able to verify this. It is particularly interesting because Enoch Bagley, a relative of Valentine's, commanded a vessel named The Diamond. In later years he took up the freighting of goods to Boston over the road and thus established the first express from Amesbury to Boston.
He received all three degrees in St. Mark's Lodge, June 6, 1820, and was admitted to membership November 14, 1820. He was the first Treasurer of Warren Lodge and served in that capacity for many years. He was also one of the "faithful of the Craft" and seems to have been on hand whenever there was need. He died at a critical time for the Lodge, January 20, 1839, and there is a tradition that the Lodge turned out in full regalia for the funeral, the only public appearance during those times. I have tried to verify this but without success. Lowell Bagley in his diary records both the death and the burial but says nothing of the Lodge or whether he himself was present.
August 12, 1891, his daughter Anna C. Bagley, through Bro. Horace G. Leslie, presented the Lodge with an oil portrait of her father. It was gratefully received and acknowledged and has ever since been a cherished possession of the Lodge. In the fire of 1898 it and the painting of Capt. Samuel Fowler which hangs in the banquet hall were badly cooked. The Bagley portrait was retouched and is with us today, with a piece of the original chain of the Captain's Well presented by Bro. Daniel Mabb, October 7, 1907.
"Back to the ancient earth's brown dust,
Valentine Bagley went long ago,
But the secret and crystal currents,
still In the depths of his well forever flow.
And sweet as the violets round it grow
And the wayfarer's blessing about him blow.
Young footsteps come, old footsteps go,
You may be dust in your turn, but still
Will your name the people's memory thrill!
LOWELL BAGLEY 1784-1863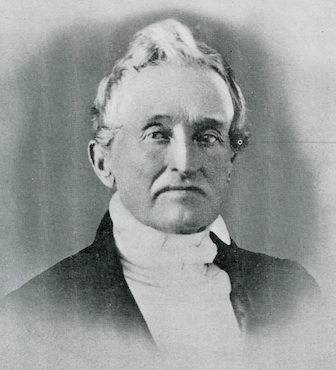 Lowell Bagley was born February 2, 1784, for in his diary he writes February 2, 1846, "I am 62 years old this day.
His house on Main Street at the Ferry is almost directly across the street from the Old Ladies Home, and here Mary Baker G. Eddy, the Christian Science leader, subsequently lived, with his daughter Sarah. This house is now the property of Mrs. Mary B. Longyear, of Brookline, Mass., who is restoring it as a memorial to Mrs. Eddy.
When Mrs. Longyear took the house there were found in it several volumes of a diary kept by Lowell Bagley covering many years. In it he recorded all of his activities and business transactions, his financial affairs, his religious and philosophical theories, and all of the neighborhood news and gossip. This diary has been carefully scanned for Warren Lodge data and although not a great deal has been secured one or two valuable items have been found.
Bagley, like Dorr, was a Justice of the Peace and much of his time was taken up in the hearing of small civil causes and the issuing of writs. In addition to this he settled estates and looked after other probate matters. He also had a small neighborhood store in which he sold all kinds of household commodities and some groceries and provisions. An interesting part of his diary is the careful enumeration of the price of everything. It makes interesting but heartbreaking reading for the purchaser of today.
He was a public official in the town of Amesbury, serving as Selectman and in other capacities. Safe, sound, and conservative, he was not a leader but a good worker.
His Masonic degrees were received in St. Mark's Lodge, the first degree July 25, 1820, and the second and third August 1, 1820, on which latter date he was also elected to membership. He attended the preliminary meeting of Warren Lodge, August 30, 1822, and was selected as the Senior Warden for the Lodge when chartered. We know of this meeting only through his diary. He was also present at the first meeting, held December 25, 1822.
He records various Lodge items in 1823, including an account of the Constitution of the Lodge June 24, 1823. September 9, 1823, he visited the "Royal Arch Grand Chapter at Newburyport and dined with them at Pearsons Tavern . . . free of expense, by invitation from the Committee of Arrangements. October 6 of that year he records a public installation of Warren Lodge; "had the ladies present, they were much pleased." December 3, he attended the funeral of Enoch Pike, Secretary of St. Mark's Lodge, who was buried with Masonic honors.
In 1824 he was elected Master, but at the next meeting he declined to serve and was not installed. In 1825 he was installing officer, and in 1828 he was elected Secretary. June 24, 1834, he records the sale of the Lodge furniture and his purchase of some of the items. Valentine Bagley's death and funeral in 1839 are noted by him, but without comment or further information. In April of that year he notes the receipt of a letter from William O. Mills, of Wisconsin Territory, one of the other Charter members. He was at the 1841 meeting at S. Buswell's and recorded it in his diary. In 1844 he enters the death of E. Dorr, March 27, 1844, and states that he attended the funeral April 2. June 9, 1846, he visited St. Mark's Lodge and describes it as "the first time for many years." Later in this year he was elected Master of Warren Lodge, the first election after the break. There is no record of any other meeting while he was in office.
June 26, 1849, he records, "I attended the celebration of St. John's Day and acted as a member of the Grand Lodge and wore the Jewel of the Grand Sword Bearer. There was a great turn out and an immense concourse of spectators." October 14, 1850, he installed the officers of Warren Lodge at a public installation.
After this he gradually drops out of sight. His various relations to the Lodge should have made the members willing to overlook any ordinary shortcomings, but November 20, 1861, without anything appearing further of record, the Lodge voted to suspend him for non-payment of dues. I find no later reference to him in the records.
He died February 26, 1863.
The centenary book contains numerous excerpts from his diary, which are not included here.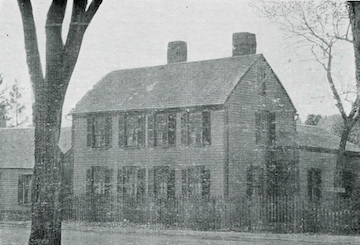 Lowell Bagley's Residence
JOHN COLBY 1790-1839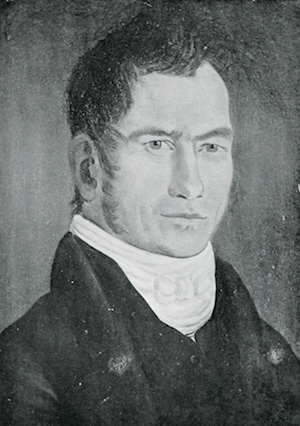 John Colby was born in Salisbury, Mass., March 27. 1790. He lived at Salisbury Point in the second house from Clark's Lane towards Powow Eiver Bridge where his daughter Anna E. Colby resided until a few years ago. By occupation he was both a mariner and a ship carpenter and his death February 18, 1839, was due to an accident in which a heavy stick of timber fell on him in one of the shipyards. He was a man of some prominence and was the first Junior Warden of the Lodge. For several years prior to 1825 he was captain of the local artillery company which was a unit of the State Militia. Several other members of Warren Lodge are to be found on the roster of the company.
A John Colby was Crafted and Raised in St. Peter's Lodge, March 4, 1822, according to a receipt which is in existence. This was probably the same man.
Bro. Colby left several children, of whom two, Edwin J. Colby and Elbridge G. Colby, both members of Warren Lodge, became sea captains and able and prominent men. One of them, Bro. Edwin J. Colby, figured in an incident with another resident of Salisbury, Capt. William H. Merrill, which is one of the sea stories of our community. An account of it was written and published some years ago by Capt. Eben P. Dorr, of Buffalo, N. Y., a descendant of Edward Dorr.
In 1854 Capt. Colby was in command of the ship Atlanta sailing from New Orleans to Liverpool with cotton. Captain William H. Merrill, who was second mate, was in the cabin sick with fever and Capt. Colby was standing the second mate's watch. It was two o'clock in the morning and squally with rain. Some of the sails had been clewed up and the men who had gone aloft to furl them reported that the fore topgallant mast was sprung. Capt. Colby then went aloft to see for himself the extent of the damage. While in the rigging he gave orders to ease the stays, but when they were let go the mast sprung back with such force that the captain was thrown off. In his fall he struck one of the yards and went overboard. He came up under the lee quarter and as the ship drove by he shouted to the helmsman, Hard down your helm; throw the life buoy overboard." Both orders were instantly obeyed and the captain was able to reach the buoy. In the meantime the steward had shouted down the companionway "The captain's overboard!" The sick second mate rushed on deck unclothed except for his shirt, jumped into a quarter boat, and with a crew of volunteers set out in the darkness to find the captain. As the men rowed, the mate stood on a thwart, the better to see across the waters, and kept up the search until the men, feeling that they were themselves in danger, insisted on turning back. Captain Merrill unshipped the tiller and threatened to brain the first man who mentioned such a thing again. The search was continued and ultimately Capt. Colby was picked up clinging to the life buoy. Capt. Merrill was an uncle of Wor. Bro. Frank H. Merrill.
The Centenary book contains the following note: "John Colby's Death. Lowell Bagley's diary has the folowing entries:-
Feb. 18, 1839: - "John Colby was killed at Salisbury point this forenoon by a large stick of timber falling onhis head, he died almost instantly. He knocked out the blocks that were under the timber nearly as high as his head and undertook to dive under it, as he thought it was coming toward him when it fell upon his head and crushed it to pieces. It is considered by those present to be carelessness. He was quite a business man."
Feb. 20, 1839: - "I attended the funeral of John Colby - he was carried into the meeting house on the point, and a sermon preached-"
John Colby's gravestone contains the following:
At morning prayer and praise breathed from this day -
At noon, a cold and mangled corpse he lay -
Wife, children, friends, deplore not his release;
How blest the change from ease and sin to peace.
To perfect bliss; - beneath a brighter sky,
He lives and loves no more to weep and die,
Mortal heed earnestly the warning given -
An hour may fix thy state in hell or heaven.

John Colby's Residence, 1862 The original photograph, which in 1923 was in possession of Mrs. Ada J. Williams,
has on its back the following inscription: "The Spitzenfiels House. Since 1817 known as the 'Colby House'
being the property of John Colby and occupied by him and his family.
Those represented in the picture are: Mrs. Dolly Bagley, widow of Mr. John Colby;
their son, Captain Elbridge Gerry Colby (at the gate); their daughter, Anna Edwards Colby;
their grandchildren, daughters of Captain Edward J. Colby, Joanna A. (Colby) Kelton,
Ada J. (Colby) Williams, and a neighbor, Mr. Timothy Swett. Photograph taken in the spring of 1862."
WILLIAM HACKETT BAGLEY 1799-1856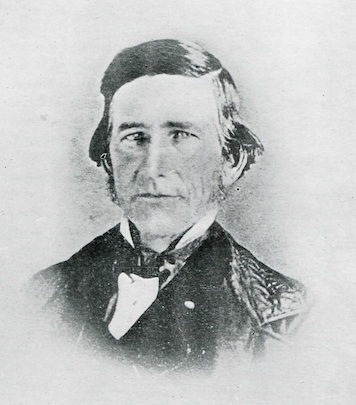 William Hackett Bagley, the youngest of the Charter members, was born at Salisbury Point June 2, 1799. The first trade that he learned was that of carriage trimmer; he was afterwards a shoemaker and still later a ship carpenter. He also was a Deacon of the Rocky Hill Church and when the Union Congregational Society was formed he was the first Deacon of that church.
He was Selectman of Salisbury for several years and was also "Representative in the General Court.
His Masonic career began in St. John 'a Lodge, Newbury -port, where he received the Master Mason degree March 19, 1821, and was admitted to membership the same night. In Warren Lodge he held various offices and was a Warden but never Master. He was prominent in the affairs of the Lodge and both before and after the eleven years of inactivity was regular in attendance and was called upon for many kinds of service. He was present at the auction June 24, 1834, and purchased one of the chairs belonging to the Lodge which has come down to his grandson and is one of those present today. July 28, 1852, he was by vote of the Lodge exempted from paying any further dues.
Bro. Bagley died October 18, 1856, leaving a widow, four daughters, and two sons. Two of the daughters are now living, both past ninety years of age, of whom one is Mrs. Dolly C. Ames, ninety-one years of age, the mother of Bro. Horace T. Ames, the present Treasurer of the Lodge.
OTHER CHARTER MEMBERS
Of the other Charter members of Warren Lodge there is not much available information.
GEORGE W. BAGLEY 1793-1843
George W. Bagley was born at Amesbury, October 27, 1793. He married Clarissa H. Morrill, of Salisbury, N. H., and died in Lowell, Mass. He became a member of St. Mark's Lodge November 14, 1820, and was Worshipful Master of Warren Lodge in 1826.
From the Centenary volume:
In 1823 George W. Bagley was by occupation a blacksmith. Some years later Lowell Bagley records buying articles of hardware from him which indicates that either he was still a blacksmith or that he kept a hardware store. He disappears from Amesbury about 1840. There is a note in the Grand Lodge card index that he died in Lowell, Mass., but no authority has been found for this statement. In 1843 administration was granted on his estate in the Hillsborough County Probate Court, New Hampshire, and in the probate papers he is described as "of Nashua, N. H.", but there is no death record at Nashua. A search at Concord, N. H., did not locate such a record elsewhere in New Hampshire.
April 14, 1843, Lowell Bagley writes, "I received a letter from Col. Wm. Boardman Administrator on the Estate of G. W. Bagley of Nashua respecting his land."
He was a brother of Ignatius Bagley, a member of Warren Lodge, who also removed from Amesbury about 1840 and in 1846 was living in New Hampshire.
BENJAMIN ROBERT DOWNES 1798-1871
Benjamin R. Downes was originally a resident of Newburyport and received his degrees in St. Mark's Lodge, the first two April 25, 1820, and the third and membership May 23, 1820. He is named in the Charter as one of the original members of Warren Lodge and his name is signed to the By-Laws, yet November 23, 1825, there is the following record, "Voted that Bro. Benjamin R. Downes who presented a petition at a previous meeting to become a member have liberty to withdraw it." This may be another man of the same name. September 7, 1870, a communication was read in Warren Lodge from Merrimack Lodge of Haverhill, Mass., requesting aid for Bro. B. R. Downes, a former member of Warren Lodge.
From the Centenary volume:
Benjamin R. Downes was born in Newburyport, Mass., Sept. 15, 1798 and died at Bradford, Mass., July 6, 1871.
NATHANIEL FIFIELD 1785-1859
Nathaniel Fifield was born in Salisbury, Mass., in January, 1785. He received his degrees in St. Mark's Lodge, the first August 4, 1812, the second January 4, 1814, and was Raised April 22, 1822. He was a regular and constant attendant at Warren Lodge and after serving in almost every office except that of Master was elected Treasurer. He was expelled by vote of the Lodge December 26, 1849. He died September 14, 1859, and is buried in the Salisbury Point Cemetery.
JAMES HORTON 1782-1861
James Horton was born at Newburyport, November 26, 1782. He was originally a member of St. Peter's Lodge and was a Charter member of St. Mark's Lodge. For many years he was Superintendent of the Salisbury Manufacturing Company which was the predecessor of the Hamilton Woolen Company and the present Merrimac Valley Power & Buildings Company. When the Branch Railroad, now the Boston & Maine line to Amesbury, was first projected, he was one of the incorporators. He died in Newburyport, March 4, 1861.
DANIEL LONG 1778-1853
Daniel Long was a member of St. Mark's Lodge, initiated April 6, 1813, Passed and Raised May 4, 1813, membership September 6, 1813. At one time he was a hatter and had a shop at the Ferry, later he kept a tavern on Main Street on the site of the American House. In 1823 John Gilman built his tavern there so that Long's occupation was before that. A Daniel Long later had a store in Market Square near Elm Street, where the Rowell Block was afterwards built. He was also a Deputy Sheriff at one time; about 1850 he seems to have been in straitened circumstances as the Lodge several times gave him aid.
From the Centenary volume:
Daniel Long was born at Chester, N. H. in 1778 but there is no record there of his birth. He died at Salisbury, Sept. 6, 1853, "aged 75".
WILLIAM OSGOOD MILLS 1788-1854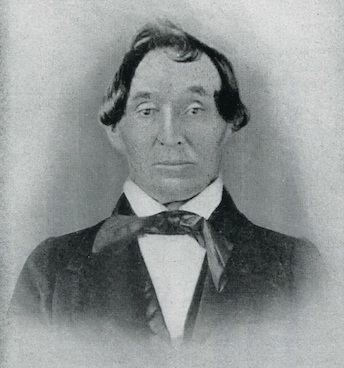 Captain William O. Mills was born in Salisbury. There is nothing to indicate his Masonic record. He is always called captain and was probably a seafaring man as his record of attendance is very uneven and there are periods when he was not present for a considerable time followed by a spell of frequent appearances. He was also employed by the Salisbury Manufacturing Company. He went to Wisconsin and is recorded by Lowell Bagley as writing to the latter from that locality in April, 1839. He died at Kaymond, Wisconsin, September 27, 1854.
DAVID NAYSON 1788-1854
David Nayson was born at Hampton Falls, N. II., in 1788. He received his degrees in St. Mark's Lodge, all three of them March 2, 1819; he was admitted to membership April 22, 1819. He was connected with one of the mills on the Powow and was a party to litigation over water rights there. He died at Epping, N. H., January 15, 1854.
From the Centenary volume:
It is interesting to note that the cut of the Sandy Hill Church ... is signed "D. Nayson".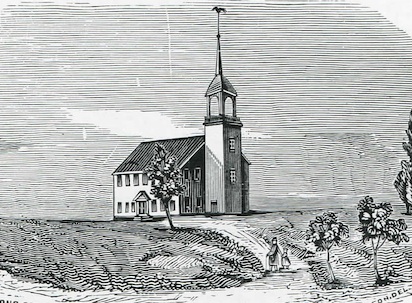 Sandy Hill Meeting House
SAMUEL WALTON 1771-1847
MM before 1822, St. John's (Newburyport)
Charter Member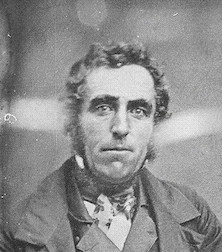 From Ancestry.com
Samuel Walton was a mariner and is referred to as "Captain." Rt. Wor. Bro. Roberts thought that he probably received his degrees in St. John's Lodge, Newburyport.
From the foregoing it will be seen that by far the largest number of the Charter members were members of St. Mark's Lodge.
THE LODGE FROM DECEMBER 25, 1822 UNTIL JUNE 24, 1823.
The first recorded meeting of the Lodge after the Charter was held "at Bro. Nathan Long's Hall," December 25, 1822. Eleven of the Charter members were present, the absent ones being Valentine Bagley, William O. Mills, and James Horton. The only other Brother present was Joseph Spokesfield who apparently became a member that night although there is no record of such action. Four petitions for the degrees were received.
After voting to accept the By-Laws which had been prepared the Lodge voted: "To name the room preparing for the accommodation of the Warren Lodge, Franklin Hall."
It was then voted to hold the Lodge meeting in 1823 "in the Franklin Hall."
These votes passed in 1822 clearly presuppose the existence of a Franklin Hall. It has always been assumed that they refer to the Franklin Hall which was in the brick building in Market Square on the southerly side where the Associates Block has since been built. That building before its removal in 1916 was occupied by the Amesbury Publishing Company and before that by the Amesbury Villager, of which W. II. B. Currier was editor for many years.
In the upper part of that building, where in the latter days of its use the Amesbury Publishing Company had a pressroom and job shop, there was originally a hall which was always known as Franklin Hall. It was the first public hall in the center of the town and was much in use in the early part of the last century. Practically every religious society in town met there in its infancy before acquiring a home of its own. It was used by various societies and for every kind of gathering.
The members of Warren Lodge have always claimed this hall as the first definite home of the Lodge. So far as I know this claim has not been questioned until now, and it would not be questioned at this time if I had not stumbled upon a statement that the building was erected in 1827. This started me on a hunt for further information and, not finding anything definite, I applied to Edward A. Brown at the Public Library who found for me an editorial in the Villager for January 6, 1881, apparently written by W. H. B. Currier, which contained the definite statement that the date of its erection was 1826. He enumerates the occupants of the hall and does not say anything about its use by Warren Lodge. Mr. Currier is an authority who cannot be disregarded.
A further search has brought to light in the Essex Institute at Salem a plan made in 1825 for the Amesbury Nail Company which shows the buildings along the Powow River and in the center of the town. It seems to have been carefully and accurately made and contains buildings which we know were erected as late as 1820 and 1823. The space where Franklin Hall should be is entirely blank. Apparently the building was not there in 1825, which fits in with the statement in the Villager.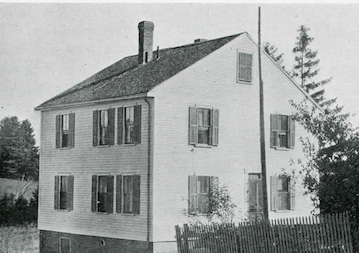 Ezekiel Barnard's House
This house, now on East Greenwood Street, originally stood on Main Street
just below East Greenwood Street and contained Franklin Hall, the first
regular meeting place of the Lodge.
The location of the Franklin Hall referred to in our record book remains a matter to be determined. February 26, 1823, the record states that the Lodge met there. No place of meeting is stated in the records after this until January 14, 1824, when it is again recorded that the Lodge
met in Franklin Hall. The record of the meeting of Decem
ber 7, 1823, says that the Lodge met "at ____ Hall", leaving out the name.
Apparently Franklin Hall was not a satisfactory place, for October 22, 1823, the Lodge voted "to pay Ezekiel Barnard a full year's rent and relinquish the hall." This may indicate that the hall, wherever it was, was either owned or controlled by Barnard who was then Tyler. His residence was on Main Street just below East Greenwood Street, where the house of Mrs. E. A. Childs stands. The house he occupied was moved to East Greenwood Street when the Childs house was built and is there now. Franklin Hall may have been in that building. He was a dancing master and may have had a hall in his house for the convenience of his pupils. As will appear later, there is a well-defined tradition that the Lodge held meetings in this house.
The Centenary volume contains the following note:
Franklin Hall. In Lowell Bagley's diary for May 26, 1823 there is this entry: "Removed our Masonic Lodge from Ezekiel Barnards to the Academy Hall, on account of room." This entry seems definitely to establish the fact that Franklin Hall was in Ezekiel Barnard's house. The removal referred to may have been a temporary removal because of the approaching Constitution of the Lodge or it may have been the beginning of the permanent tenancy of the Academy. This may explain the vote of the Academy Proprietors Dec. 3, 1823 which contained the wordds, accidentally omitted in the Historical Address. "Rent to commence from the 23d day of June 1823." From Feb. 26, 1823 to March 17, 1824 when Warren Hall is first mentioned, no place of meeting is specified, except for the meeting of Jan. 14, 1824, which was at "Franklin" Hall. It may be that both halls were used, Franklin Hall for ordinary meetings, and the "Academy" Hall when the attendance was larger, and that this continued until the decision to give up the smaller hall entirely. This may be why the Proprietors of the Academy dated the rent back from December to June.
At the second meeting, held January 28, 1823, Jacob Brown, Esq., was initiated by authority of a Dispensation from the District Deputy Grand Master.
At the third meeting January 29, 1823, two of the petitions received at the first meeting were withdrawn. That of Ezekiel Barnard was accepted and he was Initiated. He became one of the stalwart members of the Lodge and served as Tyler for several years. The fourth petition, that of Daniel Blaisdell, was not acted upon until two months later, when he was accepted, but there is no record that he ever appeared for the degrees.
At this meeting of January 29, 1823, Moses and James Nichols were admitted to membership. They were residents of what is now Merrimac and were Master Masons who had been Raised in St. Peter's Lodge, but they do not appear to have been members of that body. The petition of Stephen Brown was received to be Crafted and Raised. There is no record of the Lodge in which he was Initiated.
At the next meeting, February 26, 1823, Jacob Brown, the first initiate, was given leave to withdraw. Stephen Brown and Ezekiel Barnard were Crafted and Raised and were the first Master Masons made in Warren Lodge.
During the next few months things moved smoothly and rapidly. There were meetings March 26, April 1, April 15, April 23, May 7, May 14, May 21, May 26, May 29, June 3, June 10, and June 20, making sixteen up to that time since the granting of the Charter. In all, according to the record book, there were twenty-six petitions received, three of which were withdrawn and one the disposition of which is not noted; twenty-two applicants accepted; twenty candidates Initiated, two applicants who had been accepted not being recorded among the initiates; twenty-one Crafted, including Stephen Brown, who had been initiated elsewhere; twenty-one Raised; and twenty-two admitted to membership, including three who had been Raised elsewhere, Stephen Brown who had been Raised not having applied for membership. These twenty-two admitted to membership with the fourteen Charter members should have made a total membership, June 24, 1823, of thirty-six. There are, however, forty signatures to the By-Laws preceding that of Thomas Hoyt who was the first to become a member after that date. One of these is that of Jonathan B. Sargent whose petition was received February 26, 1823, who was Initiated April 1, Passed May 7, and Raised May 21. As he appears elsewhere among lists of members and is in the Secretary's cash book as paying membership fees, he was undoubtedly admitted to membership May 21, but was overlooked by the Secretary in the report of the meeting. Of the other three extra names, Joseph Spokesfield is recorded as present at the meeting, December 25, 1822, but there is absolutely nothing to show when or how he and David Bayley and Caleb Mitchell were admitted as members, yet their names are signed to the By-Laws early in the list and they are at various times referred to as members.
The complete membership of the Lodge, June 24, 1823, after correcting the record book by the signatures to the By-Laws should be as follows: Charter members: Edward Dorr, Benjamin Sawyer, Lowell Bagley, John Colby, Nathaniel Fifield, Valentine Bagley, George W. Bagley, William II. Bagley, Benjamin R. Dowries, James Horton, Daniel Long, David Nayson, Samuel Walton, William O. Mills.
Members who received degrees in Warren Lodge: Ezekiel Barnard, March 26, 1823; Henry Morrill, Jr., April 15, 1823; Ignatius Bagley, March 26, 1823; Samuel Winkley, April 1, 1823; John Christian, May 14, 1823; Joseph Bartlett, May 14, 1823; Daniel Weed, May 14, 1823; Jona B. Sargent, Enoch Winkley, May 29, 1823; Samuel Winkley, Jr., May 29, 1823; True Colby, May 29, 1823; Jonathan Gove, May 29,1823 ; William Tukesbury, May 29, 1823; Dudley S. Locke, June 3, 1823; Rufus Hills, June 20, 1823; Humphrey Nichols, June 20,1823 ; Edmund Whittier, June 20, 1823; John Sargent, Jr., June 20, 1823; George Offutt, June 20, 1823; Joseph Sargent, June 20, 1823.
Members who received degrees elsewhere: Moses Nichols, Jr., admitted January 29, 1823; James Nichols, admitted January 29, 1823; Joseph Spokesfield; David Bayley; Charles B. Patten, admitted June 10, 1823; Caleb Mitchell, Received degrees in Warren Lodge but did not petition for membership: Stephen Brown, Raised February 26, 1823.
All of this activity of sixteen meetings and twenty-six members in six months was undoubtedly in preparation for the Constitution of the Lodge, which occurred June 24, 1823. From the amount of work that was done they must have wished to make a good showing, but Rev. Bro. Sawyer, the Secretary of the Lodge, dismisses the occasion with one line at the foot of page six of the record book: "Warren Lodge consecrated in ample form, June 24, 5823."
This is the only record that Warren Lodge has of the event, but the next night at its regular meeting, June 25, the Lodge voted:
"That our Secretary present the thanks of this Lodge to our Most Worshipful Grand Master of Grand Lodge of Mass. for his truly Masonic charge delivered to us on the 24th inst. and request a copy for the press."
"That our R. W. Master present the thanks of this Lodge to our Rev. Bro. Benjamin Sawyer for his address on the 24th inst. and request a copy for the press."
This is all there is in our records of the first visit of the Most Worshipful Grand Lodge to Warren Lodge. A careful search has been made for newspaper accounts of the occasion, but without result except the following from the Newburyport Herald of June 27, 1823.
"We understand that Warren Lodge was consecrated and its officers installed at Amesbury, on Tuesday last, when between two and three hundred of the Masonic family were present and a large concourse of other citizens. The weather was fine and nothing occurred to mar the enjoyment and satisfaction which the day and the occasion were calculated to inspire."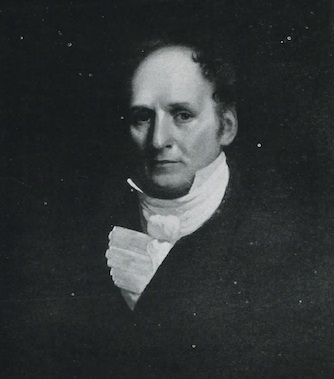 M. W. John Dixwell
Grand Master in 1822 and 1823.
The Grand Lodge record of this event is as follows:
WARREN LODGE CONSTITUTED.

"On the 24th June, A.L. 5823, the Officers of the Grand Lodge assembled at Amesbury for the purpose of constituting Warren Lodge and installing its Officers.

PRESENT:


M. W. John Dixwell, G. Master
R. W. Elijah Morse, D. G. Master, p.t.
R. W. Samuel Thaxter, S. G. Warden, p.t.
R. W. Jonathan G. Johnson, J. G. Warden, p.t.
R. W. Asa Bullard, G. Treasurer, p.t.
R. W. Thomas Power, R. G. Secretary
R. W. Thomas J. Goodwin, G. Marshal, p.t.
R. W. Joseph Richardson, G. Chaplain
R. W. Benjamin Whipple, S. G. Deacon
R. W. James A. Dickson, J. G. Deacon
R. W. Benjamin B. Appleton, Enoch Hobart, p.t., James Pike, p.t., Richard S. Spofford, p.t,, G. Stewards
R. W. Samuel B. Barrell, G. S. Bearer, p.t.
R. W. Benjamin Huntington, Joseph Eveleth, G. Pursuivants, p.t.

W. Joseph Baldwin, G. Tyler


"The Grand Lodge was opened in Ample Form and proceeded to Warren Lodge. A procession was then formed and proceeded to the Meeting House. The Lodge was then constituted and its officers installed, according to ancient form. The Most Worshipful Grand Master delivered a solemn and appropriate charge to the members of the new Lodge. After the ceremonies were closed, the procession was again formed and proceeded to a well provided table. The festivities of the day closed with great order and decorum.

The Grand Lodge was closed in Ample Form.

"Attest:
"THOMAS POWER,
"Grand Secretary."
Samuel Thaxter who officiated as Senior Grand Warden was Junior Grand Warden, and Jonathan G. Johnson acting as Junior Grand Warden p.t., was a Past District Deputy Grand Master for the Second District which at that time included Warren Lodge.
We have still another account of the proceedings. Brother Lowell Bagley enters in his Diary as follows under date of June 24, 1823:
"Warren Lodge was Installed and Constituted in ample form by the 'Most Worshipful Grand Lodge of Massachusetts.' Most Worshipful J. Dixwell, Grand Master, and all the officers of the Grand Lodge present. The day was fine and nothing occurred to disturb the harmony and good feeling which appeared throughout the whole proceedings and all were satisfied. Officers of Warren Lodge, Edward Dorr, Master; Lowell Bagley, Senior Warden; J. Colby, Junior Warden; Val Bagley, Treasurer; B. Sawyer, Secretary; George W. Bagley and B. R. Downes, Deacons, etc. The day was fine and the officers of the Grand Lodge were much pleased and gratified with everything."
This entry of Brother Bagley's is the only record anywhere of the original line of officers of the Lodge.
No one of these records tells us anything about the place where the exercises were held. Brother Arthur A. H. Whelpley has presented the Lodge with one of the original programs of the occasion and it too is silent with regard to the place of the exercises.
The program was as follows:
ORDER OF EXERCISES AT THE CONSECRATION OF WARREN LODGE.

JUNE 24, 1823.



Sacred Music—"Lord of all power."
Prayer
Music — Lonsdale.
Address by Rev. Brother Sawyer.
Music — Ipswich.
Consecration. Music — Benevociilo.
Dedication.
Instrumental Music.
Installation.
Music — Strike the cymbal.


ON THE CONSECRATION OF A LODGE.

Great source of light and love,
To thee our songs we raise,
O, in thy temple, Lord above,
Hear and accept our praise
Whilst in yonder regions bright,
The sun by day, the moon by night
Shine on this festive day,
Succeed its hop 'd design,
And may our charity display
A love resembling thine.
Unto thee, great God belong
Mystic rites and sacred song!
Lowly bending at thy shrine,
We hail thy majesty divine!
Glorious architect above,
Source of light and source of love,
Here thy light and love prevail.
Hail! Almighty Master, hail!
And the stars that gild the sky,
Blazon forth thy praise on high,
Join, O earth, and as you roll,
From east to west, from pole to pole,
Lift to heaven your grateful lays,
Join the universal praise.
May this fraternal band
Now consecrated — blest,
In union all distinguish 'd stand,
In purity be dress'd.
May all the sons of peace,
Their every grace improve;
Till discord through the nation cease,
And all the world we love.
Warm 'd by thy benignant grace,
Sweet friendship link all the human race,
Pity lodg'd within her breast,
Charity became her guest.
Then the naked, raiment found,
Sickness, balsam for its wound,
Sorrow comfort, hunger bread
Strangers then a welcome shed.
Still to us O God, dispense
Thy divine benevolence!
Teach the tender tear to flow
Melting at a brother's woe!
Like Samaria's son, that we,
Blest with boundless charity,
To th' admiring world may prove
They dwell in God, who dwell in love.
Investigation shows that in 1823 the only churches in this vicinity were the Sandy Hill Church at Bartlett's Corner, the Rocky Hill Church in Salisbury, a Baptist Church on the "East side of Back River," afterwards known as the "Dr. Brown" house and now the house where J. C. Williams, the stone-cutter lives; and possibly a meeting place used by the Universalist Society. The building now occupied by the Main Street Congregational Church was not built until 1826 nor the Baptist Church on Market Street until 1837. The first of the two churches at Salisbury Point Was not built until 1827.
In 1823 Rev. Benjamin Sawyer was preaching at Sandy Hill. All logic and reason point to that church as the building in which the exercises were held, but there is absolutely no evidence to support this conclusion.
THE LODGE FROM JUNE 24, 1823 UNTIL 1835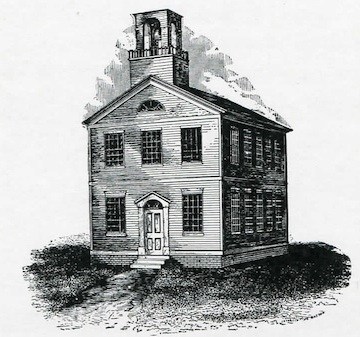 The Academy
Occupied by Warren Lodge from 1823 until 1834.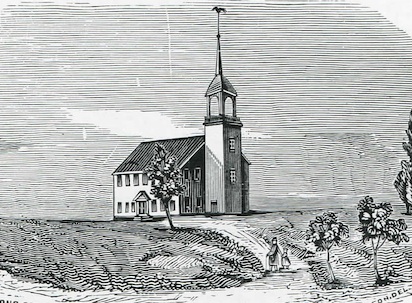 The Sandy Hill Meeting House
Rev. Benjamin Sawyer preached there in 1823,
and the exercises of June 24, 1823, were undoubtedly held there.
From June 24, 1823, until the cessation of meetings in 1835 the Lodge held one hundred and fifty-seven meetings.
During that time it received fifty-nine petitions of which four were withdrawn and three rejected. Fifty-four candidates were Raised including two who had been Initiated elsewhere; thirty were admitted to membership. The signatures of all the members admitted are to be found attached to the By-Laws, except that of Joshua B. Carter who apparently never signed.
All of this work was done before 1830. The last petition was received November 19, 1828, and the last work was January 20, 1829, when a candidate was Passed and Raised.
The Lodge had started out after its Constitution in fine style. Petitions came in steadily and apparently there was much interest. In October, 1823, the Lodge voted to pay a full year's rent and relinquish Franklin Hall. At the next meeting there was a vote, "to see if Liberty can be obtained to make such alterations in the Hall of the Academy as is necessary for our accommodation." A Committee was appointed for this purpose.
In the record book of the Proprietors of the Amesbury and Salisbury Academy there is the following:
"Decem 3, 1823 Met according to warning.

"Voted that the Proprietors will rent the uper part of the Academy to the best advantage-
"Voted to choose a committee for that purpose as above.
"Voted William Bartlett, James Whitier, & Benj. Evans Esq. Bee this committee.
"The committee above reported that they had agreed with the Committee of the Warren Lodge to rent them the uper part of the Academy for Twenty-five annuly, during the pleasure of each party."
Undoubtedly the vote meant the 24th day of June, 1824, instead of 1823, as the matter did not come up in Warren Lodge until October, 1823. The delay in beginning the term was probably on account of the necessary repairs referred to in the vote of the Lodge.
There are two other items in the Proprietors' record book relating to Warren Lodge.
One is dated November 17, 1827, "Reed of Capt. Val. Bagley treasurer of the Warren Lodge one year rent from 1825 to 1826 — $25.00. David Lowell Prest & Treasurer On the last page of the book is a solitary item, apparently entered as a memorandum to fix a date. "1834 June 24, This day the Warren Lodge gave up there rented part of the Academy by notifying the Committee who was chosen to receive the rents."
There is nothing to show when the Lodge moved into the Academy, but the record of the meeting of January 14, 1824, says that that meeting was held in Franklin Hall. No hall is mentioned in the record of the next meeting, but the meeting of March 17, 1824, was held in "Warren Hall" so that the change was probably made between January and March.
The Academy stood on the lot owned by the Town containing the old High School building now used for the Junior High School. The land and building were then the property of a voluntary association which is still in existence. The building was built by private subscription in 1805 and for some years a private school was kept there. According to the memorandum just read Warren Lodge occupied the upper story until .lune 24, 1834. Later the building became in bad shape from lack of attention. The Proprietors' record book shows that there was little income available for maintenance and that there were dissensions among the Proprietors. Even during the tenancy of the Lodge there were difficulties of ownership, for October 18, 1826, there is a vote, "That we pay no money for rent of this building (Academy) until we can pay the same with safety."
Two years later, October 31, 1827, it was voted, "That two years of our arrearages of rent be paid to Bro. Val. Bagley, he giving a receipt to indemnify the Lodge from the demands of any person for the same." Valentine Bagley was one of the Proprietors and more or less prominent in their affairs.
Some time after 1840 a part of the tower blew down and was never replaced. In 1870 the building was burned during a general disturbance which grew out of the attempt of one element of the townspeople to celebrate November 5 with the traditional fires, and the effort of another element to prevent the celebration. The relation of November 5 to Guy Fawkes and the gunpowder plot had long been lost sight of, but for years the anniversary had been celebrated locally as "Pope's Night." That year an attempt was made to stop it. Fires were put out as soon as they were started; in one instance persons who entered a yard to extinguish a fire were shot at. In the midst of the excitement someone set fire to the Academy building and it was entirely destroyed.
A correspondent in one of the local papers, probably Joseph Merrill the local historian, has written of the occupancy of this building by the Lodge:
"The writer remembers seeing Ezekiel Barnard standing Sentinel at the foot of the stairs with a drawn sword. There was little need of the sword for his solemn determined looks with never a smile was sufficient to frighten the boys away."
October 18, 1826, there is a vote:
"That a committee be chosen to confer with St. Peter's Lodge as respecting the altar and floorings belonging to said Lodge with power to purchase them if necessary.
There is nothing to show whether or not the purchase was ever made. St. Peter's went out of existence about that time and Warren Lodge may have bought the articles in question.
For a few years the meetings at the Academy were many and busy. Bro. Nathan Chase, a Past Master of St. John's Lodge, Newburyport, was employed as a Lecturer to instruct in the work. Mental refreshment was thus provided, but the Lodge was careful to see that it did not go too far with material refreshment for in September, 1824, it was voted:
"That we dispense with refreshments at all times excepting when we have work to do, then said refreshments to consist of cider, bread, cheese, and fish."
February 8, 1825, the Lodge entertained the Newburyport Encampment, Knights Templars. According to tradition this meeting was held in the Sandy Hill Meeting House and the pews were planked over to make a platform for the guests. Joseph Merrill attended a celebration in that building about this time and this may have been the one.
I have found no account of this other than the one in the Newburyport Herald for February 11, 1825.
"On Tuesday evening the Newburyport Encampment of Knights Templars, invested with the appropriate insignia of their order, visited Warren Lodge of Ancient York Masons, at Amesbury, and were received by the Right Worshipful Master, Officers and members of that respectable Lodge with fraternal welcome. They were accompanied by several respectable gentlemen of the clergy of this and neighboring towns, and by several members of the Masonic family. By special invitation from Brother John Gilman, the doors of whose new spacious hotel were gratuitously thrown open on the occasion, they partook of a sumptuous entertainment, previously prepared by him in his best style, and in which his accustomed liberality was richly displayed."
Since the centenary celebration Mrs. Mary F. Hudson, widow of Rt. Wor. Bro. Horace G. Hudson, has presented the Lodge with a copy of the order of exercises for this occasion. Formal exercises were held at the church in South Hampton.
There are some things about this item, its location in the paper, the climax of the presentation of Bro. Gilman's style and liberality, and the fact that under the item in brackets is the word "Communicated," which lead the reader to believe that Bro. Gilman was not averse to a little advertising.
In March, 1825, the Lodge voted to celebrate the 24th of June at the West Parish in Amesbury, now a part of the town of Merrimac. A committee was chosen consisting of members living in that vicinity. Later the Committee was instructed to procure suitable music to be paid for by the Lodge. According to local tradition it was a fine affair, but there is nothing in the records about it except a vote June 29 to pay a bill for the music amounting to $37.27.
Joseph Merrill writes of this celebration, "June 24, 1825, a celebration was held at Jamaico which the writer well remembers being present on that interesting occasion. I saw the procession as it marched to the ancient church and remember their music, a large bass viol, two violins, and some other instruments. The church was tastily trimmed and a finely carpeted staging built in front of the pulpit for seating the order."
March 12, 1890, Joseph Merrill presented Warren Lodge with the original order of exercises of this celebration. (This order of exercises or another copy of it has been found among the papers of the Lodge since the centenary celebration.)
In September, 1826, Edward Dorr who had been Master of the Lodge from the beginning, laid down the cares of that office and was succeeded by George W. Bagley. Two years before Lowell Bagley had been elected Master but at the next meeting had requested to be excused and Dorr had been elected again. In recognition of Dorr's services the Lodge voted in 1826:
"That the thanks of this Lodge be presented to the R. W. Edward Dorr for the faithful and impartial manner in which he has presided over this Lodge since its commencement and that we feel indebted to him for the high esteem in which our Lodge is held by the Fraternity and the world. And that he be requested to be present at all our future meetings and continue to watch over and instruct us in our moral and Masonic conduct. At which the R.W. made an appropriate and affectionate reply. Tilings did not go so smoothly the next year. In April, 1827, the entry is simply that the Lodge opened and closed in due form. The February and March entries had also been brief. No business seems to have been done after the January meeting. September 3 came the annual meeting and the election and Edward Dorr was again elected Master. From this time on he served continuously as long as meetings were held. Immediately after his installation activity began once more. In the year that he was out of the chair three petitions had been accepted; in this year ten were accepted.
It was only a spurt, however. Only one more petition was received in 1828. The accounts of the meetings in 1829 grow shorter and shorter. August 12 of that year there was a vote to dispose of our useless furniture among ourselves." October 4 there was a vote to sell "our useless furniture'; and a statement that it was sold and netted the Lodge $4.63.
In 1830 appears the first record that the Lodge did not open or close because of the small attendance. In February of that year, the Secretary was instructed to visit all delinquent members and request payment, he to be paid for his time.
March 10, 1830, only two members were present.
April 7, the Lodge did not open or close.
July 7, three were present.
December 2, the Lodge did not open.
December 29, although some members appeared it did not open "in consequence of the absence of the Tyler on a journey."
February 23, 1831, the Lodge did not open.
June 6, 1831, the Lodge voted to celebrate St. John's Day at South Hampton (N.H.).
For June 24 there is this entry:
"Met at the house of Parker Merrill, Esq., in South Hampton & proceeded to celebrate the anniversary of the nativity of St. John the Baptist in common form.'"
From this time on the meetings when anything was done grow more and more infrequent and there begin to be gaps when there are neither meetings nor records.
June 24, 1834, the Lodge voted to sell its furniture. This was when tlie Lodge moved out of the Academy. Such a sale actually took place. Lowell Bagley notes under that date, that he "paid 4/6 for 3 glass lamps and a green window shade at the sale of the Lodge furniture."
Our Treasurer, Bro. Horace T. Ames, has in his possession one of the chairs belonging to the Lodge which through this sale was acquired by his grandfather William H. Bagley. Through the kindness and efforts of Bro. Ames, this chair and one of its companion pieces formerly belonging to his uncle, Bro. Timothy H. Bagley, are loaned to us today and are visible reminders of the early days of the Lodge.
December 5, 1834, at a meeting held at Edward Dorr's house at which twelve members were present it was voted, "that Bro. John Colby be a committee to represent the Lodge at the next communication of the Grand Lodge & that he make all enquiry proper to be made at the Grand Lodge respecting the character and standing of Warren Lodge and how many Lodges are now under the jurisdiction of the Grand Lodge."
The reason for such a vote is not apparent but some inference may be made from the Grand Lodge record of December 10, 1834, which contains the following:
A communication from Warren Lodge was read in the Grand Lodge and referred to a committee. The committee reported, "That the District Deputy Grand Master and the Representatives of Warren Lodge have been heard (and a satisfactory explanation has been made) and advise that the relations between Warren Lodge and the Grand Lodge continue in good standing, the former having amicably paid its dues."
December 17, 1834, the Lodge "met agreeable to adjournment," "Heard the report of Bro. Colby, a committee chosen at last meeting. Voted to accept said report."
After this the Lodge began to suspend meetings, then they cut the number from twelve to four a year. There was one January 14, 1835, and another October 7, 1835, when there was a vote to provide refreshments for the next meeting of January, 1836. Apparently this was never held. The next record in the old book is for September 21, 1846. We know from another record that there was a meeting in 1841, but it was an informal affair. In September, 1846, came the first attempt to revive the Lodge. Many changes had taken place. Edward Dorr had died. Valentine Bagley had died. Benjamin Sawyer seems to have lost his interest. Nevertheless there was still life and energy left in the organization. The attempt in 1846 was not successful, but May 31, 1848, another attempt was made, a new set of officers elected, and Warren Lodge began again to function. From that time on its record is continuous. There were times when it moved slowly, but it never entirely lost its momentum again.
The Brethren who received their degrees in Warren Lodge upon petition between June 24, 1823, and 1835 with dates of raising are:
Wm. Bartlett, Jr., September 17, 1823 *
John Clough, November 19, 1823
Samuel Buswell, December 17, 1823 *
Thomas Hoyt, January 14, 1824 *
William Bagley, March 18, 1824
William Brown, March 18, 1824 *
Moses Collins, March 18, 1824 *
Timothy Martin, March 18, 1824
Joseph Young, March 18, 1824
Edward Eastman, May 26, 1824
Jacob Rowell, May 26, 1824 *
Moses Currier, May 26, 1824 *
Samuel Kendrick, June 18, 1824 *
John O. Hoyt, June 18, 1824
Charles L. Allen, June 22, 1824 *
John Colby, June 22, 1824
George W. Jackman, June 22, 1824
David W. Jackman, June 22, 1824
Timothy P. Morrill, February 8, 1825 *
Joshua B. Carter, March 2, 1825 *
Henry Morrill, May 18, 1825
Jeremiah Ryan, May 18, 1825 *
Johnson Tenney, May 18, 1825 *
Caleb Kimball, May 18, 1825 *
Rufus K. Knowles, May 18, 1825 *
Daniel Page, August 31, 1825 *
Tappan Sargent, September 28, 1825 *
Aaron Eaton, October 26, 1825 *
Benjamin Clifford, October 26, 1825 *
Barnard Jewell, October 26, 1825 *
Aaron Eaton, Jr., December 28, 1825 *
Phillips White, February 1, 1826 *
John Evans, February 1, 1826 *
John Flanders, February 1, 1826
Richard Pitts, Jr., February 22, 1826 *
Moses Eaton, April 19, 1826
Parker Flanders, April 19, 1826 *
John K. Sargent, July 19, 1826 *
Philip Osgood, November 15, 1826 *
Joseph Wadleigh, December 20, 1826 *
John Bagley, January 10, 1827
Nathaniel Ring, September 12, 1827
Williams Allen, September 12, 1827
John C Bartlett, November 22, 1827
Moses Eaton, Jr., January 2, 1828
Nathan Peters, January 2, 1828
Rufus Dow, April 2, 1828
George C. Moody, May 28, 1828
James Gould, May 28, 1828
Fordyce Lincoln, 

July 23, 1828
James Woolstenholm, September 24, 1828
George W. Pillsbury, January 20, 1829
Members admitted who had received their degrees elsewhere :
Benjamin Bachelor, Admitted June 18, 1824 *
David Currier, Jr., December 28, 1825 *
In addition to these Charles Bowles was Raised March 2, 1825, and Dyer H. Sanborn was Crafted and Raised January 2, 1828.
Those Brethren whose names are starred (*) became members of the Lodge.
EARLY LODGE PRACTICE
To one used to the Masonic procedure of today there are many things in the early records which are decidedly novel. At first glance there appears to be a frequent disregard of some of the fixed rules under which we work. In February, 1824, the petition of Moses Collins was twice put to the ballot and twice found unfavorable. At the regular meeting a month later it was again balloted on, found favorable, and he received the first degree. Moses Currier in April of the same year had a similar experience. First his petition was balloted on unfavorably and then the Lodge voted to put it over until the next meeting; in May they accepted him and gave him the first degree. John Colby had an even more unusual experience, for June 18, 1824, he was rejected, accepted, Initiated, and Passed, all in one evening.
In 1825 the petition of Aaron Eaton, Jr., was presented and he was immediately given the benefit of a ballot, accepted, Initiated, Passed, Raised, and elected to membership. The By-Laws of the Lodge provided for one month's notice on all petitions unless a Dispensation had been received. In this last case there is no record of a Dispensation, nor is there any in the case of John C. Bartlett who had the same experience November 22, 1827. September 10, 1827, the petitions of Nathaniel Ring and Williams Allen were presented and they were accepted and Initiated that evening. Two days later they were Passed and Raised.
In explanation of those cases where a candidate was accepted after he had been originally rejected, there should be given the information that this action was not the result of carelessness or disregard of Masonic procedure, but was in accordance with the By-Laws of the Lodge. Article 4 of the original set of By-Laws provided: "No person shall be made a Mason nor a Mason become a member without the unanimous ballot of the members present when such vote may be taken. Should there be only one negative, then there shall be a committee of three appointed who will retire to hear the objections of the Brother who cast the negative; if the committee report to the Lodge that in their opinion the objection is reasonable and sufficient, the candidate shall be rejected. But if otherwise, or the objector neglects to state the reasons to the said committee, the candidate shall be accepted to be made a Mason or a member as the case may be in the same manner as though no negative had been cast."
This provision was amended out of the By-Laws, October 13, 1848, when the procedure that we follow today was adopted.
Another difference between our procedure and theirs is touched on in this By-Law just quoted. Not only was it necessary for a candidate to have a ballot on his original petition, but he also had to have a new ballot for each degree and then still another ballot before he could become a member. Not every candidate Raised petitioned for membership and it is a common thing to find among the visitors at a meeting those who had become Master Masons at the previous meetings.
The By-Laws provided that members should pay twelve cents every Lodge night to defray the expenses, "Brothers absent by sea shall be required to pay one half of the above sum." "Visiting Brethren shall pay twenty-five cents for each and every visit after the first, Masters and Wardens excepted.
The Secretary had the duty of collecting these amounts and the records show that many of the visitors failed to pay the required sums. This led to occasional difficulties and figured in a controversy which seems to have been spirited and heated but had a satisfactory ending.
At the meeting held November 30, 1825, "Brother John Colby rose and wished the Right Worshipful Master to request the visiting Brethren to withdraw as the business this evening concerned the Lodge only. He was sorry that the company of any Brother could not be agreeable at all times but he thought it necessary that the visitors this evening' should withdraw. The Right Worshipful Master said, Brothers Morrill will you have the goodness to withdraw. Said visitors (two in number both named Morrill) withdrew at the request of the Master but Brother Jona Morrill appeared offended and said, I will, but I think you have no right to make the request but I will see to it; it is not Masonic if I know anything about it. "The Right Worshipful Master then said, 'If we have committed ourselves the Grand Lodge is open.' "
Later in the evening the Lodge voted that "One of the officers represent the Lodge to the Grand Lodge at their annual communication in December next."
I do not know that the subject-matter of the next vote has anything to do with the controversy in question, but it was then voted: "That Brother Val. Bagley take into his possession the spirituous liquors belonging to the Lodge and dispose of them to the best possible advantage for all concerned and pay the proceeds to the Lodge."
In May, 1826, the Lodge again voted to send a representative to the Grand Lodge.
The matter was still smouldering for November 15, 1826, the Lodge voted:
"That the Grand Lodge be presented with the information of the refusal of Brother Jonathan Morrill to comply with our By-Laws in refusing to pay the fee due from visiting Brethren in consequence of the By-Laws being contrary to the Constitution of the Grand Lodge and un-Masonic as he savs."
There is no record in the Grand Lodge proceedings to show that this matter was ever communicated to that body, but the record does show that Warren Lodge was represented at the next two quarterly communications.
The next move was by the Lodge, for January 10, 1827, it was voted: "That Brother Jonathan Morrill be denied the privilege of visiting this Lodge until he shall comply with the requests of the By-Laws of this Lodge or be admitted by order of the Grand Lodge of this Commonwealth, or by consent of a majority of the members of this Lodge.
"Voted that the Secretary present Brother Jona Morrill with a copy of the above vote."
March 11, 1827, there is note of a communication from Bro. Jona Morrill.
Here the matter rested for many years until after the turbulent days of Anti-Masonry and the rebirth of Masonic activities after the gap of 1835 to 1846.
At the meeting of October 28, 1848, the Lodge voted, "That all prohibitions or restrictions on the books of this Lodge against Brother Jonathan Morrill be annulled."
January 17, 1849, the petition of Jona Morrill was received to become a member of the Lodge. The ballot was favorable and he was elected.
January 31, 1849, it was voted that the Right Worshipful Master for reasons given be excused from serving as delegate to the Grand Lodge and Bro. Jonathan Morrill was chosen in his place. Evidently peace had been restored.
One can understand from the foregoing that Jonathan Morrill was a man of stamina and loyal to his convictions. He came from an old line of sturdy iron workers. The first of the line, Abraham Morrill, one of the original members of the Ancient and Honorable Artillery Company of Boston, was probably the first iron worker in Amesbury and many of his descendants followed that occupation. Jonathan Morrill's father, Jonathan, was more generally known as "Ensign" Morrill and was the subject of "Quaker" Morrison's verse so well known locally:
"Ensign Morrill and his son
See the wonders they have done,
Poor old Abram down below
Little or nothing for him to do."
Ensign Morrill's shop was on the little island where the upper mill-yard now is just off Market Square. The Powow River came down in two channels with the island between. Abram Morrison had the lower part of the shop and apparently was not as busy as the Morrills above.
Jonathan Morrill was born in Salisbury, Mass., April 4, 1787, and died in Amesbury, June 29, 1862. His father, Ensign Morrill, built the Decatur, most famous of the privateers sailing out of the Merrimac. Jonathan was Master at Arms on her and when she was finally captured was imprisoned at the Barbadoes.
After the war he was engaged in fishing enterprises at the Shoals and "Eastward." About 1825 he moved to Amesbury from Salisbury and settled in that part of the town known as " Buttonwood." In 1833 and 1835 he was Representative at the General Court; he was also Selectman several years.
I do not know when or where he got his Masonic degrees. After 1849 he was an active and valuable member of the Lodge and was regular in attendance.
RECORD BOOKS AND MEETINGS
One of the cherished possessions of the Lodge is the original record book, a small volume 9 x 11 inches with cardboard covers and a leather back. The pages, of excellent paper, are unnumbered and unruled.
The first few pages are in the handwriting of Rev. Benjamin Sawyer, the first Secretary, and the records are kept in a very informal manner. Later Bro. Daniel Weed takes up the recording and gradually the records work into a form comparable with that in use today with a record of officers, members, and visitors present and of all formal action.
The meetings of the Lodge are recorded in this book continuously and regularly until June, 1834. From then on the meetings were held irregularly. The last meeting in the old grouping is that of October, 1835, at which it was voted to hold a meeting in January, 1836, but the next record on the other side of the same page is that of the meeting, September 26, 1846, "in the chamber over Henry Morrill's Store." The first book then goes on with the records of meetings as far as April 26, 1849. Practically all of these last records are in the handwriting of Philip Osgood, with the exception of (he last four before the break.
The second record book begins in the handwriting of Bro. Osgood. It starts with the record of the meeting in 1841 which is not in the first book and then goes on with the 1846 meeting and the other meetings following as in the first book. Although the substance of the two records is almost identical, the wording varies considerably at times and in one instance an important amendment to the By-Laws which appeal's in (lie first book is not in the second. In all places where there is a variance there is more detail and a fuller record in the older book. The second record book contains I he records of the meetings down through 1872.
The study of these books raises the question whether the Lodge held any meetings between 1835 and 1846 other than the one in 1841. There has always existed a tradition that the Lodge did so meet in out of the way places, in attics, on hilltops, or on Salisbury marshes. For the past several years I have constantly endeavored to get information of this practice with the following results.
I have interviewed older members of the Lodge, several of whom have since passed on, who knew personally some of these still older Brethren, and have invariably found that although they knew the tradition they had no memory of having heard any definite account of such meetings from any participant, with the two exceptions to which I shall presently refer.
The diary of Lowell Bagley for the years in question has been closely searched, and although he records minutely what he did each day T find nothing to show any interest on his part in Masonry during these years nor any record of any gathering that looks like a Masonic meeting. As he was prominent enough in 1846 to be elected Worshipful Master, he would probably have been present at some of the meetings if any had been held and would have recorded the fact.
Before October, 1835, the last meeting before the break, on account of poor attendance the Lodge had already voted to cut the meetings to four a year, but apparently had failed to hold the meetings scheduled for April and July.
As far back as January, 1880, the attendance had dwindled so that in 1830 there were six meetings when it was so small that the Lodge did not open. In 1832 there were at least four. In 1832, after failing to open for four meetings, the Lodge voted to suspend meetings from May to August and then did not open, and in September voted to suspend until December. In December the vote was to suspend until March; in March to suspend until June. June 24, 1834, came the vote to sell the furniture and a vote that the indifferent members of the Lodge who were delinquent should be dropped. The same day they gave up their meeting place. From June, 1834, until the break in the records there is apparent an inability to keep things going.
The meeting of 1841 which comes in the middle of the break was called because of the Treasurer's delinquency.
A committee was appointed with a specific duty and the meeting of 1846, five years later, does no business except to hear the report of the committee and then to elect officers. No members appear after 1846 or subsequently who were not members in 1835, hence these legendary meetings can not have done any work.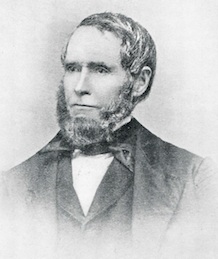 Philip Osgood
A member of the Lodge from 1826 until his death in 1873; Secretary from 1830 until 1849;
Master from 1852 until 1860; he also served as Chaplain and in other offices; during his 47 years
of membership he was in office 40 years. The Lodge undoubtedly owes to his interest and zeal
the resumption of activities in 1846 and 1848.
Philip Osgood, who was Secretary both before and after the break, had the record books and must have known about these meetings if they were held. He was zealous enough to put the 1841 record in the second book and if there had been other meetings he would undoubtedly have done the same by them.
There are in existence the cash books kept by the several Secretaries from the beginning of the Lodge which follow the record books almost identically, and show that no cash was taken in during the years in question.
On the other hand, as some evidence that there were such meetings, I am informed by Wor. Bro. Moses M. Dennett, our Senior Past Master, that the son of Bro. True Colby told him that the Lodge met during these years in the attic of True Colby's house. This house is on Pond Street, the third house from the corner on the right coming from High Street. It is interesting that there is a record of a meeting at that house, May 31, 1848, when the Lodge activities really began again; the record begins, "At a regular meeting of Warren Lodge held at the house of Bro. True Colby opened in the Masters Degree."
The Centenary volume has the following note:
True Colby's house was not on Pond Street but on Powow Street and is now (1925) numbered 5 and occupied by Charles P. Mulligan. Bro. Benjamin N. Pearson of Warren Lodge married True Colby's daughter and lived there many years. Edward A. Brown says that John Colby, son of True, told him that the Lodge met there and that during the Anti-Masonic times True Colby at one time kept the Lodge records in a secret hiding place built in one of the stairways and opened by sliding back a stair riser.
Wor. Bro. Frank H. Merrill informs me that Rt. Wor. Bro. Horace G. Hudson, who was interested in this matter, stated to him that during these years the Lodge met some times in the house of Ezekiel Barnard which has already been referred to in connection with Franklin Hall, and at other times in the house known as Dr. Brown's house on Elm Street. This house is the old Baptist Meeting House and is the second house beyond Thomas & Young's Garage. Between the time that the Lodge moved out of the Academy, June 24, 1834, and January 24, 1849, when the Lodge voted to meet at the Manufacturer's Hotel, there were meetings in various places, at Valentine Bagley's, Edward Dorr's, Samuel Buswell's, True Colby's, in the chamber over Henry Morrill's store, and in "A. Titcomb's Hall." ( A. Titcomb lived in the house on Main Street at its turn in Huntington Square which was afterwards occupied by Frederick Bagley, and later by Dr. Perkins. This house has two large white pillars in front. The "Hall" was in the attic.) There are also thirteen meetings in 1848 and 1849, the records of which say nothing about the meeting place. It is possible that some of these meetings were held at Ezekiel Barnard's or at the Dr. Brown house and are the explanation of the information which came to Rt. Wor. Bro. Hudson. It is also possible that if Franklin Hall was in Ezekiel Barnard's house, the rumor which came to Rt. Wor. Bro. Hudson may trace back to the meetings of the Lodge there in 1823.
There is also something in the Grand Lodge records which may have a bearing on this, for on March 9, 1843, at a time when there had been no Lodge meeting for two years there is the following: Sundry documents and correspondence in relation to Warren Lodge Amesbury . . . were read and referred." September 13, 1843, the committee to which the reference had been made reported progress. I have not been able to find any further record of the matter and the "sundry documents and correspondence" have long since disappeared.
From a consideration of all this, my own opinion is that Warren Lodge did not meet except as we have the record, and that if there were private or secret sessions during these years they were simply the gatherings of zealous friends who through association and intercourse kept alive their interest in a common bond. The only thing that I can find which warrants the story that they or the Charter were ever in New Hampshire, is the celebration of St. John's Day at South Hampton at Parker Merrill's house in 1831.
It seems more likely that the times were hard, the older members falling off, the public attitude was not favorable, and strongest of all that Edward Dorr was getting old. He was seventy-eight years old in 1835. He died in 1844. As long as he was vigorous and hearty the Lodge ran on despite difficulties, but he could not carry it on as he grew older. His successor, elected in 1846, was Lowell Bagley, but the Lodge did not meet again until 1848 when David Currier was elected. As it had been too much for Dorr so it was for Bagley who had neither Dorr's energy nor his ability, but under David Currier's leadership things began to move forward again.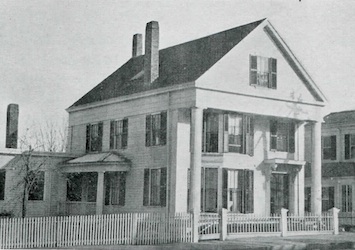 In the attic of this house is a large room where the Lodge met in 1846.

DEFAULTING TREASURERS
One of the Charter members of the Lodge was Nathaniel Fifield, a resident of Salisbury Point, who from 1822 to 1835 served in many offices including that of Warden. In 1835 when the Lodge meetings closed he was Treasurer, having been elected September 5, 1831. He seems to have been faithful in attendance and he was present at all of the meetings preceding the break in the records.
November 10, 1841, in the second record book, the first record in the book, appears the following in the handwriting of Philip Osgood:
"At a meeting of the members of Warren Lodge held at the house of Bro. Samuel Buswell, W. Edward Don-was called to the chair, Philip Osgood Sec.

"On motion it was voted, that a Committee of three be chosen to wait on Bro. Nathaniel Pifield and ascertain what, amount of funds belonging to Warren Lodge are in his hands or invested by him in any funds, or Savings Institution or in any other place, & that said Committee be authorized to receive & invest said funds in some institution, in the names of each and every member of said Lodge.

"Voted that Bro. Jona B. Sargent, Henry Morrill, and David Currier be this committee.

"Voted that this Committee be authorized to call another meeting as soon as they think proper.

"The meeting was then dissolved."
This record is of great value for several reasons. First of all it shows that although the Lodge had abandoned regular meetings, had sold its furniture, and had no present intention of resuming its functions, the members of that body still considered it alive and as retaining its identity as a Masonic organization.
The record unfortunately is important for another reason, for it marks the beginning of a long and unhappy controversy between the Lodge and its former Treasurer. In Lowell Bagley 's diary for this date is the following: "I went up to the Mills to S. Buzzels & met the members of Warren Lodge, & to hear the report of the Committee chosen to settle with Nath'l Fifield the treasurer. They reported $264.16 due the Lodge from him; he says $14.00; we must look into it."
The next recorded meeting is not until five years later, September 26, 1846, when the record begins, as if there had been no interruption in the meetings. "At a regular meeting of Warren Lodge held at the chamber over the store of Bro. Henry Morrill, Open in the Apprentice degree." Twelve brethren were present, all former members. "The committee chosen to wait on Bro. Fifield reported that they had called upon him several times but were not able to obtain any funds from him. "Proceeded to choice of officers."
From this date on until December 26, 1849, the records are full of accounts of proceedings in this matter. The Lodge tried by committees, by threats, by going to the Grand Lodge, and by repeated hearings to get the Treasurer to settle. After what seems to the reader of the records to be a display of unlimited patience and after several notices to the Treasurer, on December 26, 1849, the Lodge voted his expulsion. Even this did not end the matter for March 3, 1852, appears the following:
"The receipt of N. Fifield for Four Hundred and Six Dollars 54/100 given when he was chosen Treasurer and found and presented to the Lodge by the son of our deceased Bro. V. Bagley, found among his papers. Voted that a committee of three be chosen to wait upon N. Fifield, a former Treasurer of this Lodge, and show him his receipt, given when he was chosen Treasurer and demand of him a settlement."
There was report of this committee March 17, 1852, and a further vote about leaving the matter out to a committee of disinterested persons not Masons, but apparently nothing ever came of it and the Lodge never received the money.
This episode was unfortunate in many ways. It was particularly so because the Lodge was hard up and needed all of its available funds. October 31, 1849, a letter was received from John Evans "late Treasurer of this Lodge stating that he had loaned the funds belonging to the Lodge that was in his hands and had lost the most of them."
Voted "that the Lodge could not release him from his obligation to pay the Lodge the full amount due them."
At the next meeting the committee chosen to investigate, reported that Bro. Evans had said that he would pay the Lodge as soon as he could get the money. I have found no further record of this matter.
MEETING PLACES FROM 1846 UNTIL 1923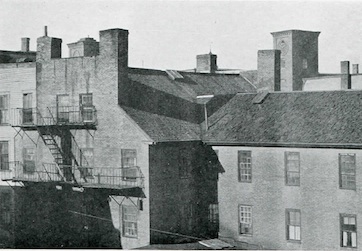 This is the brick part of the present American House.
The Lodge met here from 1849 until August, 1854.
When the Lodge resumed its meetings after 1846, the first home that it had was in a hall in the Manufacturers Hotel, which is still to existence as a part of the American House of our day. The meetings there began in 1849 and continued until August 2, 1854, when it was voted to hold the meetings in "Edward Aliens Hall called Union Hall in Salisbury." This Hall was undoubtedly the one in the upper story of the Washington Hall building on Market Street next to the Savings Bank. These quarters were shared with Powow River Lodge, No. 90, I. O. O. F., and the Guards of Temperance. The rent to Warren Lodge was $26.67 a year. December 18, 1857, a committee which had been to see the landlord reported that he would not reduce the rent and that it had been found that a hall could be secured from the Salisbury Manufacturing Company for $50.00 a year which could also be shared with the other two bodies. The Lodge voted to hire this hall and January 10, 1856, there was a public dedication of Harmony Hall by the three bodies "Each order performing a part of their several service." This hall was on Mill Street, in the upper story of an engine house, and is not now in existence. ( I am informed by Bro. Lambert Hollander that after Warren Lodge moved out of this hall the building was damaged by a fire, which destroyed the rear portion. His father, Bro. Henry Hollander, afterwards bought the building and moved it to Green Street, where it was remodelled and now stands, as a dwelling house, the second one from Spring Street. The ceiling of the hall was arched and the arch is still in evidence in the chambers. Bro. Lambert Hollander says that he helped move the building, and helped dig the cellar now under it. — C. I. P.) The rent here was $4.17 a quarter as against the $6.67 paid for Allen's Hall.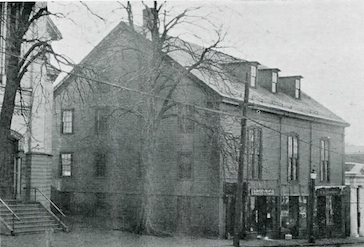 In the third story of this building was Union Hall where Warren Lodge met from August 1854 until 1856.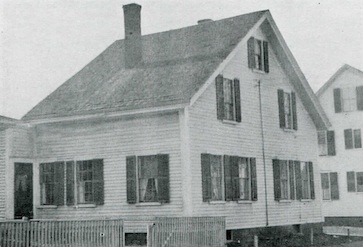 This building now on Green Street is what remains of the Mill Street Engine House
occupied by the Lodge from January 1856 until January 1863.
Almost as soon as Harmony Hall was occupied there seems to have been a lack of harmony among the three tenants about the installation of gas and the sharing of the expense of lighting. There were committees appointed and conferences, but the friction remained. Apparently the Guards of Temperance went out of existence and the other two bodies were unable to agree on the necessary adjustment of the expense. March 7, 1860, the Lodge voted to see if any other hall was available. In March, 1862, the Odd Fellows submitted a proposition of adjustment which the Lodge accepted, but November 11, 1862, there is a vote to hire the new hall of Brown and Kingsbury "providing the Odd Fellows will unite with us," and to take a five years' lease. The Odd Fellows were not willing, but nevertheless Warren Lodge voted December 8, 1862, to hire the new hall. Funds for furnishing it were secured by solicitation and January 27, 1863, it was dedicated in a public ceremony by the Grand Lodge. The Lodge record of this event is as follows:
January 27, 1863, "Met to dedicate the new hall, as the Lodge had voted to make the dedication public as far as convenient, the families and friends of many of the brethren were present to witness the interesting ceremonies peculiar to the occasion. Delegations were also present from St. John's and St. Mark's Lodges N:Port. The Most Worshipful Grd Lodge of Mass. being present, then proceeded to dedicate the Hall to the Fraternity in the usual manner, the M. W. G. Master conducting the ceremonies in a solemn and impressive manner, who at the conclusion of the ceremonies made some interesting remarks after which the M. W. Past G. Master, Dr. Winslow Lewis, was introduced, and spoke at some length, his remarks were very interesting and will long be remembered for their eloquence and instructive lessons — after which the venerable Bro. presented a beautiful and valuable Bible in a most eloquent & feeling manner, on receiving the noble gift our Chaplain, Bro. Thurston, in behalf of the Lodge made eloquent and interesting remarks. The Bible is a present from our honored and worthy Bro. Gen. http://masonicgenealogy.com/MediaWiki/index.php?title=MAGLWSutton Wm. Sutton], M. W. D. D. G. Master whose heart and hand is ever ready to assist in every good work and undertaking."
This hall was the one in the top story of the old Union Block which preceded the present Union Block at the corner of Water and Elm Streets. The Lodge remained there until the building was burned February 29, 1884. January 4,1871, an additional tenant was secured when Trinity Royal Arch Chapter took a lease. After the fire of 1884 the Lodge met temporarily in the building at the corner of Mill Street originally built by Judge Turner and known as the Turner Block, then as the Patten Block, and now as the Reddy Block. As soon as the new Union Block was ready the Lodge moved back again and remained there until March 10, 1899, when it moved to the Bahan Block which stood on the site of the present Lodge quarters. Its occupancy here was short, for eight days later, March 18, 1899, after two meetings in its new hall, the Lodge was burned out a second time when the Bahan Block was destroyed with the Opera House, Episcopal Church, Rand-Adams Block, and other buildings.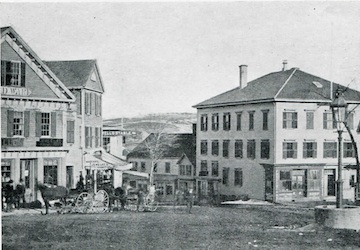 The large building at the right is the first Union Block, burned February 29, 1884,
in which Warren Lodge met from January 1863 until the fire.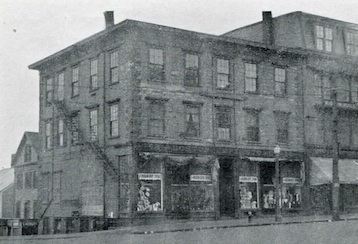 The Lodge met here after the fire in February 1884, and until the new Union Block
was ready in September 1885.

An emergency meeting was called in the rooms of the Powow River National Bank at which it was voted to accept the invitation of Powow River Lodge, I.O.O.F., to use the quarters just vacated and now occupied by the Odd Fellows. September 24, 1900, the Masonic apartments in the new Wilman building were dedicated by the Most Worshipful Grand Lodge and Warren Lodge entered upon a tenancy which still continues.
One other item is necessary to complete this part of the history. Since the Lodge has been in its present quarters it has had several landlords and not always the best of service. In 1919, when its lease had expired, the owners were about to put the property on the market. For years there had been talk of the purchase of the property by the Lodge or by some Masonic agency which had never resulted in action. In less than a week at this time, acting in self-defense, a building association was formed, the money raised and the building purchased. Warren Lodge now pays its rent to the Warren Building Trust some of whose shares it owns; ultimately the Lodge will acquire most, if not all, of these shares and it need never again worry about being sold out of its home. For the starting of this enterprise and the development of the plan much credit is due to Bro. Dr. Charles AV. Putnam who originated and guided it until its momentum carried it to success.
LODGE ACTIVITIES FROM 1846 UNTIL 1872
During all these years, from 1846 to the present time, the Lodge has had a busy but not always prosperous existence. There have been hard times and some not very successful years. The Grand Lodge records do not always speak encouragingly of the condition of the Lodge.
In 1857 the District Deputy Grand Master, Isaac P. Seavey, records "that because of the scattered & distant residence of the members of the Lodge had not enjoyed success, that it had caused the numbers to subside and the ritual to become more or less neglected; that altho there were evidences of improvement the incompleteness of its practical ritual will not admit of that position which others take who follow the established one." Internally, he says, the Lodge was harmonious and peaceful.
In 1857 the Grand Master, Most Worshipful John T. Heard, made a tour of all the Lodges in this part of the state. He visited Warren Lodge at 3:45 p. m., October 26, and found present five Brethren. He was charitable enough to note that it was very stormy weather. That night he visited St. Mark's at 7 p. m. and met twenty-one Brethren and St. John's at 8 p. m. where there were forty-one. In 1857 the membership of the Lodge is reported at forty-eight.
A year later the District Deputy Grand Master notes a greater interest in Lodge meetings which may be attributed to the services of the Grand Lecturer, "who has introduced among the officers and members a knowledge of the work and lectures which they did not before possess but that the active members were few."
According to the Lodge records there had been occasional attempts to improve this situation. Bro. Nathan Chase had been employed to lecture in 1848 and there are notes of lectures by other Brethren. December 26. 1855, it was voted to hold meetings for instructions on Saturday evening of each week. April 28, 1858, the Worshipful Master was instructed to get Rt. Wor. Bro. Seavey for instruction purposes. Beginning with May 5, 1858, Bro. Seavey held six meetings in May, three in June, three in July, two in August, and two in September. He says in his report for that year that he had made fourteen visits to Warren Lodge, but I have counted sixteen. His report continues:
"The Lodge from some cause or other has been indifferent for some years. The efficient officers who held positions in the lodge prior to the difficulties of 1826 having been succeeded by others less skillful the work has been much neglected. For a few years past, however, more attention has been given to this part of Lodge duties which must be productive of good. The proficiency of this Lodge is not so rapid as some others, hence I have given them more of my attention. The attendance upon the lectures embraced about one third of its members who were much interested."
In December, 1861, the District Deputy Grand Master, Wm. G. Sutton noted, "There is but one other Lodge which I deem it necessary to mention by name: Warren Lodge at Amesbury. It is the smallest Lodge in the district, has labored under many disadvantages and without the slightest intention of reflecting upon its officers or members I may say that it falls behind the other Lodges in its ritual and work."
In August, 1863, the Lodge voted to call in the Grand Lecturer. He was in Amesbury four days in October and apparently the officers and members had a thorough drilling. In December, 1863, the Grand Master writes:
"The Lodge at Amesbury, Warren Lodge, which for years has stood still, has this last year been called to new life; and through his (the D.D.G.M.'s) encouragement I am sure will now favorably compare with any Lodge in the state in the excellence of its discipline and appointments and in the perfection of its officers, and with a new hall bids fair to be the banner Lodge."
He states, also, that he dedicated the new hall January 27 and made a second official visit to the Lodge May 6. The District Deputy Grand Master in his report speaks of the great improvement and attributes it in part to the interest and assistance of the Grand Master in visiting the Lodge. In 1868 the Lodge is given a flattering report, "its work excellent, its officers well qualified." Its membership in 1868 was one hundred and nine.
During the years from 1848 to 1872 there are records of many invitations received by Warren Lodge, chiefly for the celebration of St. John's Day. There are a few from other than Masonic bodies for,the observance of the Fourth of July, and some from the Grand Lodge for participation in public ceremonies. Most of these were declined. In 1857, when the Joseph Warren statue was dedicated in Boston, only thirteen members of Warren Lodge were willing to attend and so .the Lodge voted not to participate. An invitation to Portsmouth to celebrate St. John's Day in 1855 was accepted as were various invitations to join with St. Mark's Lodge at Newburyport. In 1851 the Lodge apparently went to Salem, Mass., for St. John's Day as it bought new collars and aprons and a banner, but there is no record of the visit itself. None of these occasions seems important enough for special mention.
In June, 1870, the Lodge voted to have an excursion "down the River" to which the neighboring Lodges were invited. Here, too, one can only infer what happened from the preparatory reports. The committee informed the Lodge that two hundred Brethren were to go from Newburyport, thirty-five from Charles C. Dame Lodge, Georgetown, and an indefinite number from Haverhill. I have been informed by some of those who were present that this was a grand occasion, but have not found a full description of it.
The first mention of a visitation as we know that function is in 1849. After that time there are occasional and apparently informal visits by various Deputies. The first account of a formal visitation with the present ceremony is in 1856, but it is bard to tell whether the Secretary had just begun to record exactly or whether the Grand Officers had adopted more formalities.
In 1850 there are occasional records of one thing with a modern sound.
December 18, 1850, the Lodge received an application from the Washington Monument Association which was about "to erect a purely Masonic Monument" in honor of George Washington "in connection with Fredericksburg Lodge, No. 4." This came to the attention of the Lodge in various ways, but like most appeals for charity from distant bodies and individuals resulted in no action by the Lodge whose finances were far from strong. After 1854 I found no further references to this particular project until April 9, 1890, when another communication was laid on the table. It came up again in October, 1908.
In 1849 the Lodge voted to advertise its meetings in the Villager, but subsequently revoked this vote. In 1863 a bill was presented for Masonic Harps. I have found no other traces of these celestial instruments, but am informed that they were Masonic song books. January 11, 1864, a petition was received from Eben M. Boynton which was accepted. Bro. Boynton is our oldest member in point of membership but has not been present in the Lodge for many years. (He was present at the evening exercises of the centenary celebration, June 18 1923.) April 12, 1865, the petition of William H. Dewhurst, our venerable and beloved Chaplain, first installed into that office November 14, 1888, now in his thirty-fifth year of service, was received and he was Raised June 19, 1865. April 28, 1869, Wor. Bro. Moses M. Dennett, our Senior Past Master who had been Raised in Grecian Lodge, Lawrence, was admitted to membership.
October 11, 1871, Bro. Edwin H. Merrill, our oldest member in point of years, now ninety-one years old, was Raised.
August 30, 1871, there was a vote that no Brother should be advanced to the second or third degree "until he shall have obtained a suitable knowledge of the first." It was also voted that the Junior Deacon should be a committee to examine all candidates.
December 11, 1872, the Lodge celebrated its fiftieth anniversary with a "collation" and speaking. There is no official report of this in the Lodge records, but the Secretary copied into the record book the report contained in the Amesbury Villager. There was a historical address by the Wor. Master, B. S. Blake, which is only alluded to and there were remarks by nine speakers.
In 1869 our first and only child was born. From the beginning of Warren Lodge there had been a considerable membership from that part of Amesbury known as West Amesbury, and since set off as the town of Merrimac. Beginning with Moses and James Nichols and several of the Sargents, candidates were always coming to Warren Lodge from that district.
A movement began for a new Lodge about 1868. December 30 of that year things were sufficiently under way to have Warren Lodge vote to grant the use of the old jewels of the Lodge to the brethren from West Amesbury.
November 17, 1869, the Lodge "Received a petition from Bethany Lodge of West Amesbury, asking the consent and a recommendation to the Most Worshipful Grand Lodge for a Charter. Voted their request be granted."
December 15, 1869, Warren Lodge records, "Received the request of Bros. M. B. Merrill, A. L. Baxter, T. B. Little, E. O. Hopkins, Nelson N. Hoyt, Wendell B. Whittier, A. J. Lovell, B. C. Sawyer, George Adams, T. H. Goodwin, J. B. Cilley, Edwin Sargent, C. W. Emerson, Horace L. Swain, E. M. Ordway, Bayley Sargent, A. A. Sawyer, J. Jones, J. W. Sargent, for a demit from Warren Lodge for the purpose of forming a new Lodge at West Amesbury which was granted. Also voted that their dues be remitted."
Of these Brethren, Wor. Bro. Elbridge C. Sawyer, now of Beverly, Mass., is the only survivor.
The Charter members of Bethany Lodge were twenty-five in number. In addition to the nineteen already named, four other members of Warren Lodge were among the twenty-five. They are:
J. Austin Lancaster, Raised February 10, 1865;
lchabod S. Nichols, Raised January 14, 1868;
John K. Sargent, Raised July 19, 1826;
Jonathan B. Sargent, Raised May 21, 1823.
Bro. John K. Sargent withdrew from Warren Lodge, January 30, 1828, "in consequence of his removal from town." There is nothing to show how or when the other three terminated their membership in the Mother Lodge.
Another member of Warren Lodge, J. Warren Sargent, was to have been a Charter member of Bethany but was not available when his signature was needed and lost the opportunity.
Morton B. Merrill was the Senior Warden of Warren Lodge at this time. He became the first Master of Bethany Lodge and was later District Deputy Grand Master. He later rejoined Warren Lodge and was elected an Honorary Member.
It is a great privilege to be able to state that the two Lodges have always been on the best of terms and that there has never been anything but perfect harmony in their relations.
THE CAPITATION TAX
July 25, 1877, the Lodge suspended in one vote thirty-six members including one Past Master and two former Secretaries. July 30, 1879, sixteen more were suspended. This drastic action grew out of the Grand Lodge capitation tax, which had been levied on all the Lodges to get funds for the Grand Lodge whose finances were in need of assistance. According to a report made to the Lodge by Rt. Wor. Bro. Oliver A. Roberts, then Worshipful Master, the tax on Warren Lodge was one dollar a member a year for twelve years on the basis of 143 members, or a total of $1,716. Many of the members of the Lodge, especially the older ones, refused to pay this tax and dropped out of the order. The Grand Lodge provided a plan for the commutation of this tax or rather two plans, one by which individuals could commute their particular shares and the other by which the Lodge could commute the whole tax.
The Grand Master, Most Wor. Samuel C. Lawrence, came to Warren Lodge, October 25, 1882, and spoke in explanation of the commutation. The Lodge backed and filled for a few meeting's but finally voted to commute. January 10, 1883, Rt. Wor. Bro. Roberts reported that by commuting they had reduced the payment to be made from $1,716 to $1,010 and that he had paid all of this by borrowing $303 to make up the amount, and that since then $105 had been collected toward the amount borrowed. February 14,1883, the whole matter had been cleaned up.
Thus ended for Warren Lodge what was a very unhappy situation among the Lodges in Massachusetts. As the Grand Master had said in his remarks to Warren Lodge, those Lodges which commuted and paid the matter up went ahead to prosperity. Those that did not and continued to wrangle and argue did not gain.
Prosperity seemed to come to the Lodge at once and everything went smoothly and satisfactorily. It was well that it was so for the Lodge was soon to face another unpleasant situation.
FIRES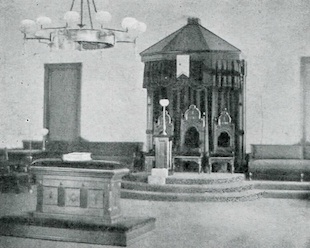 This Hall is in the present Union Block and was used by Warren Lodge from September 1885
until March 1899, and following the fire of March 18, 1899, until September 1900.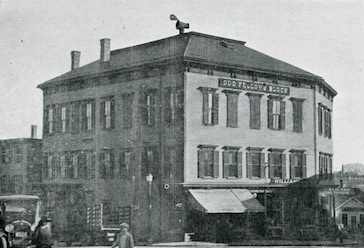 This is the second building of that name and was erected after the fire of 1884.
Warren Lodge occupied it from September, 1885, until March, 1899, and following
the fire of March 18, 1899, until September 1900.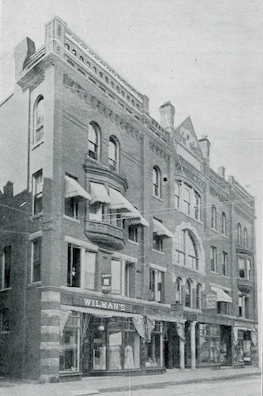 Warren Lodge occupied the top floor from March 8 to March 18, 1899,
when the building was burned.

February 29, 1884, while occupying the first Union Hall, the Lodge was stripped of nearly all its property save its money in the bank by the fire which entirely destroyed the building.
March 3,1884, at a meeting held in the Knights of Honor Hall (corner of Mill and Main Streets), at which there were present eleven officers, forty-eight members, and two visitors there is the following record, "By call of the W. M. the brethren met ... to take action as to the future of Warren Lodge, the hall having (been) destroyed by fire on the morning of February 29 resulting in nearly a total loss of the property of the Lodge including the Charter." The insurance carried was reported as $400, and the jewels, tips to the staves of the officers, and the scabbard and belt of the Tyler "were out of the hall and safe."
Three organizations, the Odd Fellows, Knights of Honor, and the G. A. R. offered halls and it was voted to meet in the Knights of Honor Hall. The total assets of the Lodge were reported as cash $135.32; insurance $400.
The Treasurer, Bro. H. F. Carey, offered to make the Plumb, Level, and Square, the Senior Warden, Bro. II. G. Hudson, offered to make the officers' rods, and Bro. Hiram Walker the lambskins.
The Lodge voted to have a committee meet with the other bodies in town to consider the feasibility of buying land and erecting a building containing one or more Lodge-rooms.
March 12, 1884, Bethany Lodge loaned aprons and St. John's candlesticks. The Knights of Honor offered the use of the hall free of expense until permanent quarters could be secured. April 9, 1884, Charles C. Dame Lodge sent word of its intention to present the Great Lights. The new Charter was presented by Rt. Wor. Bro. Oliver A. Roberts, then the District Deputy Grand Master, May 14, 1884.
September 30, 1885, came the first meeting in the new hall in the present Union Block. The Most Worshipful Grand Master, Abraham A. Howland, Jr., was present informally. The Great Lights were formally presented by Wor. Bros. O. S. Butler and Stephen Osgood, of Charles C. Dame Lodge.
October 13, 1886, the new hall was dedicated. Most Worshipful Grand Master Howland and the Grand Lodge performed this ceremony in the afternoon and in the evening the District Deputy Grand Master made his annual visitation at which the Grand Master was present and spoke.
January 14, 1891, a committee of the Lodge spread on the records as its report a carefully prepared inventory of the Lodge property in the way of furniture and equipment. It totalled $1,902.86.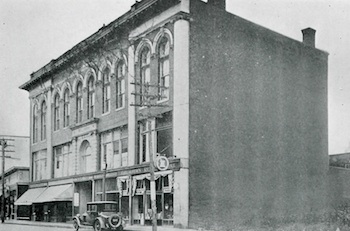 Erected in 1899, and now owned by the Warren Building Trust.
Warren Lodge occupies the third floor and part of the second.
In March, 1899, the Lodge moved into the Bahan Block which stood where the Wilman Block now stands. It had spent much effort and money in fitting up this hall and the newspaper accounts of the excellence which is described in detail show that it must have been a tine place. The Lodge was there eight days during which it held two meetings. During the night of March 17 and 18 the Opera House which stood southerly of the Bahan Block caught fire from some unexplained cause, and an explosion which followed not only made the loss of that building certain but involved the neighboring structures. The evening before Amesbury Council Royal and Select Masters had had a meeting and as the remodelling was not all complete and there were shavings and rubbish around, a few Companions including Wor. Bro. W. B. Prisbee, then Master of the Lodge, remained as late as 1:00 a.m. to make certain that everything was secure. There were three iron safes in the hall, but as two of these had just been varnished the doors were left open to give the varnish an opportunity to dry.
That night the Opera House blew up, two blocks, a church, and a part of another block were destroyed and Wor. Bro. prisbee never knew anything about it until he came down town the next morning and saw the ruins. Everything was down flat. The three safes had gone from the third floor to the cellar and the two that were open were kind enough to fall on their backs so that they were quickly filled with water and thus their contents preserved. The articles in the other safe were in a much worse condition than those thus preserved.
March 20 a meeting was called in the rooms of the Powow Eiver National Bank. It was voted to accept the invitation of the Odd Fellows to return to the hall just vacated. After considering a plan to build for themselves, the Lodge finally accepted a proposition from Bro. Wilman for quarters in the new building he was about to erect.
September 25, 1899, Wor. Bro. William A. Butler, of Charles C. Dame Lodge, presented a new Bible to replace the one previously presented and lost in the fire. September 24,1900, a new Charter was presented by Most Worshipful Charles T. Gallagher, Grand Master. November 5, 1900, the property of the Lodge in the hall was scheduled at $3,000.
GRAND LODGE VISITS
From 1872 to the present time the Grand Lodge or the Grand Master has come to Warren Lodge nine times.
October 25, 1882. Most Worshipful Samuel C. Lawrence to explain commutation.
September 30,1885. Informal visit from Most Worshipful Abraham H. Howland, Jr., when the Lodge moved into new hall.
October 13, 1886. The Most Worshipful Grand Lodge for the dedication of the new hall.
November 8, 1893. Informal visit by Rt. Wor. Harvey N. Shepard, Deputy Grand Master and Acting Grand Master.
September 24, 1900. The Most Worshipful Grand Lodge, Most Worshipful Grand Master Charles T. Gallagher, for the dedication of our present hall.
May 25, 1904. The Most Worshipful Grand Lodge, Most Worshipful Baalis Sanford, Grand Master, for the laying of the corner-stone of the Universalist Church.
November 16, 1905. The Most Worshipful Grand Lodge, Most Worshipful Baalis Sanford, Grand Master, for the laying of the corner-stone of the Post Office.
November 4, 1906. Fraternal visit by Most Worshipful J. Albert Blake, Grand Master.
April 8, 1921. Fraternal visit by Most Worshipful Arthur D. Prince, Grand Master.
All of these are recorded in both the Warren Lodge records and in the Grand Lodge Proceedings.
DISTRICT DEPUTY GRAND MASTERS
In the one hundred years of its existence Warren Lodge has been represented in the Grand Lodge by four District Deputy Grand Masters: Oliver A. Roberts, Horace G. Hudson, Harrison C. Austin, and Charles I. Pettingell. Morton B. Merrill, a former member of the Lodge, has also held that office. When Bethany Lodge of Merrimac was formed Rt. Wor. Bro. Merrill dimitted from Warren Lodge to become a Charter member of that Lodge. His service as District Deputy Grand Master came while he was a member of Bethany.
OLIVER AYER ROBERTS 1838-1922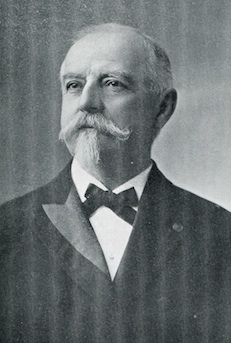 Oliver Ayer Roberts was born at Haverhill, Mass., March 17, 1838. After graduating from the High School there he spent one year at Yale College. In 1862 he enlisted in the 50th Mass. Vol. Inf. and was appointed Sergeant Major. At the expiration of his term of service he reenlisted in the 110th Ohio Regiment and served until June 25, 1865.
He then returned to his studies and was graduated from Antioch College in 1868. His first ventures in life were as a publisher and later as a teacher, but very shortly he entered the ministry of the Christian Church and was pastor of churches of that denomination at Le Grand, Iowa, New Bedford, Mass., and Salisbury, Mass.
His connection with Warren Lodge began while he was pastor of the church at Salisbury. This is the church at Salisbury Point, now Amesbury, at the corner of Rocky Hill Road and Main Street. The old church building in which Rt. Wor. Bro. Roberts preached was in the rear of the present church and where Bro. Henry R. McCrone's house is situated. That house is largely built of material taken from the old church.
Bro. Roberts joined Warren Lodge by affiliation July 12, 1882.
He had originally been Raised in Merrimack Lodge, Haverhill, in 1862, had in 1864 dimitted and joined Springfield Lodge, Springfield, Ohio; had dimitted from that Lodge in 1868 and had become a Charter member and the first Senior Warden of Yellow Springs Lodge, Yellow Springs, Ohio; had dimitted from there in 1869 and joined Polar Star Lodge of Le Grand, Iowa; had dimitted from there in 1872 and joined Star in the East Lodge of New Bedford. He was Chaplain of this latter Lodge for seven years.
The next year after joining Warren Lodge he was elected Worshipful Master and served one term. It was, however, a year of great moment to the Lodge as the commutation of the capitation tax was a vital issue upon which the future prosperity of the Lodge depended. His skillful handling of the situation brought the Lodge through in good shape, ending this controversy satisfactorily and sufficiently early to give the Lodge a good chance to get on its feet before the disastrous fire of 1884. It was his efficient administration which put the Lodge into such a strong position that it easily recovered from the blow dealt it by the fire.
Bro. Roberts became District Deputy Grand Master in 1883 and served three years in that office. During the time that he was in this vicinity he took a great interest in the old Lodges at Newburyport, preparing historical articles on St. John's, St. Peter's, and St. Mark's which will stand for all time as perfect reviews of the early days of those bodies. These articles as well as later ones appearing in various Masonic publications and dealing with early Masonic activities in this vicinity are valuable contributions to the Masonic history of Massachusetts and will be regarded as authoritative and final sources in the years to come.
In 1885 Rt. Wor. Bro. Roberts became a permanent member of the staff at the Masonic Temple and continued there until his death. He was always to be found at his desk in the Library, working on the Grand Lodge returns, carding names for the Grand Lodge card-file, or pasting newspaper clippings in the big scrap books in which he kept accounts of Masonic activities. His was the mind of the historian, patient with detail, thorough in search and preparation, which coupled with a facile pen made his articles both interesting and valuable.
In 1907 and 1908 Rt. Wor. Bro. Roberts was Junior Grand "Warden of the Grand Lodge, the only member of Warren Lodge ever to hold a permanent seat in the Grand Lodge. In addition to his Lodge memberships already enumerated, he was an honorary member of Hiram Lodge, of Arlington, St. Mark's Lodge, of Newburyport, and Warren Lodge, of Amesbury.
He was also interested in other branches of Masonic activities. He received his Chapter Degrees in Springfield, Ohio, in 1867, dimitted in 1872 and united with Adoniram Royal Arch Chapter, of New Bedford, of which he was Chaplain for several years. In 1886 he was appointed Grand Chaplain of the Grand Chapter of Massachusetts. He was also an Honorary Member of King Cyrus Chapter, of Newburyport.
He received the Council degrees in Springfield Council, of Springfield, Ohio, and was an Honorary Member of Melrose Council, of Maiden, Mass.
His Commandery degrees were taken at New Bedford in Sutton Commandery in 1872. He dimitted there and joined Newburyport Commandery of which he was Eminent Commander in 1881. He was Associate Member of Hugh de Payens Commandery, of Melrose, and was its Prelate for several years.
He took the Scottish Rite degrees in the four bodies of Boston in 1874 and 1875. For twenty-six years he was Prior of the Council of Deliberation and for several years Grand Prior of Massachusetts Consistory.
Despite all these Masonic activities he had time for public service. He served the city of New Bedford as School Committeeman from 1876 to 1878, was a member of the Board of Trustees of the Public Library for three years, and City Auditor for two years. In 1882 he served as Representative in the General Court for the district comprising Salisbury and West Newbury. In Melrose he was a member of the School Committee from 1896 to 1898. He was a member of the Grand Army of the Republic in the various communities where he lived. His historical information and his ability to speak fluently and interestingly made him in great demand as speaker both on Masonic occasions and on those of a patriotic nature. He was especially in demand as a Memorial Day speaker.
While in the employ of the Grand Lodge Bro. Roberts prepared for publication the old records of the Grand Lodge from 1733 to 1792. He also began a card catalogue of the Brethren in Massachusetts to which are posted each year the data contained in the annual returns made by the various Lodges. As the years go by this catalogue will become more and more valuable.
He was twice married. The second wife and two sons survived his death, which occurred December 4, 1922. Warren Lodge suffered an irreparable loss in his passing because he was looking forward to the preparation of this history with much interest and expected and intended to give the historian the benefit of his personal knowledge of the Lodge affairs. He had already contributed much of value and only a few weeks before his death sent word that he had several important items. Death took him before we had the opportunity of profiting from his knowledge and research; the Lodge, however, still bears the imprint of his guiding and skilful hand in those earlier years of his manhood.
HORACE G. HUDSON 1846-1912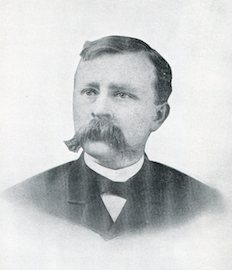 Horace G. Hudson was born at Enfield, N. H., February 8, 1846. When he was about twenty years of age he came to Amesbury and after serving four years as an apprentice to a watchmaker, he went into business for himself.
He received his Blue Lodge degrees in Rising Star Lodge, No. 47, of Newmarket, N. H. affiliating with Warren Lodge,
April 9, 1880. After serving through the chairs he became Worshipful Master in 1885 and was reelected in 1886. He was District Deputy Grand Master for the old Ninth Masonic District in 1905 and 1906. He was a member of Trinity Royal Arch Chapter of which he was High Priest in 1897 and 1898, a member of Amesbury Council Royal and Select Masters, and of Newburyport Commandery, Knights Templars.
Rt. Wor. Bro. Hudson had two distinguishing features, the sweetness of his disposition and his passion for Masonry. No man was ever more patient, more amiable, or more gentle than was he, even when encompassed by misfortune and adversity. He never lost his genial smile, his evenness of manner, nor his quiet tone, however irritating the circumstances or justifiable the provocation.
He took his Masonry seriously and made it a guiding principle of his life. He was a careful, diligent officer, calm and graceful in the chair, and a zealous Masonic scholar, ever seeking and ever finding.
His fine character and personality brought him many friends who sincerely mourned his death which occurred at Merrimac, Mass., February 19, 1912.
MORTON B. MERRILL 1840-1918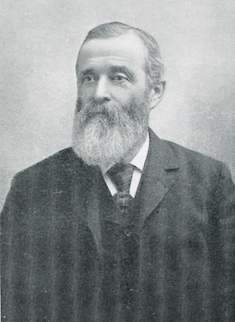 Rt. Wor. Bro. Merrill was born at Amesbury, August 12, 1840. His family which had long been settled here was of considerable prominence in this vicinity. His greatgrandfather, Col. Isaac Merrill, had commanded a regiment of minute men at the Battle of Bunker Hill and his father, Joseph Merrill, was Town Clerk of Amesbury for thirty-six years, and the author of Merrill's History of Amesbury.
Bro. Merrill was by occupation a carriage trimmer and for many years he was the superintendent of that department in one of the Amesbury carriage factories.
He received his first degrees in Warren Lodge in 1863 and was Senior Warden when in 1868 and 1869 he was one of the leaders in the organization of Bethany Lodge of Merrimac. He dimitted from Warren Lodge in 1869 and became the first Master of the new Lodge and served three years. He was District Deputy Grand Master for the old Ninth Masonic District in 1883.
He received the capitular degrees in Northampton Royal Arch Chapter, Northampton, Mass., in 1871 and affiliated with Trinity Chapter, Amesbury, in 1873. In 1878, 1879, and 1880 he was High Priest of Trinity Chapter. He joined Haverhill Council Royal and Select Masters in 1871, was active in organizing Amesbury Council in 1889, and was its Thrice Illustrious Master in 1891.
In 1871 he joined Haverhill Commandery Knights Templars and dimitted to join Newburyport Commandery in 1906. He held all. of the Scottish Rite degrees up to the 32° which he received in 1884 in Massachusetts Consistory.
March 9, 1892, he rejoined Warren Lodge and was elected an Honorary Member.
Brother Merrill was a quiet, moderate man in appearance, but was possessed of a rugged strength of character which made him a landmark in every undertaking in which he engaged. A few well considered words from him settled finally any dispute or argument. In all of the bodies in which he held membership he was a faithful and interested attendant, keeping a careful eye on all that occurred and exercising a potent influence in shaping opinions and policies.
He died June 19, 1918, respected and loved, and, loyal to the last, bequeathed one thousand dollars to the Grand Lodge Charities. Masoirry had been the central theme of his whole life.
HARRISON C. AUSTIN 1868-1920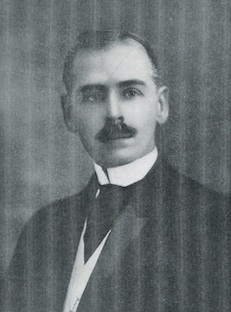 Rt. Wor. Bro. Austin was born at Amesbury, Mass., November 29, 1868. His mother died while he was young and several years of his.youth were passed in the Shaker community at Canterbury, N. H. At about the age of eighteen he returned to Amesbury where he found employment in one of the shops. In 1897, after several years of shop work, he went into business as an undertaker and in a short time became the leader in this calling in Amesbury and vicinity. The undivided attention which he gave to his business and his courtesy, thoughtfulness, and efficient handling of detail brought him practically all the work in this neighborhood.
Rt. Wor. Bro. Austin was Raised in Warren Lodge, May 5, 1897. He was Worshipful Master in 1909 and 1910, and District Deputy Grand Master in 1912. lie declined a second term on account of the demands of his business. He was also a member of Trinity Chapter, II. A. M., Ames-bury Council, R. & S. M.; and Newburyport Commandery, K. T. In the Scottish rite he received his 32° in Massachusetts Consistory, having taken his 14° in Merrimack Valley Lodge of Perfection, Haverhill. He was also a Past Patron of Friendship Chapter, O. E. S., No. 58.
Bro. Austin married N. Gertrude Currier, daughter of Bro. John Currier, one of the older members of Warren Lodge and a respected and prominent citizen of Ames-bury. They made their home with Bro. and Mrs. Currier in the fine residence on Hillside Avenue built by Bro. Currier and constituted an unusually happy and harmonious household.
Bro. Austin was a devoted Mason and a pleasant companion. He was an able business man, and exceedingly proud of his good name and standing. Both in business and in all other phases of life, he was exceedingly careful to avoid anything which might bring criticism or reproach. He was generous and open-handed in cases of distress and suffering.
His death, March 5, 1920, came when he had securely established himself as a successful business man and as a man of integrity and character, but when he had many years of usefulness still before him. He left a place hard to fill and a memory that will long endure.
HENRY PRICE MEDALS
The following members of Warren Lodge have received Henry Price Medals:
Rt. Wor. Bro. Oliver A. Roberts, Junior Grand Warden of the Grand Lodge in 1907; entitled to the Medal ex officio.
Wor. Bro. William Smeath, Raised in Warren Lodge, March 28, 1864, a Past Master of Warren Lodge, Civil War Veteran, faithful and constant to the Lodge through all his membership; medal presented June 25, 1920.
Bro. William H. H. Dewhurst, Raised in Warren Lodge, June 19, 1865, appointed Chaplain of the Lodge, November 14, 1888, in which office he has served ever since; medal presented June 25, 1920.
Wor. Bro. Enoch Hoyt, Raised in Warren Lodge, September 6, 1865; a Past Master of Warren Lodge whose interest and zeal never flagged. Wor. Bro. Hoyt enjoyed the- unusual distinction of sitting in the Lodge while the records of the meetings over which he had presided as Worshipful Master fifty years earlier were read; medal presented June 25, 1920.
Bro. John H. Howarth, Raised in Warren Lodge, September 2, 1869; a loyal worker who filled many offices and served as Warden; medal presented June 25, 1920.
Bro. James Pow, Raised in Warren Lodge, September 18, 1872; for nearly fifty years a regular attendant and willing worker whose further service was prevented by ill health; medal presented February 24, 1923.
Wor. Bro. Frank H. Merrill, Raised in Warren Lodge, September 18,1872; a Past Master of Warren Lodge; a regular attendant at its meetings, thoroughly conversant with its affairs, and one who has been called upon many times and has never been found wanting; medal presented February 5, 1923.
Rt. Wor. Bro. Morton B. Merrill, Raised in Warren Lodge, July 2, 1863; Worshipful Master of Bethany Lodge in 1869, 1870 and 1871; District Deputy Grand Master for the Ninth Masonic District in 1883. I have found no record of the presentation.
WAR RECORDS
From the fact that Warren Lodge came into existence nearly forty years after the close of the Revolution, one is not surprised to find almost no survivors of that war among its members. We know definitely of only one such, Edward Dorr, the first Master. There may have been others but they are. not known.
The War of 1812 was not popular in New England and there were few men in this vicinity who entered military service. Undoubtedly there were several men among the members of the Lodge who served during that war on privateers. Jonathan Morrill was one. George Offut was an owner in the ill-fated Salisbury, a privateering craft which was built as a cooperative enterprise, and had a most inglorious and unprofitable experience. Offut may have been in the crew, but I have seen no record of anything except the statement of his ownership.
There is apparently but one direct reference to the Civil War in our records. June 12, 1862, resolutions were adopted on the death of Bro. Robert Burnett, Jr., "who fell at the post of duty and honor, fighting for the liberty of his country." He had fallen in the battle of Fair Oaks, June 1, 1862, and was the first man from Amesbury to be killed in battle. If one studies the records carefully, however, there are various little eddies and currents visible which are a part of the great tide surging outside. One begins to appreciate the significance of the special meetings, the hurried degrees by Dispensation, the crowded attendance when certain candidates were being Raised.
July 24, 1861, the Lodge voted "to present to Bros. Geo. H. Morrill, Jere A. Greeley and Robert Burnett, Jr., each a pocket Bible, and that Bro. J. A. Greeley receive the sum of five dollars." All of these Brethren had enlisted and were about to leave town.
The Lodge had a large quota of members in the service. It has been a considerable task to hunt them out and I do not feel sure that we have them all, but the list as it has been made up with the help of Wor. Bro. M. M. Dennett, Wor. Bro. F. H. Merrill, and Bro. Daniel W. Robinson is as follows followed by date of raising:
Bartlett, David B., May 13, 1857
Bolser, George, May 6, 1863
Boody, Robert M., December 30, 1863
Briggs, Richard F., July 6, 1863
Buchanan, Francis H., January 23, 1867
Bunker, Edward F., October 10, 1883
Burnett, Robert, Jr ., September 15, 1858
Clough, Benjamin S., May 21, 1872
Currier, Charles W., March 10, 1886
Currier, F. Porter, July 3, 1872
Currier, Rodney H. , April 12, 1865
Davoll, David L., June 3, 1868
Dennett, Moses M., Membership April 28, 1869
Douglass, Dr. John A., December 15, 1875
Eastman, Franklin B., January 8, 1896
Ferris, Samuel E., Membership May 9, 1882
Flint, Surrill, September 22, 1869
Folger, David J., August 18, 1875
Frankle, Col. Jones, Membership November 29, 1865
Gale, Lloyd G ., February 12, 1869
George, Amos B., September 20, 1867
George, Robert B., December 7, 1868
Gould, Royal D., October 25, 1871
Grant, Rufus C., April 5, 1871
Greeley, Capt. Jere A., August 1, 1860
Host, William N., May 15, 1865
Huntington, John D., October 19, 1849
Hurd, Dr. Yorick G., December 8, 1862
Ives, James, January 27, 1869
Locke, Andrew H., September 23, 1865
Manson, George T., October 16, 1872
Merrill, Francis S., Membership June 6, 1904
Morrill, Capt. George H., June 19, 1861
Morrill, George T., September 18, 1895
Ordway, Moses M., October 20, 1869
Osgood, Charles E., November 18, 1864
Percival, John H., December 27, 1871
Pousland, John H., Membership May 3, 1899
Rand, William H., November 8, 1855
Roberts, Oliver A., Membership July 12, 1882
Robinson, Daniel W., January 21, 1921
Sargent, Bailey, September 17, 1863
Sargent, Joseph W., Membership February 8, 1865
Smart, William W., Membership December 11, 1872
Smeath, William, March 28, 1864
Snell, Frank I., November 1, 1865
Tibbetts, William B., February 27, 1861
Titcomb, David A., December 7, 1870
Tucker, Charles L., January 3, 1866
Wells, Henry P., May 8, 1889
White, Albert C., April 13, 1881
Whittier, Phineas C., October 25, 1871
Wild, Richard A., May 6, 1857
Winchester, James A., June 28, 1871
Some of these Brethren had fine records. Bro. Surrill Flint was with the 6th Mass. in its march through Baltimore. Bro. Jones Prankle started as a Captain and ended as a Colonel who had been brevetted a Brigadier General. Bro. Chas. B. Osgood was promoted from Private to Lieutenant, lost an eye, was captured and confined in Libby Prison. Bro. Robert M. Boody also rose from Private to Lieutenant. Wor. Bro. William Smeath enlisted as a musician, was captured, confined in Libby and other prisons, and came home to find that his death had been reported and his obituary published. He enlisted again, this time in the cavalry, and served through the campaigns in the Shenandoah Valley. Dr. John A. Douglass, army surgeon and family physician, lived among us to a ripe old age, bringing into the world three generations of some families and exemplifying all the virtues and admirable characteristics of the best type of New England doctor. Bros. Jere A. Greeley and Geo. H. Morrill served as Captains. The following members of Warren Lodge served in the military and naval forces of the United States during the War with Spain.
Bro. Edwin W. M. Bailey, Raised March 9, 1887; Lieut. Colonel, 8th Mass., U. S. Vol.
Bro. Oscar W. Bean, Raised January 31, 1921; Co. B, 8th Mass., U. S. Vol.
Bro. Alwin A. Cameron, Raised April 4, 1910; Co. K, 2d Mass., U. S. Vol.
Bro. Walter H. England, Raised May 20, 1904; Co. B, 8th Mass., U. S. Vol.
Bro. Carl L. Flanders, Raised December 1, 1908; Co. B, 8th Mass., U. S. Vol.
Bro. Samuel A. Hinckley, Raised March 12, 1903; Co. B, 8th Mass., U. S. Vol., Died November 3, 1915.
Bro. John A. Lundquist, Raised April 8, 1921; Co. B, 8th Mass., U. S. Vol.
Bro. John M. Pettingell, Raised June 24, 1891; First Lieutenant, Co. B, Captain Co. C, 8th Mass., U. S. Vol. Died June 24, 1901.
Bro. Arthur G. Quimby, Raised February 10, 1905; Co. B, 8th Mass., U. S. Vol.
Bro. George O. Rodan, Raised July 9, 1920; Co. I, 6th Mass., U. S. Vol.
Bro. John J. Scott, Raised January 26, 1912; Co. B, 8th Mass., U. S. Vol.
Bro. Frank Stinson, Raised November 13, 1895; Second Lieutenant, Co. B, 8th Mass., U. S. Vol. Died April 1, 1919.
Bro. Frank M. Swett, Raised June 26, 1895; Co. B, 8th Mass., U. S. Vol.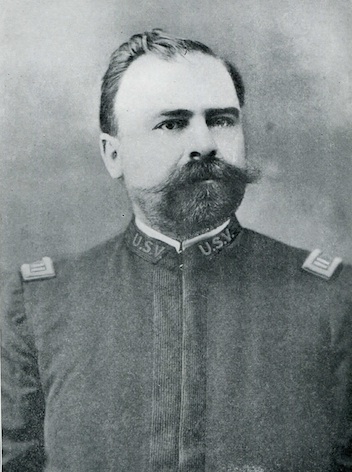 Bro. John M. Pettingell was born in Newburyport, March 26, 1862, and after his training in the public schools went into shoe manufacturing. He had a factory first at Newburyport and later moved to Amesbury where he carried on a partnership business as Adams & Pettingell. When the Spanish War broke out he was a member of Co. B, 8th Mass., Vol. Militia, which immediately went into the Federal service.
He began as First Lieutenant of Company B, but was later promoted to Captain and assigned to Company C, which was from Marblehead, Mass. To all of his military duties he gave unswerving attention and energy, doing everything possible to conserve the best interests of his men. The regiment was in camp at Chickamauga, Georgia, and at other points in the South, finally spending some months at Matanzas, Cuba. He was in service from April 28, 1898 to April 28, 1899.
Captain Pettingell was a member of Trinity Chapter and of Newburyport Commandery, Knights Templars. His death, June 24, 1901, is directly traceable to his military service and its privations and overwork. The local camp of the Veterans of the Spanish-American War is named for him.
The members of the Lodge who served in the World War
 are as follows (with raising dates):

Adams, Paul, May 21, 1920
Allen, Robert D., March 1, 1920
Anderson, Elmer A., February 25, 1921
Bailey, Samuel K., May 6, 1921
Bartlett, Arthur L., November 18, 1910
Batchelder, David H., August 30, 1915
Bean, Guy L., Jr., June 30, 1916
Beaton, James L., January 12, 1917
Beloff, Carl O., June 4, 1923
Bishop, Joseph L., April 5, 1920
Boody, Harold K., March 6, 1916
Bubier, Sylvester B., February 4, 1918
Carter, Clifford E., January 12, 1923
Charles, Willard A., April 4, 1910
Clark, William H., December 5, 1910
Creasey, Edwin R., December 29, 1919
Currier, Harris S., April 30, 1920
Currier, Leslie W., July 10, 1912
Currier, Rowell O., June 6, 1921
Davis, Edward C., May 31, 1912
Davis, Norbert C., January 29, 1917
Davis, Raymond O., January 31, 1916
Elliott, Robert J., May 4, 1908
England, Walter H., May 20, 1904
Evans, Cheever T., Jr., January 30, 1920
Fraser, Robert B., March 17, 1922
Gale, Eugene M., June 2, 1913
Gale, Harold P., June 5, 1916
Ginsberg, Nathan L., March 29, 1915
Hart, David, July 9, 1920
Holmstrom, John A., April 5, 1920
Ives, Edwin T., June 18, 1920
Jackson, Raymond H., January 21, 1921
Jones, Stanley M., June 25, 1920
Knowles, Fred C., June 25, 1920
Kranz, Albert J., January 30, 1911
Lauman, Charles P., January 21, 1921
Lord, Leeland D., February 20, 1920
Lowell, Everett B., January 12, 1923
Maytham, George M., Jr., May 29, 1920
Merrill, Joseph, Jr., January 30, 1920
Miller, Frank W., January 21, 1921
Miller, John H., May 20, 1921
Parry, Augustus N., Jr., February 7, 1910
Pender, Harry L., May 6, 1921
Perkins, Harry H., December 31, 1915
Perkins, Raymond H., January 29, 1917
Phillips1, Karl T., March 15, 1918
Richardson, Myron T., May 7, 1920
Sanborn, John W., November 11, 1918
Scott, Charles H., Jr., July 2, 1920
Scott, Leslie J., June 25, 1920
Sewell, Wilbur S., December 29, 1919
Slye, Harley E., June 3, 1918
Taylor, Herbert P., April 5, 1920
Terry, Stephen., June 13, 1919
Todd, Leslie A., June 2, 1919
Toothaker, Clifton J., March 1, 1920
Trombla, Daniel C., May 18, 1921
True, Robert., June 17, 1921
Walton, Kendrick W., June 17, 1921
Walton, Paul S., January 29, 1919
Wells, Meurice T., June 4, 1917
Westerman, Carl A., June 4, 1923
White, Ulysses T., June 2, 1919
Wilson, John A., Jr ., December 13, 1912
Yeaton, Leander G., January 30, 1920
Yeaton, Raymond B., January 30, 1920
Bro. Samuel C. Barnes, admitted to membership September 13, 1882, saw active service as a noncommissioned officer in the Regular Army during various Indian uprisings between 1872 and 1882.
Bro. William Wood, admitted to membership November 5, 1917, was a veteran of the Boer War.
PRESENTATIONS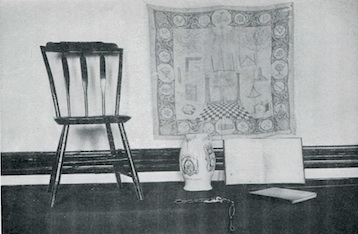 One of the original chairs belonging to the Lodge purchased in 1834 by Bro. W. H. Bagley;
Masonic Altar Cloth formerly belonging to Bro. John Colby; Masonic pitcher belonging to Bro. Nathan Long;
Chain of the Captain's Well; the original record book and the book of By-Laws
open at the signatures of the Charter Members.
In addition to the presentations which have been enumerated incidentally, the Lodge has received various articles of interest from time to time.
One of the earliest presentations was on May 21, 1856, when the widow of Samuel Buswell presented the pitcher he used when he was Tyler. Perhaps this article should be interpreted in the light of what we have found earlier relating to "cider" and "spirituous liquors." This pitcher disappeared in the fire of 1884.
Samuel Buswell was for years a well-known character on the Salisbury side of the Powow River. At one time he had been engaged in freighting cargoes for the Salisbury Mills. He had a "gundelow" in which he was accustomed to work down to Newburyport by the aid of the tide and would there pick up a cargo of material for the mills which had come in to Newburyport by water. With this load he would work back up the Merrimac and the Powow to the Water Street landing. This occupation entitled him to the style of "Captain" and by this prefix he was always known. In later years he was a constable in Salisbury and acted as the village police officer. As he was zealous and omnipresent he became the terror of small boys. Some of our older townspeople remember him as he patrolled the streets.
The Lodge attended his funeral, April 27, 1856, and there was a remarkably large number of Brethren present. The record shows that twenty-five were present from Newburyport.
June 19, 1867, it was
"Voted that the thanks of this Lodge be tendered to the Rev. Benjamin Dorr, D.D., of Philadelphia, for a very fine photograph of his late father, Edward Dorr, Esq., first Master of Warren Lodge.
"Voted that the thanks of the Lodge be tendered to Bro. William Tukesbury, Past Master of Warren Lodge, for a fine photograph of himself.
"Voted that all the Past Masters of this Lodge be requested, such as are now living to sit for their photographs for the use of the Lodge.
"Voted that a suitable mirror, hair brush and comb be procured for the ante-room."
Unfortunately the picture of Edward Dorr was lost in the fire of 1884. The one here today is loaned to us, but before it is returned we hope to have it photographed for future reproduction.
October 8, 1884, after the first fire, a visitors' register was presented by Wor. Bro. Prank H. Merrill and a short time afterwards a Tyler's sword came from Riverside Lodge, Knights of Honor, in whose hall the Lodge was then meeting. Bro. J. Edgar Blake presented the Marshal's baton which is still in use.
July 10, 1889, the Lodge was presented with a gavel of some historic interest.
"This Gavel has for its head a piece of wood taken from one of the timbers that supported the old Concord Bridge at the time when it was made memorable. This piece of wood is of southern pine, and was given as a relic to a gentleman by one of the men who assisted in taking it from the water while the bridge was being repaired.

"The stick of which the handle is composed was given by E. A. Buttrick, Chicopee, Mass., and was taken from the schooner Royal Savage which was sunk in Lake Champlain in an engagement with the British fleet, October 11, 1777. On the handle next to the head is a collar made from a piece of wood taken from the old Constitution while she was being repaired in the Charlestown Navy Yard, presented by W. I. Turner, Amesbury, Mass. The piece of wood from the Concord Bridge was of hard pine and although it had been in the water for nearly a century, its condition was about the same as when it was put down, even the color was but slightly changed.

The correctness of this is attested by Mr. E. A. Buttrick who had a hand in the removing of the foundation timbers.

"The Schooner Royal Savage was sunk on Lake Champlain near Valcour Island in an engagement with the British fleet, October 11, 1777, in the attempt to prevent the opening up by the British fleet of a line of communication between New York and the St. Lawrence. She was built at Skeensborough, Vt., and this was her first engagement.

"The fleet was composed of four (4) schooners, eight (8) gondolas and three (3) row galleys commanded by Benedict Arnold with the Royal Savage as flag ship. Manned entirely by landsmen, they gave battle to a fleet more than twice as large manned by expert mariners and gunners. The Royal Savage was crippled and sunk early in the engagement and Arnold transferred his flag to the Congress and kept up the conflict, but was finally defeated, but rather than have his fleet fall into the hands of the enemy, he set fire to and destroyed them all."
December 8, 1892, the Lodge received the Apron worn by Moses Collins as a member of the Lodge in 1824.
December 9, 1896, the portrait of Samuel Fowler was received. Brother Fowler was never a inember of Warren Lodge, but was a resident of the town. He received his degrees in England in 1795.
When the fire of 1899 came, the hall had been refitted and newly furnished and many of the articles in use were presentation pieces. After the fire and the adjustment of the insurance these articles were replaced as far as possible and plates placed on them to designate the donors.
The altar was presented by Wor. Bros. George E. Collins and Guy L. Bean; the Master's chair by Bro. Lambert Hollander; the other two chairs in the East by Bro. Stephen J. Dauphinee and Bro. Dr. John A. Douglass; the two pillars by Bros. J. Edgar Blake and George E. Gale; the Treasurer's desk by the Treasurer, Bro. Gustavus Cammett; the Secretary's desk by the Secretary, Bro. Cyrus W. Rowell; the point within a circle by Wor. Bro. Woodbury B. Prisbee; the low twelve gong by Wor. Bro. Elmer E. Sanborn. Wor. Bro. M. Perry Sargent presented a Tyler's sword and belt.
In 1906, Bro. Cyrus W. Rowell, then Post Master, presented the trowel used by the Most Worshipful Grand Master in laying the corner-stone of the Post Office.
January 6, 1908, the widow of Bro. Charles W. Long presented a Masonic pitcher and an apron, both belonging to Nathan Long, her husband's grandfather.
Nathan Long in whose house Warren Lodge had its first meeting was a prominent citizen of that part of Amesbury known as the Ferry and was a man of means. His name is frequently found in connection with the shipping of the early days as is evidenced by the stray items I have picked up. He was an owner in the sealer Minerva which cruised in southern waters from 1802 to 1805. He owned the brig Industry, built in 1796. The last vessel built above the Powow River bridge was built for him in 1804. Tn addition to his shipping activities he kept one of the several taverns at the Ferry and his was the most commodious and most pretentious. He also had a bakery at the Ferry. His Masonic record is not known. Although Warren Lodge met at his house, he never joined the Lodge. In all probability he belonged to one of the Newburyport Lodges, but I have not yet found his name in any list of members.
The pitcher which is displayed here today is a fine piece of the old ware which the sea captains of the earlier days were accustomed to have made to order for them in foreign ports. This one bears various Masonic emblems and Nathan Long's name.
In 1908 the Lodge received a framed photograph of Rt. Wor. Bro. Oliver A. Roberts, who was then Junior Grand Warden of the Grand Lodge.
September 17, 1912, the Lodge joined with Trinity Chapter, R. A. M., Amesbury Council, R. & S. M., and Friendship Chapter, No. 58, 0. E. S., in the reception of the large silk United States flag which has ever since stood in the Bast of the Lodge-room.
In addition to the articles already described, the Lodge possesses other interesting things which have come to it at one time and another but have no particular association with its history.
March 7, 1887, Warren Lodge presented Charles C. Dame Lodge with an altar when that Lodge was refurnishing its Lodge-room. On two occasions, at least, Warren Lodge has been able to extend to Powow River Lodge, No. 90,1.O.O.F., an invitation to use the Masonic apartments, once when the Odd Fellows Hall was damaged by fire and again when the roof of their building blew off in a gale and their quarters were wet down. There are other interesting things in the records, but they are too numerous to be treated in detail.
There are frequent fraternal visits to Newburyport and elsewhere, the entertainment of Tyrian Lodge of Gloucester, October 28, 1903, at the time of the visitation of lit. Wor. William II. Ryder, there are onr many visits to the old Rocky Hill Church to celebrate St. John's Day, and numberless other events which fill the records of a busy Lodge, all of which must be passed without further mention.
From time to time as there has been opportunity I have worked into this address bits of biography which may help to color it. It is impossible, however, in this kind of a paper to prepare life stories for all who properly should have them. If the list of members were studied one could find many individuals about whom interesting things might be said.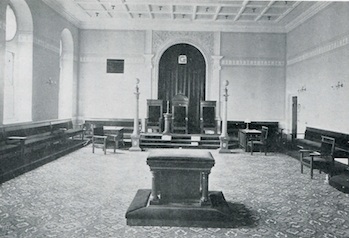 Warren Hall from 1900 until 1923
Space and time do not permit such action. I must therefore pass by such members as Jacob R. Huntington, pioneer in our carriage business and donor of the Josiah Bartlett Monument; William E. Biddle, one of the founders of a bank, a gas company, a water company, and of various industries, including our largest and most valuable today, The Biddle & Smart Company; George F. Bagley, Porter Sargent, Frank F. Morrill, and George B. Gale, cashiers and bank presidents; Samuel Hoyt, the writer, William Lowell Brown, the musician, Fred B. Byram, the judge; Fayette Darling, head of the engineering force of one of the great railroads of the country; William Wirt Pender-gast, in Amesbury a young school teacher, but in Minnesota the State Superintendent of Public Instruction and President of the State Agricultural College; Dr. Horace G. Leslie, physician, public official, lecturer, historian, author, and poet, whose greatest monument is the Amesbury Park which we owe to his vision, forethought, and energy; Benjamin B. Jewell, teacher and temperance advocate; the several sea captains; the elder George W. Osgood, the shipbuilder; the Post Masters, Philip Osgood, Joseph T. Clark-son, Hiram Foot, Cyrus W. Rowell; the many town officials; the corporation representatives, including James Horton, Nathaniel M. Horton, his nephew, and Marquis D. F. Steere; the doctors, from H. S. Dearborn and James A. Tilton, later of Newburyport, to John A. FitzHugh, Benjamin H. Young, and Harry P. Robinson of our own day; Benjamin S. Blake the undertaker; the ministers who have come and gone, and in the same way some of the teachers who left us to gain fame elsewhere; the long line of merchants, with Charles L. Allen, Henry Kingsbury, Everett Fowler, R. H. Sterrett, D. L. Bartlett, James W. Briggs, Jonas Byam, Charles A. Nayson, Aaron J. Rackley, and Elmer E. Sanborn; the still longer line of manufacturers with Biddle, Huntington, Steere, Clarkson, R. F. Briggs, C. N. Dennett, Foster Gale, the younger George W. Osgood, Orlando S. Patten, Robert 0. Patten, Joseph Merrill, Jr., Lambert Hollander, Charles W. Long, David J. Folger, Fred W. Nelson, running back into the past, and John Currier, Augustus N. Parry, Richard E. Briggs, Arthur J. Anderson, Robert H. Hills, Frank M. Hoyt, James H. Walker, and George E. Collins bringing it down to date. All of these, picked out almost at random, must be passed by with no further mention. If anyone thinks that all of the history of Warren Lodge is included in this paper, let him consider the untouched material suggested by these names.
Brethren: As I come to the close of this address, I wish to express one thought which has come to me repeatedly as I have worked on the old records and have learned about our early Brethren. I have seen the Lodge grow from fourteen to four hundred and more, from obscurity to a worthy place, from poverty to comfort. I have read of the admission of Brethren of ability and position, of the acquisition of property and more property.
And yet, Brethren, we have one possession, one claim of distinction which we have never really appreciated, never really valued.
To my mind the most valuable possession of the Lodge is its name, redolent of patriotism and self-sacrifice, around which it should develop a tradition and an observance strong in sentiment which will appeal to and inspire candidates and members alike. One hundred and forty-eight years ago "Warren laid down his life at Bunker Hill.
A leader in the councils of the colonies, comparable in that early day only to "Washington, of Virginia, and Franklin, of Pennsylvania, he went to that battlefield, distrustful of the reasonableness of the expedition against which he had argued and counselled, but determined not to carry his opposition further when the decision went against him. Chosen from among the leaders to be the Commander-in-Chief of the army, a position which Washington later came from Virginia to fill, he declined to interfere in the management of the enterprise and fought as a common soldier with a musket at the breastwork. There he fell and there they buried him. The subsequent finding of his body and its reburial with military and Masonic honors reminds us of a Masonic story to which we have often listened. Fifty years later on the same spot as Daniel Webster recounted the virtues of the various heroes of that occasion, he came to Warren.
But — ah — him! the first great martyr in this great cause! Iiim! the premature victim of his own self-devoting heart! Him! the head of our civil councils and the destined leader of our military bands! Whom nothing brought hither but the unquenchable fire of his own spirit. Him, cut off by Providence, in the hour of overwhelming anxiety and thick gloom! Falling, ere he saw the star of his country rise; pouring out his generous blood like water before he knew whether it would fertilize a land of freedom or of bondage; how shall I struggle with the emotions that stifle the utterance of thy name: Our poor work may perish; but thine shall endure! This monument may moulder away; the solid ground it rests upon may sink down to a level with the sea; but thy memory shall not fail; wheresoever among men a heart shall be found that beats to the transports of patriotism and liberty, its aspirations shall be to claim kindred with thy spirit."
OTHER
---
EVENTS
ST. JOHN THE BAPTIST, JUNE 1831
From Masonic Mirror, New Series, Vol. III, No. 3, July 1831, Page 23:
Warren Lodge at Amesbury, Mass. celebrated the anniversary of the birth of St. John the Baptist on the 24th ult. at South Hampton. Present about seventy members and visitors from neighbouring Lodges; an excellent address was delivered by the Rev. T. F. King, of Portsmouth. The day was fine, and every thing appeared in perfect harmony.
SPECIAL MEETING, MARCH 1864
From Masonic Monthly, Vol. I, No. 6, April 1864, Page 282:
Warren Lodge, of Amesbury, had a very pleasant gathering at their lodge room in that town, on Tuesday evening, 1st ult. There were fully one hundred and fifty persons present, consisting in part of a delegation of fifty from the St. Mark's and St. John's Lodges, of Newburyport, and about twenty from the Merrimac Lodge, of Haverhill.— They had speaking by Grand Master Parkman, Deputy Grand Master Dame, District Grand Master, General Wm. Sutton, and Bro. Geo. Wood, of St. John's Lodge, of Newburyport. After partaking of a supper provided for the occasion, they parted, having spent the evening in a mirthful and joyous manner.
PRESENTATION, SEPTEMBER 1912
From New England Craftsman, Vol. VIII, No. 1, October 1912, Page 27: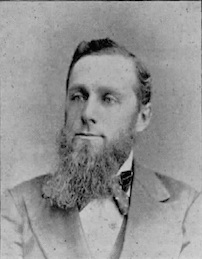 September 10th, 1912, was a gala day for the Masonic Fraternity of Amesbury. All of the Masonic bodies joined with the Order of the Eastern Star in the presentation of a fine silk woven flag for the use of all the bodies.
The colors were escorted into the Lodge Room by all the members of the Fraternity who had been soldiers either in the Civil or Spanish Wars under the leadership of Ex. Comp. George T. Morrill, who served in the 3rd Maine Infantry. Comp. Frank M. Sweet, a Spanish War Veteran, acting as color-bearer.
Rev. D. W. Davis, Commander of E. P. Wallis Post, No. 122, G. A. R., made an eloquent presentation address, referring to the good work done by the Masonic order during the Civil War.
The flag was received on behalf of the Fraternity by Judge M. Perry Sargent, a past presiding officer of all the bodies. He referred to the occasion as being a unique way of celebrating the 50th Anniversary of the Battle of Antietam, which was still fresh in the minds of some of the veterans present and of the loyalty to one's country as being one of the great principles taught in the Masonic Order.
Ex. Comp. George T. Morrill gave a brief history of our National Emblem. Patriotic songs were sung and speeches made and Whittier's poem of "Barbara Frietchie" was finely rendered by Sister Nellie F. Collins, Past Matron of Friendship Chapter, O. E. S. Rt. Ex. George E. Collins, Deputy for the Ninth Capitular District serving as Toast Master.
A collation was served by Comp. W. E. Carr and all voted the occasion a red letter day in the Masonic history of Amesbury.
---
GRAND LODGE OFFICERS
OTHER BROTHERS
---
DISTRICTS
1867: District 6 (Newburyport)
1883: District 9 (Newburyport)
1911: District 10 (Newburyport)
1927: District 10 (Newburyport)
---
LINKS