GMWaugh
From MasonicGenealogy
HARVEY J. WAUGH 1942-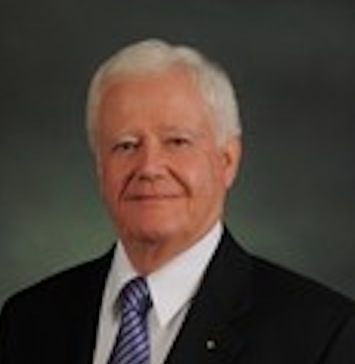 Deputy Grand Master, 2005
Grand Master, 2014-2016
BIOGRAPHY
From Grand Lodge web site, 12/2013:
At the Grand Lodge Annual Communication on Wednesday, December 11, 2013, R.W. Harvey J. Waugh was unanimously elected to serve as the 88th Grand Master of Masons in Massachusetts. He will succeed M. W. Richard J. Stewart. Bro. Waugh served as Deputy Grand Master in 2005. He has been a member of the Board of Directors for the last six years.
From TROWEL, Winter/Spring 2005, Page 4:
He's probably best known as the long-time recorder for the Aleppo Temple Shrine, but Rt. Wor. Harvey J. Waugh has another title to add to his resume. Most Wor. Jeffrey Black Hodgdon named Bro. Waugh to be Deputy Grand Master during the Grand Master's first term. It's been a big year for Bro. Waugh, who got his start in the Fraternity as a member of Melrose Chapter, Order of DeMolay. He follows both the Red Sox and Patriots — two championships and an opportunity to serve Grand Lodge.
While an active member of the Order of DeMolay, our Deputy Grand Master served as Master councilor for his chapter. He was also awarded the Degree of Chevalier, and the Legion of Honor, the highest honor that can be conferred by the International Supreme Council.
He is also a member of Wyoming Lodge, where he served as Master, and Cawnacome Sunshine Lodge.
Rt. Wor. Bro. Waugh has worked for Aleppo Temple since 1968, making him well known to Shriners throughout the state. Before that, he served in the U.S. Navy, being commissioned an Ensign in 1964. While in the Navy, he served as a gunnery officer aboard the USS Henry County, an LST. He also served as a barracks officer at Pearl Harbor, and the Commander of the Naval Honor Guard, representing the Commander-in-Chief of the Pacific. While serving with the Naval Honor Guard, he had the honor of receiving the President of the United States, Lyndon B. Johnson.
In Grand Lodge, Bro. Waugh has served as the Grand Representative from the Grand Lodge of Spain, near the Grand Lodge of Massachusetts.
In the Shrine, he is an Emeritus Representative to the Imperial Council, where he served as Chairman of the Election and Tellers Committee. He is also an Emeritus Member of the Burns Hospital board of governors, and a member of the Royal Order of Jesters.
Rt. Wor. Bro. Waugh is also active in both Scottish and York Rite. In the York Rite, he is a member of St. Paul's Chapter, Melrose Council, Boston Commandery, and St. Bernard Commandery. In Scottish Rite, he is a member of Boston Lafayette Lodge of Perfection; Giles F. Yates Council, Princes of Jerusalem, where he served as Sovereign Prince; Mount Olivet Chapter of Rose Croix; and Massachusetts Consistory. In 1991, Bro. Waugh was elevated to the 33rd degree of the Scottish Rite, in ceremonies in Indianapolis.
Rt. Wor. Waugh resides in Lynnfield with his wife, Margaret. He is the father of two daughters, Kimberly, who is a pediatric nurse at Massachusetts General Hospital; and Jennifer, a sales account manager for MTV Networks in Los Angeles.
SPEECHES
FEAST OF ST. JOHN, DECEMBER 2004
From Proceedings, Page 2004-252:
Brethren, I have been honored by the Grand Master for having been selected to assume this exalted position. I have known the Grand Master now for several years and I know that we are all looking forward to a rewarding experience for Massachusetts Masonry this coming year.
My remarks tonight will run nine minutes and thirty seconds. If I run over, please hold up your watch and point to it. That would be appreciated. It won't stop me from talking, but it shows that you're paying attention! If the Grand Master holds up his watch, I'm done!
Brethren, Masons help each other. We have that written and unwritten bond that keeps us together in brotherhood. We have our Masonic teachings which bring us solace, knowing that each brother, here tonight, each brother that we meet, has the capability of providing a measure of relief, no matter how small, to another brother Mason and his family, when needed. We need that connection so that when we meet a brother for the first time, we know that we will be there if the occasion requires that he needs help or assistance.
Sometimes help and assistance can apply to non-Masonic family or friends. I have several nieces. One of my nieces is named Deborah. Years ago, while Debbie was in high school, she aspired to become a physical therapist. In her senior year, she applied to a respected college that offered a well known and renowned program in physical therapy. Debbie applied for admission, and was thrilled when she received her acceptance letter in the mail.
Now that she was admitted as a Freshman, it became necessary for Debbie to make course selections for her first semester. But she was fearful of this, because she knew that Freshmen were rarely assigned the courses they requested. Upperclassmen and other favored students would be considered first and Debbie would be assigned courses other than what she really wanted. It was time for her appointment to present her course selections. At the appointed hour, Debbie went to the Simmons College Registrar's Office. She waited in the anteroom where the Registrar's Secretary guarded the Registrar's door. As students went in and out of the office, it was evident that not all was going well.
The Secretary's phone rang. She then said, "Miss Waugh, you can go in now." Debbie entered the office of the Registrar and there he was, sitting behind his desk. He motioned to Debbie to sit in the chair in front of his desk. He asked for her course selections. He looked at them and then looked at Debbie and said, "Miss Waugh, do you know a Harvey Waugh?" Instantly, at that very moment, when he said "Miss Waugh, do you know a Harvey Waugh", in her mind she raised her hands toward heaven and exclaimed, "There is a God!!"
Debbie was assigned every course she selected. The Registrar of Simmons College in Boston at that time was Sherwood Barrow. I knew Brother Barrow through Masonry. He was a worker in the Scottish Rite, Valley of Boston, Princes of Jerusalem where I was also a worker. For those of you Scottish Rite Masons present, Sherwood, who we also knew as "Bucky", played the roll of Abazar and I was opposite him as Zerubbabel. What he did for my niece was not a "big deal" in his mind; but for my niece, it was wonderful.
When she related this story to me, can you imagine how proud I was to say, "Debbie, you had just met a Mason."
Brethren, helping each other and assisting our families is a wonderful opportunity to carry on the brotherly love we have as Masons. As long as we do not violate written law, as long as we do not violate our ethical standards and as long as we do not injure others to advance someone else or ourselves, we can be proud of our willingness to help and assist each other.
My daughter Kimberly aspired to become a registered nurse and follow in the footsteps of my wife, Margaret. Kim wanted to attend a nursing program at Margaret's alma mater, but unfortunately, like many nursing Schools across the country, Boston University had closed its school of Nursing. So Kim decided to apply to another school which also had a wonderful nursing school reputation. That school was at Boston College. In her high school senior year she applied, was accepted and began her studies the following September. During her junior and senior year, it became necessary for Kim to acquire practical training experience at local hospitals. To make her commute to these hospitals more convenient, Margaret and I decided to give to Kim my old car. Kim, of course, was delighted. One day, while returning to Boston College from a practical experience session at Newton Wellesley Hospital in Newton, Kim was traveling through Brookline, where BC is located, and mistakenly went through a red light at a major intersection.
Now, it's okay to mistakenly go through a red light at an intersection, as long as two things do not happen. First, when you go through a red light at an intersection you do not want to be involved in or cause an accident. And second, that the car behind you as you go through the red light at the intersection is not a police cruiser.
Kim passed number one with no problem. She was not involved in, nor did she cause an accident. Number two was a major problem. As she reached the other side of the intersection, she looked in her rear view mirror. Lo and behold, she saw the blue flashing lights of a Brookline police cruiser. Kim pulled over to the side of the road. The officer pulled in back of her. He walked up to her window and asked for her license and registration. He said, "You went through a red light." Kim had to acknowledge that she had. The officer went back to the cruiser. Two minutes later he appeared at Kim's driver's window again, returned her license and registration and said, "You can go." I said, "He let you go? Kim, you were very lucky, you could have received a ticket!" And then Kim said, "But, Dad, do you know any police officers in Brookline?" I said, "No, but why?" "Because he said something very strange, something that didn't make any sense." I asked, "What was that?" Kim said, "Dad, he said 'Tell your father you met a traveling man'.
Brethren, do you know how proud I was to be able to say to my daughter at that time, "Kim, you had just met a Mason." Brethren, displayed on the trunk of the old car my wife and I gave to Kim was a Masonic emblem. It may have been a small gesture the officer made when he did not ticket my daughter, but it made quite an impression on her.
As Masons, we have an obligation to be legally correct, to be morally correct and to be ethically correct. But there are those occasions, when we can help each other, when we can help and assist friends and families of Masons without violating any of the aforementioned virtues. The two examples I have given to you reflect the giving qualities of Masons in a good way. We should all go that one step further, go the extra mile, to do that favor which will most likely mean little to us but means so much to the recipient. It's the right thing to do!
Grand Master, I thank you for the honor you have bestowed on me. I look forward to living up to the mantle of trust I have inherited. Brethren, thank you very much!
STATE HOUSE CORNERSTONE REDEDICATION, JUNE 2015
From Proceedings, Page 2015-64:

Governor Baker, Lieutenant Governor Polito, Secretary Galvin, Honored Members of the Legislature, my brother Masons and citizens all;
I am honored to speak here today on behalf of our 29,000 Massachusetts Freemasons. Over 1300 Masons are present to witness this glorious ceremony. I also thank all citizens of this great Commonwealth for attending these proceedings.
Today, we are living history. On July 4, 1795, 220 years ago, the Governor of Massachusetts; Samuel Adams, requested the Grand Master of Masons in Massachusetts, Most Worshipful Paul Revere, to consecrate the construction of a State House, and perform an appropriate ceremony. It is humbling to stand here in the midst of our Governor, Secretary of the Commonwealth, members of the Legislature, reverend clergy and Grand Lodge Officers and engage in a truly worthwhile event – the re-deposit of the State House time capsule.
The ceremony you are about to witness is filled with symbolism and significance. Since ancient times, the laying of a public building's cornerstone has been celebrated.
The Freemasons of today carry on the traditions and rituals of the operative Masons who laid the cornerstones of the cathedrals and castles of Europe. Our traditions and values are an important part of the cornerstone that civilized society is built upon.
When a man is made a Mason, he is initially placed in the northeast corner of a Lodge room. This location is the threshold between the north, a place of perpetual darkness and the east, a place of light.
This threshold between darkness and light serves as the midpoint between ignorance and wisdom, barbarity and civilization; and it represents the beginning of that journey from east to west in pursuit of more: more light, more knowledge, and more liberty. If is for these reasons that a building's cornerstone is also ideally placed in the northeast corner.
As Freemasons, we have a proud history of performing cornerstone ceremonies. This ceremony is identical to the one Paul Revere performed here in 1795, and it is an integral part of our national history.
An honored Mason in Virginia, George Washington performed the cornerstone ceremony at the United States Capitol building in 1793. The Grand Lodge of Washington D.C. performed it at the Smithsonian in 1847 and at the Washington Monument in 1848.
Here in Massachusetts, Masons have laid cornerstones not only for this State House; but also for Massachusetts General Hospital here in Boston, the Bunker Hill Monument in Charlestown, the Forefathers Monument in Plymouth, and several town halls, churches, libraries, and public schools statewide.
This is not an accident. Just as the true history of these United States has the history of this Commonwealth at its foundation, the history of this Commonwealth has that of Freemasonry embedded in its core.
The ceremony I will lead shortly will re-dedicate this building with corn, wine, and oil. We use these items symbolically. The corn is poured as an emblem of nourishments, the wine, as an emblem of refreshment and the oil as an emblem of joy and happiness. They show us that our prosperity as a society is as dependent on the success of this structure as it is on the happiness, pleasure and peace these items give us regularly.
Many past and present legislators and executives have been and are Freemasons today. It is partly through their efforts that our cities and towns have found prosperity over the years.
The pomp and circumstance you see here today represents not only the significant contributions of those who came before us, but the wish for continued prosperity under the guidance and wisdom of today's executive leadership.
Some day in the distant future, when this time capsule is rediscovered by our successors, I hope they can recall the events of today under similar happy circumstances. Thank you very much for being here today.
CHARTERS GRANTED
RULINGS
---