MAOtherBrothersE
From MasonicGenealogy
EAMES, TIMOTHY 1762-1846
From Moore's Freemason's Monthly, V: 189-190, April 1846:
Died in Framingham, (Mass.) March 11th, Col. TIMOTHY EAMES, aged 83 years and 6 months. Brother Eames was made a Mason in Middlesex Lodge, at Framingham, June 17th, 1800, and he had consequently been a member of the Order for nearly 46 years.
In March 1801, he was chosen Steward, and seved one year. In Dec. 1802, he was chosen Tyler, and served one year. In 1807, he was again chosen Tyler, and has been annually re-elected to this office from that time to the present. And what is remarkable, and probably unparallelled in Masonic history, he has never been absent from his post at a single regular meeting of the Lodge during this long space of nearly thirty-nine consecutive years! This circumstance was a subject of congratulation to him in the latter period of his life, and it was with pride and delight that he performed a duty, which he assumed before some of the oldest members had been initiated, and which seemed to devolve upon him by immemorial usage. He took pleasure in serving the Lodge in a station which, in itself, could afford him but little interest, and which necessarily debarred him from active participation in the work and proceedings of our meetings.
He was by trade a carpenter. His habits were active, and he had ever enjoyed almost entire exemption from sickness until within a week of his death. The infirmities of age had been gradually stealing upon him, impairing his hearing, and causing his steps to totter, but he enjoyed general good health until a little shop, containing his tools and some other articles of value to him, for their history and associations, as memorials of other days, caught fire and burned down, which was the immediate cause of his last sickness.
His funeral took place on the 14th inst. The Masonic Brethren, being obliged by the inclemency of the season to omit the contemplated public ceremonies, joined the procession that accompanied his remains to their last resting place, and silently dropped the tear of sympathy and regret on taking the last farewell of an aged, and venerable, and faithful Brother. He was a man of an amiable and peaceable disposition, and bore the reputation of an upright citizen and an honest man.
On the coffin plate, procured by the Lodge of which he was so long a useful member, was the following plain insciption:
"TIMOTHY EAMES. Died March 11th, 1846,
Aged 83 years. FIDELITY. Square and Compass."
At a special meeting of Middlesex Lodge, held on the 14th of March, 1846, the following resolves were unanimously adopted:
Whereas, it hath pleased Divine Providence to remove from this life our aged and esteemed Brother, Colonel Timothy Eames, after an uninterrupted and faithful service as Tyler of Middlesex Lodge for nearly 39 years -
Resolved, by the members of said Lodge, that we cherish in grateful remembrance the long and meritorious services of our departed Brother; that we hold in esteem his character as a man and a Mason; and that we unitedly extend to his surviving relatives our cordial sympathy and condolence in their recent bereavement.
Resolved, That the above be recorded by the Secretary in the books of the Lodge, and that a copy of the same be communicated by him to the family of our deceased Brother.
Dudley, March 16th, 1846.
J.O.S.
See also Description on Lodge web site
Listed in Saratoga Participants
EARLE, HILLARD 1778-1815
From Past Masters of the Masonic Lodges of Taunton, Mass., 1905:
Born in New Bedford, Mass., April 15, 1778. He died of consumption, that fell destroyer of New England life, at the early age of 37 years, on Nov. 11, 1815, at Taunton, Mass. He left a widow and six young children, the eldest but ten years of age. He had employed all his capital in carrying on his business, that of a merchant tailor, and in the settlement of his affairs but little remained for the family. The mother, nevertheless, courageously pressed on, and with prudence and economy successfully reared her young family, trained them in good habits, and gave them a fair common school education. This mother was Mary Ware, whom he married in 1805, in Taunton.
Hillard Earle was the direct descendant in the sixth generation of Ralph Earle, who came to this country from the town of Exeter, (probably) in England, between the years 1633 and 1638, and settled in Portsmouth on the island of Rhode Island. We find his name, with nineteen others, appended to a petition to the king, dated April 30, 1638, craving permission to form themselves into a body politic in that town. William Earle, the son of Ralph, was also of prominence in the town, and with one other erected and maintained the windmill (1668-1685) on Windmill Hill, so called, and for this valuable service to the town he was given two tracts of land in the immediate vicinity. He was also owner of half a share of the thirty shares into which the land adjoining the "Quequechan" or "Fall River" at Fall River was divided, and his farm covered what is now one of the most populous and valuable districts of the city of Fall River. His well, which was long distinguished as a most excellent one, was freely resorted to by the people of fifty years ago, and was uncovered recently when putting in the curbing in front of the easterly buttress of the new post office building.
The descendants of these two men lived in Dartmouth and New Bedford, Mass. From thence Hillard Earle went to Taunton, and having married, established himself in business and formed his circle of acquaintances among the first families of this ancient town. His father, John Earle, born 1745, died in New Bedford. His mother was Priscilla Hilyard, who married John in 1770, in New Bedford. His wife was Mary Ware, whom he married in Taunton in 1805. He was an officer in King David Lodge for eight years.
EASTMAN, ALMON LEROY 1857-1925
From New England Craftman, Vol. XX, No. 7, April 1925, Page 255:
Bro. A. L. Eastman, prominent in the undertaking business of Boston for over forty years, died at his home, 896 Beacon Street, Boston, April 17th.
He had been a life member of Columbian Lodge of Boston since March 7, 1901, and held membership in all the York Rite bodies. He was a 32° Mason and a member of Aleppo Temple, A. A. O. N. M. S.
Funeral services, conducted by the officers of Columbian Lodge, and very largely attended by a host of friends, were held on Sunday afternoon, April 20th, after which the body was taken to North Conway, N. H., for interment.
Brother Eastman was blessed with eminent qualities of heart and head. His passing will leave a void difficult to fill. As a staunch friend of this publication, The Craftsman extends sincere condolence to his widow and other survivors.
EASTMAN, ALPHEUS 1787-1858
From Moore's Freemason's Monthly, Vol. XVII, No. 7, May 1858, Page 223:
Pepperell, Ms., March 30th, 1858.
Charles W. Moore, Esq.
Dear Sir and Brother— Why is it that while we are pursuing our work on earth's Trestle Board in harmony and love, we are checked in full career, and called to mourn the loss of our Brethren? That "still small voice," which spoke in the Garden of Eden, speaks to us in death-like tones — "Thou shalt die, and not live!
Brother Alpheus Eastman, (one of the oldest members of St. Paul's Lodge, Groton, Mass.,) died at his residence in Hollis, N.H., Feb. 23d, 1858, aged seventy years. Brother Eastman, during that unholy crusade of antimasonry, stood firm to the Institution of Freemasonry! He was an industrious man, an excellent teacher of sacred Music, and a worthy Brother. Several years before his death he requested, in open Lodge, to be buried with Masonic honors, at his demise. A vote was taken by the Lodge, which was unanimous in granting his request. On the 25th of Feb. the W. Master, Wardens and Brethren of St. Paul's Lodge, and a deputation of worthy Brethren from Rising Sun Lodge, Nashua, N. H., escorted his remains to the tomb, in presence of a great collection of relatives and friends, who observed the most perfect order during our solemn services, which reflected the highest honor upon the Masonic Institution.
At a regular meeting of St. Paul's Lodge, in Groton, Mass., March 29, 1858, the following resolves were passed :—
Resolved, That in the sudden death of our worthy Brother, we are warned to have our "lamps trimmed and burning," that when the summons of death comes to us, we may answer the grim tyrant — "We are ready."
Resolved, That as our ranks are yearly tinned by the common executioner of the human race, not a moment is to be lost, in preparing for the spirit world.
Resolved, That our furniture and jewels be clothed in mourning for three months, as a mark of respect for our deceased Brother.
Resolved, That we sympathize with the afflicted family, and tender to them our heartfelt grief.
Resolved, That the Secretary send to the family of our deceased Brother a copy of these resolutions, and that they be published in the Freemasons' Magazine, at Boston.
Ebenezer Sawtell, W. M.
"Alpheus was a member of the Hollis Community Church and was a choir director there. This love of music was inherited by his granddaughters and they continued to sing, as well as play the church organ in the same church. Apparently the family had a musical bent. Henry Little in Hollis Seventy Years Ago said he was a man of great activity and life and ran a singing school at his house."
EDMANDS, THOMAS F. 1840-1906
From New England Craftsman, Vol. I, No. 11, September 1906, Page 472:
Brother Thomas F. Edmands, a well known member of the Lodge of St. Andrew of Boston, died at his home August 30. Funeral services with military honors of a most impressive character were held in Trinity Church Saturday, September 1 Lieut. Edmands was for 33 years commander of the First Corps of Cadets, M. V. M. During a greater portion of his life he was connected with the State Militia and with distinction in the Civil War. He w i-mustered in the service in 1861 and com missioned a lieutenant in Company K of the 24th Massachusetts Regiment, to which he remained attached four years and four months, being then mustered out as a lieutenant-colonel of the regiment. H< was brevetted colonel U. S. V. for "gallant and meritorious conduct throughout the war," March 13, 1866. He was with the 9th, 10th, 18th and 24th Corps at varioustimes. A widow and son survive him.
EDSON, THEODORE 1793-1883
From Liberal Freemason, Vol. VII, No. 5, August 1883, Page 158:
Rev. Theodore Edson, of Lowell, rector of St. James Church, who has been in the active ministry in that city for fifty-nine years, and preached in the same church fifty eight years, died Monday morning, June 25th, at 8:30 o'clock, at the age of ninety years. He leaves one daughter, his wile having died about eight years ago. Dr. Edson had been in feeble health some time, but his condition was not such as to cause serious apprehension until quite recently. On May 24th he had an attack of illness, but rallied and was about next day. Retiring on the evening of May 29th, he awoke quite unwell the morning following. His disease occasioned a difficulty in breathing which was painful and exhausting, and which he had not the physical strength to long endure. He was conscious till nearly his last moment. Dr. Green, his family physician, labored devotedly for his relief and comfort until the hour of dissolution came. There was no resident of the city whose life was so identified with, and bound up in its history.
Dr. Edson was bom in Bridgewater, Aug. 24th, 1793; he did not originally intend to miter the ministry, but engaged in secular pursuits. After forming his intention of becoming a clergyman he entered Harvard College, where he graduated in 1822. His ministry was begun in the Merrimac Company's school house, in what was then known as East Chelmsford, on March 7th 1824, and St. Anne's Church was erected the following year. Dr. Edson was its first and only rector, but in the later years he had at first, one assistant, and later, two assistants. Bishop Clark once said of him : "No storm has ever raged which he would not cheerfully lace when the call of the sufferer summoned him from his fireside ; no Sunday has ever dawned when the doors of St. Anne's have not been opened to the worshipper; no heavy-laden sinner ever asked his counsel and was sent uncomforted away."
His warm interest in the public-school system in its infancy is as well known as household words. Dr. Edson was one of the oldest Masons in the city, as well as one of the most devoted, and a member of Mt. Calvary Chapter, Rose Croix; he was an interested member of the Old Residents' Historical Association, and President of the Lowell Institution for Savings.
EGLESTON, AZIRAH 1759-1822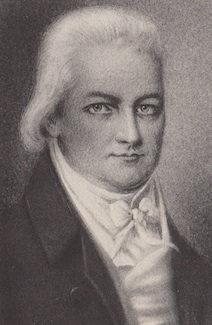 From Lenox History web site:
He was born in Sheffield in 1757, son of Seth Eggleston and Rachel Church Eggleston. Like many of his generation, his father was born in Westfield and emigrated west – as his father may have done before him. Many Revolutionary War veterans were 3rd or 4th generation descendants of the Puritans who had landed in Boston in the 1630's.
About 200 Lenox residents are listed on the Revolutionary War rosters. Not all would have served as long as Major General Paterson or Major Egleston, but it was clearly a town with strong patriot sympathies.
Azirah must have been very committed to the Revolution since he enlisted as a Private in April 1775 at age 18 and participated in many crucial battles and left the service as a Major.
Upon his return, he married the daughter of the local hero, Major General Patterson . When his father-in-law left for new opportunities in New York state, Azirah and his wife Hannah moved into Patterson's handsome Federal style home which you can still see on Main Street. By 1806, he had become quite successful and bought the original home of town founder Israel Dewey which stood at the site of the current Birchwood Inn at Hubbard and Main.
Azirah died in 1822 (age 64) and is buried with his wife Hannah who had died in 1803 (age 33).
His grandson Thomas Egleston led an effort to erect a monument to Paterson and Egleston(unveiled in 1892) and to have Major General and Mrs. Paterson brought to Lenox and re-interred at the cemetery at Church on the Hill.
See "The Life of John Paterson: Major General in the Revolutionary Army," by Thomas Egleston
ELDREDGE, BARNABAS W. 1817-1857
From Moore's Freemason's Monthly, Vol. XVII, No. 2, December 1857, Page 63:
West Harwich, Oct. 28, 1857.
Died in Fall River on Sunday, October 25th, 1857, Bro. Barnabas W. Eldredge, aged forty years.
At a communication of Mount Horeb Lodge of A. F. and A. Masons, held at their Hall on Wednesday evening, October 28, the following preamble and resolutions were unanimously adopted :—
Whereas, the Great Dispenser of all things has been pleased in his All-wise Providence, to remove from us by death, our much esteemed and worthy Brother, Barnabus W. Eldredge, Junior Warden of Mount Horeb Lodge of Ancient Free and Accepted Masons, and as the high respect we entertain for his memory, demands from us an expression of our feelings on the occasion, be it therefore
Resolved, That we deeply deplore his early death, and in it the circle of friends in which he moved has lost a most valuable Companion; the Masonic Fraternity an estimable and worthy member; this Lodge an efficient and faithful officer. As a friend he was always true and generous ; as a husband kind and affectionate; as a Mason pure, zealous and faithful, devoted to the Order, and one whose example was worthy of imitation.
Resolved, That as a testimonial of the high regard we entertain for our departed Brother and friend, the Lodge be dressed in the usual mourning for the space of three months.
Resolved, That we tender our heartfelt sympathy to the afflicted widow and relatives of our deceased worthy Brother, in the loss of a faithful and affectionate husband, and a true and trusty friend.
Resolved, That the thanks of the Lodge be tendered to the Brethren of our Fraternity in Fall River for their kindness and attention towards our deceased Brother during his last sickness and death.
Resolved, That a copy of this preamble and accompanying resolutions be presented to the bereaved wife of our deceased Brother.
Resolved, That a copy of the same be sent to the office of the Barnstable Patriot, and also to Moore's Freemasons' Monthly Magazine, for publication.
N. D. Kelley,
Anthony Kelley,
S. D. Chase,
Committee.
ELDREDGE, HERBERT SANFORD 1864-1946
From Proceedings, Page 1946-248:
Brother Eldredge was born in Milford, Massachusetts, on January 12, 1864, and died at his home in that City on August 28, 1946, after a lingering illness of five years.
After graduation at the Milford High School in 1881, he conducted a paint store in Milford, later entering the florist business with his late wife.
He was raised in Montgomery Lodge of Milford on September 24, 1885, and was its Worshipful Master in 1894 and 1895 and its Secretary for twenty-two years. He served as District Deputy Grand Master for the 20th Masonic District in 1902 and 1903, by appointments of Most Worshipful Brothers Charles T. Gallagher and Baalis Sanford.
He was a Past High Priest of Mt. Lebanon Chapter, R.A.M., Past Commander of Milford Commandery, K.T., and a member of Milford Council, R.& S.M.
Masonic burial was conducted by Montgomery Lodge on Saturday, August 31, at Vernon Grove Cemetery in Milford.
Brother Eldredge devoted over sixty years in service to the Craft and we say farewell to him with deep regret.
ELDRIDGE, NATHAN DAVIS 1885-1947
From Proceedings, Page 1947-193:
Brother Eldridge was born in South Dennis, Massachusetts, on August 6, 1885, and died at Hyannis on March 19, 1947.
After attending the public schools of Dennis, he became a stone mason, and later, custodian of the school buildings in Dennis.
He was raised in Mount Horeb Lodge of Harwich on October 8, 1920, and served as Master in 1929, 1930 and 1945. He served as District Deputy Grand Master for the (Provincetown) 32nd District in 1942 and 1943, by appointment of Most Worshipful Albert A. Schaefer, Grand Master.
Brother Eldridge was interested in the affairs of his town, serving as a special policeman, member of the volunteer fire department, and cem6tery commissioner. His interest in youth made him active in the establishment of the Cape Cod Chapter of DeMolay, and as Instructor and Advisor of that Chapter.
In recognition of his outstanding service to Freemasonry, he was awarded the Distinguished Service Medal in March, 1947, by Most Worshipful Samuel H. Wragg, but died before conferment could be made. The memory of his interest and service will long abide with us.
ELDREDGE, NEHEMIAH DOANE 1864-1908
From New England Craftsman, Vol. III, No. 10, July 1908, Page 360:
Brother Nehemiah D. Eldredge, a member of St. John's Lodge, St. Paul's Chapter and De Molay Commandery of Boston, died suddenly at his home in Dorchester, Monday, April 20th. He was well known in the wholesale fish business and was greatly respected by all his associates. His funeral was conducted with Masonic service by his lodge.
ELLIS, BARTLETT 1795-1883
From Proceedings, Page 1883-228:
Bro. Bartlett Ellis, a signer of the Declaration of 1831, a Mason of fifty-eight years' standing, and a life-long resident of Plymouth, was born August 26, 1795, and died November 2, 1883. He was raised a Master Mason in Plymouth Lodge, December 8, 1825, and, through his protracted life, his daily walk illustrated the gentle teachings of our Craft. He was a man of retiring disposition, not inclined to accept any official positions in Masonry, but most loyal to the Institution, and held in high esteem by his fellow-Craftsmen. His Masonic life covered, within a few months, the entire history of his Lodge, and, in the eightieth year of his age, he enjoyed the pleasure of attending its fiftieth anniversary. A man of unswerving integrity of character, and great kindness of heart, our worthy Brother was a type of that numerous class of Masons whose even and modest lives are made useful and honorable by the faithful discharge of the duties of good citizenship and neighborly kindness, and whose silent example is always an influence for good to those around them. I take pleasure in paying a tribute, however imperfect, to the memory of so good a Mason and. so worthy a man.
ELLIS, EDWARD JARVIS 1854-1939
From Proceedings, Page 1939-199:
Right Worshipful Edward Jarvis Ellis was born in Bath, Maine, April 4, 1854, and died at Hyde Park June 4, 1939.
He was educated in the schools of his native city and took up his residence in Hyde Park when about twenty-two years of age. He entered the service of a firm of leather merchants and later became a partner, continuing there until his retirement from active business. He was prominent in local affairs, civic as well as Masonic.
Brother Ellis took his degrees in Hyde Park Lodge in 1893 and was its Master in 1905 and 1907. He became its Secretary in 1921 and continued in office until his death. He was District Deputy Grand Master for the Twenty-fifth Masonic District in 1913 and 1914, by appointment of Most Worshipful Everett C. Benton and Most Worshipful Melvin M. Johnson. He was also the District Representative on the Board of Masonic Relief.
In the collati:ral branches of Masonry he was a member and Past High Priest of Norfolk Royal Arch Chapter, a member and Past Master of Hyde Park Council, Royal and Select Masters, a member and Recorder of Cypress Commandery, Knights Templar, and a member of the Scottish Rite Bodies in Boston.
Right Worshipful Brother Ellis was very efficient in all his undertakings. Always calm, affable, and kindly, he made friends wherever he went. Hyde Park has lost a good citizen; Masonry has lost an efficient and well-loved worker.
ELLIS, WARREN BARTLETT 1838-1922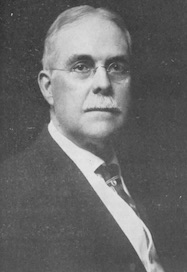 FROM PROCEEDINGS, 1922
From Proceedings, Page 1922-430:
Our good Brother Ellis died at his home in Brookline last Friday (Dec. 8). He was District Deputy Grand Master in 1891 and 1892 for the First District. He was raised in Mt. Lebanon Lodge on March 20th, 1865, and was Worshipful Master of that Lodge in 1875 and 1876.
He received the Royal Arch Degree in St. Andrew's Chapter on May 29th, 1867, and was its High Priest in 1886 and 1887. He was District Deputy Grand High Priest in 1893 and 1894, and Grand High Priest in 1899, 1900, and 1901. He received the Super Excellent Degree in Boston Council in 1868 and was Knighted in Boston Commandery on January 16th, 1889.
In the Scottish Rite he was a member of Boston-Lafayette Lodge of Perfection, Giles F. Yates Council, Princes of Jerusalem, Mt. Olivet Chapter of Rose Croix, and Massachusetts Consistory.
Brother Ellis was born in the town of Bourne on October 22, 1838. He came to Boston when he was seventeen years of age and worked a short time as a surveyor. In 1856 he entered upon a mercantile career and for nearly twenty years he was the representative of a New York importing house, later becoming the Manager of the Franklin Educational Company.
The work in which he spent his latest years and in which he found a field for the exercise of the literary instinct which was his and the expression of the high concept of Masonry which he entertained, was in the publishing of the New England Craftsman, and the editorials which came from his pen and the valuable matter pertaining to the Craft to which he gave publicity were valuable contributions to the promotion of Freemasonry.
We shall miss him from his accustomed place and to full many of us his going is the loss of a dearly beloved personal friend, the embodiment of honor, always kindly and true, just and considerate.
His life was clean and he was deeply religious. His home was ideal and his friends were legion. The memory of our Brother is blessed and he goes to his grave in a ripe old age as a shock of corn that is ready for the harvest, and in the celestial Lodge on high, received we doubt not with the "well done, good and faithful servant," waits our coming in God's appointed time.
From New England Craftsman, Vol. XVII, No. 9, June 1922, Page 256:
Walter Bailey Ellis died suddenly at his summer home in North Scituate on Saturday, June 3d.
Brother Ellis will be remembered by thousands of the Craft throughout Massachusetts for his many genial qualities and his unfailing interest in all that pertained to Freemasonry.
Unassuming by nature, his impulses were always generous and many quiet acts of charity which will never be known were his.
It was his earnest effort always to be wesent at the meetings of the different bodies, and he was a life member of both York and Scottish Rites as well as the Shrine, and by his presence and kindly assistance smooth the way and inspire the initiate and novice, as well as to greet the great host of the membership who knew him well.
Never seeking Masonic preferment it was his pleasure to. help in any capacity in which his services wer? useful—unostentatiously and efficiently. He was reliable and true.
As a personal friend and companion the editor of the Craftsman records with deep regret his passing, for by his genial presence he shed rays of real human kindness on his daily associates.
He is survived by a widow, two daughters md one son.
His funeral, which was largely attended, was held at North Scituate on Tuesday, June 6th, and in the family lot there his remains est near the spot he loved best.
"O Death, where is thy Victory?
O Grave, where is thy sting?"
FROM NEW ENGLAND CRAFTSMAN, 1922
From New England Craftsman, Vol. XVIII, No. 3, December 1922, Page 64:
With sorrow we record the death of Warren Bartlett Ellis, founder of this publication and editor for the first twelve years of its existence. The newspapers have recorded in brief the record of his life, but the fuller measure of his merit as a man and a Mason cannot be told in cold print. He was a true man. True to the instincts of a noble and generous nature, charitable and kindly in all his acts, a friend to all mankind, generous, even. prodigal of his time and effort in all good deeds; never intentionally slighting any man, always faithfully striving to do his best—a gentle man. His record is one seldom equalled.
Coming from a God-fearing family with the best traditions of Puritan New England behind him, his life has been exemplary, his works always worthy and his companionship, especially during his later years a benediction.
He will be missed as few other men in Masonry in Massachusetts.
Devoting as he did the major part of a long life to the interests of an Order he loved, he unselfishly and unstintedly served his fellows far beyond the measure of most men and the allotted three score years and ten. To a host of friends his passing will leave a gap impossible to fill.
As the founder, in October, 1905, of theNew England Craftsman, he had courage to proceed where other men faltered, and with undaunted faith in the Fraternity and a sincere desire to render true, service to it, he persevered in a labor of love, the results of which are a memorial to his vision and enterprise. His was an influence always exerted for the best in the cause of brotherhood of many to which his energy and talents were devoted.
As a personal friend and co-worker the present editor can truly testify that to be in his companionable and enlightening society was to be indeed highly favored.
The merit of his work will be found in the influence he exerted in a wide sphere among his fellowmen and the deep affection in which he was laid by all who knew him.
On another page in this issue will be found the record of his Masonic life.
From New England Craftsman, Vol. XVIII, No. 3, December 1922, Page 83:
Freemasonry in Massachusetts suffers a distinct loss by the death of Past Grand High Priest Warren B. Ellis, at bis home, 98 Thorndike Street, Brookline, December 8. No man in the fraternity was more esteemed than Bro. Ellis, whose genial disposition won him a high place in the affections not only the Craft, but of other circles as well. He was twice married. He leaves a wife, three grandchildren and two great-grand-children. He was the father of the late Walter H. Ellis of Boston and Scituate, who was also prominent in Masonry.
He was born in Bourne, Oct. 22, 1838, and there made the most of the limited educational advantages afforded by the district school. When in his 17th year he found employment in Boston with a surveyor. Following an experience with the rod and chain of nearly nine months, he returned home and to school.
In the spring of 1856 he again came to Boston, where he engaged in mercantile business in various positions. For nearly 20 years he was the selling agent of a New York importing house. Later he became manager of the Franklin Educational Company, importer and manufacturer of scientific instruments.
He was the founder, in 1905, of the New England Craftsman and its editor and publisher until 1917, when the control and business direction passed to Alfred H. Moorhouse, the present publisher and editor.
In Masonry Bro. Ellis won high rank and fame. He was especially interested in the history of the craft, and was counted an authority on tile history of Capitular Masonry in Massachusetts. He was long a contributor to Masonic publications, and on several occasions was tile orator at Masonic anniversary and other gatherings.
The record of his Masonic career is as follows:
Mt. Lebanon Lodge — Member, May 8, 1865; Worshipful Master. 1875-6, District Deputy Grand Master; Secretary, December, 1878 - December, 1920.
St. Andrews R. A. Chapter - Member, June 5, 1867; High Priest, 1887-1888; Secretary, May, 1891 to 1922.
Boston Council, It. & S. M. — Membership, January 80, 18(i8; was a life member, but never held office.
Boston Commandery, K. T. — Knighted January 16, 1889; Prelate for many years and Prelate Emeritus at time of death.
Grand Chapter — Deputy Grand High Priest, 1895; Grand High Priest. 1899-1901.
Scottish Rite — Boston Lafayette Lodge of Perfection, September 26, 1887; Giles F. Yates Council, Princes of Jerusalem, April 18, 1888; Mt. Olivet Chapter, Rose Croix, April 20, 1888, a Trustee of the Permanent Fund; Massachusetts Consistory. October 26, 1888.
Order of High Priesthood — Admitted December 7, 1880; Treasurer-Secretary, De-cember 9, 1890; President. December 8, 1891; declined re-election and elected President Emeritus March 7, 1922.
Of the Grand R. A. Chapter of Massachusetts he was District Deputy Grand High Priest in 1898 and 1891; Deputy Grand High Priest in 1895 and Grand High Priest for 1899, 1900 and 1901. In December of the last named year, after serving three most successful terms, lie was succeeded by Samuel H. Hubbard of Boston.
That M. E. Companion Ellis was a student of Capitular Masonry is evidenced by the fact that he prepared and delivered the historical address at the 125th anniversary of St. Andrew's R. A. Chapter. Sept. 1894, and performed a like service for the Grand Chapter. Oct. 24, 1899. He also made the historical address at the 100th anniversary of his lodge, Mt. Lebanon.
Many prominent Masons, representing large number of Masonic bodies, were present at funeral services held Monday, Dec. 11, at high noon. Services were conducted by Rev. R. Perry Bush, D. D., Grand Chaplain, of the Grand Lodge of Massachusetts, who pronounced a tribute on Bro. Ellis' sterling qualities as a Mason. Assisting in the service were Rev. Frederick Nicholson of the Universal Spiritual Church of Boston and Mrs. Minnie Soule. Mrs. Eleanor Fox Allen, soprano, and Mrs. Frederick W. Cook, contralto, sang three duets, Nearer, My God to Thee, In the Garden and Morning Land. The body was taken to Forest Hills cemetery for cremation.
The Grand Lodge of Massachusetts was represented at the service by Junior Grand Warden Olin D. Diekcrman. Among other prominent Masons present were: Curtis Chipman, grand high priest of the Grand Chapter; Samuel F. Hubbard, J. J. Van Valkenburgh, Frederick T. Comee and Charles D. Burrage, all Past High Priests of the Grand Chapter; Frederick H. Briggs, commander of Boston Commandery and High Priest of St. Andrew Chapter; Walter B. Tripp, president of the First Worshipful Masters Association and secretary and past master of Mt. Lebanon Lodge; Eugene Holton, Frederick Graves, Augustus Ridgeway. Charles E. Phipps, Joseph T. Paul, Charles B. Watts and Charles E. Lawrence, all Past High Priests of St. Andrew Chapter; George F. Wright, vice president of the First Worshipful Masters Association and Past Master of Revere Lodge; Leonard B. Nichols, Past Master of Joseph Warren Lodge of Boston, Nathan B. Basch, Past master of Germania Lodge; Edward F. Jacobs, tyler of many of the Masonic bodies which have headquarters at Masonic Temple; Joseph Work, 33°; Harry D. Delano, Past Master of Mt. Lebanon Lodge, and Alfred H. Moorhouse, editor of the Craftsman.
ELLISON, WILLIAM 1811-1877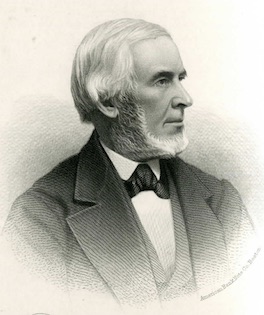 MEMORIAL
FROM COUNCIL OF DELIBERATION, 1878
From Proceedings of the Massachusetts Council of Deliberation AASR NMJ, 1878, Page 64:
The bugle-note of death has again sounded, and another honored Brother has gone to his rest.
Ill. Bro. William Ellison was born in Philadelphia, Penn., on the 22d of September, 1811, and passed to that "undiscovered country, from whose bourn no traveller returns," Aug. 23, 1877, at his residence on Cottage Street, Boston Highlands, at about four o'clock P.M., surrounded by his family and friends, aged sixty-five years and eleven months. He leaves a widow and one son, to whom we extend our heartfelt sympathy in this their hour of bereavement.
Ill. Bro. Ellison came to Boston with his parents at an early age, was educated in our schools, and has been a resident of this city or vicinity nearly all his life. He was in early life engaged in manufacturing, and, later, in the leather business; but he retired from mercantile pursuits over twenty years previous to his death. He has, however, since retiring, filled several positions of trust, such as treasurer of various firms and institutions. He was at one time somewhat interested in municipal affairs, having been president of the common council of the city of Roxbury in 1855, and a candidate for mayor of the city a year or two later.
Brother Ellison was raised to the sublime degree of Master Mason in Columbian Lodge May 21, 1846. Subsequently he affiliated with Mount Lebanon Lodge, and continued a contributing member thereof more than twenty years. He was elected Senior Warden of that Lodge for an unexpired term, but declined further promotion.
He was exalted to the degree of Royal Arch Mason in St. Paul's Chapter in February, 1851, and admitted to membership on the 21st of October following. He was appointed Principal Sojourner, and in 1852 was elected E. Scribe. He received a unanimous vote in 1853 for the office of E. King; but absence from the State obliged him to withdraw from further service at that time. In 1862 he was again elected E. King, but resigned in 1863, having become connected with the Commissariat of the Army of the Potomac. While with the army he obtained from the Grand Lodge of the District of Columbia a Dispensation or Warrant, and, with other members of the Order, established an Army Lodge for the purpose of work while in winter-quarters. The Lodge of the Union was opened for the first time Feb. 29, 1864, when Bro. William Ellison was elected Worshipful Master. In 1875 he was elected and installed E. H. Priest of St. Paul's Royal Arch Chapter of Boston.
He was created and dubbed a Knight Templar in Boston Commandery May 21, 1851; admitted to membership Oct. 15 the same year; and on the same evening was elected Junior Warden, holding that office during six years. He was elected Eminent Commander in 1857, and presided with grace, ease, and remarkable ability, for four years. At the time of his death he was the Recorder of Boston Commandery, discharging the important duties incumbent upon that office with integrity and fidelity, meriting the approval of every member. He served the Grand Encampment of Knights Templars of Massachusetts and Rhode Island as Deputy Grand Commander in 1860-61, and was elected in 1862 M. Em. Gr. Master of that Grand Body.
He assisted in establishing Lafayette Lodge of Perfection, Giles F. Yates Council of Princes of Jerusalem, Gourgas Chapter of Rose Croix, and DeWitt Clinton Consistory of S. P. R. S., 32°, under the Supreme Council for the Northern Masonic Jurisdiction of the United States. On the 21st of November, 1862, he was appointed by letters patent from the Supreme Council a Sov. Grand Inspector-General of the 33° and last degree of the A. A. S. Rite, and Representative of the State of Massachusetts.
In addition to the foregoing, our Illustrious Brother was for many years connected with the Independent Order of Odd Fellows. He was admitted to membership in Massachusetts Lodge of Odd Fellows in 1842, and in Massasoit Encampment in 1845. He was Grand Sire of that Order for the United States in 1855, being the only person from New England ever honored by an election to that high position.
He was interred at Forest Hills Cemetery, Aug. 26, 1877, with Knightly Honors. Boston Commandery of Knights took charge of the funeral: its Prelate, Rev. John P. Bland, officiated at the church on Dudley Street, Boston Highlands; and at the grave the ceremony was conducted by the officers of the Commandery, according to ancient usage, in the presence of large delegations fro 19 the several Orders of the Brotherhoods to which he belonged ; and he was laid quietly and peacefully at rest.
Ill. Bro. Ellison was devoted to our institutions, a true friend and genial man, conservative in his views, a ready debater, and an eloquent speaker. He was usually present at our meetings, and was always ready to fill any position which might tend to advance the interest, or add to the glory, of our Rite.
Outside of his connection with the different orders of which he was a member, he enjoyed the calm quiet of domestic life.
How sad the heart, how moist the eye, as we place upon memorial record, one by one, the names of our Illustrious Brethren whose lives have been made useful to our loved institutions, and who now will be seen no more among us!
How must a spirit, late escaped from earth,
The truth of things new blazing in his eye,
Look back, astonished, on the ways of men
Whose lives' whole drift is to forget their graves!"
Respectfully submitted
Wyzeman Marshall, 33°
Lucius R. Paige, 33°
Benjamin Pope, 33°
Committee
ELLSWORTH, OLIVER 1820-1878
MEMORIAL
COUNCIL OF DELIBERATION, 1879
From Proceedings of the Massachusetts Council of Deliberation AASR NMJ 1879, Page 80:
Col. Oliver Ellsworth was born in the city of Hartford, in the State of Connecticut, Dec. 13, 1820. A noble and illustrious ancestry had preceded him in both the paternal and maternal lines, and gave promise of brilliant greatness for the new-born son. And from his birth, to his sudden death in the full prime of manly vigor, there was never a moment when this prestige of distinction was not radiant from his life. He looked it in his erect and stately form; he acted it in his elastic, imposing motions; he voiced it in his frank, bold utterance; he gave it forth in his unbounded generosity and in the large fidelity of his affection; yet it never came to perfect flower: either it was of too ancient and kingly a type for these republican airs, or, by the circumstance of his day, the brilliant never gained its setting; or else we must take up the complaint which Schiller has put in verse, and say,—
"The gods oft grudge what they have given;
And ne'er unmixed with grief has heaven
Its joys on mortals shed."
Our Ill. Brother came of goodly stock. His fathers were sturdy men of New England; men who were governors of the early Colonies, and foremost in the councils of the new American nation; men in every way honest, upright, learned, loyal, respecters of truth and manly righteousness, advocates of human freedom and justice, supporters of the government (first the old, and then the new), changing wisely with the resurging and crescent power of the rights of man.
William Wolcott Ellsworth, his father, was governor of Connecticut, member of Congress, and for many years chief justice of the Supreme Court of his native State. Oliver Ellsworth, his grandfather, was chief justice of the United-States Supreme Court under Washington, member of the Colonial Congress held at Philadelphia, and minister to France. Abigail Wolcott, his grandmother, was a descendant of Oliver Wolcott of revolutionary fame, and one of the signers of the Declaration of Independence, and through him of Roger Wolcott, one of the ablest colonial governors of Connecticut. His own mother was the daughter of Noah Webster, the world-renowned lexicographer, through whom there was transmitted to her, and through her to our friend and Brother, the blood of Bradford, five times governor of the Plymouth Colony, and also of others famous in Plymouth and Massachusetts histories. It was an ancestry that had been prolific of influence in the New World, and that with an unsparing hand had "cast forth its act and its word into the ever-living, ever-working universe." Illustrious Brother Ellsworth was filled with the inspirations and impulses of this ancestry, apparent, not in any assumption of personal pride or individual superiority, but in the sensitiveness of his honor and the subjective delicacy and tone of all his natural faculties. He was gifted with the powers to do and dare which succeed to such a lineage: he was blessed with the graces and fidelities which bind men to the hearts of their fellows. His life was checkered with the most varied successes, characterized with splendid victories of soul and body, but of victories that never nested into greatness. He was like the bird of restless wing, that never stopped to build its house amid the flowers it loved, but only wrought, tireless to explore and drain the honey from every group of tinted petals that opened beneath its eye.
Young Oliver was sent to a boarding-school at an early age, where he was distinguished, not more for bright and quick intelligence than for numerous "scapes by field and flood," for deeds of strength and daring, and for many sparks of natural genius. When only fourteen years of age, he built a steamboat complete in all its parts and equipments, himself the architect of all, the machinery shaped upon his own forge, and turned upon his own lathe. In this boat he delighted to take his young friends a trip of joy and triumph up and down the long reaches of the Connecticut, that flowed past his native city. About the same time he thought to surprise his friends by the production of a large row-boat. He wrought diligently upon its construction in his father's cellar. He was aglow with the novelty and magnificence of his conception, till all was finished in a style of satisfactory beauty and grace. The day of revelation came, when, behold! the architect, not having studied the possibilities of his escape, found the doorways of his father's house all too narrow; and a discussion, not upon the genius or skill of the boy, but simply between the boat and the door, condemned the former to oblivion and the service of the kitchen-fire.
"Thus many a dream of fervid youth doth die;
Thus manhood's schemes oft fail as with a sigh;
And youth and age alike with unexpended strength
Conceive and toil, succeed and fail, till death at length
Transports the genius to more auspicious climes,
Where every honest labor with God's greater purpose chimes."
After leaving school, young Ellsworth studied a while with Professor (afterwards President) Jackson of Trinity College. But the sacrifices and restrictions of scholarly study were too great for his exuberant life: he longed for the more rapid and continuous conflicts which are the romance of active business struggles. He engaged for several years in the dry-goods commission business with the house of Howe, Mather, & Co., one of whose partners was Junius Morgan, the now well-known banker of London.
During this period of his life his great physical strength was the boast of his friends; one of whom, writing of it, says, "He carried a bale of cotton on his back for several blocks, having been offered the bale in case of success; and he has been known to bend many a heavy iron poker by striking it across the muscle of one arm, and to smash a marble table with his naked fist." Tall, broad-shouldered, and of elegant proportions, he was in early life a model of manly strength and beauty : and even in later years, when cares came thick and fast, and broad shoulders were needed to breast the storms that crossed his path, his back was never bent, nor his step enfeebled with the years; but strength and power were his, though his hair had become silvered, and anxious struggle was stamped upon the brow beneath.
Like many another young man, he grew discontented with the parental roof-tree, and sighed for new scenes and more variety. The dry-goods business had grown irksome and monotonous. Young life was bubbling full and over. He prayed for adventure and some resounding struggle in which his abundant energy and life might find scope and exercise, play and conquest. Finally his father procured for him a chance in Valparaiso, Chili; and at the age of twenty, with the conscious knowledge that the many prayers of loving parents were to follow him, and with the sacred volume of his mother's faith, filled all over its fly-leaves with selected texts and a mother's admonitions, packed in his sea-chest, he started forth to try the world anew.
About ten years of his best life were now spent in South America, — part of it in Chili, and the rest in Peru and Ecuador. Only once in this period did he return to his native city, and then with that imprevisible fatality with which in his eventful life he became full oft familiar. He left a prosperous business, and a partner of good reputation, and apparently capable, honest, and faithful. He returned to experience a terrible shipwreck only a few miles from the port of Valparaiso, his place of destination, to be after a long submersion washed upon a sandy beach ; thence wounded, bruised, weak, and sore, he made his weary way to the city, only to find his business closed, his partner absconded to the concealments of the inland country, the stock and moneys all fraudulently carried away, a large and purposed indebtedness left unpaid, and which was of course now clamorous for satisfaction, and to answer which he was cast into the Chilian prisons.
But his heart did not fail him, nor his inventive genius; neither did his will acknowledge the mastery of events. He found a way to open the prison-doors apace. He recommenced business, labored assiduously at it, liquidated all obligations, and amassed in a few years quite a handsome fortune. He was appointed and served as United-States consul. He was honored with the commission of colonel in the Chilian army, and at different times during his sojourn entered the active service of the State, — a service as full of wild romance and dashing spirit as was ever lived among the clans of the Scottish Highlands, or by the robbers of the Black Forest, and requiring as many elements of lofty character as the most patriotic or the most adventurous of them. Threading the wild fastnesses of the Chilian Andes, probing the deceitful, treacherous souls of that partially civilized people, fighting bandits, pursuing smugglers, defending the rural homestead, quelling mutinous outbreaks, bringing into subjection and orderly force the wayward soldiery, maintaining the prowess of the national arms, carrying to triumph the power of the Stale, and in a hundred other ways, he was leader and sharer in a succession of romantic adventures that only needed the fictile pen of a Scott or a Cooper to have woven them into romances as graphic, as real, as historic, as immortal, as (he Novels of the Border, or the Leather-Stocking Tales. Heard from his own lips, as told with the full bonhomie of his plethoric zeal, they enchained every listening ear, alike the boy and the sage, the impulsive maid and the sedate matron, and made the roof-tree bend with laughter's echo from darkling night to rosy morn. "I have listened,"says one, "to his recitals of his travels for hours at a time with unwavering interest, so graphically did he bring them to my view." Those who knew him best, and had felt the pulses of his mercurial nature, can almost of their own imagination fill out the picture of the Chilian commander swooping with his troopers over the pampas, and threading the cañons of these South-American States, with all the fire of Sheridan, the dash of Carter, the intrepidity of Jackson, and the pugnacity of Hooker, but without the fruitage of their fame. Some of these wild adventures were from time to time written out by our Ill. Brother, and were eagerly sought for and published by the popular journals of the day.
At last he returned home, and it was fondly hoped to abide amid the dignified amenities and happy competence of his family. But the fascination of this exalted roving life had fired a taste that it was not easy to subdue, and yet more difficult to curb within the limitations of artificial etiquette.
He now received an appointment from the Aspinwalls, and, as agent for the Pacific Mail Steamship Company, went to Panama at the time when the gold fever was at its height, and thousands of excited men were crossing the isthmus, hurrying towards the El Dorado of wealth and plenty, and millions of treasure in gold were returning East, — all of which passed safely and without a loss under his careful and resolute supervision.
The office was no sinecure; and Ill. Bro. Ellsworth possessed all the qualities to command the situation, — the brightest honor, fearless energy, facility of appliance, resolute and tireless will, and the very genius of execution. While in the employ of this company, he spent some months in England, and returned to this country in the year 1S52 or 1853.
Soon after, in June, 1854, he was married to Caroline C. Smith, a daughter of Roswell C. Smith, author of the Pestalozzian series of school text-books, by whom he had one child, William Webster Ellsworth, now of New-York City; and under the duties of marital responsibilities he settled down at last in his native country, never again to leave it. After an employment as manager of the Trumbull Iron-Works in Stonington, Conn., he removed to Boston, and became a partner in the firm of Sanborn, Carter, & Bazin, in the book-publishing business. His enterprise gradually absorbed the extensive interests of this house, first under the firm of Bazin & Ellsworth at No. I Cornhill, and eventually into his own name.
After relinquishing this business, Bro. Ellsworth became quite engrossed from time to time in inventing. His talent in this direction was very marked and facile; and he developed many articles of novelty and common use, some of which only reached a clear and distinct existence, and actual possible success, and others were patented, some of which, like his " Spring Balance Shade," found a ready and extensive sale. The idiosyncrasy of Bro.\ Ellsworth characterized him here also: he could not wait for the honest and assured fruition of his talents or of his labor; for to him the victory of the fact achieved was more enticing than the toilsome gain that waits upon a delayed acknowledgment of success. He again found employment in the publishing of miscellaneous books, and filled up his vacant hours in the composition of numerous odd and fanciful poems for the press, and in the authorship of books, among which were Five Thousand in Gold, and A Single Gentleman. These to the initiated will be found to picture out something of the actual life of our beloved friend, and are not without indications of the literary sympathy of a spirit more tender and ductile, if not more lovable, than his own.
Ill. Bro. Ellsworth was distinguished for another faculty which deserves more especial mention than it has yet received. He was so full of versatility of talent, that a closely observing friend once exclaimed of him as follows, "He is a man that, look at him which way you will, is a host in himself." He was never still, never lazy, never inactive, never thoughtless, never without a plan, never without something that was in the doing. In the lull of urgent business his fancy was planning a poem, or inventing some machine. Amid the sentences of his book he struck out a plan of action, and forthwith it started for execution. Did obstacles block his way, and threaten discomfiture to his designs, instantly was the campaign of victory organized; the fight begun, promoted, and carried forward to success; and then, with a joyful and exultant spirit, he became the life and centre of every circle of loving peace, running over with exuberant hospitality, his countenance radiant with pleasant smiles and lightsome cheerfulness. No one — Brother, friend, or stranger — ever met at his door a forbidding host; and the kind husband and indulgent father, the efficient friend in sickness, created in the heart of wife, child, and neighbor, pictures of noble manhood that will long continue to be life's ideals. Adversity and disappointment in business, the failure and end of plans, the obscuration of hopes, never for an hour eclipsed these genial excellences of his liberal manhood.
Ill. Bro. Ellsworth received Masonic light in Lodges of his native State, but it is believed never affiliated with those Bodies nor in those degrees. His reasons for so doing were entirely conclusive to himself, and were deemed satisfactory by his confreres of Massachusetts, where his Capitular and other degrees were conferred. On May 31, 1865, he was created and dubbed a Knight of the Temple and of the Order of St. John in Boston Commandery; and in the following year, 1866, took the degrees of the Ancient Accepted Rite, being created a Sublime Prince of the Royal Secret on Nov. 2, 1866. In this Rite our Brother seemed to take his special Masonic pleasure. He was well versed in its various rituals, and served often and in a variety of offices, to the great satisfaction of the Brethren. For several years he filled by election the office of Venerable Senior Grand Warden of Lafayette Lodge of Perfection; for four years, ending Feb. 15, 1871, as First Lieut.-Commander of De Witt Clinton Consistory; and for seven years, up to Jan. 15, 1875, as Sovereign Prince Grand Master of Giles F. Yates Council of Princes of Jerusalem; and was created an Honorary Member of the Supreme Council, 33°, on Jan. 6, 1871.
His interest in and attachment to Masonry were most unfeigned. He loved its teachings and its expressive ceremonial, and he felt the highest personal pleasure in communicating and explaining them to all Masonic aspirants. His last Masonic evening in Boston was passed in Lafayette Lodge of Perfection on Friday evening, Oct. 4, 1878; and the large assembly of the Brethren present will ever cherish a vivid recollection of the stirring and brilliant manner in which he entered the Lodge, and engaged with the Thrice Potent and other ablest members in the discussions incident to the conferring of these Ineffable Degrees. His dignified and commanding manner, and his full, round utterance, enchained the attention of all; and he defended his position with forensic skill and logical power. It was the last of his meetings with the Fraternity where he had been for many years associated; and lie exchanged the farewell greetings, full of fraternal enthusiasm and love: and yet he was not without a sense that between them there might be no more farewells. Mrs. Ellsworth, writing of this evening, says, "The Friday evening before he left home on that last journey, — I recollect it as if it occurred but yesterday, — what fine spirits Mr. Ellsworth came home in! The glow on his face, and his genial laugh as I met him at the door on his return home, and he exclaimed, 'Orah, I've had such a pleasant evening! — one I shall never forget, — a real treat, and I've enjoyed every moment of the evening: it may be my last Masonic meeting in Boston.'" And she adds, "It was indeed his last."

His first wife deceased in July, 1867; and in August, 1868, he united in marriage with Miss Mary W. Janvrin of Exeter, N.H. In August, 1870, he was again a widower, having laid his second wife to sleep in the same grave with an infant son Oliver, whose life was but the rising and setting of a single sun. In November, 1871, obedient to his warm affection, he again married, Miss Orah A. Janvrin, a sister of his second wife. This wife with her two children, Oliver, five years of age, and Orah a babe, survive him, — she to watch the lonely fire that never again shall burn so cheerful as of yore; and they to learn, but happily never to realize, their sad bereavement.
The pleasant home of their happy wedded life is now given up, and the wife and children have returned to the place of her nativity; and we may believe there doubtless echoes in her lonely heart the desolate words of the poet:—
"Gone, gone, is the light that shone
With the dream of my earlier day;
And the wild winds moan, and alone, alone,
I wander my weary way.

And the sweet spring tide comes back to us o'er
The soothed winter sea;
But he will return no more, no more, —
Never come back to me.

Were it better that I lay sleeping,
With his baby upon my breast,
Where the weary have done with their weeping.
And the wretched are rocked to their rest?

The world is a desolate, dreary one,
And full of sad tears at best:
God, take back thy wandering weary one,
Like a wounded bird, home to its nest."
Ill. Bro. Ellsworth left his home in Newton Oct. 7, 1878, to establish a trading-post in connection with mining-interests in Arizona or New Mexico, and an Indian agency in some of the Western States.
His health and vigor were at their best, his hope buoyant, his affections tender and clinging to his loved ones as ever, his will to achieve and conquer success as fresh and stalwart as when he sent his steamer afloat upon the Connecticut. Life was big with promise, and he took it cheerfully in hand. Crossing the mountains of New Mexico and Colorado, he was seized with the mountain fever; and in its treacherous deadly hold his strong frame and gifted soul swayed as the aspen in the whirl of the tempest, and, like the aspen, outrode the storm, and again became erect and tranquil. He started on his journey by stage, and being anxious to reach the place where his goods were stored, and transact his business, so as to insure an early settlement and a speedier return to his family and home, rode thirty miles to Cañon City, and thence, against the advice of his physician, right on to Pueblo, and thence after a few days, and with improved health, to El Moro, Col., at which place he arrived in the evening. With the rest of the succeeding days he became rapidly better, and found an increasing appetite, and on the morning of Nov. 10, 1878, decided to start for home on the following day. He was telling this purpose to the servant, when suddenly he exclaimed, "I am afraid I shall never see home any more. It is too late. My heart hurts me so 1 I feel that I am going to die now." And in ten minutes the whole of earth was done.
The sad intelligence was at once telegraphed to the Illustrious Deputy, 33°, for Massachusetts, by whom it was communicated with tenderest sympathy and delicacy to his wife and children, and under whose considerate judgment the body was carefully embalmed, transmitted East, and delivered over to the loving disposal of his immediate relatives. It has been of unspeakable satisfaction to his family and friends to feel and to know, that, from his Brethren of the Masonic Fraternity and those associated with them, Bro.-. Ellsworth received every attention and fraternal ministry that the best medical skill, attentive nursing, and affectionate sympathy, could bestow. His funeral was attended by delegations from all the Bodies of the Scottish Rite, and the solemn funeral ceremonies of the Princes of Jerusalem were performed by Giles F. Yates Council. Beautiful floral and other tokens of respect and love were lavishly bestowed; and thus in the pride of life, amid the promise of a long usefulness, and from the expectations of a great success, a generous heroic nature passed to the adventures of the mysterious land.
And what boots it, my friends, from the hunter to flee,
Who shoots with the shafts of the grave?
Far better to meet him thus manfully,
The brave by the side of the brave!
And when against us he shall turn his brand,
With his face to the foe let each hero stand.
And await
His fate
From a hero's hand."
Fraternally submitted, Edwin Wright, 32°,
Henry Endicott, 33°,
Daniel W. Lawrence, 33°,
Committee
ELLSWORTH, VICTOR A. 1841-1915
From New England Craftsman, Vol. X, No. 10, July 1915, Page 362:
Brother Victor A. Ellsworth, a member of Mount Lebanon Lodge, Boston, died Sunday, July 4th, from an affection of the heart and acute Bright's disease. He was one of the best known American authorities on alcoholism, and had been superintendent and physician at the Washingtonian Home for 21 years. He represented the United States at the international alcoholic congresses at Stockholm in 1907 and at London in 1909.
ELWELL, ELIAS 1818-1863
From Moore's Freemason's Monthly, Vol. XXIII, No. 2, December 1863, Page 62:
Gloucester, Nov. 15, 1863.
The Funeral of Capt. Elias Elwell took place on Wednesday afternoon, (says the Gloucester Adv., Nov. 13,) from his late residence on Washington Street, and was attended by a large concourse of relatives and friends. The officers and members of Tyrian Lodge, of A. F. and A. M , of which the deceased was a member, were also present and performed the funeral rites of the Order at the grave. Capt. Elwell was universally, beloved, and leaves a large circle of friends and relatives who will miss bis smiling countenance and his many deeds of kindness. The Boston Transcript, in speaking of his death, has the following :—
"Captain Elias Elwell, of Gloucester, died in this city yesterday, after a brief but painful illness. The deceased was widely known to the mercantile community, and was universally respected for his intelligence and enterprise, and for the generous manliness of his character. From early boyhood he had followed the seas, and quite early in life was placed in command of a ship. He was a true sailor in the best sense of the term, and although he had visited all parts of the world, and was exposed to every danger incident to a mariner's life, the vessels under his command never met with accident or disaster."
At a special meeting of TyrianLodge of A. F. and A. Masons, held on Tuesday, Nov. 10, A. L. 5S63, the death of Br. Elias Elwell, was officially announced by the W. Master, Bro. A. J. Center, whereupon Bro. John S. Webber submitted the following preamble and resolutions, which, upon motion, were unanimously adopted :—
Whereas it has pleased Almighty God, in his wisdom, to remove by death our beloved Brother, Capt. Elias Elwell, therefore be it
Resolved, That we, members of Tyrian Lodge of A. F. and A. Masons, tender our heartfelt sympathies to the mother, brothers and sister of the deceased, knowing as we do, that his death has called them to part with one who deservedly held a prominent place in their affections.
Resolved, That while his many good qualities endear his memory to us, and should serve as an example for our imitation, we are reminded by his sudden death, that we are ever "walking in the valley of shadow," and are taught the useful lesson, "That in the midst of life we are in death."
Resolved, That Bros. N. Proctor, Sargent S. Day and David Plumer present a copy of each of these Resolutions to the mother, brothers and sister of the deceased, under seal of this Lodge, signed by the Master, Wardens and Secretary, and that they be entered in full upon the Records in the usual form.
On motion of Bro. Wm. H. Ware,
Voted, That the Committee named in the foregoing, be instructed to transmit a copy of these Resolutions to the Freemasons' Magazine, with a request for their publication.
Signed, A. J. Center, W. Master.
John Lloyd, S. Warden.
Wm. H. Ware, J. Warden.
Francis Proctor, Secretary.
EMERSON, GEORGE ROBERT 1837-1906
From New England Craftsman, Vol. I, No. 8, June 1906, Page 290:
Brother George R. Emerson died in Boston, April 20.
He was for many years assistant treasurer of the Massachusetts Charitable Mechanic Association. Superintendent Esterbrook of Mechanics' Building noticed that Mr. Emerson was not looking well, and remarked of the fact to him, whereupon he said that he was not feeling very well. Before a doctor could be sent for he passed away.
He lived at 471 Warren Street, Roxbury, and was formerly a member of the old firm of Baldwin & Emery, contractors. He was also a past eminent commander of Joseph Warren Lodge of Masons. This is probably Joseph Warren Commandery; Brother Emerson was a member of The Massachusetts Lodge.
EMMONS, THEODORE HENRY 1829-1917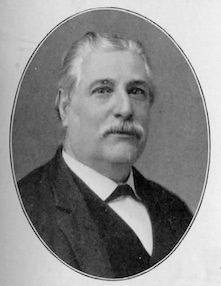 FROM NEW ENGLAND CRAFTSMAN, 1917
From New England Craftsman, Vol. XII, No. 4, January 1917, Page 135:
THEODORE H. EMMONS, one of the best known Masons of Massachusetts and probably the oldest in Masonic service in the United States, passed beyond the vei1 after a prolonged illness Sunday, January 21st. Brother Emmons has left a record of faithful service that will be long remembered in Masonic bodies with which he was associated. He was born July 11, 1829. He passed his life in Boston. For a long time he was employed in clerical service by a large Manufacturing Furniture House.
He was admitted to Freemasonry in St. John's Lodge. Boston, September 6, 1858. He was Worshipful Master in 1865. He was admitted to St. Paul's R. A. Chapter September 30, 1859. He was elected Secretary in 1860 and has filled that office continuously ever since, being installed for the 57th term at the Annual convocation in September last. He was admitted to Boston Council R. and S. Masters, October 23, 1865, and served as recorder 1898 to 1909. He was Knighted in Boston Commandery, Jan. 18, 1860. He was admitted to the Boston Consistory of the A. A. S. Rite, February 6, 1863, was made Grand Sentinel of the Council of Deliberation in 1896 and was crowned Honorary Member of the Supreme Council, Northern Jurisdiction, 33°, September 19, 1893. He was appointed Grand Seneschel 1896 and served in that position to 1912 when he was made Grand Seneschel, emeritus.
He was married November 27, 1851, to Elizabeth Bothamly of Waltham who passed away fifteen years ago.
Brother Emmons was known to Masonic historians and collectors throughout the world from his association with General Samuel C. Lawrence whose magnificent library was under the control and very largely collected by Brother Emmons. His knowledge of Masonic literature was extensive and probably no one was better able to estimate the value of rare Masonic books than Brother Emmons. It is a subject of regret that he neglected to put in print much of the valuable knowledge of Freemasonry that he carried in his head. He was always ready to furnish information and to give advice and while some of the younger generation may have thought him too tenacious of old methods he was without a doubt sound in his advice and honest in his intention to support the best interest of Freemasonry to which he had devoted the best years of a long life.
FROM COUNCIL OF DELIBERATION, 1917
From Proceedings of the Massachusetts Council of Deliberation AASR NMJ, 1917, Page 39:
One of the best known of our brethren, and although not an active member of the Supreme Council, one whose activities extended much wider than many of those who held that official title, was Theodore H. Emmons, 33°, who died January 21, 1917, at the Riverbank Hospital, where he had been removed from his home.He was born July 11, 1829, and passed his life in Boston largely in clerical services, but he is best remembered to us of this generation as a Masonic historian and collector, particularly in connection with the Masonic Library of our late Brother Samuel C. Lawrence, 33°, which was bequeathed to our Grand Lodge.
From his great store of Masonic knowledge he was ever ready to give advice and furnish information; he is respected as one who held tenaciously to the old customs, feeling that any form of change or innovation could not improve an association like ours that had stood the test of time.He was made an honorary thirty-third degree of the Supreme Council in 1893; was appointed three years later Grand Seneschal, a position which he occupied sixteen years, and on his retirement was made emeritus to that office.Being without children or immediate kindred at the time of his death he left the accumulations of years of prudent savings to the Masonic Education and Charity Trust.He will always be remembered for his genial nature and the devoted interest he showed for Masonry.
The Chapel at Forest Hills Cemetery, where the funeral services took place, was filled with Masonic friends, a large representation from this Council of Deliberation being present to pay their last sad respects to his memory.
"By the hut of the peasant where poverty weeps,
And nigh to the towers of the King,
Close, close to the cradle where infancy sleeps
And joy loves to linger and sing,
Lies a garden of light full of heaven's perfume,
Where never a teardrop is shed,
And the rose and the lily are ever in bloom,
'Tis the land of the beautiful dead."
From Proceedings of the Massachusetts Council of Deliberation AASR NMJ, 1917, Page 105:
Theodore Henry Emmons answered the final summons January 21, 1917, after a somewhat lingering illness.
He was born in Boston, July 11, 1829, at a time when Masonry was passing through the darkest, gloomiest period of its history.
Brother Emmons came from an ancestry that was distinguished and honored in the public life of Boston and the Commonwealth in the days subsequent to the Revolution. On his father's side he was connected with the Wendell and Bulfinch who was the architect of the Massachusetts State House, as well as that of Maine, and was related to Oliver Wendell Holmes. His mother was one of the founders of Barnard Memorial, and her whole career was that of a consistent Christian, unwearied in welldoing.
All the daughters of the Emmons family were musical and beautiful singers. All sang in church. Julia Emmons Weston, sang in King's Chapel choir with Louise Hensler, Dr. Derby, and Thomas Ball, the sculptor of the equestrian statue of Washington in the Public Garden.
Brother Emmons attended the Boston schools, and as a young man was engaged in the business of auctioneer. He was married to Elizabeth Bothamly in 1851. They had no children.
He was admitted to Freemasonry in St. John's Lodge, Boston, September 6, 1858, and became its Worshipful Master seven years later. He was admitted to St. Paul's R. A. Chapter September 30, 1859. The following year he was elected Secretary, and he served the Chapter in that office until the time of his death. He was admitted to Boston Council, R. & S. Masters, October 23, 1865, and served as Recorder from 1898 to 1909. He was Knighted in Boston Commandery January 18, 1860.
He was admitted to the Boston Consistory of the A. A. S. Rite, February 6, 1863; elected Grand Sentinel of the Council of Deliberation in 1896, and was crowned Honorary Member of the Supreme Council, Northern Jurisdiction, 33°, September 19, 1893. He was appointed Grand Seneschal in 1896 and served in that position until 1912, when he was made Grand Seneschal Emeritus.
Brother Emmons was an earnest, devoted student of the history of Freemasonry. His knowledge of the history of the Craft, and his keen, discriminating insight as to values, was recognized by General Lawrence, who placed him in charge of the building up of his Masonic library, which under Brother Emmons's guiding hand became one of the finest in the country. General Lawrence gave him a free hand in the expenditure of money and the authority to order books and pamphlets all over this country and Europe and to attend auction sales in various sections of this country to acquire valuable books.
Brother Emmons's character was strong and sturdy, holding tenaciously to the ancient landmarks of our Order. His conservatism made him impatient with any innovations not warranted by the fathers or based on the traditions of the past.
Nearly sixty years devotion to the cause and welfare of Freemasonry is indeed a memorable record, of which we may feel proud and be reverently grateful. No form of bronze, no memorial stone can fittingly emphasize the value of his services to his Chapter and to Masonry. What higher, nobler tribute can we pay to him than to say that he belonged to the great army of faithful souls who fought valiantly for the right as was given them to see the right.
Here let us leave him; for his shroud the snow;
For funereal lamps he has the planets seven;
For a great sign the icy stairs shall go
Between the heights to heaven.
Fraternally submitted,
George W. Chester.
ENDICOTT, EUGENE P. 1848-1914
From Proceedings, Page 1915-90:
R. WOR. EUGENE F. ENDICOTT was born in Chelsea, Mass., October 14, 1848, and passed away December 10, 1914.
He passed his entire life in Chelsea; attended the public schools and early showed those sterling principles that guided his whole life. As a boy he was of a quiet disposition and considerate of all his associates. As a man he was rigid in his integrity, devoted to the welfare of his fellowmen; upright in every position; faithful to every trust, and conscientious in the discharge of every duty. He served. his native city in all branehes of the city government. He served as Mayor of Chelsea, afterwards was elected to the State Legislature, and finally served twenty-four years on the School Committee, sixteen years as its Chairman.
Brother Endicott was Worshipful Master of Star of Bethlehem Lodge, of Chelsea, in 1880 and 1881, and was District Deputy Grand Master of the Third Masonic District in 1902 and 1903.
In all positions he showed marked ability and served with a sincere desire to give his best services for his fellowmen. The right way was the best way and was his way. He was universally respected and loved. and his passing away was a great loss to us all.
ESTABROOK, JAMES A. 1796-1894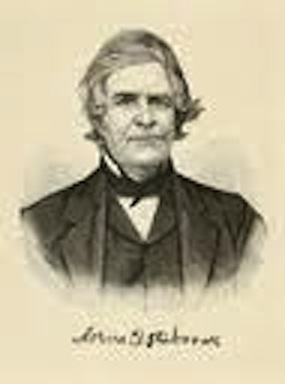 From New England Freemason, Vol. I, No. 6, June 1874, p. 283:
Another Veteran Mason Gone. Colonel James Estabrook, of Worcester, died at his residence on Lagrange street, in that city, on Saturday, May 16, 1871, at the age of nearly 78 years, having been born in Holden, September 4th, 1796. He settled in Worcester in April, 1829, and established himself in the grocery business, in company with General Nathan Heard. Subsequently he was in business in Boston two or three years, when he returned to Worcester and opened a store which he kept several years; afterwards, for many years, holding a position in the Boston custom house. In 1851 and 1852 he was sheriff of the county, by appointment of Governor Boutwell, succeeding the late Colonel John W. Lincoln; but the return of the Whigs to power in 1853, gave the office to his successor, Colonel George W. Richardson. He was a member of the first board of aldermen of Worcester in 1848-9, presi dent of the common council in 1854, and assistant chief engineer of the lire department of the town in 1840. His politics as a Democrat stood in the way of his holdiug many other official positions at the hands of his fellow-townsmen, who held in high appreciation his personal and business integrity and ability, lie was for many years a member of the Old South Church, but for several years past had been a member of the Union Church, in Worcester.
Brother Estabrook was one of the oldest Masons in this section, having received the Lodge degrees in 1818; a Mason for a period of 56 years. He subsequently received the Chapter degrees in Thomas R. A. Chapter, then located at Princeton, and the Orders of Knighthood in Greenwich Village Encampment in 1824.
When Worcester County Commandery was formed, he became a Charter member, and was its first Eminent Commander. In the organization of this Body, nearly fifty years ago, at Abbott's Hotel in Colonel Estabrook's native town of Holden, which was for many years thereafter the headquarters of this Masonic organization in the county, he occupied a most conspicuous part. He was the last surviving officer but two of the first Board of Officers installed at the original institution of the Worcester County Commandery, forty-nine years ago. When the exercises of installation took place, June 25, 1825, at Major Chenery Abbott's Hotel, Colonel Estabrook, as E. 0., presided at the public dinner which took place upon the common in front of the hotel in the afternoon, with Isaiah Thomas, a noted antiquary and P. G. M. of the Grand Lodge of Massachusetts, upon his right, as the most distinguished guest of the occasion. As a memento of so celebrated an event, and considering the few survivors now left as witnesses of the exercises, we give the follow ing list of officers then installed :
Eminent Commander, Col. James Estabrook; Generalissimo, Dr. George Estabrook, of Rutland; Captain General, Col. Merrill Davis, of Holden; Chaplain, Rev. Benjamin Wood, of Upton; Senior Warden, Samuel Stratton, of Holden; Junior Warden, Major Thomas Harbach, of Sutton; Treasurer, Major Daniel Tenney, of Sutton; Recorder, Dr. David Davis, of Holden; Standard Bearer, Lewis Thayer, of Worcester; Sword Bearer, John Whitney, of Princeton ; Warder, Dea. Wm. C. Capron, of Uxbridge.
Of this list of well-known citizens and distinguished Masons of the county, only the venerable Dea. Wm. Capron, of Uxbridge, Mass., and Samuel Stratton, now of Elkhart, Indiana, survive. These officers were installed by the Grand Master of the Grand Encamp ment of Massachusetts and Rhode Island, Henry Fowle, of Boston. Col. Estabrook held the office of Commander for a period of nine years, viz: 1825-6-7, '31-2-3, '43-4 '49 and '54. In 1871, he was elected an Honorary Member of the Body over which he had so ably presided and faithfully served.
On the resuscitation of Worcester R. A. Chapter in 1846, he was one of the petitioners, and a Charter Member, and held the office of Scribe for the years 1846 and 1847.
Brother Estabrook, although not active in Masonry for several years past, was ever loyal to its principles, and proud of his connection therewith. His funeral took place on the 19th ultimo, and was largely attended by his friends and townsmen.
ESTES, WILLIAM ALFRED 1853-1905
Note that GL membership card erroneously lists year of death as 1895.
From New England Craftsman, Vol. I, No. 4, January 1906, Page 144:
Brother William Alfred Estes, one of Lynn's shoe manufacturers, died Nov. 27. Mr. Estes was born in Lynn fifty-two years ago, and was a graduate of the Lynn High School. He then took up the trade of shoe-making, and has been a manufacturer for many years. He was a thirty-second degree Mason, and one of the oldest members of the Lynn Yacht Club.
ESTEY, CHARLES A. 1850-1916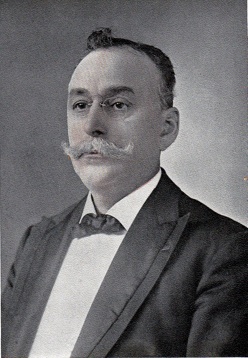 From the collection of the Grand Lodge of Masons in Massachusetts
MEMORIAL
FROM PROCEEDINGS, 1916
From Proceedings, Page 1916-166:
R.W. Charles A. Estey was born October 3, 1850, at Frederickton, New Brunswick, and died in Boston, April 21, 1916. His boyhood was spent in his native town, but at the age of fifteen years he came to Boston and found employment. Not long after he moved to Leominster and engaged in business for himself. Later he removed to Orange. In 1874 he returned to East Boston and received an appointment in the ferry department of this city. Through his fidelity and faithful discharge of his various duties he was repeatedly promoted until he attained the position of clerk and cashier of the department, positions he held at the time of his death.
R.W. Brother Estey received the Masonic Degrees in Orange Lodge, of Orange, Mass., in 873, and became a member thereof June 9, 1873. He dimitted October 11, 1880 and joined Mount Tabor Lodge of East Boston, November 18, 1880. He held various positions in Mount Tabor Lodge and was its Master in 1907 and 1908. He was District Deputy Grand Master of the Third Masonic District in 1912 and 1913.
Brother Estey received the Capitular Degrees in St. John's Royal Arch Chapter, of East Boston, and was a life member of St. Andrew's Royal Arch Chapter, of Boston. He received the Cryptic Degrees in East Boston Council Royal and Select Masters and the Temple Orders in William Parkman Commandery, of East Boston, of which he was a Past Commander. He received the Degrees of the Scottish Rite in the various Bodies in Boston and was created a Sovereign Grand Inspector-General September 18, 1906.
The sudden death of Brother Estey was a great shock to his many friends. In the course of a very few hours he passed from an apparent state of health into that sleep that wakens not. He was of a pleasing, kindly disposition, agreeable in public and private intercourse, faithful in his friendships, and attentive to every duty. He won and retained the respect of the Fraternity and left a memory that will be fondly cherished by all who knew him.
FROM COUNCIL OF DELIBERATION, 1916
From Proceedings of the Massachusetts Council of Deliberation AASR NMJ, 1916, Page 27:
His daily life was an open book, exemplified in his manner and appearance, while his honesty and unswerving devotion to duty made him one to be relied upon for any important work.
The fact that Ill. Bro. Charles A. Estey, 33°, filled the responsible financial position as cashier of the Ferry Department for forty-two years, during all changes of administrations, speaks volumes, not only for his financial responsibility, but for his high character, his absolute integrity, and capacity for dealing with his fellow-men.
The great body of brethren from numerous fraternal organizations that filled the Masonic Temple at East Boston on April 24, 1916, three days after his death, at the services conducted by William Parkman Commandery, indicated the regard and esteem with which he was held by all classes.
His was a genial, kindly nature, ever ready with a helping hand to minister to the suffering, aid the needy, or be of service to mankind.His burial took place in Duxbury, Massachusetts.
From Proceedings of the Massachusetts Council of Deliberation AASR NMJ, 1916, Page 43:
The news of the sudden death of Charles Aaron IEstey, on April 21, 1916, came as a great shock to all his friends. Apparently in the best of health, and while attending to his duties as cashier and clerk of a municipal department, he was stricken by a shock which in less than two hours resulted in his death.
Brother Estey was born on October 3, 1850, at Frederickton, N, B., where he received his early education. At the age of fifteen he came to Boston, Massachusetts, and obtained employment as a wood finisher. Shortly after, he went to Leominster and engaged in business for himself. Later he moved to Athol and then to Orange. On October 18, 1871, he was united in marriage to Ella F. Crocker, who, together with two sons, Charles A. and James L., survives him. In the year 1874 he returned to East Boston and received an appointment to a minor position in the ferry department. Through ability and a faithful discharge of duty he advanced until he reached the position as clerk and cashier, a position which he occupied until the time of his death.
Brother Estey was an honored and respected citizen. He was deeply devoted to the Unitarian Church, and active in all parish affairs. He was also a member of the Urban Real Estate Association and prominent in East Boston social life.
Brother Estey's Masonic career was a very active one. He received the degree of Master Mason in Orange Lodge, A. F, and A. M., in 1873. After returning to East Boston he dimitted from Orange Lodge and affiliated with Mount Tabor, of which he was Past Master.
He was exalted in St. John's Chapter, R. A. M., of East Boston; also a member of St. Andrew's Chapter of Boston, of which he was a life member. He received the degrees in East Boston Council, R. and S. M., and was dubbed and created a Knight Templar in William Parkman Commandery, No. 28, of which he was a Past Commander.
Brother Estey also received the degrees in the Boston Lafayette Lodge of Perfection, Giles Fonda Yates Council, Princes of Jerusalem, of which he was Past Sovereign Prince; also the degrees in the Mt. Olivet Chapter of Rose Croix, and the grades in the Massachusetts Consistory. On September 18, 1906, he was made an honorary member of the Supreme Council of thirty-third and last degree of the Northern Masonic Jurisdiction. He was also Past District Deputy Grand Master of the Third Masonic District, a permanent member of the Massachusetts Council of Deliberation, also Past Grand Lecturer of the Grand Commandery of Knight Templars in Massachusetts and Rhode Island, and a member of Past Commanders Association of Massachusetts and Rhode Island. From 1908 to 1911 he was Potentate of Aleppo Temple.
Brother Estey was a man who commanded the respect of all who knew him. Kindly, modest, genial, and sympathetic, he always proved himself a loyal friend, and his friendship was cherished by all who were privileged to enjoy it. He was ever ready to give of his time and energies to fraternity work, and it was a pleasure to serve his brethren in any way possible. He was a friend whom we all loved, and his absence is a source of deep and genuine grief, not only to us who were allied with him in Masonic friendship, but also to his large circle of devoted friends.
Respectfully submitted,
James D. Robertson, S. P.,
Edw. O. Hatch, P. S. P.,
William H. Puffer,
Committee.
EVERETT, EDWARD d. 1853
From Moore's Freemason's Monthly, Vol. XIII, No. 3, January 1854, p. 94:
Lowell, Dec. 21, A. D., 1853.
At a meeting of Pentucket Lodge, held at Masonic Hall, in Lowell, Mass., on Thursday the 15th day of Dec, A. D. 1853, the following memorial and resolutions were unanimously adopted:—
Whereas, it has pleased the Almighty Disposer of all events, in his all-wise and mysterious providence, to remove suddenly and unexpectedly from among us our beloved Brother Edward Everett, therefore
Resolved, That in the death of our lamented Brother, society has lost a most val uable citizen, and the Fraternity one endeared, by his kind and benevolent disposition, to all who knew him ; and although dead he will ever live in the memories and affections of the Brethren of the Lodge of which he was a member.
Resolved, That we deeply sympathize with the family of our deceased Brother, who have been thus suddenly bereft of a kind husband and an indulgent parent.
Resolved, That a copy of these resolutions be forwarded to the family of our deceased Brother, and to the editor of the Masonic Magazine, at Boston, for publication.
Isaac Cooper, Secretary, Pentucket Lodge.
EVERETT, GEORGE TUCK 1876-1943
From New England Craftsman, Vol. XXXIX, No. 3, November 1943, Page 45:
George T. Everett, 67, prominent Mason and retired business man, died Wednesday, October 27 at his home at 564 School Street, Belmont, Massachusetts. He was born in Bradford, Me., 67 years ago. Until his retirement a few years ago, he had been treasurer of the Webster Thomas Company, wholesale grocers.
He was a past Grand Commander of the Grand Commandery of Massachusetts and Rhode Island Knights Templars; past Commander of DeMolay Commandery; an honorary member of the Boston, Coeur de Leon, Joseph Warren and Reading Commanderies; a past Illustrious Master of the Orient Council, Royal and Select Masters; a member of Soley Lodge A. F. and A. M.; Somerville Royal Arch Chapter, Massachusetts Consistory, 32d Degree Masons and a member of the Bryant Club.
Knight Templars rites were conducted by the Grand Commandery of Massachusetts and Rhode Island Saturday afternoon October 30, at the Payson Park Congregational Church, Belmont. The Rev. Richard H. Bennett conducted the church service.
He is survived by his widow, the former Miss Ethel M. Allen.
EVERETT, GILBERT 1782-1814
From Past Masters of the Masonic Lodges of Taunton, Mass., 1905:
Gilbert Everett was born in 1782. After the death of his first wife he married a daughter of Brother Jonathan Ingell. From Major Seaver's military papers we learn that he was a major in the Bristol County brigade. His occupation is unknown. He died April 30, 1814, in his thirty-third year, and was buried at the Neck-of-Land burying ground, near the present railroad bridge. He became a member of King David Lodge May 23, 1804, and was secretary in 1804 and 1805. He was elected Junior Warden in 1807 and served three years, was Senior Warden one year, and Worshipful Master one year.
EVERETT, J. MASON 1828-1886
From Proceedings, Page 1886-138:
Wor. Brother J. Mason Everett, who died April 2, 1886, was born in the town of Canton, on the sixth day of January, 1828, and was buried with the formalities of our Order, by the Brethren of Blue Hill Lodge, April 4, 1886.
He was a Charter member of Blue Hill Lodge, and its first Worshipful Master, occupying that official position during the years 1864, '65, and '66. He received an appointment as D.D.G.M. of the Thirteenth Masonic District from M.W. Charles C. Dame, December 27, 1867; and was reappointed by M.W. William S. Gardner, December 29, 1868, and December 28, 1869, serving the Grand Lodge with fidelity and ability for the three years. His life record was noble and upright, energetic and successful.
---