MAGLRSpofford
From MasonicGenealogy
RICHARD S. SPOFFORD 1787-1872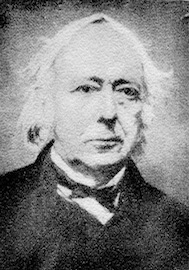 Senior Grand Warden, 1854
MEMORIAL
PROCEEDINGS, 1872
From Proceedings, 1872-33:
"The committee upon the death of R. W. Brother Richard S. Spofford, of Newburyport, respectfully report.
"R. W. Brother Richard S. Spofford, M. D., Past Senior Grand Warden of this Grand Lodge, was born in that part of Rowley now Georgetown, May 24, 1787, and died at Newburyport, January 19, 1872. He descended from an ancient and respectable family which has produced a large number of distinguished physicians, and at a very early age he showed an aptitude for the profession of medicine which he afterwards followed, and had facilities for cultivating his taste therefor in the library and instructions of his father, Dr. Amos Spofford, an eminent physician and one of the founders of the Massachusetts Medical Society.
"R. W. Brother Spofford entered Harvard College in the class which graduated in 1812. Having completed his studies, finishing his course of medical study at the Philadelphia Medical College, he remained a short time at Rowley and then removed to Newburyport, where he practised his profession for more than fifty years. During his whole life he was a close student, having a predilection for mathematics and the languages, and at the same time familiarizing himself with ancient and modern literature and science. Warm and sympathetic in his feelings, generous and unselfish in his nature, ready to relieve distress when called upon by the rich and poor alike, quick in his perceptions, ardent in his views, he was a kind friend, a faithful and patient practitioner, and an instructive and entertaining companion.
"R.W. Brother Spofford commenced his Masonic life while in college, receiving the three degrees in Amicable Lodge, at Cambridge, about the year 1809. The principles and ceremonies of our Institution were in harmony with his tastes, and he at once applied himself to its literature and became proficient in its history and traditions. He received the Chapter degrees in King Cyrus Chapter, at Newburyport, and the Orders of Knighthood in Boston Encampment about 1815. A part of the Council degrees were conferred upon him in this State, and the remainder in Philadelphia, about the same time. He received the degrees of the Scottish Rite in 1825, and at the time of his death was an honorary member of the Supreme Council 33d for the Northern Masonic Jurisdiction of the United States of America. He successively held the offices of Worshipful Master of St. John's Lodge, at Newburyport, High Priest of King Cyrus Chapter, and Commander of Newburyport Encampment. He was also King of the Grand Chapter in 1828, and Senior Grand Warden of this Grand Lodge in 1853. Through the whole course of his Masonic life, he was true and faithful to bur Institution, and in its darkest hours was ever ready to maintain its principles and identify himself with those who shrank not in the hour of trial.
"We offer the following resolutions : —
"Resolved, That the death of R. W. Brother Richard S. Spofford, again mournfully reminds us of the rapid changes which time is making among those who in past years have contributed to honor and dignify our Order.
Resolved, That while by his death the society in which he lived has lost an esteemed and valued citizen, and this Grand Lodge one of its oldest members, the Masonic Fraternity has lost an intelligent, long-tried and faithful friend.
Resolved, That while we bear in lively remembrance, his enthusiastic attachment to our Institution, we will cherish the memory of his bright example to encourage us in our future course.
Resolved, That the sympathies of this Grand Lodge, are with the family of our deceased Brother in their bereavement.
C. C. DAME,
WM. F. HURD,
J. WARREN LAMPHIER, Committee.
MOORE'S FREEMASON'S MONTHLY, 1872
From Moore's Freemason's Monthly, Vol. XXXI, No. 4, February 1872, Page 105:
Died at his residence in Newburyport, Jan. 19, 1872, aged 84 years. The deceased was a Past Senior Grand Warden of the Grand Lodge of this commonwealth, and during his whole life, took an active interest in the welfare of the fraternity. He had presided over the Lodge, Chapter and Encampment, of the city of his residence, and many years since had been advanced to the grade of S. G. I. G. 33* of the Scottish Rite. He was a brother of ability and large acquirements, and until increase of years incapacitated him for the more active duties of life, was held in high respect by his professional brethren. His funeral took place at his late residence on Monday, the 23rd. of January, where the church and masonic services were performed in the presence of a large concourse of his masonic brethren and fellow citizens. At the conclusion of which a procession was formed and the remains were escorted to the cemetery, where they were deposited according to the solemn rites of Freemasonry. The Grand Lodge on this occasion was represented by:
COUNCIL OF DELIBERATION, 1873
From Proceedings of the Massachusetts Council of Deliberation AASR NMJ, 1873, Page 41:
Although an interval of many months has elapsed since the death of our venerable and Illustrious Brother, Richard S. Spofford, the members of this Council, profoundly impressed with the value of the lessons taught by his life and example, claim the grateful privilege of paying to his memory their tribute of respect and affection, and they gladly embrace the present opportunity to place upon permanent record some expression, however inadequate, of their sense of the loss sustained by his associates and the Order at large.
Our beloved brother, whose life of usefulness and honor was so far protracted beyond that commonly allotted to man, commenced his career under auspices exceptionally fortunate. Born at Rowley, May 24, 1787, he came of excellent parentage, inheriting from his ancestors fine physical and mental endowments, and early trained to habits of wholesome intellectual activity. He imbibed a fondness for his father's provision in his childhood, and his thoughts and studies naturally arranged themselves with constant reference to the plan of life he had laid outfor himself. He received the best education of the times at Phillips Academy and Harvard College, finishing his course of medical study in the schools of Philadelphia. Those who knew him can testify to the extent and soundness of his acquisitions, scholarly and professional. Few men cultivated so assiduously every department of science and literature, or carried so modestly a weight of accurate and varied learning.
He established himself in practice at Newburyport, gaining at once the respect and confidence of the people, and laying the foundations of a professional reputation which grew with advancing years, and was asReserved as it was honorable. For more than half a century he devoted himself to the daily round of a physician's duty, bringing to its performance the fruits of laborious study, a vigorous intellect, and a judgment and insight intuitively prompt and reliable. And he threw not only his professional skill, but his conscience and heart into his labors, caring less for a fee than an opportunity to do good to his fellow creatures; so that people of every class learned to regard him as a friend and a benefactor. Perhaps no career can be imagined in which greater opportunities were open to a man devoted to the welfare of humanity than in this, and few practitioners have reaped a richer harvest from the field than Dr. Spofford.
It can be easily understood that a man so broad in his sympathies, so genial in his character, and so devoted to humanitarian works, as was our departed brother, should at an early age have been attracted by the benevolent principles of our Order. He was made a Mason in Amicable Lodge, in Cambridge, Nov. 6, 1809, while yet a student in college, and took the Chapter degrees in King Cyrus Royal Arch Chapter, Newburyport, in 1815. He received the Orders of Knighthood in Boston Encampment, Jan. 6, 1815. The Consistory degrees were received by him in New York. In January, 1825, he was created Sov. Grand Inspector General, 33°. While he was in attendance, Gilbert Motier, Marquis de Lafayette, was exalted by the Sov. Gr. Consistory to the thirty-third degree. At a subsequent meeting of the Sov. Gr. Consistory. Dr. Spofford was appointed Deputy Grand Inspector General for the State of Massachusetts, and clothed with full power to open and constitute a Sovereign Chapter of Princes Rose Croix, and also to form a Grand Council of Sublime Princes of the Royal Secret for that State.
A part of the Council degrees were conferred upon him in this State, and the remainder in Philadelphia about 1822, and with eight others informed the Newburyport Council, and was its presiding officer. He was Senior Grand Warden of the Grand Lodge of Massachusetts in 1853; Grand King of the Grand Chapter in 1826-28; M. E. Grand Commander of Newburyport Encampment, June 12, 1823, served till 1840, and again from 1855 to 1862.
He was High Priest of King Cyrus Chapter 1821 to 1824, and again 1824 to 1826.
Throughout his life he was profoundly interested in the welfare of the Order, and continued until his death Master of the Ritual through all the degrees. He had held, before the temporary decline of Masonry, in the "Morgan Era," all the positions of command in the Lodge, Chapter, and Encampment, and with the revival of Masonry in the late years of his life, he took pleasure in performing the duties, instructing others therein, and in imparting to them the Masonic learning with which his mind was richly stored.
We have alluded to the prominence of our Ill. Brother's position during the period when the public mind was deeply excited upon the subject of Masonry, and falsehood and slander were doing their worst to raise the storm of popular indignation against our beloved Order. These efforts were for a time attended with no small degree of success, for Masonry seemed about to come under the ban of social and political outlawry. Its professors were regarded with suspicion and aversion, and its rights under the laws openly threatened and invaded. Nothing less than the utter subversion of the Order was aimed at by its assailants. To stem this tide of prejudice and obloquy required moral courage of the highest degree, and many of the weaker brethren were glad to take shelter from the storm, and to surrender privileges, which, however dear to their hearts, could only be maintained at the sacrifice of personal comfort and worldly repute.
Not so with our Illustrious Brother and his heroic compeers. Conscientiously devoted to the maintenance of the Order, deeply penetrated with the love of its divine precepts, and proud of its history and achievements, their spirit rose with the emergency, and, regardless of the malice of foes, the treachery of false friends, and the insensate clamor of the multitude, they scorned any compromise on a question of principle, and, by their firm and self-respectful attitude, compelled at last even the admiration of their enemies.
We who live in these halcyon times of Masonry, when its public rites are respected and its badges honored, can never cancel the debt of gratitude we owe to the men who counted no sacrifice too great to secure the perpetuity of their Order, and who, by the purity and dignity of their lives, furnished the best refutation of the slanders which were leveled against its fair fame. Absurd as were the causes which led to this lamentable public misapprehension, having no better origin than the baseless fabrications of renegades and the blind apprehensions of bigots, we should do well to remember that they are at anytime liable to recur, and the student of Masonry may draw valuable lessons from the pages which contain the recital of the trials endured and the constancy exhibited by these champions of the good Cause during the years of suffering and persecution.
In closing this brief review of the career of our Illustrious Brother, we find that we derive no ordinary pleasure and encouragement from the retrospect. We see in him a man who found the highest gratification and the noblest discipline in the ordinary exercise of the duties of his calling, and in the conscientious observance of just relations with the world in which he moved. Unvexed by the cares of ambition, and anxious only to avoid notoriety, he discovered in usefulness the only path to happiness; and that content and tranquillity which most men seek in vain came to him voluntary guests, finding an abiding resting place in his bosom. Happy beyond most of us in the calm equipoise of his life, it was natural that time should deal tenderly with him, and that a kindly old age should preserve him to become an object of affection and veneration to a whole community.
He died January 19,1872, in his eighty-fifth year.
He has gone where the Christian virtues of his character and the sweetness and purity of his life will receive an eternal reward.
"And round his grave are quietude and beauty,
And the sweet heaven above,
The fitting symbols of a life of duty
Transfigured into love!"
Fraternally submitted,
Charles C. Dame, 33°
Charles W. Moore, 33°
James Kimball, 32°
Committee
---