MAGLRSpofford
From MasonicGenealogy
RICHARD S. SPOFFORD 1787-1852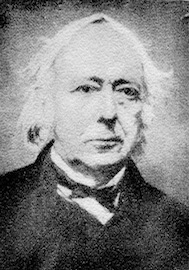 Senior Grand Warden, 1854
MEMORIAL
From Proceedings, 1872-33:
"The committee upon the death of R. W. Brother Richard S. Spofford, of Newburyport, respectfully report.
"R. W. Brother Richard S. Spofford, M. D., Past Senior Grand Warden of this Grand Lodge, was born in that part of Rowley now Georgetown, May 24, 1787, and died at Newburyport, January 19, 1872. He descended from an ancient and respectable family which has produced a large number of distinguished physicians, and at a very early age he showed an aptitude for the profession of medicine which he afterwards followed, and had facilities for cultivating his taste therefor in the library and instructions of his father, Dr. Amos Spofford, an eminent physician and one of the founders of the Massachusetts Medical Society.
"R. W. Brother Spofford entered Harvard College in the class which graduated in 1812. Having completed his studies, finishing his course of medical study at the Philadelphia Medical College, he remained a short time at Rowley and then removed to Newburyport, where he practised his profession for more than fifty years. During his whole life he was a close student, having a predilection for mathematics and the languages, and at the same time familiarizing himself with ancient and modern literature and science. Warm and sympathetic in his feelings, generous and unselfish in his nature, ready to relieve distress when called upon by the rich and poor alike, quick in his perceptions, ardent in his views, he was a kind friend, a faithful and patient practitioner, and an instructive and entertaining companion.
"R.W. Brother Spofford commenced his Masonic life while in college, receiving the three degrees in Amicable Lodge, at Cambridge, about the year 1809. The principles and ceremonies of our Institution were in harmony with his tastes, and he at once applied himself to its literature and became proficient in its history and traditions. He received the Chapter degrees in King Cyrus Chapter, at Newburyport, and the Orders of Knighthood in Boston Encampment about 1815. A part of the Council degrees were conferred upon him in this State, and the remainder in Philadelphia, about the same time. He received the degrees of the Scottish Rite in 1825, and at the time of his death was an honorary member of the Supreme Council 33d for the Northern Masonic Jurisdiction of the United States of America. He successively held the offices of Worshipful Master of St. John's Lodge, at Newburyport, High Priest of King Cyrus Chapter, and Commander of Newburyport Encampment. He was also King of the Grand Chapter in 1828, and Senior Grand Warden of this Grand Lodge in 1853. Through the whole course of his Masonic life, he was true and faithful to bur Institution, and in its darkest hours was ever ready to maintain its principles and identify himself with those who shrank not in the hour of trial.
"We offer the following resolutions : —
"Resolved, That the death of R. W. Brother Richard S. Spofford, again mournfully reminds us of the rapid changes which time is making among those who in past years have contributed to honor and dignify our Order.
Resolved, That while by his death the society in which he lived has lost an esteemed and valued citizen, and this Grand Lodge one of its oldest members, the Masonic Fraternity has lost an intelligent, long-tried and faithful friend.
Resolved, That while we bear in lively remembrance, his enthusiastic attachment to our Institution, we will cherish the memory of his bright example to encourage us in our future course.
Resolved, That the sympathies of this Grand Lodge, are with the family of our deceased Brother in their bereavement.
C. C. DAME,
WM. F. HURD,
J. WARREN LAMPHIER, Committee.
From Moore's Freemason's Monthly, Vol. XXXI, No. 4, February 1872, Page 105:
Died at his residence in Newburyport, Jan. 19, 1872, aged 84 years. The deceased was a Past Senior Grand Warden of the Grand Lodge of this commonwealth, and during his whole life, took an active interest in the welfare of the fraternity. He had presided over the Lodge, Chapter and Encampment, of the city of his residence, and many years since had been advanced to the grade of S. G. I. G. 33* of the Scottish Rite. He was a brother of ability and large acquirements, and until increase of years incapacitated him for the more active duties of life, was held in high respect by his professional brethren. His funeral took place at his late residence on Monday, the 23rd. of January, where the church and masonic services were performed in the presence of a large concourse of his masonic brethren and fellow citizens. At the conclusion of which a procession was formed and the remains were escorted to the cemetery, where they were deposited according to the solemn rites of Freemasonry. The Grand Lodge on this occasion was represented by:
---