MAGLTLambert
From MasonicGenealogy
THOMAS RICKER LAMBERT 1809-1892
MM 1830, Libanus #49, Great Falls, NH
Affiliated 1858, Henry Price
Grand Chaplain 1850-1854, 1858
BIOGRAPHY
From Proceedings, Page 1873-361: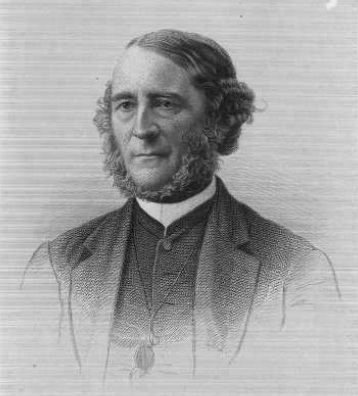 REV. THOMAS RICKER LAMBERT, D.D., CHARLESTOWN, Episcopalian. 1850-1854, 1858.
He was born in Berwick, Me., then a district of Massachusetts, July 2, 1809; and the son of William Lambert, a graduate of Dartmouth College, a member of the legal profession, and also a Mason. He was initiated into the Masonic Fraternity in 1830, at the age of 21 years, in Libanus Lodge, Great Falls, N. H.; made a Royal Arch Mason in Belknap Chapter, Dover, N. H.; and received the Order of Knighthood, in DeWitt Commandery of Templars, in Portsmouth, N. H., the same year. During his residence in N. H., he held several offices in the different organizations of the Masonic bodies, one of which was Grand Chaplain of the Grand Lodge of N. H.
In 1851 he cast in his lot with the DeMolay Commandery at the time of its organization, and accepted the office of Prelate. In 1852 he was chosen Generalissimo; and Grand Commander the three following years, 1853, 1854, 1855. During the same period he was Chaplain of Massachusetts Lodge, St. Paul's Chapter, and Chaplain of the Grand Lodge seven years. He was also for several years Prelate of the Grand Encampment of Kt. Templars of Mass. and R. I., and is at the present time Grand Prelate of the Grand Commandery of Templars of the United States. He received the Thirty-third Degree in 1869.
He fitted for college at the academy in his native place, and Phillips' Exeter Academy, N. H. He "was about entering upon his collegiate course at Dartmouth College, when he was offered an appointment as cadet at West Point, which he accepted, but was obliged to leave that institution before graduating, in consequence of ill health. He soon after entered the office of Hon. Levi Woodbury, in Portsmouth, N. H., as student at law, where he remained until Mr. Woodbury was called to the cabinet of President Jackson. He then went into the office of Hon. Ichabod Bartlett, and was admitted to the bar in 1832.
After practising law for a year, he turned his attention to theology, and was ordained in 1836. He was Chaplain in the Navy for a period of twenty years, the last of his service being at the Navy Yard in Charlestown, when he resigned and accepted the rectorship of St. John's Church, Charlestown, where he has been for eighteen years.
He commenced the practice of law in Great Falls, N. H., the same year that he was initiated into Masonry; and as there had been no public demonstration of the Masonic Fraternity since the Anti-Masonic furor had spread over the land, he was invited to give a public address, and it was with great difficulty that a place could be obtained for the purpose, and it was only by arguments most potent that the good old deacon opened the doors of the Orthodox Church.
In 1847, while at home on leave of absence, he was instrumental in reviving Strafford Lodge, in Dover, N.H., which for seventeen years had ceased to meet, the charter of which could not be found. He obtained a dispensation from the Grand Master, and the first work that was done was to Fellow Craft an Apprentice, who had been initiated seventeen years previous, taking up the work where it was left off. In New Bedford, where he was settled for four years (then a Chaplain in the Navy and on leave of absence), he assisted in a similar service, in 1843, acting as Chaplain on the first appearance of Star in the East Lodge in the face of much opposition. He has delivered several Masonic addresses, part of which have been published.
His debut at the Strafford bar was an argument in a breach of marriage contract, in 1833, in Dover, N. H., which he brought for a lady, and won his case. A contemporary says, "It was Mr. Lambert's first argument in a court of justice, and as such gave good assurance of his future eminence as a successful and eloquent advocate." The same year he delivered a 4th of July oration at Great Falls, N. H. The leading paper spoke of it thus : "Ordinarily we should pass such services with a slight notice, but it is impossible for us to express the full pleasure with which all received this address. It touched every chord of human sympathy, and every sentiment which, as a people, we are proud of feeling in reviewing the past. The style was unusually nervous, elegant, pure and dignified; it evinced an ardent patriotism and a love of the Union, to which the audience gave a sincere and cordial response. The orator concluded with a true and just encomium on the virtues of woman."
He delivered the annual address before the Seaman's Widow and Orphan Society, in Salem, in 1842; and before the New Bedford Port Society, in 1843, the great part being published. He was the orator of the Literary Societies of Brown University, at its annual commencement, in 1845. He has delivered several Lyceum lectures. His principal published discourses have been two on the rebellion, one on his decade as rector of St. John's Church, and one on the death of his Senior Warden, Peter Hubbell.
He received the degree of A.M. from Brown University, in 1845; Trinity College, Hartford, Conn., in 1852; and the degree of D.D., from Columbia College, N. Y., in 1843. He was elected a member of the Phi Beta Kappa Society of Brown University, in 1852.
Extract from a printed sermon, delivered by Dr. Lambert, at Charlestown, on the National Fast Day, Jan. 4, 1861: —
"Political strifes will soon be over, at least with the men of this generation; and they who have been engaged in them will meet before the bar of God. This is a subduing thought. I name it not to repress a righteous enthusiasm in the cause of our common country. No good citizen should shrink himself, or be prevented by others, from doing his duty fearlessly and conscientiously. Sad, indeed, will it be, if all our bright visions of our country's onward march in the glorious track of freedom, are to prove but mere visions; if our boastings of the successful experiment are yet to be thrown back upon us by those across the water.

Sad, indeed, if so much precious blood shall prove itself to have been spilt in vain for so short-lived a blessing; and so much wisdom, and devotion, and purity to have brought its offering to the altar of our revolution; our struggle only to be made the subject of future cavillings, as something honest, but fanatical. Sad, indeed, if over this goodly heritage, where sleep, in hallowed repose, the bones of so many dear martyrs, the oppressor and the sycophant are ere long to tread in unholy pride or cowardly submission, prostrating, as they go, the precious monuments of our republican glory, the one in haughty revenge, the other in sottish ignorance. And saddest of all, if our dear children, who are drinking our blood, and breathing in our spirit, whom we love almost better than ourselves, if they are to crouch beneath this coming oppression, and gaze tearfully upon the ruined wreck of their fathers, and lay themselves down in helplessness and shame. I exhort every man, then, to remember the sacredness of human government, and the great moral principles upon which it is to be established and administered; to adopt no principle of action which he cannot commend to God; to rise above the influence of prejudice and passion, and quietly, and firmly, and, above all, religiously, discharge his duty in cementing and holding together this glorious Union. However small may seem to be the work which such a man may accomplish in his little sphere of action and influence, it will be found at last that by such men God has saved the Commonwealth and the Nation."
Brother L. was elected an honorary member of an English lodge in Rio de Janeiro in 1847; and a banquet given him on his departure, with a piece of silver, as "a mark of respect and esteem by his Masonic Brethren of St. John's Lodge, No. 703, 26th of July, 1847."
---