MAGLGStorer
From MasonicGenealogy
GEORGE W. STORER 1850-1910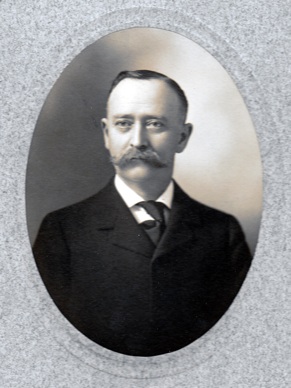 MEMORIAL
PROCEEDINGS, MARCH 1910
From Proceedings, Page 1910-38:
R.W. GEORGE W. STORER, so long and well known by the members of this Grand Lodge, died at his residence in Arlington Feb. 17, 1910. His being taken from us was not entirely unexpected, but we were not ready to have him leave us. He was very active in the affairs of this Grand Body, and his absence will be greatly felt.
He was born in West Cambridge, now Arlington, Mass., May 4, 1850, son of Edward Storer, a worthy citizen of Arlington and an honored member of our Fraternity. His was a busy life in and out of the Fraternity, and as a life-long resident of Arlington be was well known from boyhood up, and held in high esteem. He attended the common schools of his native town, and at the age of sixteen years began active life as a carpenter in his father's employ. Not pleased with that trade, he entered the employ of a dry goods firm in Arlington, and a year later accepted a position in the office of Mr. John E. Lyon, president, of the Boston, Concord & Montreal Railroad at Liberty Square, Boston. Subsequently he held positions of responsibility with this railroad under different managements, until 1882, when the Boston and Maine Railroad leased the Boston, Concord and Montreal Railroad, when he became assistant general passenger agent of the larger corporation. He later became New England passenger agent of the Canada, Montreal road and had an office at 207 Washington street, Boston. He held this position until the road was leased by the Boston and Maine Railroad. After a short time he was assistant general passenger and ticket agent of the Boston and Maine Railroad, and in all he was in the service of that road, or its leased lines, for over forty years.
The Masonic life of our Brother Storer was an interesting and successful one, The day before he was twenty-one years of age he was proposed for the degrees in Freemasonry in Hiram Lodge of Arlington and accepted June 1, 1871 initiated June 1, 1871, crafted Aug. 24, 1871, and raised to the Sublime Degree of Master Mason by his father, Wor. Bro. Edward Storer, Master of Hiram Lodge, Sept. 28, 1871, and elected to membership Oct. 26, 1871.
At the Annual Communication in November, 1871, he was elected and installed Secretary and held the office three years. After filling various offices in the Lodge he was elected and serve€d as Worshipful Master in 1881 and 1882, and since that time installed the officers for twenty-seven successive years, and for thirteen years he served as Treasurer of the Lodge and was installed Dec. 21, 1909, for the fourteenth time.
Those who attended the Centennial Celebration of Hiram Lodge in 1897 will remember the effieient service he rendered as chairman of the executive committee in making a marked success of the event.
The members of Hiram Lodge pay tribute to his zeal and fidelity.
Brother Storer was District Deputy Grand Master of the Sixth Masonic District in 1884 and 1885, and served as Junior Grand Warden of this Grand Lodge in 1886, since which fime he had been active and helpful in the affairs of this Grand Body. He was especially efficient in the annual outings of the District Deputy Grand Masters' Association, being annually one of the committee to make all necessary arrangements.
Menotomy R.A. Chapter of Arlington accepted the application of Brother Storer Sept. 26, 1872, and after conferring the degrees of Mark Master, Past Master and Most Ex. Master, exalted him to the degree of Royal Arch Mason Nov. 18, 1872, and admitted to membership Nov. 29, l872. He was elected Ex. High Priest in 1885, 1886 and 1887, and served the Chapter as Treasurer for a period of ten years from 1897 to 1907. He was D.D.G. High Priest in 1897 and 1898 and elected Grand King of the Grand Royal Arch Chapter of Massachusetts in 1903.
Companion Storer received the degrees in the Cryptic Rite in Medford Council, R. & S. Masters, and became a member May 17, 1888. Companion Storer was knighted in Boston Commandery of Knights Templars Oct. 16, 1882, and received membership the same date. From 1888 to 1895 he served as Guard in the Commandery, and October, 1895, was appointed Warder, serving one year. Those Sir Knights who participated in the various pilgrimages of the Commandery will bear testimony to his courteous and efficient service for the welfare of the members.
He received the Ineffable Grades from the 4th to the 14th in Lafayette Lodge of Perfection, Ancient and Accepted Scottish Rite, Feb. l, 1889.
There is no better record of a man, no more faithful monument than the impress left upon the minds of his friends and associates. In the truest sense those special qualities which give to him his preeminence are natural, not acquired.
Freemasonry, strong in itself, owes much to its adherents. A notable example of all this is found in our Brother who has been called from his labors at an age when we might look forward to many more years of faithful service. His honesty and integrity won the respect of all. By the death of Rt. Wor. Brother Storer a manly, generous unselfish life has become a memory.
Brother Storer was a regular attendant upon the services of the Universalist Church of Arlington, and was a member of the parish committee.
Brother Storer died Feb. 17, 1910, at his home in Arlington, being survived by his wife. The funeral services - which were of a Masonic character - were conducted on the following Sunday at the Universalist Church in Arlington by the Rev. and Rt. Wor. Bro. William H. Rider of Gloucester, a former pastor of the church, who married Brother Storer in 1872. The edifice was filled with his friends from near and far.
"'Death terminates the labors of a man " and forcibly reminds us that our lives here are short.
"He is gone, but his memory liveth;
He is dead, his example is here;
The sweetness and fragrance it giveth
Will linger for many a year."
Respectfully and fraternally submitted,
James M. Gleason,
Henry J. Mills,
Asa L. Durgin,
Committee.
NEW ENGLAND CRAFTSMAN, MARCH 1910
From New England Craftsman, Vol. V, No. 6, March 1910, Page 199:
George W. Storer, one of the well known Masons of Massachusetts died at his home in Arlington, Mass., Thursday. February 17th. Brother Storer was a life lung resident of Arlington where he was held in high esteem. He was horn May 4, 1850. In early life he entered the employment of the Boston, Concord and Montreal Railroad, from this position he passed through all the offices and at the time of his death he was assistant general passenger agent of the Boston and Maine Railroad which road and its leased lines had employed him more than 10 years.
In Masonic circles he was highly thought of and held many high positions in the. various branches. He became a member of Hiram Lodge of Arlington, Oct. 26, 1871, and was Worshipful Master in 1881 and 1882. He was secretary for six years and at the time of his death was treasurer. He was exalted in Menotomy R. A. Chapter Nov. 29, 1872, and was its high priest in 1885-86-87. He became a permanent member of the grand lodge of Masons of Massachusetts, by being chosen junior grand warden in 1886. lie was past grand King of the Grand R. A. Chapter. He joined Medford Council, R. and S. M.. of Medford, May 17. 1888. Boston Commandery, K. T. conferred knighthood on him Oct. 16, 1882 In the Scottish Rite he had reached the 14th degree, through Boston Lafayette lodge of Perfection, Boston, Feb. 1, 1889. Aleppo temple of Mystic Shrine received him Sept. 1890.
Mr. Storer was well known not only among railroad men of the country, but by men in all lines of business. He was popular socially and had hosts of friends. While he made this town the residence all his life and was deeply interested in its welfare, he never would accept a public office, being content to assist in the work, but not hold an office.
He was a man of sterling charactei and to those who knew him he was a friend and the friendship was one of the kind not easy to break off. for once your friend he was always your friend.
---