MAGLFPeirson
From MasonicGenealogy
FRANK E. PEIRSON 1865-1952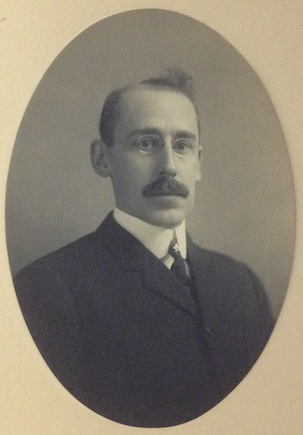 Junior Grand Steward, 1906
Junior Grand Warden, 1907
MEMORIAL
From Proceedings, Page 1952-202:
Brother Peirson was born in Pittsfield, Massachusetts, on May 31, 1865, the son of Henry M. and EIecta M. (Dresser) Peirson, and died at Pittsfield General Hospital on Friday, July 18, 1952.
He received his education in the public schools of Pittsfield. While he was still in Pittsfield High School, he started working part time in the Peirson Hardware Company, founded by his father in 1853. At the age of twenty-five, in 1891, Brother Peirson became a partner in the company and served it until 1940, when he retired from active duty, although he remained as President. Following his retirement from active business, he dedicated his efforts to the creation of a museum and library at the Pittsfield Masonic Temple and also conducted extensive research into the history of the Y.M.C.A. movement in general and the Pittsfield Y.M.C.A. in particular. He had been a lifelong member of the South Congregationai Church and had served it as Clerk and Treasurer. Brother Peirson served as President of the New England Retail Hardware Association in 1909 and headed the Pittsfield Boat Club from 1898 to 1900.
He was married twice, first to Florence Newman, who passed away in 1911, and then to Alice Grey King, who predeceased him also. A daughter, Mrs. Spencer Dodd of Hopkinton, New Hampshire, survives him; and a son, Frank E. Peirson, Jr., died four years ago. Brother Peirson was a member of Shiraz Grotto.
His Masonic record was as follows:
Raised a member of Mystic Lodge of Pittsfield on June 18, 1889, he was its Worshipful Master during 1892. He later became a member of Pittsfield Lodge upon its organization in 1920 and served as its Worshipful Master in 1920 under dispensation. In Grand Lodge, he served as Junior Grand Steward in 1906 and Junior Grand Warden in 1907, following his service as District Deputy Grand Master in 1895. He had managed the Pittsfield Masonic Temple for seven years prior to his passing and had edited a Masonic library news. At his death, Brother Peirson was the senior Past Junior Grand Warden of the Grand Lodge of Masons in Massachusetts.
He was exalted in Berkshire Chapter, R.A.M., of Pittsfield on January 8, 1891; greeted in Berkshire Council, R.& S.M., of Pittsfield on April 7, 1892; and knighted in Berkshire Commandery, No. 22, K.T., of Pittsfield on September 15, 1892. Brother Peirson received the Scottish Rite degrees from the Fourth to Fourteenth inclusive, in Onota Lodge of Perfection of Pittsfield on December 6, 1895; the degrees from the Fifteenth to Sixteenth inclusive, in Pontoosuc Council of Princes of Jerusalem in 1908; the degrees from the Seventeenth to Eighteenth inclusive, in Springfield Chapter of Rose Croix, Springfield, in 1913, although he later affiliated with Pittsfield Chapter upon its organization in 1917; and the degrees from the Nineteenth to the Thirty-second inclusive, in Massachusetts Consistory of Boston in 1915, later affiliating with Connecticut Valley Consistory of Springfield, upon its organization in 1918.
Members of your Committee who personally served with R.W. Bro. Peirson are glad to have this opportunity to pay a slight tribute to him. He was held in the highest esteem, not only by members of the Fraternity throughout the Pittsfield 16th Masonic District, having been elected an honorary member of nearly every Lodge in that District, but also by all others who were associated with him in Grand Lodge during the days of his activity.
His circle of Masonic friends extended throughout the nation, as many Masons outside the District requested a copy of the Masonic Library News which he originated and of which he was editor from the time of its inception until his passing, a period of nine years.
He was always an inspiration to the members, especially in his rendition of the charge given during the ceremony of the Master Mason Degree, which he executed with great sincerity and dignity as will be remembered by many Master Masons. He was always ready and willing to offer his advice and counsel to the officers as they assumed their duties in their respective Lodges.
R.W. Brother Peirson has left a station in the Fraternity that will be very difficult to fill.
Funeral services were held on Sunday afternoon at 3 p.m., July 20, in the South Congregational Church, Rev. Bro. Raymond E. Gibson, Pastor, officiating. Burial was in Pittsfield Cemetery at 10 a.m., Monday, July 21, with private committal services. The Grand Lodge was represented by R.W. LeRoy E. Shaw, Past Junior Grand Warden, and R.W. Walter N. Cooper, District Deputy Grand Master of the 16th Masonic District, and many other Brethren from other Masonic bodies to which he belonged were also present.
Fraternally submitted,
Melvin M. Johnson
Walter N. Cooper
Howard R. Lanfair
Committee
---