MAGLJBreaker
From MasonicGenealogy
JOHN CHARLES BREAKER 1856-1941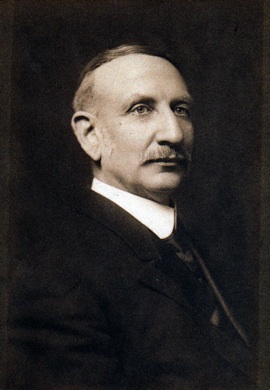 From the collection of the Grand Lodge of Masons in Massachusetts
MM 1888, Hiram #144, Fulton, NY
Affiliated 1896, Jerusalem
Grand Chaplain 1923-1941 (picture taken in 1922)
MEMORIAL
Worshipful Brother Breaker was born at Southampton, EngIand, on February 4, 1856, and died in Worcester, Massachusetts, June 6, 1941. He came to Boston in the early seventies and was variously employed there and in Detroit, Michigan, until he entered the Theological School of Madison University in the class of 1883. His pastorates, covering forty-eight years, were in Schenectady and Fulton, New York; Southington, Connecticut; and Northampton, Worcester and Adams, Massachusetts.
Brother Breaker was raised in Hiram Lodge, No. 144, of Fulton, New York, on April 30, 1888, affiliated with Friendship Lodge, No. 33, of Southington, Connecticut, in April, 1896, and transferred to Jerusalem Lodge of Northampton, Massachusetts, in 1901, of which Lodge he remained a member until his death.
He was appointed a Grand Chaplain of the Grand Lodge of Massachusetts in 1923 by Most Worshipful Dudley H. Ferrell and continued in that capacity until his death. He had served as Chaplain of the Masonic Home at Charlton since 1931. Since 1927, he has rendered valuable service in the Educational Department of this Grand Lodge.
He was exalted in Fulton Chapter, R.A.M., Fulton, New York, on December 28, 1888, and affiliated with Northampton Chapter in 1902. He was greeted in William Parsons Council, R.& S.M., of Northampton on October 9, L902, and later affiliated with Hamilton Council of North Adams. He was knighted in Northampton Commandery, No. 30, K.T., on June 5,1902, and served as Prelate from 1906 through 1912. He was later affiliated with Worcester Commandery, No. 5, and Saint Paul Commandery, No. 40.
Brother Breaker was twice married - in 1882 to Miss Minnie Osborn of Rochester, New York, who died in 1905, leaving three sons, and in 1907 to Miss Mary A. Woodruff of Northampton, Massachusetts, who survives him.
The life of our Brother was one of continuous service for his fellowman. He was ever ready to answer any call, and his cheerful manner and sound counsel always served as an uplift to the many who called upon him.
May his life and character be an inspiration toward still greater service to the many who mourn his passing from our sight.
---