MAOtherBrothersR
From MasonicGenealogy
RAYMOND, JOHN M. 1852-1920
From Proceedings, Page 1920-85:
R. W. JOHN M. RAYMOND, of Salem, was born in that city June 16, 1852, and died at his residence in Salem, March 7, 1920. He received his early education in the public schools of Salem and later attended the Friends Boarding School in Providence, R. I. He then entered the Law School of Boston University and graduated in 1878, when he began the practice of law in Salem. In 1880 he served as a member of the Governor's Council and in 1881 and 1882 was president of the Common Council in Salem.
Brother Raymond was Mayor of the city of Salem four years, 1886, 1887, 1888, and 1889. His administratiou was marked by progress and harmony. In recent years he gradually relinquished his law practice to devote himself to the care of the estate of the late Isaac C. Wyman, the Marblehead millionaire, with holdings all over the country.
Brother Raymond received the degrees of Ancient Craft Masonry in Essex Lodge, Salem, in 1866, and became Master of that Lodge in 1893 and 1894. He was Distriet Deputy Grand Master for the Eighth Masonic District in 1901 and 1902. He was also a member of other Masonic bodies, Chapter, Council, and Commandery, and also of the Ancient Accepted Scottish Rite, in which he was crowned a Sovereign Grand Inspector_General of the thirty-third and last degree September 21, 1897.
Surviving, besides his widow, are three children: two daughters and a son - John M. Raymond, Jr., a Princeton graduate and overseas veteran, now studying law in Boston, who received the degrees in Essex Lodge, Salem, in 1916.
"It seemeth such a little way to me,
Across to that strange country, 'The Beyond',
And yet not strange, for it has grown to be
The home of those of whom I am so fond;
They make it seem familiar and most clear,
As journeying friends bring distant countries near.
RICHARDS, CHAUNCEY SLEEPER 1841-1895
R.W. Chauncey Sleeper Richards was born at Chester, New Hampshire, Dec. 9, 1841, where he resided for the first twenty years of his life. He received his education in the public schools of his native town, graduating at the Chester Academy.
In 1861 he removed from Chester with his father's family, to Danvers, Mass., where he resided until his death. He was for many years associated with his father in the grocery business at Danversport, afterwards buying an interest in a large coal firm in the same town. Upon retiring from that business, he obtained a situation in the Boston Custom House, where he held the position of Inspector. He was a man who possessed the confidence of his townsmen, as shown by their electing him repeatedly to positions of honor, and trust. He has served as Selectman, Water Commissioner, Fire-ward, and was one of the Trustees of the Danvers Savings Bank. He was a valued member of the Universalist Society, and was one of its Trustees.
He was married to Alice G. Black, daughter of Moses Black, of Danvers, May 25, 1»65. He leaves a widow and five children, two sons and three daughters. The sons are members of Mosaic Lodge, and the names of both are found, on its roll as officers for the ensuing year.
He was first a member of Amity Lodge, where he was raised in August, 1864. He was demitted Sept. 23, 1871, at the formation of Mosaic Lodge, of which he was a Charter Member. He was elected Worshipful Master of Mosaic Lodge, and served in that position for the years 1885-6.
He was exalted in Holton Royal Arch Chapter, July 11, 1872, and was M.E.H. Priest in 1884-5. April 19, 1883, he was knighted in Winslow Lewis Commandery, and served as Captain of the Guard in 1886-'87-'88. He was appointed District Deputy Grand Master for the Eighth Masonic District for 1894, and re-appointed in 1895, holding the position at the time of his death. He was buried with Masonic honors on the twenty-ninth day of November, 1895, by Mosaic Lodge, Winslow Lewis Commandery and Amity Lodge acting as escort. The Most Worshipful Grand Lodge was represented by Most Worshipful Grand Master Edwin B. Holmes; R.W. J. Albert Blake, Past Junior Grand Warden; R.W. Charles H. Littlefield, D.D.G.M., Tenth District; and R.W. Samuel L. Sawyer, Special District Deputy for the Eighth District.
R.W. Brother Richards was a man beloved by all who knew him. Possessing a sunny disposition and a generous heart, he was always stretching forth the willing hand to help the weak, raise up the discouraged, and lighten the burdens of the afflicted. Many can testify to benefits received from his kind words and sympathy. He was a devoted and loving father and a good husband, and we extend our sympathy to his bereaved family.
Brother Richards in his last sickness was called upon to endure far more than the usual suffering of humanity. Confined to his room from the twenty-second day of July, he began an unequal fight against the progress of the disease which was to take his life; enduring the greatest agony through those weary days, and suffering almost beyond the control of reason; yet, it is said, that in the presence of his children he maintained such control of himself, for their sakes, that they frequently felt on leaving his bedside that he was on the road to restored health.
He passed away on the evening of November 26, entering into the reward prepared for him in that country from whose bourne no traveller returns. The last offices performed for the dead are useful for the consideration of the living, and if we, by remembering his many virtues, are taught to develop our own feelings of brotherly love and kindness for each other, then his life and death will not have been in vain.
Respectfully submitted,
SAMUEL L. SAWYER,
Committee.
RICHARDS, FRED HOYT 1873-1939
From Proceedings, Page 1939-199:
Right Worshipful Fred Hoyt Richards was born in Chelmsford November 8, 1873, and died in Foxboro April 7, 1939.
Brother Richards went to Foxboro as a boy, and in early manhood became chief accountant for a paper manufacturing company in Boston. The last twenty-five years of his life were passed as cashier of the Foxboro National Bank. He was very active in town affairs, serving as Assessor, as an election officer, and as Town Accountant.
He was raised in Saint Alban's Lodge in 1900 and was its Master in 1911. He served as District Deputy Grand Master for the Attleboro Twenty-eighth Masonic District in 1929 and 1930, by appointment by Most Worshipful Herbert W. Dean.
He was a member and for thirty-seven years Secretary of Kingston Royal Arch Chapter; Past Master of Attleboro Council, Royal and Select Mastersl and for thirty-five years Treasurer of Bristol Commandery, Knights Templar. The respect and esteem in which he was held by our Fraternity is abundantly shown by this impressive list of offices held by him. On the occasion of his funeral, the flags on the town buildings and on the bank were displayed at half staff and every business establishment in the center of the town was closed during the funeral ceremonies.
So passed a useful citizen and a good Mason, who exemplified in his life the principles of our Order.
RICHARDSON, ALBERT LEWIS 1846-1914
From Proceedings, Page 1914-144:
Albert Lewis Richardson was born in Boston, Mass., Nov. 20, 1846, and died at his residence in Boston, March 17, 1914. He was a son of Mr. and Mrs. Lewis G. Richardson and a grandson of R.W. John B. Hammatt who was Junior Grand Warden of the Grand Lodge in 1812, Senior Grand Warden in 1815, and on his return to the State after many years' absence was appointed Deputy Grand Master in 1843, and for whom Hammatt Lodge of East Boston was named.
Brother Richardson received the degrees in Mount Lebanon Lodge in 1871, and was its Worshipful Master in 1877 and 1878. He was District Deputy Grand Master of the First Masonic District in 1879 and 1880. He joined St. Andrew's Royal Arch Chapter in 1872, and was its High Priest in 1880 and 1881. He became a member of Boston Council, R. & S. M. in 1873, and was its Thrice Illustrious Master in 1876 and 1877. He also became a member of Boston Commandery, K. T., in 1872. His special Masonic work was done in the Scottish Rite. He became a member of Massachusetts Consistory in 1873, and was its Illustrious Commander for three years, 1890-1892. In 1890, September 16, he received the Thirty-third and last degree, honorary, at the session of the Supreme Council in Cleveland.
Brother Richardson married July 12, 1900, Miss Velilla Chase, who survives him.
Brother Richardson was an active Mason for nearly forty years. He was always ready and willing to discharge any duty which the Brethren desired. Of quiet demeanor, and of retiring disposition, he greeted his Brethren with a simple dignity of manner that won him many friends.
His loyalty to the various bodies of which he was a member was clearly shown in his presence, his activity and his zeal. His memory will be cherished by hosts of Brethren who loved him; and his example will be an inspiration in many lives.
RICHARDSON, CHARLES H. 1848-1913
From Proceedings, Page 1913-35:
R.W. CHARLES HENRY RICHARDSON was born in Northfield, Mass., Jan. 21, 1848, and died in the City of Lowell, Feb. 24, 1913.
Brother Richardson was what is commonly termed "a self-made man." Compelled when a mere boy to earn his own living, he spent his early years on a farm, at the same time making good use of every educational advantage. In 1860 he entered the Lowell Machine Shops, at first receiving fifty-eight cents per day for his labor. Though greatly interested in his machine-shop work, at the first call of his country, he went with Luther Ladd to the counting room to be paid off. He was with Ladd, Whitney, and Taylor, who lost their lives in the passage of the Sixth Regiment through Baltimore. He returned to Lowell Aug. 25, 1861, and on September 7 he re-enlisted in the Twenty-Sixth Regiment of Massachusetts Volunteers and served through the entire Rebellion, being discharged in 1865, with the rank of Lieutenant. On his return to Lowell, he went back to the Lowell Machine Shops, remaining until June 3, 1869, when he entered the employ of the Lawrence Hosiery Machine Shop.
By repeated promotion he was made assistant superintendent of the plant in 1886. November 3, 1888, he became agent of the Appleton Mills in Lowell. In 1898 he became agent of the Lancaster Mills at Clinton. Retiring from active mill life in 1907, he was appointed to serve the unexpired term of Bro. Francis Bigelow as County Commissioner of Middlesex County. He was continued in this office until his death.
Brother Richardson received the Masonic Degrees in Pentucket Lodge of Lowell in 1867 and was its Worshipful Master in 1876, 1877, and 1878. He was District Deputy Grand Master of the Eleventh Masonic District in 1885 and 1886. He received the Capitular Degrees in Mount Horeb Royal Arch Chapter in 1877 and was its High Priest in 1883 and 1884. He received the Cryptic Degrees in Ahasuerus Council, of Lowell, and was its Master in 1884 and 1885. He received the Templar Orders in Pilgrim Commandery, of Lowell, in 1881, and was its Eminent Commander in 1886 and 1887.
Brother Richardson was eminently successful in dealing with labor. He never refused to arbitrate a matter which threatened trouble; of dignified bearing, and of positive character, he never invited controversy. As a Mason, he was zealous, painstaking, and faithful. He filled his various positions with honor to himself. reflecting great honor upon the Fraternity. Two sons and two daughters survive him, who may be assured of our sympathy in their great sorrow.
RICHARDSON, EVERETT B. 1864-1933
From Proceedings, Page 1933-316:
Brother Richardson was born in Cambridge, October 14, 1864, and died in Leominster, August 26, 1933. After graduation from the public schools and Comer's Commercial College, Brother Richardson began work as a piano maker in a factory in West Leominster. Later he and his brother bought the factory and established the Richardson piano case company, of which he was president at the time of his death. He was very successful in business and, was president of two other industrial concerns and also active in banking interests.
Brother Richardson took his degrees in Wilder Lodge in 1893 and 1894 and was its Master in 1898 and 1899. He served as District Deputy Grand Master for the Twelfth Masonic District in 1909 and 1910 by appointment of Most Worshipful Dana J. Flanders.
He was a member of Thomas Royal Arch Chapter, a Charter member of Leominster Chapter, and a member of Jerusalem Commandery, K. T.
A local newspaper thus sums up an obituary notice of him: Richardson's whole life was very honorable and upright, and he enjoyed the full confidence and high regard of his associates and acquaintances.
RICHARDSON, FRED BORDEN 1870-1936
From Proceedings, Page 1936-142:
Right Worshipful Brother Richardson was born in Abington, September 1, 1870, and died in Brookline June 28,1936.
He was educated in the public schools of Abington and the Massachusetts Institute of Technology. Taking up his residence in Brookline, he entered the employ of an engineering firm and later became assistant superintendent of the Brookline highway department. He was elected Town Clerk in 1928 and remained in that position until his death. He was a past President of the Massachusetts Highway Association and its Treasurer at the time of his death.
Brother Richardson was an active member of the Harvard Congregational Church, having served it as head usher, deacon, and for many years Treasurer.
Brother Richardson took his Masonic degrees in Beth-Horon Lodge in 1895 and was its Master in 1915-16. He was a Charter member of Brookline Lodge in 1921, and was its first Secretary, serving until failing health compelled his retirement in 1934. He served as District Deputy Grand Master for the Brighton Fifth Masonic District in 1929 and 1930, by appointment of Most Worshipful Herbert W. Dean.
By his passing the town loses a useful citizen and our Fraternity a valuable, loved, and honored member.
RICHMOND, HARRIS M. 1876-1938
From Proceedings, Page 1938-232:
Right Worshipful Brother Richmond was born in Adams October 3, 1876, and died in Boston August 26, 1938.
Brother Richmond was graduated from Harvard University in 1901 and the Harvard Law School in 1904. His whole later life was spent in the practice of law, in which he gained eminence. At the time of his death he was President of the Middlesex County Bar Association. He had lived in Winchester since 1911, where he was at one time Chairman of the Republican town committee.
Brother Richmond took his Masonic degrees in John Abbot Lodge in 1906, dimitting therefrom in 1918. He affiliated with William Parkman Lodge in 1914 and was a Charter Member of Mystic Valley Lodge in 1921. He was Master of Mystic Valley Lodge in 1923-4 and was District Deputy Grand Master for the Somerville Sixth Masonic District in 1931 and 1932, by appointment by Most Worshipful Herbert W. Dean and Most Worshipful Curtis Chipman. Since 1935 he had been a member of the Committee on Charters and By-Laws.
He was a Past High Priest of Winchester Royal Arch Chapter, Past Illustrious Master of Medford Council of Royal and Select Masters, and a member of St. Bernard Commandery of Knights Templar.
Brother Richmond was very efficient in all he did, whether in business or in Masonry. Always courteous and. considerate. He made friends in all relations of life. His sudden and entirely unexpected death was a great shock to us all. He will be sorely missed in the councils of the Grand Lodge.
RICKER, EVERETT GILES 1898-1946
From Proceedings, Page 1946-80:
Right Worshipful Brother Ricker was born in Hudson, Massachusetts, May 13, 1898, and died suddenly at his home in that Town on January 13, 1946.
Brother Ricker attended the public schools of Hudson and soon after graduation at the High School, entered the employ of the National Shawmut Bank of Boston, where he remained until his death.
He was raised in Doric Lodge of Hudson on October 15, 1928, and served as Master in the year 1937. He served as District Deputy Grand Master for the (Marlboro) 24th District in 1941 and 1942, by appointment of Most Worshipful Albert A. Schaefer.
For many years he was active in the Order of the Eastern Star, and in the Odd Fellows Lodge in Hudson. He was a member of the Bank Officers' Association of Boston; a member of the Board of Governors of the Boston Chapter, also of the American Institute of Banking.
His sudden death was a great shock to his many friends, but their memory of him as a true and loyal friend will remain always with them.
Funeral services were held in the Hudson Methodist Church on Thursday, January l7th, and the large attendance testified the high esteem in which he was held.
RIDDELL, BENJAMIN F. 1804-1862
From Moore's Freemason's Monthly, Vol. XXII, No. 1, October 1862, Page 31:
At a meeting of Union Lodge of Free and Accepted Masons, held on Monday evening, 13th inst., the following preamble and resolutions, offered by Brothers A. B. Robinson and Geo. W. Macy, were unanimously adopted, and ordered to be entered upon the Records of the Lodge :—
To the Worshipful Matter, Wardens and Brethren of Union Lodge—
Death has been among us. That dread messenger to whose fatal summons we must all, sooner or later, yield submission each in their torn as the period arrives, against which the inexorable finger of destiny has written, "thou shall surely die!"
From among the little band of Brethren who have been accustomed to assemble around this altar, it has pleased the Grand Master of the Universe to remove two most worthy and esteemed members, Brothers Benjamin F. Riddell and Horace P. Coffin. Be it therefore
Resolved, That bowing in humble obedience to this afflictive dispensation of an All wise Providence, we none the leas deeply feel and appreciate the lots of these our Brethren, whose sterling integrity and probity as men; whose tried fidelity as friends; whose exemplary lives as citizens, and whose zeal and diligence as Masons, had won for them such universal respect and esteem.
Resolved, That we beg leave to tender to the widow and families of our deceased Brothers our warmest sympathies in this their sad hour of trial and bereavement ; and while mourning with them in their irreparable toss, we would earnestly commend them to the watchful care and protection of Him who alone is able to bind op their broken hearts — the orphan's Father, the widow's God.
Resolved, That the Lodge room be draped in mourning for the space of three months, in respect to the memory of our departed Brothers Riddell and Coffin.
Resolved, That a copy of these Resolutions be sent to the families of the deceased, and also to the Freemasons' Monthly Magazine, in Boston, for publication.
Charles P. Swain, Secretary Union Lodge, Nantucket, Mass.
RIDEOUT, EDGAR S. 1867-1936
From Proceedings, Page 1936-103:
Right Worshipful Brother Rideout was born in Lawrence October 1, 1867, and died in Beverly March 10, 1936. Brother Rideout was educated in the Lawrence public schools and took up bookkeeping as an occupation. For a time he was Assistant Postmaster at Lawrence. He removed to Beverly in 1911 and entered the service of the United Shoe Machinery Company, remaining with it until his death.
Brother Rideout was interested and active in community affairs, political and social. For many years he was Associate County Commissioner of Essex County, and a Director of the Beverly Chamber of Commerce and member of the Beverly Y.M.C.A. corporation. He was an active member of St. Peter's Episcopal Church-long a vestryman and Senior Deacon at the time of his death.
Brother Rideout took his Masonic degrees in Phoenician Lodge in 1890 and was its Master in 1896 and 1897. He took an active part in the formation of Budleigh Lodge in 1927, and was its Master under Dispensation and under Charter. He was District Deputy Grand Master for the Tenth Masonic District in 1904 and 1905, by appointment of Most Worshipful Baalis Sanford.
He was a Past High Priest of Mt. Sinai Chapter, Past Thrice Illustrious Master of Lawrence Council, Past Eminent Commander of St. George Commandery, and Past Sovereign Prince of Lowell Council, Princes of Jerusalem.
Brother Rideout was not one of those Masons who allow their interest to lapse with the attainment of Past rank. It remained keen to the end. In his passing the Fraternity loses a loved member who has served it well and the community loses a very useful citizen.
ROBBINS, SIR ALFRED 1856-1931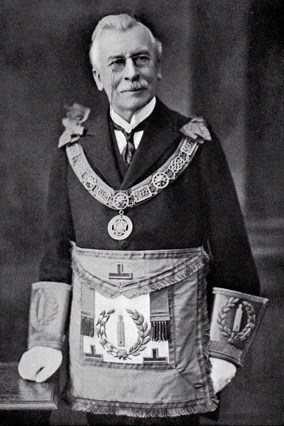 From Proceedings, Page 1931-25:
We were all shocked and grieved yesterday morning to learn that this very distinguished Freemason had died on March 9.
Sir Alfred Robbins had long enjoyed an international reputation as one of the leading members of our Fraternity in England. He had served as President of the Board of General Purposes of the Grand Lodge for more than a quarter of a century, a longer tenure of office in this most responsible position than any other holder of it had ever had. He had been further honored by appointment as Honorary Past Grand Warden. A few years ago on the constitution of a Lodge of journalists, by direct desire of M.W. H. R. H. the Duke of Connaught, Grand Master, the rule of Grand Lodge against giving the name of a living person to a Lodge was set aside and the Lodge was named Alfred Robbins Lodge. Brother Robbins was sent abroad by the Grand Lodge on important Masonic visits to both North and South America. On the first of these visits he eame to Boston, and many will remember his presence in this Grand Lodge at our March Communication in 1924, on which occasion he was presented a Henry Price medal. As a further incident of his visit he was made an honorary member of Fourth Estate, whose meeting he attended.
Brother Robbins was by profession a journalist and held a high place in the newspaper world, In recognition of his eminent service he received the honor of Knighthood. He was the author of several books, the rnost important of which, so far at least as Masonry is concerned, was his very admirable English Speaking Freemasonry, published in 1930.
Brother Robbins was a man of broad outlook, clear vision, and deep sympathy, not only a great Freemason but a very kindly and courteous gentleman. His death is an irreparable loss to the Fraternity.
ROBINSON, GAD 1880-1941
From Proceedings, Page 1941-263:
Right Worshipful Brother Robinson was born in Wareham, Massachusetts, September 20, 1880, and died at Quincy November 26, 1941.
After serving as an express messenger for a few years, he entered the automobile business in Taunton and continued in that line until about 1931. He then moved to Quincy and remained there for the rest of his life, being active in the cotton goods business.
He was raised in Charles H. Titus Lodge of Taunton on February 12, 1904, and served that Lodge as Master in 1910 and 1911. He served as District Deputy Grand Master for the Twenty-eighth Masonic District in 1923 and 1924, by appointment of Most Worshipful Dudley H. Ferrell.
He was a member of the Bodies of the Chapter, Council and Commandery and was a Past Commander of Bristol Commandery, K.T.
Brother Robinson served for many years as a Lodge Representative on the Board of Masonic Relief and was a faithful attendant at its meetings.
He is survived by his widow and one daughter.
His cheery nature and willingness to serve endeared him to a host of friends who deeply mourn his passing.
ROBINSON, WILLIAM CLARK 1834-1887
From Proceedings, Page 1887-71:
By the death of William Clark Robinson, the Masonic Fraternity of Northampton has lost one of its most useful members, and his family, consisting of a wife, son and two daughters, has been bereft of a kind husband and father.
He was born in the city of New York, June 28, 1834, and removed to Springfield, Mass., in 1838 or '39, where he received a common-school education. During his school-boy days he was a favorite of the late Hon. E. D. Beach, of Springfield, who kindly gave him full access to his excellent library. Bro. Robinson freely availed himself of this opportunity, and in his later years often referred to this kindness, speaking with pride of the fatherly advice of Mr. Beach.
His parents were of English descent. His father, Capt. William Robinson, commanded the good ship Scotland, plying between New York, and Liverpool, Eng. He was lost overboard during a fearful storm, leaving a wife and three sons, William C. being the oldest. At the age of sixteen years he accepted a situation in the Springfield Bank, in which position he won and retained the confidence of the officers of the Bank. After six years of service he resigned and accepted a clerkship in the Continental Bank of New York City. At the expiration of one year he accepted an election to the cashiership of the Conway Bank, Conway, Mass. After filling this office for two years, he resigned to accept a similar position in the Hampshire County National Bank, of Northampton, Mass. He was one of the founders of, and a valued officer in, that Bank. At the expiration of two years he resigned, to accept the office of Secretary and Treasurer of a gold and silver mining company in New York City. Subsequently he entered the service of the Mass. Mutual Life Insurance Co., of Springfield, Mass. For seventeen years, or until his decease, he labored earnestly and faithfully in its employ. He was repeatedly advanced, received new trusts and responsibility and was assured that his labors were appreciated and approved.
Bro. Robinson was for a quarter of a century a communicant in St. John's Episcopal Church, Northampton; for many years a vestryman, and for fifteen years its senior warden. His loss is deeply mourned by the church. His presence was sunshine, and his many labors, advice and genial manner are sadly missed, not only by the church, but by the entire community of Northampton.
In Freemasonry he was a tower of strength in the District in which he formerly lived. He was made a Mason in Mountain Lodge, Shelburne Falls, Mass., July 20, 1861. While living in Conway, though he had to travel eight miles over a mountainous road, his zeal prompted him to be present at all regular Lodge meetings. It is said that Rising Sun Lodge, of Conway, owes to a great extent its present existence to the earnest efforts of Bro. Robinson.
He received the Capitular degrees in Franklin R.A. Chapter, Greenfield, Mass., in 1862. This Chapter was located twelve miles from his residence, and was reached only by private conveyance. Yet Bro. Robinson's name appears upon the Chapter register oftener than the names of many Companions who lived in the near vicinity of the place of meeting. He became a member of Northampton R.A. Chapter in 1864; served as Scribe and as King; was elected Secretary Sept. 3, 1879, and was reelected, and served until his death. He also joined Jerusalem Lodge, by dimit, in 1864; and, after serving as Junior and Senior Warden, was elected Worshipful Master, October 31, 1876, also in 1877; filling each office most acceptably to the members of the Lodge. He was elected Secretary of the Lodge in 1885; was reelected in 1886, and held that office at the time of his decease. He was appointed District Deputy Grand Master of District No. 10 in 1879 and again in 1880. He had a very pleasant way of meeting the Brethren of his District, and was always a welcome visitor. In December, 1885, he was appointed Corresponding Grand Secretary of the Grand Lodge, and was reappointed in 1886.
Bro. Robinson was created a Knight Templar in June, 1880, in Northampton Commandery; served as Junior and Senior Warden, and was also Prelate for two years. Bro. Robinson was a kind and genial man; a true and sympathizing friend ; a respected citizen and a devoted Mason. He will be greatly missed in every circle in which he was wont to move; but we trust that our loss is his eternal gain.
From Proceedings, Page 1887-129:
William Clark Robinson was born in the city of New York, but, with the exception of five or six years, his life was spent in his adopted State of Massachusetts, and for the last seventeen years he lived in Northampton, holding honorable positions with the Massachusetts Mutual Life Insurance Company, of Springfield. He was one of the most respected and useful members of Saint John's Episcopal Church, of Northampton, where for fifteen years he had been Senior Warden, and his presence is greatly missed throughout that community. He was made a Mason in 1861, receiving his degrees in Mountain Lodge, of Shelburne Falls. He was constant in his attendance, even at the cost of much personal comfort; and his interest in the Lodges in that District contributed largely to their success. He held important offices in Jerusalem Lodge, and in Northampton R.A. Chapter and Northampton Commandery. In 1879 he was appointed District Deputy Grand Master of District No. 10, and in December, 1885, he was appointed Corresponding Grand Secretary of this Grand Lodge. To this office he was re-appointed only a few months before his death.
Sincere in his faith, true in his friendship, earnest in his Masonic duties, and upright as a man, Brother Robinson will be long remembered by his friends and associates.
ROOSEVELT, THEODORE 1858-1919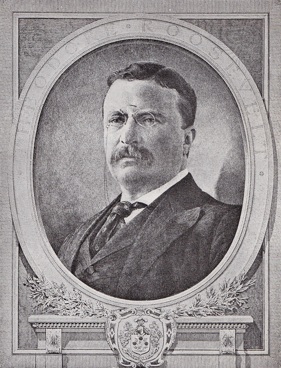 From Proceedings, Page 1919-53, Grand Master's Address:
Since our Iast Communication in Deeember our Country has lost by death one of its great men, Theodore Roosevelt,- a mgmber of the Masonic Fraternity. Brother Roosevelt passed away at his residence, Sagamore Hill, in the village of Oyster Bay, N. Y., on January 6, 1919. The whole world was shocked and saddened by .the news of his unexpected death.
It was while he was Governor of the State of New york and Vice-President-elect of the United States that recognizing the advantages and privileges of Masonic membership he applied for the degrees and membership in Matinecock Lodge, No. 806, at Oyster Bay. IIe was'elected and received the Entered Apprentice degree on January 2, 1901, was Passed to the Fellow Craft degree on March 27, 1901, and Raised to the sublime degree of Master Mason on April 24, 1901. It is a matter of pride to the members of this jurisdiction that one of our own Brethren, our late beloved Curtis Guild, took an important part in the conferring of the Master Mason degree upon Brother Roosevelt.
It is also to be reealled that Brother Roosevelt took part with this Grand Lodge in the laying of the corner-stone of the Pilgrim Monument at Provincetown. Since he became a member of the Craft he has repeatedly shown his interest and devotion to it. He has addressed various Masonie bodies, and but for his condition of health would have been present at a recent observance of the Feast of Saint John by our Grand Lodge.
He was one of the most conspicuous figures in our public life, of remarkable courage, vigor, and enthusiasm, and against whose honesty and sincerity of purpose there has never been the breath of suspicion. He was known throughout the world as a patriot, statesman, author, and explorer, but he will live most enduringly in the memory of his countrymen as a splendid representative of sturdy American manhood. He freely and unsparingly devoted his life and remarkable abilities to the service of mankind. In the last book which he wrote he said, "All who give service and stand ready for sacrifice are the torch bearers. We run with the torches until we fall, content if we can then pass them to the hands of other runners."
Soon after he passed away I sent a letter to each of the District Deputy Grand Masters asking them to suggest to each of the Lodges in their respective districts that they have a memorial observance or some fitting tribute to the life and service of our distinguished Brother at a regular meeting of the Lodges nearest to February 9th, which was the day set apart by presidential proclamation for a national day of memorial observance. It seemed to me highly desirable that each of our Lodges should have upon its records some reference to the passing away of one so prominent and beloved, and whose life so fully embodied and expressed the teachings and tenets of our institution. The world is happier and richer and better for his having lived.
Brother Rudyard Kipling dedicated a poem to the memory of our deceased Brother entitled Great-Heart from which the following verses are taken:
Concerning brave Captains
Our age hath made known
For all men to honour,
One standeth alone,
Of whom, o'er both oceans,
Both peoples may say:
"Our realm is diminished
With Great-Heart away."
ROOT, ALBERT B. 1858-1937
From Proceedings, Page 1937-219:
Right Worshipful Brother Root was born in Greenfield, Massachusetts, June 13, 1858, and died in Dixfield, Maine, October 2, 1937.
He was taken as a child to Dixfield, the old home of his family, and attended the public schools there. At the age of 17, armed only with some letters of introduction, he came to Boston alone to seek his fortune. His first employment was with a firm who manufactured horseshoes. A few years later he set up a horseshoeing business of his own. In this business he made an excellent reputation which led to his election as President of the Master Horseshoers Association of America.
The coming of the automobile caused him to abandon his business, and he made his hobby the reproduction of antique furniture and dealing in antiques, his vocation for the rest of his life. On the death of his mother in 1924, he returned to Dixfield and there remained.
He was elected to the Legislature in 1900, but served only one term as he found political life distasteful.
He was raised in St. John's Lodge in 1889 and was its Master in 1900-1901. He was District Deputy Grand Master for the First Masonic District in 1906 and 1907, by appointment of Most Worshipful John Albert Blake.
One of Right Worshipful Brother Root's most marked characteristics was his desire for perfection in whatever he did. On this characteristic his business success was founded, and his Masonic career was equally marked by it. Although so long absent from Boston, he occasionally visited his Lodge, keeping old friendships warm and making new ones. His passing is mourned by many.
RUSSELL, HEZEKIAH S. 1835-1914
From Proceedings, Page 1914-145:
HEZEKIAH S. RUSSELL was born in Pittsfield, Mass., Dec. 7, 1835, and died at his residence in that city, May 12, 1914. His initial schooling was obtained in Pittsfield, but he subsequently entered Mount Pleasant Academy at Amherst.
In 1854 he went west and was employed on railroads in Illinois and Wisconsin. In 1857 he went to Australia where he was employed in constructing telegraph lines. On his return to Pittsfield in 1860 he entered the woolen manufacturing business, and later entered the company of Clary and Sedgwick. After a few years he purchased his partner's interest and for thirty-seven years conducted the foundry business, now the E. D. Jones plant. In 1874 he sold the machine shop to E. D. Jones, retaining the boiler making plant until 1902, when he disposed of that to the same firm and retired from business.
Brother Russell was a Selectman in Pittsfield in 1887 and 1888, Councilman in 1897 and 1898, was elected Mayor in 1900 and was re-elected in 1901. He was a representative to the General Court in 1906-1907.
Brother Russell was made a Mason, Oct. 29, 1857, in Amicitia Lodge, No. 25, Shullsburgh, Wis. In 1907 he went to Shullsburgh on the Fiftieth Anniversary of his being made a Mason. He presented the Lodge with a silver mounted gavel and was tendered a reception.
Brother Russell was Master of Mystic Lodge in 1865 and Oct. 19, 1874, became a member of Crescent Lodge of Pittsfield. He was District Deputy Grand Master of the Ninth Masonic District in 1876-1877 and 1878. He was also a member of Berkshire Royal Arch Chapter, and Past Commander of Berkshire Commandery, K.T.
He made plans to take part in the parade at the dedication of the Masonic Temple in Pittsfield, May 4, 1914, and it was one of the greatest disappointments of his life that he could not attend.
A writer in speaking of Brother Russell says:
"The mental and physical vigor, the spirit of progressiveness and the industry and integrity which were the characteristics of so many of the Russells . . . . find still another exponent in the gentlemen whose name introduces these memoirs."
For fifty-seven years Brother Russell was a zealous and active Mason. Full of vigor, power and love, he leaves a precious memory and an example worthy of imitation.
---