MAOtherBrothersG
From MasonicGenealogy
GAHM, JOSEPH 1835-1905
From New England Craftsman, Vol. I, No. 2, November 1905, Page 69:
Brother Joseph Gahm died October 21st of heart disease from which he had suffered many years. He was a native of Germany, having been born in Mergentheim, Württemberg, in 1835.
In 1854 he came to Boston where he has actively engaged in business, meeting with marked success. He was made a Mason in 1864 and at the time of his death was Past Master of Germania Lodge, a 32d degree Mason, a Knight Templar and member of the Mystic Shrine. He was also a member of various other organizations of a social and benevolent nature.
Mr. Gahm was married in Boston in 1856 to Barbara Hoartel, who was also a native of Württemberg, Germany. They had six children.
GALE, CYRUS 1784-1880
From Liberal Freemason, Vol. IV, No. 2, May 1880, Page 57:
Brother Cyrus Gale, now residing in Northboro, Mass., was made a Mason in Massachusetts Lodge in Boston, on March 28th, 1808. He is now ninety-six years of age, and is remarkably active for a person of his years. His interest in business is still maintained, he being at the present time a Director in the local Bank, and a Director in what was the B. C. and F. Railroad. Brother Parker, Superintendent of the Masonic Temple in Boston, has recently secured a good photographic portrait of the Brother, and in 1876 the Lodge elected him to Honorary Membership.
GATCHELL, JEREMIAH 1836-1906
From Proceedings, Page 1906-47:
Hon. Jeremiah Gatchell, past Master of Blackstone River Lodge, died at his home in Blackstone May 3, 1906. He served as District Deputy Grand Master of the Nineteenth Masonic District in 1890-1-2, and was a member of this Grand Lodge at the time of his decease, as proxy of his Lodge. He was very prominent in town affairs; was a State Senator in 1875 and 1876; was appointed Savings Bank Examiner by Governor Gaston and later was appointed, National Bank Examiner by President Cleveland. Brother Gatchell was greatly interested in Freemasonry, especially in Blackstone River Lodge, and was an active exponent of Masonic principles.
From Biographical Review:
HON. JEREMIAH GATCHELL, National Bank Examiner, a prominent resident of Blackstone, Mass., was born in Woonsocket, R. I., July 13, 1836, son of John G. and Mary (Warren) Gatchell. He belongs to a family of English origin that has been settled in New England somewhat more than two hundred years.
His grandfather was Jeremiah Gatchell, of Marblehead, Mass., who served as a soldier in the Revolutionary War and in the War of 1812, and was afterward lost at sea. His grandmother Gatchell, whose maiden name was Elizabeth Gifford, being left a widow with a large family, went to live in Blackstone, where employment could be found in the mills; and she later removed to Woon- socket. She received a pension from the government.
John G. Gatchell, son of Jeremiah and Elizabeth, was born in Marblehead in 1813. He settled in Blackstone in 1847, and resided here for the rest of his life. He was for some years engaged in the manufacture of carriages. He was quite active in public affairs, and held several important town offices. He married Mary Worrall, daughter of Ottiwell Worrall, of Dorchester, Mass. Two sons were the fruit of this union, namely: Moses, who entered the service as Captain in the Fifteenth Regiment, Massachusetts Volunteers, and was killed at the battle of Ball's Bluff; and Jeremiah, the subject of this sketch. The father died in October, 1897.
Jeremiah Gatchell obtained his education in the public schools and at the Wilbraham Academy. When sixteen years old he entered his father's carriage factory, and at the age of twenty was admitted to partnership. The firm of J. G. Gatchell & Son carried on business in Blackstone until 1865. He then engaged in another line of business at East Blackstone in company with Thomas Worrall, and after continuing in that for about three years he sold his interest in order to embark in the manufacture of cotton yarn, in which he carried on quite an extensive business for four years. At the end of that time he closed his factory.
Politically, Mr. Gatchell is a Democrat, and was formerly a leading spirit in the public affairs of Blackstone. He was Town Clerk four years, chairman of the Board of Selectmen for the same length of time, and Commissioner of the Sinking Fund for fifteen years. During the years 1874 and 1875 he was a member of the State Senate, serving as chairman of the Committee on Public Lands in the first session, and in the second being assigned to the same chairmanship, and also to the Committee on Towns. He was appointed Postmaster by President Johnson in 1864, and held office until 1866. In July, 1875, he was appointed Savings Bank Commissioner by Governor Gaston for three years. He was reappointed by Governors Rice, Long, and Robinson, and resigned to accept his present position of National Bank Examiner, tendered him by Secretary of the Treasury Manning. At the time of his original appointment as Commissioner of Savings Banks he was the only examiner in Massachusetts. During the panic of 1892 he was subject to duty wherever called, and was placed in charge of insolvent banks in New York and New Hampshire. He is still financially interested in business enterprises in Blackstone, and is treasurer of and a heavy stockholder in the Electric Light Company. He is a member of Blackstone River Lodge, F. & A. M. , and has served as [District] Deputy Grand Master.
In October, 1855, Mr. Gatchell married for his first wife Rosetta Wood, daughter of Thomas F. Wood, of Woonsocket. The only child of this union died in infancy. His first wife died in 1857; and in September, 1864, he wedded Larietta Stafford, daughter of Christopher Stafford, also of Woonsocket. Of this union there is one daughter — Edith, who was born November 23, 1874, is married to W. H. Chase, and resides in Woonsocket.
GATES, ALBERT FRANKLIN 1845-1907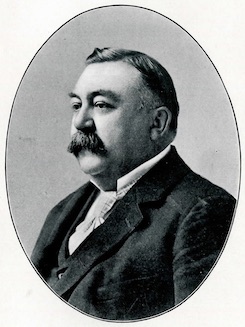 MEMORIAL
FROM NEW ENGLAND CRAFTSMAN, 1907
From New England Craftsman, Vol. II, No. 11, August 1907, Page 428:''
Brother Albert Frank Gates, formerly a member of the board of aldermen of Worcester, Mass., and prominent in Masonry, being one of the four 33d degree Masons in Worcester, died July 20th. He was born in the house in which he died Sept. 29, 1845. He was five years in the board of aldermen from 1890 to 1895, and in 1893 was president of the board. He was a member of Montacute Lodge, A. F and A. M., and of the constituent bodies in both the York and Scottish Rite degrees, being a member of Worcester County Commandery, Knights Templar; Massachusetts Consistory, 32d degree, and was also a 33d degree Mason. He was past Eminent Commander of Worcester County Commanders, had held the highest offices in the various bodies and was a member of Aleppo Temple of the Mystic Shrine, Boston.
FROM COUNCIL OF DELIBERATION, 1908
From Proceedings of the Massachusetts Council of Deliberation AASR NMJ 1908, Page 59:
Once more is a brief halt called upon the brethren of our beautiful Rite to reflect upon the uncertainty of life, and pay tribute to the career and gather some inspiration from the record of a departed friend and brother.
It is not granted to many to attain to prominent and conspicuous positions as leaders and representatives of people, but the privilege of being esteemed by possessing qualities of manhood that elevate communities, shape public opinion and make and cement friendships is within the grasp of all; and these qualities were possessed by our brother in very generous measure.
On the 20th of July, 1907. in Worcester, Mass., Illustrious Albert Franklin Gates, 33°, died after a week's sickness in the house in which he was born and which he had always made his home.
Brother Gates was born September 29, 1845, and after receiving an education in the public schools of his city entered early upon a business career which was marked by business ability, honorable dealing and the strictest integrity in every detail. For many years he was a member of the firm of Houghton, Brigham & Gates, and they established and maintained an enviable business record. When western capital began to get control of many important lines of business, Brother Gates was selected to act as agent for the Armour Company in Worcester, and he continued to manage this business until 1897, when he resigned and retired from business altogether.His social inclinations led him to become united with the Masonic fraternity, in which he had an interesting record. Brother Gates was raised in Montacute Lodge, April 8, 1878, lie was exalted to the Royal Arch degree in Eureka Chapter on the 4th of June in the same year. He was greeted a Royal and Select Master in Hiram Council of Royal and Select Masters, January 13, 1881. He was created a Knight of the Temple in Worcester County Commandery, April 7, 1881.
In the Ancient Accepted Scottish Rite he received the fourteenth degree in Worcester Lodge of Perfection on the 15th of December, 1881. The sixteenth degree and eighteenth degree were conferred upon him by Goddard Council and Lawrence Chapter April 13, 1S82. lie was made a Sovereign Prince in Massachusetts Consistory April 27, 18S3, and, finally, he was created a Sovereign Grand Inspector-General of the thirty-third and last degree and made an Honorary member of the Supreme Council September 17, 1895.
And he was no idle Mason. For seventeen years he was the Treasurer of Hiram Council, Royal and Select Masters, finishing his work only with his life. He filled various offices in Worcester County Commandery and served as its Eminent Commander in 1896. His zeal and devotion to Goddard Council, Princes of Jerusalem, was rewarded and the Council was honored by his service as Sovereign Master during the years 1894, 1895 and 1896. The confidence of the fraternity as a whole was shown by his election and service on the Board of Trustees of the Masonic fraternity of Worcester, Mass., for more than sixteen years, where high regard was shown for his opinion and judgment.
Brother Gates was always a factor in the affairs of his city, but he could be induced to take active part in its management for no more than five years. From 1890 to 1895 he served as an alderman, and during a part of this time he was president of the board. The chief value of his services, however, was in his direct connection with various important committees, where his great executive ability and sound business judgment proved of inestimable value to the city.
The home life of Brother Gates was particularly happy. He married Miss Emma C. Stratton of Holden, Mass., and two children survived to bless this union. And in this home where he died, surrounded by his wife and children, was always a display of rare old New England hospitality; here was, indeed, the Mecca of a vast number of friends.
The active career of our brother is done, but his influence is bound to be felt for years to come; not in vain was he possessed, of such a kind disposition, even temper and good judgment. He was an unassuming, modest man, ever ready to perform any duty that devolved upon him and over ready to lend his time and assistance to others. It naturally followed that in both his official and private life his friendships were warm and sincere, and he had. to a remarkable degree, the devoted attachment of his friends and associates. He was always courteous and congenial, ready to help or to comfort, and these traits brought to him a large circle of true friends and faithful brethren, and ever enlarged his field of influence and service.
His example has reflected much credit upon the fraternity, and we are compelled to acknowledge our great loss.
Charles E. Davis, 32°,
Edward M. Woodward, 33°,
Francis A. Harrington, 33°,
Committee.
GAY, EBEN FLAGG d. 1875
From Proceedings, Page 1875-56:
Our deceased Brother Eben Flagg Gay was installed as Grand Tyler on the 27th of December 1855, and for each year thereafter until 1872. He was again installed in the same office December 29, 1874, for the year 1875. After a long Masonic life he died with his sword in hand.
Brother Gay was an excellent example of the beneficent teachings of our Institution in one of its most important features. He had great kindness of heart, and was ready to wear himself out in good works for others. He had great geniality of manner, which made him an excellent companion. He was not deficient in any of those traits which made the hearts of those who knew him well yearn towards him. But, while not deficient in other qualities, his great characteristic was that truly Masonic virtue, fidelity.
Jf there is any virtue which Masonry peculiarly inculcates, it is fidelity, faithfulness, truth. Its possession gives courage, manliness and honor in all our dealings with our fellow-men. Let the teachings of the Lodge in this respect have their perfect work, and this virtue becomes so developed in the members of our society, that it pervades all the dealings of the individual Brother and becomes a part of his very nature. This was the case with Brother Gay. His faithfulness in every trust made his services desired by everybody, and his love of Masonry attracted the attention of those holding the patronage of our Society.
As he opened the doors of earthly Lodges to the true and faithful, may we not hope that his truth and faithfulness will assure the opening to him of that grandest of all Lodges, where the wicked cease from troubling, and the weary find rest.
BENJAMIN DEAN,
WILLIAM W. THOMES,
JOSEPH B. MASON,
Committee.
GAY, GEORGE WILLIAM 1846-1907
From New England Craftsman, Vol. II, No. 9, June 1907, Page 351:''
Brother George W. Gay, a well known businessman of Boston, died May 14. Brother Gay was a native of Walpole and came to Boston in early life. He was in the produce business many years from which he retired some time ago. He was a member of Revere Lodge, St. Andrew's Chapter, and DeMolay Commandery, K. T. The latter body conducted his interment with the Templar burial service.
GAY, LEMUEL 1790-1866
From Proceedings, Page VII-75:
Report. Whereas; it has pleased the Allwise Disposer of events to remove from this life our Right Worshipful and worthy Brother Lemuel Gay of Stoughton, District Deputy Gd. Master of the 5th. Dist. therefore
Resolved. That we are called to mourn, the loss of one, who during a long and useful life, maintained the character of an honorable, high minded and public spirited citizen, of one, who at different times, sustained offices of trust and responsibility under the authority of the United States of Mass. the county of Norfolk, and his native town. He was born May 1. 1790, and died Feb. 15th. 1866. thus having nearly attained the age of seventy-six years, He was buried with Masonic honors, the funeral took place on the 18th. of Feb. last, and was attended by an unusually large number of the Fraternity. There were present on that occasion, one Encampment of Knights Templars, one Royal Arch Chapter, and eleven Lodges either in full or represented.
Resolved secondly. That any obituary notice of our departed friend, would be incomplete without stating his firm inflexible and manly opposition to the wanton and malicious attacks of Antimasons. He was one, who with others, bore the burden and heat of the day, at a time that tried men's souls and against whom Antimasonic bigots and fanatics aimed their Parthian arrows. Antimasonry is now obsolete, and almost forgotten, yet it is the duty of us all, more especially the younger members of our Fraternity, now basking in the sunshine of prosperity to cherish with gratitude the memory of those departed Brethren who, in a dark and gloomy hour, maintained their integrity, and with heroic courage fought the "good fight of faith."
From Moore's Freemason's Monthly, Vol. XXV, No. 5, March 1866, p. 156:
The funeral of Major Lemuel Gay, of Stoughton, took place from the Universalist Church iu that town on the 18th ult. The day was fine for a winter day, and a large number availed themselves of the opportunity, as the remains lay in state in Chemung Hall, to pay their last respects to him who had been so long identified with the interests of the town.
The Rev. St. John Chambre officiated in the church, which was crowded to its utmost capacity, every available standing place being occupied, while hundreds remained outside the building.
After taking leave of the remains, the procession was formed under the direction of the Marshal, J. Freeman Ellis, and proceeded to the cemetery in the following order: North Bridgewater Band; Old Colony Encampment of Knights Templars of Abington, as escort; Keystone Chapter, Foxboro; Rising Star Lodge, Stoughton; Norfolk Union Lodge, Randolph; Paul Revere Lodge, North Bridgewater; Orient Lodge, South Dedham; Blue Hill Lodge, Canton. There were also delegates present from Lodges in Dorchester, Weymouth, Quincy, Hingham, Bridgewater, Mansfield, and other places. Then followed the hearse containing the casket with the remains, the mourners in damages, &c.
The occasion was one of solemn interest to all present, and showed the real estimation in which the lamented dead was held by his brethren and friends.
From Moore's Freemason's Monthly, Vol. XXV, No. 6, April 1866, p. 223:
Stoughton, Mass., March 28, 1866.
At a regular communication of Rising Star Lodge F. and A.M. held on the above date, the following preamble and resolutions were unanimously adopted:
Whereas, it has pleased the Almighty Architect of the Universe to remove from our earthly company our late beloved Brother Lemuel Gay, who was one of the oldest members of this Lodge, therefore –
Resolved, That we bow in profound resignation to this severe dispensation of Divine Providence, remembering that the "Lord gave, and the Lord hath taken away."
Resolved, That in the decease of our brother we acknowledge the great loss with which this Lodge has met; the deprivation to the fraternity at large of one whose interest in Freemasonry was as extended as the bounds of the Order, and the deep sorrow which by his departure from among us has fallen upon our hearts.
Resolved, That we recognize with just pride and gladness the long and ceaseless Masonic faithfulness, through evil as well as good report; through stormy as well as peaceful times of our departed brother; in respect to which we would hold him up as an example before our eyes, and before the eyes of all true and earnest Masons.
Resolved, That out of regard to his memory, and as a feeble expression of our grief, this Lodge be draped in mourning thirty days.
Resolved, That a copy of these resolutions be spread upon the journal, and an attested copy be transmitted to the family of the deceased.
A. St. John Chambre,
Ansel Capen,
Azel Capen,
Committee.
GEORGE, EDWARD BARTON 1852-1917
From Proceedings, Page 1917-134:
R.W. EDWARD BARTON GEORGE, of Haverhill, was born in that part or the city called Rocks Village August 19, 1852, and died in the Massachusetts General Hospital, Boston, May 9, 1917.
His father being in comfortable circumstances, Brother George was enabled to pursue his studies through the public schools, graduated at the Haverhill High School in the class of 1870, and then attended Amherst College. On his return to Haverhill he decided to take up the study of law, entered the office of Mr. Jeremiah P. Jones, and was admitted to the Massachusetts Bar March 7, 1876. In 1879 he became Clerk of the Police Court in Haverhill and held that position seventeen years when, in 1896, he was elected Clerk of the Essex County Superior Court. He held this position by frequent elections until his decease - a period of twenty-one years. As a court official he was efficient and courteous and won the friendship of the very many people with whom he eame in contact in the discharge of his duties. In the First Session of the Superior Court, May 9, 1917, before Judge Bell and in the Second Session before Judge Thayer the death of R.W. Brother George was announced and both courts immediately adjourned out of respect to the deceased clerk.
R.'W. Brother George received the Masonic degrees in Merrimack Lodge, Haverhill, in 1882, receiving membership June 21st of that year. He was Master of the Lodge in 1886 and 1887 and District Deputy Grand Master of the Tenth Masonic District in 1896 and 1897. He was High Priest of Pentucket Royal Arch Chapter, of Haverhill, in 1886 and 1887, and also a member of Haverhill Commandery, Knights Templars.
Brother George is survived by a widow and three children.
Attorney W. Scott Peters remarked:
"As to his home life, he was an ideal husband and father, and the seeming ambition and desire of his life in late years has been to live for the loved ones of his famity. It can be truly said by nature he was a great man and the only limits to his sphere of activity and business achievements were those which he sought to place around himself. I think that he was one of the ablest sons of Haverhill in my generation."
Judge Ira A. Abbott made the following statement:
"Aside from the personal friendship which had existed between Mr. George and myself for many years, the feature of his long and distinguished career which I find has impressed itself most strongly on my mind is the extraordinary aptitude, amounting to genius, whieh he showed in so executing the duties of his office of Clerk of Courts that there was never, so far as I know, any effort or even desire on the part of any member of the bench or bar to replace him by another. Now that it has become necessary to provide a successor the value of his services and the difficulty of finding anyone who will even measurably come up to the standard he set will be fully appreciated."
The world is happier and Masonry is richer because of his life and service.
GERRISH, WILLIAM HAMILTON 1837-1922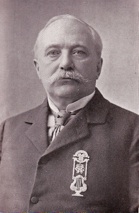 MM 1865, Washington
Grand Organist, 1882-1892, 1908-1922
FROM PROCEEDINGS, 1922
From Proceedings, Page 1922-296:
Since our last regular Communication, death has once more invaded the circle of our fellowship and taken from us one whose presence was a delight, whose service to Masonry was freely given and of most generous proportions - our Grand Organist, Worshipful Brother William Hamilton Gerrish. Death came to him in somewhat tragic form and it was a matter of regret to us that he could not have been permitted to fall asleep and gently go to the rest that awaits the life well spent. But when we gazed upon his still form over which his Brethren had pronounced. the solemn service, we knew that rest was his; that the weariness of the years had given place to the peace that passes all understanding. Beyond the discord of life he had gone into the eternal harmony; and those who knew and loved him best would be the last to call him back.
Time permits me to touch but briefly the story of his career. For lwenty-six years he was Organist of the Grand Lodge; and while this seems an extended period, it is short when compared with his terms of service in twenty-two other bodies where he labored, in one of which he was Organist for fifty-four years. Such a record is unique and serves as an inspiration to us all. And though Worshipful Brother Gerrish meets with us no more he has left behind the harmony born of his love of the beautiful and the sweet strains of it will ever allure our thoughts to that which is high and noble.
Still, still with thee when purple morning breaketh,
When the bird waketh, and the shadows flee;
Fairer than morning, lovelier than the daylight,
Dawns the sweet eonsciousness, I am with thee.

So shall it be at last, in that bright morning,
When the soul awaketh, and life's shadows flee;
O in that hbur, fairer than daylight dawning,
Shall rise the glorious thought, I am with thee.
As the Organist plays to us the harmony which Brother Gerrish set to these records of immortal hope let us rise in tribute to his memory.
FROM NEW ENGLAND CRAFTSMAN, 1922
From New England Craftsman, Vol. XVII, No. 11, August 1922, Page 325:
Bro. William H. Gerrish lost his life when automobile ran into him as he was crossing Beacon St. at Exeter St. in Boston, August 18th. Bro. Gerrish, well known to all Masonic circles of Boston, was in his 86th year. His place of business was at 48 West St.
Martin J. Kilroy of 49 Astor St.. the driver of the machine, hurried the dying man to the City Hospital, but the doctors there said rhat he died before the car reached the hospital.
Bro. Gerrish was born in New York State, but moved to Ashland, where he made his home for a time. He has a son, Willard P. Gerrish, who is connected with Harvard Observatory as assistant professor.
Miss Isabel Gerrish, a daughter, lives on Franklin Farm, Franklin Road, Ashland, where her father used to spend his weekends. he had been there over Sunday and had just returned to Boston where he has a room on Huntington Ave. Miss Gerrish is connected wiih the Farmers' Exchange, Framingham Center.
His funeral was held at 2.30 p. m., Augus! 22d, from Roxbury Masonic Temple, Warren Street, Roxbury, and was very largely attended. A recent article in the N. E. Craftsman gave complete Masonic history of Mr. Gerrish, whose death will cause profound regret.
From New England Craftsman, Vol. XVII, No. 12, September 1922, Page 357:
WILLIAM H. GERRISH LAID AT REST
Funeral Services Held in Roxbury Masonic Temple
Funeral services for William Hamilton Gerrish of Roxbury were held in Roxbury Masonic Temple, Tuesday August 22d, the Rev. W. W. Deckard, pastor of the First Baptist Church, officiating. The services were under direction of Joseph Warren Commandery. K. T. The music included several of Mr. Gerrish's own compositions. He was widely known in Masonic circles, being Grand Lodge Organist for the last 26 years. He was born in New York, April 19, 1837. In 1865 he became a member of Washington Lodge, and was made a Royal Arch Mason in Mt. Vernon Chapter in 1868. Shortly afterward he became a member of the Roxbury Council, and was knighted in Joseph Warren Commandery. He was a member of all the York Rite bodies.
From New England Craftsman, Vol. XVIII, No. 1, October 1922, Page 19:
A Memorial to a Worthy Man and Mason
William Hamilton Gerrish, Bro. Gerrish, for that is the title which best conveys the thought of him, was an exceptional man in very many ways.
His long and useful life is worthy of our closest study, and for a brief time let us refer to some of his more prominent characteristics as a man, a gentleman, a musician and eomposer of music, and as a Mason.
None who ever knew him could fail to discover the fact of his manliness. The uprightness and scrupulous honesty of his everyday life was a noble attest of this.
None can point to a single act of his which savors of that which is not open to the strictest scrutiny.
All knew him to be a 'square man' in the truest and finest sense. He was all of this, and more, he was a Christian gentleman.
The fineness of the make-up of Hro. Gerrish's life, automatically stamped him as the true friend and brother.
He seemed to have the faculty of keeping an even poise, under the most trying circumstances.
Who among us does not recall the cordial greeting, the hearty handshake, the courteous manner in business, of this gentleman of the 'Old School.'
Bro. Gerrish as an organist, and composer more particularly of sacred and Masonic music, completed a lifetime in his chosen profession. His musical compositions Were demanded in all parts of the country. In his earlier career as musician, he had served as organist at St. Paul's Cathedral Church, and at the beautiful Christ Church in Fitchburg.
For many years he had served as Grand Organist. Who does not remember the beautiful rendering of the music incident to the degrees in our beloved order? There was a touch of sympathy and nobility running all through his music, which at once compelled and commanded the closest attention of the listener. And as long as music is sung in Masonic degrees, will sweet and tender memories of the 'old master' remain.
And now our eyes are dim, and we become tender of heart as we recall, and shall always recall Bro. Gerrish's career in Masonry, the order which he loved so well and served so nobly.
And to the memory of the senior beloved Templar of this Commandery, we, with bowed heads and hearts, offer up this final tribute to the man who died having little of this world's goods, but who has left behind him a far more excellent heritage: a hallowed memory, a clean record, an honest name, and a life-work filled, with excellent virtues, and deeds of true benificence and charity.
So has he lived, and spanned life's circling rim;
Though full of years, to us was ever young;
And memory fondly loves to cherish him
As echo from sweet music, softly sung.
And each kind word, and deed, and act
That so bestrewed his path while he was here,
Are wafted back like well loved songs again,
And seem to make his kindly presence near;
And seem to make his kindly presence, near.
GERRY, E. PEABODY 1846-1911
"From Proceedings, Page 1911-117:
R.W. BROTHER E. PEABODY GERRY was born in Standish, Me., Nov. 2, 1846.
When he was twelve years of age, his parents moved to Boston and he entered the Eliot Grammar School, and later the Mayhew, receiving a Franklin Medal while a member of the latter school. He prepared for college at the Boston Latin School and graduated from Dartmouth College in 1869. After teaching school one year at Hudson, he entered the Harvard Medical School, and received his degree in medicine there in 1874. After his hospital service, he settled in Jamaica Plain and entered upon general practice.
Brother Gerry was deeply interested in societies looking to local improvements, and was a member of the Bonrd of Aldermen of the City of Boston in 1900 aud 1901. He declined further service. His last public service was an investigation into the milk situation in Boston.
R.W. Brother Gerry receivecl the Masonic degrees in 1873 in John Abbot Lodge, of Somerville. He joined Eliot Lodge, of Jamaica Plain, Oct. 16, 1878, and became Wor. Master of that Lodge, serving in 1884 and 1885. He served as District Deputy of the Fourth Masonic District in 1887, 1888 and 1889. He died at his summer home in Phillipston June 22, 1911 with the sincere regrets of his associates and the Fraternity of which he was an honored member."
GIBBS, WILLIAM E. 1859-1935
From Proceedings, Page 1935-76:
Right Worshipful William E. Gibbs was born in Russell, April 3, 1859, and died at his home in Westfield, May 7, 1935.
Brother Gibbs' family removed to Westfield when he was seven years old and the rest of his life was passed there. He early entered the employ of the H. B. Smith Company, and remained with them until his retirement from active business a few years ago.
Brother Gibbs took his Masonic degrees in Mount Moriah Lodge in 1900, and was its Master in 1905 and 1906. He served as District Deputy Grand Master for the Eighteenth Masonic District in 1913 and 1914, by appointment of Most Worshipful Everett C. Benton and Most Worshipful Melvin M. Johnson.
Brother Gibbs was a member of Evening Star Royal Arch Chapter, Westfield Council, Royal and Select Masters, and Springfield Commandery.
Brother Gibbs was devoted to the ideals and spiritual purposes of Masonry, and untiring in his efforts to inspire the same devotion in others. His death deprives our Fraternity of one of its most zealous members.
GIFFORD, HARRY P. 1876-1942
From Proceedings, Page 1942-22:
Brother Gifford was born in Salem, Massachusetts, on February 26, 1876, and died there on January 2, 1942.
He was educated in the public schools of Salem and upon his graduation from high school, entered the employ of the Salem Five Cents Savings Bank as a messenger. He became President of that institution in 1927 and held that position until his death.
At the age of twenty-six he was elected a member of the Common Council of Salem, later serving as Alderman and also on the local school board. ln 1924 he was elected to the Massachusetts Senate and served for two terms. His activities in civic, social, fraternal and banking associations were many and varied and are a clear indication ofthe qualities of leadership possessed by our Brother, who remained active in all these fields of endeavor until his passing.
He was made a Master Mason in Essex Lodge on April 25, 1905, and served as its Master in 1916 and 1917. In Grand Lodge he served as District Deputy Grand Master of the 8th Masonic District in 1919 and 1920, by appointment of Most Worshipful Leon M. Abbott and Most Worshipful Arthur D. Prince. He also held membership in all of the collateral Masonic bodies.
An outstanding citizen and Mason has left us and we who knew and loved him mourn.
GILLETTE, GEORGE ALBERT 1844-1893
MEMORIAL
FROM COUNCIL OF DELIBERATION, 1894
From Proceedings of the Massachusetts Council of Deliberation AASR NMJ 1894, Page 57:
Our Ill. Brother, George A. Gillette, was born in Unadilla, N. Y., Dec. 13, 1844, and died at his home In Boston, Mass., after a lingering illness, Jan. 15, 1893.
He had been an active, prosperous and much respected merchant, being senior partner of the firm of Gillette & Hennigan, fruit and produce dealers, and was highly esteemed by all with whom he had business relations.
He was early attracted to the Masonic Fraternity, and in 1870 he was raised in Columbian Lodge, of Boston, he became greatly interested in the work, and after having filled various offices to the general acceptance of his Brethren, he was elected Worshipful Master in 1880, serving two years; and it is but fair to say, that that venerable lodge has rarely, if ever, had a more successful or better-loved presiding officer.
He was exalted in St. Andrew's Royal Arch Chapter, and became a member in 1871. In 1883 he was elected Master of the 2d Veil, and served in various offices until his death, he having been elected King just before bis illness; and at the time sot for installation his condition was such that it was impossible for him to be present at that or any subsequent meeting.He received the degrees in Cryptic Masonry in Boston Council of Royal and Select Masters, and became a member in 1871. In 1887 he was installed Thrice Illustrious Master, serving faithfully for two years.
In the Grand Council of Massachusetts his peculiar abilities were early recognized. In 1883 he was appointed Grand Lecturer, and continued in that office with the exception of a single year, when he was Deputy Grand Master, up to the time of his decease; and it is speaking within bounds to say that that difficult office was never more acceptably tilled.
In the Grand Chapter also he for a number of years assisted in the exemplification of the work as Principal Sojourner, entering into the spirit of the part with such intelligence and earnestness that the general sentiment was that no better representative of it had been seen during his time.
He was a member of Boston Commandery of Knights Templars, but took no active part in the work.
In the Ancient Accepted Scottish Rite our Ill. Brother was an active, earnest and faithful member. Sept. 30, 1872, the Grades from the 4° to the 14° were conferred upon him in Boston Lodge of Perfection; the 15° and 16° Grades in Giles F. Yates Council of Princes of Jerusalem, Feb. 11, 1876, the 17° and 18° Grades in Mount Olivet Chapter, Oct. 21, 1881, and the Grades from the 111° to the 30° in Massachusetts Consistory, s.-. IV. R.-. s.-., Feb. 24, 1S88, and the 31° and 82° April 27, 1888.
He served in the A. & A. Rite in various offices, and at the time of his death was Thrice Potent Grand Master of Boston Lodge of Perfection, 14°, Senior Warden of Giles F. Yates Council P. J., 16°, and Master of Ceremonies in Massachusetts Consistory, S. P. R. S., 32°.
His work as a ritualist gave entire satisfaction, and his devotion to detail and aim at absolute accuracy gave his opinion that quality of confidence that inspires respect and emulation.
Genial and pleasant, his heart full of love for his associates, he enjoyed their society and good fellowship; and troops of friends were attracted to him by his jovial manner and his ever readiness to impart of the knowledge he possessed to assist any of his brother officers.
In our Order men like him are always missed and mourned, and their memory lingers in our hearts; and the remembrance of their deeds and friendship remains with us and serves to make us all the more loyal and devoted because of their example.
We deeply mourn his loss, but with our sadness mingles the feeling that his trials and labors are ended and he has been called to his reward.
"As Hiram slept, the widow's son,
E'en so our brother takes his rest;
His battles fought, his duties done,
His name by many thousands blest.

So let him sleep that dreamless sleep,
His glories clustering round his head;
Be comforted, ye loved, who weep
The true, the frank, the fearless dead."


Fraternally submitted,
Benjamin W. Rowell, 33°,
Euoene H. Richards, 33°,
Committee.

GILLIS, JOHN H. 1894-1941

From Proceedings, Page 1941-45:

Right Worshipful Brother Gillis was born in Jamaica Plain, Massachusetts, October 23, 1894, and died suddenly in Boston, February 14, 1941. After graduation at the Northeastern University School of Accounting, he followed that profession until his untimely death.

ln l9l7 he enlisted in the United States Army and served his country until 1919, when he was discharged from the service.

He received the degrees in West Roxbury Lodge in 1919 and was Worshipful Master in 1930. He served as District Deputy Grand Master for the (Roxbury) Fourth District in 1935-1936, by appointment of M. W. Claude L. Allen.

He was a member of Roslindale Chapter, R. A. M.; Boston Council, R. & S. M., and Joseph Warren Commandery, K. T. He is survived by his widow, Ruth Eaton Gillis, and by a son and daughter.

Suddenly stricken in the midst of his usefulness, he is mourned by a great number of friends and Brethren.

GILMAN, PETER 1765-1807

From Liberal Freemason, Vol. XII, No. 9, December 1888, Page 284:

The old burial-ground, at the North End, in Boston, Mass., known as "Copps' Hill," contains the remains of many good Masons, but not all are so distinctly marked that inquirers or friends even, can find them with complete certainty. Wor. Bro. A. A. Folsom, who takes pronounced interest in antiquarian matters, especially in those biographical, has handed us the following, copied from the tombstone of one of the brethren.

SACRED TO THE MEMORY OF
PETER GILMAN,

Who departed tuts Like April 12th, 1807.
Aged 42 years.

"Stop, my friends, and in a mirror see
What you, though e'er so healthy, soon must be.
Beauty, with all her rose-buds, paints each face!
Approaching death will strip you of each grace."

Peter Gilman was initiated in Columbian Lodge, Boston, March 4, 1801, Crafted April 2d, and Raised May 26, 1801. The Directory says he was a shop keeper in Ann St., now North St. House in Proctor's Lane, now Richmond St. He was a member of the Ancient and Honorable Artillery Company in 1796.

GILMORE, PATRICK S. 1829-1892

From New England Craftsman, Vol. XXXII, No. 4, December 1936, Page 79:

The bandmaster Patrick Gilmore (1829-1892) was the organizer and leader of the famous Gilmore's Band which made extensive tours throughout the country, and was everywhere received with enthusiasm. He liad a great taste for the sensational in music, and was the originator of the "Monster band concerts which had a great vogue following the Civil War.

In the first of these monster festivals, he conducted a band of one thousand performers, plus a chorus of ten thousand voices. The height of this sensational and spectacular vogue was reached when the number of musicians and chorus was doubled, and the volume increased by a battery of cannon, church bells and anvils. During his later years this sensationalism was abandoned, and Gilmore has a recognized standing among the great band leaders of the country who brought good music to hundreds of towns and villages where such music had never before been heard. His personality was a great factor in his success. He was the composer of a number of band and dance pieces and songs which had a great popularity in their day. The military air "When Johnny Comes Marching Home" was written by him under the nom-de-plume of "Louis Lambert." He was a member of Essex Lodge, Salem, Massachusetts.

GLEASON, BENJAMIN 1777-1847

From Moore's Freemason's Monthly, Vol. VII, No. 3, January, 1848, p. 94:

Died, at Concord, Mass., in September last, Benjamin Gleason, Esq., aged 70 years.

Bro. Gleason was born in Boston, in 1777. He graduated at Brown University in 1802. In 1805, at the age of twenty five years, he was chosen Grand Lecturer of the Grand Lodge of Massachusetts, which office he ably filled for several years. He was at one time Master of Mount Lebanon Lodge, in Boston, and for some years Master of King Solomon's Lodge, in Charlestown. Bro. G. was well known among the Fraternity, during the active period of his life, as a zealous and well informed Brother. He was the originator of a system of teaching Astronomy and Geography, which was at one time quite popular. He travelled through a large portion of the U. States and Canada, lecturing upon his system in the principal towns, and also before Masonic Lodges, for the purpose of instructing the Brethren in the philosophy and work of the Order, and received from the Craft various flattering testimonials of the gratification which resulted from his labors. We had hoped to give a more detailed notice of the Masonic career of the deceased, but have been unable to obtain the requisite data.

GLEASON, DANIEL A. 1836-1908

From New England Craftsman, Vol. III, No. 6, March 1908, Page 235:

Brother Daniel A. Gleason. one of the best known and most respected citizens of Medford, Mass., died at his home, February 16. in the seventy-first year of his age. He was born in Worcester, but has lived in Medford since 1863. He was a graduate of Harvard in 1856, and of the Law School in 1861. He had filled many important positions in city and state, among which was tax commissioner for about 20 years. In 1872 he was made commissioner of corporations. In January, 1881, He was elected State treasurer and served 111 that rapacity until January, 1886.

Mr. Gleason, as commissioner of corporations, drafted the general corporation act, and aiso drew the national bank tax acts, and other measures of importance. On retiring from the State treasurership, Mr. Gleason resumed the practice of his profession. In March, 1887, he was elected treasurer of the Fitchburg Railway Company, which position he had since filled.

In Medford, Mr. Gleason had long been an influential and active citizen. He was a member of the School Committee for for twenty-one years, from 1864 to 1885, being its Chairman during the last eighteen years of that period.

He was largely instrumental in the building of Medford's water works and was a member of the first water board, formed in 1869, and remained twenty-three years. In the financial affairs of Medford, both as a town and city. Mr. Gleason was one of the leading advisers among his fellow-citizens.

During his thirty-seven years' connection with the Medford Savings Bank he did much to place it in the forefront of the banking institutions of this vicinity.

He was a charter member of the Union Club for more than forty years, a member of Mount Hermon Lodge, A. F. and A. M., and of Mystic Royal Arch Chapter.

GLEASON, SAMUEL W. 1801-1878

From Liberal Freemason, Vol. I, No. 12, March 1878, Page 373:

Brother Gleason, better known as "Father Gleason," a much respected and esteemed Mason of East Boston, died suddenly at his late residence, on Meridian Street, of heart disease, Sunday morning, March 3. Mr. Gleason was born in Dorchester, in July, 1801. He moved to East Boston in 1S46, and carried on the business of a ship carver on Commercial Street for many years. He was a man of strict integrity, and won the esteem of all with whom he came in contact. He received the first three degrees in Mt. Lebanon Lodge in 1842, took membership in Corner Stone Lodge, of Duxbury, in 1S46, and after moving to East Boston changed to Mt. Tabor Lodge, which Lodge he served as Master in 1S49, '50 and '51. He received the degrees in St. Paul's Royal Arch Chapter, and after passing through the different offices was installed as High Priest in 1S53. am' was afterwards made an honorary member of St. John's Royal Arch Chapter. In 1856 he received the degree in the East Boston Council of Select and Royal Masters, in which he held many positions of trust, and in May, 1S70, after the formation of William Parkman Commandery of Knights Templars, He was elected, and received the orders, and in iS76vvas elected unanimously as an honorary member.

His death will be keenly felt among the Masons of the Island Ward, as there have been but few meetings of the Fraternity for the last twenty-one years that he has not been in attendance, having been Tyler for all Masonic bodies holding meetings in the Masonic Hall for seventeen consecutive years, which position he filled to the entire satisfaction of the Fraternity until he was compelled by age to relinquish the arduous duties to a younger man.

His funeral took place from his late residence, on Meridian Street, Tuesday, March 5, at two o'clock. His remains were taken to Woodlawn Cemetery, where the Masonic services were performed under the auspices of Mt. Tabor Lodge, Wor. Bro. Seth C. Ames, D. D. G. M., officiating. St. John's Chapter and East Boston Council were also in attendance, and the escort was furnished by William Parkman Commandery.

GLOVER, JOHN 1732-1797

Notes: See DAB, Proceedings 1900-44

From New England Craftsman, Vol. XIX, No. 5, February 1924, Page 156:

THE MILITARY GENIUS OF JOHN GLOVER
By Prof. Gilbert Patten Brown, Ph.D., LL. D.

Born at Salem, Massachusetts, November 5, 1732, John Glover was the third son of Col. Jonathan Glover and "Tabitha his wife."

"Tabitha, his wife," was none other than Tabitha Bacon, of the bluest of New England's blue blood. Her people lived in the "Witch City" of Salem. She was pretty, religious and most domestic, and Jonathan was a church deacon and paid his "honest debts."

Tor his mother, John Glover had a strong affection as is shown by his letters to her while away when he was yet a child. The family moved from Salem to Marblehead, where he received the rudiments of an English education in the schools of that town.

John Glover chose the trade of a shoemaker. But the bench and the last were little to his taste and he soon abandoned them for the fishing net. Nor was his choice a strange one in a town where boys of 11 and 12 years were sent to sea to serve their four years of apprenticeship as "cut-tails", after which there was open the career of "sharesman" or "header." with eventually perhaps the honored post of skipper.

In his new calling John Glover found great success. March 27, 1756, when 24 years old, he married Hannah Gale, a Marblehead girl two years younger than himself, although at that time the Marblehead fishing fleet was suffering most heavily from the depredations of the French privateers and cruisers.

In the war that followed Glover himself took no active part, though his older brother Samuel served throughout as lieutenant. In 1759, however, led perhaps by his brother's example, he received his first commission, that of ensign in the "3rd military foot company in the town of Marblehead," and three years later was raised to the rank of "captain lieutenant" in the same company.

In 1765 came the Stamp Act, and with it the first signs of trouble with England. The year 1769 saw blood-shed in Marblehead harbor, when the crew of a British war vessel attempted to impress the sailors of a fishing schooner of the port. This thoroughly aroused John Glover to the issues of the times. He would rather fight an Englishman than eat a New England dinner.

To such acts of tyranny no town was more quick to feel and to show resentment than Marblehead, and in the fore-front of the movement stood John Glover. He was among the first of her 60 merchants to sign the non-importation agreement, and in 1771 he was chosen with two other Masons, Col. Azor Orne and Hon. Elbridge Gerry, as a member of the local committee of grievances, who by their correspondence with other like committees, paved the way for the subsequent Continental Congress and sowed the seeds of national independence and union. It was then that John Glover joined the church of his home town and became a useful member.

In Colonial times there had been established in Marblehead Philanthropic Lodge of Freemasons. In this sturdy body of New England life John Glover was made a Master Mason "in due and ancient form." Patriot and Tory met upon the same level in that old lodge. Its early records arc lost; they were last known to have been in the keeping of Col. Glover. After returning from the Revolutionary War these with other papers could not be found by him. The lodge was later on opened and records kept carefully. It still flourishes.

With 1773 a new subject arose to turn away for a while the thoughts of Marblehead and her citizens from their wrongs and their resentment against Great Britain. This was the appearance of smallpox, which was brought, it was said, by a French fishing vessel.

Several times before in the memory of the older inhabitants the disease had visited the towns once barely failing of depopulating it, and beyond all other things its attack was dreaded. Such measures were taken, therefore, as might stop its spread. Dogs were killed, houses were quarantined and their inhabitants removed but all to no purpose for the plague persisted. John Glover, with his brother Jonathan and Orne and Gerry, all ardent patriots and prominent in the town's affairs, had erected at Cabot Island, in the harbor, a hospital where the newly discovered cure by inoculation might be tried, and in spite of great opposition from the conservative townsmen opened the building and began the treatment by vaccine. Hundreds of patients were successfully treated, but a few, beyond any cure, died at the hospital.

The opposition then took the form of open hostility to the hated "Castle Pox," as it was called, and its directors, notably the Glovers. The story is told that on one occasion Jonathan Glover, learning that a mob of the townsmen were meditating an attack on his house, sent a servant for his brother John, who had recently been made captain of the town militia company. Captain Glover shortly appeared, was told the trouble, and in reply asked his brother if he did not have about the house a couple of old cannons from a ship and powder and ball for them. These furnished he took complete charge of affairs, telling his brother,— "Well, Jonathan, you need not trouble about it; we'll fix 'em." The two cannons he placed in the front hall, the one loaded merely with powder and rock salt, the other with ball. Then he asked for every candle and candlestick in the house and his own, using hollowed turnips when the latter failed, and placed them all about the hall, making it a blaze of light. He then dismissed the women folks, warning them that there might be "unpleasant work before morning," and sat down to wait for his guests. In the course of events these came, brave in Indian war paint and feathers and making much clamor. Slowly, a little abashed, they sidled up the path to the house when Captain Glover, throwing open the front door, with a ceremonious invitation to come in, showed them the hall, brilliantly lighted by the candles, and in front of it the two cannon, over which he held a blazing torch.

Distressed at the stationing of a company of British soldiers at Marblehead Neck the town militia had been drilled, but the militia were officered by men appointed by the British governors, and in December, 1771, therefore, the companies were reorganized. It was then that the former officers were forced to resign, while the men of each company chose in their stead leaders of their own to whom commissions were issued by the town authorities. As colonel and commander of the regiment, in recognition of his patriotism, bravery and ability, was elected John Glover, no short honor for this short, stout, unmilitary appearing fishing captain and former shoemaker.

That he was the man for the place, however, he showed at once. For the patriots' cause he abandoned his extensive business, converting his vessels into privateers and devoting his money to the enlistment of men and the purchase of supplies.

Aided by the town authorities, who on January 2, 1775, provided for a thorough organization, Col. Glover made of the Marblehead militia by careful and constant training a disciplined and reliable regiment.

On February 26, Colonel Leslie marched to Salem. Landing with 220 men at Marblehead, during church service, he proceeded rapidly to Salem, crossing through the town to the old North Bridge. Here, however, he was halted by the open draw, nor would the citizens pay heed to his threats.

Realizing at last his inability to attain his purpose — to seize the arms and cannon of the patriots — and fearing the result of the ridicule of the crowd upon his men, he agreed, if the bridge were lowered, to march some thirty yards across it and then depart quietly, thus having fulfilled the latter of his orders.

Upon returning to Marblehead he found Colonel Glover and his men drawn up in full array, armed and ready to fight, a convincing proof to the British commander of his narrow escape from being the precursor of Maj. Pitcairn.

Soon came the battles of Concord and Lexington and the mustering of the Continental Army. The Marblehead militia was formally incorporated as the 21st Provincial Regiment, and the town records speak of the "fishermen enlisting for the Continental Army."

On May 30 the rumor was spread that British soldiers from the war vessel in Marblehead harbor were landing at the ferry, and the regiment turned out, Glover at its head, "himself with a short jacket on." The alarm proved false, but the next day one of Glover's vessels arrived from the West Indies and was brought by him to Gerry's wharf in spite of the orders and under the guns of the British sloop of war Merlin.

On June 10 orders came for Colonel Glover "to continue the regiment under his command at Marblehead until further orders, and to hold them in readiness to march at a moment's notice to any post where he may be directed." In six days from that date he was officially commissioned as colonel by the provincial Committee of Public Safety, and on the list, four days after the fight in Breed's Hill, orders came to march. The regiment reached Cambridge the following day, and were quartered at the historic Longfellow House. Of its ten companies every officer, soldier and musician was a citizen of Marblehead save eight men, the only regiment in the war to be thus raised from a single town. The men's uniform was a blue round jacket and trousers, trimmed with leather buttons, while Colonel Glover himself was said to be the most finely dressed officer of the day in the Continental Army. The first order issued on July 3, 1775, by Washington after taking command, was to Col. Glover's regiment.

Through the summer they were engaged about Cambridge in the regular routine of camp duty, though in August a company was detached to Marblehead for privateering. He was soon appointed to see to the equipment and manning of ships of war in and around Boston. Soon the "webfeet" won a more glorious distinction. When their terms came to an end, January 1, 1776, hardly a man left camp and the entire regiment was re-enlisted for the war as the 14th Continental Infantry. In July Colonel Glover marched with his troops for New York, where he arrived August 9th. Here were his greatest exploits, the saving of the American army and of Washington himself.

Gen. Glover was present with other Massachusetts Masons at the making of Gen. Henry Knox a Mason in winter quarters of 1776-1777 at Morristown, N. J. Col. Joseph Tilley of St. John's Lodge No. 1 of Portsmouth. N. H., was in attendance as was Major Scarborough Gridley of St. John's Lodge, Boston and Lieut. Col. Wm. Burbeck of the Lodge of St. Andrew also of Boston, as a Mason. The Marblehead General was most cheerful and fraternal.

It was that ardent patriot and religion^ Mason, Thomas Paine, who wrote — "These are the times that try men's souls. The summer soldier and the sunshine patriot will in this crisis shrink from the services of his country, but he that stands it now deserves the thanks of man or woman." Gen. Glover found solace in the writings of Paine.

General Glover had fought bravely under Gen. (Bro.) McDougal at Chatterton Hill, and had maintained a stubborn defense against an enemy of greatly superior numbers. Later he had been stationed at North Castle with Lee's army, and when Lee himself at last was captured, he had marched under Gen. (Bro.) Sullivan to rejoin Washington on the Delaware. Washington's army at the time comprised not over 6,000 effectives, scattered for 30 miles along the river. Many regiments, notably those of New England, were so poorly provided with blankets and camp equipage and had such meagre stores of any kind that it was necessary to send men about the country to buy and beg old clothing and blankets for the freezing soldiers. Trenton, on the east side of the river, was occupied by three Hessian regiments with a detachment of artillery under the general command of Colonel Rall. No intrenchments had been made and the guards had grown careless. On Christmas, moreover, the Germans, officers and men, preserving the traditions of the distant fatherland, carelessly confident of their own military strength, with never a thought for the "farmers" across the river, would enter so eagerly into the revelry of the day as to be little fit for serious effort of any kind. This Washington knew. To him it seemed to offer an unusual opportunity to inflict a defeat on the enemy and so restore their lost morals to the discouraged army and hope to the country.

A few days before Christmas a meeting of general officers was held and plans made for the prospective attack. The great difficulty was the crossing of the river, but at the mention of this it is related that Col. Glover, who made one of the number, said: "You need not be troubled about that, General: my boys can manage it."

The time chosen for the crossing was Christmas night, when it was thought that the Hessians' debauch would render them an easier prey. A large number of gundalows and row-galleys had been collected and were stationed at different places along river bank. It was proposed to cross in three places, Washington with the main army, about 2100 strong, to make the direct attack.

Early on Christmas morning the final orders were given, and by 3 o'clock in the afternoon all the troops ordered on the expedition were in motion toward the river. In his memoirs Maj. Wilkinson tells how the route of the poor soldiers "was easily traced, as there was a little snow on the ground which was tinged here and there with blood from the feet of the men who wore broken shoes."

For two days the river had been clear of ice, but by noon Christmas it was full of floating cakes, come down from the upper branches. The current too was swift and dangerous, and the weather bleak and very cold. Yet when the troops came down to the river they found in the boats the men of the Marblehead regiment, the once ridiculed "web-feet," formerly heroes of the Long Island retreat, now to be the happier heroes of a successful attack.

General Washington stood on the bank of the river and watched the boats as they pushed off into the current. At his side was Colonel Henry Knox, the artillerist, whose stentorian voice made the commander's orders audible the breadth of the stream.

And the men of Marblehead, clad in their serviceable, well-worn uniforms of blue round jackets and leather-buttoned trousers bent to their oars and time after time ferried the boats across the river.

An eye witness said of the scene: "It was as severe a night as I ever saw. The frost was sharp, the current difficult to stem, the ice increasing, the wind high, and at 11 it began to snow. It was only with the greatest care and labor that the. horses and the artillery could be ferried over the river." Two brave men were frozen to death, and a third would have perished had not his benumbed body been found in time. Washington's division was the only one to cross, for the other two, lower down stream, which had no John Glover to take charge, were unable to combat the current and the rigors of the cold, the storm and the floating ice. The march from the ferry to the village of Trenton was cold and cheerless. It is told that on the way Captain John Glover, a son of the colonel, finding that the snow and sleet had rendered many of the muskets useless, reported the fact to General Sullivan. "Well, boys," he replied, "we must fight them with the bayonet." Washington sent a like reply: "Tell the General to use the bayonet and penetrate into the town, for tile town must be tukcn anil 1 am resolved to take it."

Several years afterward, in a speech before the Massachusetts legislature, General Henry Knox eulogized his Masonic comrade Glover and his men for their work of that night. "'There," he said in conclusion, "went the fishermen of Marblehead, alike at home upon land or water, alike ardent, patriotic and unflinching whenever they unfurled the flag of the country."

The Trenton battle monument likewise bears a statue of one of the men of the regiment, gun in hand, as he appeared on that famous day and night. And it is true that to John Glover and Glover's marine regiment is in great part due the success of that battle, which turned the crisis of the revolution and saved the fortune of the American nation. In the first battle of Bemis Heights, September 19, Glover's brigade made a part of the American right wing, and in "one continuous blaze without intermission until dark," helped to hold the hills near the river against all the British attacks.

In the second battle, that of October 7, after weeks spent in harassing Burgoyne's now weary troops, Glover took a still more prominent part; for while most of his brigade was held in reserve, the Marblehead regiment made part of that inspired band that broke repeatedly through the British line, captured their artillery, and by a determined bayonet charge with most desperate hand-to-hand fighting took the camp itself. General Glover himself had three horses shot from under him on that day, but escaped without a wound. Many of his brave men were less fortunate. Of their conduct, one historian says, "Even the stolid Hessians expressed their amazement when they saw these brave Marblcheadcrs dash through the fire of grape and canister, over the dead bodies of their comrades, through the embrasures over the cannon, with the same agility with which they had formerly climbed to the main-top, bayoneting the cannoneers at their posts. Glover's troops evinced the coolness and agility of sailors in their attacks, and showed that they could use the bayonet with as much skill and effect as the marline or handpike on board ships."

Dismayed by the results of the battle, the British army retreated to Saratoga, followed by Gates. On the 11th, believing that Burgoyne had further removed the main body of his army to Fort Edward, he ordered an attack on the camp where, as he thought, were only the rear guard.

Generals Nixon and Glover were in the advance and the former had already crossed Saratoga Creek, when Glover learned from a captured British soldier that Burgoyne's whole army, far from having retreated, had drawn up under cover of the woods across the creek, supported by artillery. Quickly grasping the situation, General Glover immediately sent to recall Nixon, though the latter was his superior, saving him destruction and the American army great loss and thereby hastening Burgoyne's surrender, which was made a few days later.

To General Glover was given the honor of guarding and conducting the army of prisoners to their destination at Cambridge, and in the task he showed that his tact and fair-mindedness were no less than his energy and courage. On November 7th he delivered his prisoners on the very grounds where two years before he and his "web-feet" regiment bad first appeared in the Continental service.

For the rest of the war General Glover's fate was not happy. His health poor, his family almost in want, he would have been glad to resign, but his loyalty to the patriot cause kept him to his duty.

In August, 1778, after raising volunteers from Boston and Marblehead, he joined in the attack on Newport under General John Sullivan, and after the departure of the French fleet and the desertion of half the army, took part in the hot but successful battle of Butt's hill. The following night the Americans finding their position no longer tenable, General Glover put his Marbleheadcrs once more into their boats, and transported the whole American force from Rhode Island to the main land at Tiverton without the loss of a man.

That battle was the last that Genera1 Glover was to fight. In November his wife died, and the next February he was granted a furlough to settle his affairs. Later he had command of the department of Providence and was also stationed at Ridgefu'l1' and Peekskill. His ill health continue During much of 1780 and 1781 he was with his brigade at West Point, where he was a member of the Court which sentenced André.

Col. Joseph Webb (then Grand Master of the St. John's Grand Lodge of Massachusetts) while at West Point, N. Y., made his headquarters at General Glover's House. Col. John Brooks (an army made Mason also) frequented General Glover's headquarters while at West Point on the Hudson.

After the surrender of Cornwallis Gen. Glover received his last commission to take charge of mustering and forwarding of recruits from Massachusetts into the Continental Army under Gen. Washington. "In the spring of 1782 he wrote to Washington, "Instead of growing better I feel nvself much weaker, my whole frame being so exceedingly shattered and debilitated and my nervous system so much weakened that were I to gain a Kingdom, I could not ride a journey of 20 miles."

Julv 22, 1782. he was retired on half pay by Congress and went home to Marblehead to his motherless children, of whom five were still dependent. He had put himself and his fortune into the revolution, and now that his vitality was nearly exhausted and his fortune absorbed, he did not complain. Without the youth or the capital to re-engage in the fishing business, he partitioned off a corner of his sitting room for a workshop and made and cobbled shoes for a livelihood.

On January 3O, 1797, John Glover died at old Marblehead. The hardships and exposures of the Revolution had shortened his useful life.

No Masonic lodge bears his name. Nor is there even a patriotic society in our country dedicating a day to his memory.

Gen. Glover is fittingly remembered by a monument on beautiful Commonwealth Avenue, in the Athens of America. His Masonic brethren, Hancock, Adams, Knox, Revere, Greaton, Heath, Nixon, Learned, Poor, Paterson, Mauley, Paine, Gore, Tucker, Wadsworth, Otis, Brooks, Webb and Franklin, all sons of Massachusetts held him in high esteem until their dying hours. Old Marblehead holds no name on its pages of records dearer to its citizens than that of John Glover, who ferried the great Continental army across the river to take Trenton in 1776. His picture should grace the walls of every public school in these United States. In every state a lodge should be named for him. He was a dignified gentleman indicative of Massachusetts Masonry. No state furnished braver patriots and in no other state is the Masonic craft held in higher esteem than in the one that gave birth to John Glover.

GOODELL, ARTHUR A. 1839-1882

From Liberal Freemason, Vol. VI, No. 5, August 1882, Page 158:

Col. Arthur A. Goodell died at his residence in Worcester on Friday, June 30th, of Bright's disease, after a protracted illness. He was born June 30th, 1839. He leaves a wife and three children and many friends. He was a man of unusual promise. His business record began with his serving as a Teller in the City Bank. So much respected was he there that when he enlisted early in the war the bank agreed to keep his situation as Teller open to him till his return, and to continue his salary while absent. Later he was the First Cashier of the First National Bank. He is next found associated with A. H. Hammond in making organ reeds, and later with J. S. Rogers, and still later with F. W. Wellington in the coal business.

He enlisted in May, 1861, in the Third Battalion of Riflemen for three months, was commissioned as Sergeant Major, returned home in August, 1861, as Adjutant. In August, 1862, he was commissioned as Captain of Company C, Thirty-sixth Regiment, having largely recruited the regiment; January, 1863, he was made a Major; July, 1863, He was commissioned Lieutenant Colonel and discharged May 5th, 1864, by reason of disability as a Brevet Brigadier General. Oct. 10th, 1862, Major Goodell was severely wounded by being struck with a piece of shell. At that time he was at Blue Springs, Tenn. He returned to his regiment in April, 1862, but was unable, however, to endure the hardships of an active campaign. About the time of his discharge, a month later, he was tendered a place on Gen. Burnside's staff, but declined.

Col. Goodell was a charter member of Quinsigamond Lodge, F. and A. M., a member of the Worcester Royal Arch Chapter, and of Worcester County Commandery of Knights Templars.

GOODRICH, CHARLES BARNARD 1830-1908

From New England Craftsman, Vol. III, No. 8, May 1908, Page 280:

Brother Charles B. Goodrich, a member of Columbian Lodge, Boston, and a Mason of large acquaintance, died March 17. Brother Goodrich was seventy-eight years old.

GOODWIN, WILLIAM 1797-1885

From Proceedings, Page 1885-139:

Col. WILLIAM GOODWIN, a veteran of the war of 1812, died in the city of Chelsea, on Sunday, February 22, 1885, at the advanced age of eighty-eight years. He became a Mason in 1818, receiving his degrees at St. Stephen, N.B., becoming Master of St. Croix Lodge in 1826, holding subsequently the office of Deputy Grand Master of the Fraternity in Maine.

Upon removal to Chelsea, Mass., he affiliated with Star of Bethlehem Lodge in 1856. During the sixty-seven years of his Masonic life he was constant in attending the meetings of the Masonic Bodies to which he belonged, even when failing sight and tottering step rendered that duty and pleasure almost perilous. His presence among the sick and distressed brought sunshine and cheerfulness, and his words and sympathy conveyed comfort and consolation. The funeral services were held in Masonic Hall, a large company of Brethren representing the Masonic organizations of Chelsea being present. The service consisted of an address by Prof. Charles, H. Leonard, D.D., Grand Chaplain, and the rendering of the Masonic burial rites by Wor. Sylvester R. Adams, assisted by the members of the Fraternity.

GORDON, JOHN A. 1843-1918

From New England Craftsman, Vol. XIII, No. 5, February 1918, Page 156:

Dr. John A. Gordon, the oldest and best-known physician of Quincy, died Friday morning, January 25, at his home on Huntly Road, after an illness of several months. Dr. Gordon was stricken with heart trouble during the winter and never was able to get out of doors after his first attack.

Dr. Gordon was born in New Perth, P. E. I., May 30, 1843, was educated in the ipublic schools there and at the Prince of Wales College. He came to Boston in 1866 and entered Harvard Medical School. In 1870-1871 he was resident house physician at the Boston City Hospital.

From 1872 to 1877, Dr. Gordon was town physician and from 1884 to 1889 was chairman of the Board of Health. He was instrumental in having the Quincy City Hospital established in 1890 and has always been very much interested in its advancement and welfare.

Since 1891 he has been a trustee and chairman of the executive board, consulting physician and on the medical and surgical staff of the hospital. Dr. Gordon was also interested for many years in developing a water works system for the city and promoted the Quincy Water Works Company, now owned by the city. He was president of the company for many years and for a time was also president of the Sharon and Marblehead Water Companies. He was elected to the School Committee in 1884 and served 10 years.

Dr. Gordon was a member of Rural Lodge A. F. & A. M.; St. Stephen's Chapter, R. A. M.; the Y. M. C. A., of which he was director; the Granite City Club, the Quincy Yacht Club, the Megantic Fish and Game Association, and the Boston City Hospital Club. Dr. Gordon was unmarried.

GOSS, GEORGE SYMONDS 1865-1908

From New England Craftsman, Vol. III, No. 10, July 1908, Page 360:

Brother George S. Goss, a well known citizen of Marblehead, Mass., died April 28th, His funeral was conducted with Masonic ceremony May 1st.

The Masonic bodies represented, were: Philanthropic Lodge, Washington R. A. Chapter, Sutton R. A. Chapter, Winslow Lewis Commandery K. T.

The religious services were conducted by Rev. Frederick A. Taylor, pastor of the Universalist church, assisted by Rev. Charles F. Puffer of the Universalist church and Rev. Alfred Manchester of the Unitarian church of Salem. The singing was by the Weber male quartet of Boston. The ritual services of the Masons were read at the grave by the master, Edward B. Brown, and the chaplain, William D. L. Trefry of Philanthropic Lodge.

The pallbearers were Benjamin R. Lewis. Horace L. Broughton, Fred Goodwin. Frank W. Goodwin and Arthur Bartol. The honorary pallbearers were Eminent Sir John M. Raymond and Sir Charles H. Fowler of Winslow Lewis commandery. Illustrious companion Robert L. Almey and Sir Benjamin Cole, Jr., of Washington Royal Arch Chapter, Rt. Excellent Charles G. Dodge and Past High Priest Alonzo H. Smith of Sutton Lodge and George P. Graves and Winthrop Brown of Philanthropic lodge.

GOULD, JAMES 1849-1917

From New England Craftsman, Vol. III, No. 5, February 1908, Page 170:




Among the Masons of the Third Masonic District of Massachusetts who have been conspicuous in devotion to Freemasonry and in ability to serve its interests with intelligence and success, is Right Worshipful James Gould, of Chelsea, who has been appointed by Grand Master Blake District Deputy Grand Master of the Third District.

Brother Gould is a Chelsea boy, having been born in that city December 15, 1849. His home has always been in his native city except during a few years of his boyhood when he resided in Virginia near the historic Harper's Ferry, and in Kansas and Colorado.

In 1869 he entered the insurance business in which he has continued all his life, being now a member of the firm of Jesse Gould & Son with offices in Chelsea and Boston. Brothcr Gould's eminent qualities as a man were early appreciated by the citizens of Chelsea and he was elected to serve their interests in the Common Council in 1889, 1890 and 1891, in the Board of Aldermen in 1S92 and 1893 and as Mayor of the city in 1900 and 1901. Brother Gould was made a Mason in Star of Bethlehem Lodge June 25, 1891, and was Worshipful Master of that lodge in 1904 and 1905.

He is a member of the Chapter of Shekinah, a member of Palestine Commandery K. T., of which he was Eminent Commander 1903-1905. He is a member of Naphtali Council of Royal and Select Masters and has received the degrees of the Ancient and Accepted Scottish Rite. No Mason of Chelsea is mure highly regarded for his ability and integrity, for his fidelity to the principles of the Order, or his consecration to its service. His selection by the Grand Master for the position of District Deputy Grand Master is accepted by his brethren as an evidence of appreciation of a worthy mason and as a compliment to the district in which be resides.

GOULD, LEVI S. 1834-1917

From New England Craftsman, Vol. XII, No. 7, April 1917, Page 251:

Levi S. Gould, a prominent Massachusetts Freemason, died at his home, Melrose, March 22d. He would have been 83 years old if he had lived five days more.

Brother Gould was first Mayor of Melrose, and for 20 years chairman of the Middlesex County Commissioners. He was in the furniture business many years with the F. M. Holmes Company, and upon the death of Mr. Holmes, became senior member of the firm. In 1887 he retired from the business and grave his attention, to public affairs.

Mr. Gould was the oldest past master of Wyoming; Lodge, A. F. and A. M., in which he was elected Master in 1863 and 1864 and again for two terms 20 years later. He was a member of Waverly Chapter, R. A. M., Prelate of Hugh de Payens Commandery, K. T., for many years.

GOULD, ROBERT FREKE 1836-1915

From Proceedings, Page 1915-114:

This Masonic scholar and the founder of the modern rational and critical school of Masonic historians passed away on the 26th day of March last, at his home in England. Born in Ilfracombe, Devon, in 1836, he was initiated in 1855 in the Royal Navy Lodge, No. 429. He had an active military career, which began as Ensign in the 86th Regiment of Foot April 13, 1855, and saw foreign service with higher rank at Gozo, at Malta, at Gibraltar, at the Cape of Good Hope, and in India. Throughout the campaign of 1860, in China he commanded a Company in the action of Sinho and in the storming of Tanghu for which he was given a medal with clasp. He served also during the operations against the Taepings in the vieinity of Shanghai in April and May, 1862, which resulted in the capture by escalade of several walled cities and fortified towns.

But it is as a Mason that we know him best. He was a founder of Meridian Lodge, No. 743, and its first Worshipful Master, of Tuscan Lodge, No. 1027, of Quatuor Coronati Lodge, No. 2076, and its Worshipful Master in 1887, and of the Lodge of King Solomon's Temple, No. 8464, and its first Worshipful Master. He was a member of numerous other Lodges and ranked as Past Senior Grand Deacon of the Grand Lodge of England. His Masonic talents were also recognized by honorary membership in the Grand Lodges of Iowa, Ohio, the District of Columbia, and British Columbia. In other Masonic bodies he was active officially and otherwise.

His Masonic writings are not numerous but are very valuable. His Concise History of Freemasonry is perhaps the best volume with which to begin the study of Masonic history. This work was awarded a prize of 4,000 francs by the Grand Orient of Belgium, as being the best Masonic book written during the decennial period ending in 1909. It has been published, also in American, Dutch, and Belgian editions. While he has fallen into some errors with regard to American Masonic history, due to his adopting some erroneous statements of others which he assumed to be fact, we of Massachusetts ought not to let the occasion of this Communication go by without thus testifying our appreciation of his Masonic labors. Our Deputy Grand. Master has well said: "If James Anderson in some sense is the Herodotus of Masonic History, Brother Gould is emphatically our Thucydides."

GRAY, DAVID 1770-1849

From Moore's Freemason's Monthly, Vol. IX, No. 1, November 1849, p. 32:

Brother David Gray, aged 79 years, died at Sudbury, Mass., Oct. 19. His remains were interred on Sunday the 21st. A large number of Masons from Middlesex Lodge, Framingham, were present on the occasion to show their last respect to their deceased worthy Brother.

GREEN, ALEXANDER W. 1847-1907

From New England Craftsman, Vol. II, No. 11, August 1907, Page 429:''

Brother Alexander W. Green died in Northampton, Mass., recently. Mr. Green was for many years a prominent business man of Greenfield. He was a native of Troy, N. Y. He was for years marshal of Republican Lodge of Masons, and was a member of Connecticut Valley Commandery, Knights Templar, and was a Shriner.

GREEN, FERNANDO 1840-1886

From Proceedings, Page 1886-139:

BROTHER FERNANDO A. GREEN. Brother Green, who filled the position of Engineer at the Masonic Temple, Boston, from October 19, 1877, until his decease, died at his home in Montvale, February 26, 1886. He was a faithful, competent employee, ever ready to render assistance about the Temple, neat and efficient in his department, economical in his expenditures, thoroughly reliable in the management of the steam-apparatus, a most competent engineer and obliging Brother. He became a member of Mount Lebanon Lodge May 13, 1878, and was buried with Masonic honors by the Brethren thereof on Sunday, February 28, 1886.

GREEN, GEORGE BENT 1821-1914

From New England Craftsman, Vol. IX, No. 8, May 1914, Page 274:

George B. Green, an honored citizen Medford, Mass., died after a long period of failing health, April 25th with a few days of his 93d birthday. He was born in in Holly, Vermont, April 30, 1821.

Mr. Green was chosen town treasurer in 1862 and served in that office until 1876 when he was succeeded by the late City Treasurer Parker R. Litchfield. Mr. Green was elected treasurer of Mt. Hermon Lodge, A. F. & A. M., in 1868. In the same year he was also elected treasurer of the Mystic Royal Arch Chapter both of which positions he has held for nearly 47 years. For the past 45 years he has also been treasurer of Medford Council Royal and Select Masters. Mr. Green was also a member of the famous Medford town fire company the Jackson Howe Company.

GREEN, LEONARD 1832-1907

From New England Craftsman, Vol. II, No. 11, August 1907, Page 429:''

Brother Leonard Green, a well-known citizen of Waltham, Mass., died June 20th after a long illness. He was seventy-five years old. He had been connected with
the American Waltham Watch Co. for more than thirty years. He was a charter member of Isaac Parker Lodge A. F. & A. M.

GREEN, LORENZO L. 1856-1929

From Proceedings, Page 1929-214:

Brother Green was born in Medford October 10, 1856 and died there December 2, 1929. His family was prominent in the city affairs of Medford and closely identified with Masonry. One of his brothers, R.W. Charles M. Green, who died in 1928, was Deputy Grand Master in 1902. The greater part of his active life was spent in the banking business.

Brother Green was raised in Mt. Hermon Lodge in 1894 and was its Worshipful Master in 1902 and 1903. He was appointed Grand Lecturer Deeember 27, 1927 and held that office at the time of his death.

Brother Green held high place in the Capitular Rite. He bacame a member of Mystic Royal Arch Chapter in 1897 and was its High Priest in 1905 and 1906. At the expiration of his term in 1906 he was appointed Grand Lecturer and served the Grand Chapter in that capacity for thirteen years, retiring to accept election as Deputy Grand High Priest, which office he held in 1920. He joined Medford Council Royal and Select Masters in 1903. He was knighted in St. Bernard Commandery in 1909 and was its Commander in 1923.

The great confidence in which he was held by his Brethren was shown by his election in 1914 as Treasurer of Mt. Hermon Lodge, Mystic Chapter, and Medford Council, a1l of which offices he held at the time of his death.

As a Grand Lecturer he was distinguished not only by his absolute correctness in ritual and skiil in teaching it, but by his gentleness and eourtesy. He never permitted an error to pass unnoticed, but his corrections never left a sting.

He was a very gracious and kindly gentleman and went through life leaving sweetness and light wherever he passed. He is widely mourned and will be long remembered.

GREENHALGE, FREDERIC 1842-1896

From Proceedings, Page 1896-13, in Grand Master's Address:

Following the example of one of my predecessors, who with warm eulogy referred to the decease of Brothers who were not members of this Grand Lodge, I call your attention to the. great sorrow of our Fraternity in the sudden decease of our beloved Brother, His Excellency Governor Frederic T. Greenhalge. He was a member of Kilwinning Lodge, of Lowell, and though his public duties prevented his active participation in its work, yet he took great interest in our Order and cheerfully discharged every Masonic duty he was called upon to perform. His life was a practical example of Masonic principles.

The last Masonic occasion in which he took part was when he joined with the Grand Lodge and King Solomon's Lodge on the 17th of June last in celebrating the Centennial of the erection of the monument to Gen. Joseph Warren on Bunker Hill. His Address upon that occasion commemorated the name of Warren and added lustre to his own name.

I deemed it proper to express to the bereaved family the fraternal sympathy of the Most Worshipful Grand Lodge of Massachusetts, which I did in the following letter:

MASONIC TEMPLE, BOSTON, March 6, 1896.
MRS. ISABEL NESMITH GREENHALGE:


DEAR MADAM: In behalf of the Fraternity of Ancient Free and Accepted Masons in the Commonwealth of Massachusetts, I desire to express our profound sorrow at the sudden decease of your husband, our beloved Brother, His Excellency the Governor of Massachusetts, Hon. Frederic T. Greenhalge.

We recognized him not alone as a statesman, with broad, patriotic views, as a Congressman alert and faithful, as a Governor wise, prudent and courageous, as a friend true, genial and helpful, but as a Brother actuated by the holy principles of our Order. He illustrated them in both his public and private life.

Accept the expression of our sincere sympathy for you and yours in this great sorrow. We deeply and most affectionately sympathize with you in your bereavement, and assure you that He who looks with infinite compassion upon the afflicted in the hour of their desolation will fold the arms of His love and protection around all those who put their trust in Him.

With profound respect and sympathy, I remain,
Yours respectfully,
EDWIN B. HOLMES,
Grand Master of Masons in Massachusetts.

The following reply was received from the private secretary of the late Governor:

COMMONWEALTH OF MASSACHUSETTS,
EXECUTIVE DEPARTMENT, BOSTON, March 11, 1896.
DEAR SIR:


Mrs. Greenhalge, owing to the large number of messages received, has requested me to acknowledge and thank your organization for the sincere expressions of sympathy forwarded to her at Lowell. It was certainly very comforting to her in her affliction to know that there existed so deep a feeling of regard among the people for her honored husband.

Very truly yours,
H. A. THOMAS.

GREENLEAF, GARDNER 1789-1864

From Moore's Freemason's Monthly, Vol. XXIII, No. 6, April 1864, Page 186:

We regret to be called upon to record in our pages the death of this venerable and beloved Brother. He died at his residence in Blossom Street, in this city, on the 24th ult., aged 75 years.

As the deceased was one of our most aged, so, through a long and busy life, he was one of our most faithful and active Brethren. Tho older members of the Institution, in this city, will remember with gratitude, his liberality and valuable personal services during the whole of that most trying period known as the anti-masonic excitement. Masonry, then, had no truer friend. He was, at that time, a member of the Boston Encampment, but subsequently withdrew and was one of the founders of the De Molay Encampment, of which Body he remained a member until bis death. He was also a member of St. Andrew's R. A. Chapter, of the Boston Council of R. and S. Masters, and of Columbian Lodge. He was a practical Mason by trade, and stood at the head of bis profession as a reliable and skillful mechanic. He was one of the contractors for the building of the old Masonic Temple, and was afterwards elected by the Grand Lodge one of its Trustees, which place he held until the sale of the premises.

His funeral took place on Saturday, the 26th, and was attended by a large concourse of friends. He was buried at Mt. Auburn.

GREENLEAF, LAWRENCE NICHOLAS 1838-1922

From New England Craftsman, Vol. XXXII, No. 2, October 1936, Page 32:

by Samuel Henry Longley, K. T., 32°

Live on! O Masonry, live on! Thy work hath scarce begun;
Live on! nor end, if end there be. till earth's last setting sun.
Live on! thy work in ages past hath but prepared the way;
For every truth thy symbols teach there's pressing need today.

These inspiring verses, written by a brother who was born in Boston and whose whole life was one of service in the ranks of our own Craft, carry a strong message for all who wear the square and compasses today. Brother Grecnleaf expressed in all his life the lessons he had learned at the altar of Freemasonry. Onlv a short extract is given from the above poem, but the whole is worthy of study by every member of our Craft.

Brother Grecnleaf was born in Boston October 4, 1838, and was initiated into our fraternity by Columbian Lodge of his native city in March of 1863. Later in that year he moved to Denver. Colorado, where he affiliated with Denver Lodge No. 5, in which he retained membership until his death. He was made a Royal Arch Mason in Denver Royal Arch Chapter No. 2, on April 18, 1863: he was high priest in 1867 and 1868, and was elected Grand High Priest of Colorado in 1885.

The Cryptic Rite had no organization in Colorado, so Brother Greenleaf went to Boston, where he was given those degrees in Boston Council in 1868, and later affiliated with Denver Council No. 1. He was created a Knight Templar in DeMolay Commandery at Boston, June 12, 1868, and affiliated with Colorado Commandery No. 1, July 17, 1883. Brother Albert G. Mackey gave him the degrees of the Ancient and Accepted Scottish Rite, and Brother Greenleaf became the principal factor in the organization of this Rite in Denver, where he was elected the presiding officer of the several bodies. Albert Pike, Grand Commander of the Scottish Rite, appointed him Deputy for Colorado in 1878, and he was given the thirty-third degree in October, 1880. Brother Greenleaf was elected presiding officer of all the Grand Masonic bodies of the State, and served with distinction in all. Massachusetts has given of her sons to many other states in our land, but none has a finer record of Masonic service than Brother Greenleaf.

Brother Greenleaf's distinction in the Craft covers a wider field than just the offices he has filled. He edited and published the Square and Compass from 1893 until 1917, and in the columns his love for Masonry and his devotion to the Craft is shown clearly. His work in this line alone was of great value to the Craft in Colorado. He proved his ability as a writer through the work he did in this periodical and won a reputation as a poet. His centennial poem at Philadelphia alone showed his ability: and his later poem, Hands Across the Sea, written in 1912, was almost prophetic of the awful conflict that was to come a little later.

The work our brother did in Colorado helped to lay the foundation for the temple for the Craft there, but the spiritual message found in the words he gave to all Freemasons framed the design on the Mortar Board for a grander temple, and this appears clearly in the poem, entitled The Temple, that he wrote for The Builder in March, 1916. It is unfortunate that more of his writings cannot be given in a short article like this, but the closing verses of this poem are too good to be left out.

Although our past achievements we with conscious pride review,
As long as there's Hough Ashlars there is work for us to do.
We still must shape the Living Stone with instrument of love,
For that eternal Mansion in the Paradise above.
Toil as we've toiled in ages past, to carry out the plan —
'Tis this: The Fatherhood of God, the Brotherhood of Man.

Those words tell of the lessons Brother Greenleaf learned at the altar of Columbian Lodge in Boston, and they shaped the Bough Ashlar of his own life in accordance with their teachings. They give us of today an inspiring message to help us meet and solve the problems of our own time. Brother Greenleaf received the degrees in the Blue Lodge, the Council, the Commandery in the Old Bay State, and he carried these lessons into another field, where he spread them forth as seed that has multiplied manifold already. Ill health forced our brother to give up work in 1917, but he lived until 1922. when he passed to the Great Beyond. When he passed, a memorial was read in every lodge in the whole State of Colorado. This alone tells us of the love he expressed through his whole life and of his devotion to the Craft.

While Brother Greenleaf's poem, Hands Across the Sea, is not strictly a Masonic composition, the spirit of the Craft is revealed in every line, and the Fatherhood of God and the Brotherhood of Man form the foundation of the thought expressed in it. Written at the time when heavy war clouds were rolling over the world, threatening destruction to civilization, these verses show us a deep seated love for mankind dwelling in the heart of the writer. It was the outgrowth from a life devoted to long service for the Craft. The seeds had been planted early in his heart, and grew naturally into the deep seated feeling revealed here.

Brother Greenleaf's The Lodge Over Sitnpkin's Store is well known among all Freemasons, and pictures for us all the true spirit of the Craft manifested in the humblest surroundings. This was published first in The Builder of November, 1916, but has been reprinted many times in other Masonic publications. Our brother's poem, O, Mother Lodge, We've Wandered Far, is a fitting close for this short sketch of our brother's work:—

O, Mother Lodge, we've wandered far,
And knocked at many a door,
Since first we wore thy lambskin gift
And trod thy Checkered Floor
And claimed our constant thought,
Till patient search at length revealed
Since first thy symbols met our gaze
The hidden truths they taught.
When heart at name of Brother thrilled,
And loyal but to thee,
We loved thy Square and Compass, and
Adored thy letter G.

GREENLEAF, SIMON 1783-1853

From Moore's Freemason's Monthly, Vol. XIII, No. 1, November 1853, p. 28:

Professor Greenleaf.

Since issuing our last number we have the sorrowful duty to record the death of our distinguished Brother, Simon Greenleaf. He died suddenly—supposed to be of the heart-complaint—at his residence in Cambridge, on the night of the 6th of October last.

Simon Greenleaf was born in 1783, at Newburyport—studied law with Judge Whitman, late Chief Justice of the S. J. Court of Maine—commenced practice at Standish, in the County of Cumberland in 1806—and in 1818 removed to Portland, where his integrity and abilities soon commanded a large business. When the Supreme Court of tnat State was first organized after the separation from Massachusetts in 1820, he was appointed Reporter, and held the office until 1832. Nine elaborate volumes of Reports, enriched with the learned and valuable opinions of the late eminent Chief Justice Mellen, evince the industry, fidelity and felici¬ tous manner in which he performed the duties of that responsible office. Few if any Reports of this country have been more judiciously conducted, and are of more judicial authority among the profession.

In 1834, Mr. Greenleaf was chosen Professor of Law in Harvard University, and at the death of the lamented Judge Story in 1846, was promoted to the chair of the Dane Professorship, and held that office until 1846, when he resigned it from ill health. He was honored with the degree of A. M., from Bowdoin College in 1817 and in 1845, with L. LD. of Harvard University—Degrees in this instance conferred on real merit, and not by the solicitation of friends on ignorance and imbecility.

Mr. Greenleaf as a lawyer was faithful, upright and eloquent;—as a professor of law, learned, concise and very happy in his winning and congenial way and manner of imparting instruction;—as a counsellor, safe and sound in his advice and opinions,—in conversation, rich in matter and fluent,—in his style concise and clear, and so particular and neat in his chirograpby, that he would not pardon himself an uncrossed t or an undotted i;—and in his walk and deportment of life, a man of dignity, friendliness, and unassuming manner, with all the softness of the Old School, and none of the noise and bustle of the New one.

Mr. Greenleaf was an Episcopalian, and wrote a valuable work in 1846, "An Examination of the Testimony of the Four Evangelists." He also wrote a Treatise on Evidence in three volumes, and published several standard works on Law, with useful notes and comments of his own.

Want of space limits our notice of this excellent man. His early life in the profession was clouded with trials, difficulties and embarrassments, from which he emerged with honor. For a long period he was a member of our Fraternity, and soon after the separation was Grand Master of the Grand Lodge of Maine. He wrote an Essay on Masonry, entitled "A Brief Inquiry into the Origin and Principles of Freemasonry." Through his numerous avocations for several years past prevented his meeting with the Brethren, yet he was always a firm friend and faithful adherent to the tenets of the Order, as will appear by his recent letter on page 8 of this number.

In a word, the community has lost a worthy and excellent member, and our Society a distinguished Brother; and though time had touched his locks with his iron hand, yet his unclouded and vigorous mind promised many more years of usefulness, when he was called from us, we trust, to a loftier sphere on high.

An eloquent eulogium on his character was pronounced by the learned Prof. Theophilus Parsons, at Dr. Newall's Church, in Cambridge, on the 20th of October.

Multis ille bonis flebilis occidit.
(Many good men wept at his death.)

From New England Craftsman, Vol. VI, No. 6, March 1911, Page 187:

Simon became a lawyer, From 1833 to 1848, he was Dane Professor of Law in Harvard University. He published several valuable books on law, Freemasonry and the Gospels, He became a Freemason in Cumberland Lodge, Me., which his father was instrumental in establishing and was the second Grand Master of the Grand Lodge, A. F. & A. M. of Maine.

GREENWOOD, JONATHAN 1801-1885

From Proceedings, Page 1885-122:

R.W. JONATHAN GREENWOOD was born in the town of Framingham, June 18, 1801, and passed his entire life upon the homestead of his father. Upon attaining his majority, in 1822, he was initiated in Middlesex Lodge, of Framingham, and continued through his entire Masonic life, of sixty-two years, a true and devoted Mason. Like others of the Craft, he was faithful to his Brethren and Lodge, in defending Middlesex Lodge and protecting its Charter during the anti-Masonic excitement. Associated with him in this noble work were other Brethren, among whom was Rev. Charles Train, the father of R.W. Charles R. Train, a minister of the Baptist Church, and a Past Master of the Lodge, who would neither renounce his religion nor his Masonry. For six years the Lodge held its meetings in secret places known only to Masons; at one time in an attic and by the light of a single candle.

Bro. Greenwood was elected Worshipful Master in 1840, and held the office for three years. He was also a member of Concord R.A. Chapter, Worcester County Commander, and Boston Consistory. He was District Deputy Grand Master from 1842 to 1856 inclusive, and was a signer of the Declaration of the Freemasons in 1831. He died January 12, 1885.

GREER, ROBERT 1806-1873

From Moore's Freemason's Monthly, Vol. XXXII, No. 3, March 1873, Page 95:

We were pained to hear of the departure of our estimable friend and brother, Dr. Robert Greer, aged 67 years, late city physician at Rainsford Island. Our brother received his Masonic degrees in Scotland, and since 1860 has been an active and beloved member of Columbian Lodge in Boston. It is a happiness to know that in his last moments, far from his native land, he was surrounded by kind and sympathizing friends and brothers, to whom he had endeared himself by his mild and manly virtues, and that in the home of the family of the Superintendent, grateful to him for his professional skill and care, he received every comfort which his sufferings required. He was borne to his last resting-place at Mt. Hope, by loving friends and brothers. And thus has passed away a most exemplary Christian gentleman, and a faithful and beloved brother.

"He has passed from the clasp of mourning friends,

To the arms of the loved and lost.

And those smiling faces will greet him there

Which on earth he had valued most."

C.

GREGORY, SAMUEL HALL 1814-1893

MEMORIAL

FROM COUNCIL OF DELIBERATION, 1894

From Proceedings of the Massachusetts Council of Deliberation AASR NMJ 1894, Page 43:

Samuel Hall Gregory was born in Newburyport, Mass., Nov. 22, 1814. He was the only child of Hannah (Sylvester) and William Gregory. The father was a native of Martinique and came to this country to obtain an education. The large property of the family was swept away during the great Martinique rebellion; and this disaster probably caused the death of the father, at the age of twenty-one years, when the son was only a few months old. The mother was a daughter of Adam Sylvester of Newburyport.

When the boy was about five years old, the mother removed to Boston, and he was sent to a boarding school in Newton, where he remained until he was fifteen years of age. He then obtained employment in the store of Mr. James H. Foster of Boston, a dealer in paper hangings, and continued there until he became of age, when he formed a partnership with Mr. S. M. Hurlburt for the transaction of the same business. He held a leading position in that line of trade, under various firm names, until his death, on the 4t.h of August last.

By the great fire of 1872, in Boston, the front of their store was destroyed and other damage was suffered, in consequence of which they found themselves seriously embarrassed. Mr. Gregory purchased his release from tire liabilities of the firm by mortgaging his entire property, including his homestead, and thus found himself reduced from comparative affluence to poverty.

But he was not disheartened; his spirit was not broken. He conferred with friends in Boston and New York, and by their generous encouragement and assistance was enabled to re-establish himself in business, this time in West Street, in Boston, where he continued until his death, and where, by energy, skill and fair dealing, he regained the highest position in the trade and restored to a great degree his shattered fortune. In his prolonged business life he won hosts of friends and faithful customers by his genial manner, his untiring patience, his refined taste and sound judgment, his perfect frankness, sincerity and honesty.

Brother Gregory never held civil or military office. He was, however, deeply interested and very active in numerous religious, social and charitable organizations, chief among which was the Episcopal Church, of which he was a consistent and devoted member. He was Chairman of the Building Committee and for fourteen years Warden of the Church of the Messiah, subsequently one of the Vestrymen of Saint Paul's Church, Boston, and still later, for the period of seven years, Warden of the Church of the Saviour, in Brookline, Mass. Me was one of the original Board of Trustees of the Church Home for Orphan and Destitute Children, located in South Boston. He was greatly interested in all charitable work, but this institution was his especial pet. He had watched with delight the growth of its properly from nothing to more than $200,000, and lived to see it providing for the support and education of one hundred and twenty-five children.

He was for several years an active member of the Young Men's Benevolent Society. He was one of the founders of the Young Men's Christian Association, and was active in its affairs until he removed from Boston to Brookline about the year 1861. He was also a member of the Massachusetts Charitable Mechanic Association.

He married Miss Elizabeth James Robson Buffington, born in Washington, North Carolina, but whose father resided in Swansea. Mass., at the time of the marriage. She died Jan. 10, 1884. Their only child, Miss Mary Frances Gregory, survives them.

Brother Gregory was initiated in the Lodge of Saint Andrew, of Boston, Oct. 11, passed Nov. 8, raised Dec. 13, 1849, and admitted to membership Dec. 12, 1850. He held various offices in the Lodge, from Junior Deacon to Senior Warden, but declined to be Master. In 1865 he was elected Treasurer and held the office until his death. He thus served his Lodge, in this peculiarly important office, with scrupulous fidelity, for twenty-eight years; and indeed, during his nearly forty�three years of membership was never without some official position.

He received the Capitular degrees In Saint Andrew's Chapter, of Boston, being exalted Dec. 4, 1850, and served as Excellent Scribe in 1852-3.

The Council degrees were conferred in Boston Council of Royal and Select Masters.

He was Knighted in DeMolay Encampment, of Boston, Jan. 28, 1852, and served as Sword-bearer in 1853, and as Generalissimo in 1854.

The degrees of the Ancient Accepted Rite, to the 32°, inclusive, were communicated in Boston Consistory, Feb. 6, 1863.

He was a charter member of Boston Lodge of Perfection and of Mount Olivet Chapter of Rose Croix. In the latter body he held the office of Senior Warden for two years, and from that time until June, 1882, the office of Grand Orator. He was also a member of Massachusetts Consistory.He was created an Honorary Member of the Supreme Council, and a Sov. G. Insp. Gen. of the Thirty-third and last degree at a special convocation in Boston, Jan. 6. 1871. The Lodge of Saint Andrew has inscribed upon its records a loving tribute to his memory as "a valued and devoted member, conspicuous for the kindliness of his disposition, the sincerity and purity of his character, the harmony and beauty of his life; possessed of a singularly sympathetic nature, his ear always open to the cry of the needy and distressed, his hand outstretched to sustain and serve the helpless; be�loved by his Brethren and honored by all."

Brother Gregory was one of those gentle, simple-natured, pure-spirited men in whom every one at once felt confidence, so that he was chosen for many positions where good Christian judgment and loving kindness were specially needful. He was conscientious and keenly sensitive, and much of the strength and the success of his life he attributed to the expressions and acts of confidence with which he had been favored. He was thankful that they were made audible and visible to him; for they kindled a sacred pride, which, devoid of egotism, had been a guardian angel walking ever by his side to keep and to comfort him.

There was much of the woman in him; the voice "ever soft, gentle and low," a kind heart always full of sympathy for the trials and tribulations of others; "an Israelite indeed, in whom was no guile."

Sereno D. Nickerson, 33°,
Lucius R. Paige, 33°,
Wyzeman Marshall, 33°,
Committee.




GRIFFIN, GEORGE L. 1839-1914

From New England Craftsman, Vol. X, No. 2, November 1914, Page 67:

George L. Griffin, one of the leading Masons of Maiden, Mass., and founder of George L. Griffin & Son, hatters and furriers of Boston, died Sunday, October 11.

Mr. Griffin was born in Bangor, Me., Jan. 9, !839. He spent his early years in that city, coming to Boston forty years ago and establishing himself in the business which he conducted up to the time of his death.

He was one of the prominent Masons in Massachusetts, being a member of the Mt. Vernon Lodge, the Royal Arch Chapter of Tabernacle, Melrose Council, Beauseant Commandery, Aleppo Temple of the Shrine and the Past Commanders' Association of Massachusetts and Rhode Island.

A son, Ralph Mason Griffin, who was associated with his father in his business; a daughter, Alice E. Griffin, and a sister and two brothers, Mary G. Merrill and Charles and Fred Griffin of Bangor, survive him.

GROVER, EMORY 1842-1920

From Proceedings, Page 1920-84:

R. W. EMORY GROVER, of Needham, was born in Newton, Mass., November 22, 1842, and. died in Dedham March 5, 1920. When young he removed with his parents to Lawrence, where he attended the public schools and, with the class of 1861, completed. his studies at Phillips Academy, Andover, Mass. He then began the study of law, which was temporarily suspended in September, 1862, when he entered service in the War of the Rebellion. After his discharge he completed his iaw studies, was admitted to the Suffolk Bar, and began practicing his profession. In 1868, Governor Bullock appointed Brother Grover a trial justice for the County of Norfolk and in 1898 he became trial justice of the Court of Northern Norfolk. He held this position until his decease. He continued in the practice of law fifty-five years. Affable, just, and generous, he honored his distinguished co-laborers on the bench. He was not less a helpful friend to the unfortunates brought before him.

Brother Grover received the degrees of Ancient Craft Masonry in Dalhousie Lodge, Newton, in 1870, and January 9, 1875, he dimitted therefrom and became a charter member and first Master of Norfolk Lodge, Needham. He served as Master three years, 1874, 1875, and 1876, and was appointed District Deputy Grand Master for the Twenty-first Masonic District in 1889, 1890, and 1891. Notwithstanding his application to his chosen profession, in all these years, from 1870 to 1920, he has been a loyal worker in the interests of Freemasonry. His estimate of the value of the principles upon which our Institution is established urged him to his best endeavor for its support.

GUILD, CURTIS, JR. 1860-1915

BIOGRAPHY

From New England Craftsman, Vol. I, No. 3, December 1905, Page 74:

It will undoubtedly interest the readers of the New England Craftsman to know that the Governor-elect is an interested member of the Masonic brotherhood. Brother Guild was initiated in Columbian Lodge, Boston, and admitted to membership in that body April 6, 1899.— He is a member of St. Andrew's R. A. Chapter, Boston Council of R. & S. Masters, Boston Commandery K. T., and of the Scottish Rite bodies, in one of which he is now an officer. His quick conception of the meaning of the degrees which he has received was illustrated at the second meeting of St. Andrew's Chapter following that at which he was admitted a member; on that occasion Comp. Guild presented to the chapter a quantity of coins made in imitation of the Jewish half shekel and the Roman penny. In presenting these coins he gave an interesting story of their history and use, saying in part, that the half shekel was "the sacred tribute money of the Sanctuary, which every jew twenty years of age or over was required to pay annually for the maintenance of the Temple. Jews scattered throughout the world sent this to Jerusalem every year. This coin was struck by Simon Maccabeus about 140 B. C. The device on the obverse is supposed to represent the pot of manna, with the inscription "Shekel of Israel" while that on the reverse represents Aaron's rod that budded, with the inscription "Jerusalem the Holy." It was equal in two denarii of the Romans other coin was described as the "Denarius of Tiberius, the Roman Emperor. — It was the civil tribute money, and is rendered 'penny' the New Testament. It was to about fifteen cents of our silver, but represented about fifteen times the purchasing power. It was the usual pay for one day's labor."

Brother Guild is of pure Massachusetta stock, every ancestor of the fourth generation and earlier having been born within the limits of the Commonwealth. The Guild family is Scottish in origin. The first settler, John Guild, a Lowland farmer, came to Dedham in 1630. They participated in all the early struggles of the colony, and during the Revolution had charge of all the transportation between Boston and the seat of war.

His mother, Sarah Crocker Cobb of Taunton, was the granddaughter of General David Cobb of Taunton, the leader of the forlorn hope at Monmouth and Washington's trusted staff officer till the end of the Revolution. General Cobb was later in Congress and lieutenant-governor of the Commonwealth.

Brother Guild's education was obtained at Chauncy Hall Schoo1 and at Harvard. He was graduated from University as a Bachelor of Arts summa cum laude in 1881. It was there that his friendship with Theodore Roosevelt,'80, began, an association that has lasted ever since.

After graduation Mr. Guild travelled extensively abroad, and then went to work on the Commercial Bulletin, a paper founded by his father, of which he became sole proprietor in 1902.

Even as a private citizen Mr. Guild has been identified with not a few movements for the building up of Massachusetts. Through his newspaper he exposed the undervaluation of raw sugar at the port of New York, which had given advantage to New York refineries of lower duties than at Boston on the raw material.

He received the thanks of the Boston wool trade for securing relief from the wool embargo, and was successful last year in overcoming the attempt to place sheepskins on the dutiable list. He originated the agitation for the new dry dock at the Navy Yard, and wrote the resolutions passed by the Legislature demanding it. He is largely responsible for the fact that the governor's staff in Massachusetts is not political, but purely military, no one being eligible for it who has not served as a soldier or sailor.

The first editorial article in any Massachusetts newspaper suggesting a subway as a solution for rapid transit in Boston was written by nun, and as the trusted friend of Mayor Matthews as well as of Governor Greenhalge, he was able to bring the two finally together in support of the project. He steadily advocated the National bankruptcy law. His work in favor of uniform prohibition of child labor in all the Slates has brought him into bitter controversy with certain Southern journals who favor child labor.

Aside from literary work on the Commercial Bulletin he has found time to contribute occasional articles to Life, Scribner's, the Atlantic Monthly, Harper's, the North American Review and other publications.

A Unitarian in religion, he was for many years active in the management of the Benevolent Fraternity of Churches. He is a life member of the Young Men's Christian Union, and a member of the Prudential Committee of Arlington Street Church.

Mr. Guild was the first Massachusetts volunteer in the war with Spain. He sought a lieutenancy on the staff of some general going to Cuba, but was unsuccessful. He was finally commissioned first lieutenant in the Sixth Massachusetts. He saw service in Florida and Georgia, and later in Cuba with the army of occupation. While in the service Mr. Guild inaugurated a new system of weekly inspection of war camps which was highly praised.

In Cuba, he was chief of secret service at the time when Cuban guerillas were expected to massacre the Spanish inhabitants. He also had entire charge in Cuba as elsewhere of all claims for land damages, together with the inauguration of various sanitary reforms as Inspector-General of the Province of Havana. At the close of his service as a volunteer he was tendered by the President a position as military member of the Colonial commission, to frame laws for Cuba and Porto Rico, with the rank in the army that he had borne in the volunteer forces. For family reasons Mr. Guild was compelled to decline. Later President McKinley offered him in succession the posts of Postmaster of Boston, Civil Service Commissioner, and First Assistant Postmaster-General. These were also declined.

Mr. Guild's political career covers twenty-three years. It commenced in 1882. He went into politics vigorously the first year of his citizenship and for a dozen years underwent the drudgery of registration, naturalization and all the work of the ward and city committee. He at that time had no notion of running for office himself, and refused all offers of nominations to positions at the City Hall and State House.

In 1888 he first appeared on the stump at Tremont Temple as one of the younger speakers at the demonstration by the Harvard Republican Club. Since then he has participated as a speaker in every campaign except that of 1898.

In 1895 he presided at the Republican State convention of Massachusetts. In 1896 he was delegate at large to the National Republican Convention at St. Louis, and was one of its Vice-Presidents. He was one of those who canvassed the convention and secured the number of pledged votes necessary to an unequivocal endorsement of the gold standard by that convention.

In the exciting campaign that followed Mr. Guild, though not a candidate for any office, dropped his business and gave his services tn the cause of honest money from July till November. He was put it, the slums of Baltimore, the mountains of West Virginia, the "silver counties" of Michigan, and accepted assignments where, as in the Western tour of 1900, a Republican speaker was obliged to face not merely insult but the blows and missiles of a mob.

In 1900 when President Roosevelt made the tour of the West in the campaign ending with the re-election of McKinley he chose Mr. Guild as an associate speaker and traveling companion. Mr. Guild was with the President in the attacks by mobs at Fort Wayne, on the church steps in Chicago and elsewhere, and in the riot at Victoria, Colorado.

In 1901 Mr. Guild became President of the Republican Club of Massachusetts, of which he had been one of the founders, but re signed the office in 1902.

In 1902 he was nominated for Lieutenant-Governor by acclamation, and still holds that office.

He has served as Fourth of July orator for Boston in 1901, and a orator for the Commonwealth on numerous occasions, the mosl notable being at the Atlantic Exposition in 1896, the Nashville Exposition in 1897, the dedication of the Hancock monument in 1896 and that of the Lake George movement in 1903. He represented the United States at the jubilee festival tendered the officers of the Cuban army by the Cuban Junta in Havana in January, 1899.

MEMORIAL

FROM NEW ENGLAND CRAFTSMAN, 1915

From New England Craftsman, Vol. X, No. 7, April 1915, Page 232:

Seldom has the death of any man of public position caused a more wide spread or a more profound sorrow than that of Curtis Guild which occurred Tuesday, April 6th, at his late home in Boston. He was a man of the people and loved by all. His name was always identified with every movement for the public good. He sought the welfare of the unfortunate children of poverty; he as earnestly strove for the rights of the prosperous. He had a warm heart, a great intellect and was a most industrious worker,— indeed, it may be his life was shortened by his zeal in laboring for the multitude of interests that claimed his attention. We shall not attempt to relate the history of his life and work. The papers of the country have proclaimed his fame and all unite in testimony of praise. He was a Boston boy, born February 2, 1860, son of Curtis Guild, the founder and publisher of the Commercial Bulletin. He was educated at Chauncy Hall School, which was a long time the most famous boys' school in Boston. He entered Harvard College with the class of 1881, and graduated with honors.

After graduation, he made a tour of Europe. On his return home he entered the service of the Commercial Bulletin in an humble position. He went from one position to another and when his father died came into possession of the paper.

He took an interest in politics at an early period in his life and honors followed rapidly. He was made chairman of the Republican State convention in 1895, and the following year was chosen delegate-at-large from Massachusetts at the Republican National convention. He was one of the vice presidents of the convention.

Without referring to the stages of his political progress we may say in 1905, 1906 and 1907 he was Governor. He proved to be one of the most popular Governors the Bay State ever had. His genial manner made him friends in a11 ranks, and his ability was unquestioned.

In 1910 he was sent to Mexico as a special ambassador, and he did good work there.

In July, 1911, he was sent to Russia as ambassador. He made a host of friends abroad and was decorated with the order of the Grand Cordon, order of St. Alexander Nevski, by Russia, and a GeneraI Officer of the Crown of Italy by King Humbert.

He returned home in 1913 and devoted his time to the Commercial Bulletin, and his articles on various questions, particularly the railroad situation in New England, have been read with great interest.

Curtis Guild was a good Freemason. His father's influence may have his mind in the direction of Freemasonry, but whether it was that or because he saw in the social and charitable feature of the Order the forces that create helpful lives and good citizens and was thus directed to the door of Freemasonry, we cannot say. He was made a Mason in Columbian Lodge. He was a member of St. Andrew's R. A. Chapter, Boston Council, Boston Commandery K. T , and of the bodies of Scottish Rite Masonry that met in Boston. He was an honorary thirty-third degree Mason. He gave as much time to Freemasonry as his many other duties would permit and at the last meeting of his Chapter, previous to his death, was present and made an address. It is hard to become reconciled to the loss of a man with his large capacity, his great heart, and power for usefulness in the world. We must say that it is right even though we cannot understand the reason.

FROM COUNCIL OF DELIBERATION, 1915

From Proceedings of the Massachusetts Council of Deliberation AASR NMJ, 1915, Page 24:

April 6, 1915, our country as well as our State and fraternity was called upon to mourn the loss of Curtis Guild, whose activities in public life had been so numerous that pages of our daily journals were required to record his life and character. In his advancement through various public positions to be Governor of our Commonwealth, which he occupied in 1905-6-7, he won the affection of all the people by his sincerity of character, his untiring zeal, and his forceful presentation of questions where high principle was involved. He had made a success as a journalist, soldier, Governor of his Commonwealth, and Ambassador to Russia. He was of distinguished ancestry and used all his splendid talents, physical and mental, in developing what should enure to the benefit of the commonweal. At his home and in social life he was a charming companion, while his versatility as a linguist and literary man, even into the realms of poetry, made him famous in educational circles. He was degreed from various institutions of learning, the most important perhaps being from the University of Geneva, at the celebration of an anniversary, where he made the address. In the Masonic positions which he held, his personal presence and charm of manner added to the ritual an effect that was most attractive and instructive. We are proud to feel that his honors in Masonry were earned as well as conferred.

"Noble deeds he leaves behind;
And the lesson of his life
Is the monarchy of mind
Over passions in the strife."

Appropriate words, written by him on the death of a predecessor in the office of Governor. With these should be joined from another of his poems,

"Angel of Death, I fear not thee!
I fear lest I greet thee unworthily!
Not refuge, but rest, be thy gift to me,
Angel of Death!"

From Proceedings of the Massachusetts Council of Deliberation AASR NMJ, 1915, Page 51:

"Were a star quenched on high,
For ages would its light
Still traveling downward from the sky
Shine on our mortal sight.
So when a great man dies,
For years beyond our ken
The light he leaves behind him lies
Upon the paths of men."

The announcement of the sudden death of I11. Bro. Curtis Guild, 33°, at his home, 124 Marlborough Street, Boston, on April 6, 1915, came as a great and saddening shock to the entire community.

Illustrious Brother Guild was born on South Street, in Boston, on February 2, 1860. His family is of Scottish origin. The first settler, John Guild, a Lowland farmer, came to Dedham in 1630. His mother, Sarah Crocker Cobb, of Taunton, was the granddaughter of Gen. David Cobb, of Taunton, one of Washington's trusted staff officers, and later a member of Congress and Lieutenant-Governor of this Commonwealth.

Curtis Guild, the father of our distinguished brother, was a well-known journalist of Boston, having been employed on the Journal and the Traveler, and being at one time a partner in the firm publishing the Traveler. In 1859 he founded the Commercial Bulletin. He was a member of the Scottish Rite bodies in Boston, and in 1863-1864 was the Thrice Potent Master of Lafayette Lodge of Perfection.

I11. Bro. Curtis Guild, Jr., secured his early education at Miss Lewis's School in Roxbury, the Chauncy Hall School in Boston, and at Harvard University, graduating from there with the degree of Bachelor of Arts, Cum Laude, in 1881. After graduating from college he traveled extensively abroad, and then entered the employ of his father and uncle on the Commercial Bulletin. He was married in 1892 to Charlotte H., daughter of Mr. E. C. Johnson, of C. F. Hovey & Company. She survives him. His father retired from business in 1902, and his uncle, Mr. B. F. Guild, died in the same year, at which time our late brother became the sole owner and publisher of the Commercial Bulletin.

He was a frequent contributor to various magazines, including Scribner's, Atlantic Monthly, Harper's, North American Review, Life, and other publications.

Unitarian in religion, he was for many years active in the management of the Benevolent Fraternity of Churches and an attendant at the Arlington Street Church in Boston.

On the breaking out of the Spanish War he enlisted as First Lieutenant and Adjutant of the Sixth Massachusetts Regiment. Owing to a scarcity of officers in the Regular Army, recourse was had to the militia records on file in the Inspector-General's office in Washington for militia officers of experience, and Illustrious Brother Guild was appointed Lieutenant Colonel and Inspector-General by Gen. Fitzhugh Lee, commanding the Seventh Army Corps.

President McKinley offered him in succession the posts of Postmaster of Boston, Civil Service Commissioner, and First Assistant Postmaster General. These were declined.

Illustrious Brother Guild's political career began in 1882 and in 1888 he first appeared on the stump for the candidates on the Republican ticket. In 1895 he presided at the Republican State Convention of Massachusetts. In 1896 he was delegate at large to the National Republican Convention at St. Louis, and was one of its vice-presidents. In 1900 he traveled with President Roosevelt in the West on a speaking campaign, and was with the President when attacked by mobs at Fort Wayne, in Chicago, and at Victor, Colo. In 1901 he became president of the Republican Club of Massachusetts, which office he resigned in 1902. In the latter year he was nominated by acclamation by the Republican State Convention for Lieutenant-Governor and was elected to that office in November of that year. He was renominated and re-elected in 1903 and 1904. In the fall of 1905 he was nominated by acclamation for Governor and was successful at the November election, defeating his opponent by nearly twenty-three thousand plurality. In 1906 he was re-elected Governor by a plurality of over thirty thousand votes, and in 1907 swept the State with the tremendous plurality of over one hundred and five thousand, carrying the city of Boston for the Republican nominee for the first time in a decade. In his high office as Governor he had many important duties to perform, and acted with vigor when occasion required, fearless of criticism and opposition and at the same time trying to act with fairness to all.

In the spring of 1909, following his retirement from the Governorship, Illustrious Brother Guild went abroad on a five months' vacation. It was during this trip that he attended the celebration at the University of Geneva, in Switzerland, of the four hundredth anniversary of the birth of Calvin and the three hundred and fiftieth anniversary of the foundation of the university. He made a notable address on that occasion and received the degree of honorary S. T. D. He also made an address at Vienne, France, that attracted much attention.

In July, 1910, he was nominated as Special Ambassador to the Mexican Centennial of Independence, and during the celebration the following autumn he received special honors from the Mexican Government.

In April, 1911, President Taft nominated him as Ambassador to Russia, and in the following summer he went to St. Petersburg, where he made a most favorable impression. During his stay there important negotiations between this country and Russia were continually calling for attention, but the most important diplomatic work which he was called upon to perform was in connection with the abrogation of the treaty of 1832 between Russia and the United States. He resigned his post as Ambassador in 1912. In August, 1913, the Czar of Russia conferred upon him the Order of St. Alexander, the second highest honor in his power to confer.

Illustrious Brother Guild was a member of the Knights of Pythias, Naval and Military Order, Spanish-American War Veterans, Order of Foreign Wars, Veterans' Union Mayflower Society, Order of Colonial Wars, Sons of the American Revolution, Phi Beta Kappa, American Forestry Association, the Tavern, Algonquin, Puritan, Exchange, University, Country, Nahant, and Press clubs, the Chamber of Commerce, and various other organizations. He was given the degree of LL.D. by Holy Cross College in 1906 and by Williams College in 1908. He was decorated an officer of the Crown of Italy in 1908.

To few men is it granted to occupy so many positions of honor and influence or to fill them with such distinguished ability. He was a thorough student, quick in generous and kindly impulses; firm in his convictions, clear in his utterances, fluent and vigorous as a public speaker, he was ever ready to espouse the cause of right.

Illustrious Brother Guild became a member of Columbian Lodge, A. F. & A. M., in Boston, on April 6, 1899, and was later made an Honorary Member of the Lodge. He took the degrees in both the York and Scottish Rite bodies, becoming a member of St. Andrew's Royal Arch Chapter, Boston Commandery, Iv. T., Boston Lafayette Lodge of Perfection, Giles F. Yates Council, Princes of Jerusalem, Mt. Olivet Chapter of Rose Croix and Massachusetts Consistory. He was elected Thrice Potent Master of Boston Lafayette Lodge of Perfection in 1910, and resigned that position upon being named as Ambassador to Russia by President Taft, in 1911. He was made an Honorary Member of the Supreme Council, 33°, September 18, 1906.

The universal esteem in which he was held by people in every walk of life was evident in the sorrow manifested at his death. The throngs attending his funeral and those lining the streets in silent homage gave eloquent and impressive tribute to a remarkable man. The funeral services were held at the Arlington Street Church in Boston on Friday, April 9, 1915, and thousands of people were unable to secure admission to the services, which were of the most simple and impressive character.

We shall miss his genial smile and hearty greeting, but the radiance of his life will long continue to brighten and illumine the pathway of many another.

Fitting and appropriate in concluding this memorial are the verses penned by our late brother and published in the Outlook of August 27, 1910, entitled "The Bringer of the Summons":

Angel, male, of the steady eyes,
Older brother of Time and Space,
Watching the slip of the centuries,
Guarding the goal of the ungod's race,
Spurning the braggart, "I've won,"
Crowning the toiler, "I've tried,"
Conqueror, glorified,
Of the pain that awaited Man and of Man the Son,
Angel of Death!
Horror, awful and ultimate?
Yes!

The idler, knowing Life's true features for the first time as she leaves him
Is afraid.
The shirk, running to thee from his bitter task,
Is afraid.
The hypocrite, who must gaze even at mirrors, masked, but may not so look at thee,
Is afraid.
The coward, who has never stood alone, who has offended none, faced nothing, faces thee
And is afraid.
The robber, waxen great on the goods, the reputations, the lives of other men, sees in thy eyes the image of himself naked
And is afraid.
Horror, awful and ultimate?
No!

The soldier, fallen that civilization may rise, waiting wounded in the rain for the savage who will crush each joint, one by one, with smashing stones;
The laborer who works with his hands, patient, weary, tempted to riot but loving the law;
The parson, agonized that with his pittance wife and children must suffer for his sacrifice;
The politician for righteousness' sake losing pleasure, money, business, position, office, friends;
The idealist flogged by Duty from the soft mire to the flints that do lead to the mountain but gash and flay the feet;
The man;
Dear Death, these know thee, and see
Through veils of flame
Love and reward.

Angel of Death, I fear not thee.
I fear lest I greet thee unworthily!
Not Refuge, Rest be thy gift to me.
Angel of Death!

Fraternally submitted, Ill. Leon M. Abbott, 33°
Ill. James S. Blake, 33°
Ill. Oscar Stoker, 32°
Committee.

GUILD, WILLIAM HENRY 1829-1908

MEMORIAL

FROM NEW ENGLAND CRAFTSMAN, 1908

From New England Craftsman, Vol. III, No. 11, August 1908, Page 399:

Brother William H. Guild 33rd died at Sharon, Massachusetts June 13. Brother Guild was burn in Boston Feb. 12, 1829. He was initiated in Hiram Lodge, Arlington, May 3, 1860, made a Royal Arch Mason in 1866 and was Knighted in Boston Commandery Nov. 1. 1870. He was deeply interested in the Scottish Rite and was an officer in Mount Olivet Chapter Rose Croix for many years.

FROM COUNCIL OF DELIBERATION, 1908

From Proceedings of the Massachusetts Council of Deliberation AASR NMJ 1908, Page 61:

Illustrious Brother William Henry Guild, 33°, died at Sharon, Mass., June 13, 1908.

Brother Guild was born on Hanover Street in the old North End of Boston, Mass., February 12, 1829, and was a son of Dr. Albert Guild. For three years he attended the Mayhew School and then entered the Chauncy Hall School, where he was soon at the head of his class, and, after four years' study, graduated in 1849. He then entered the employ of Wright, Priest & Co., wholesale West India goods merchants, and remained with them for several years as head clerk, when he left the firm and went West. He soon returned, however, and established himself in business in Boston.

Brother Guild was twice married. His first wife, Lucy A. L. Gipson, daughter of Capt. J. C. Gipson of the National Lancers, whom he married April 6, 1852, died October 20, 1860. His second wife, Adelaide L. Coburn, whom he married November 23, 1865, survives him.

In the first year of the Civil War on October 17, 1861, Brother Guild (having sold out his business) enlisted for three years in Company G, First Massachusetts Cavalry, the third company organized by the National Lancers, and was appointed by Col. Robert William First Sergeant, and was afterward Quartermaster Sergeant.At the completion of his term of service he was honorably discharged October 16, 1864.

The First Massachusetts Cavalry was one of the best cavalry regiments in the service, taking part in many battles, and Brother Guild had his share of the service.Brother Guild joined the old New England Guard in 1848 and continued with it until the Civil War broke out and was also a member of the Boston Old School Boys' Association, Mercantile Library Association and Edward W. Kinsley Post 113, Grand Army of the Republic.

After his return from the war he engaged in the insurance business.Brother Guild was made a Master Mason in Hiram Lodge A. F. & A. M. of Arlington, Mass., May 3, 1860. Exalted a Royal Arch Mason in Cambridge Royal Arch Chapter, December 4, 1866. Dubbed and created a Knight Templar in Boston Commandery of Knights Templars November 1, 1870, being admitted to membership November 16, 1870. In the Ancient Accepted Scottish Rite he received the Grades in Lafayette Lodge of Perfection May 12, 1865, in Boston Council, Princes 6f Jerusalem, Gourgas Chapter of Rose Croix and De Witt Clinton Consistory, June 25, 1865 all in the Valley of Boston.

Brother Guild was Secretary of Lafayette Lodge of Perfection from February, 1871, to February, 1881; Giles F. Yates Council, Princes of Jerusalem, from November, 1874, to December 12, 1879; and Mount Olivet Chapter of Rose Croix from May, 1875, to May, 1879. He was crowned a Sovereign Grand Inspector-General, 33° and last degree, and became an Honorary member of the Supreme Council for the Northern Masonic Jurisdiction of the United States of America at Portland, Maine, August 19, 1875.For quite a number of years Brother Guild was prevented by illness and other causes from attendance at the Masonic bodies with which he was affiliated, but for the last nine years of his life he was a constant attendant. at the meetings of Boston Commandery and the bodies of the Scottish Rite.He was of a quiet, genial and helpful disposition and made many friends in social and business life, by whom he will be greatly missed.Brother Guild resided in Boston until a few years ago, when he moved to Brookline. He spent his summers at Sharon, Mass., at which place he died.Funeral services were held Tuesday, June 16, 1908, at Mount Auburn Chapel. The Knight Templar service was rendered by Boston Commandery and the Grand Army service by Edward W. Kinsley Post No. 113. His remains were interred in the family lot at Mount Auburn and were escorted to their last resting place by his comrades of Kinsley Post.

Respectfully submitted,
Charles M. Pear, 33°,
F. G. Storey, 32°,
Richard W. Smith, 32°,
Committee.

---

Distinguished Brothers