MAGLWTrefry
From MasonicGenealogy
WILLIAM DAVIS THAYER TREFRY 1852-1921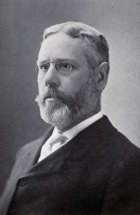 Deputy Grand Master, 1909
MEMORIAL
From Proceedings, Page 1921-184:
Right Worshipful William Davis Thayer Trefry was born in Marblehead, May 10, 7852, the son of Samuel S. and Rebecca (Wormstead) Trefry. He received his education in the public schools of his native town and in Tufts College from which he graduated in 18?8; studied law and was admitted to practice in 1882. From this time he was active in public affairs until his final retirement in December, 1920, from the office of Tax and Corporation Commissioner of the Commonwealth.
He was Chairman of the School Committee and a Trustee of the Abbot Public Library, and although a Demovrat in politics was elected in 1891 to the office of State Auditor. In 1892 he was appointed Bank Commissioner by Gov. William E. Russell, serving in that capacity until 1899 when he was appointed Tax Commissioner and Commissioner of Corporations by Gov. Wolcott, and succeeding Governors of whatever politics, until his retirement in December last. He was also President of the Marblehead Historical Society, a Director of the Holyoke Fire Insurance Company of Salem, Mass., a member of the Corinthian Yacht Club, the Bibliophile Society of Boston, Tufts College CIub, the Phi Beta Kappa, and other organizations. Tufts College conferred upon him the Master of Arts degree in 1898.
He was communicant of the Episcopal Church, and as stated by the Rector in a brief but very effective eulogy at his funeral, had served St. Michael's Church in an official capacity for thirty-nine years. IIe was particularly interested in the vested choir of the Church and made it a practice to speak to them every Sunday morning. He held the office of Senior Warden which he had held. for many years at the time of his death.
He was married August 8, 1912, to Maria J. A. Gardner who survives him.
Bro. Trefry was raised a Master Mason in Philanthropic Lodge March 20, 1883, and. served as Worshipful Master during the years 1886 and 1887, and was elected an Honorary Member May 21, 1912. He served. as District Deputy Grand Master for the Eighth District in 1891, 1892, and 1893, and as Deputy Grand. Master in 1909. He was exalted in Washington Royal Arch Chapter May 25, 1884; Received in Salem Council Royal and Select Masters November 4, 1888; Knighted in Winslow Lewis Commandery Knights Templars, No. 18, October 19, 1889.
In the Ancient Accepted Scottish Rite was received in Sutton Lodge of Perfection December 7, 1888, and served as Thrice Potent Master in 1895, 1896, anrl 1892. He received the Council Degrees in Giies F. Yates Council, Princes of Jerusalem, December 14, 1888, and affiliated with Jubilee Council June 4, 1917. He received the degrees in Mt. Olivet Chapter of Rose Croix December 21, 1888, and became a Member of Massachusetts Consistory February 22, 1889. He received the 33° September 21, 1897, and became an Honorary Member of the Supreme Council for the Northern Jurisdiction.
Thus briefly is written the record. of a part of the activities of an upright man, a good citizen, and a faithful friend and Brother.
He passed beyond April 11th, and funeral services were held in the ancient church which he had so long supported, April 13, 1921, attended by a throng of citizens and friends beyond the capacity of the edifice, testifying to their respect and love.
Dana J. Flanders,
Frank E. Swain,
Clarence E. Cahill,
Committee.
---