MAGLAFolsom
From MasonicGenealogy
ALBERT A. FOLSOM 1834-1907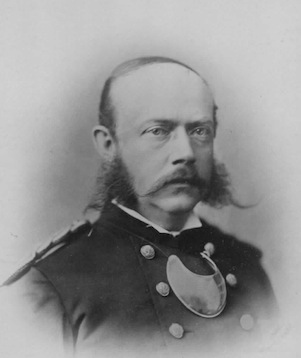 Deputy Grand Master, 1901
MEMORIAL
NEW ENGLAND CRAFTSMAN, FEBRUARY 1908
From New England Craftsman, Vol. III, No. 5, February 1908, Page 193:
Right Worshipful Brother Albert A. Folsom died December 24. 1007, at his home, Brookline, Mass. Brother Folsom was widely known as a man of business-as a member of historical and genealogical societies and as a Freemason. Bro. Folsom was superintendent of the Boston and Providence Railroad for more than twenty years. He was much interested in all historical matters and possessed a-fund of information on all subjects relating to the history of our country. He was also a Past Commander of the Ancient and Honorable Artillery Company. As a Mason he was greatly respected and beloved by a large circle of brethren. He was elected Worshipful Master of Columbian Lodge, A. F. and A. M., in 1876. and served in that capacity until 1878. He was also a member of St. Andrews R. A. Chapter, Boston Commandery and was-a member of the Board of Directors of the Grand Lodge and later Trustee. In 1900 he was appointed Deputy Grand Master of Massachusetts. Among the Masonic organizations with which Bro. Folsom was connected, none were more-enjoyed by him than the First Worshipful Masters Association, of which he was President for three years. He was almost always present at the meetings and frequently contributed interesting and instructive papers on subjects of Masonic or historic interest.
PROCEEDINGS, MARCH 1908
From Proceedings, Page 1908-14:
R.W. Albert A. Folsom was born in Exeter, N.H., Sept. 13, 1834, and died in Brookline, Mass., Dec. 24, 1907.
Brother Folsom was initiated in Columbian Lodge, Boston, May 5, 1870, and was admitted to membership March 2, 1871. He was Worshipful Master of Columbian Lodge in 1876, 1877 and 1878. He held the office of Deputy Grand Master in 1901.
Brother Folsom was elected a member of the Board of Directors Dec. 8, 1897, and held that position at the time of his decease. He was greatly interested in the work and welfare of the Grand Lodge, especially of its Library, to which he made many valuable gifts.
From Proceedings, Page 1908-24:
Seldom has a death occurred among the members of our Fraternity which has caused such widespread sorrow and such sense of loss as that of our Right Worshipful Brother Albert Alonzo Folsom. This grief has found expression in circles of private friends, in public prints and in the transactions of business and social bodies, both without aud within our brotherhood; and in all these memorials there is the note of personal regard and affection. It remains for us to add to these tributes a sincere one of our own.
Brother Folsom came from a colonial stock, not of the earliest immigration, but of the second decade after the settlement of Plymouth and thc first after that of Massachusetts Bay. His immigrant ancestor was John Folsom, who came in 1638 from his English home in Hingham, Norfolk, not far from Norwich, with a wife whom be had married some two years before, and settled in our Massachusetts Hingham. There he built a saw-mill, but soon removed to Exeter, N,H., where he and his children and grandchildren carried on the lumbering and saw-mill business for many years. The family spread widely throughout New England, and the name frequently occurs among those of men of affairs, professional men and scholars down to the present day.
Brother Folsom, who was one of the eighth generation in descent from his earliest American ancestor, was the son of John Fulford and Caroline (Shaw) Folsom, and was born in Exeter, Sept. 13, 1834. There was a removal to Boston when he was about eight years old; and when he was fifteen he began to make his own way in the world as a clerk in the office of the Boston Bee. Here he remained until he was twenty. In 1854 he was appointed General Ticket Agent of the Boston & Providence Railroad. He continued in the Boston office until 1860, when he was sent to Providence as General Agent for that city. In 1864 he was recalled to Boston as Assistant Superintendent, and in 1867 was made superintendent. He held this position for twenty-one years, until the consolidation of the Providence and the Old Colony Railroads in 1888. His connection with the Providence Railroad was, in the practical affairs of business, the important portion of his life. It was a career of thirty-four years of energy and usefulness. He introduced new instruments and new methods or improvements upon old methods.
Moreover, his faculty for making acquaintance brought him, while connected with the railroad, into contact with many of the most noted men of New England, and his fund of reminiscence - for he was an apt story-teller - was a great delight to his friends in after years.
The years which followed his active business life were filled with pursuits which he had always found attractive and for which he now had more leisure. he was a member of historic and genealogical societies and was diligent in the collection of memorials and scraps of information concerning American history.
He had always been interested in military matters and had been a member of various volunteer companies, both in Providence and Boston, though prevented by his engrossing railroad duties from enlisting in the Civil War. He had joined the Ancient and Honorable Artillery Company in 1867, and had risen to be its Commander in 1876. He now became devoted to its library, its museum of memorials and portraits and the publication of its history.
The only political office held by Brother Folsom was that of Alderman of Boston during the years 1888, 1889, 1890.
Brother Folsom received his Lodge degrees in Columbian Lodge, Boston, the first in May, the second in December, 1870 and the third in January, 1871, becoming a member in the following March. He was elected Worshipful Master in 1876 and held the office for three years. He was one of the Trustees of the Lodge fund, and at the time of the Centennial in 1895 he established a special fund to accumulate until the next Centennial.
He held the office of Deputy Grand Master, under Grand Master Gallagher, in 1901. He was a member of the Board of Directors from 1897 until his death.
He was also, since 1878, a member of St. Andrew's Chapter; of Boston Council since 1887; and of Boston Commandery. Among the Masonic Bodies in which Brother Folsom took especial pleasure must be mentioned the First Worshipful Masters' Association, He was constant in attendance at its meetings, often contributed papers of historical and Masonic interest, and was its President for several years.
Brother Folsom's later quiet and uneventful years were passed at his home in Brookline, and there, after a somewhat painful and protracted illness, he died Dec. 24, 1907. His wife, a daughter of Francis B. Winter, to whom he was married in 1861, and four children survive him.
This memorial cannot be fitly closed without referring again to Brother Folsom's kindly and genial nature. A simple pleasure in the companionship of friends and a consciousness that this pleasure was reciprocal were traits of a disposition of more than usual content and a life of more than usual happiness.
Respectfully submitted,
S. Lothrop Thorndike
NEW ENGLAND GENEALOGICAL SOCIETY, 1908
From the Proceedings of the New England Genealogical Society, Volume 62:
In the death of Capt. Albert Alonzo Folsom, in his Brookline home Dec. 24, 1907, our New England Historic Genealogical Society laments the death of a friend and valued member. The officers of this Society will miss him, for he was a laborious worker in the interest of this institution, tin Dec. 21st, Dr. Cabot performed a surgical operation for an abdominal trouble, which was thought to have been successful, but pneumonia soon followed, which proved fatal. Capt. Folsom was born at Exeter, N. H., Sept. 13, 1834, of sturdy New England stock.
The business part of his life was mostly spent in Boston. Many years since, Capt. Folsom retired from active business and became interested in genealogical and antiquarian research. He was an indefatigable worker in this field of labor, and possessed a remarkably good memory, aud as a member of this Society has already nut on record for another Society: "He was honest, earnest, straightforward, upright, despising trickery and sham." He was widely known and respected. Capt. Folsom held many offices of responsibility. He was a prominent member for years in the Ancient and Honorable Artillery Company, and its Commander with the rank of Captain in 1876, and the Treasurer of that company at the time of its London visit in 1890. In early life he occupied a position in the newspaper offices of tho Atlas and Bee and the Journal. In 1854 he entered the service of the Boston and Providence R. R. Corporation, in which position he remained until 1860, when be was promoted to the office of Transportation, with headquarters at Providence. Soon after, he was made assistant superintendent, and in 1867 he became superintendent of the road, which office he held up to the lime it was merged with the New York, New Haven and Hartford R. H. Company.
Capt. Folsom was a Mason of high order, and one of the directors and trustees of the Grand Lodge. Republican in politics. In 1889 and '90 he was of the board of Aldermen from Ward 17. when it was an honor to occupy that position. He removed to Brookline in 1893, where the widow now resides. 1 he family, besides the widow, consists of two sons and two daughters, all of whom are married except the eldest son, who resides with his mother.
Resolved, — That the New England Historic Genealogical Society puts on record the deep sorrow for the death of its faithful and honored member, Albert Alonzo Folsom. We as members recognized his ability. His great interest in our Society naturally made him a leader in the various committees of which he was a valued co-worker. Being deeply interested in historical matters, and with a retentive memory, he was able to communicate in an interesting way facts which give delight to his hearers. Captain Folsom's presence at our meetings was always gladly welcomed, genial, always cordial, and strictly honest. We admired him for his warm heart, sincerity and straightforwardness in all his dealings, which made him a highly esteemed citizen in the community. We fondly cherish his memory.
---