Eliot
From MasonicGenealogy
ELIOT LODGE
Location: Jamaica Plain; Boston (1921); Westwood (1963)
Chartered By: Charles C. Dame
Charter Date: 06/12/1867 VII-161
Precedence Date: 05/14/1866
Current Status: unknown. merged with Hyde Park Lodge to form Eliot-Hyde Park Lodge, 09/04/1986; now part of Celestial Lodge.
---
PAST MASTERS
George Frost, 1866, 1867
Hirman G. Wilson, 1868
William H. MacKintosh, 1869-1871
L. Bacon Foss, 1872-1874
George B. Ager, 1875, 1876
Fred Seaver, 1877
Cyrus D. Foss, 1878
William F. Spear, 1879, 1880
Daniel H. Barnard, 1881, 1882
William J. Hargraves, 1883, 1884
E. Peabody Gerry, 1885, 1886; Memorial
Charles G. Keyes, 1887, 1888
N. Hayward Fuller, 1889
George A. Walker, 1890
Frederick H. Putnam, 1891, 1892
Elywyn C. Fish, 1893
John A. McKim, 1894-1896
Arthur H. Alley, 1897, 1898
Joseph B. Gould, 1899
Arthur P. Perry, 1900
Frank L. Gibson, 1901, 1902
James Keltie, 1903, 1904; N
Francis G. Mayo, 1905
Charles D. Keyes, 1906, 1907
John S. H. Leard, 1908, 1909
Henry B. Prescott, 1910, 1911
James G. Hutchinson, 1912, 1913
John F. Hargraves, 1914, 1915
Frederick G. Bauer, 1916
Lawson W. Oakes, 1917, 1918
Herbert S. Lock, 1919
Robert W. S. Cox, 1920
Lester H. Gibson, 1921
A. Robert Martin, 1922
Stephen F. Gardner, 1923, 1924
Robert D. Webster, 1925, 1926; N
Alexander J. Keltie, 1927, 1928
J. Harold Chase, 1929
G. Curtis Tingley, 1930, 1931
Harold B. Neal, 1932
Walter C. F. Gartner, 1933, 1934
A. Robert Martin, Jr., 1935, 1936; N
W. Edgar Klein, 1937, 1938
G. Richard Peterson, 1939, 1940
Ernest W. Page, 1941
Louis W. Stuart, 1942
Henry L. Jacobs, 1943-1945
S. Montgomery Duncan, 1946, 1947
Charles Fox, 1948
Leo Lohrer, 1949, 1950
C. Marvin Pickett, Jr., 1951
John M. Collins, 1952
George F. Oakes, 1953
Arthur Herdt, 1954
Peter L. L. Donaldson, 1955
Alexander May, 1956
Carl J. Ludwig, 1957, 1985, 1986; N
Robert S. Scholpp, 1958
Roderick D. Carmichael, 1959
Martin R. Lohrer, 1960
George C. Walker, 1961
Henry Brauneis, 1962; N
Paul Felegian, 1963; N
Walter A. Neuber, Sr., 1964, 1965
John O. Peterson, 1966
George H. Kitrell, 1967, 1968
Sotir Nikola, 1969, 1970
Walter A. Neuber, Jr., 1971, 1982
Richard F. Norton, 1972
James M. Callihan, 1973, 1984
Robert A. Joyce, 1974, 1975
Willard B. Cookson, 1976, 1977, 1981; N
Charles W. Domina, 1978
Ernest M. Margeson, 1979
Floyd L. Bailey, Jr., 1980
David G. Hill, 1983
---
REFERENCES IN GRAND LODGE PROCEEDINGS
Petition for Dispensation: 1866
Petition for Charter: 1867
ANNIVERSARIES
VISITS BY GRAND MASTER
BY-LAW CHANGES
1869 1870 1876 1877 1880 1885 1890 1895 1897 1901 1903 1905 1909 1910 1911 1912 1918 1919 1920 1921 1923 1926 1927 1928 1930 1931 1933 1939 1940 1947 1948 1949 1951 1953 1954 1960 1961 1963 1964 1967 1968 1971 1974 1979
HISTORY
75TH ANNIVERSARY HISTORY, MAY 1941
From Proceedings, Page 1941-95:
By Worshipful Frederic G. Bauer
"The moving finger writes, and, having writ,
Moves on; nor all your piety and wit
Shall lure it back to cancel half a line,
Nor all your tears wash out a word of it."
Fortunately for Eliot Lodge, there is little in its history which we would wish to cancel or wash out. Although its record has been in no way brilliant, it has in the past three quarters of a century trodden the path illuminated by the three Great Lights, and, if its feet have sometimes stumbled in the path, it has quickly recovered itself and pressed on toward the goal set by die landmarks of Masonry.
Unfortunately, the early records were not kept with that high standard of accuracy and fullness of detail which under the faithful hands of Brothers Sturtevant and Clark we of Eliot have come to expect as a matter of course, and there are many points on which we should like further information. Twenty-five years ago Brethren were living who could have told us of these things, but now much of this knowledge is forever lost. I believe it would pay Eliot Lodge to have the early history of the Lodge itself and its connection with the life of the community investigated and the result of the research recorded for future generations.
The first meeting of Masons in Jamaica Plain was held in the Selectmen's room February 23, 1866. Fifteen were present, and a committee was appointed to suggest names for a Lodge, call another meeting when they were ready, and look into the question of a hall. At this second meeting, held April 14 in Eliot Hall, the charter fee was fixed at $20.00, and twenty of the twenty-four present pledged themselves to join the new Lodge. April 28, at a third meeting, the petition for the dispensation was signed, officers elected and a name chosen. The committee recommended "Bay State," but the meeting chose "Corinthian," and authorized the officers to substitute "Eliot" if "Corinthian" proved unacceptable to the Grand Master, which, of course, was the case, for there was already a Corinthian Lodge at Concord. So we received our name as the result of elimination.
I think few of the charter members then appreciated the significance of "Eliot" as a name. Jamaica Plain was within John Eliot's parish and here he had large holdings of land which he left for his school "for such Indians and others as may resort thereto." Eliot Hall, Eliot Street, and the Eliot High School, as it was called in 1866, are all on this land. It was natural, therefore, that our founders should turn to this name, as one distinctive of Jamaica Plain. It is unfortunate that they did not delve more into local history, and give the Lodge the full name of the great Puritan missionary, scholar, philanthropist and translator.
Washington Lodge graciously gave its consent to the formation of Eliot and offered the use of its lodge-room and regalia until such time as Eliot could equip itself and procure a suitable hall in Jamaica Plain. We know the hall was not availed of, but do not know as to the regalia.
The Dispensation was issued by Grand Master Charles C. Dame under date of May 14, and the first communication held on May 25th. At the third communication, three applications were received, and from then until the present depression there were few meetings at which Eliot did not have applications and work, the peak being reached in 1920 when 111 candidates received the Master Mason degree.
MEETING PLACE
A careful check of the Secretary's and Treasurer's records shows that the initial meeting which led to the organization of the Lodge and its first regular communication were both held in the Selectmen's room in James' Block, better known to a later generation as Arcanum Hall, which stood on the corner of Center Street and Star Lane, within a few feet of where we now sit. Apparently, no charge was made for the use of this room. All the other meetings through May, 1869, were held in Eliot Hall. This Hall was enlarged and extensively altered during my boyhood, and we do not know what part of the building served as the Lodge-room. In June, 1869, following careful work by a committee appointed April 6, 1868, the Lodge moved to its own quarters in the Bartlett Building, owned by our Brother Alden Bartlett, which formerly stood on the south side of the railroad track directly opposite the station. A picture of this building hangs in our ante-room. It was a Mansard-roofed building and the Lodge records show repeated complaints to the landlord about the leaky roof.
The rent paid for Eliot Hall was $11 per meeting; in the Bartlett Building, it was $400 per year, reduced in June, 1876, to 3300, at which figure it remained until we vacated. The last meeting in those quarters was held May 16, 1894. Judging from the records, the Lodge at that time was at a low ebb. Elevating the railroad tracks necessitated removing the Bartlett Building, and it became imperative for the Lodge to find new quarters. An arrangement was finally made with Mr. C. E. Jackson to rent the greater part of this floor for $700 a year. Mr. Jackson inclined to a cheap type of building, and whatever trouble we have had with these quarters can, I think, be laid to the false economy which he practised. The first meeting in these quarters was in December, 1894. In the intervening months, the Lodge net in the hall of Quinobequin Lodge of Odd Fellows on the upper floor of the Woolsey Building, which still stands, much the worse for wear, north of the railroad station. Many members of Eliot were also members of Quinobequin, and this is perhaps why the only charge that appears on the books for our three months' use of the Lodge-room is one of $10. In 1903, extensive alterations were made, we took over this entire floor, and on October 1, the rent was raised to $775 a year.
FEES AND DUES
The original fee for the degrees was fixed at $50 and this amount was never changed until the Grand Lodge added the $5 tax for the Masonic Home. In June, 1920, the degree fee was raised to $75.
Dues were originally $5, and in 1870 were raised to $10. Apparently this produced more revenue than the Lodge needed, because following the example of Most Worshipful Andrew Jackson with the surplus of the United States Treasury when he was President, the proposal was made to return $4 of the dues to the members. The Lodge did, however, have financial difficulties. In the early days, we find that the Lodge was partly financed by loans and by subscriptions from members. In 1880 the dues were reduced to $6 where they remained till 1923.
EARLY CARE IN INVESTIGATIONS
One thing which is noticeable in our records is the care with which in the early days candidates were investigated. During the first five years of the Lodge, sixty-four applications for the degrees and membership were received. Two of these were withdrawn before coming to ballot for reasons which can easily be surmised. Two were rejected when the names first came before the Lodge. On twelve, the investigating committees asked further time and of these twelve, six were rejected upon the ballot. When we consider how small and homogeneous a community the Town of West Roxbury was in those days, this record shows the high standard set for membership in Eliot's early days.
RECORDS OF INTEREST
A few entries in the Lodge records are of interest. The policy of the Lodge to restrict the use of its Lodge-room dates back to February 14, 1870, when it was voted that the Lodge-room should not be let for other than Masonic purposes.
In 1870, the Lodge had comparatively little work and we find the September and October meetings devoted to different members giving the lectures of the degrees.
The first special communication ever held by the Lodge was on January 31, 1867, on account of a storm, which prevented holding the regular meeting on January 17. The following month the Lodge voted to arrange for conveying home members living in West Roxbury. Apparently, the Lodge did not think it necessary to get them to the Lodge but only to get them home afterwards.
The first ladies' night appears to have been held in 1872, and the first meeting at which dinner was served before the meeting appears to have been February, 1870. It was the practice of Brother Smith when Secretary to indicate that refreshments were served by writing in fancy letters at the end of the record of the meeting the word symposium. Possibly the character of the refreshments changed, because at some of the later meetings, the word is replaced by convivium. When Worshipful Brother Macintosh, who was largely responsible for building up the Lodge in its early days, retired from office in 1871, he was presented a gold watch and chain. This was the custom in early cays before jewels came into use. The first Past Master's jewel given by the Lodge was presented to Worshipful Brother Macintosh February 2, 1874.
A month later, the Lodge provided an album and requested each member to furnish his photograph for it.
The first funeral ceremony conducted by the Lodge was April 19, 1874, for Brother Edmund W. Lyon, who, though scried from the Methodist Church, was interred in the Unitarian Cemetery on Eliot Street.
The shrewd hand of the financier appears at the December meeting, 1875, when the question came up of the Eliot paying Dr. Stedman's bill for medical attendance on a member who had died in needy circumstances. Eliot voted to assume the bill, act to credit the amount thereof on Dr. Stedman's future dues.
A most astounding vote passed March 21, 1883, was that "Reverend Messrs. Dole, Shearman and Boynton, clergymen representing three of the religious societies of Jamaica Plain, be invited to take the degrees in Masonry, and become members of this Lodge, the same to be without cost to them." Dr. Dole was Minister of the Unitarian Church, Dr. Boynton Pastor of the Central Congregational Church, and Dr. Shearman the honored Rector of St. John's Episcopal Church. The unmasonic character of such a vote apparently dawned on the members, because it was reconsidered at the next meeting and Brother Shearman was the only one of the three who ever became a Mason. It is doubtful if Dr. Boynton would have accepted the invitation of the Lodge, because in those days there was a very strong anti-Masonic influence at the Central Congregational Church. The members of Central Church who joined the Lodge in its early days soon took dimits and most of them kept their Masonry well under cover. When I became a Mason, I doubt if in over 600 members of the Central Congregational Church there were a dozen Masons.
The custom of requiring candidates to pass an examination on the lectures in open Lodge first appears early in the records and I was also informed by Right Worshipful Brother McKim that the custom of having the Master and Wardens divide the monitorial section of the First Degree, now generally practised, originated in Eliot Lodge during his term as Master.
One of the earliest military nights held by a Blue Lodge took place in Eliot May 17, 1911. Another was held on May 21, 1924, when Major (now Colonel) Louis H. Bauer was raised by officers from New England Chapter, National Sojourners. The degree team formed for this occasion was really the origin of Major General Henry Knox Lodge, which held some of its first meetings and rehearsals in Eliot's apartments.
Loyalty Lodge, our only daughter Lodge, grew out of the over-crowded condition of our apartments twenty-five years ago.
WAR SERVICE
Though the organization of Eliot Lodge was a part of the Masonic revival which swept over the country at the close of the Civil War, so far as I have been able to learn, only two of the founders of our Lodge were Civil War Veterans, Worshipful John W. McKim, who served as Captain in the Quartermaster Department from October 30, 1863, to May 30, 1867, and on March 13, 1865, was brevetted Major, and Augustus C. Jordan, who served as Commissary Sergeant of the 43d and 42d Massachusetts Infantry. This, however, by no means measures the part Civil War Veterans have played in the early days of the Lodge. Our highest ranking officer was Dr. Joseph Stedman, who was a private in Company B, 6th Massachusetts Infantry, on its historic march through Baltimore in 1861, and rose to be Lieutenant Colonel of the 42d Massachusetts Infantry, commanding the regiment part of the time on account of Colonel Burrell being captured on the unfortunate Galveston Expedition. There were many others, including Rev. Sumner U. Shearman, our Chaplain from 1897 to 1914, who was Captain of Company A, 4th Rhode Island Infantry, and was captured at the explosion of the mine at Petersburg July 30, 1864. It was during his captivity that he received those first impressions of Masonry which caused him to join Eliot Lodge in later life. I wish you all might have heard his experiences from his own lips, as I did. Another was Worshipful William J. Hargraves, who served in Company C, 33d Massachusetts Infantry, being transferred to the Veteran Reserve Corps in August, 1863, in consequence of disability received in the line of duty.
Among our Spanish War Veterans, although not a member of the Lodge at the time of his service, was the loyal and active A. Collins Stuart, Hospital Steward of the 1st Vermont Infantry, whose activities were not confined to Eliot Lodge, but extended to the United Spanish War Veterans and the Sons of American Revolution. In his death, Eliot Lodge lost an active and interested worker, a soldier and a gentleman.
In the first World War, we had fifty members in the various grades from Private to Lieutenant Colonel, two of whom, Brothers Otto Conrad Bletzer and Joseph Wesley Bonney, gave their lives for their country.
This brings me to another point. We learn that Masonry unites men of every country, sect and opinion. Eliot has probably more members of German birth and descent than any other Massachusetts Lodge except Germania. During the years 1914-16, the officers of the interned German vessels were frequent and welcome visitors at our meetings, yet the feelings engendered by the war were never in evidence here, either openly or covertly. When the United States entered the World War, on April 6, 1917, Eliot had 401 members and of this number the loyalty of 400 to their country was never doubted or questioned, and the 401st member was well known as a German emissary before he ever entered the Lodge. Of our fifty men in service in 1917 and 1918, nearly one-third were of German birth or descent, including one of the two who died in the service.
JAMAICA PLAIN AND ITS PEOPLE
Eliot Lodge was located by its Charter "in the village of Jamaica Plain in the County of Norfolk." It is difficult for a younger generation to visualize Jamaica Plain as it was in those days. It was indeed a village. In the late 18th and early 19th centuries, here were the country seats of men in easy circumstances, although not necessarily wealthy, whose business interests were in Boston, but who wished to live in the quiet of a rural community. Here were the country homes of Sir Francis Bernard, Royal Governor of Massachusetts, Sir William Pepperell, the grandson of the captor of Louisburg, John Hancock, Benjamin Pemberton, whose bounty still helps support the poor of Boston, Commodore Joshua Loring and Captain Benjamin Hallowell, of the Royal Navy, and in later life, Samuel Adams, who inherited from his son the Peacock Tavern property at the corner of Center and Allendale Streets, once a favorite objective point for sleighing and skating parties. The Commodore Loring Estate, better known under the name of Brother David S. Greenough, one of the early members of Eliot, extended approximately from Green Street to McBride Street and from Center and South Streets to the present location of the railroad. The Governor Bernard Estate, later owned by Martin Brimmer, a Boston merchant, on the shores of the Pond, was hardly less extensive, and the broad acres of the Curtis Estate, are still remembered by many here. This community was comparatively little changed in 1866. Jamaica Plain was the seat of government, the business center and the largest village in the old Town of West Roxbury. Large and profitable farms were still operated here. Our early members came from all parts of the Town.
Many, if not most of them, I, as a boy, knew either personally or by sight and reputation. They were of that substantial middle class which is the backbone of a democracy — chiefly merchants, with a sprinkling of professional men, bankers, farmers, tradesmen and master artisans. They were a very large section of the substantial and stable element of the community, and were qualified to be Master Masons, because they were the masters in their respective vocations. Worshipful John W. McKim was the first Judge of our local Municipal Court when it was created in 1874, and three years later became Judge of Probate of Suffolk County. He served as Senior Warden under the Dispensation and served for many years as Chaplain of the Lodge. He was succeeded as Judge of the Municipal Court by Brother James M. F. Howard, who sat on the bench until his death in 1504, and for some years was Organist of Eliot Lodge.
Brother John Fottler, our first Tyler, was a member of the agricultural supply house of Schlegel & Fottler.
Brother Jere A. Dennett owned a wallpaper store in Boston.
Brother Robert Seaver (Senior) owned and operated our best known grocery store, which is still carried on under his name, although his family has become extinct.
Brother George W. Harris, our first Organist, was for many jears Organist of the Unitarian Church and Cashier of the National Bank of Commerce. His home was on Center Street, nearly opposite Lakeville Place.
Lieutenant Colonel Stedman was perhaps the most prominent physician in Jamaica Plain.
Augustus C. Jordan was Teller of the Maverick National Bank; Thomas P. Proctor was a lawyer; Hiram G. Wilson was general agent of the Equitable Life Assurance Association; S. S. Riddell was a Boston merchant.
Such were the men who built up Eliot Lodge in its early days. The modern Lodge started when we moved to these apartments shortly before the turn of the century. The earlier members had been largely men in middle life. After we moved to this hall, younger men began to seek admission and of late years most of our candidates have been of this class.
May we and those who are to follow us prove worthy of the heritage the founders of Eliot have left us, and transmit it unimpaired to our sons.
CENTENARY HISTORY, MAY 1966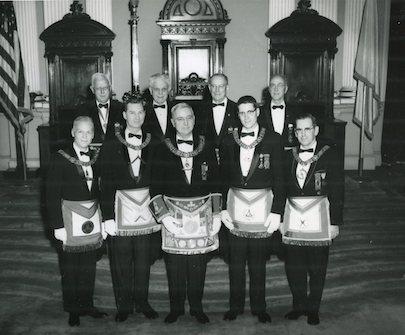 Eliot Lodge 100th Anniversary
Front Row, L. to R.: R. W. Robert P. Beach, SGW; Wor. John O. Peterson; M. W. Thomas A. Booth, GM; R. W. Robert Stevens, DDGM; George R. Dewhurst, Grand Marshal.
Back Row, L. to R.: M. W. Roger Keith, PGM; M. W. Whitfield W. Johnson, PGM; M. W. Andrew G. Jenkins, PGM; M. W. A. Neill Osgood, PGM.
Eliot Lodge 100th Anniversary program is available here.
From Proceedings, Page 1966-134:
By Brother George H. Kittrell, Jr.
One hundred years ago on February 23, 1866, fifteen Master Masons assembled at Selectmen's Room in the James Block, better known as Arcanum Hall, which stood at the corner of Centre Street and Starr Lane within a few feet of where our Lodge formerly met in Jamaica Plain, to discuss the formation of a Masonic Lodge. After considerable discussion this group of men gathered together the proper material to form a petition to present to the Grand Lodge of Massachusetts to organize a Masonic Lodge in the Village of Jamaica Plain.
Our Charter shows that twenty-three Master Masons later signed the original petition. Their names are as follows:
Hiram G. Wilson
T. W. Seaverns, Jr.
George W. Harris
John W. McKim
George C. Tate
Levi L. Willcutt
Mathew Crosby, Jr.
J. Alba Davis
W. H. Mackintosh
John F. Payson
J. F. Granville Smith
Thomas P. Proctor
Jere A. Dennett
J. Fletcher Paul
P. E. Burtchaell
Jonas Barnard
S. S. Ridell
Robert Seaver, Sr.
A. C. Jordan
Walter Earle
C. C. Smith
A. Davis Weld, Jr.

John Fottler, Jr.
A committee was formed to select a name for the new Lodge. This committee recommended "Bay State", but the members chose "Corinthian" and authorized the Officers to substitute "Eliot" in case "Corinthian" was not acceptable to Grand Lodge. As it turned out the Lodge in Concord already had the name of "Corinthian", and thus "Eliot" was attached to the petition as the name for the Lodge. In reading over some of the historical facts of the Lodge, this group later was sorry they did not suggest "John Eliot" as the name. In the History of Jamaica Plain the name "Eliot" has been associated with many Public Buildings, a School, a Church and a Square. These places were all located within John Eliot's Parish.
A separate short history of John Eliot, Apostle to the Indians, after which Eliot Lodge is named, is part of this account, and is attached.
After the first meeting in Selectmen's Room on February 23, 1866, the second meeting, or the first "Under Dispensation" was held May 25, 1866 although some records show it as May 14, 1866. On June 12, 1867, the Grand Lodge of Massachusetts granted our Charter and on June 18th Most Worshipful Charles C. Dame, Grand Master, constituted Eliot Lodge and installed the first officers. Wor. George Frost of Washington Lodge, Lexington, served as the first Master Under Dispensation and was also elected the first Honorary Member of Eliot Lodge. This evening Wor. Walter S. Frost, Jr., P. M. of Washington Lodge, and the grandson of our first Master is present as our guest, and he is wearing his grandfather's Past Master's Apron.
Bro. A. C. Jordan was the only one of the twenty-three Charter Members who was a member during the first fifty years of the Lodge. Fourteen of the Charter Members demitted, eight were members as long as they lived.
Two of the Charter Members had descendants who became members of Eliot Lodge. Bro. Robert Seaver, Sr., had two sons: Wor. Fred Seaver and Robert, Jr.; also a grandson, Bro. William E. Evans. John McKim had a son, R. W. John A. McKim.
Wor. Hiram G. Wilson followed Wor. Frost and was the author of the petition to form the Lodge.
Wor. William H. Mackintosh was the first Senior Warden under the Charter, but did most of the work of the Master. He reluctantly accepted the office of Master, and because of his great executive ability, though extremely modest, he was Master for three years. Wor. L. Bacon Foss was the first member to receive his degrees in Eliot Lodge and then became its Worshipful Master succeeding Wor. Bro. Mackintosh.
Wor. Frederick H. Putnam, who also received his degrees in Eliot Lodge and later became Master, came in at "low-water mark". To him is due credit of pulling the Lodge out of its lethargy by moving it from the Bartlett Building to the quarters at Seaverns Ave. and Centre St., in 1894, where it remained until 1963. The silver case which holds our Charter was given to the Lodge by Wor. Bro. Putnam.
The name of Seaver has been prominent in both Jamaica Plain and in Eliot Lodge. Bro. Robert Seaver, Sr., was the Chairman of the meeting which formed the Lodge. He had two sons who became members of the Lodge. One, Wor. Fred Seaver, at the age of twenty-seven was Master in 1876-77. He was the fifth Master. Wor. Bro. Seaver was for many years a Trustee of the Permanent Fund; elected to Honorary Membership March 18, 1900; received the Henry Price Medal on May 19, 1920 and the Veteran's Medal on March 16, 1927.
Our Holy Bible, Square and Compasses were donated by an Honorary Member, Bro. John H. Collamore, as well as a generous contribution towards the then Organ Fund. A Charity Fund of Eliot Lodge for many years is known as the John A. Collamore Fund. Wor. Arthur H. Alley, Master in 1896-1898, donated a gavel to be used only for show and on special occasions. It should now be retired into a special case for preservation for future years.
Recognition should be given to R.W. John A. McKim who served as Master of Eliot Lodge, 1893-1896, District Deputy Grand Master 1899-1900, and who wrote the History of Eliot Lodge at the Fiftieth Anniversary in 1916.
At the turn of the century we find another outstanding member of Eliot Lodge, R. W. James Keltie, Master 1902-1904. He was a very active member in both York and Scottish Rite Masonry. He knew the Ritual of both Rites so well that he could fill in at any station on short notice. He was a faithful and loyal Scot and was very active in Scottish societies, especially the Kilwinning Club. He had the pleasure of raising his son, Wor. Alexander J. Keltie, Master 1926-1928. R.W. Bro. Keltie served as District Deputy Grand Master 1911-1912. In the span of his Masonic lifetime R.W. Bro. Keltie raised Bro. George B. Smith and the four sons of Bro. Smith, a fellow Scot, a feat never duplicated.
Many of our members of today remember Wor. Frederick Gilbert Bauer, Historian for the Seventy-fifth Anniversary, Master of Eliot Lodge 1915-1916. Wor. Bro. Bauer later helped organize Major General Henry Knox Lodge of Boston, sometimes known as the "Military Lodge", and served as its first Worshipful Master in 1926.
As all Masters know, the Secretary of the Lodge is his right hand. In reading through the records of the past forty years of Eliot Lodge, I find two outstanding Masons who have served the Lodge in that capacity. The first, Bro. Albert H. Clark, was Secretary from 1907 to 1951. Early records were kept in handwritten form and the person with the most legible hand was elected Secretary. The development of the typewriter greatly added to record-keeping and made the Secretary's work somewhat easier. Many of our Past Masters under whom Bro. Clark served can attest to the excellent job he did in keeping the records of Eliot Lodge, not only the required necessary records, but the extra little details to assist each Master in making his office function more effectively. Bro. "Al", as he was affectionately called by his Brethren, went the "second mile" in carrying out the duties of his office. After concluding 44 years of service as Secretary, he compiled a book with Historical facts of Eliot Lodge, the Old Village of Jamaica Plain, and the life of John Eliot.
The second Brother we should pay tribute to at this time served as Secretary of Eliot Lodge from 1951 to 1964, and for several years previous to 1951 was unofficial secretary, assisting Bro. Clark. R.W. Robert W. S. Cox had served Eliot Lodge in 1919-1920 as Master; filled in at various stations at various times and then was formally elected Secretary in 1951. R. W. Bro. Cox served Realty Lodge in Boston as its first Master in 1954. He is presently the Grand Representative of the Grand Lodge of Massachusetts to the Grand Lodge of Nevada. Eliot Lodge elected R.W. Bro. Cox an Honorary Member as well as Secretary Emeritus for a job well done.
For twenty-two years Wor. Peter L. L. Donaldson has faithfully served Eliot Lodge. For many years he instructed candidates in their lectures until he started in line. He served as Master in 1954-1955; since then he has been Marshal three terms, Senior Warden, and is at present the Junior Warden. Wor. Bro. Peter has also served as Master of the Fourth Lodge of Instruction, of which Eliot Lodge is one of the constituent Lodges.
Through the years there have been many members who have been faithful in their attendance, just because of their attachment to the Lodge. In my ten years as a member, there are two Brothers, who even after having reached their ninetieth birthdays were outstanding in their loyal attendance. Bro. Reuben Raines climbed the three flights of stairs in Jamaica Plain to enjoy the work of the Lodge and visit with his brethren. Another faithful member was Bro. Daniel Duncan, father of Wor. S. Montgomery Duncan, and a Trustee until he was called to the Celestial Lodge above. Bro. Dan had always expressed a hope to live until the One Hundredth Anniversary of his Lodge, but we regret that he did not live to share this occasion with us. On the evening that Bro. Duncan received his Veteran's Medal, he presented the Building Fund with a check for #1,000. to "start it off so Eliot Lodge may have a permanent home".
We should be very proud of all our Past Masters who have served Eliot Lodge through the first hundred years of our existence. Sixty-five Brethren have served as Worshipful Master, of which twenty-three are living. Seven of our Past Masters have been honored by their appointment as District Deputy Grand Masters: R. W. E. Peabody Gerry, 1887-1889; R. W. John A. McKim, 1899-1900; R. W. James Keltie, 1911-1912; R. W. Herbert S. Locke, 1925-1926; R.W. Robert D. Webster, 1937-1938; R.W. A. Robert Martin, Jr., 1945-1946; R.W. Carl J. Ludwig, 1959-1960. R.W. Carl J. Ludwig is our only living Past District Deputy Grand Master. R.W. Bro Carl has served us for a number of years as Chaplain and Ritualist. R.W. Lawson W. Oakes is serving as Grand Representative of the Grand Lodge of New Hampshire, and R.W. Robert W. S. Cox as Grand Representative of the Grand Lodge of Nevada.
Three of our Past Masters have served as Master of the Fourth Lodge of Instruction: Wor. Walter C. F. Gartner in 1936; Wor. W. Edgar Klein in 1942; and Wor. Peter L. L. Donaldson in 1962.
In our first one hundred years Eliot Lodge has had one hundred seventeen Veteran's Medals presented to Brethren who have been members for fifty years. The following holders of Veterans' Medals are still living:
Bro. Andrew Hamilton, 4-16-1898
Bro. George Wilson, 5- 9-1907
Bro. William A. Gilman, 5-18-1908
Bro. Fred G. Eldridge, 12-16-1908
Bro. Daniel Jacobs, 3-17-1909
Bro. David F. Eldridge, 10-6-1910
Bro. Lester H. Gibson, 1-18-1911
Bro. Albert E. Hahn, 6-16-1913
Bro. Herman Schulz, 11-19-1913
Bro. Frank A. Dalian, 6-15-1914
Bro. William Rust, 10-21-1914
Bro. Herman Wittenauer, 2-17-1915
Bro. Herbert Steiman, 4-21-1915
Bro. Benno Bernstein, 2-23-1916
Bro. Robert W. S. Cox, 6-21-1905
Bro. Lawson W. Oakes, 2-19-1908
Bro. Frederick Teuthorn, 10-21-1908
Bro. Bro. Emil Miller, 12-16-1908
Bro. Walter B. Brebner, 1-19-1910
Bro. Edwin Huffam, 11-16-1910
Bro. Fred Wessels, 5-17-1911
Bro. Ellis M. Bidwell, 6-18-1913
Bro. Herbert Kelley, 12-17-1913
Bro. Gustav Fischer, 6-17-1914
Bro. James Harrow, 2-17-1915
Bro. George W. Duncan, 4-21-1915
Bro. Frank C. Gerlach, 5-19-1915
Bro. Guy L. Harvey, 2-23-1916
The dates shown are the dates the Brethren received their Master Mason Degrees.
Eliot Lodge has bestowed Honorary Membership on several of its members, only two of whom are now living, R. W. Robert W. S. Cox and R. W. Lawson W. Oakes. M. W. Whitfield W. Johnson, Past Grand Master, is also Honorary Member Emeritus.
Grand Lodge has honored ten of our Members with the Henry Price Medal and four with the Distinguished Service Medal.
Lodges in olden days met on or before the full moon; thus they were able to use the light of the moon to assist the Brethren in finding their way to Lodge and from. Eliot Lodge first met on the Wednesday after the Full Moon. Later the stated meeting was set as the Third Wednesday each month, and since moving to Westwood it has been set at the Fourth Tuesday.
In reading our records, I find that we were the first Lodge in Massachusetts to allow the Junior and Senior Wardens to assist the Master in presenting the second and third sections of the Master's lecture in the Entered Apprentice Degree.
We may have been one of the first Lodges to have all the Third Degree Emblems painted on canvas. Among our furnishings we have a canvas beautifully done by Wor. William F. Spaer, who was Master 1878-1880. This canvas laid neglected for many years in the attic in our Jamaica Plain quarters and when we moved to Westwood in 1963 it was discovered and Wor. Walter A. Neuber, Sr., had it restored for use in our work.
Eliot Lodge was instituted at the close of the Civil War. One of our Charter Members, John W. McKim, was stationed in the Quartermaster Corps in Boston and was a career soldier, so to speak. He was a Past Master of Washington Naval Lodge, Washington, D. C, as well as a Past Master of Tu-en-da-wie Lodge No. 195 of Defiance, Ohio, and was Presiding Master of Rubicon Lodge No. 237 of Toledo, Ohio, when he entered the Union Forces, eventually coming to Boston. He served as Senior Warden of Eliot Lodge, but due to being unfamiliar with Massachusetts Ritual never continued. He had a distinguished record in the Union Forces. There were many who became members of Eliot Lodge who had served in the Union Forces, and through the past hundred years Eliot Lodge has had Brethren who have served their country in the Armed Services during the Spanish-American conflict, Mexican Campaign, and two World Wars. In World War I Brothers Otto Conrad Bletzer and Joseph Wesley Bonney made the supreme sacrifice in giving their lives for their country.
Eliot Lodge was located by its Charter in the "Village of Jamaica Plain in the County of Norfolk". Those of us who know Jamaica Plain as it is today find it hard to believe that in the early 1800's, many business men of Boston had their summer homes located here. It was said that Jamaica Plain was as rural as some of the country in New Hampshire and was very picturesque with its many farms with brooks and streams. Many men of prominence in early Boston History lived in Jamaica Plain. It was the seat of Government and the largest village in the old Town of Roxbury.
Up through the years of Eliot Lodge until it passed its Seventy-fifth Anniversary, the citizens of Jamaica Plain were substantially of the middle class: chiefly merchants, bankers, farmers, tradesmen and professional men. A large section of these citizens qualified to become Master Masons. This situation has changed in the past two decades and fewer candidates are applying for the Degrees in Eliot Lodge. This prompted the moving of the Lodge from Jamaica Plain to the "Town of Westwood in Norfolk County" in 1963. A few of our early members of prominence were Bro. John W. McKim, the first Judge of the local Municipal Court, which was created in 1874. He later became Judge of Probate of Suffolk County. Bro. James M. F. Howard succeeded Judge McKim in the Municipal Court in 1904. Bro. Howard was organist for the Lodge for many years. Bro. John Fottler, our first Tyler was a member of the Agricultural Supply House of Schegel and Fottler. Bro. Robert Seaver, Sr., owned and operated a well-known grocery store, which continued under the Seaver name for a good many years. Bro. Jere A. Dennett owned a wallpaper store in Boston. Bro. George W. Harris, our first organist, was Cashier of the National Bank of Commerce, and also served as organist of the Unitarian Church. Bro. Lt. Col. Stedman was perhaps the most prominent physician in Jamaica Plain in his day. Bro. Augustus C. Jordan was Teller of the Maverick National Bank. Bro. Thomas P. Proctor was a Lawyer. Bro. Hiram G. Wilson was General Agent of the Equitable Life Assurance Association. Bro. S. S. Riddell was a merchant in Jamaica Plain. These are some of our founders and on this foundation of solid citizens Eliot Lodge was established and began to grow and to prosper.
In 1927 a Building Fund was started for the purpose of raising enough money to establish Eliot Lodge in permanent quarters. This Fund did not become very large until in 1946 a group of members formed a Stock Corporation to sell stock in a Masonic Building containing not only the Lodge quarters, but also stores on the first floor. The desired goal was not reached and the Corporation dissolved, but the stockholders, the Brethren who bought stock, each realized a profit and a dinner, but Eliot Lodge was still without a home of its own.
After the Lodge moved to the Town of Westwood, the Westwood Masonic Building Association, Inc., was formed to again attempt to bring about the goal of our founding fathers, to establish permanent quarters for Eliot Lodge". There could be no finer tribute to the founding fathers of our Lodge than to erect a "truly Masonic edifice" in the Town of Westwood, an area where the Apostle John Eliot preached and converted the Indians to Christianity. Little did our forefathers realize that Eliot Lodge would start as a "town" Lodge, become "citified", and now return to a town. When Eliot Lodge is established in permanent quarters, we wish it the same future happiness it has had in the past.
The second set of By-Laws of Eliot Lodge contains a preface which I would like to use as my conclusion: "Masonry is a Universal System of Morality, to which all men may subscribe. While it discriminates between the Atheist, the Libertine, the Outlaw, and he who, believing in an Eternal and all Powerful Creator, sees Him in all the works of His Hands, it makes no inquiry into a man's peculiar religious or political opinions, but strives to unite all in a generous Brotherhood.
As Masons, we open our Temples to all men who may be incited by precept and example to overcome common prejudices and errors, whether inherited or acquired; to love and assist each other; to efface erroneous conventional distinctions; to annihilate fanaticism and superstition; to extirpate national hatred and the scourge of war; in short, to reach by peaceful means and progress that condition of humanity when each one, enfranchised, shall be free to develop the faculties God has given him, and unite the whole family of man in the bonds of love and unity."
REVEREND JOHN ELIOT
Apostle to the Indians
John Eliot was born in Nazing, Essex, England, in 1604. Records of the Church in Widford, in Herfordshire, shows he was baptized August 5, 1604. He attended Jesus College in Cambridge, at the age of fourteen and graduated at the age of eighteen, in 1622. While teaching at Little Braddow School under Headmaster Thomas Hooker, he learned to preach the Gospel.
In the Fall of 1631, he sailed from England on the ship Lion, landing in Boston, November 4 of the same year. He first started as a member of the Boston Congregation. He later associated with a Church in Roxbury, where he later became its Pastor. This same Church is now known as Eliot Church in Eliot Square.
While serving Eliot Church, he devoted his free time to the teaching of Religious Education to the Indians in and around greater Boston. He raised money for the purpose of writing a grammar of the Indian language, then to teach a translation of the grammar with which the Indians could be taught to read. He successfully translated the Bible into Indian language, to further their Religious Education. He traveled from Brook-field, Massachusetts, to the Islands of Nantucket and Martha's Vineyard, and from the Merrimack River on the north, to the Providence Plantations south, traveling on foot and horseback through all kinds of New England weather. He had as many as 6,000 Indians, as ardent followers, and settled a dozen or more villages by these same Indians, who became self-supporting and members of Christian communities.
The Apostle, John Eliot, died in Roxbury, on May 21, 1690. He is buried in the Eustis Street Burying Grounds in Roxbury.
Thus ended the life of one of our earliest settlers, who was a diligent, hard worker and a true Christian.
In the Church where he preached, beside the Pulpit, is a Tablet bearing the following inscription:
JOHN ELIOT
Apostle to the Indians
Born at Widford 1604 his first years seasoned with the fear of God the word, and proper, educated at Jesus College, Cambridge.
Came to the New World 1631.
Pre-engaged to the Church in Roxbury, Ordained as preacher with Eld 1632, whom he succeeded as Pastor 1641.
1645 founded the Roxbury Latin School.
1689 the Eliot School in Jamaica Plain.
One of the authors of the Bay Psalm Book.

1646 began his marvellous work among the native tribes of New England. 1660 founded Natick the first Indian Church in the Massachusetts Colony. 1663 completed the translation of the Bible, in Zeal equal to Saint Paul in charity, equal to Saint Francis he traversed the land for forty years in perils of the wilderness, in perils of the heathen in hunger and thirst with gentleness and fearlessness to bear the gospel to the children of the woods who were to him the children of God.
Died May 21, 1690.
First among Puritan Saints.
(Signed) Charles T. Gallagher, Past Grand Master
125TH ANNIVERSARY HISTORY, MAY 1991
1866-1991
To give a history covering 125 years of Masonry of two Massachusetts Lodges who have only been as one for five short years is a bit difficult. Each Lodge has its own history for 120-years - I shall merely tell you about Eliot Lodge, formerly meeting in the village of Jamaica Plain in the town of West Roxbury as our original Charter states.
The first 97-years of Eliot really reflected the comings and goings of the Jamaica Plain community — first as Jamaica Plain was a village and after West Roxbury became part of the City of Boston in 1912 it was the Ward 19 of the city. During these early years Eliot Lodge had many prominent figures of the day as members. Several Boston mayors, Andrew Peters, Malcolm Nichols; (Jim Curley did not belong). Lt. Gov. Gasper Bacon was a regular lodge attendant; our Republican Representative in the Massachusetts Legislature, George Penshorn and his two sons belonged to Eliot (Yes, Ward 19 was Republican in those days).
I could continue to name names but suffice it to say, Eliot Lodge, named after John Eliot, the great preacher and missionary to the Indians in this area (Westwood, Natick, Needham, Dedham), had a proud and distinguished life in its 97 years in the City of Boston.
Now to the future!
After moving to Westwood in 1963, Eliot Lodge, through its Westwood Masonic Building Association, went through very trying, frustrating times but continued with optimism that, "Yes, we would have our own home!" We first met in the Parish House of the Westwood Baptist Church (where we had our church service last Sunday) setting up a Lodge room before each meeting and putting everything away, regalia, furniture, etc., after the meeting.
We had been assured "First refusal" when the Parish House was to be sold and when it became available we were not able to outbid another group and therefore we were now homeless...but the Westwood Post, American Legion agreed to take us in and with some of our funds they remodeled an upstairs hall to allow for us to again have a Lodge room, but still, set up before, take down after each communication.
In 1975 the Westwood Masonic Building Association purchased the property at 655 High Street, consisting of a house with two apartments, a large barn attached to the house, and a gasoline station. The two apartments have always been occupied and are a source of income and we are making no change in their status. The barn is to become our "home", and the gasoline station which had been leased out and was a source of income to us, is now closed and will be removed once we begin our remodeling of the barn. When we first purchased the property we had to seek approval from the Town of Westwood to remodel. Our own Brother Nils Tobiasson spent many hours of his own time drawing up the plans, guiding us through the maze of rules and regulations and being our mainstay from an architectural standpoint. We went before the Board of Appeals of the Town, were given an okay and we thought success was ours.
Alas, now the saga begins! A lawyer on a nearby street filed an appeal, claiming that we had been approved illegally and sued the Town of Westwood, technically speaking. It went to court and the court ruled in our favor, provided that we made a few changes in our plans, and added restrictions as to our use of the building. We agreed. In the meantime Eliot Lodge working the Degrees in makeshift quarters took in members who resided in Westwood, both by Degrees and Affiliation. But we still were not completely "at home" in the town. In October of 1979 M. W. Arthur Melanson, with M. W. Albert T. Ames, who was Grand Marshal came to the site and we had our "ground-breaking" for what we hoped would be the beginning of the remodeling. Alas, our funds were limited, we held off, and nothing further happened. In the meantime we had a difference of opinion with the Legion and moved to the Dedham Masonic Temple where we are this evening. We came here in 1972.
While here we have continued to do what a Lodge is chartered for, "Enter, Craft and Raise candidates to Master Masons". We have never given up on our objective of having a home in Westwood and, in spite of setbacks, have pushed forward.
In early 1986 Eliot Lodge was approached by Hyde Park Lodge with regard to a possible merger and moving to Westwood as soon as the building would be ready. Each Lodge formed a MERGER COMMITTEE and within three months we were ready to petition Grand Lodge to do so. Approved at the Quarterly Communication of Grand Lodge in June 1986 we were instituted as Eliot-Hyde Park Lodge on September 6, 1986, by M. W. David B. Richardson, Grand Master and the Officers of Grand Lodge.
Thus began a new chapter in the lives of two Massachusetts Lodges, but the first chapter of a new Lodge, fortunate enough to be able to keep both names.
Our merger was destined to be; each of our Lodges had been Instituted within a week of one another in May 1966. Each Lodge represented a geographical area of the City of Boston and our history between our 100th and 125th anniversaries was almost parallel. But the saga continues...immediately upon the merger being consummated we prepared our strategy to obtain a building permit so that we could begin construction or remodeling of our property as soon as possible. Building regulations had changed since 1977 and after the Board of Appeals had again given their approval to proceed the same attorney who had plagued us earlier again threw roadblocks in our path. Hearings, court appearances and we fully expected to go to court again when the outgoing Governor of Massachusetts, Michael Dukakis, placed the name of Attorney Michael McCusker with the Governors Council to be the Clerk/Magistrate of the West Roxbury District Court. Several suits were filed against this individual in objection to his appointment and he, having his hands full and wanting this appointment, missed the deadline to file an appeal against us and we at last had clearance to proceed. We did proceed and are now accepting bids for the work to be done.
Our Westwood Masonic Building Association, after 16-years of frustration and heartaches, has kept the faith, so to speak, that yes Brethren we shall attain that home of our own. All the Directors who have served over the years are to be thanked by our Brethren for the hours of loyal labor in keeping the project going, keeping the tenants happy in our two apartments, and doing all the chores a landlord has to concern himself with.
Thus we look to the future . . . we face it with optimism, with the same faith our founding Brethren had when they formed our two Lodges in 1866 and who are now one in our Anniversary Year 1991. We look forward to our 150th Anniversary as the Masonic Lodge in Westwood.
OTHER
1896 (Participation in the centennial of Washington Lodge; 1896-71)
1921 (Charter amended from Jamaica Plain to Boston; 1921-66)
1963 (Charter amended to Westwood; 1963-148)
---
EVENTS
CONSECRATION, JUNE 1867
From Moore's Freemason's Monthly, Vol. XXVI, No. 10, August 1867, Page 315:
The consecration of Eliot Lodge, and installation of officers, took place last month, the officers of the Grand Lodge of Massachusetts officiating. This new lodge promises to take a prominent position in the masonic body, both as regards men and material. Notwithstanding the rain which fell so copiously, a large number of the young and old were in attendance, and many of the brethren from a distance were present to grace the. occasion and give encouragement. A generous collation was provided after the ceremony, and the tables were beautifully adorned with choicest flowers, prepared by the wives, sisters, and daughters of the members of the Lodge.
The following are the officers : —
Hiram G. Wilson, W. M.
W. H. Mackintosh, S. W.
J. Granville Smith, J. W.
John F. Payson, Treasurer.
P. E. Burtchaell, Secretary.
Walter Earl, S. D.
J. A. Dennett, J. D.
John Fattier, Jr., S. Steward.
Daniel H. Barnard, J. Steward.
J. W. McKien, Marshall.
Jonas Barnard, Tyler.
INSTALLATION, SEPTEMBER 1983
From TROWEL, February 1984, Page 15:
Three Nephews Install Uncle "Jim" as Master
Eliot Lodge, A. F. & A. M., was the setting as Wor. James M. Callihan was installed as Master before a "full house" in the Dedham Masonic Temple, on Sunday, September 25th, 1983, with Bro. Warren Smith doing the honors of piping in the Master, who was conducted by R.W. Robert C. Patey, the Grand Marshal of the Grand Lodge, and one of three nephews who were performing as the installing suite.
Wor. Bro. Edmund Patey served as Installing Chaplain, with Wor. Frederick R. Patey doing the honors as Installing Master. The Installing Suite was given a standing ovation for the flawless ritual and floor work.
A donation in honor of the installing officers was given to the Masonic Home by the Master.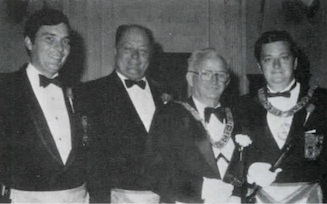 Wor. Frederick Patey, installing Master: Wor. Edmund M. Patey, installing Chaplain;
the newly installed Master, Wor. James M. Callihan: and R. W. Robert C. Patey, installing Marshal.
GRAND LODGE OFFICERS
---
DISTRICTS
1867: District 3 (Boston Highlands)
1883: District 4 (South Boston)
---
LINKS